14er TBT: Longs Peak Ski- Loft ascent, Keplinger descent (4 May 2008)
(Last Updated On: January 7, 2016)
This is part of an ongoing series re-telling Brittany's fourteener-skiing story. Look for the reports every Thursday, as part of a Throwback Thursday theme.
Longs Peak was the first fourteener I'd ever climbed. My dad and I ascended it in August 1995, on the way to drop me off to college at CU Boulder, straight from Ohio. Yep, straight from sea level. The exposure and the scrambling were unlike anything I'd dealt with before. Meanwhile, a couple of people came up from behind us, nearly running to reach the summit.
I paused to strike a conversation with one of them, "Wow, you guys are really fast…."
"Well, we're trying to set a record."
"What kind of record?"
"We are trying to set a speed record for climbing all of Colorado's fourteeners. We have to do all 55 in under 14 days."
"What?!"
I was naive. I didn't know how many fourteeners there even were in Colorado, or even that all of them were possible to climb by most, and I certainly didn't know that it was even possible to climb all of them in under two weeks. The whole concept just blew my mind.
It was then that I decided that climbing all of the fourteeners was something I wanted to do. But, only a year later, a knee injury / surgery left me impaired so that walking downhill for long periods of time became extremely painful, making my goal to climb the fourteeners seem impossible. Skiing, however, was not painful. Yet, it was not for another ten years (2006, during Chris Davenport's project) that it even dawned on me that I should attempt to climb the fourteeners with skis. Who wants to walk down them when they could ski anyway?
In recent years, I found out who the guys who whizzed by us on the Longs Peak Keyhole. They were Rick Trujillo and Ricky Denesik. They climbed all 55 14ers in 15 days, 9 hours, 55 minutes. While that was fast, it unfortunately was not a record. At the time, the record was 14 days, 3 hours, held by Jeff Wagener in 1993. This past summer, all fourteener speed records were broken by Andrew Hamilton, who completed them all in 9 days, 21 hours, 51 minutes. Simply astounding, I say.
Frank and I were eager to return to Longs Peak, Colorado's northernmost 14,000-foot peak, which would become my 35th fourteener skied. We were joined by Pete Sowar, Pam Rice, Chris Webster, and their friend Norm. Below is a slightly modified version of Frank's original trip report.
---
Ah, there's nothing like a 1:30am alarm clock on a Saturday night (or is that a Sunday morning?) The cops were out in full force, it being the weekend before Cinco de Mayo. It would have almost been fun to get pulled over: "You been drinking?" "Yeah, coffee, and a lot of it, and that smell is polypro, not alcohol, so beat it, Mr Ocifer." Brittany and I were off the hook for running shuttle, so we went straight to the Long's Peak trailhead while the others dropped a car off at Wild Basin.
We were skinning by 3:45 or so, on one of the most heavily beaten paths of any fourteener. By treeline, the sun was starting to come out: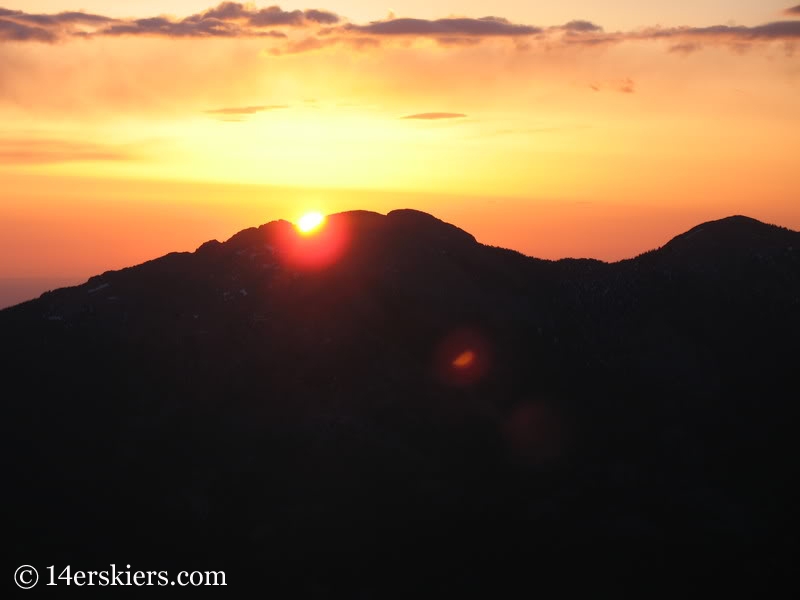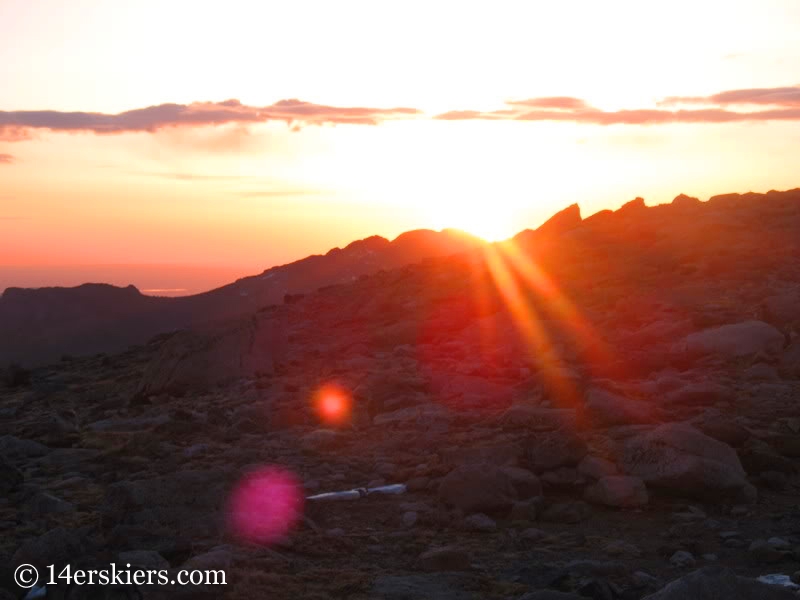 Who the hell smiles with a lack of sleep?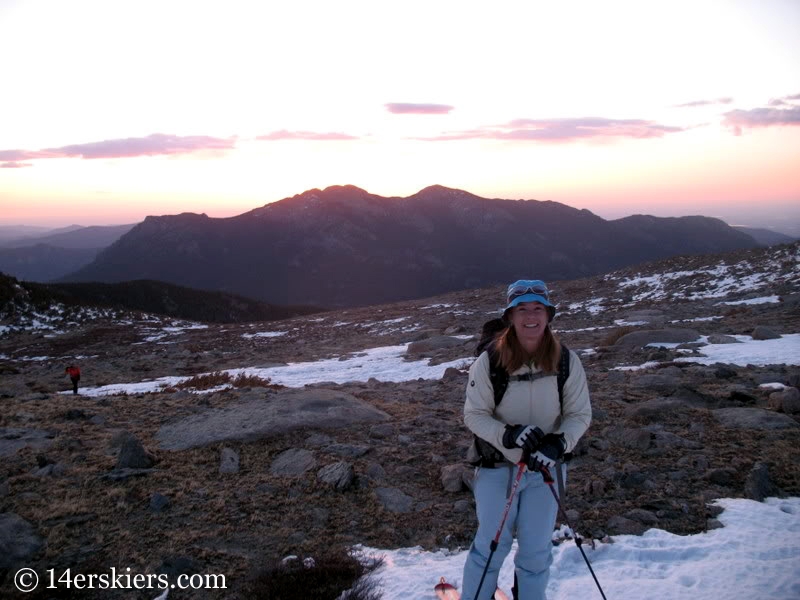 Chasm lake is an amazing place. Diamond face:

Our route followed the obvious Loft Couloir on the left: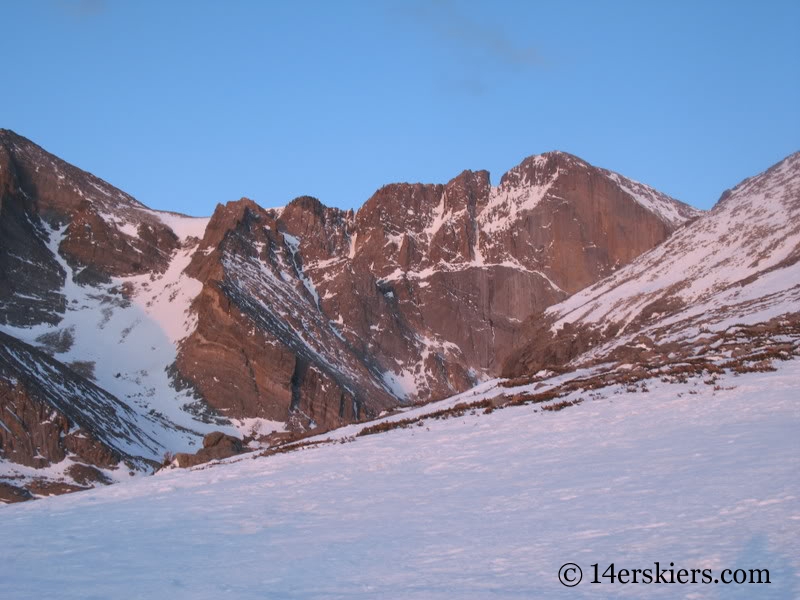 The bootpacking up the couloir was perfect.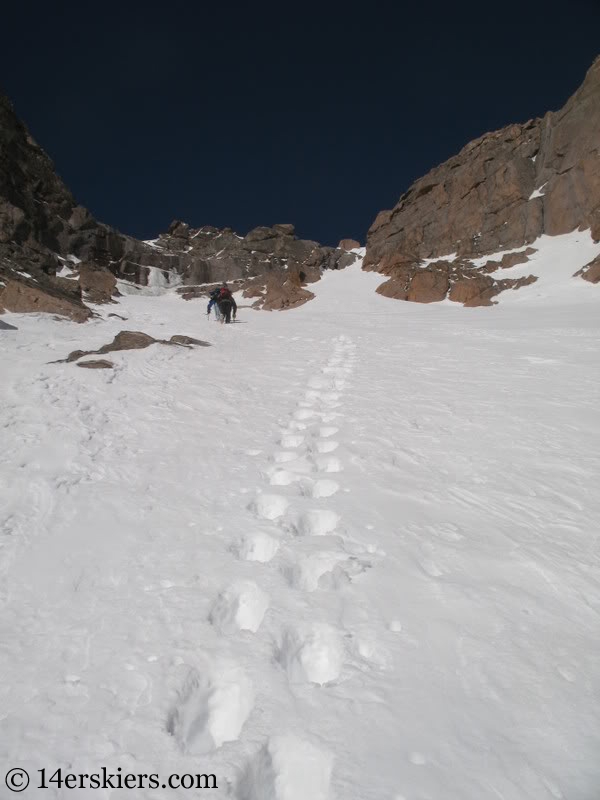 Near the top, you hit a cliffband and are confronted with a choice: right through a difficult and potentially icy step, or left onto an exposed ramp system. We chose left. Brittany: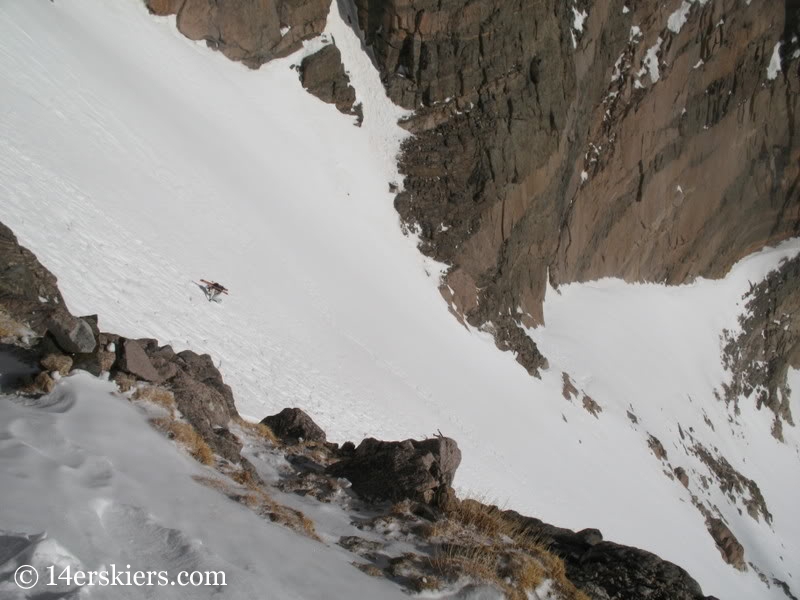 Brittany and Chris: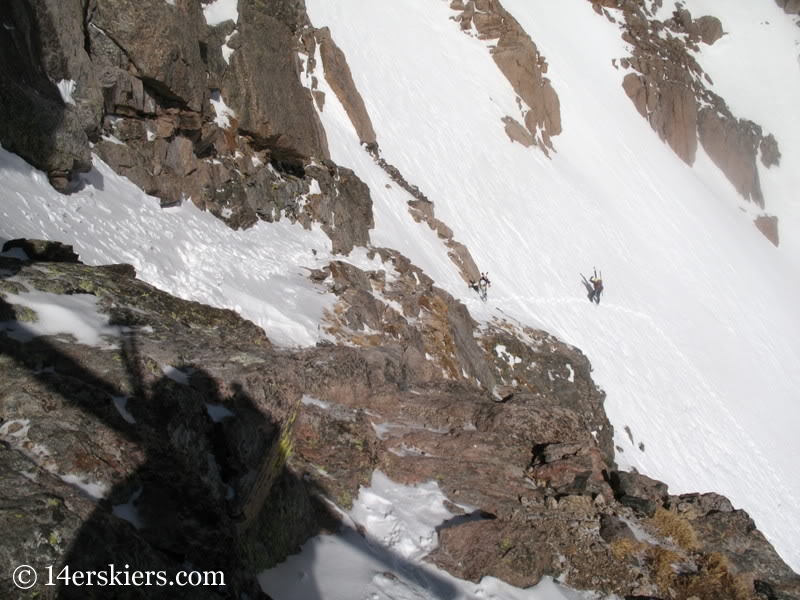 Once on top of the Loft, the high plateau between Meeker and Long's, we made our way down through tedious boulders to make our way to the upper part of Keplinger's couloir on the mountain's S side. We purposefully dropped a little extra elevation below Clark's Arrow, having heard that it was easier and faster to do so.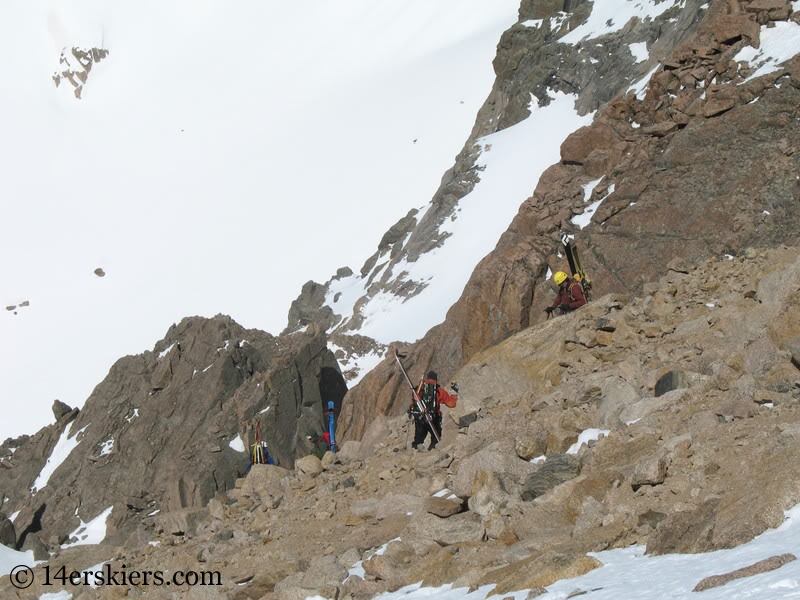 I actually enjoyed the scrambling in this area a lot. Brittany: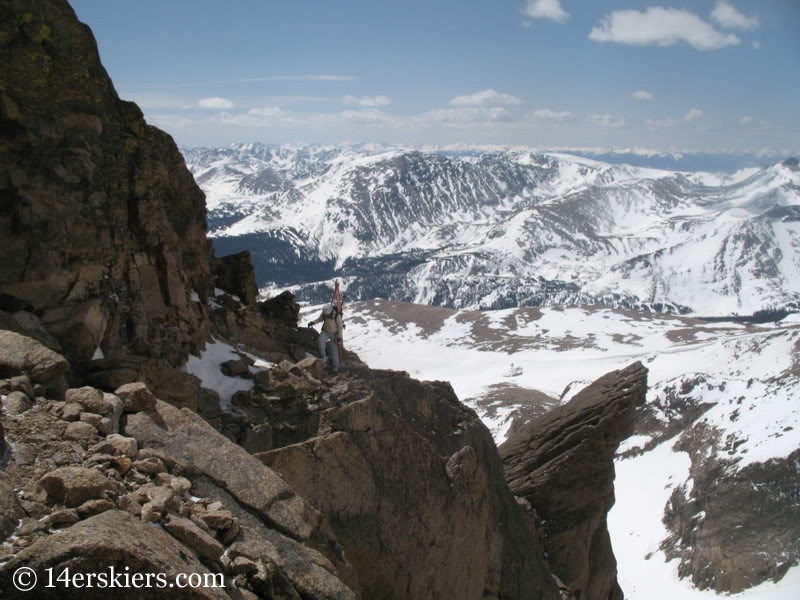 Once we were off the rocks, the climb remained exposed, but we were on great snow for our traverse across the ledges and finally the homestretch. Brittany and Pam: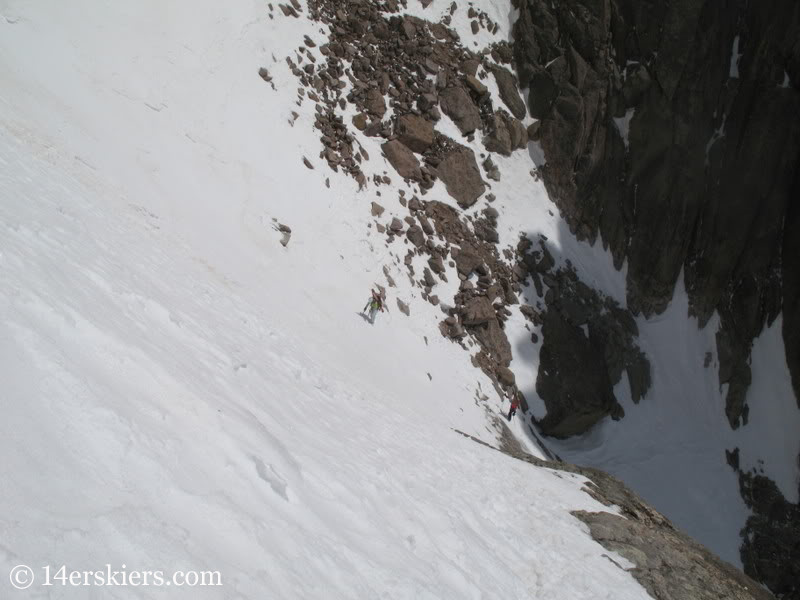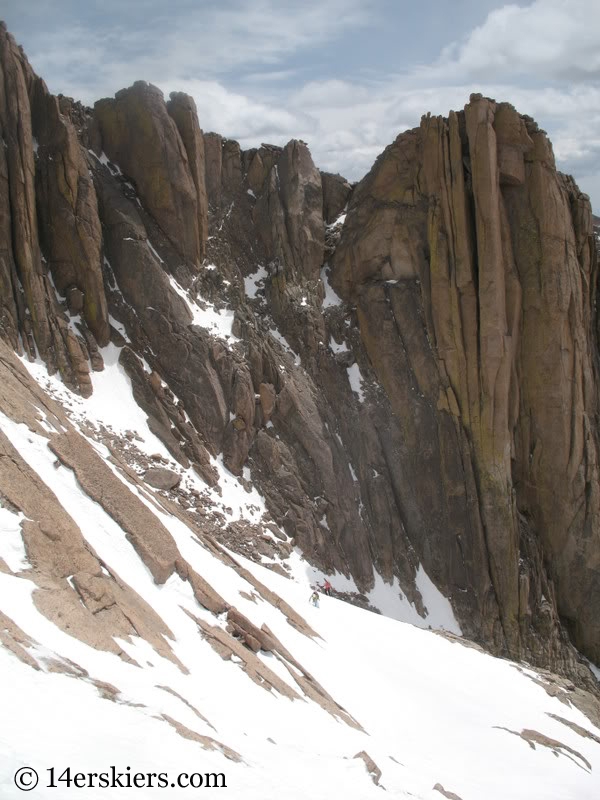 The huge summit of Long's: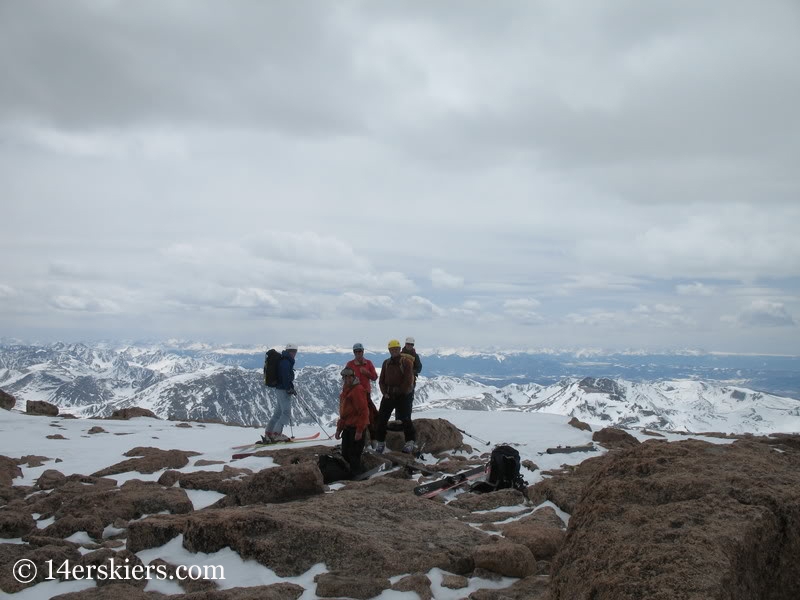 The skiing was quite good- some powder and some corn. Brittany drops the homestretch, a few feet below the summit: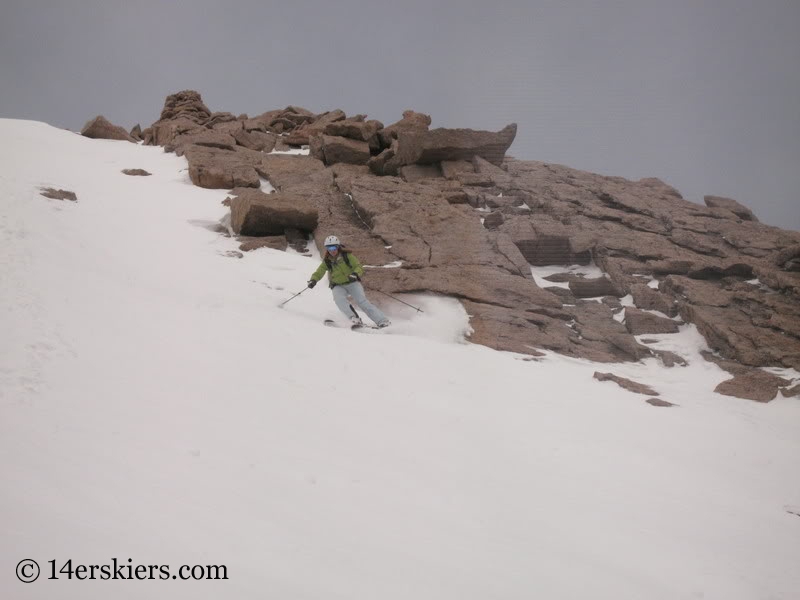 There were a few rocky sections to slide through, but overall, coverage was pretty good.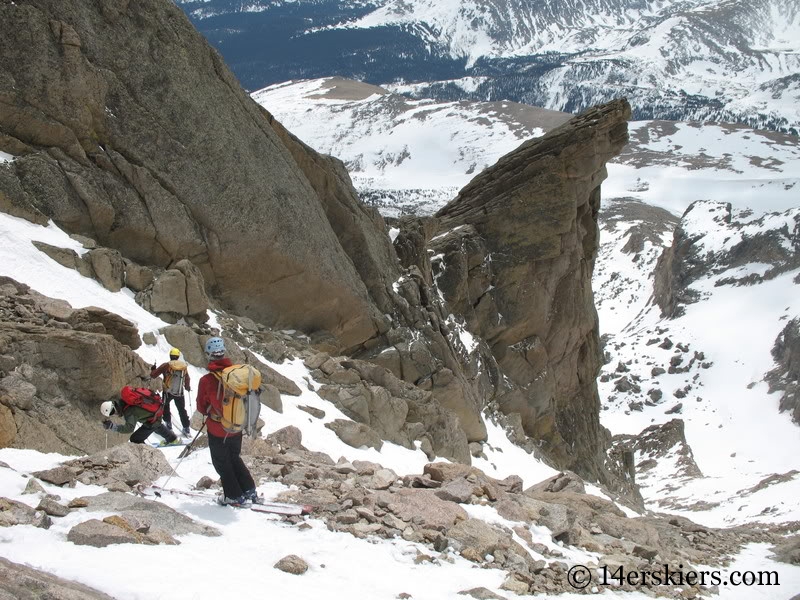 Pete: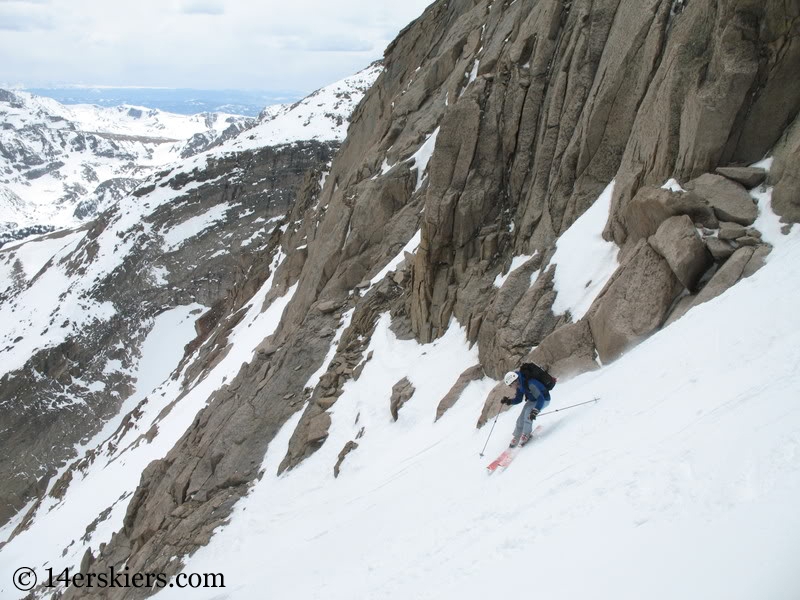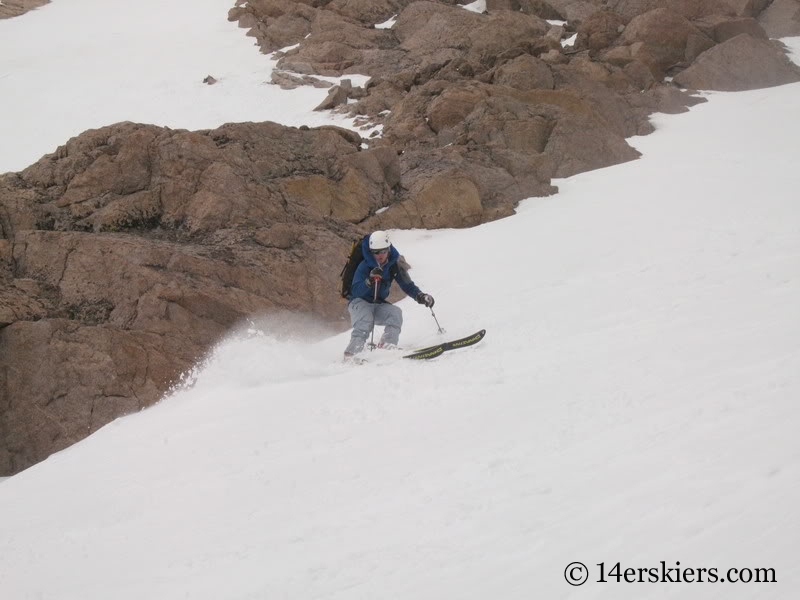 me: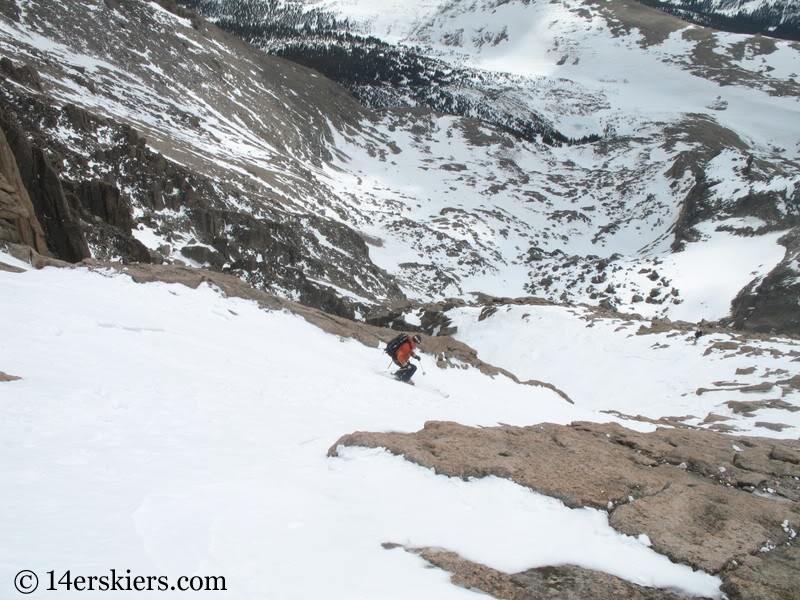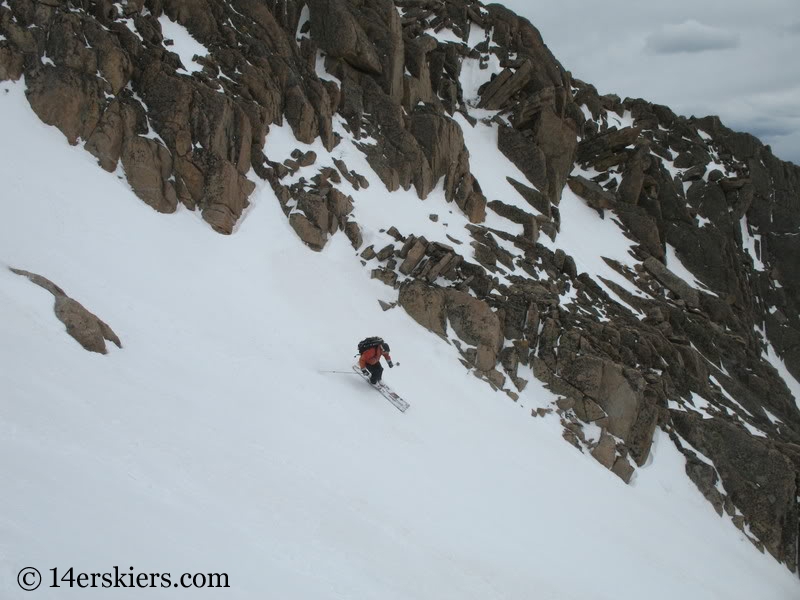 Chris: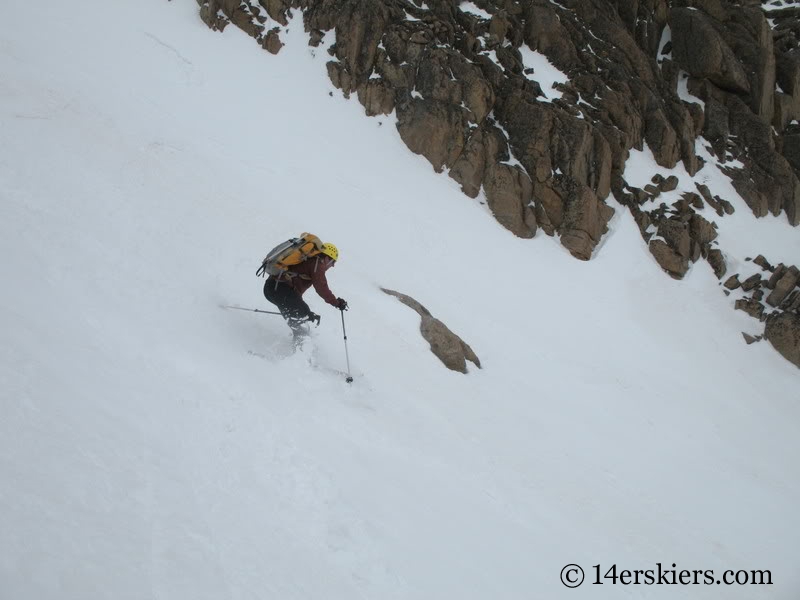 Norm: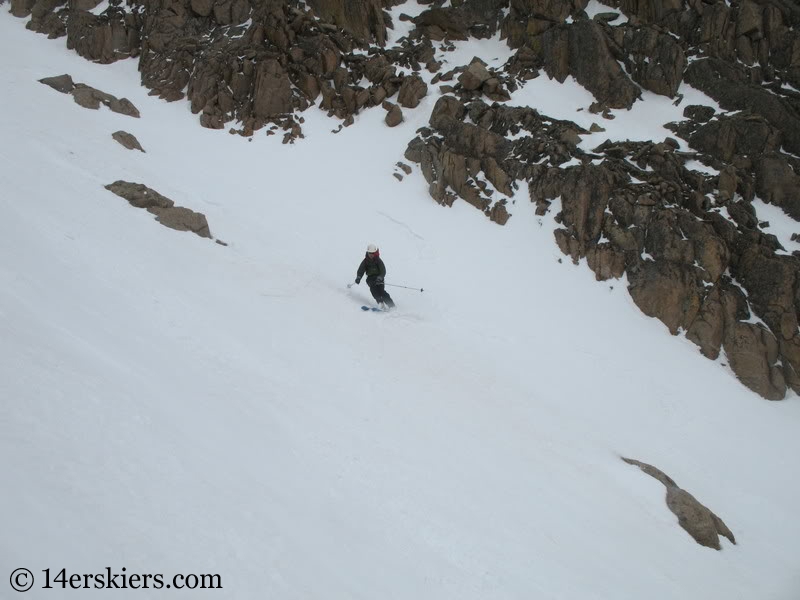 Pam: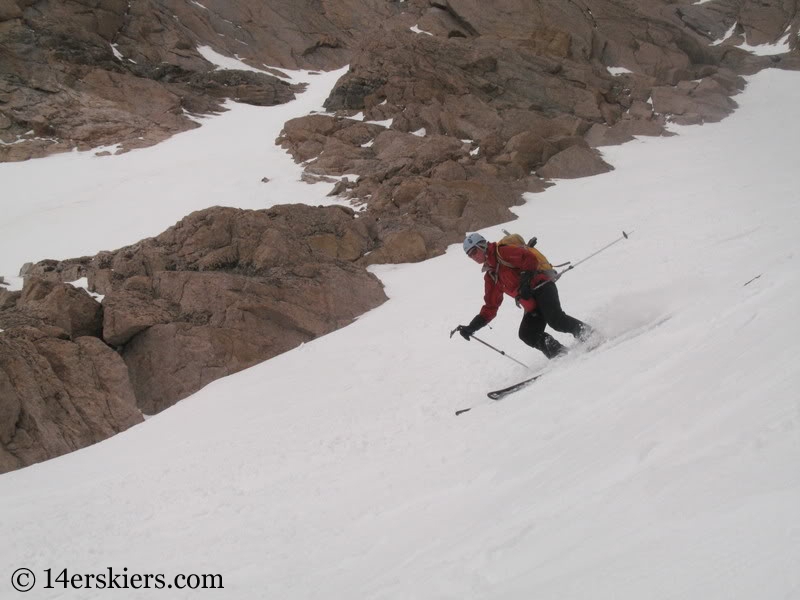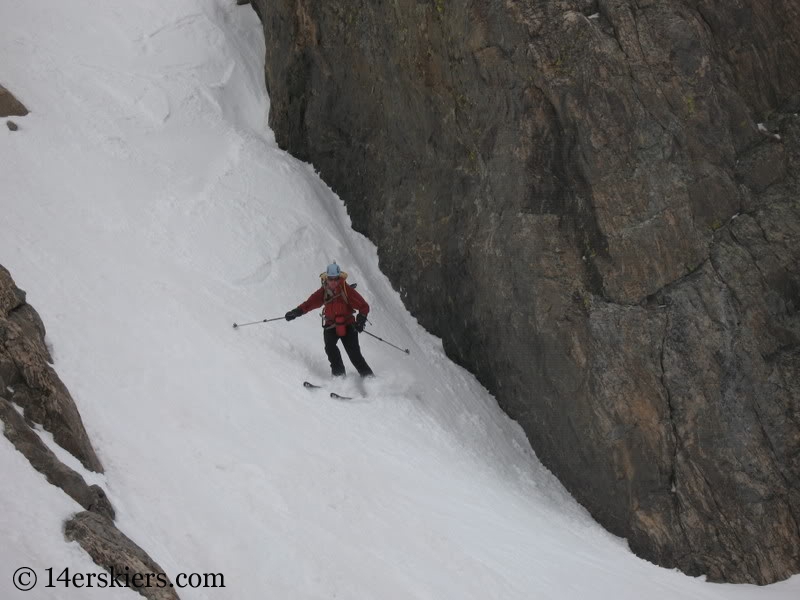 Brittany: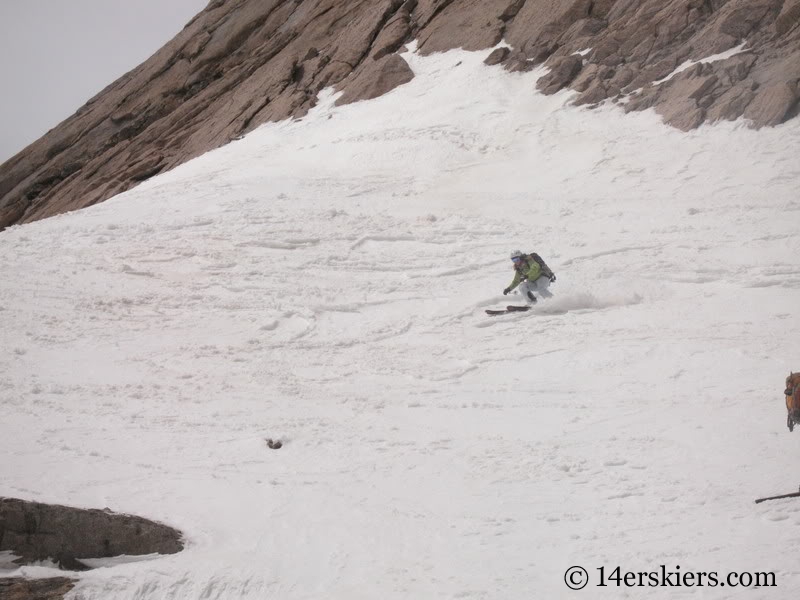 Yes, the route does continue all the way above Brittany in the shot below. Keplinger's is a pretty cool route, it goes even though it doesn't look like it should or even can.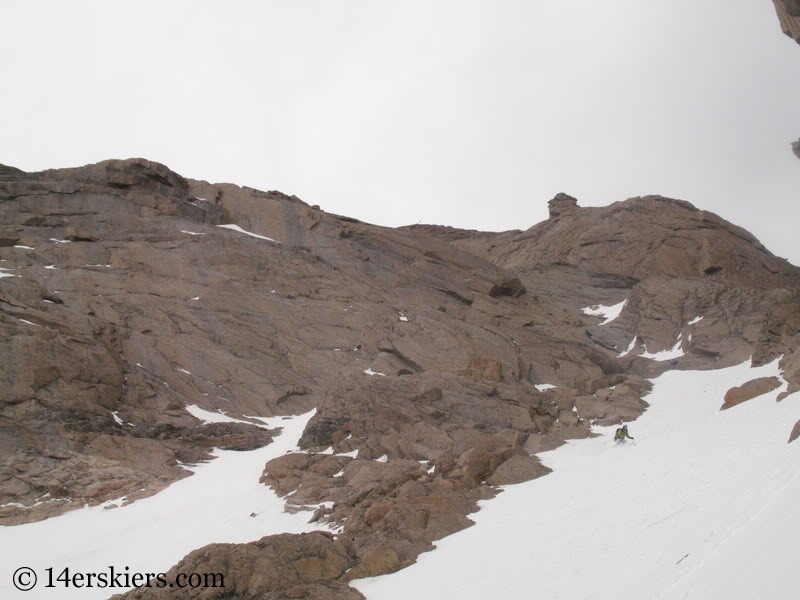 Back to Pete: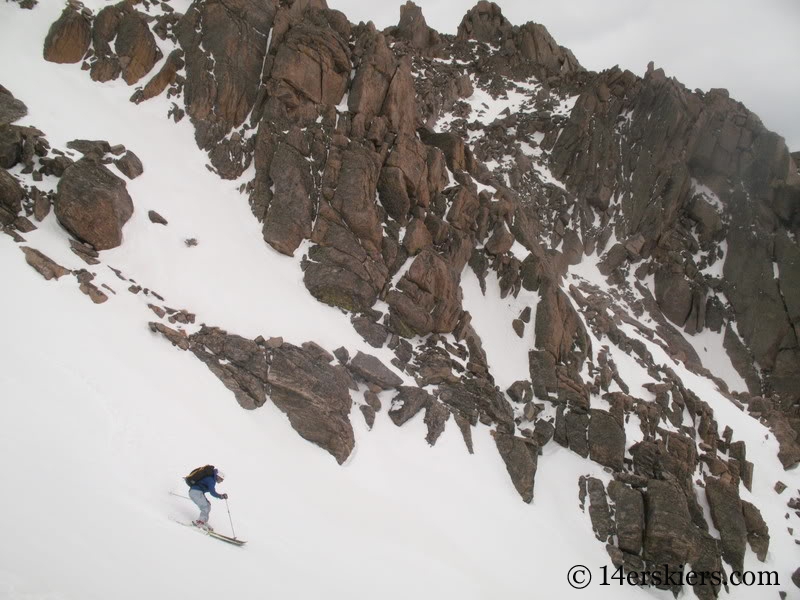 Long's south side, Keplinger's Couloir mostly in view. It doesn't look skiable from this angle, but it was.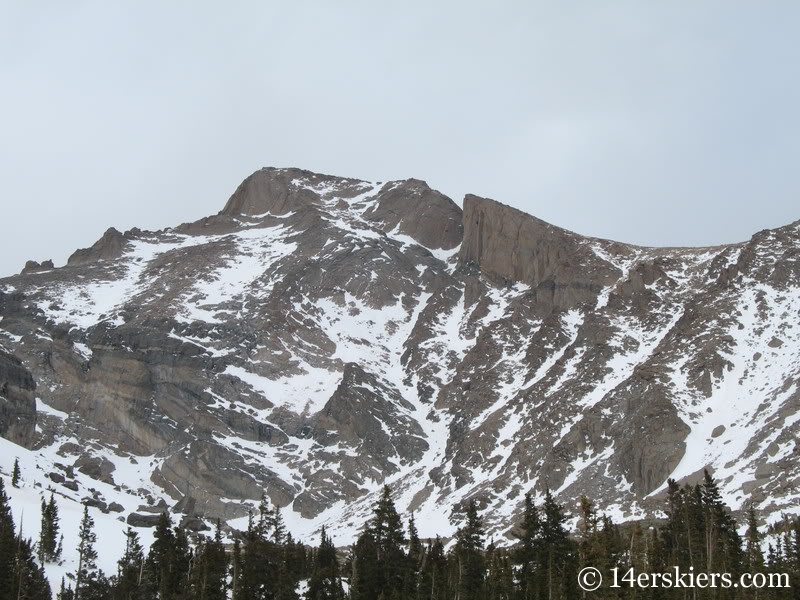 Our ascent traversed below the cliffs from the looker's right, near the black rock band. The couloir is fairly obvious. This ptarmigan, however, is not so obvious: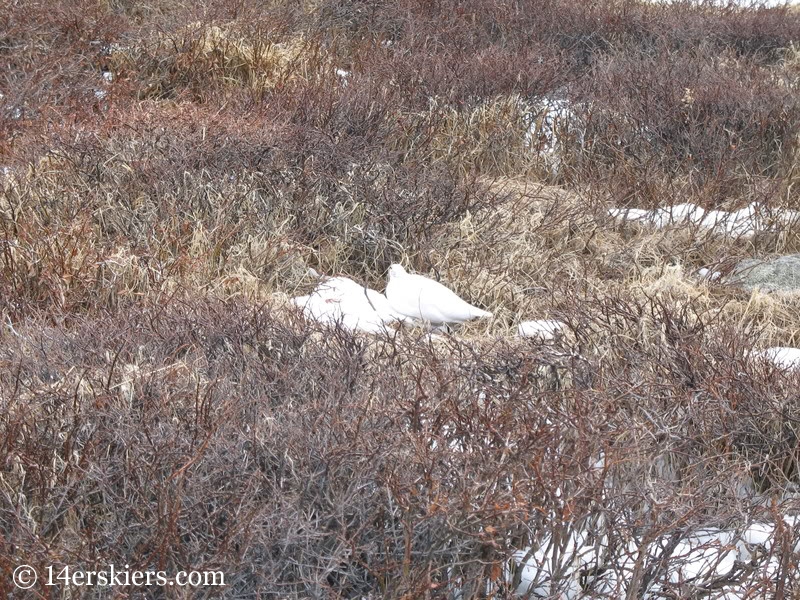 Some guys were just getting to the base of the couloir at 3:30(???) [Note: one of them turned out to be Austin Porzak who just finished skiing all of Colorado's fourteeners this past spring, 2016], but we were happy to have their tracks to follow until we reached Sandbeach Lake (Meeker right, Longs left).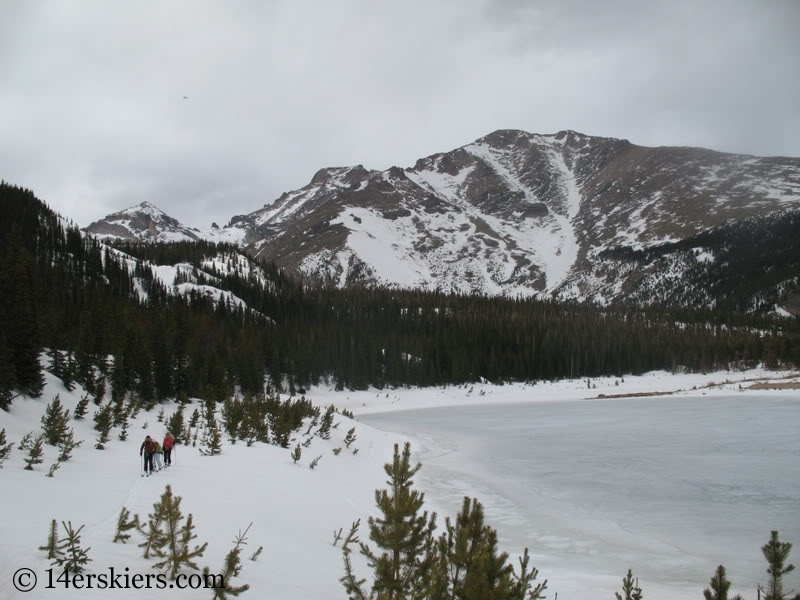 From that point on, we put the "wild" in Wild Basin. There is a reason that area is well-known for being a bushwack from hell, and our experience wasn't much different. Imagine this for two hours, but with less and less snow as we descended, eventually walking through the forest until we hit the trail we wanted.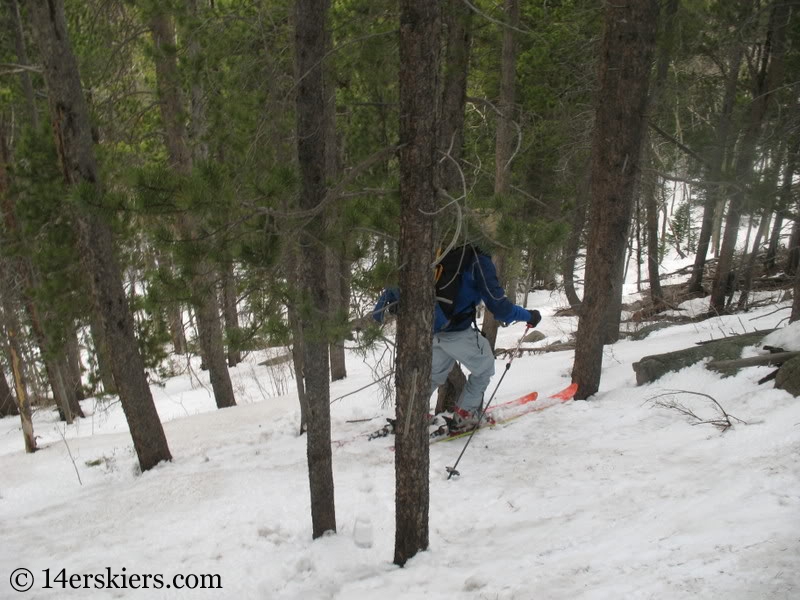 Right around hour 13, we walked off the trail and into the parking area. Woohoo, beer-thirty, we thought. But oh, no, Long's wasn't done with us yet. Dry as the road may have been, it was still gated another couple of miles down the road. It was tough remembering all the good turns Keplinger's provided us at that point, but the truck and the beers arrived soon enough.
Long's is probably considered the preeminent climber's peak in all of CO. It has it all- Huge classic multi-pitch routes on the Diamond, great scrambling routes, ice routes, and mixed routes. Sadly for us skiers, what the park lacks in snowfall, it makes up in wind, making snow routes difficult to find in condition. The silver lining of this was that the North Face Cables route, which I wanted to ski, never filled in. That route has 800′ of good skiing, whereas Keplinger's Couloir has almost 3 grand. So in the end, I feel like we lucked out and ended up having a great tour de Longs.
With Longs Peak done it was time to head down to the opposite end of the state. The Durango – Silverton train was open for the season, and there were three Chicago Basin fourteeners we had yet to ski!
Aside from skiing, biking, and all outdoorsy things,
Brittany Walker Konsella
also loves smiles and chocolate 🙂 Even though she excels at higher level math and chemistry, she still confuses left from right. Find out more about
Brittany
!
Latest posts by Brittany Walker Konsella (see all)
Summary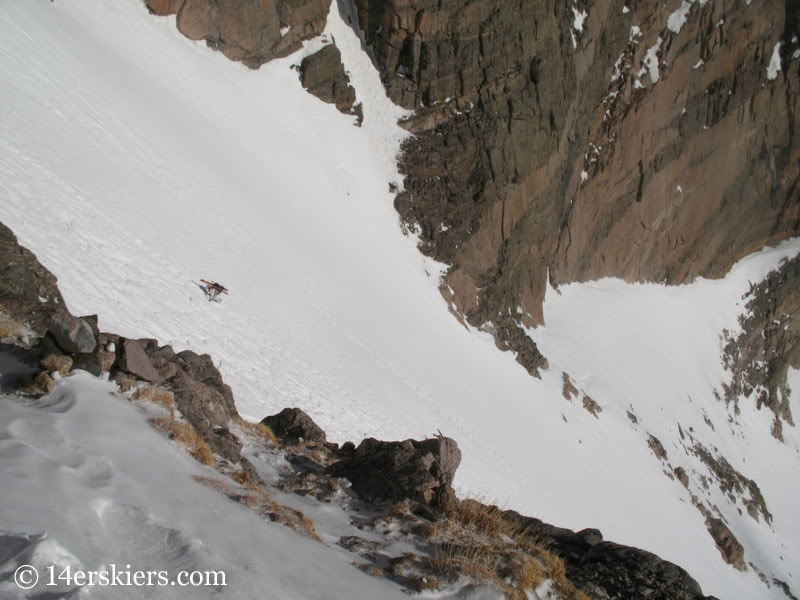 Article Name
Longs Peak Ski- Loft ascent, Keplinger descent
Description
Brittany & Frank recount their Longs Peak ski descent on Kepliger's Couloir, &approach via the Loft. A beautiful line on one of Colorado's best fourteeners!
Author