14er TBT: Culebra Peak (9 Mar 2008)
(Last Updated On: December 8, 2015)
It's back! Today is the return of the Throwback Thursday 14er reports, highlighting my 14er-sking journey. We will begin where we left off…. My 31st fourteener was Culebra Peak, and it was my first fourteener of 2008. We will continue this series of reports ever Thursday, all the way through to #54, which we will finish in this spring.
Culebra Peak is a daunting fourteener for some as it has the additional problem of being on private property. At the time, Culebra really hadn't been skied all that much, and the owners weren't used to people wanting people to climb this peak in winter. To really get it done, we had to pester the owners – a lot. And we had to team up with others who desired to ski the fourteeners. We joined forces with Ted Mahon and Christy Sauer (now Mahon), the only other couple besides us who has skied all of Colorado's fourteeners. Jordan White was also able to join us.
It's no doubt that there are a lot of stories behind Culebra Peak and the San Luis Valley. The area is rich in history. Frank told it so eloquently in his trip report of years past, so I decided to leave the story in his words. Below is a slightly modified version of Frank's original trip report.

Jumping Through the Hoops and Paying the Price: Culebra Peak 14,047′
March 9, 2008
Brittany Walker Konslla, Frank Konsella, Jordan White, Ted Mahon, and Christy Sauer Mahon
Culebra Peak is Colorado's southernmost fourteener, sitting less than 10 miles from the New Mexico border. The mountain and the area are steeped in history, though not all of it is good. Most climbs of San Luis start in the town of San Luis, CO's oldest town, founded in 1851.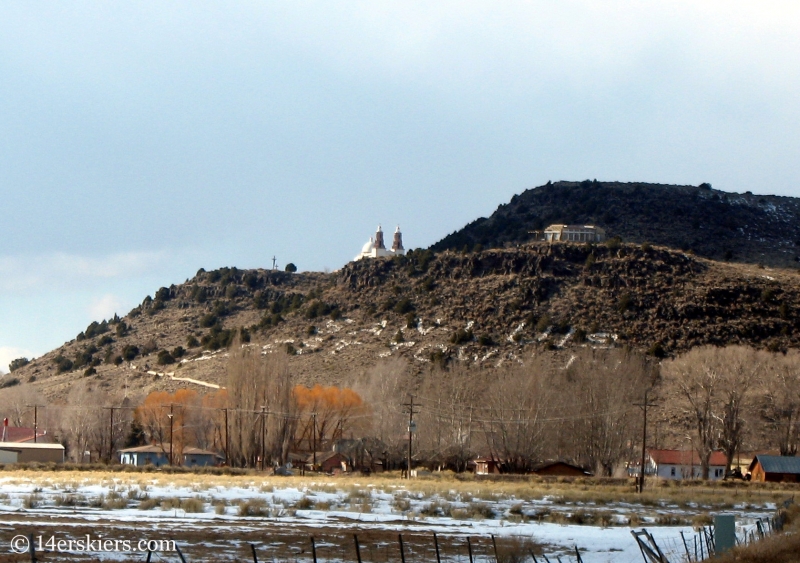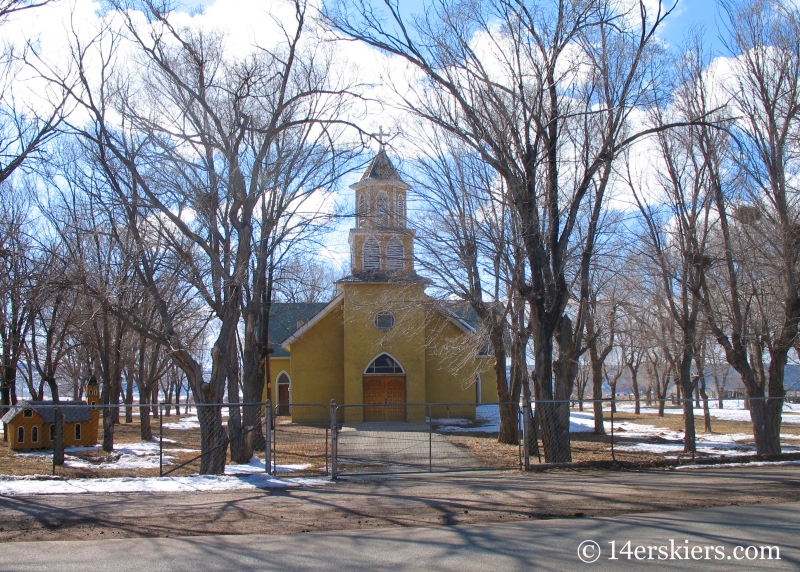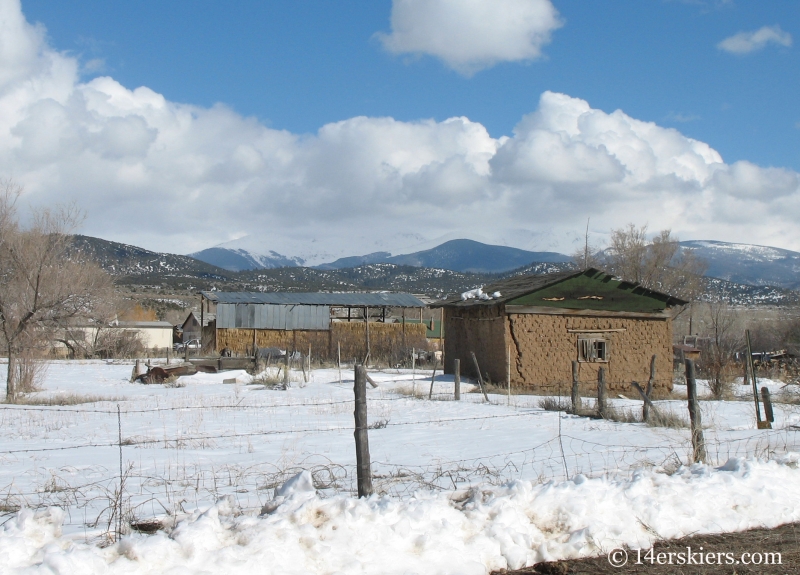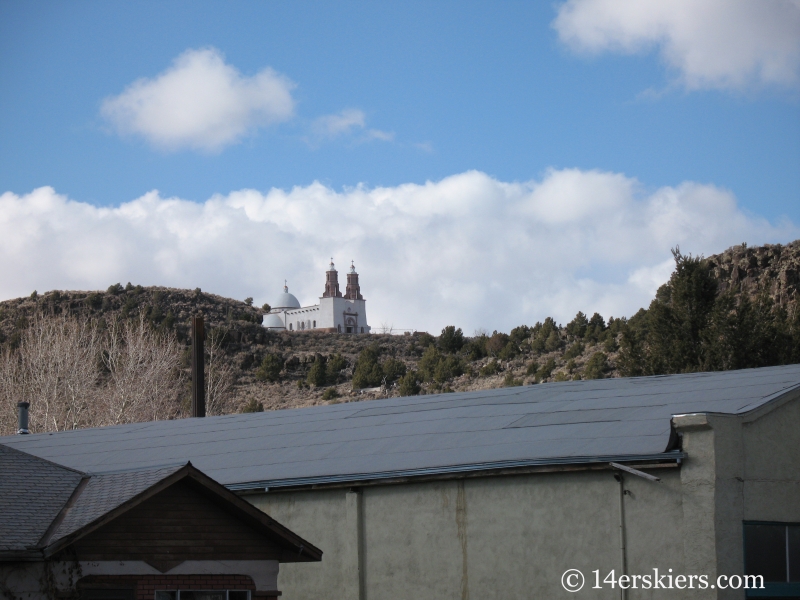 Culebra Peak sits in the middle of huge land grants dating back to the Spanish times, and public land in this area is the exception, rather than the rule. The 77,000+ acre ranch that contains Culebra and the neighboring mountains has a fascinating history.
Until 1958, the ranch allowed access not only to climbers, but more importantly to locals who used the area to hunt, fish, gather firewood, and graze their cattle, as they had for generations under a Spanish-style communal style of land ownership. After 1958, when Delfino Salazar died and ownership switched to Jack Taylor, all hell broke loose. Mr Taylor tried to prohibit locals from using his land, and began charging climbers to access his land, though the dollar amount was small. By 1975, the situation had grown so critical that shots were fired (by upset locals, not climbers) at Taylor's house, with one of the bullets hitting Jack Taylor in the ankle while he slept. Former Governor Roy Romer tried to purchase the land for the state throughout his tenure, but was unfortunately unsuccessful.
Between 1999 and 2004, Enron executive Lou Pai was the owner of the ranch, and prohibited access to the mountain except for one weekend per year, only available to CO Mountain Club members who were close to finishing the 14ers. The new owners are more lenient with their attitudes with climbers. Tensions with the local population remain high, however- the ranch manager, Carlos, said he is the subject of much animosity and in fact the house he was building was burned down before he could even complete it, because he works for "the enemy". (He is now building again)
Our adventure began back in November, when I sent my first of what would become many emails to the ranch, asking for permission to ski it this winter. At some point in January, I received the bad news that the ranch owners felt uncomfortable with their potential liability. I made a last ditch effort, explaining that we weren't going to sue them no matter what, and I discussed the experience level of our group, and the precautions we would take to minimize our danger. And that's how the crux of this climb was overcome- by an email. Ranch owner Bobby Hill called, in a thick Texas accent, and I was able to stifle my laughter regarding his name and a certain TV show and gain permission to set up a climb.
After seemingly 100 emails between the ranch, and everyone else who wanted to ski it, we finally settled on giving it a go on the 9th. We met up in San Luis the night before, which was the first time Ted and I had seen each other since 2000, when we had randomly run into each other at trailheads in the Sierras and on Shasta. Gotta love the small world that skiing is…
We met up with Carlos at the gate and fired up the snowmobiles to gain miles from the valley floor up to about 11,000′. Carlos was nice enough to tow Jordan on his sled, and later went back up with a friend to leave an extra snowmobile for us to use on the ride back.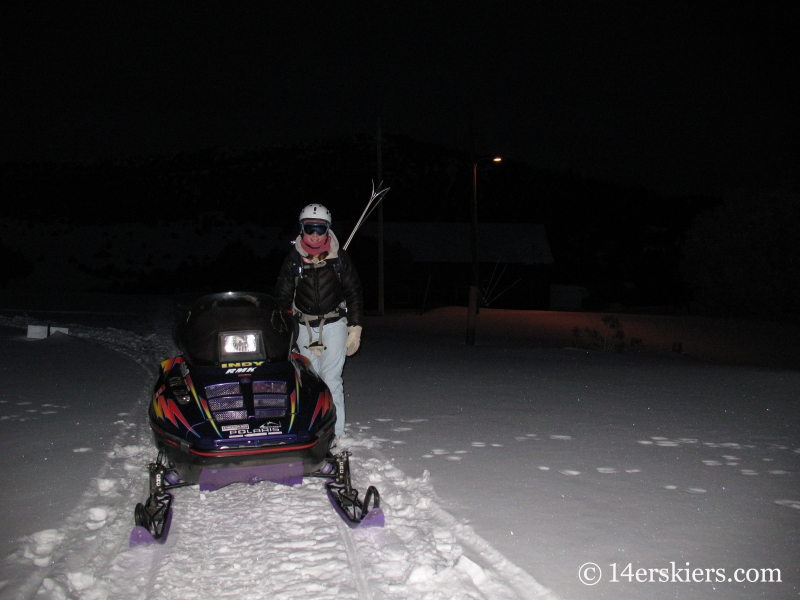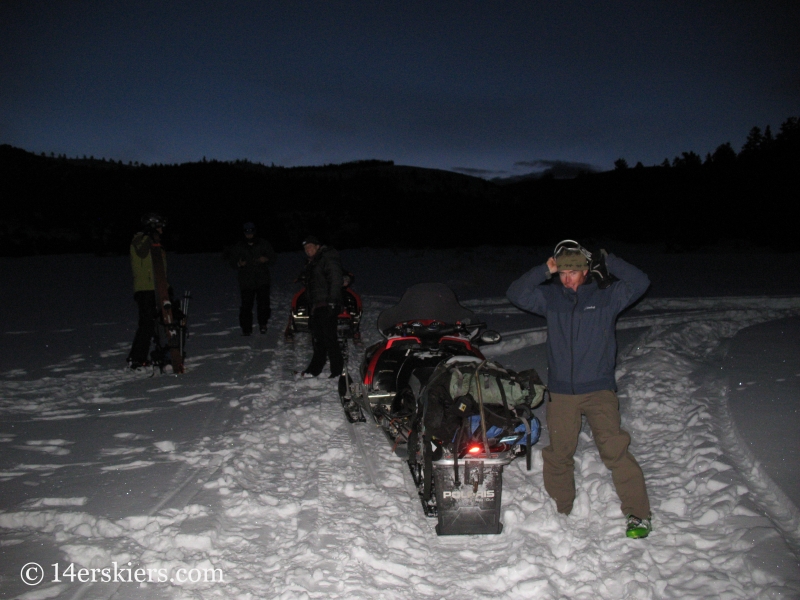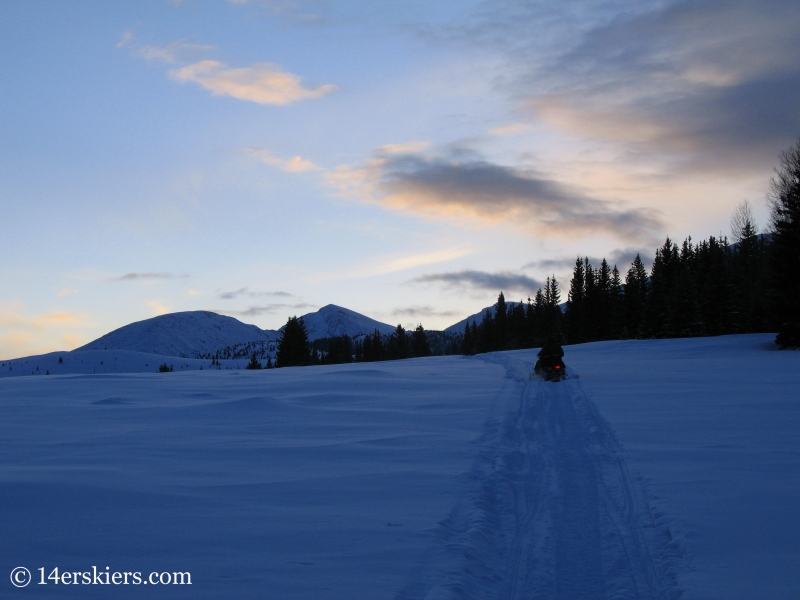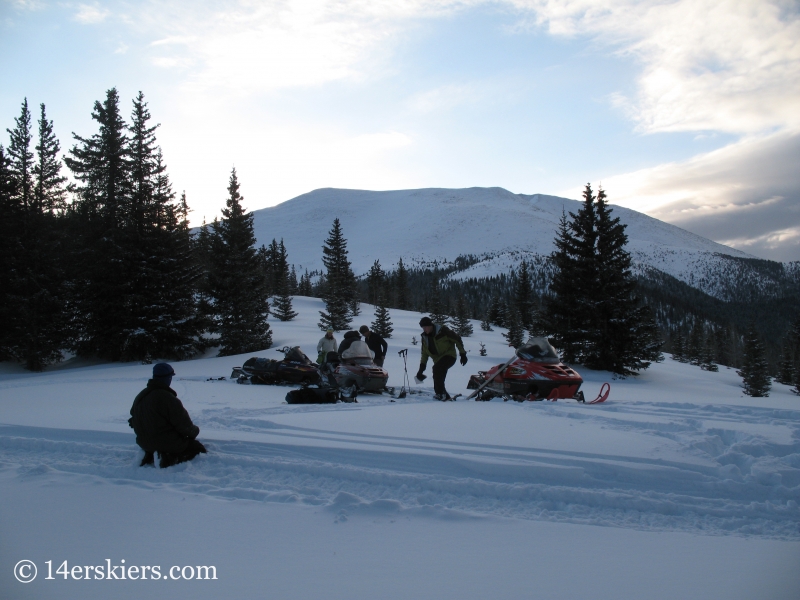 Despite a pessimistic weather forecast, the weather in the morning was excellent, and we were hopeful that we were going to luck out with a bluebird day. It felt good to be skinning up high again: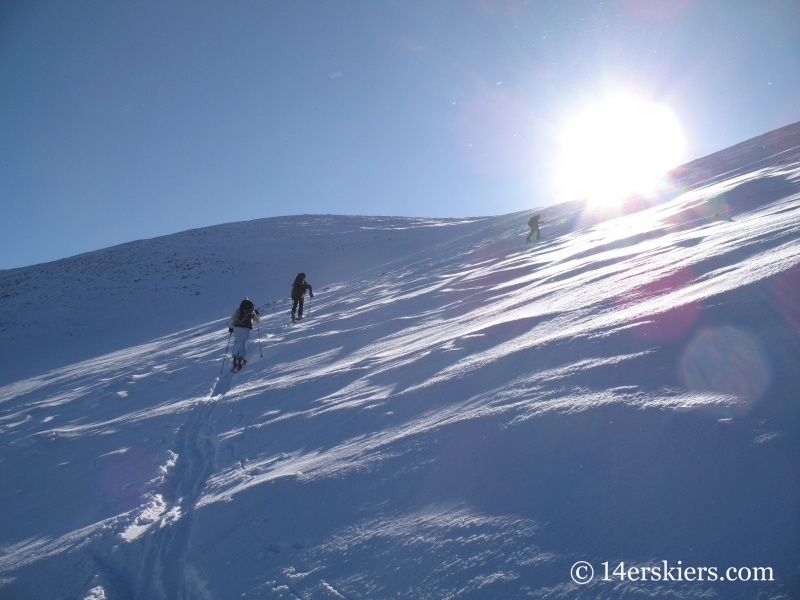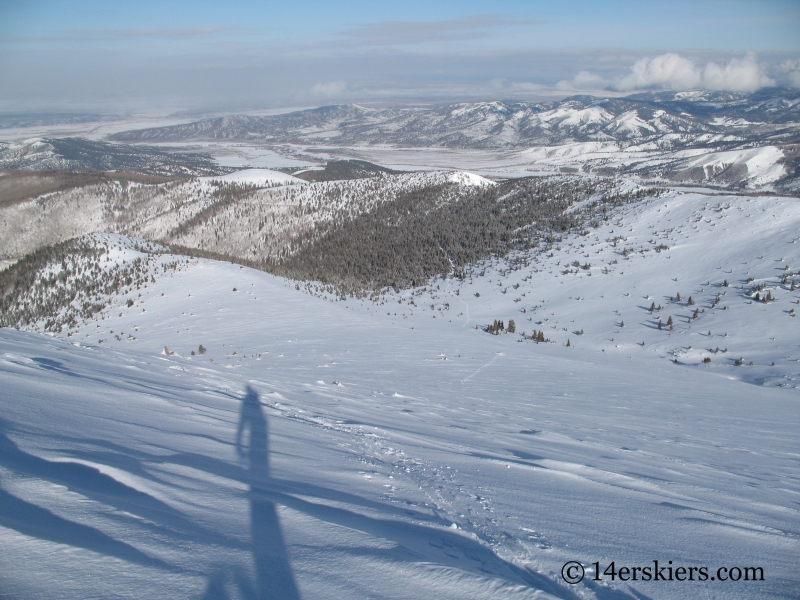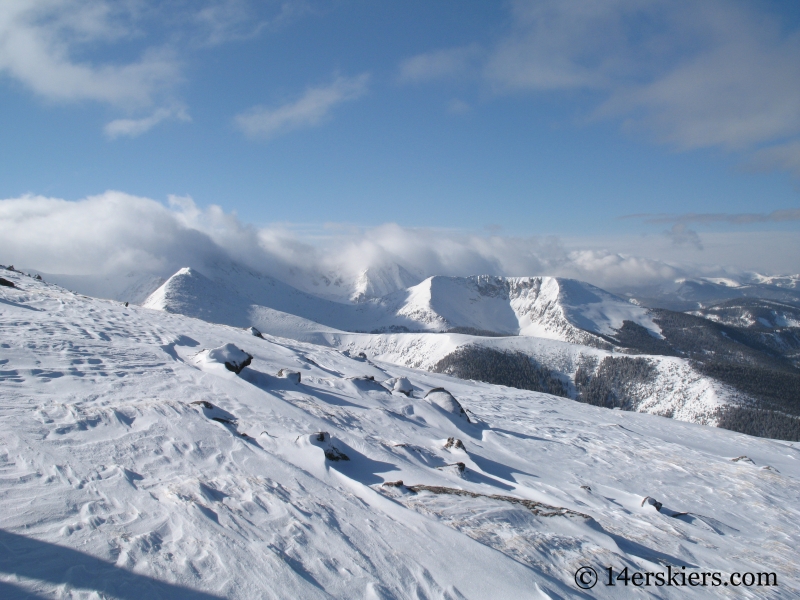 The weather was good on Culebra, but snow was on its way….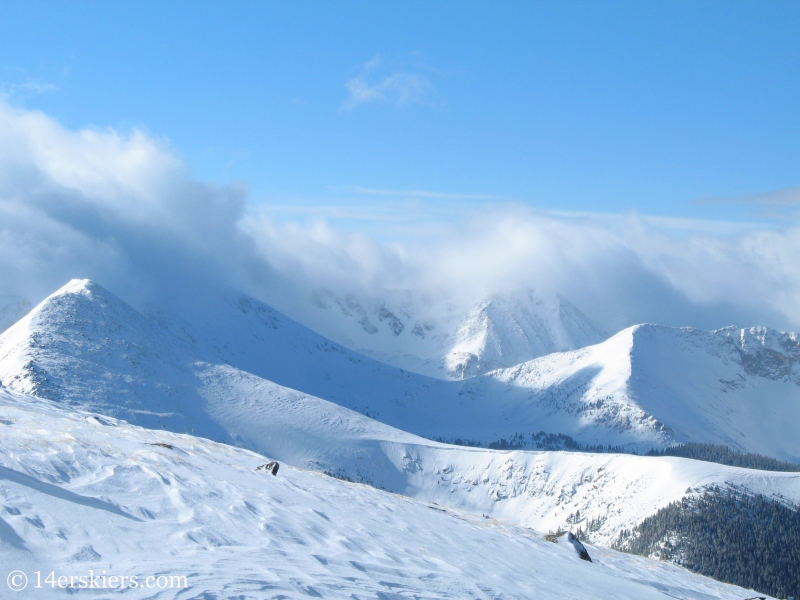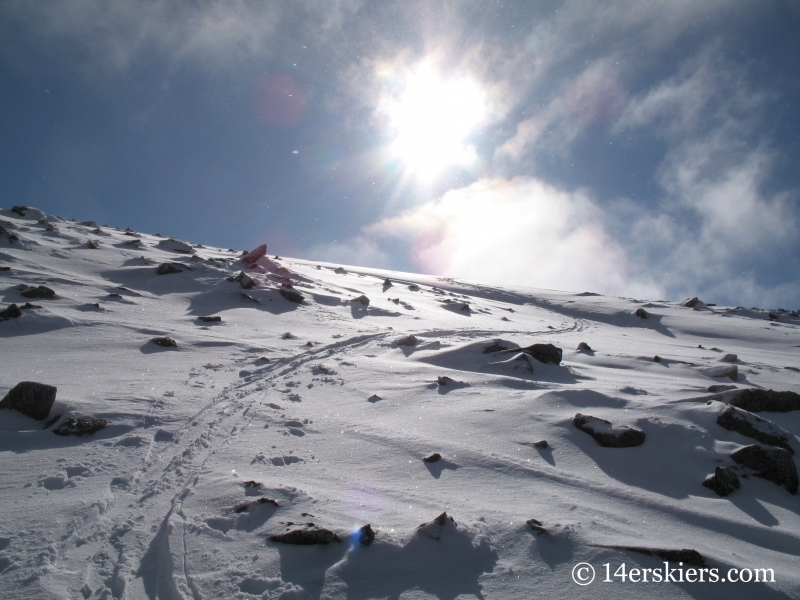 Eventually, we made the switch to bootpacking, although unfortunately the weather was busy making changes as well: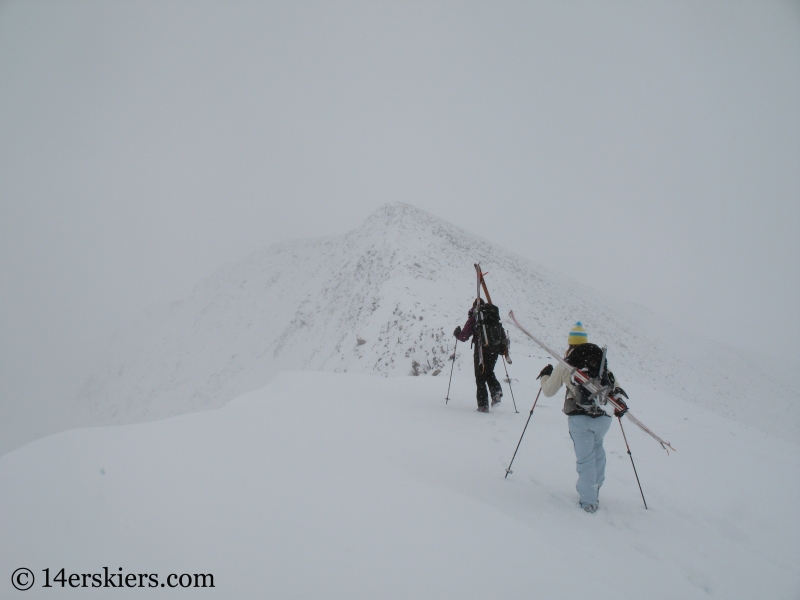 Summit shot: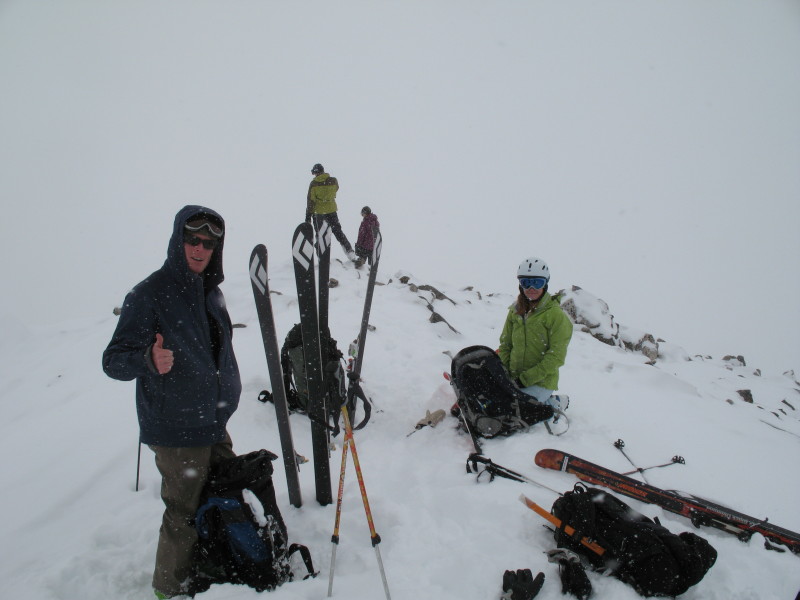 Brittany and Christy.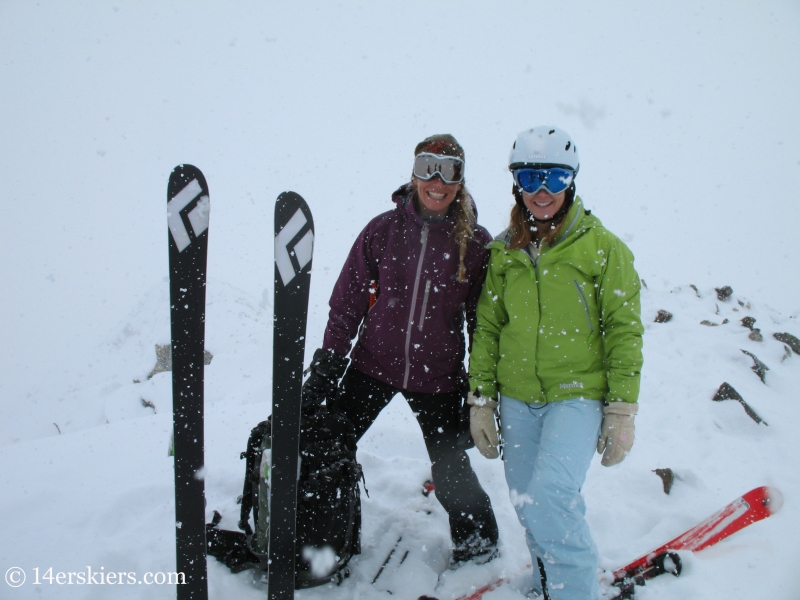 The incoming storm dashed our plans for a descent of the north face. It is doubtful that the face has ever been skied, given the access issues. It is steep and fun looking, and someone needs to get on it. (update– the face has now been skied/ snowboarded, in 2009, by Jarrett Luttrell, Fritz Sperry, Derek Dreschsel, Caleb Wray, and Joe Brannan) So, we were on the ridge instead, showing the ping-pong ball who was boss: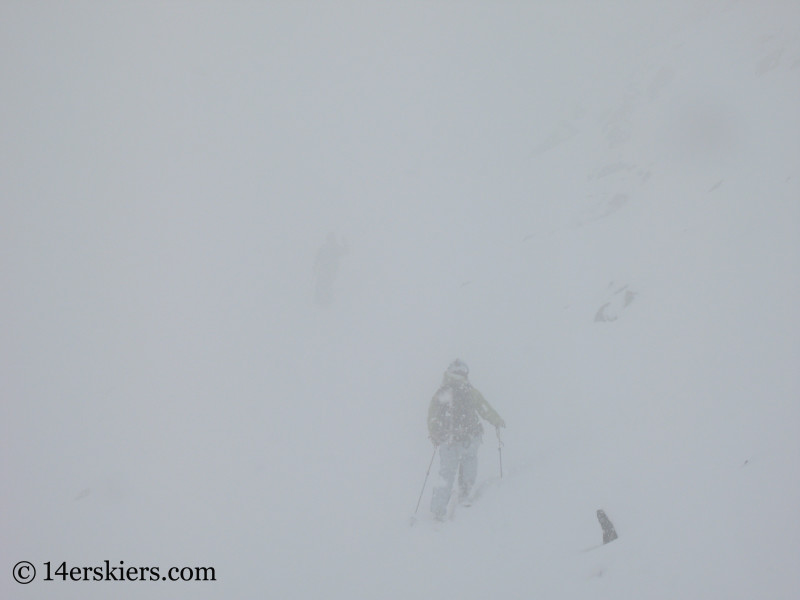 See Brittany in the upper right, too?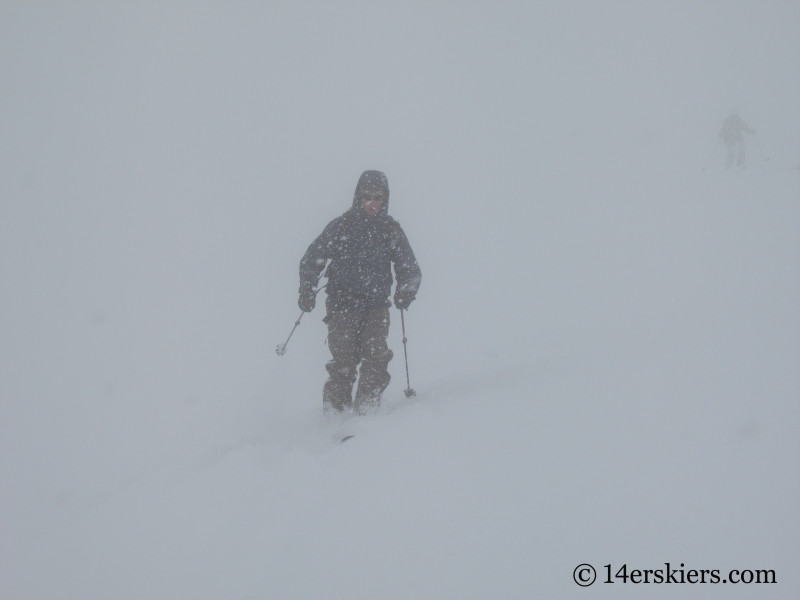 Brittany's still all smiles: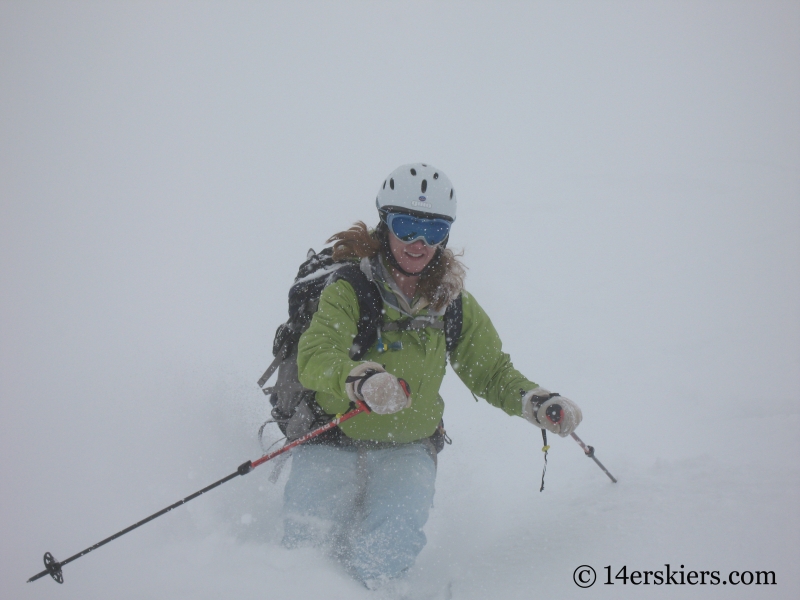 Christy, dropping the knee and getting over halfway to tele-ing the 14ers: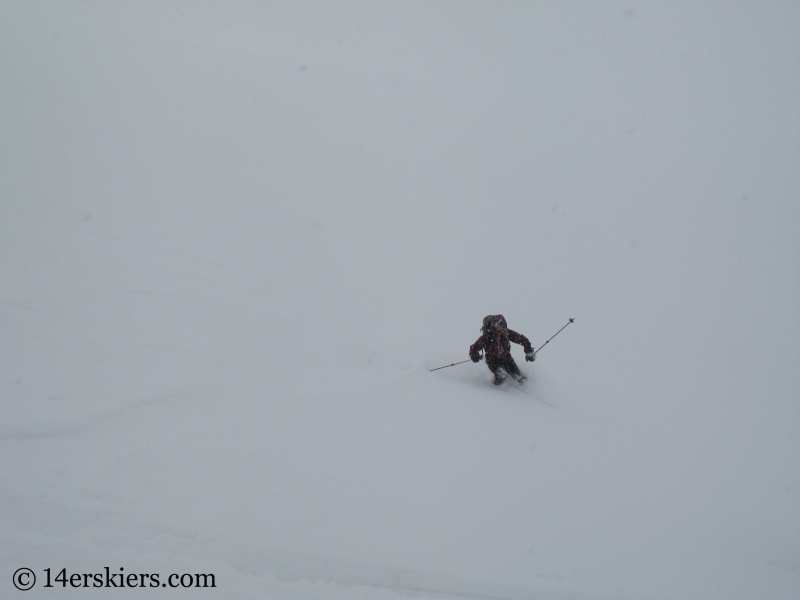 Ted: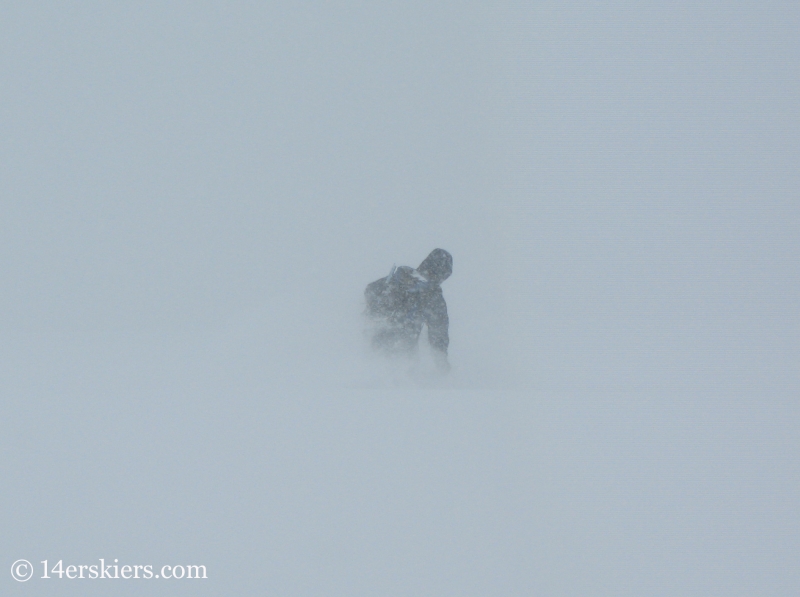 Frank.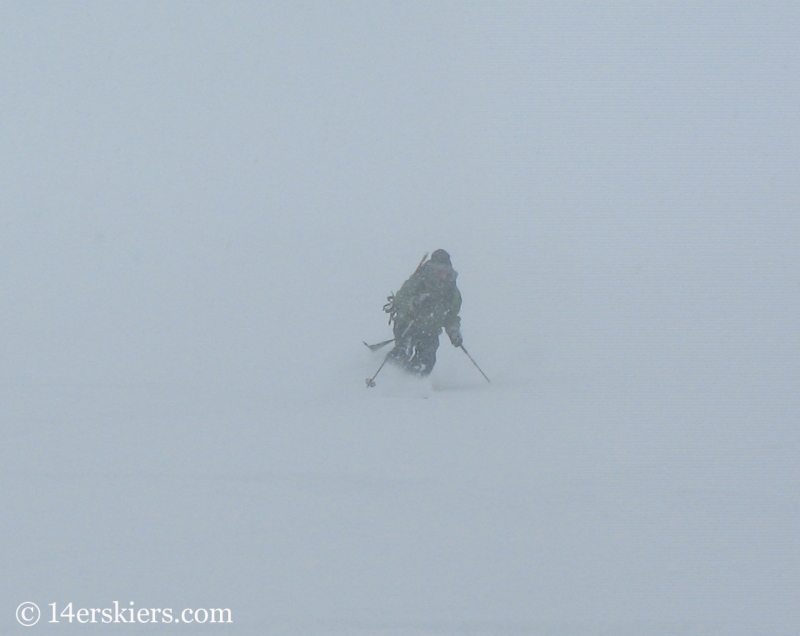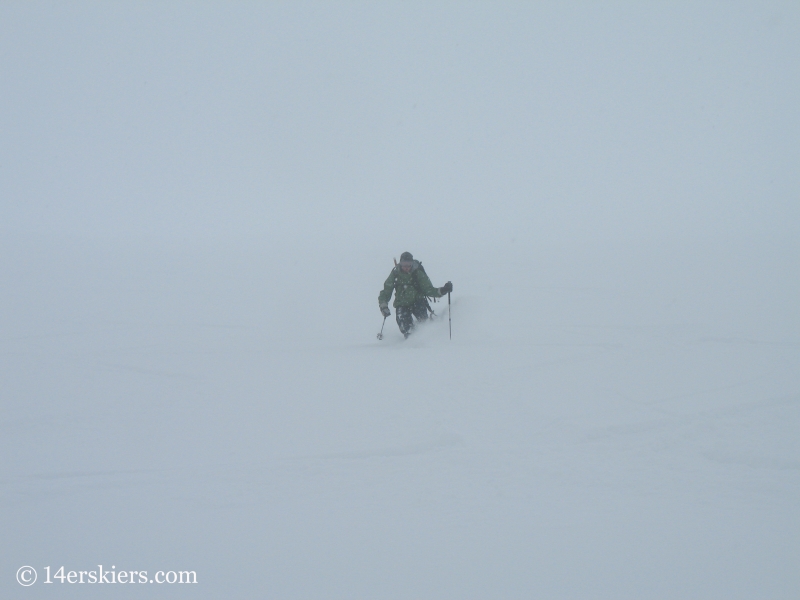 Jordan.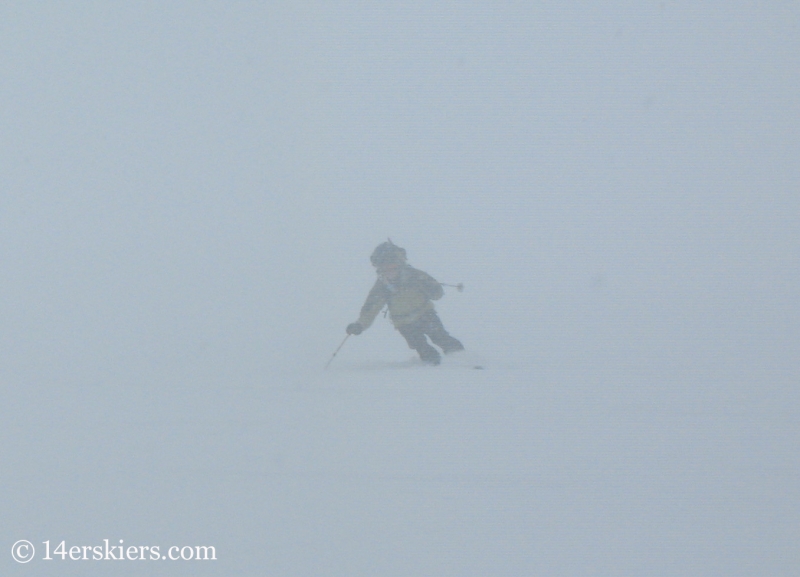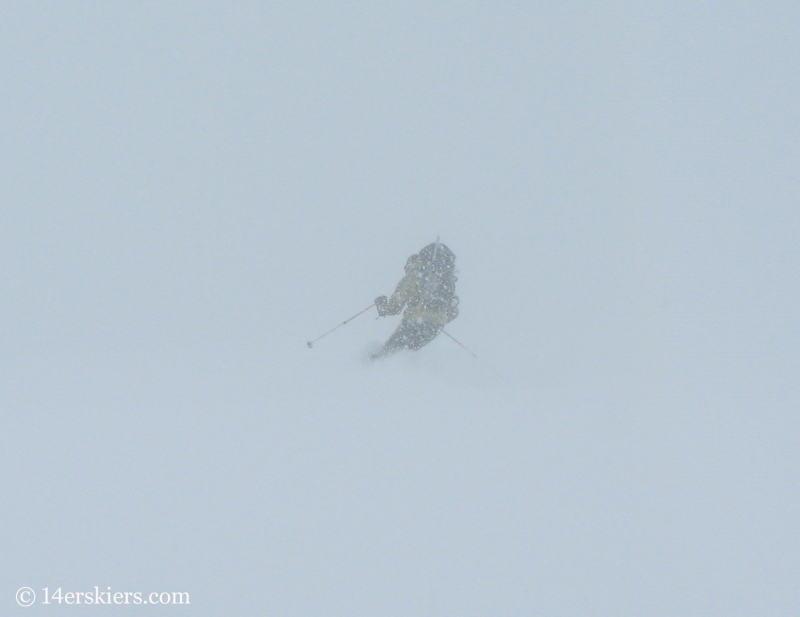 Group shot afterwards: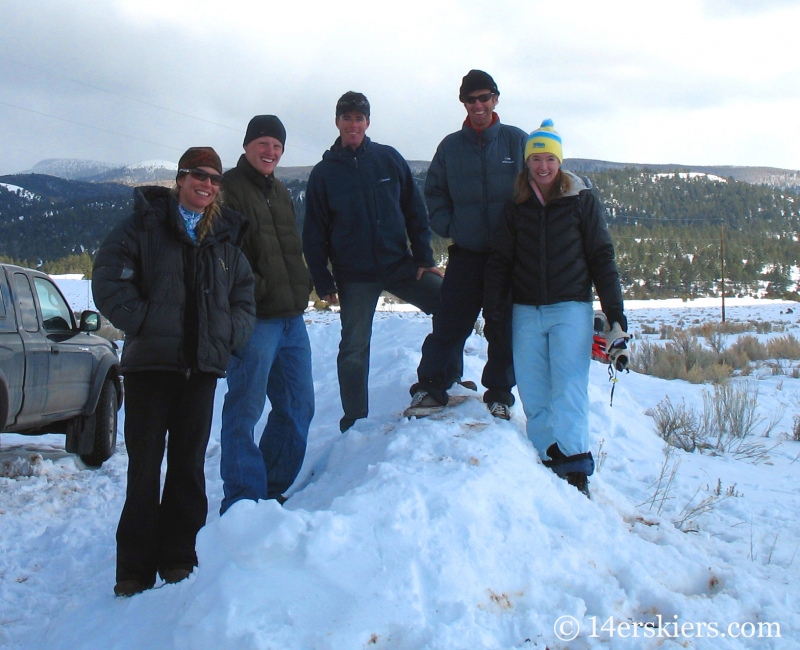 Alright, let's get down to business, because someone's going to ask. The answer is $250, per person. For that price, Carlos went out ahead of time and made a track up the road for us, cutting out some fallen timber along the way. He also plowed out a big parking area for us and gave us a locater beacon in case we got lost.
I really didn't mind, though, and here are some reasons why. For one, that land is way more pristine than any wilderness area I've ever visited. More importantly, it was good to get out of town and ski something big with friends. Sure, I could ski something locally with friends, but I do that all the time, year after year. It's like that thread that the suit started about getting a little bored at this time of year- a quick mission out of town solved any problems I may have had with skiing motivation. Sure, I could have skied something more fun out of town, but it was a fourteener that "forced" me to get off my butt and leave town. Seriously, as much fan as the skiing was, it was also fun just to hang out someplace else and see the sun set somewhere else (San Luis valley, near Monte Vista):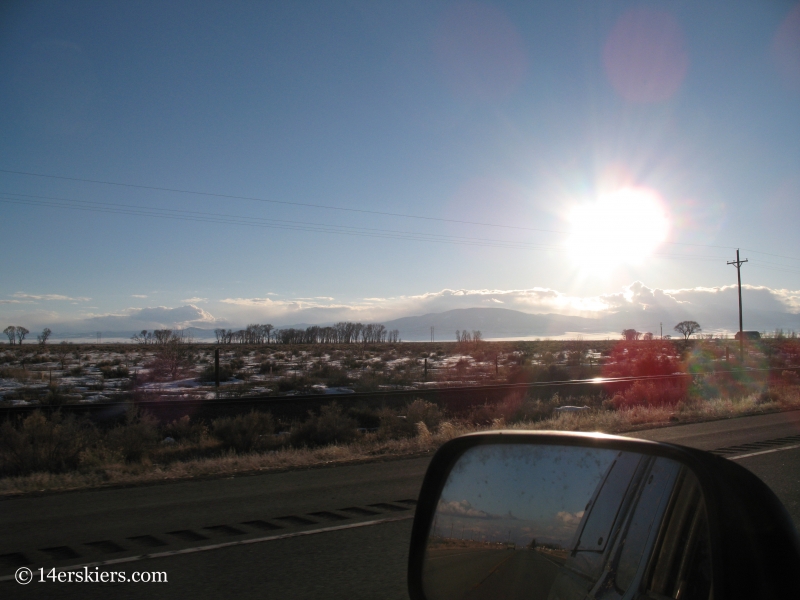 Blanca group: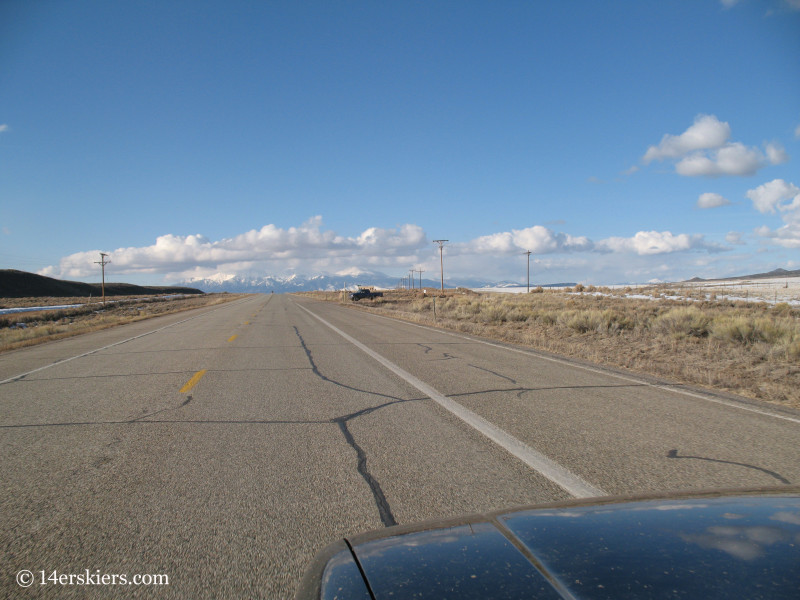 That's it, let the "you paid how much to ski a stupid fourteener?" discussion begin Or you could be cool and keep it to yourself…
---
Like this report? See more of Brittany's 14er skiing journey.
Aside from skiing, biking, and all outdoorsy things,
Brittany Walker Konsella
also loves smiles and chocolate 🙂 Even though she excels at higher level math and chemistry, she still confuses left from right. Find out more about
Brittany
!
Latest posts by Brittany Walker Konsella (see all)
Summary
Article Name
Backcountry Skiing on Culebra Peak
Description
Located on private property, Culebra Peak can be a bit of a mystery. Join us as we enjoy powdery backcountry skiing conditions on this private fourteener!
Author