TR: Climbing Guides Ridge on Mount Crested Butte
(Last Updated On: September 1, 2015)
It all started in the Gore. Natalia and I were on a backpacking trip, enjoying the beauty of summer. But, summer was quickly wrapping up for Natalia as she was beginning school in just a couple of weeks. We realized our schedules did not align well with her having weekends off and me having weekdays as my weekends.
Then I suggested, "You know, I don't have to work until 3 pm on Saturdays. You should come down and we should climb Guides Ridge one weekend". This past Saturday ended up being that weekend.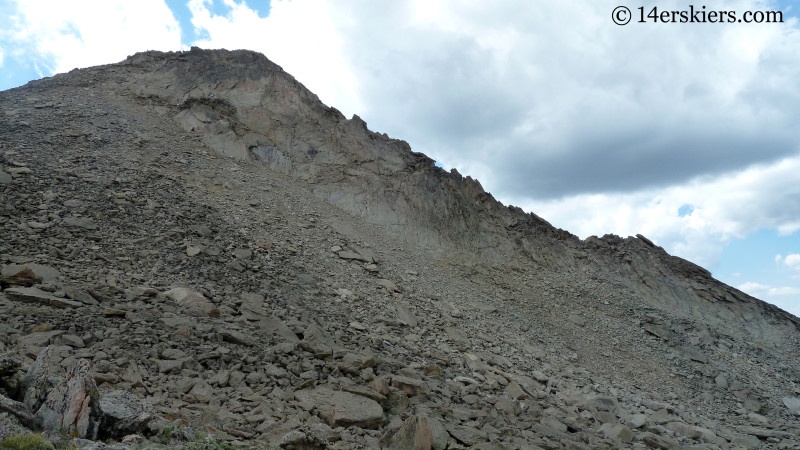 A few years back Frank and I attempted climbing Guides Ridge.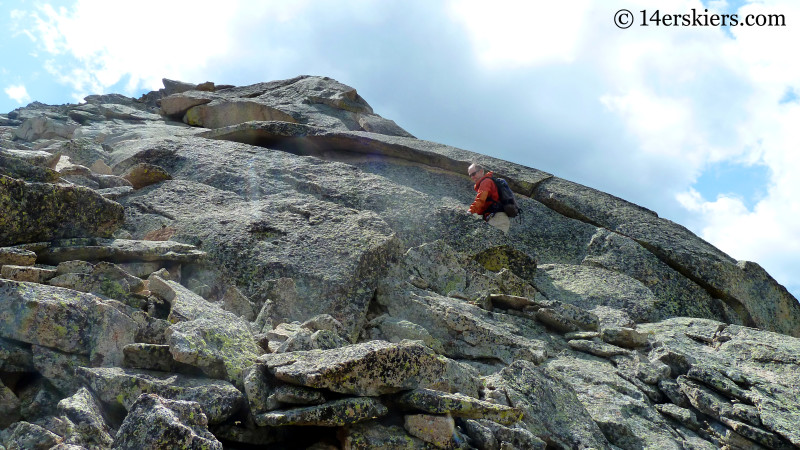 We got a good chunk of the way up it, but the last bit was particularly committing. I wasn't sure I felt comfortable doing it without a rope. And, to put the icing on the cake, the weather was threatening. A bailout past this point was basically impossible.

So, we did the smart thing, and turned around. But, it ate at us. We don't give up on objectives very easily. This time, I returned with Natalia, who was training to be a guide. And I was her practice on this low 5th class route.
Guides Ridge is often accessed from the top of the Silver Queen Lift. But, we wanted an early start, and we're too cheap to pay for a lift ticket. So, we climbed the mountain instead, veering off to the general area at one of the major switchbacks. We had some talus to climb.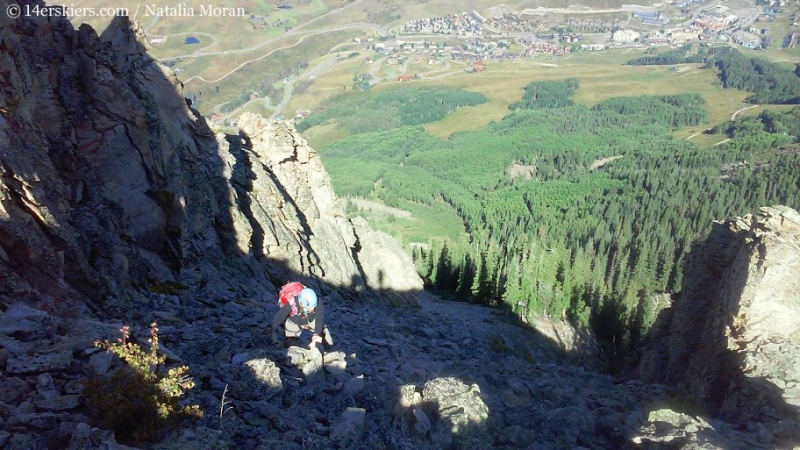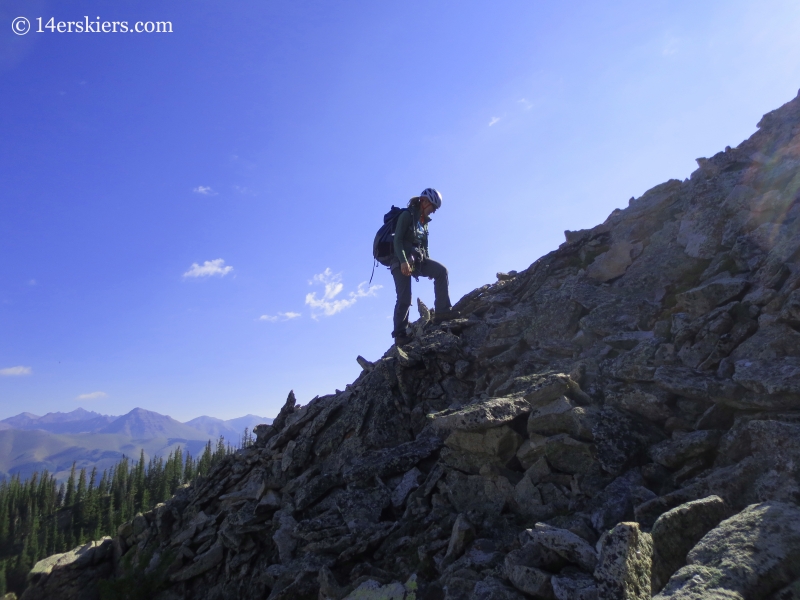 Eventually, we made our way to the obvious ridge formation which is easily visible from most of Crested Butte, and just above front side skiing terrain. In fact, this route has gained popularity in recent years as Guides Ridge has now become a climb in the US Ski Mountaineering Championships. Once gaining the ridge, we had more talus to climb. We anticipated using a rope, so we put our harnesses on to minimize the time for a transition later.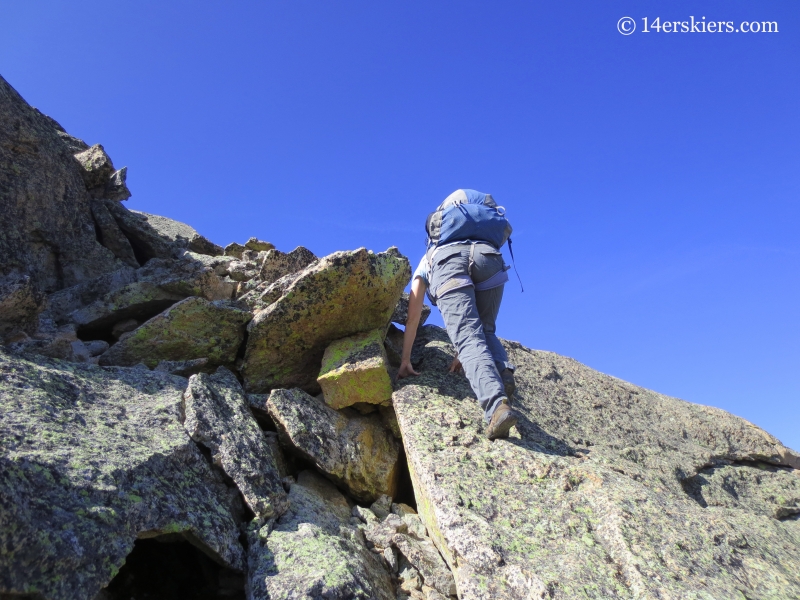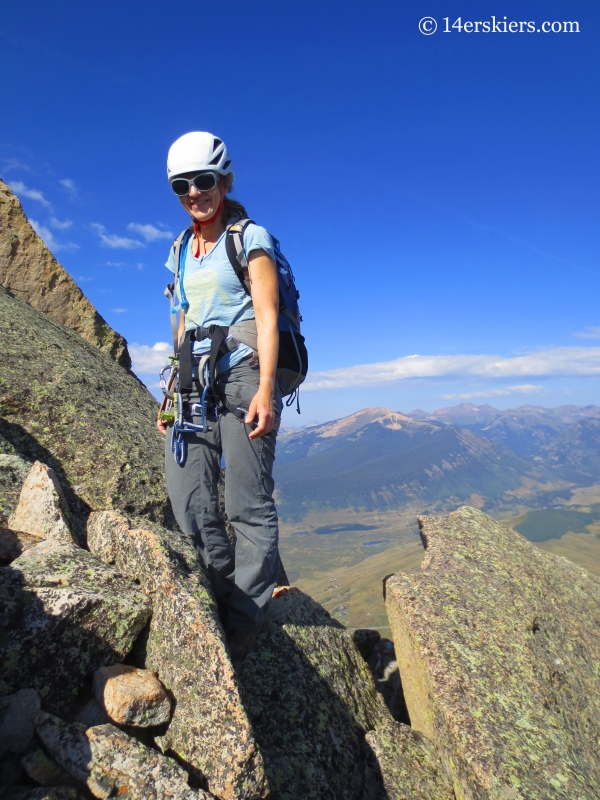 The ridge had a fun and airy feel.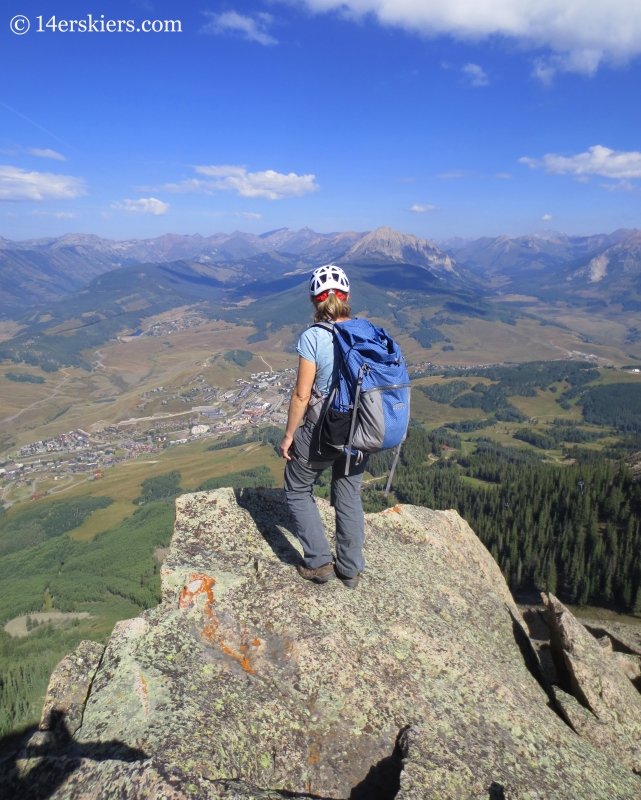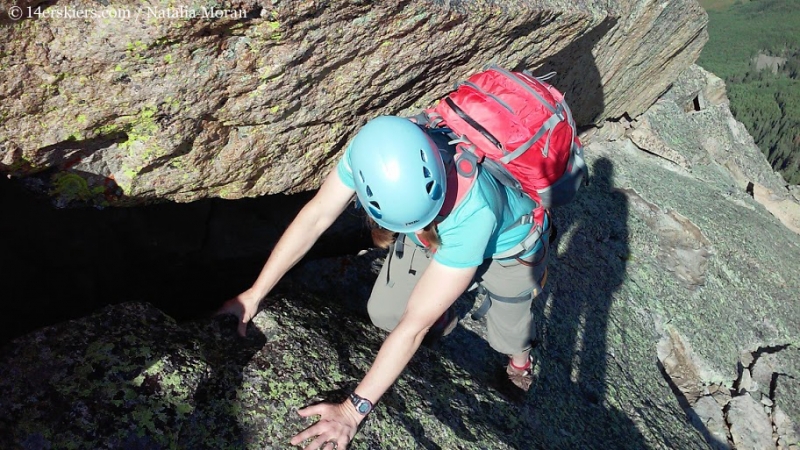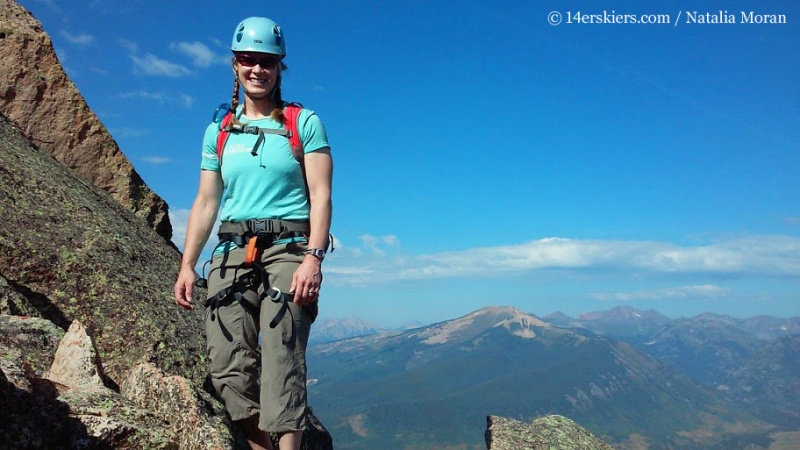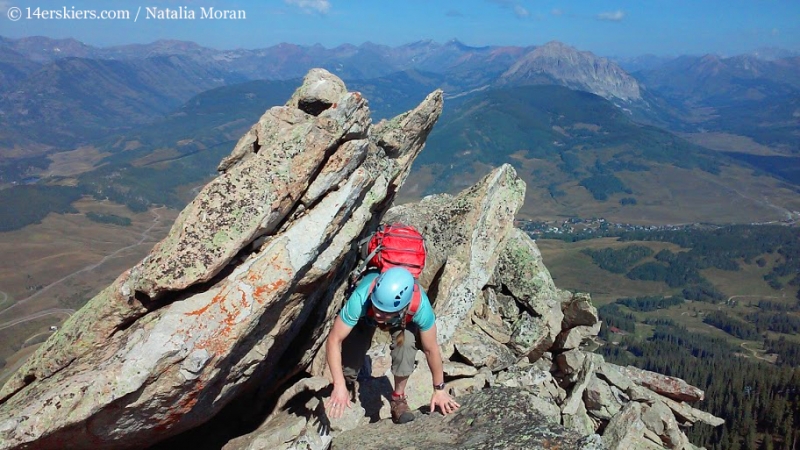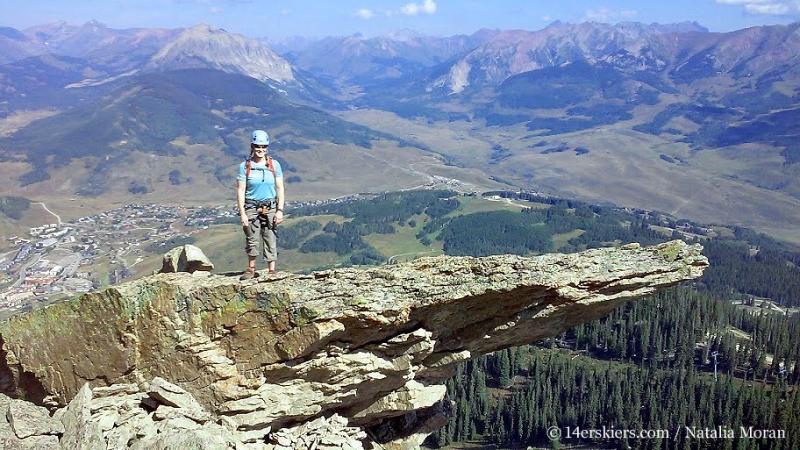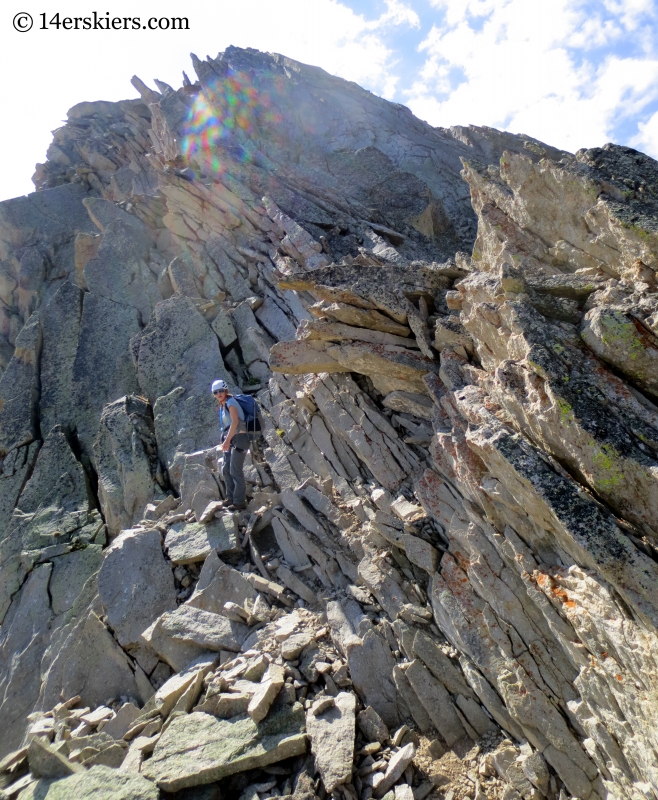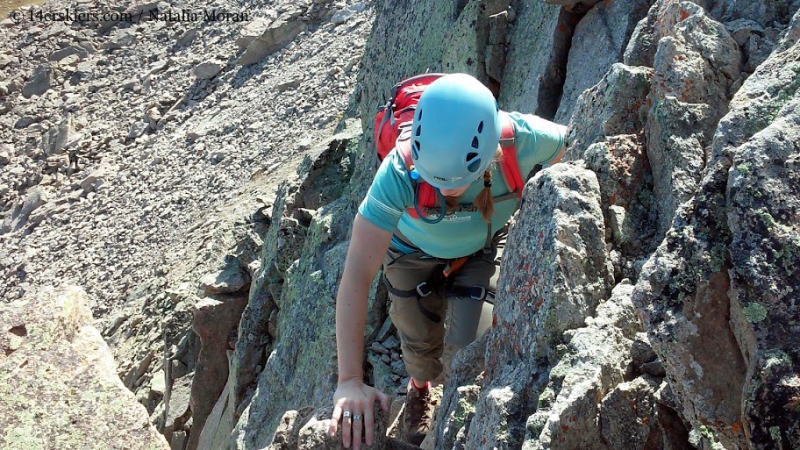 At the point where we bailed out a few years back, we opted to protect ourselves with a rope. Natalia led the way up.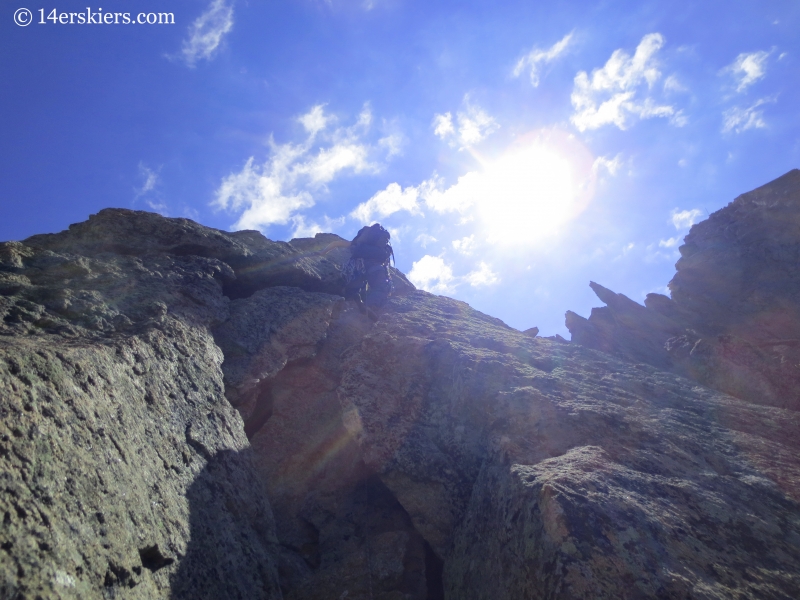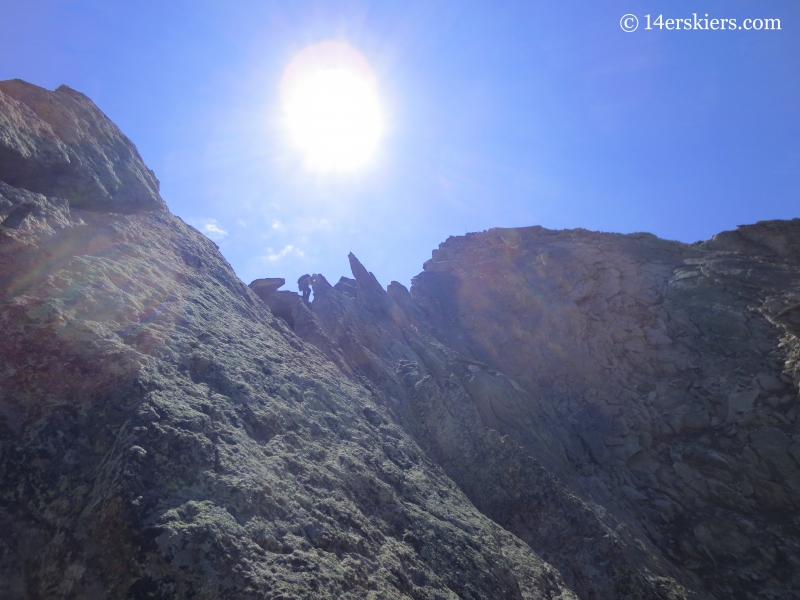 Natalia setting up an anchor on this horn. Guides Ridge is full of horns to sling!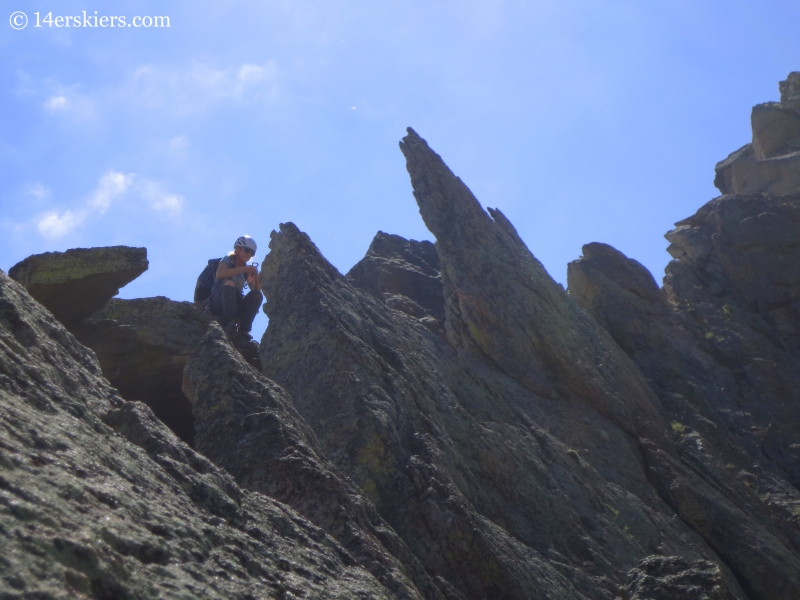 Further up the route. Me.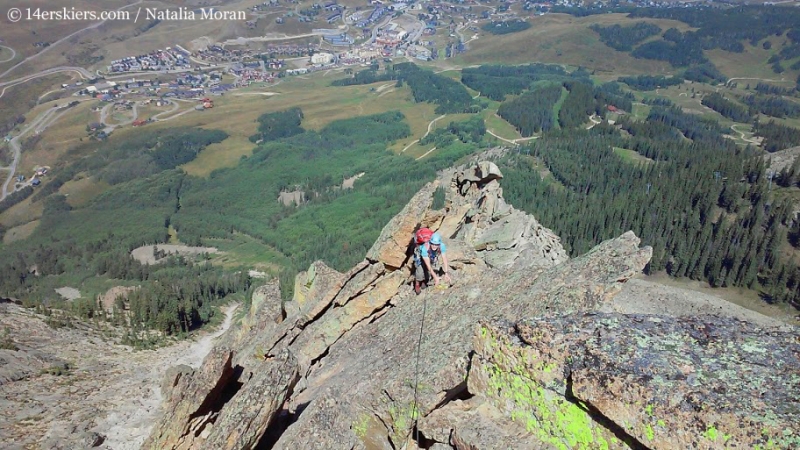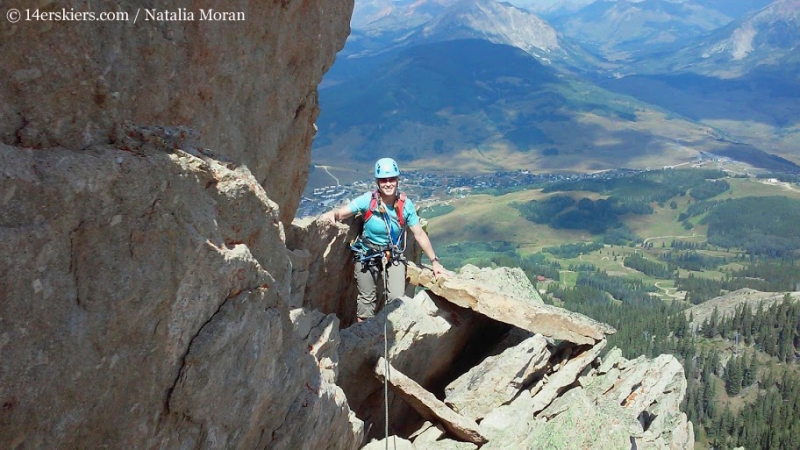 Chillin' at the belay station!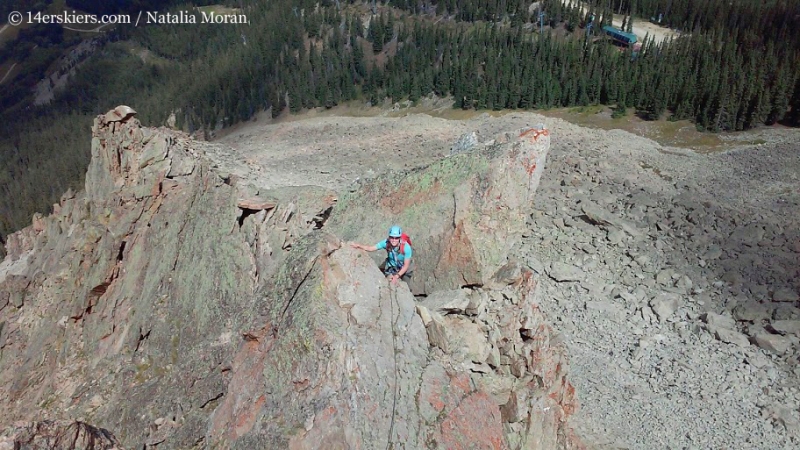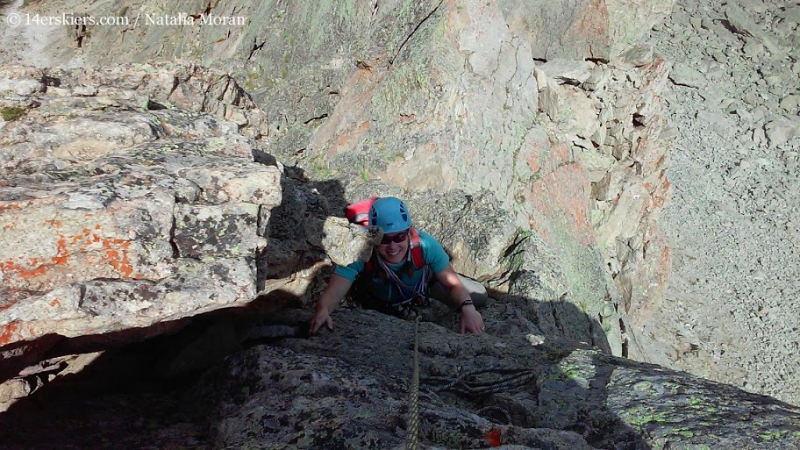 Preparing for our final pitch.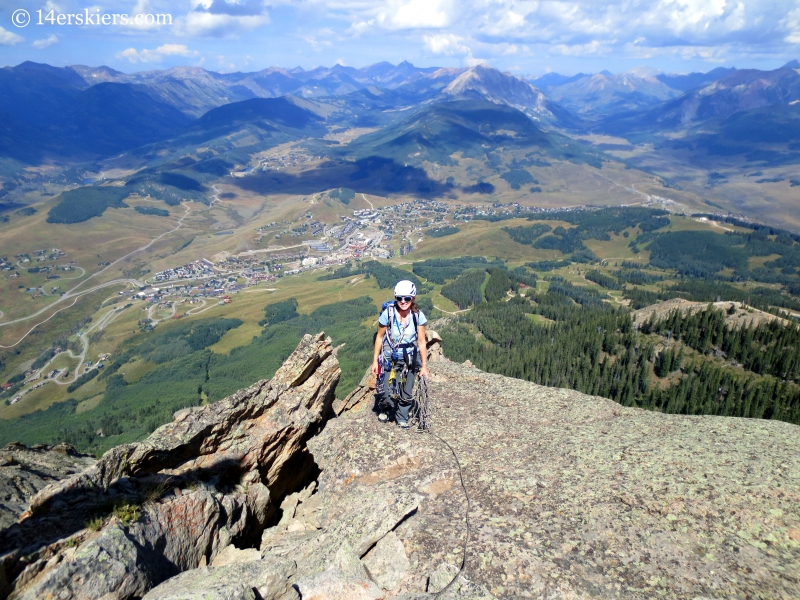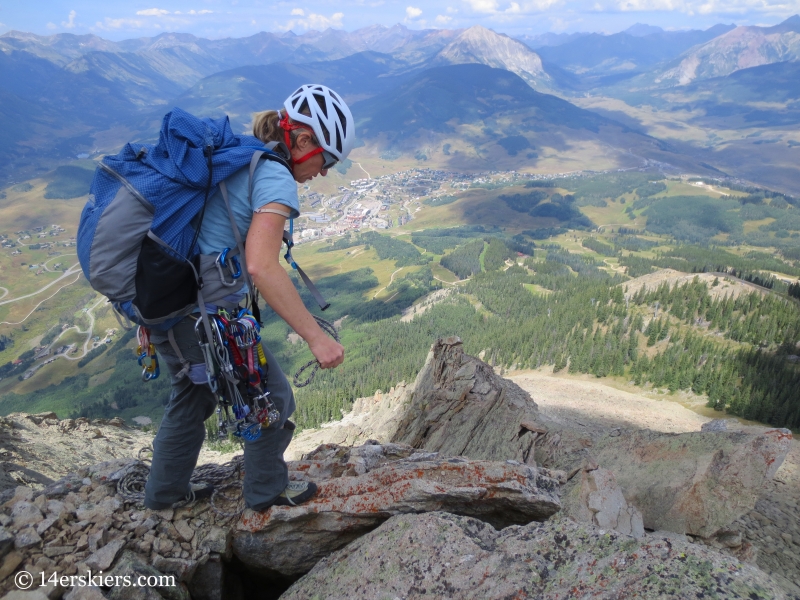 The last pitch.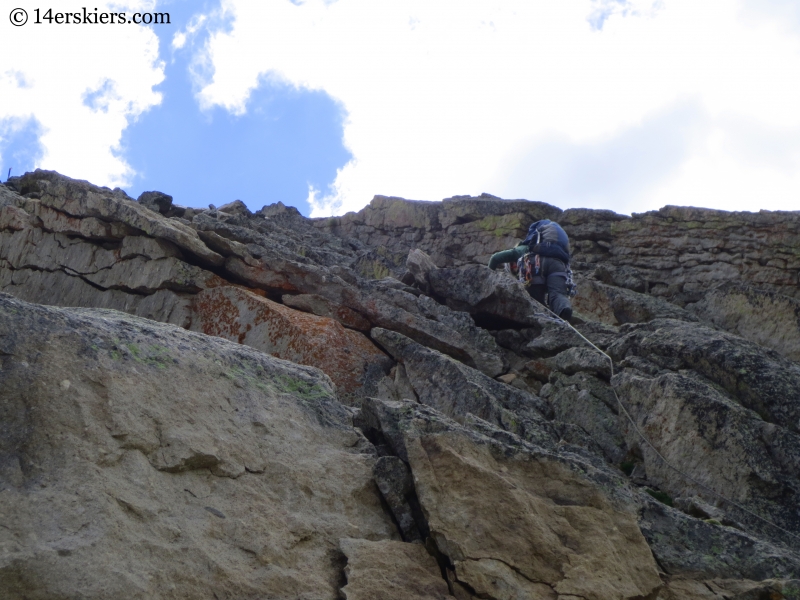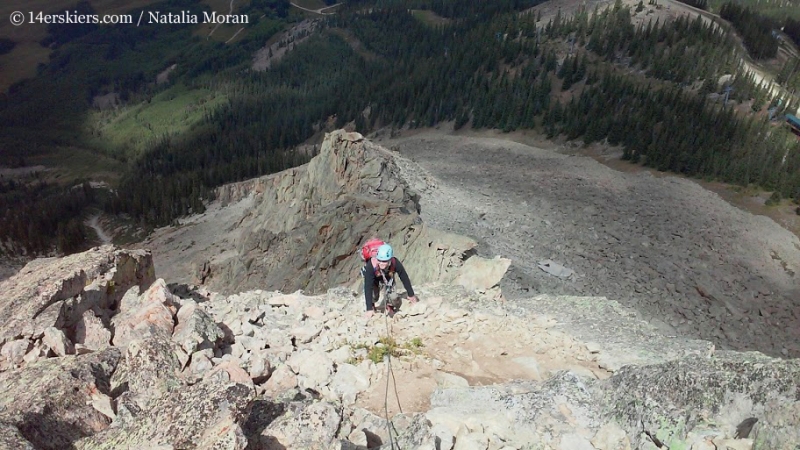 As we crested to the top of the ridge, there was another short ridge that led eastward to the summit.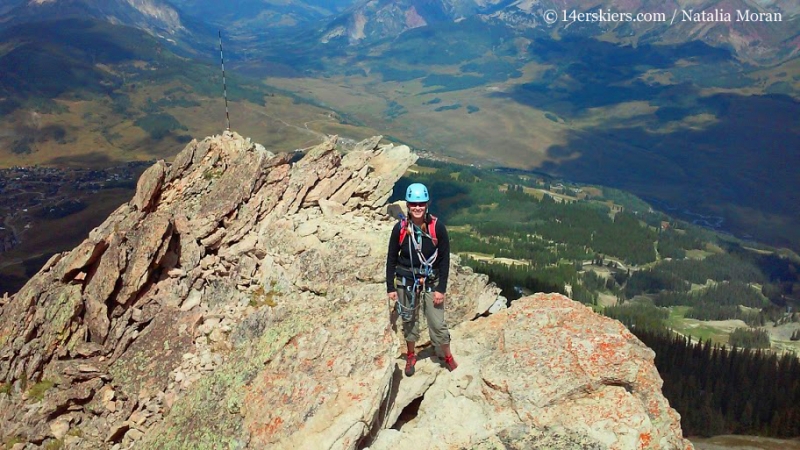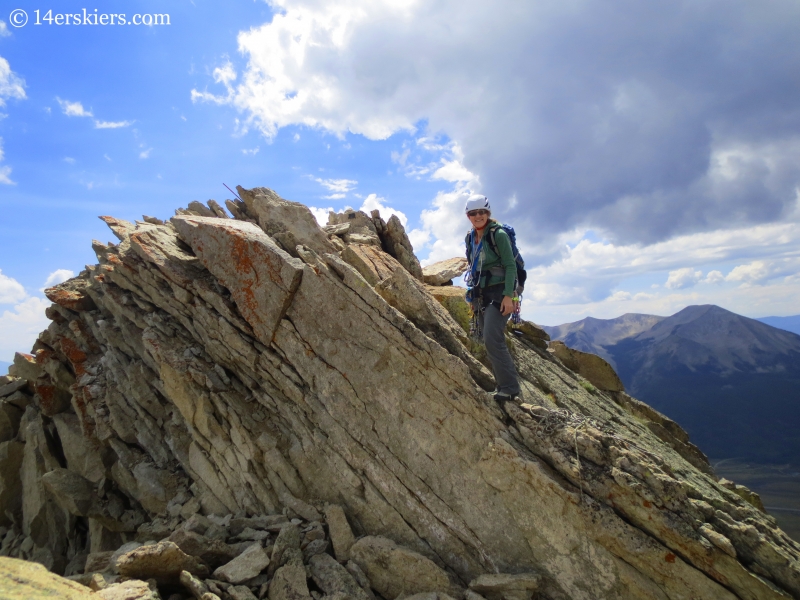 On the summit, we ran into a couple of people who had hiked up the standard way from the chairlift. They kindly took our picture.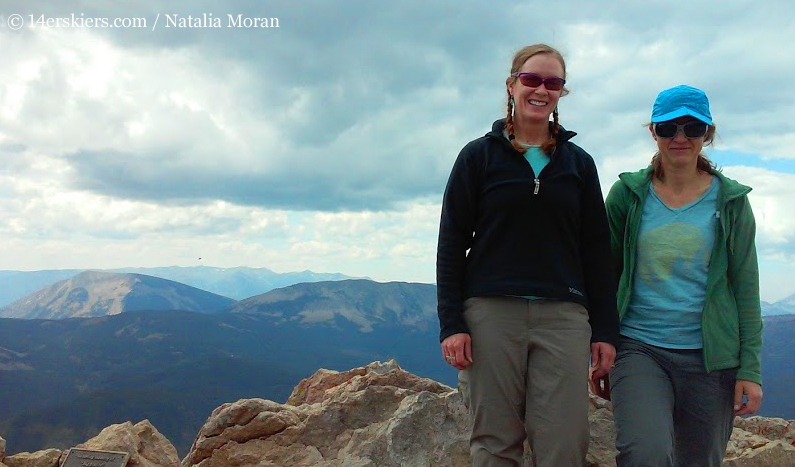 Looking back toward Guides Ridge, which drops off from view here.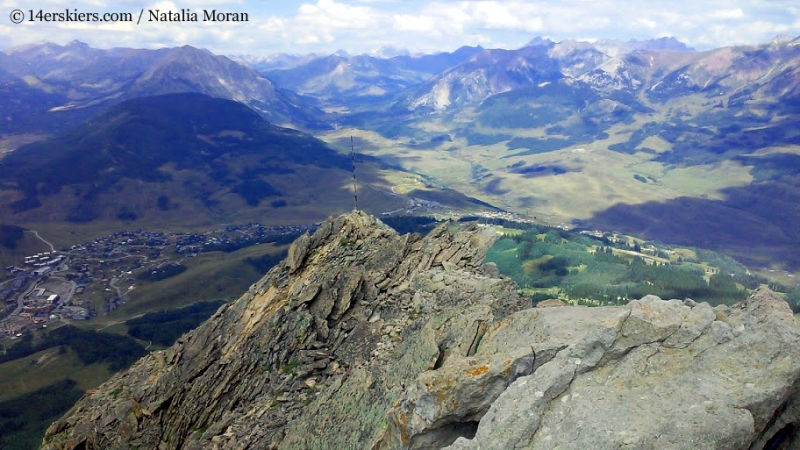 We hiked down to the chairlift, and gladly saved our legs from a downhill walk by downloading on the chair.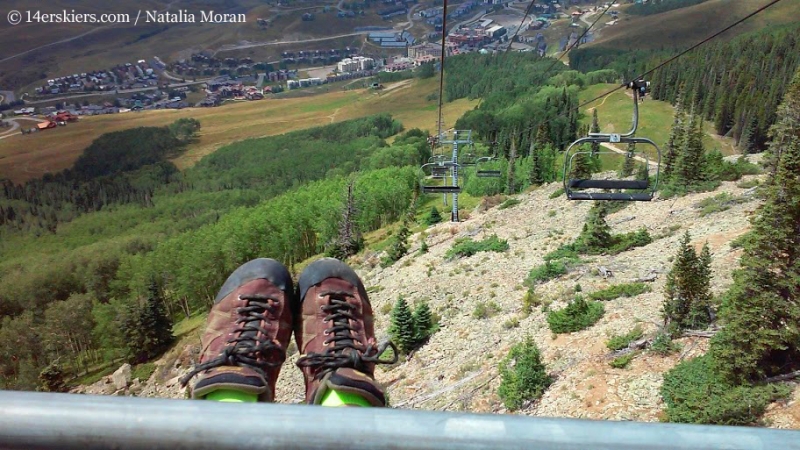 Us with the peak and Guides Ridge behind.

It's always kind of crazy how undone goals loft in your brain for quite some time until they get done. Guides Ridge was one of those undone goals now complete. Thanks to Natalia for making it possible!
For those wanting to climb Guides Ridge themselves, the ridge wanders through class 3, class 4, and low class 5 terrain. Sure, a rope is not needed by all, especially if you're a solid rock climber. For me, I'm a ski mountaineer who occasionally dabbles in rock climbing from time to time. With the exposure and potential consequences, I simply felt more comfortable with a rope in some places. Guides Ridge makes a great alpine route for less experienced climbers to practice multi-pitch climbing. Either way, it's an aesthetic climb, and a lesser-known yet fun way to climb to the top of Mount Crested Butte!
Aside from skiing, biking, and all outdoorsy things,
Brittany Walker Konsella
also loves smiles and chocolate 🙂 Even though she excels at higher level math and chemistry, she still confuses left from right. Find out more about
Brittany
!
Latest posts by Brittany Walker Konsella (see all)
Summary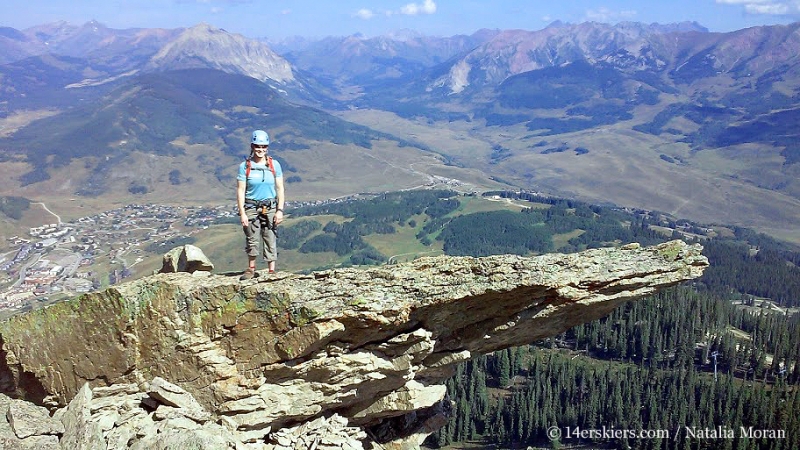 Article Name
Climbing Guides Ridge on Mount Crested Butte
Description
Guides Ridge on Mount Crested Butte is a great aesthetic route for beginners to practice multi-pitch climbing, but appeals to more experienced climbers too!
Author