14er TBT: Mount Antero (16 May 2007)
(Last Updated On: April 28, 2015)
This is part of an ongoing series re-telling Brittany's fourteener-skiing story. Look for the reports every Thursday, as part of a Throwback Thursday theme.
After skiing Grays solo, it was time to head back to the Sawatch. Mount Antero was one of the peaks we still had remaining to ski in the range, and access seemed to be reasonable, so that became our goal. Mount Antero was my 23rd fourteener skied. Below is a slightly modified version of my original trip report.

Mount Antero 14,275′
Brittany & Frank
FINALLY the weather has been improving for Colorado with a break in snow storms. The snow has stopped coming, but it's also melting fast with the warm temps. With many nights not resulting in hard freezes, skiing more challenging lines has been difficult this spring. With that in mind, we chose to ski Antero.
I've had my eye on Antero ever since I skied Princeton (my first 14er ski) with Fritz Sperry last year. This pic of Antero was taken in the evening from 285.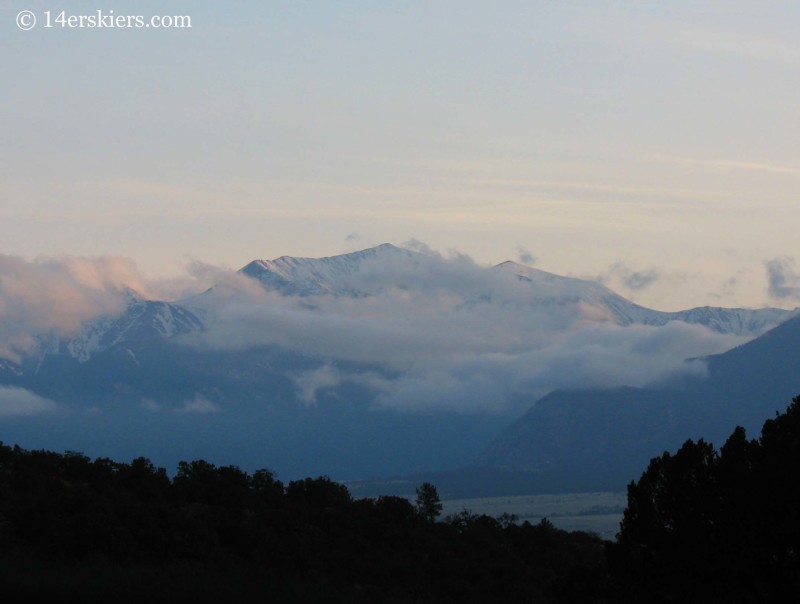 Frank and I camped the night before along the Chalk Creek road near the Baldwin Creek jeep road. Early in the morning we packed up and gb tried to take his truck as far up the road as possible. The Baldwin Jeep road begins at 9,420 and we were only able to get up to just over 9,700 ft because there was a large snowdrift in the way. This was a pity because after that the road was clear of snow for another 1.5 miles or so.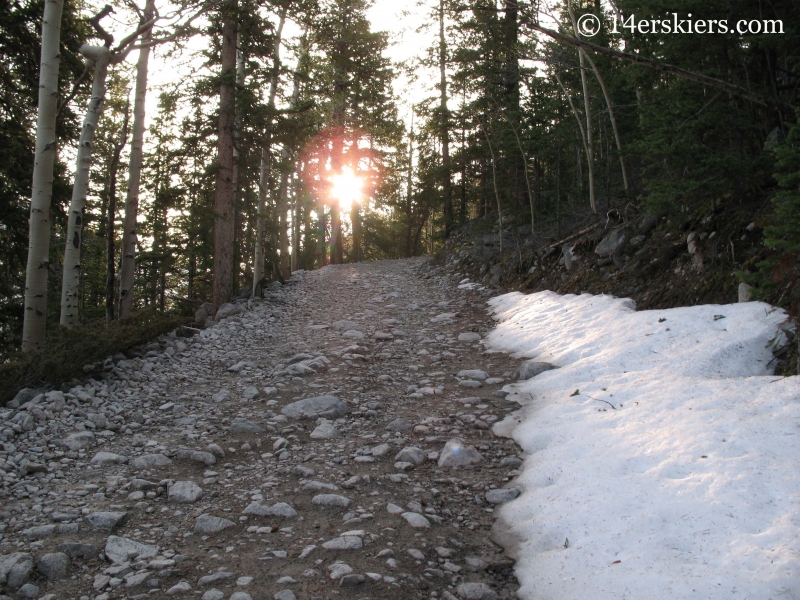 We walked along the road and encountered the creek crossing at 10,800. The creek was rather high. Frank spotted this icy log and we decided to use that to help us cross. "Break out your crampons! We're going to need it to cross the log". I think he just wanted to make sure he had a reason to use them 😉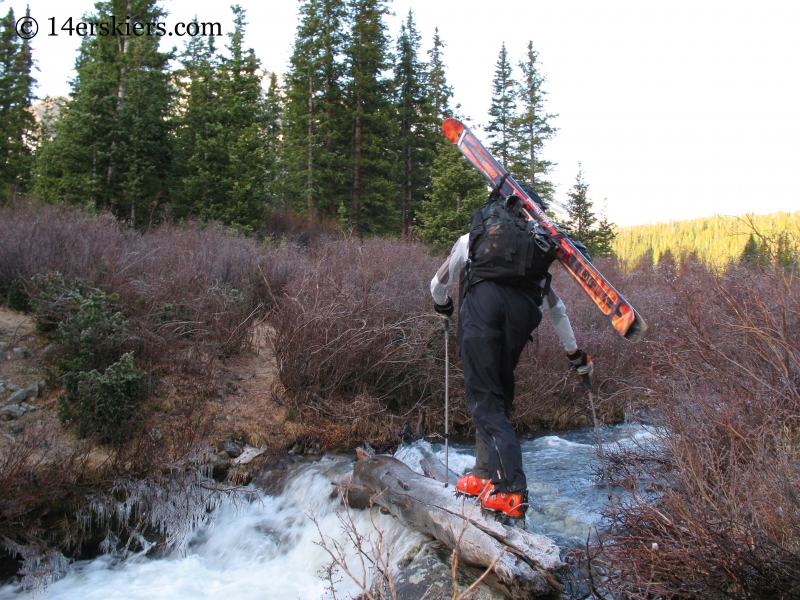 After crossing the creek we went for about 10 minutes before having to break out the skins and 11,000 ft. We followed the trail until we saw an obvious gully that was full of snow. We opted to follow this gully up in order to save a couple of miles from the crazy switch-backing trail/road.

While skinning up we saw this great looking peak just to the west of us. It is unnamed peak 13,870 (I found out later that this peak actually does have a name – Cronin Peak). The lines off this are VERY enticing!!!!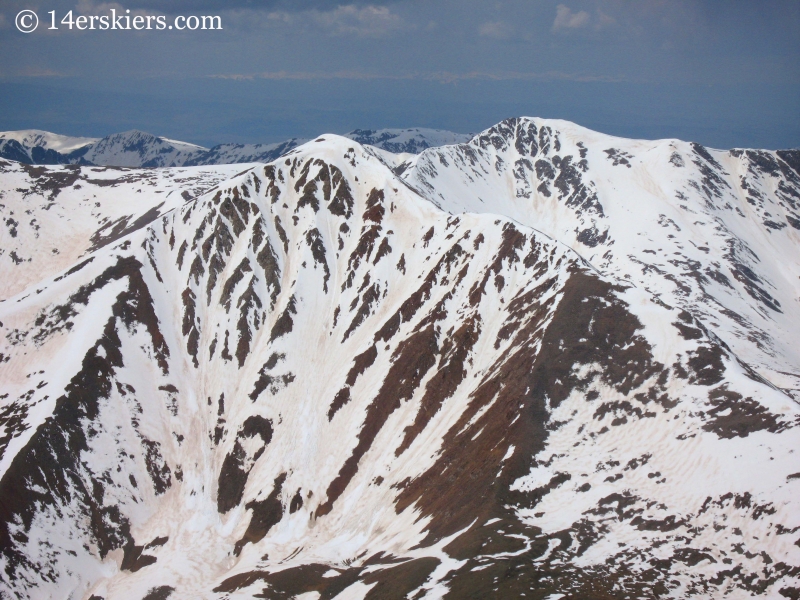 The gully lead us to a sub-peak to the south of Antero where we had to cross over a fun little ridge.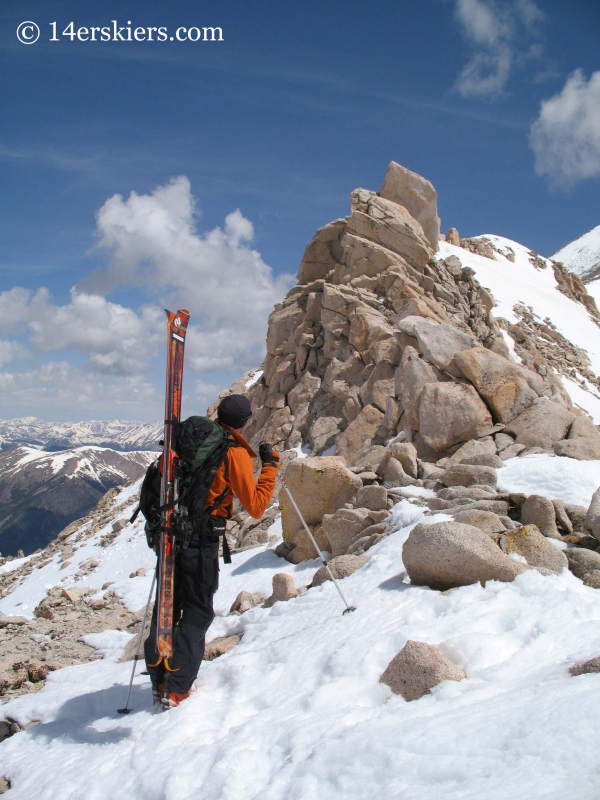 There were a few different sets of tracks coming off of Antero. Someone had dropped in (probably the day before) onto the north side and then boot packed back up when they reached the cliff bands. We were fighting some approaching storms, so we opted to ski to the east of the ridge we came up, then follow our gully back down to the west.
We were able to ski right off the summit.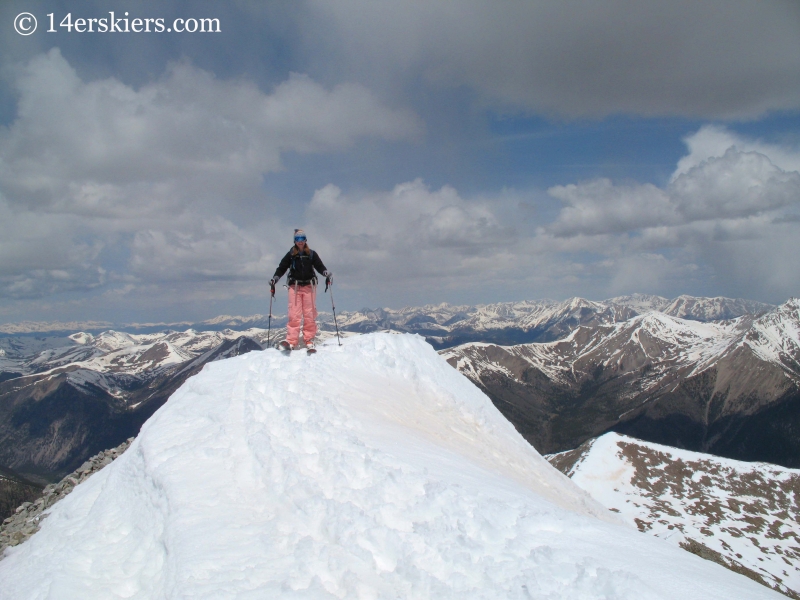 From the summit of Antero we could see the north face of Tabeguache, looking oh so fine!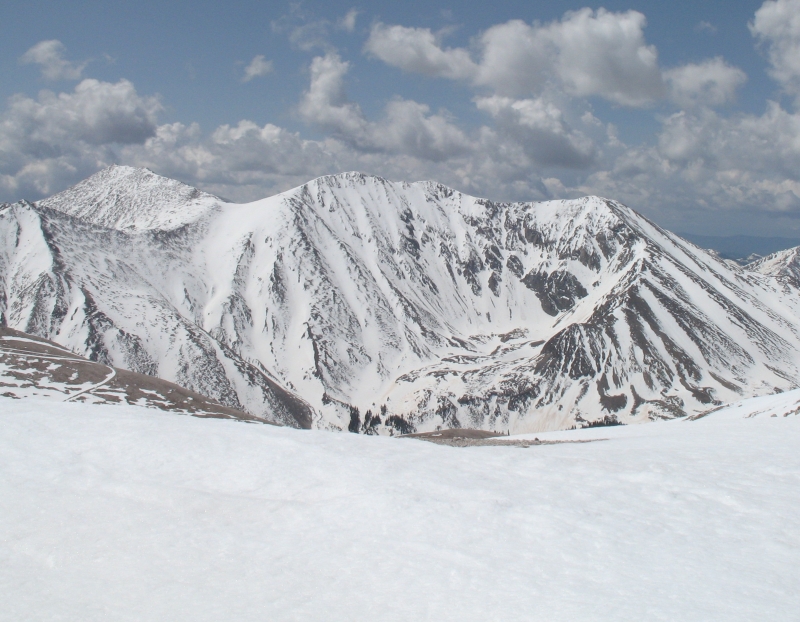 Frank dropping from the summit, going south but on east side of the ridge.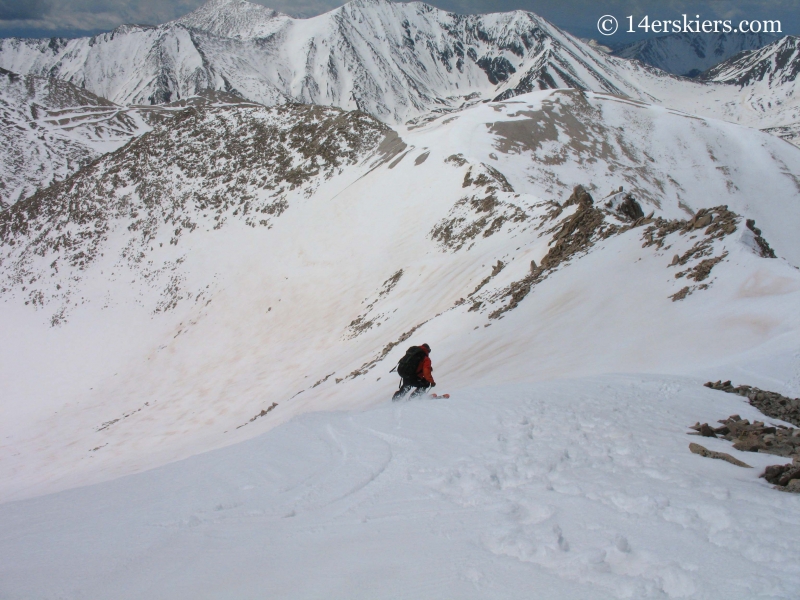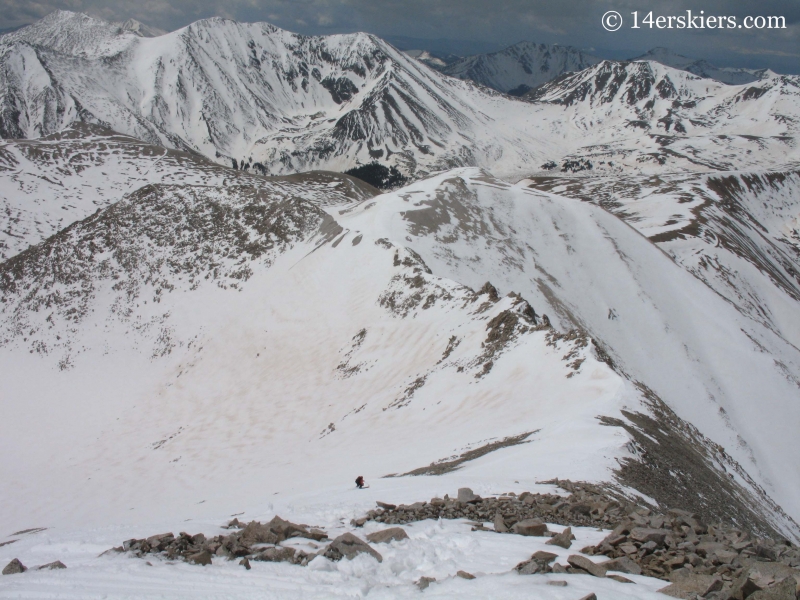 He decided to make the ridge into a terrain park feature 😀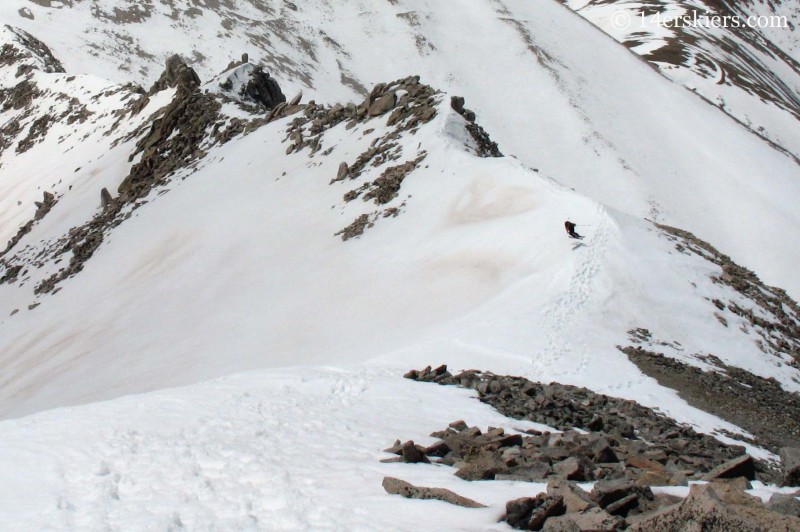 Some pics from the gully we followed back down, to the west. We found amazing corn there at about 11 am.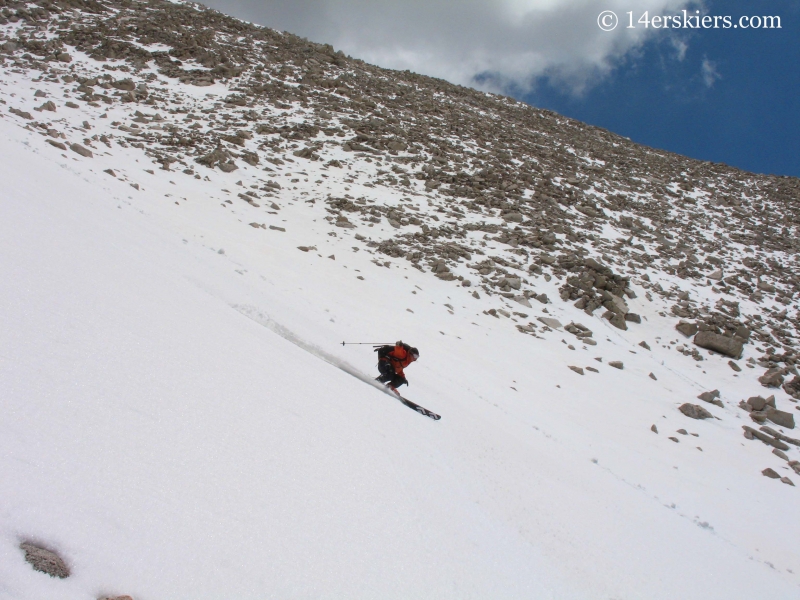 (note that he's pointing to the camera!)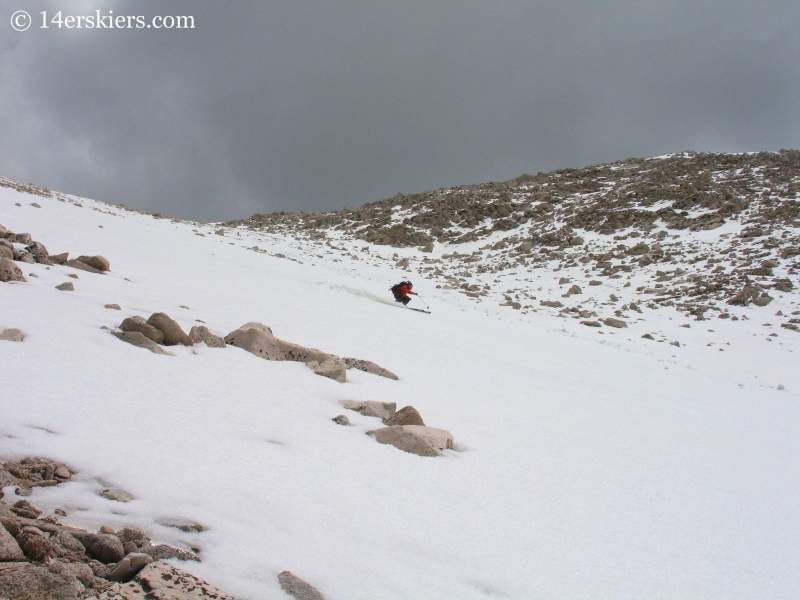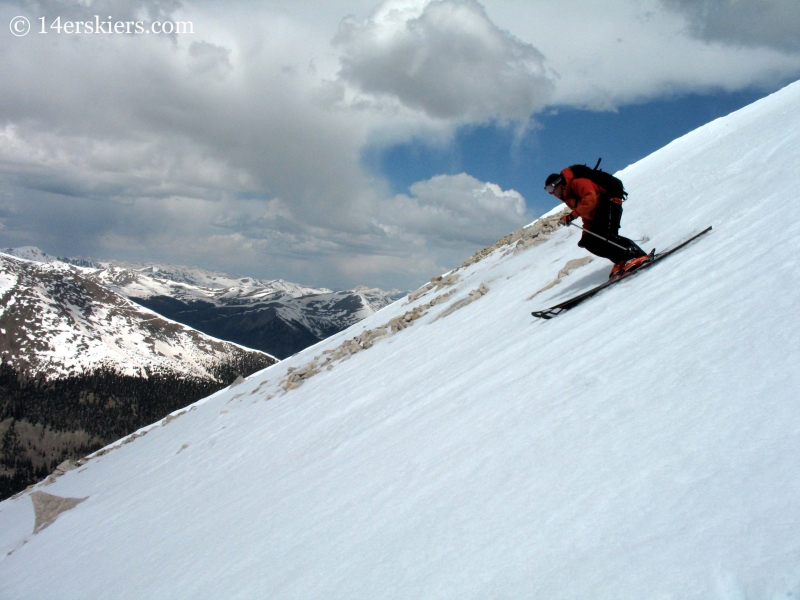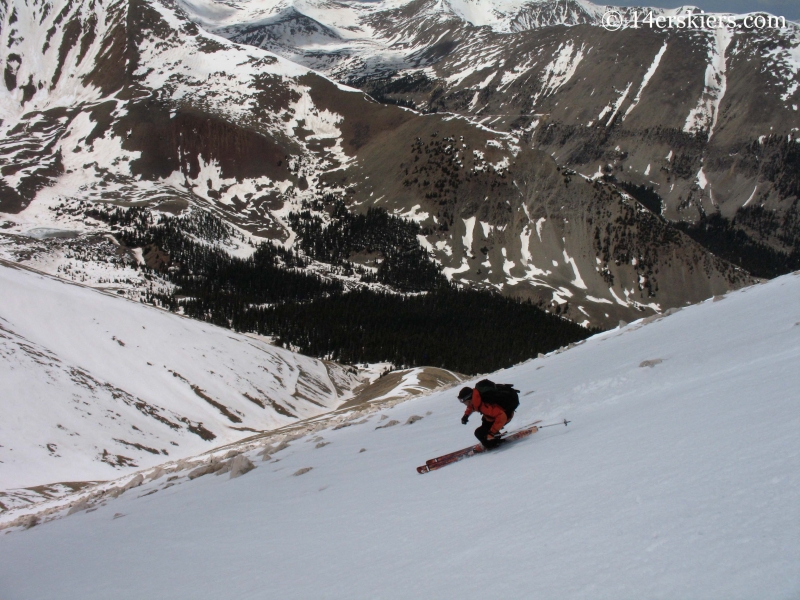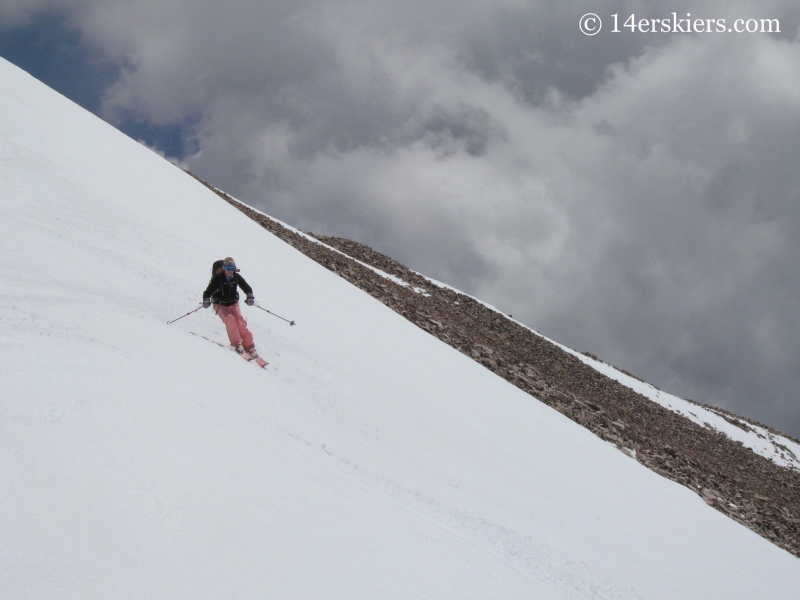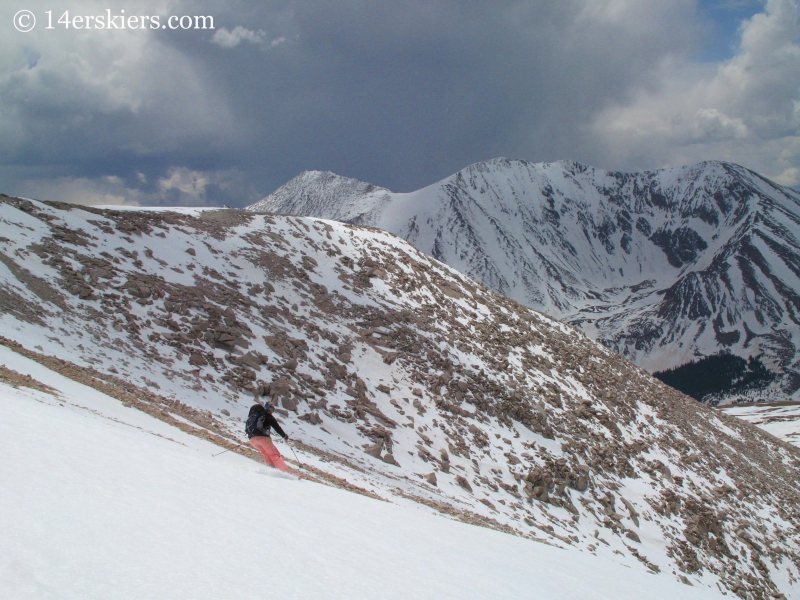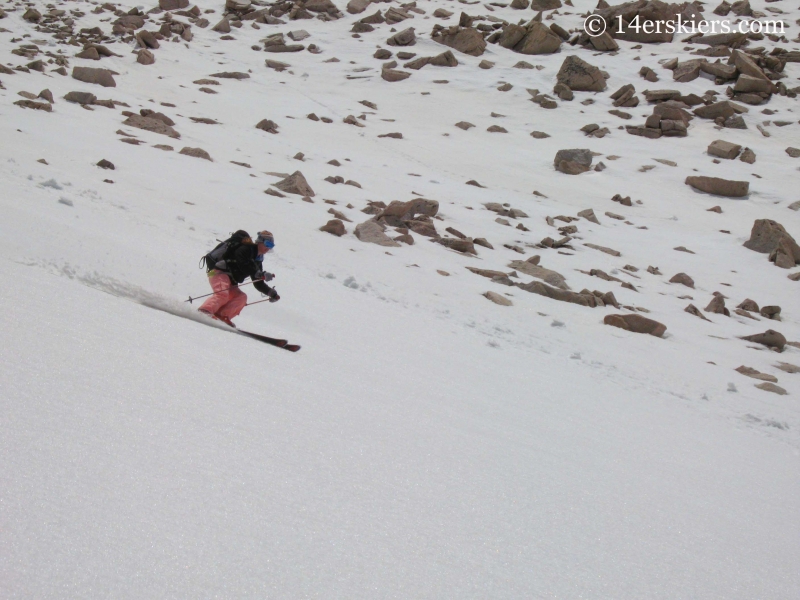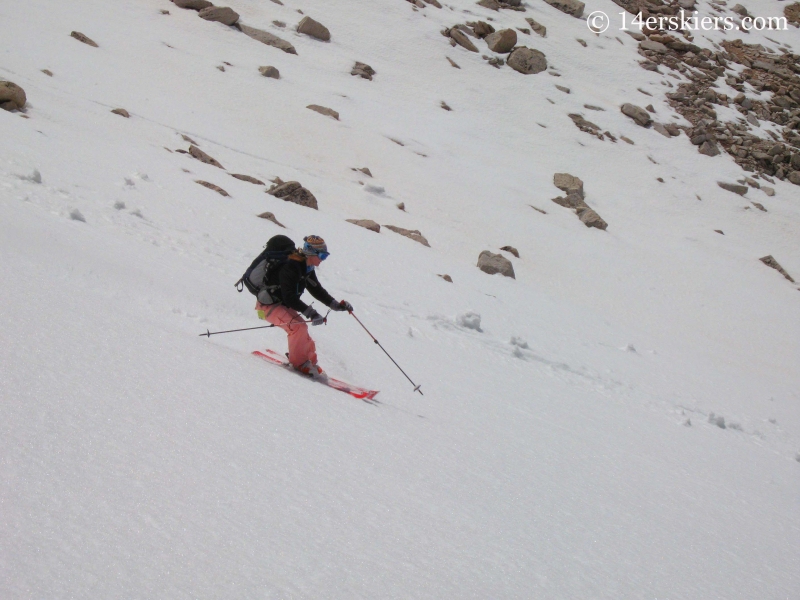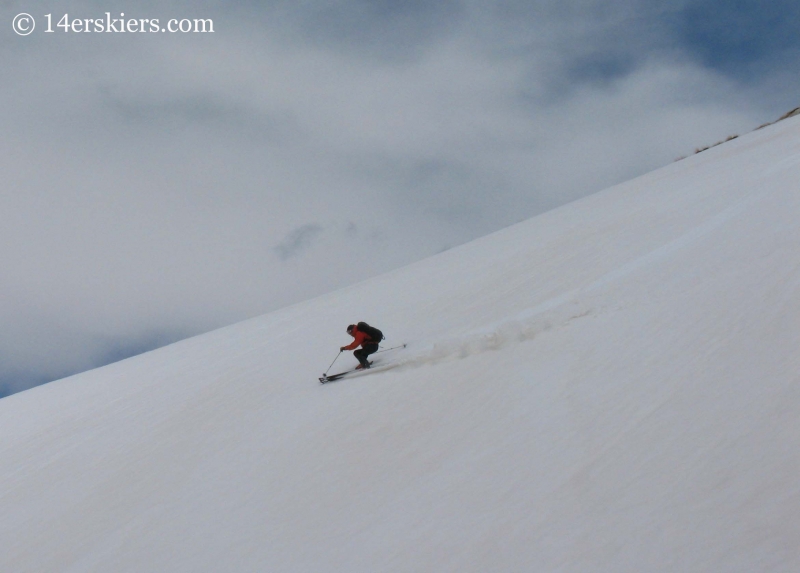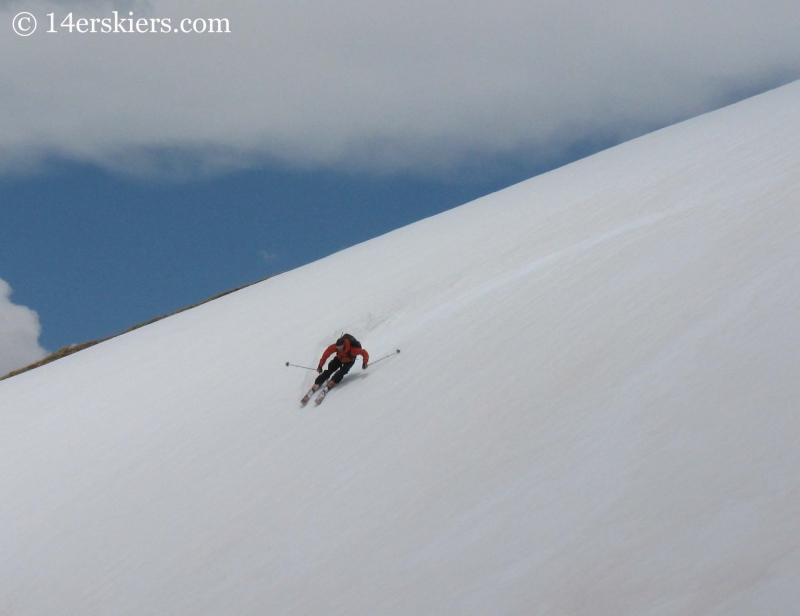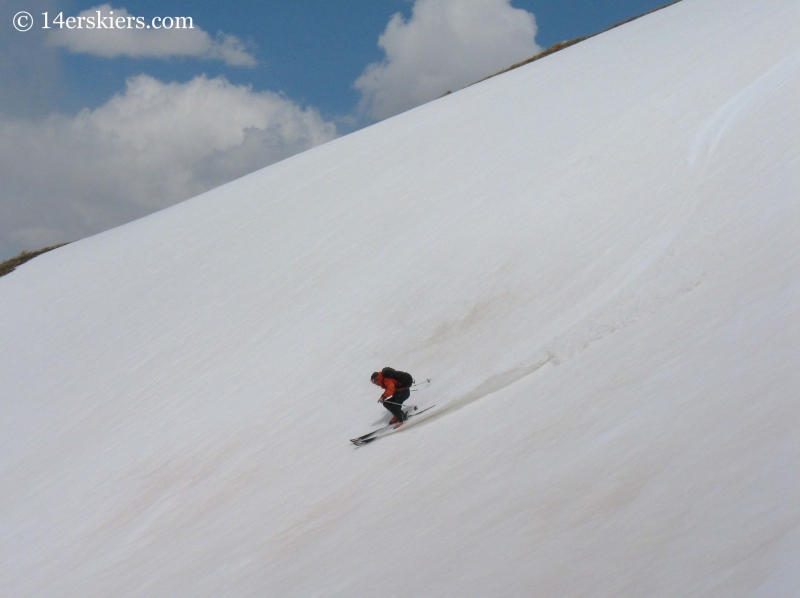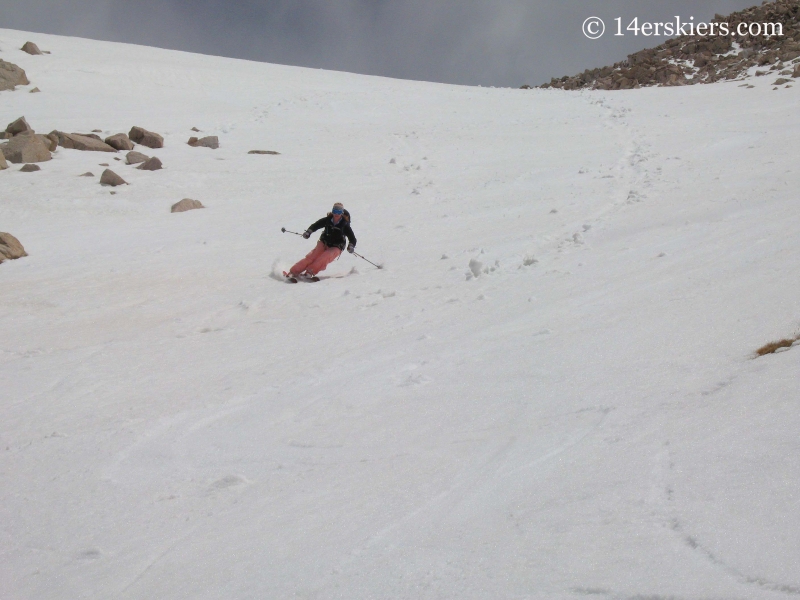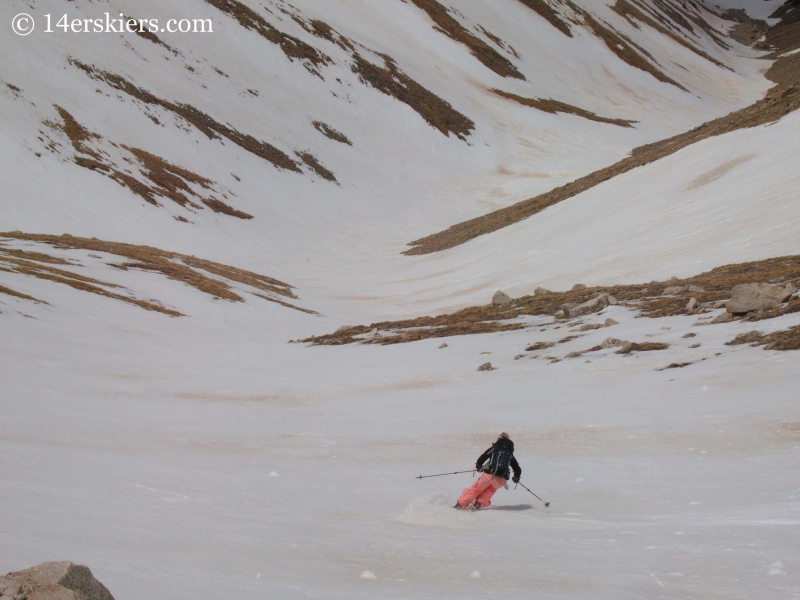 When we got to the bottom of the gully we headed for the trail as soon as possible as the snow in the trees was very manky. The snow was a bit more compacted on the trail although sometimes still collapsed on us. We had stretches like this that were a bit thin too.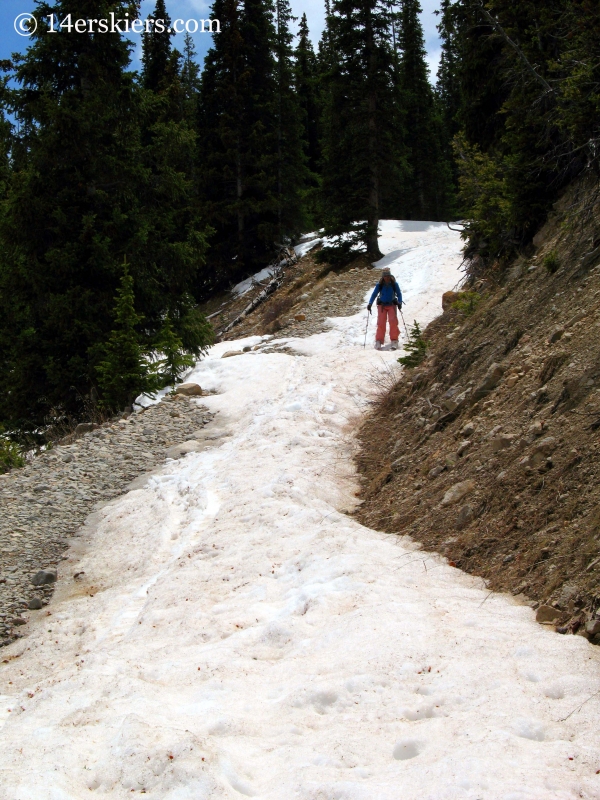 We were able to ski to 11,000, where we'd put our skins on earlier in the morning.
All in all it was a great day and a fantastic corn ski!
See the map of our route (Click for larger view).

---
Like this report? See more of Brittany's 14er skiing journey.
Aside from skiing, biking, and all outdoorsy things,
Brittany Walker Konsella
also loves smiles and chocolate 🙂 Even though she excels at higher level math and chemistry, she still confuses left from right. Find out more about
Brittany
!
Latest posts by Brittany Walker Konsella (see all)
Summary
Article Name
14er TBT: Mount Antero (16 May 2015)
Description
Join Brittany as she recounts her descent on Mount Antero, her 23rd fourteener to ski!
Author