14er TBT: Grays Peak (12 May 2007)
(Last Updated On: May 1, 2015)
This is part of an ongoing series re-telling Brittany's fourteener-skiing story. Look for the reports every Thursday, as part of a Throwback Thursday theme.
Work and inclement weather were providing some barriers to getting fourteeners done. I had to think creatively. After skiing Mount Bierstadt after work, I was looking to see if I could get one done before work. Grays Peak fit the bill. I headed out solo on this mission. Gray's ended up being my 22nd fourteener skied, and the only one I would do solo. Below is a slightly modified version of my original trip report.
Skiing a 14er Before Work
Grays Peak
Brittany, and her shadow
After a weekend of crappy weather, I was antsy to get out and this weekend's weather was looking much better. But, I was scheduled to work all weekend at my second job, and outdoor shop. I didn't have to be at work until 10 am so I decided to make something happen. I settled on Grays peak knowing it was a relatively easy ski and I'd been to that basin before so I knew I wouldn't get lost in the dark. I'd checked out the trailhead the weekend before and knew you couldn't really get up the road past Bakerville at 9,800 ft so I knew it was going to be longer than usual. "Okay, so I have to work at 10, and it's an hour and a half drive from Gray's…. so…. looks like I'll be hiking at night!" So there it was. My plan was to leave the car at 1 am.
When I got to Bakerville the snow was frozen despite the temperatures reading 39 degrees. It was a clear night. It was possible to drive up the road a ways on the frozen snow but I opted not to do that. I didn't want to get my car stuck should the snow collapse, nor did I want to go sliding into a tree or something. So I parked at Bakerville.
I left my car at 1 am.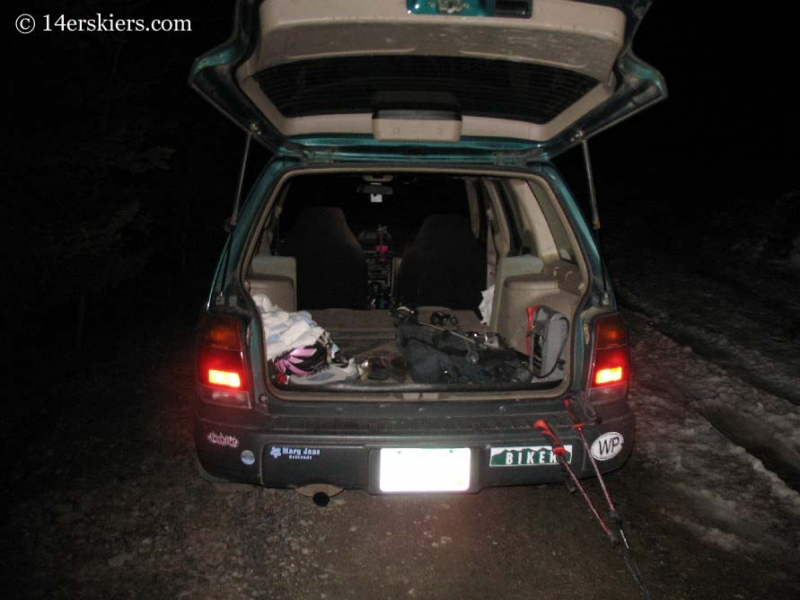 And I hiked on the road for quite a while in the dark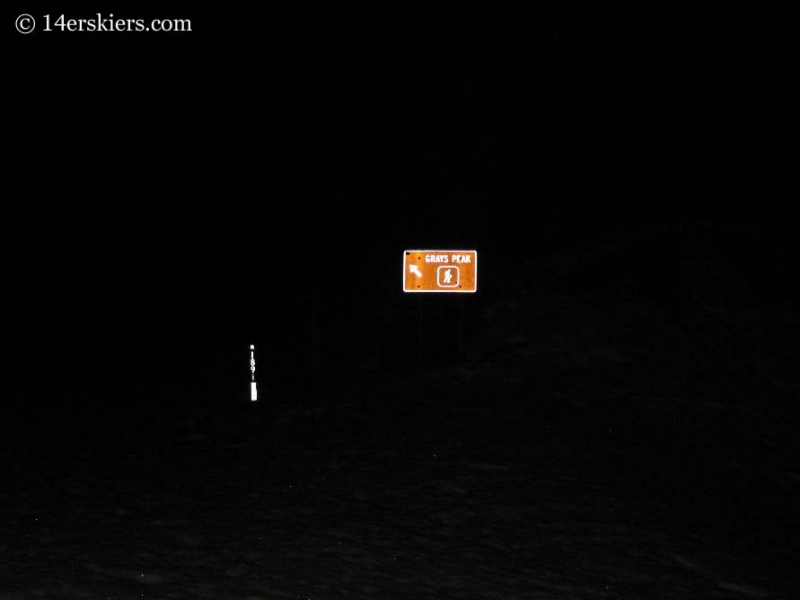 Skinning up the road was easy, but seemed to take a while because I was alone, and it was dark. I was able to skin most of the way up the road except for a stretch that was not more than a half mile long.
Having skied Torrey's before, I was familiar with the route to Gray's. So, even though I could see only outlines of the mountains, I could generally find my way just find.
I generally followed the standard summer route to the top of Gray's. The snow had a hard freeze on top, after melting earlier that day. This made skinning difficult at times. Near the summit, I was frustrated with skinning and opted to boot pack the last few hundred feet of the route. By then, I was seeing the first glimpses of twilight.
I reached the summit just in time to view the most beautiful sunrise. Sunrises are always better when earned, and when seen from the top of the world!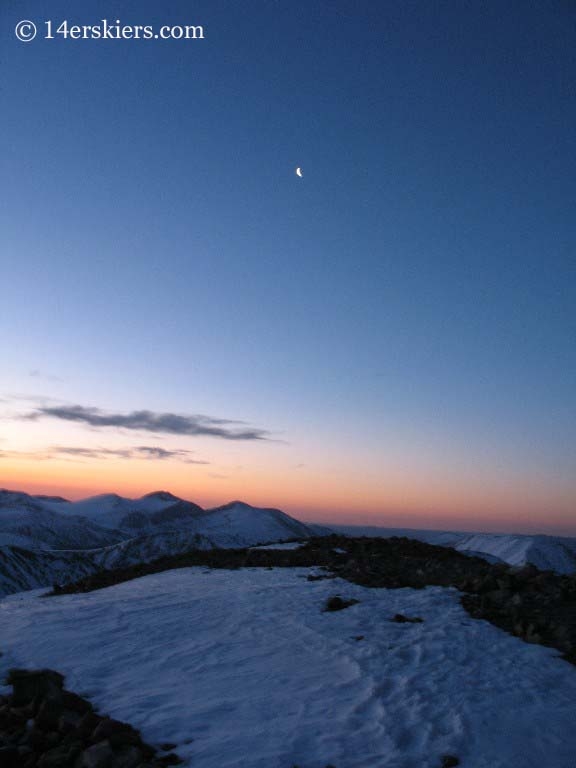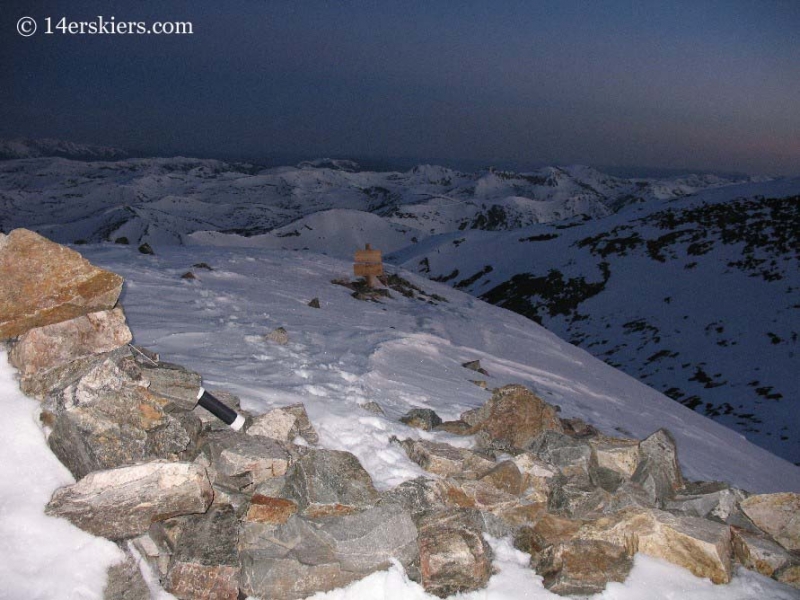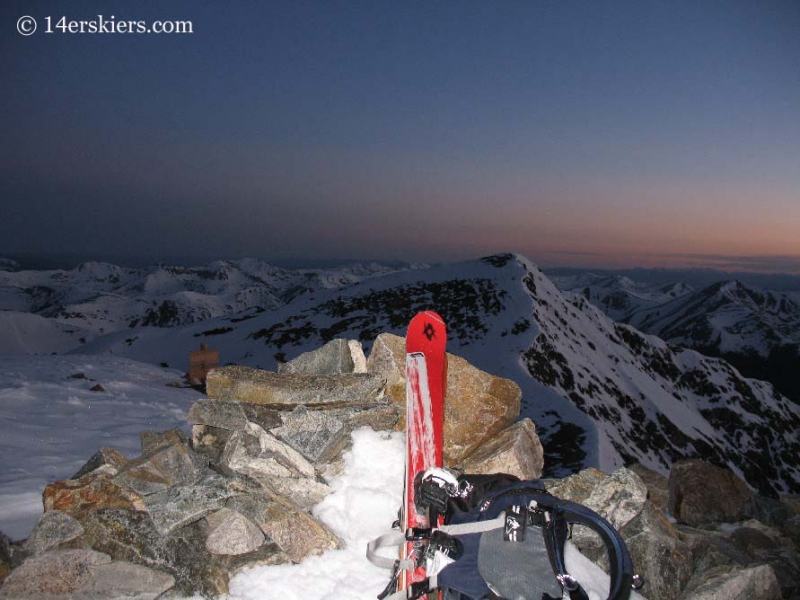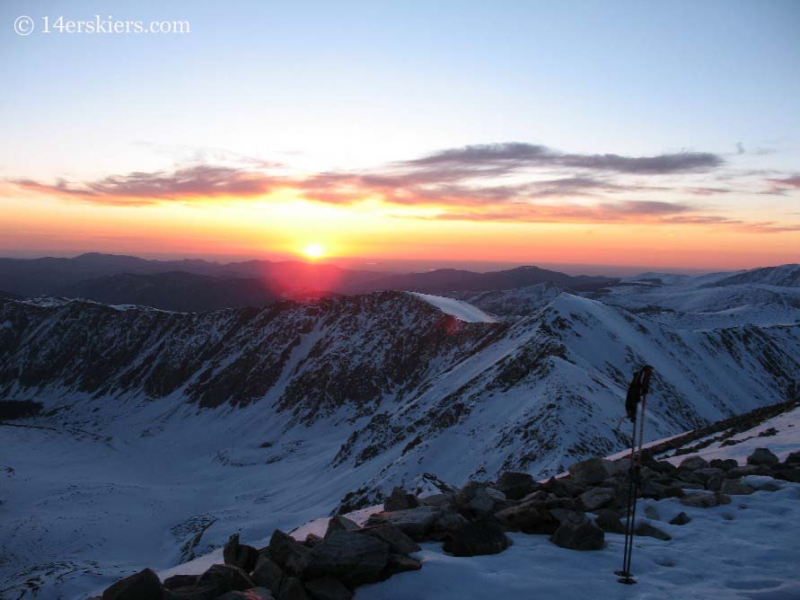 My battery light was flashing and it seemed pretty random when my camera actually let me take a picture. I tried replacing the batteries with spares I had in my pack. Evidently the "spares" I had were previously used. I even tried taking out the batteries from my headlamp and putting them in my camera but after using my headlamp for 4.5 hours on high power the batteries were low on juice despite putting in fresh ones before I began from the car. My automatic timer wouldn't work at all. I'd set it, then get it going and the camera would shut off. So I had to settle for this lame summit pic… yes I know I'm eating my hair but I was hungry. It was time for breakfast.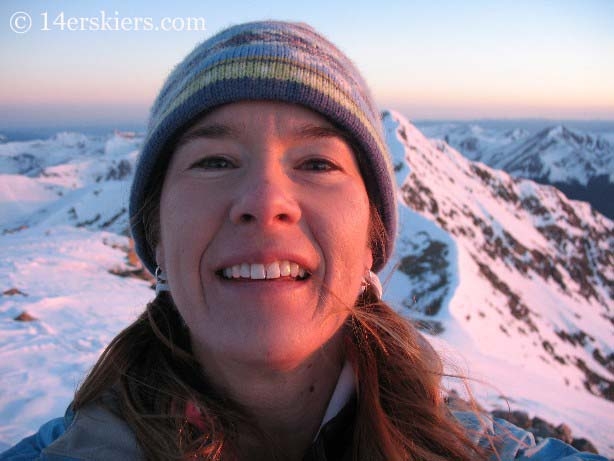 There I was on top of Grays Peak, all alone, and in awe of the scenery around me. The sunrise was so amazing.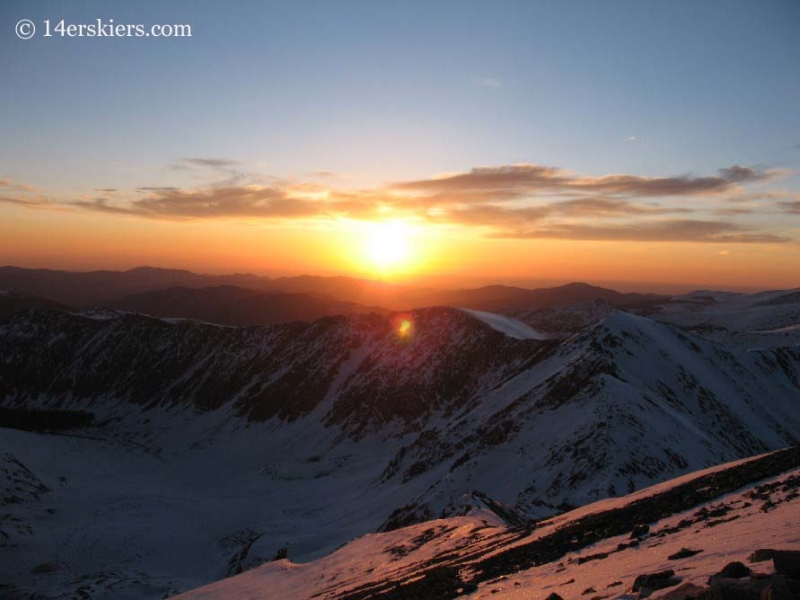 I could only stay on the summit for a short time after the sunrise because I knew I had to be at work by 10 am. So, off to ski I went. The snow was mostly frozen over the entire way. But it was still a fun ski in the amazing morning light.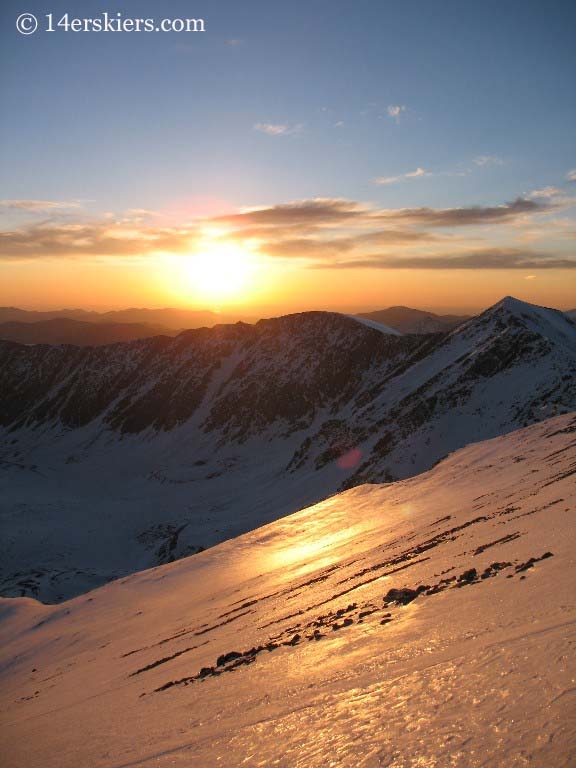 A look up at the summit of Grays.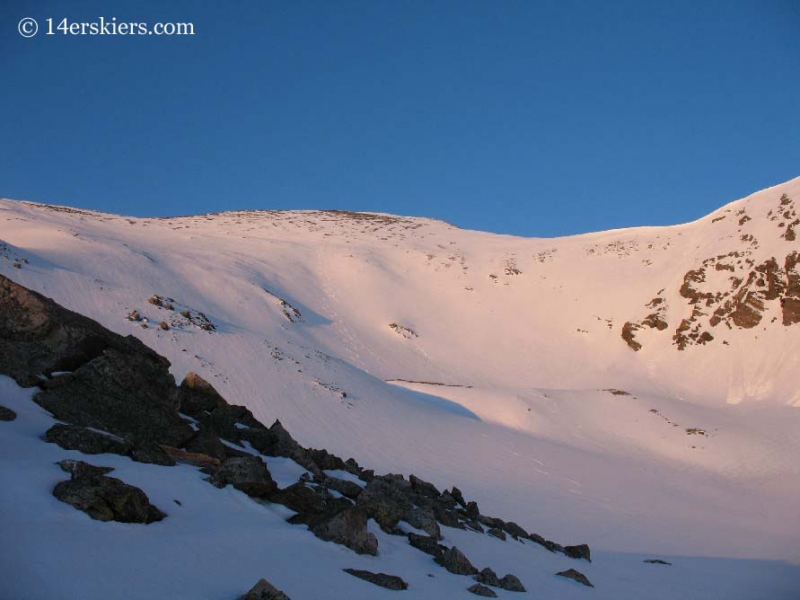 Point-releases off of Torreys.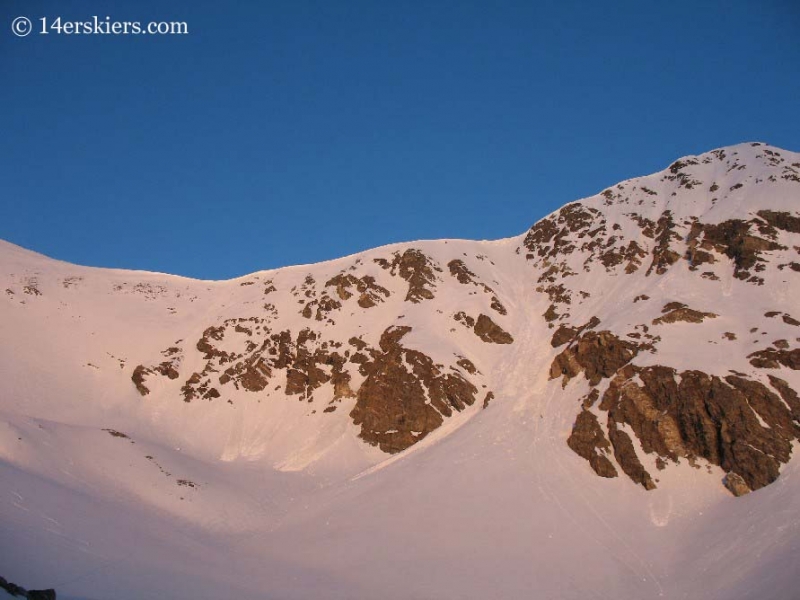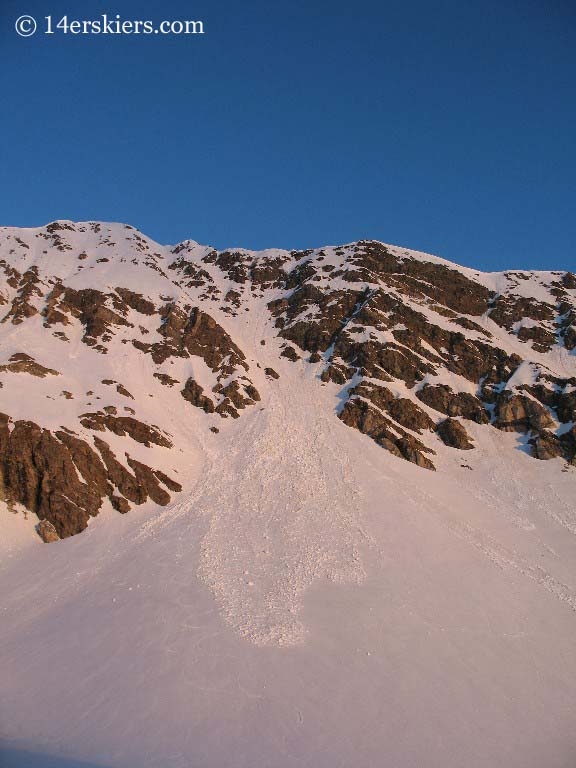 A last look at Gray's on my way out.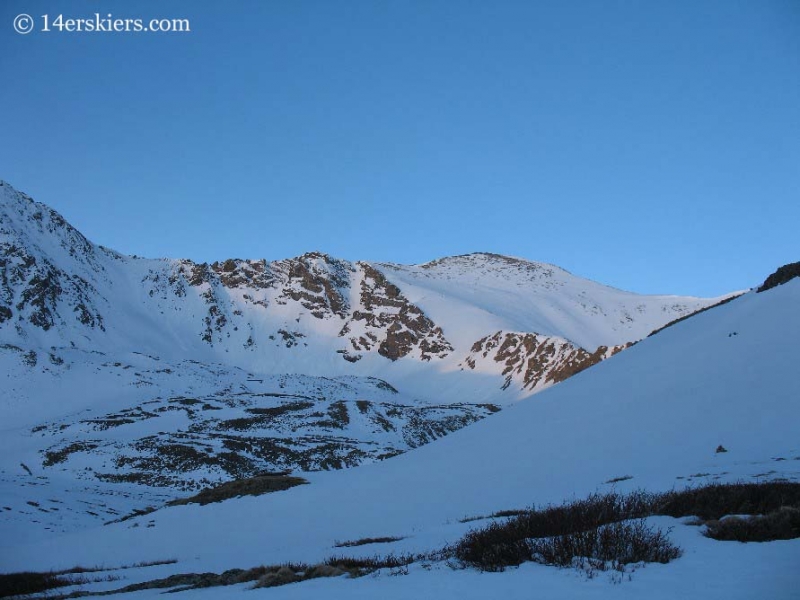 I was able to ski down about 3,700′ where I had to take off my skis for the 1/2 mile stretch of dry road mentioned before. After that, I was able to ski all the way to the car.
Along the way on the road I kept running into people who were on their way up to do Torreys or Kelso. They had some very perplexed looks on their faces as they saw me heading down. Little did they know that I was climbing while they were sleeping 😉
I made it back to my car before 7 am, and was able to make it to work on time, with time to spare! It was a fun night of hiking by myself and the sunrise couldn't have been more beautiful!
Looking back, this was another creative way to fit in skiing a fourteener while juggling my busy schedule. My goal was to have over half of the 14ers skied by the end of the season. That meant I had just 4 more to go, time was ticking, and snow was melting fast….. Could I get it done?
---
Like this report? See more of Brittany's 14er skiing journey.
Aside from skiing, biking, and all outdoorsy things,
Brittany Walker Konsella
also loves smiles and chocolate 🙂 Even though she excels at higher level math and chemistry, she still confuses left from right. Find out more about
Brittany
!
Latest posts by Brittany Walker Konsella (see all)
Summary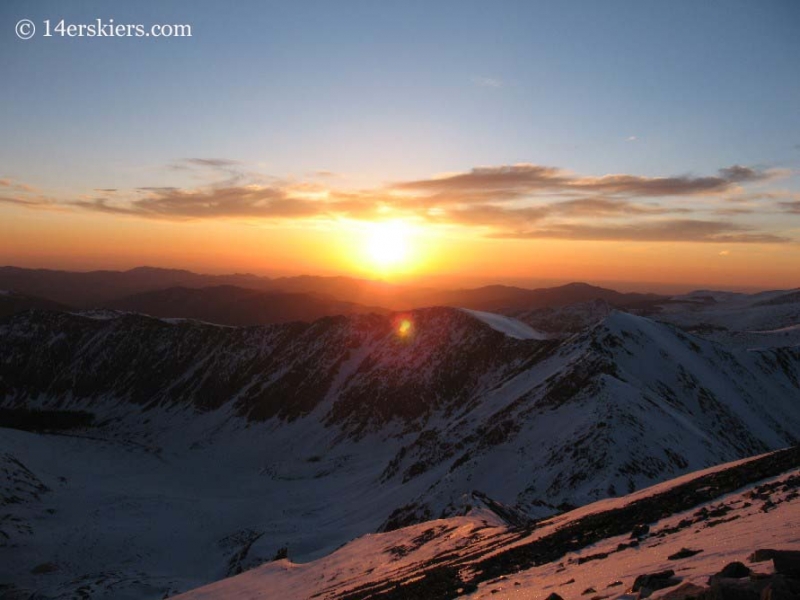 Article Name
14er TBT: Grays Peak (12 May 2007)
Description
Brittany recounts her gorgeous sunrise solo ski off of the summit of Grays Peak, her 22nd 14er to ski. Sometimes sleepless nights are worth it ;)
Author