14er TBT: Mt. Lincoln & Mt. Bross (25 Nov 2006)
(Last Updated On: February 4, 2015)
This is part of an ongoing series re-telling Brittany's fourteener-skiing story. Look for the reports every Thursday, as part of a Throwback Thursday theme.
It was the start of a new season and Frank and I decided to hit the fourteeners early. Lincoln and Bross would become my 8th and 9th fourteeners to ski, respectively. I was joined by Frank for this two-peak expedition. Below is a slightly modified version of my original trip report.
TR: Mt. Lincoln (14,286 ft) and Mt. Bross (14,172 ft)
11-25-2006
With the settling of the snowpack, Frank and I decided to take advantage of some lines off the high peaks before the onset of the next storm cycle. We decided to tackle Lincoln and Bross 🙂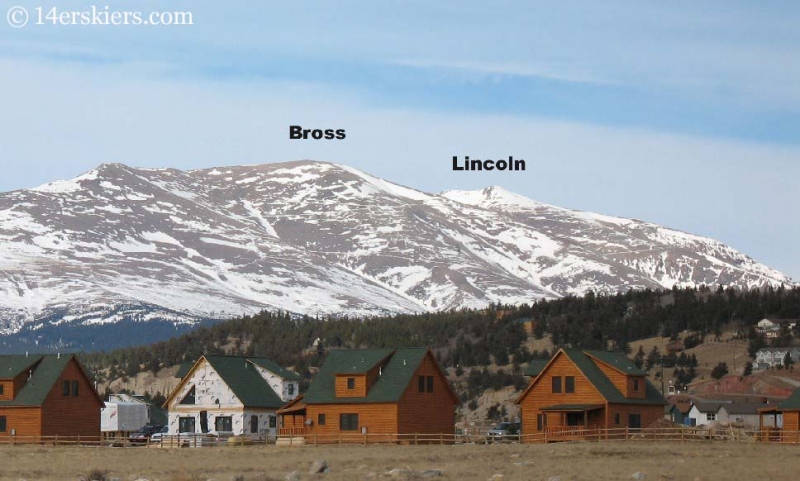 We began our ascent around 8:30 from the Moose Creek Trailhead. The top of Bross looked pretty nice!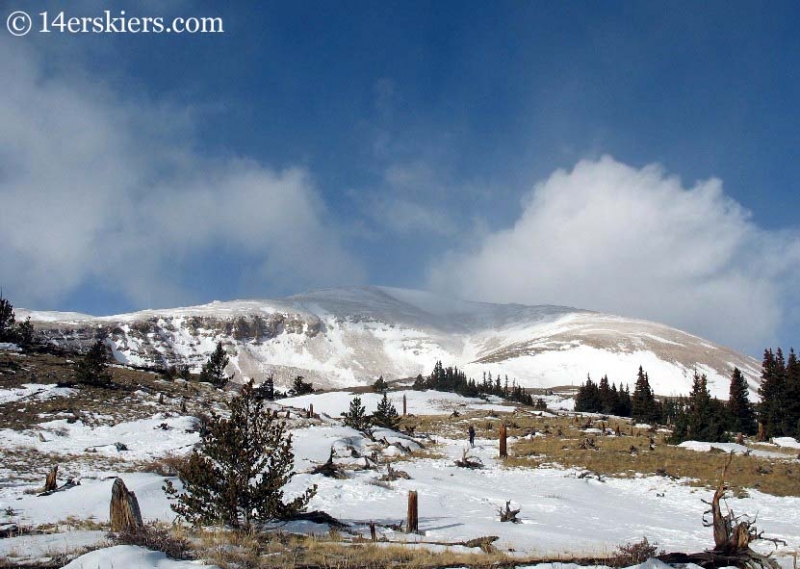 We headed up the ridge on the right of the photo. On our way, we took note of these trees and wondered just how long they had been here. The looked ancient 🙂 They also proved to be excellent landmarks on our way back down.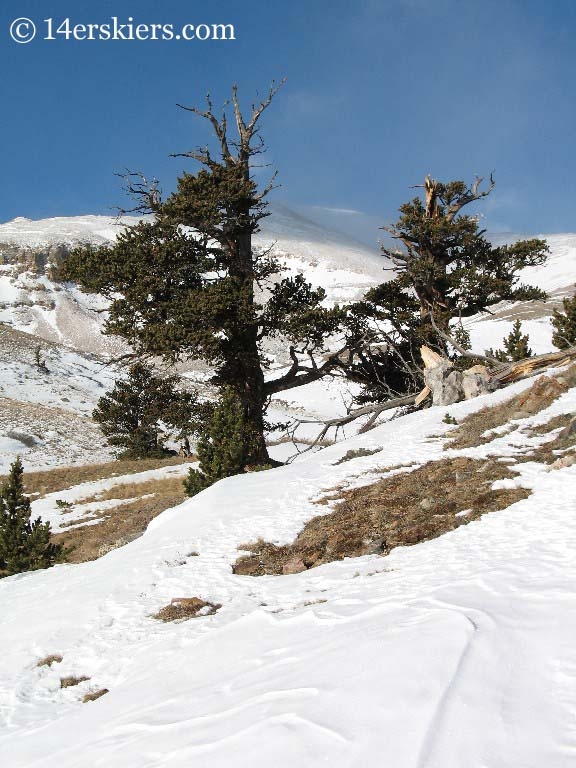 Frank and I knew that we could ski Bross, but we weren't sure whether lines on Lincoln went until we rounded the ridge. Lincoln as seen from the ridge on Bross.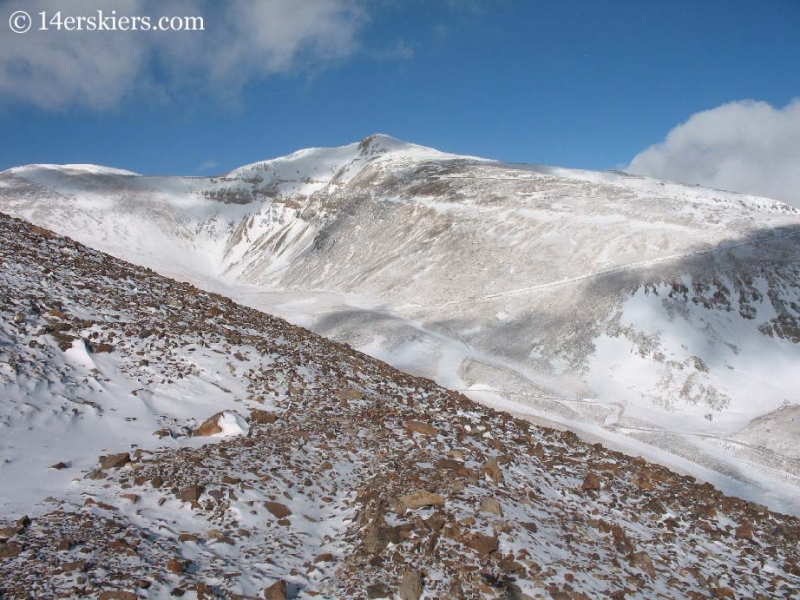 Though the Russian Couloir was not filled in, we still decided we could ski a line off of Lincoln, so we went for it. Instead of summiting Bross, we continued along its north side past Cameron Point.
Brittany hiking on the ridge near Lincoln, with Cameron Point behind.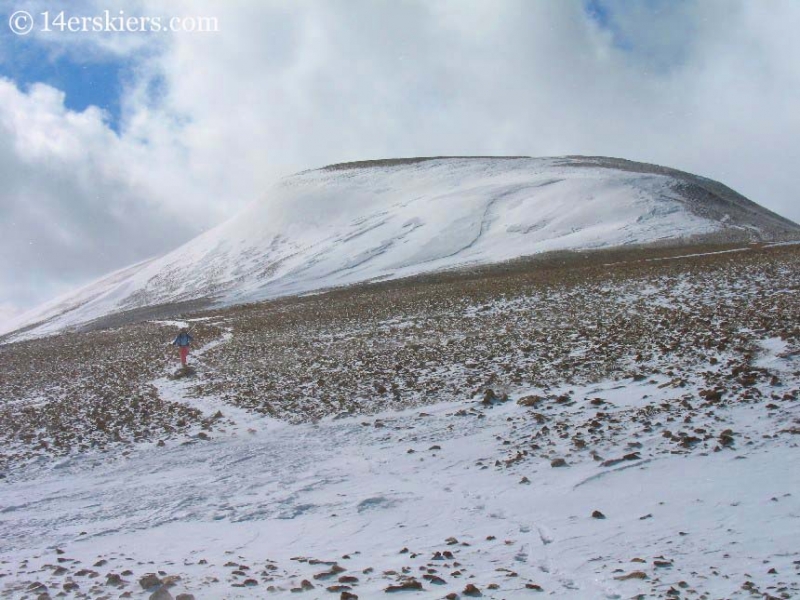 Democrat is looking pretty good right now!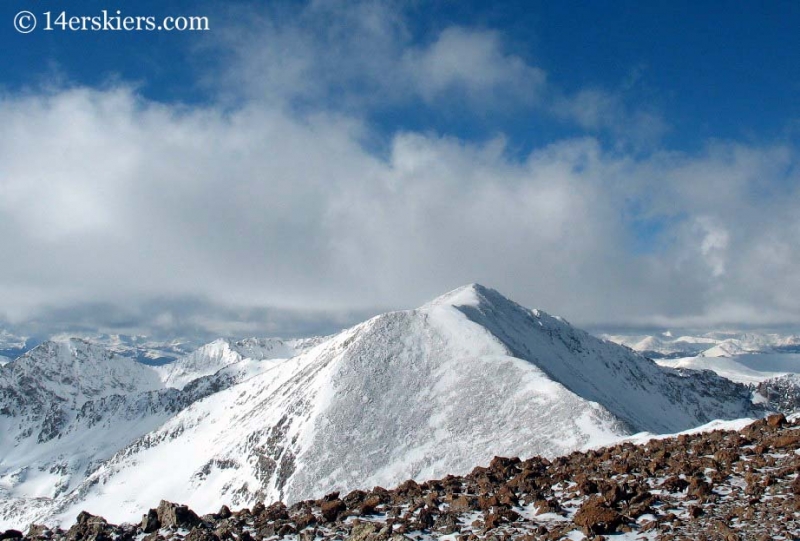 The winds were tenacious and downright brutal at times as we crossed the ridge near Cameron Point toward Lincoln. Reaching the summit of Lincoln.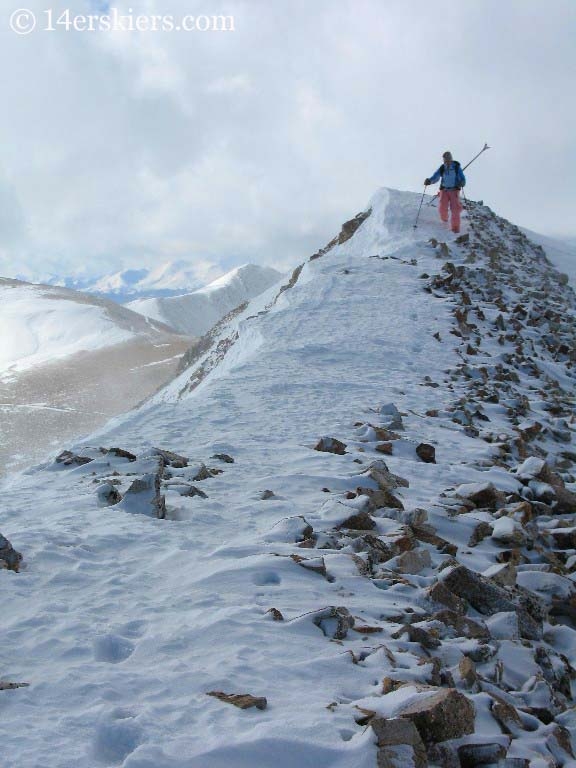 On the summit of Lincoln. Yep, it's cold 🙂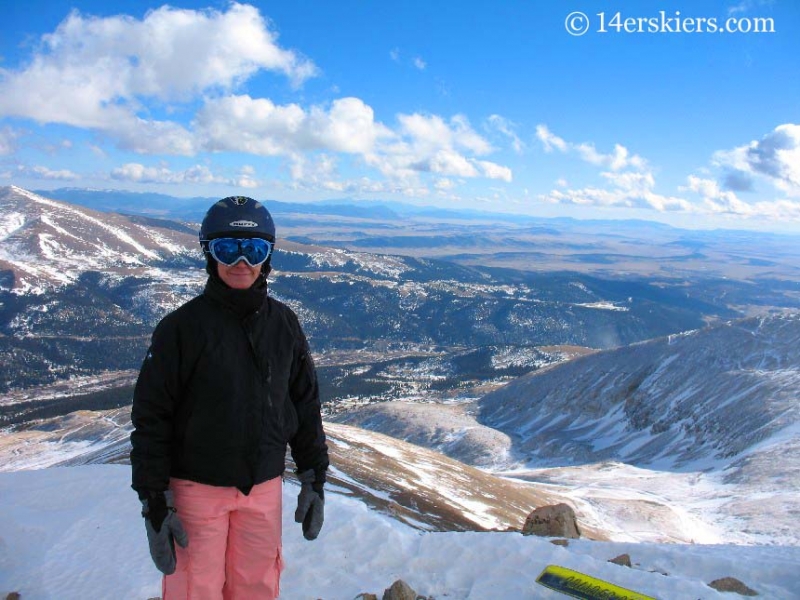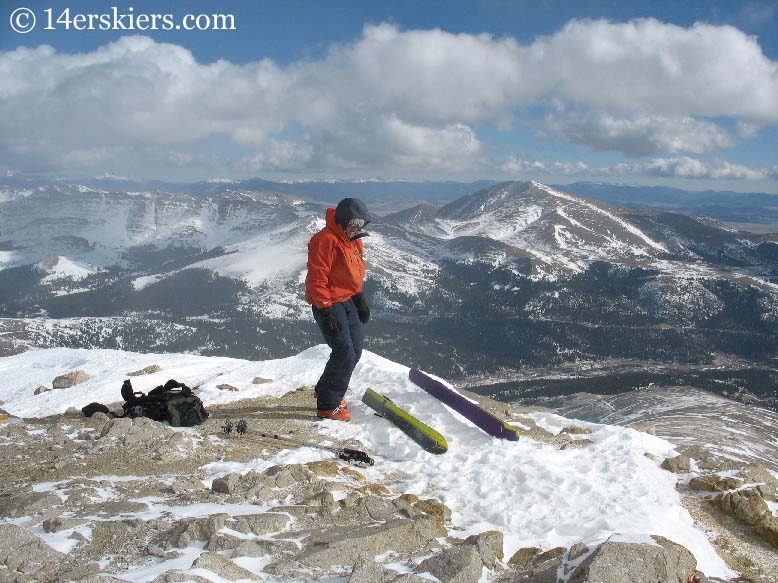 It was so cold I decided to take a picture of the summit register rather than sign it. 🙂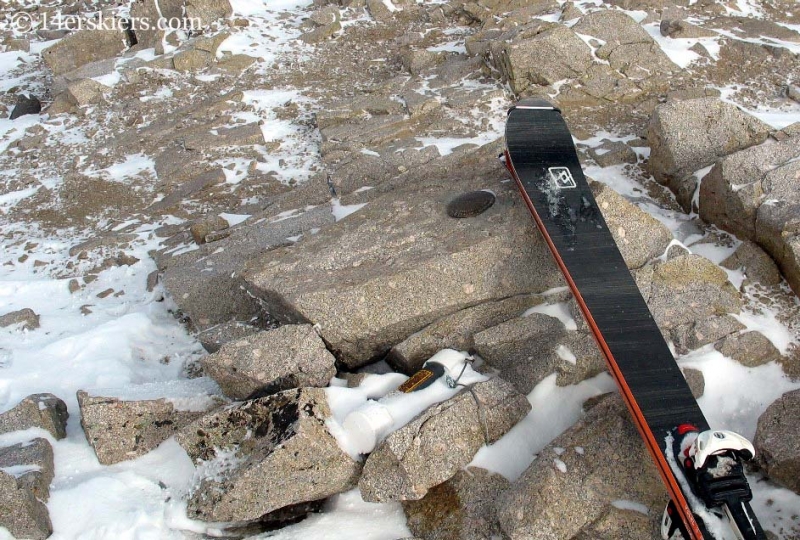 Frank sets up for the chute down the first pitch of Lincoln.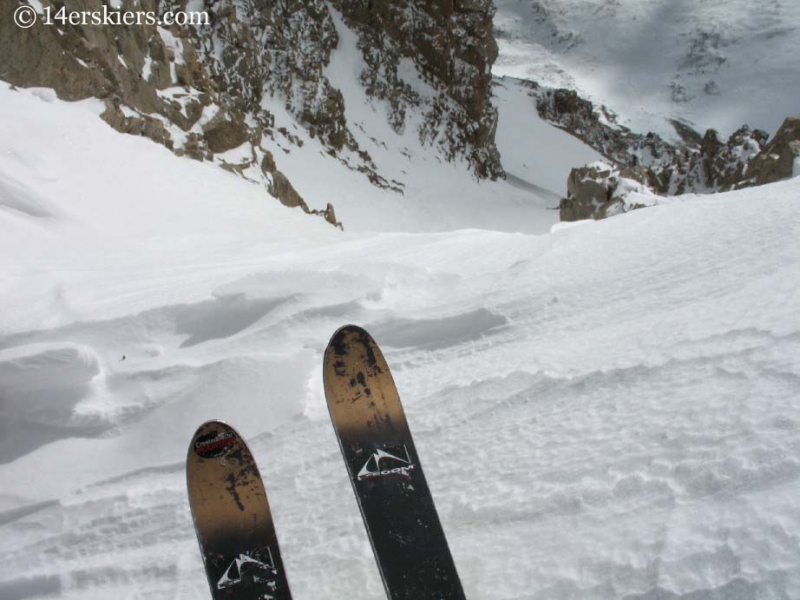 And off he goes, vanishing in a gust of wind and snow 🙂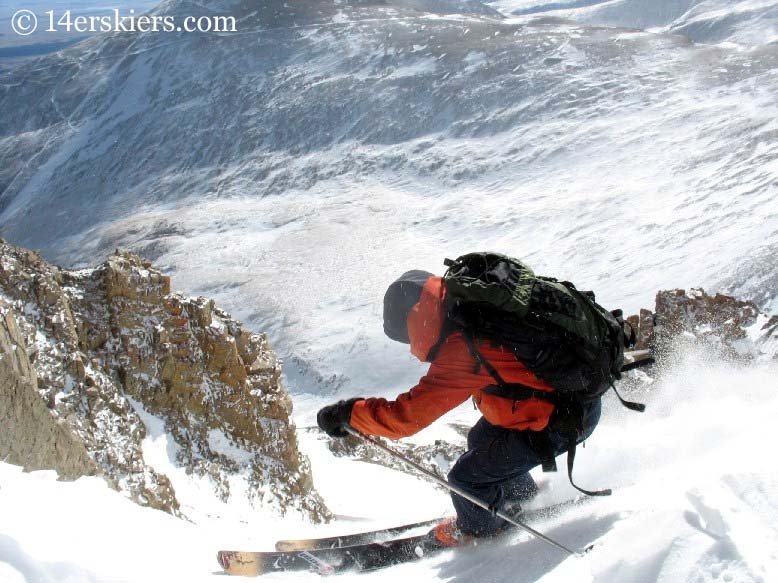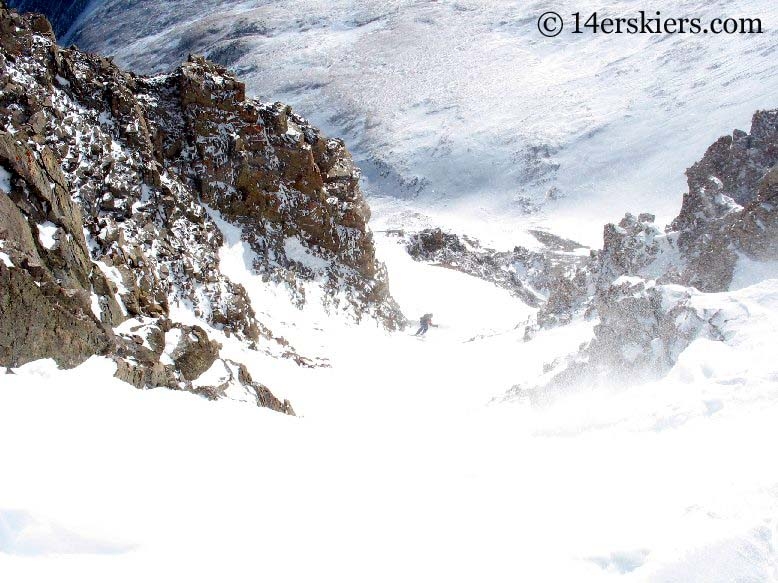 Brittany at the top of the chute.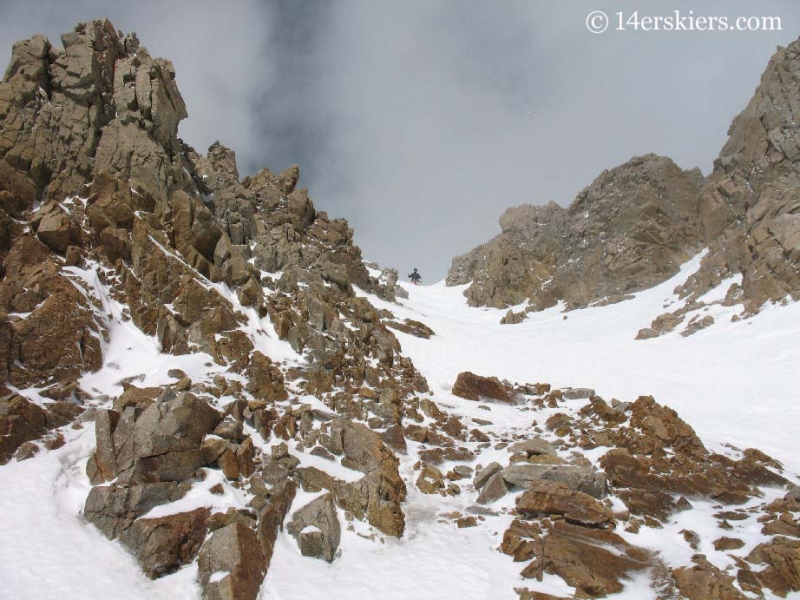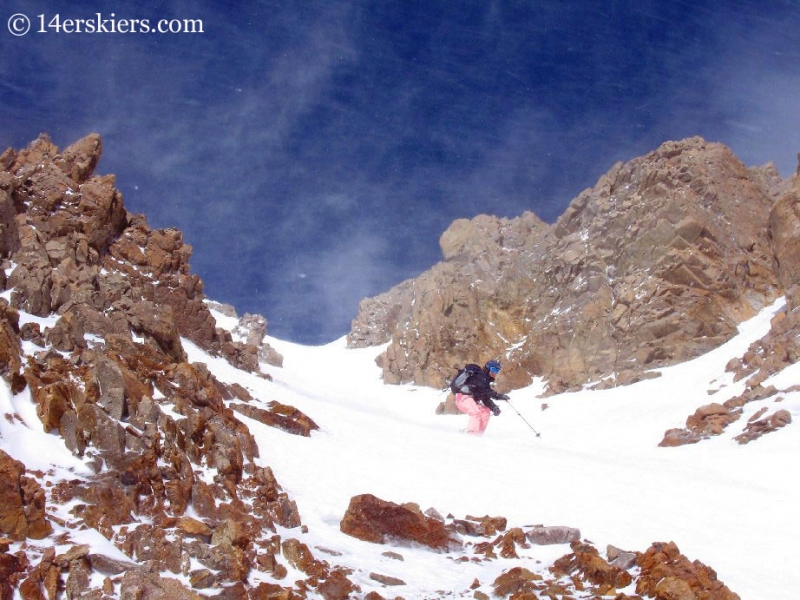 We continued our descent down to the lake at the bottom of Cameron Ampitheater. Conditions were highly variable and it was difficult snow to ski. In one turn ourskis would be on "windboard", the next our your skis would be in a foot of chunky powder, and the next turn we'd be on suncrusted ice.
Frank.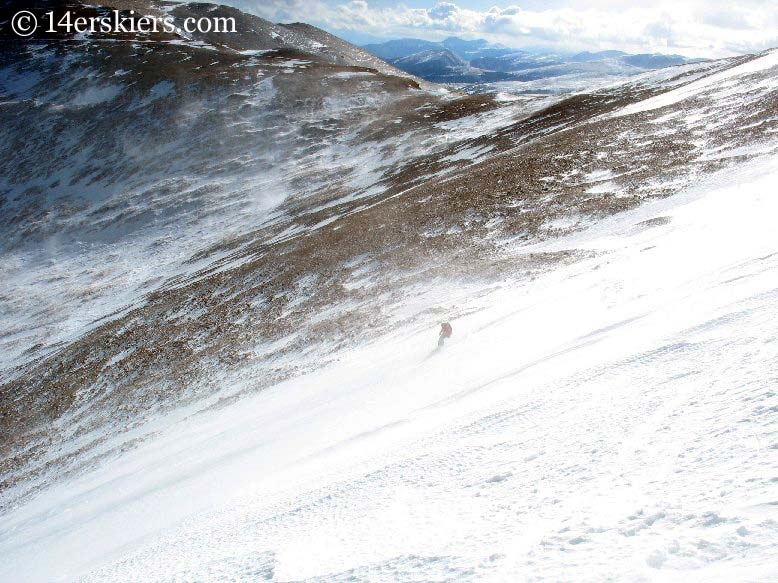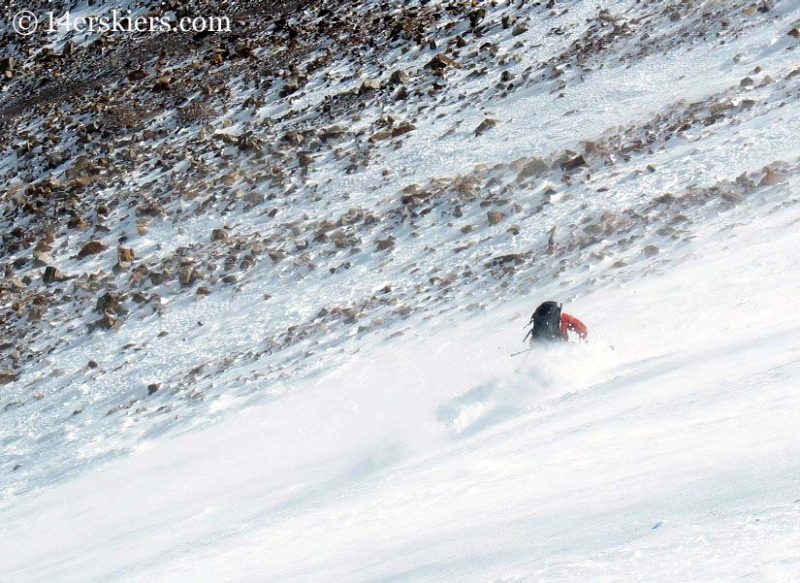 Brittany.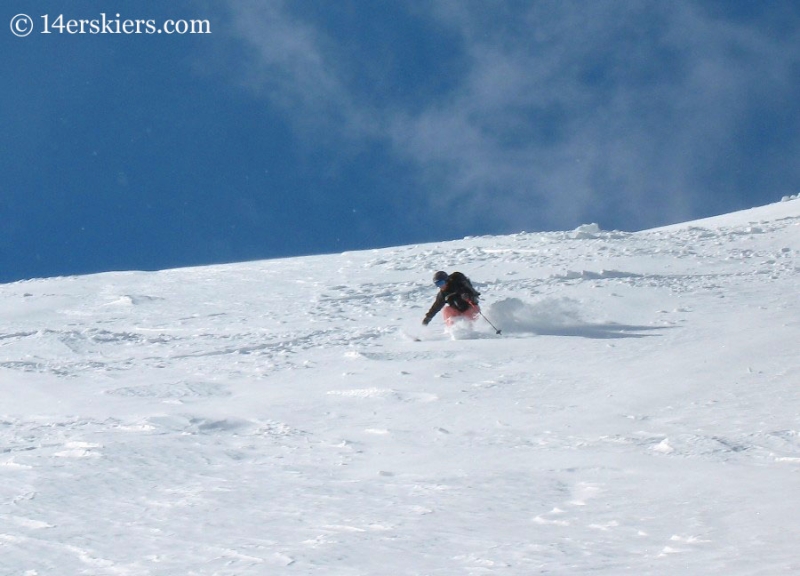 We had to be innovative to find a line down Lincoln. I thought it was so funny that I had to show the line here. I had to split it up into 2 pics.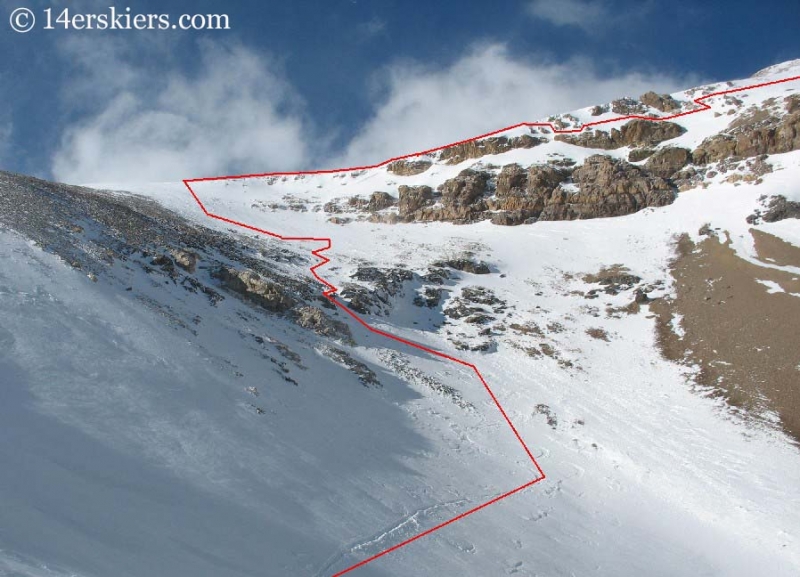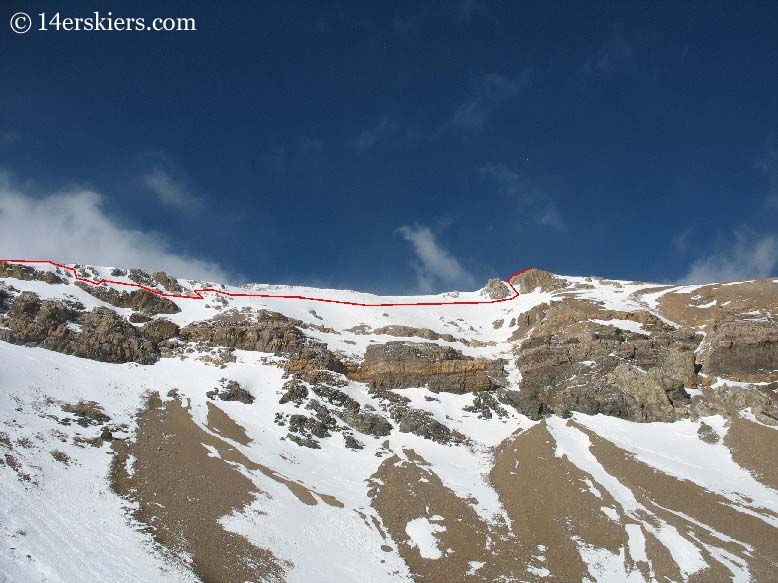 We continued down to the lake at around 13,100 feet and had a break for some food. We still had to climb back up to Bross. With the howling wind on the ridges and peaks, we found it difficult to eat during our hike and were low on energy. The wind was still strong even at this lower elevation and we began to chill very quickly. We put on our skins and we were able to skin about half way back up to the ridge between Lincoln and Bross. We booted the rest of the way.
We reached the summit of Bross around 3:50 pm, with only about an hour of daylight remaining. Frank, looking cold from the wind and dropping temperatures.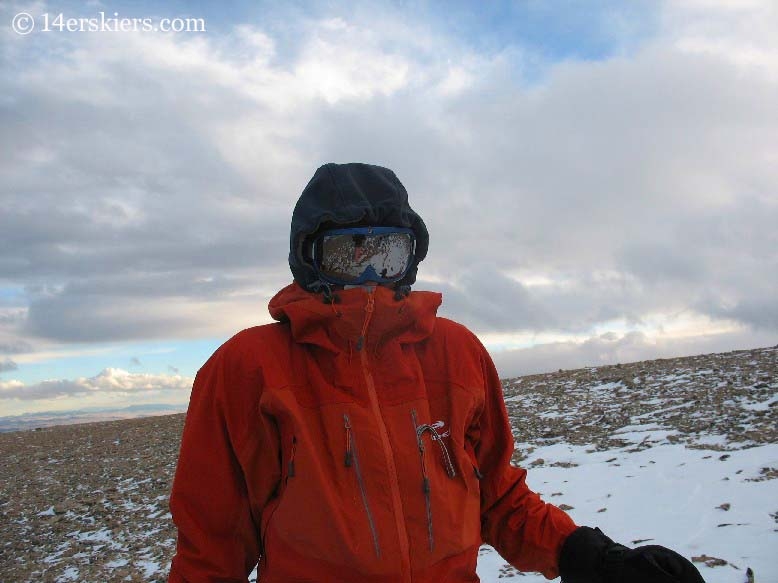 Brittany putting her skins away.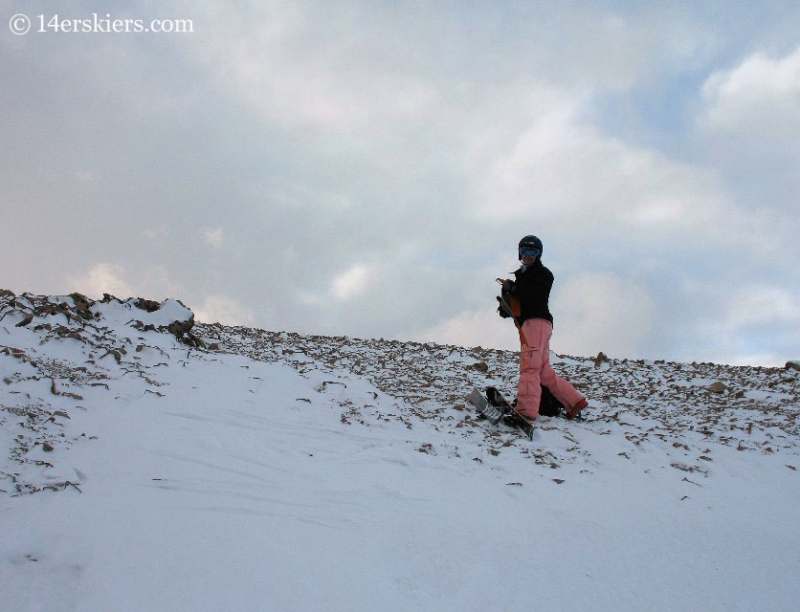 The top of the bowl on Bross was windloaded on the north side. So, we traversed from the summit to the southern side of the bowl (skiers right).
And then down we went!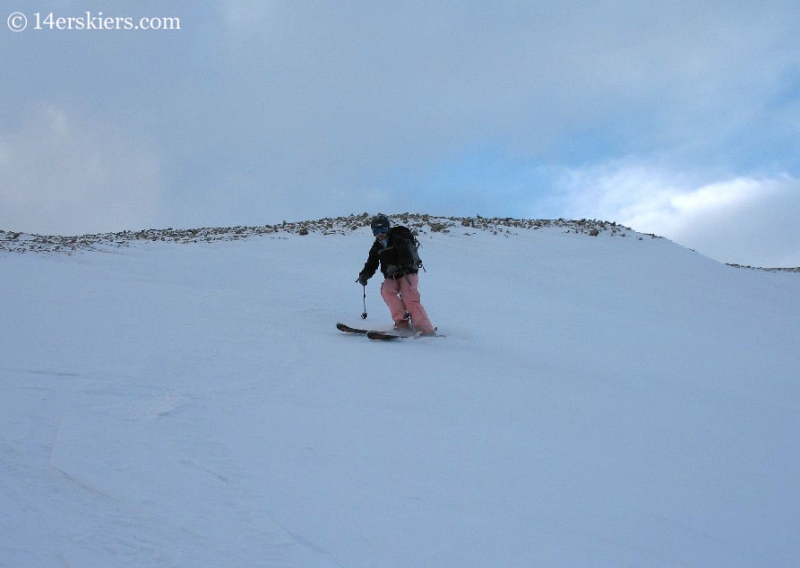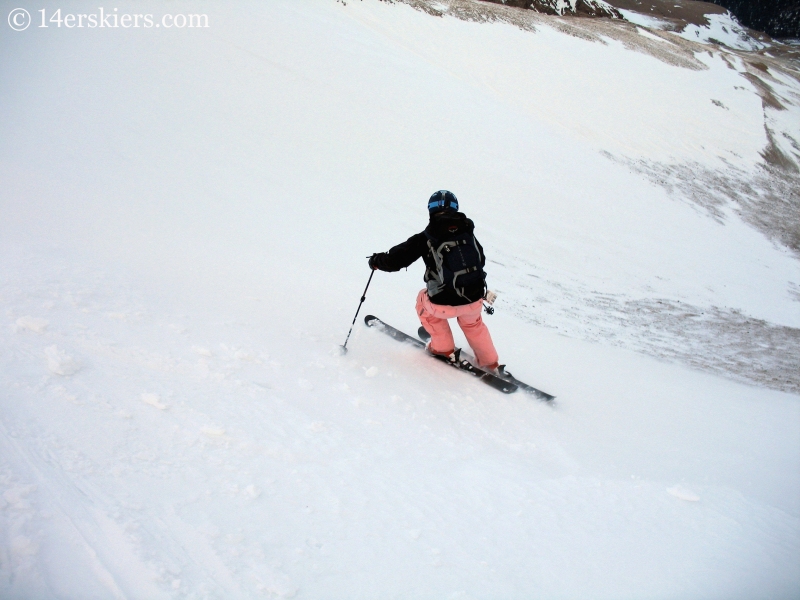 Frank showing some steeze as the evening approaches.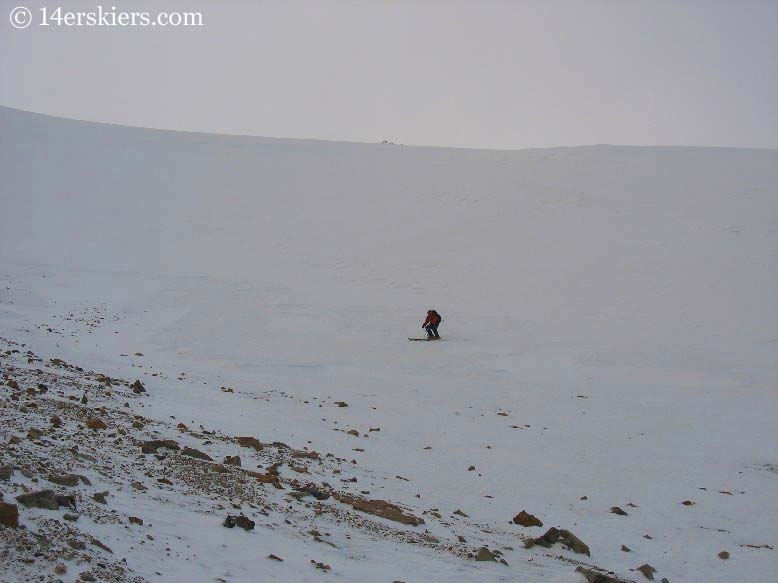 https://14erskiers.com/blog/wp-content/gallery/lincolnbross_25nov2006/128-frank-copy.jpg
We were able to ski down this bowl to the gulley. You can see the gulley trailing off to the right side of the photo here.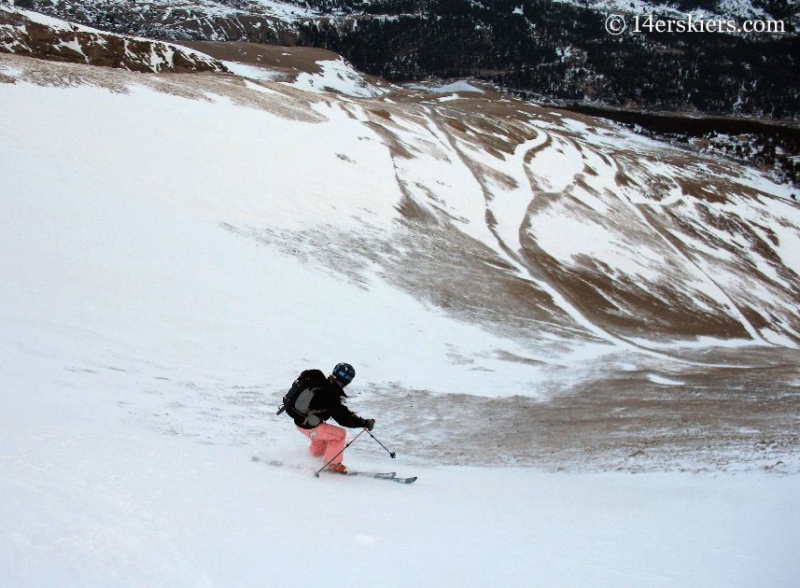 We were able to follow this gulley back to the car. A 3000 ft vert run where we only had to take off our skis twice, for only a few feet! Mt Bross may be a mellow ski, but the line kind of fun because it was so long. It kept a steady pitch for the majority of the run. The snow was less variable than on Lincoln, and was primarily windboard.
Plus, we were able to enjoy the beautiful evening skies.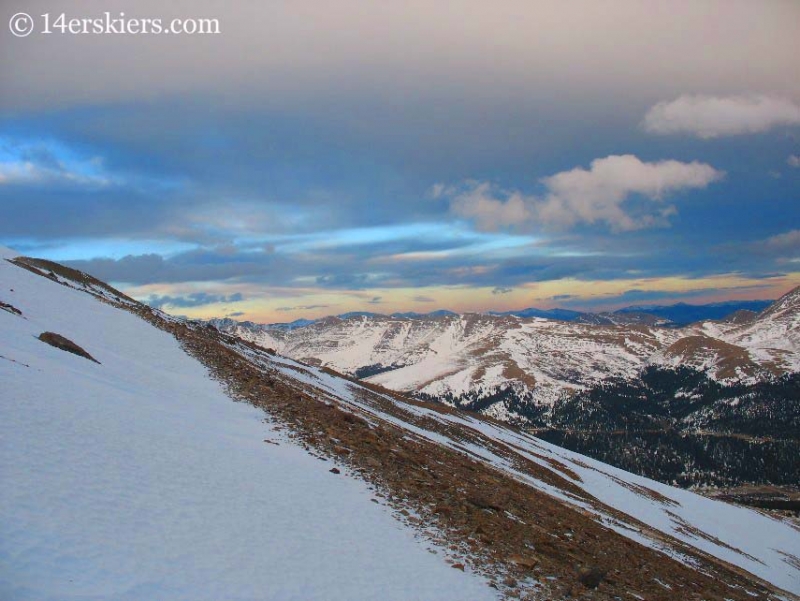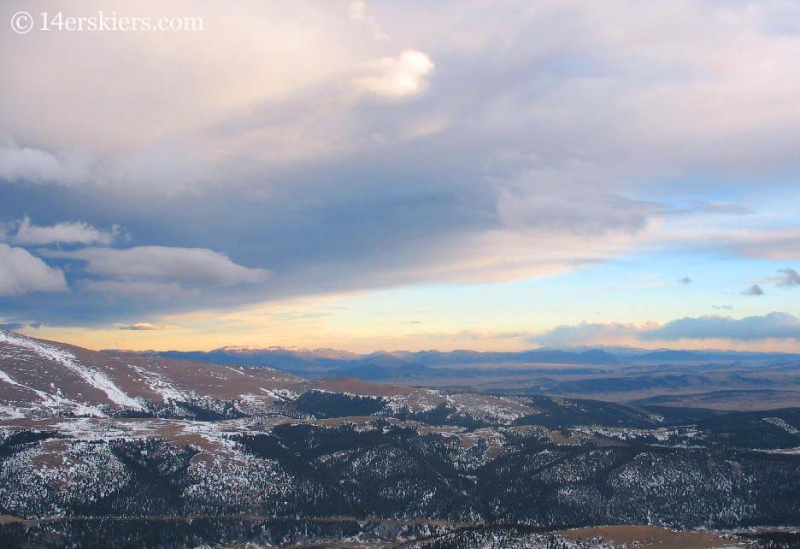 We got back to the car with only a few minutes of daylight to spare.
All in all, despite the horrible wind and variable snow, it was a good day. We left with smiles on our faces, bound for Chinese food 🙂
Looking back, perhaps it was good that these were done early on my list as Bross especially is one of the lesser fun fourteeners to ski. Nevertheless, it was good to be back up on the Colorado skyline and back skiing fourteeners again. I was looking forward to what the 2006-07 ski season held in store for me.
---
Like this report? See more of
Brittany's 14er skiing journey
.
Aside from skiing, biking, and all outdoorsy things,
Brittany Walker Konsella
also loves smiles and chocolate 🙂 Even though she excels at higher level math and chemistry, she still confuses left from right. Find out more about
Brittany
!
Latest posts by Brittany Walker Konsella (see all)