Product Introduction: Mosquitno
(Last Updated On: August 31, 2014)
Black flies. These are the nemesis of Colorado's bike riders in the heat of July. They turn fixing a flat tire from a chore into an epic. Your "friends" took off a long time ago. They didn't want to make new friends with those dang flies.
Mosquitoes. Not just in summer, but on unexpected spring ski adventures. In Oregon, I had 50 of them on one shoulder, and 50 more on the other. I'd wipe my hand on my shoulder to kill these blasted bugs and my shirt was immediately stained red with blood. Those dang blood suckers.
These are times when I wished I had a solution. On outdoor adventures, I don't often "pre-spray" myself with bug spray. Why? They usually aren't THAT bad. But, let's face it. Sometimes they are. In my CamelBak, I have previously stashed a wet-wipe style wipe on bug spray. These work, surely. But, I can't use it effectively over my clothes (like the Oregon mosquitoes biting me through my shirt), and they are laden in a lot of DEET, which frankly, I try to avoid. But, this DEET infested wet wipe that used to sit in my CamelBak has been replaced by a different product called Mosquitno.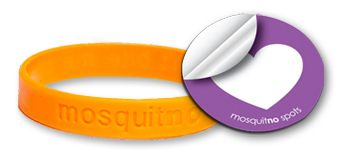 No DEET
Mosquitno makes products that repel mosquitos, flies, gnates, no-see-ums, and all those other annoying biting bugs. The repellent they use does not contain DEET, but is based on more natural techniques- citronella oil to be exact. Citronella oil masks human scents that attract bugs and is completely non-toxic. But, Mosquitno provides a delivery system that allows people to target heavily-bitten areas on their bodies, unlike a traditional citronella candle.
Removable & Easily Portable
But, rather than a spray, Mosquitno uses Bands and Spotz to apply the citronella oil scent. This means, that when you're done with the ride, hike, or other outdoor adventure, you can remove the Band or Spotz and not smell like a citronella candle anymore. You can enjoy that beer for it's true flavor 😉
What are these Bands and Spotz?
Bands are a bracelet that can be worn around the ankle or wrist. You can even wear more than one to ward off those pesky ankle biters. Spotz are stickers that can be placed on directly on skin or on clothes such as hats, socks, shirts, and backpacks. Both of these are infused with citronella oil.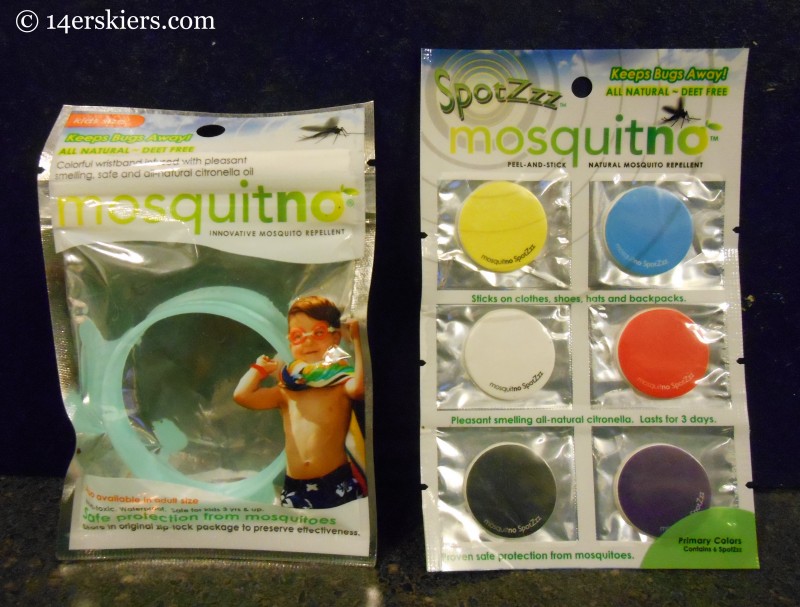 Long-Use
Both the Bands and the Spotz are targeted for long-term use. Bands come in a resealable package that you can store the bracelet in when not in use. Each band is effective for about 150 hours of use. I keep one of these in my CamelBak at all times so I can bust it out when the bugs get bad. The Spotz are good for 72 hours of use, so sticking them on items that get used for multiple days in a row – like shoes, backpacks, hats, helmets – is recommended.
Recycle
The Band is not only fully reusable for several days, but it is also recyclable. Mosquitno provides an incentive to recycle this product- send in 10 used bands and get 2 new for free.
Testing
Unfortunately, by the time we received our samples, the grunt of the bug-season was done – earlier than usual with an abnormally cool summer. So, we haven't given proper time to the product to really say we've tested it. But, Mosquitno undoubtedly has a cool concept and we can't wait to test them next year.
Finding Mosquitno
Mosquitno Bands and Spotz can be found at mosquitnoband.com and at many retail locations online and in stores – including Amazon and Home Depot.
Feedback
Has anyone else tried one of these Mosquitno products? If so, then tell us what you thought! Add your comment below 🙂
Aside from skiing, biking, and all outdoorsy things,
Brittany Walker Konsella
also loves smiles and chocolate 🙂 Even though she excels at higher level math and chemistry, she still confuses left from right. Find out more about
Brittany
!
Latest posts by Brittany Walker Konsella (see all)