Crested Butte Trail Conditions
(Last Updated On: July 2, 2014)
The following blog post is a response to a question we received from a follower to our blog. Rather that just answer one person, we decided to respond in the form of a whole blog post – as we knew that many other holiday visitors could benefit from some Crested Butte Trail Conditions updates!
What mountain bike rides and hikes do you think would be best for this weekend…to see flowers and avoid massive snow fields? We have 5 days and are advanced level bikers and hikers.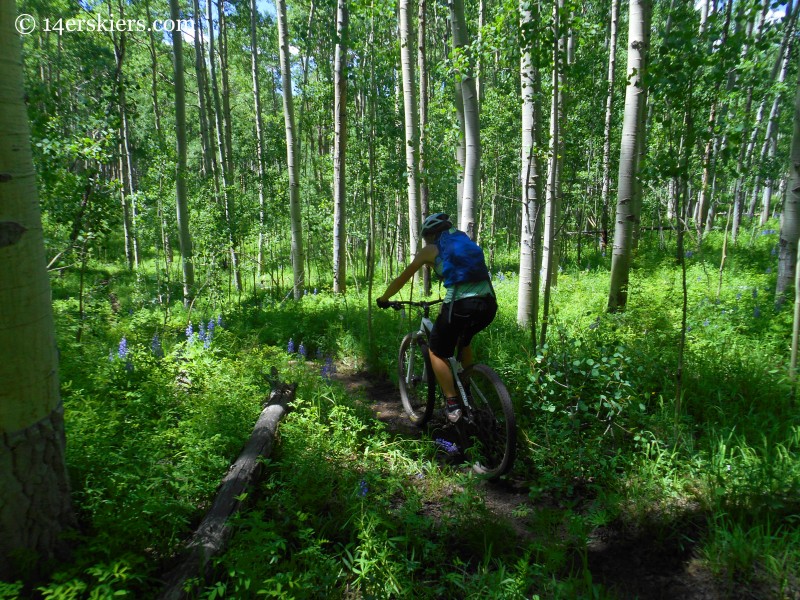 Well, first let's start with overall trail conditions. Many mountain bikers will be sad to know that 403 and 401 are not recommended. They still have significant snow cover. However, many of our other trails are open. Most trails at or below treeline are good to go. Those above treeline, especially in shaded areas, could be questionable. Specific updates on many trails can be viewed on the CBMBA site.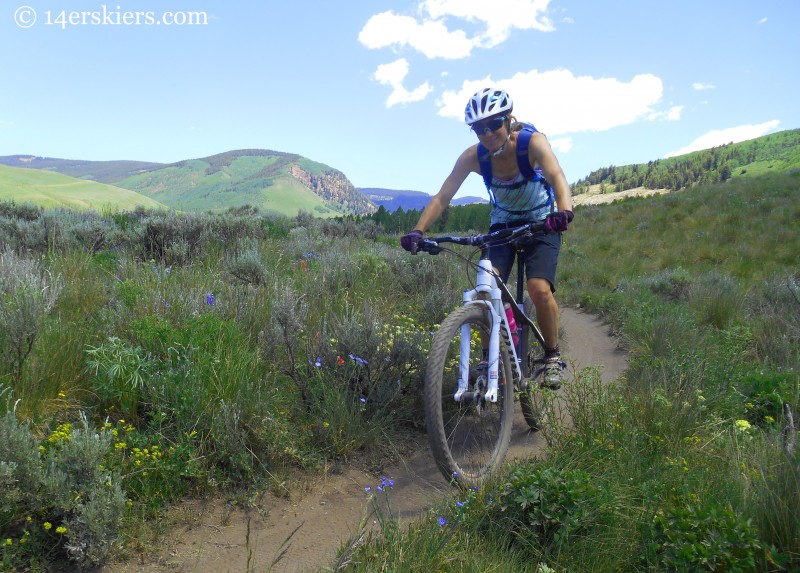 Road access is a bit questionable as well. Washington Gulch Road is passable to at least the 403 trailhead. Slate Road is drivable to very close to Paradise Divide. But, Gothic Road is blocked by the "plug" (avy debris) a bit before Emerald Lake, which is short of Schofield Pass. A bit more on road conditions can be found on the Maroon Bells Shuttle site.
This means that the West Maroon Pass trailhead is not easily accessible. So, West Maroon Pass, Hasley Pass, and Frigidaire Pass are not recommended. Sad for hikers, but the wildflowers won't be peaking there yet anyways. The snow is still melting 🙂
Wildflowers are really in their prime in the sage-brush areas. We have found really great flowers on Tony's Trail, Upper Loop, and Strand Bonus. I suspect that the Upper Cement Creek Trail probably has a lot of wildflowers too.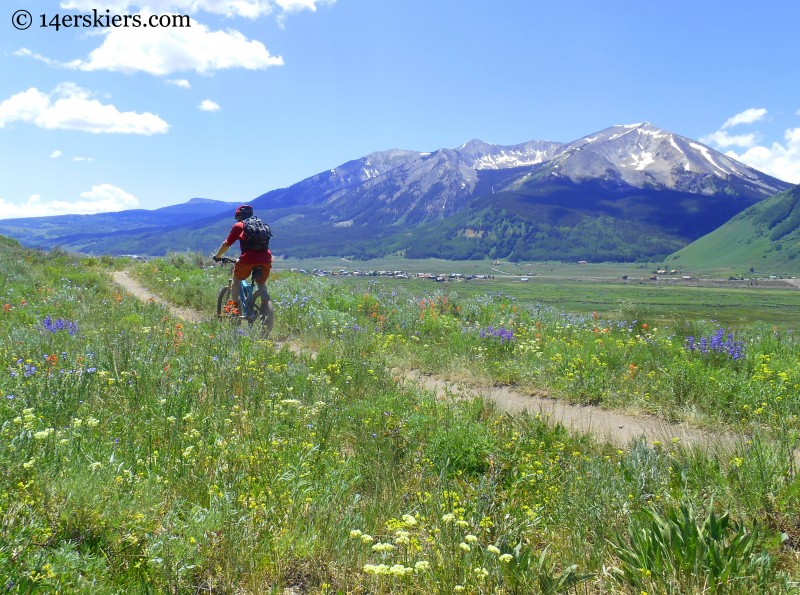 But, we've also seen great flowers on Meander and Columbine at the ski area – I mean spectacular flowers. Also, the wildflowers are good on Snodgrass, Lower Loop, Upper Loop, and Lupine. A great loop you could do would be to start at the ski area, climb Up & Away, then Columbine, then Painter Boy. Descend Meander. Cross the road to Snodgrass and ride that to Washington Gulch Road. If you have more time and energy, you could tack on Lupine. If you wanted longer, you could even do Lower Loop. If, after all that riding, you don't feel like climbing back up to the ski area, you could always plop your bike on the bus, which leaves every 20 minutes.
I suspect wildflowers would also be great on Deer Creek. I hear Reno-Flag-Bear, Doctor's, and Dyke are all riding well. But, the flowers might be better elsewhere.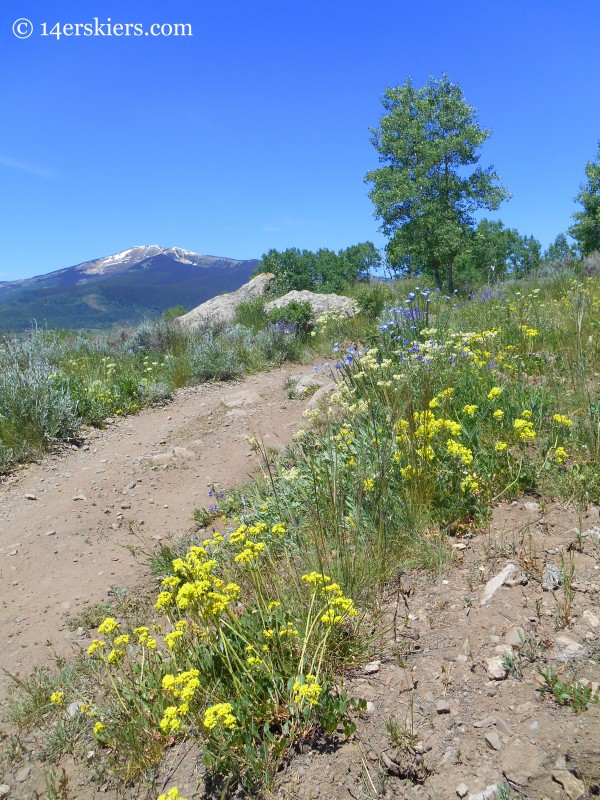 For hiking, any of the above would be great. But, I would also consider hiking the Cliff Creek Trail to Beckwith Pass. I also think that the flowers up Oh-Be-Joyful would be spectacular, but crossing the Slate River could be scary. We still have high flow. Look for a log near the campground to help you cross it. A hike down Ruby-Anthracite would probably be really cool this time of year as well. Copley Lake will also have some good wildflowers too!
Hope that helps! Let us know if you have any more questions!
Note: The photos in this report were taken Tuesday and Wednesday this week!
Aside from skiing, biking, and all outdoorsy things,
Brittany Walker Konsella
also loves smiles and chocolate 🙂 Even though she excels at higher level math and chemistry, she still confuses left from right. Find out more about
Brittany
!
Latest posts by Brittany Walker Konsella (see all)