June skiing TR: White Rock
(Last Updated On: June 11, 2014)
May is always a waiting game for backcountry skiing access in Crested Butte. The normal roads melt out just enough to make them inaccessible by foot or a snowmobile, with the exception of Kebler Pass. And because of this, we find ourselves waiting for the road to open to Gothic so we can access terrain up Copper Creek or beyond. Usually open by mid-May, Gothic road didn't open this year until Memorial Day weekend. And due to our Teton road trip, we weren't able to head out to Copper Creek until June.
Spring skiing up Copper Creek comes with it's hassles, one of them being the actual creek crossing. It was better before 2011 when there were logs big enough to walk across on. It was sketchy, but doable. But, in "the big year" those logs washed away and we now have to plunge our way across the creek. It's cold. I won't lie. Every time I do it my feet and calves are shocked into pain by the icy water and I find myself holding back the urge to scream. And, despite rolling up my pants to my knees, they still get wet. Thank goodness we live in Colorado where things dry quickly. Here, Jen is making her way across the Copper Creek.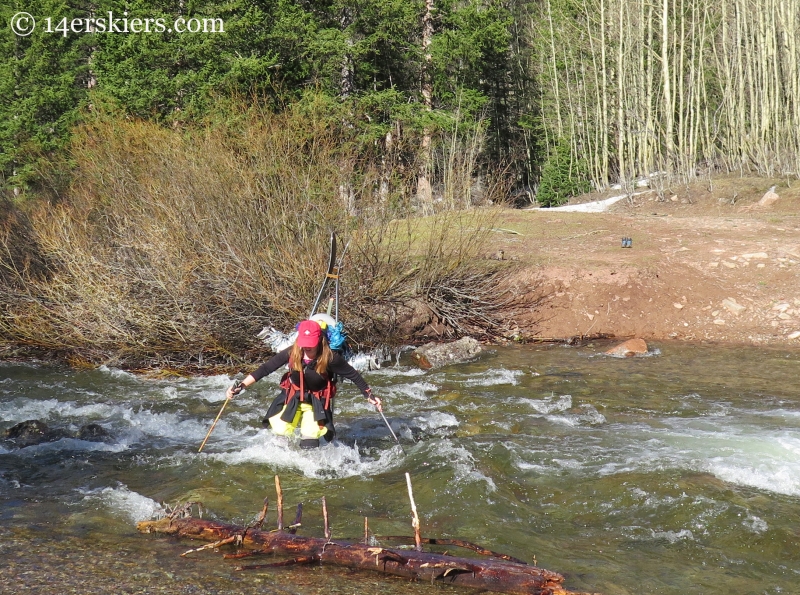 We followed the trail for a ways before finally reaching a drainage that we followed toward our goal- White Rock.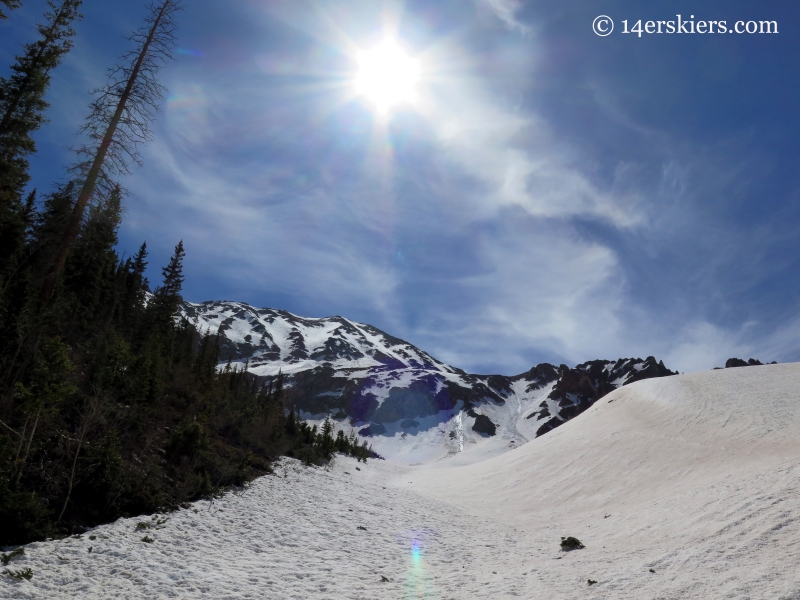 We skinned until we could not go any longer.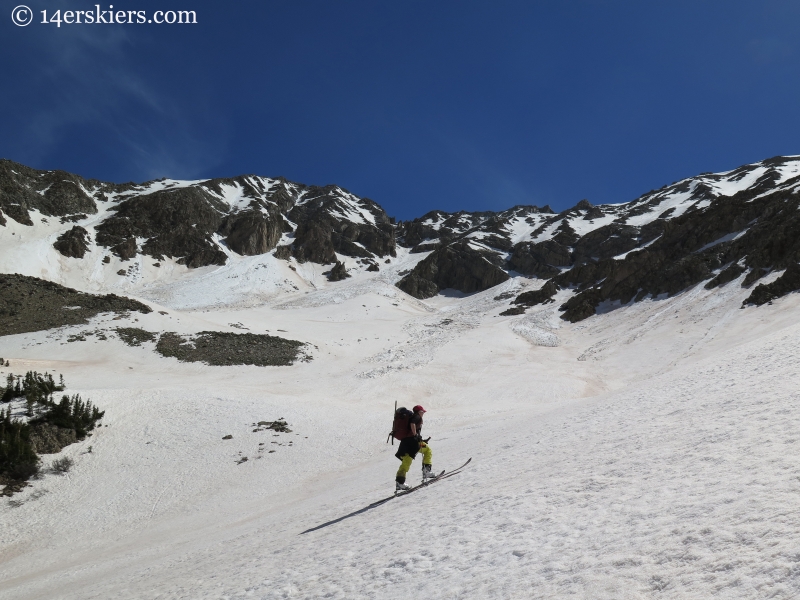 After a few thousand vertical feet, we stood near a saddle and stared at the final push to the summit. This part is always deceiving as it appears to be only a few hundred feet. But, in reality, it's a 1000-ft climb to the summit.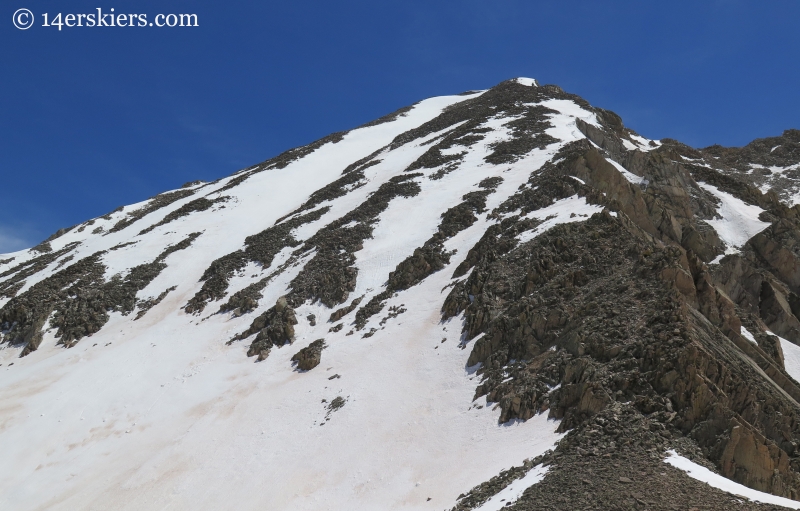 Cassi and Precarious loomed in the distance.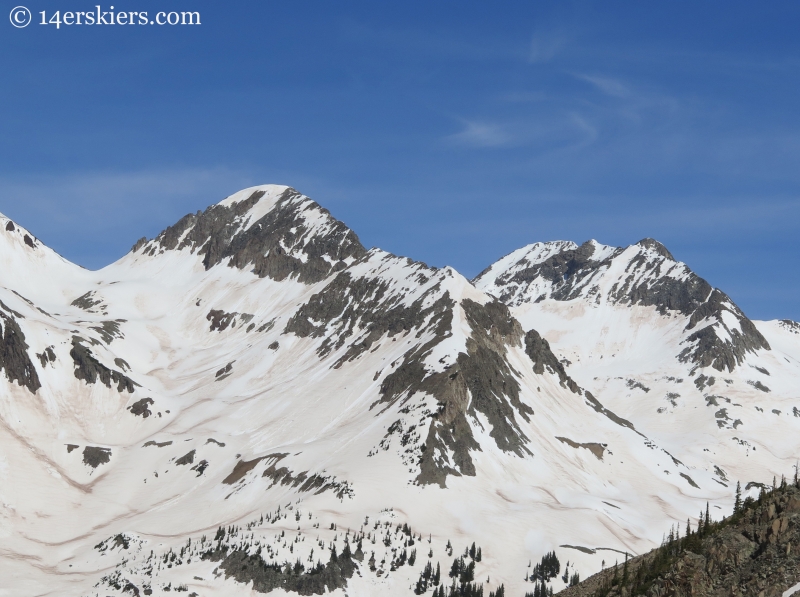 Ben and Jen climbing toward the summit.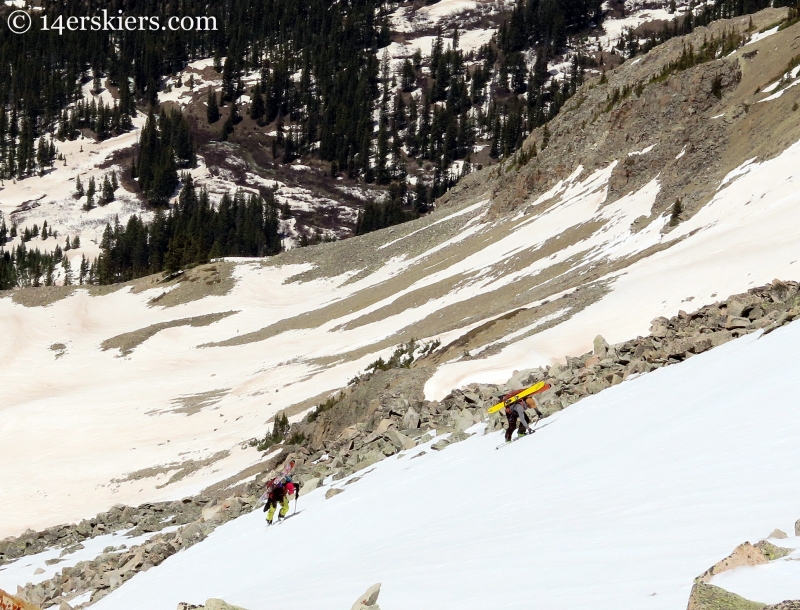 Jenny making her way on the ridge to the actual summit with Pyramid Peak and the Maroon Bells behind her.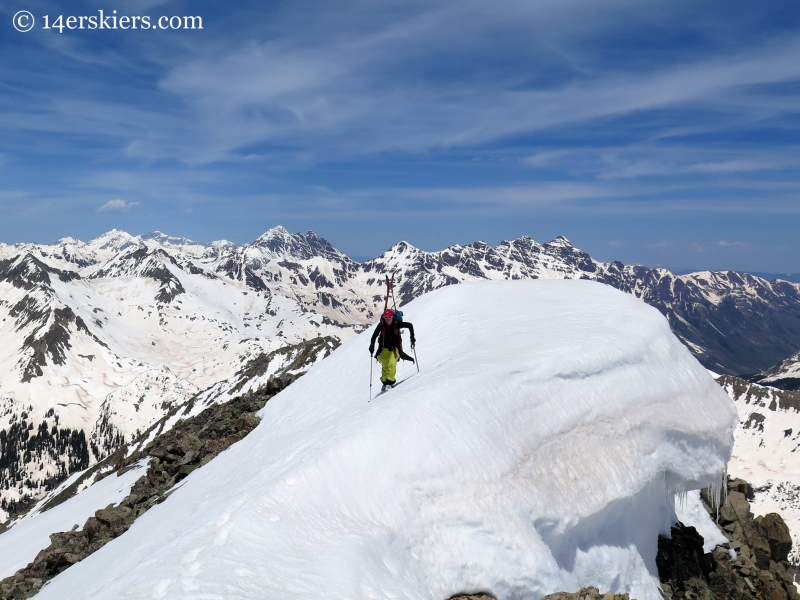 The views from White Rock are among my most favorite of any peak in Colorado. The whole Elk Range was laid out before us. Siberia, Snowmass, and Capitol Peaks.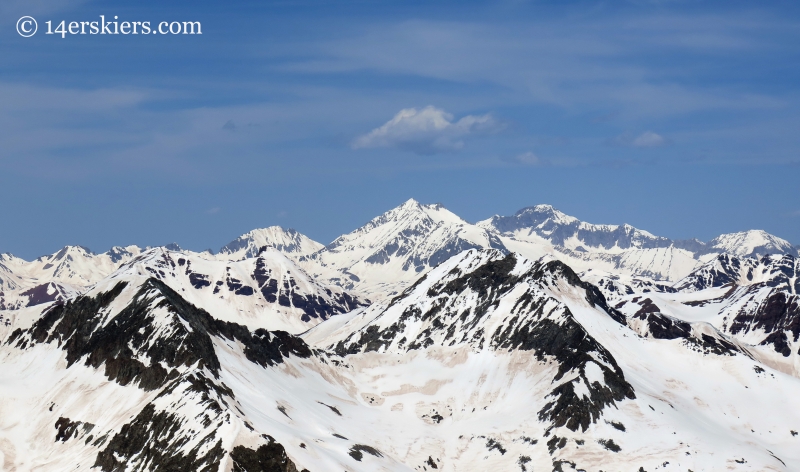 Castle.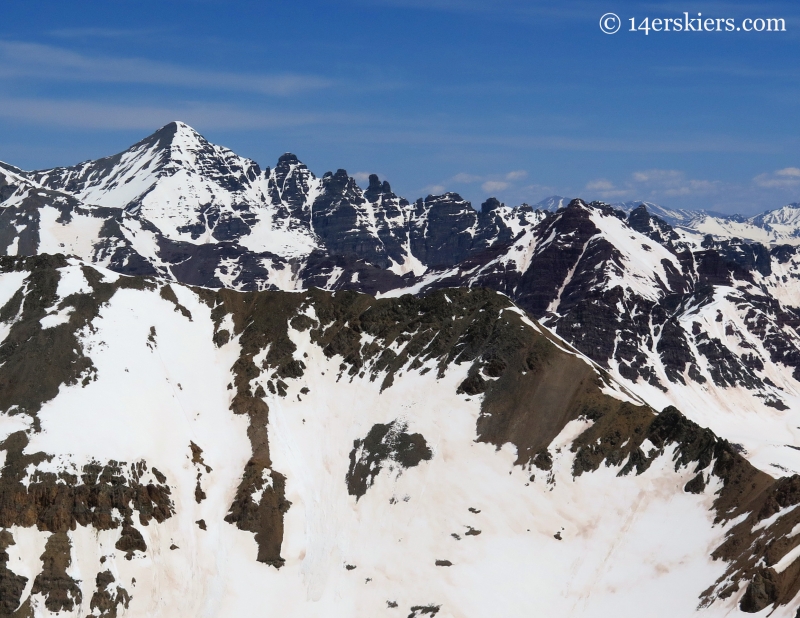 The view toward Crested Butte – where summer meets winter.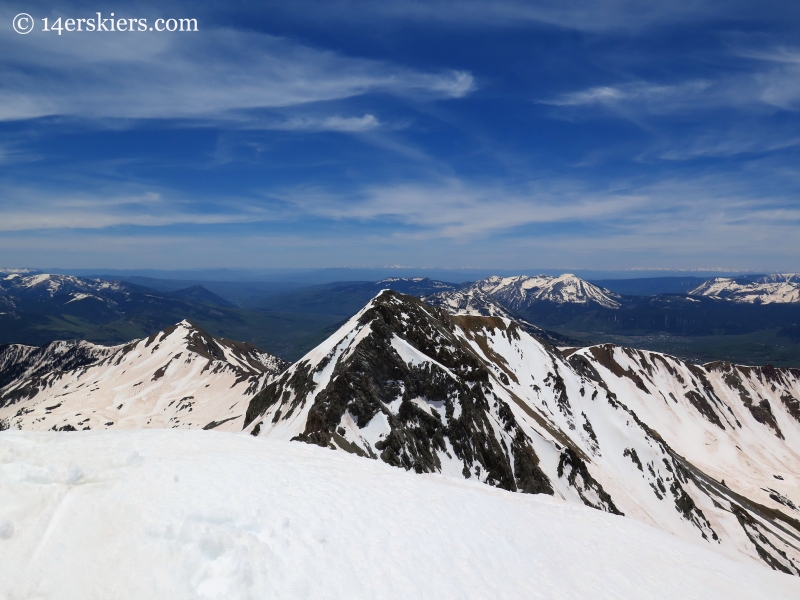 Ben and Jen ready to ski off the summit.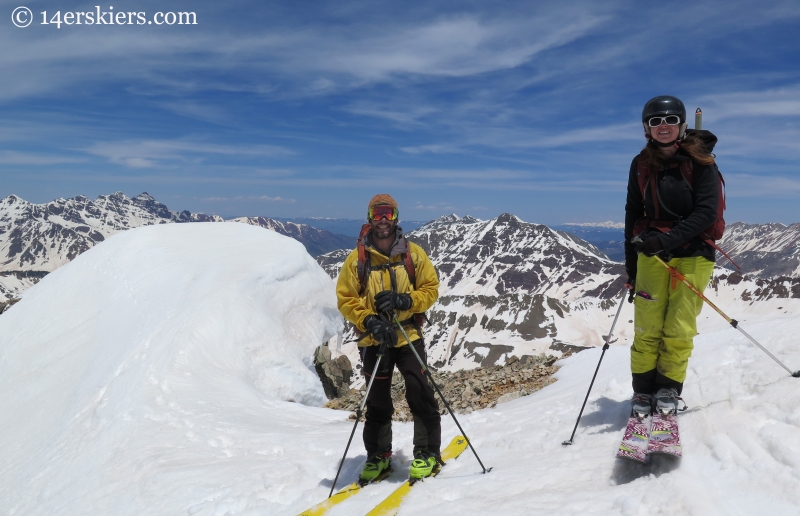 Having snowed up high earlier in the week (while it rained below 12,000 ft), the skiing was fantastic corn. Jenny.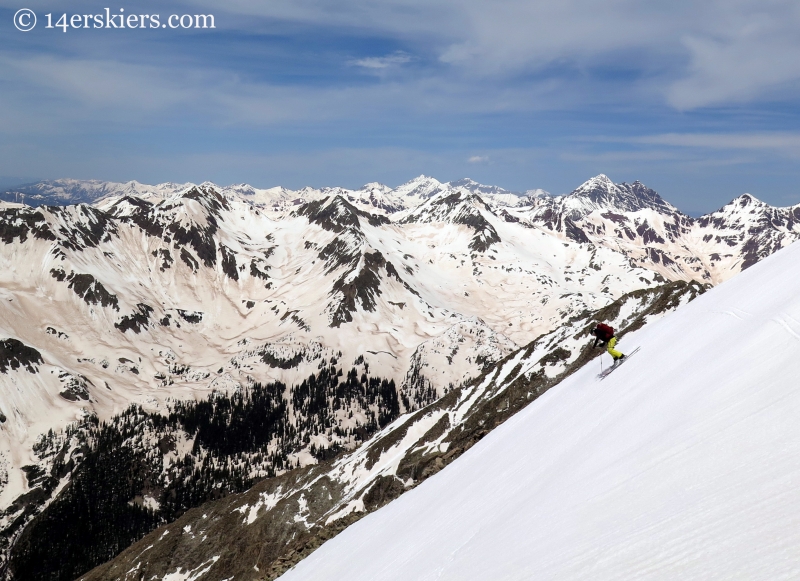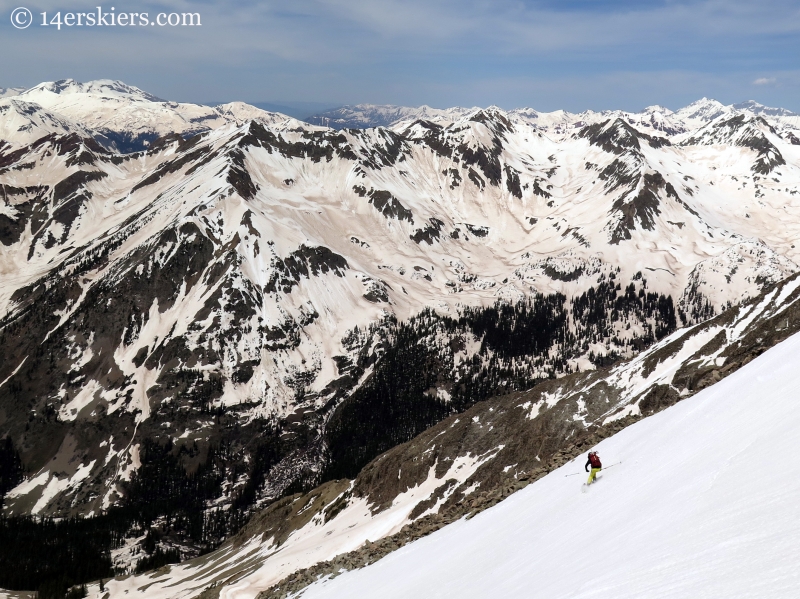 Me.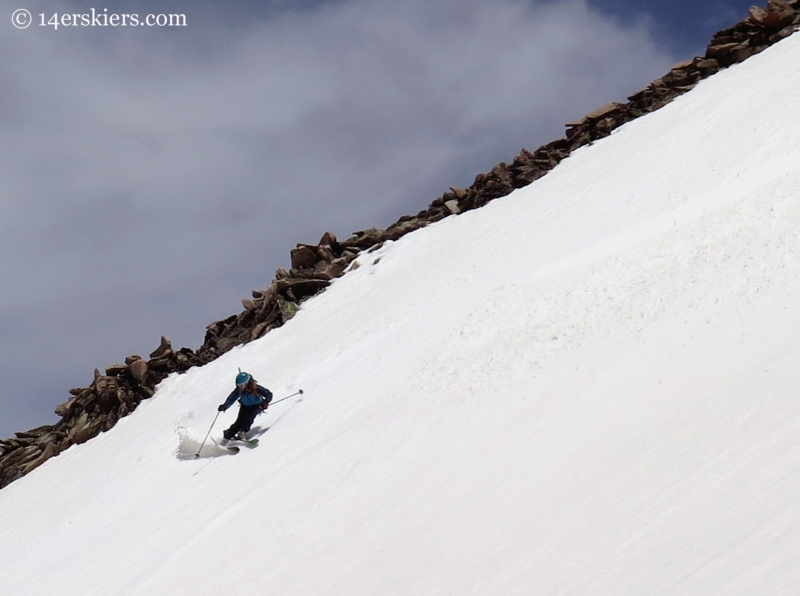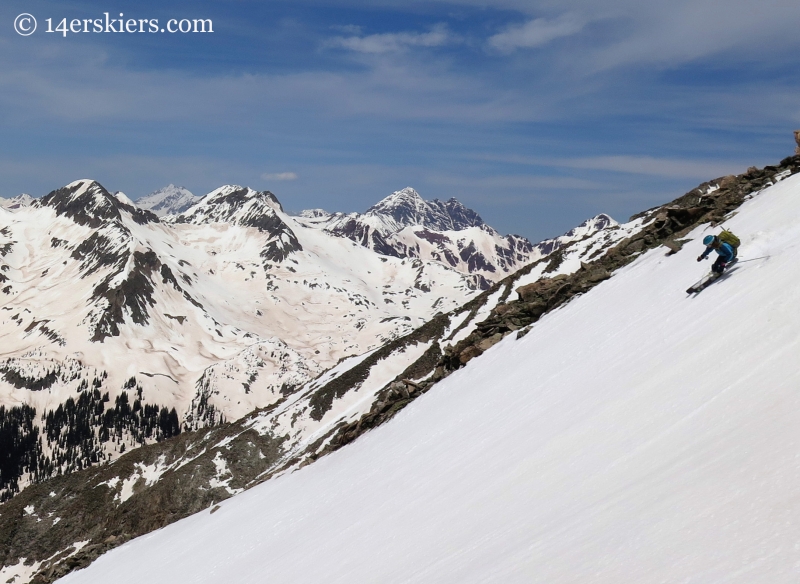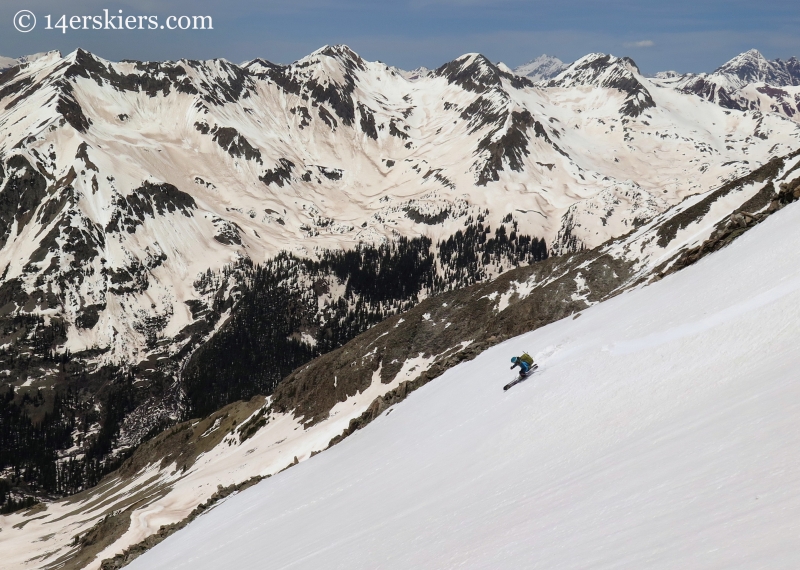 Ben.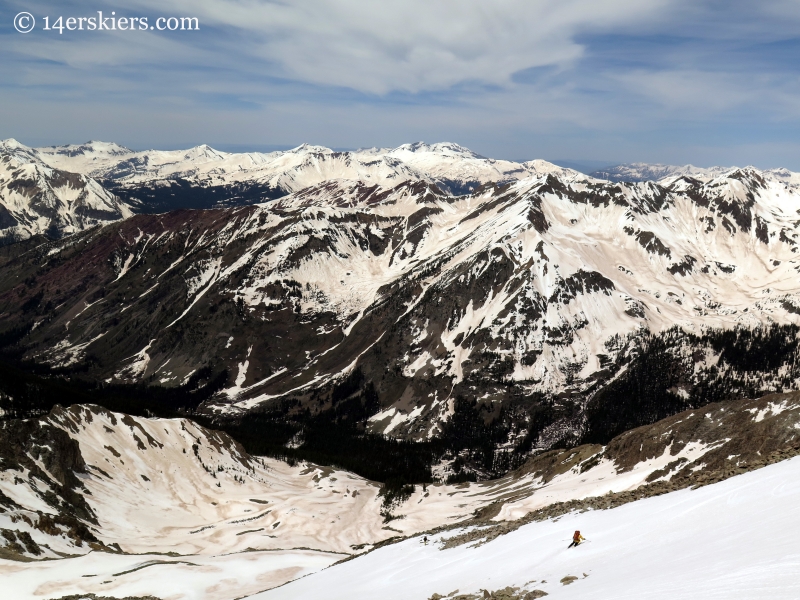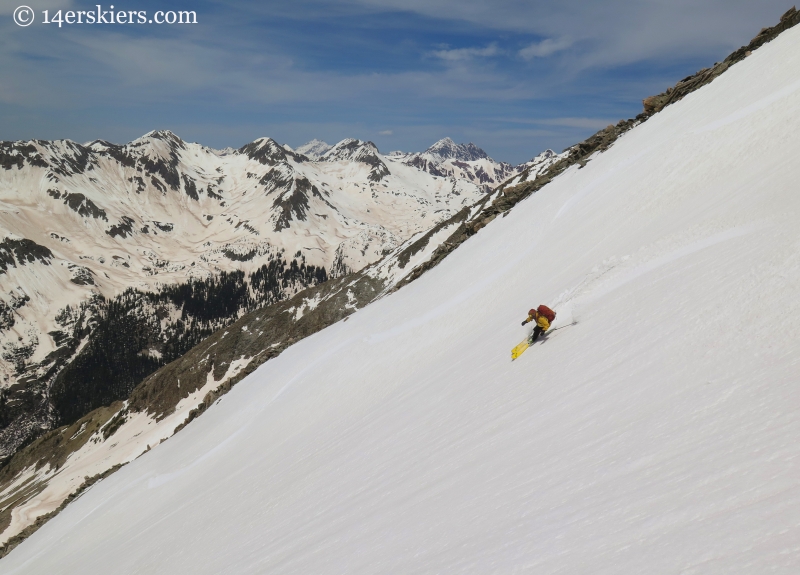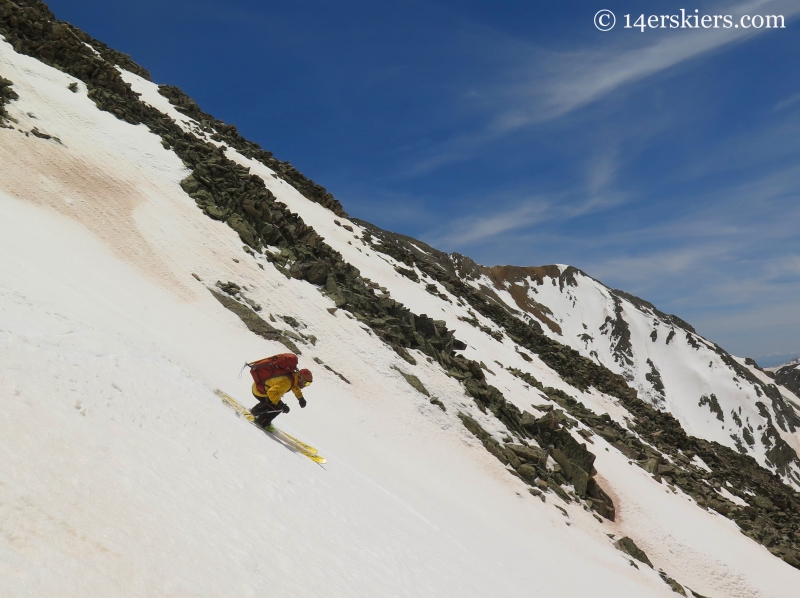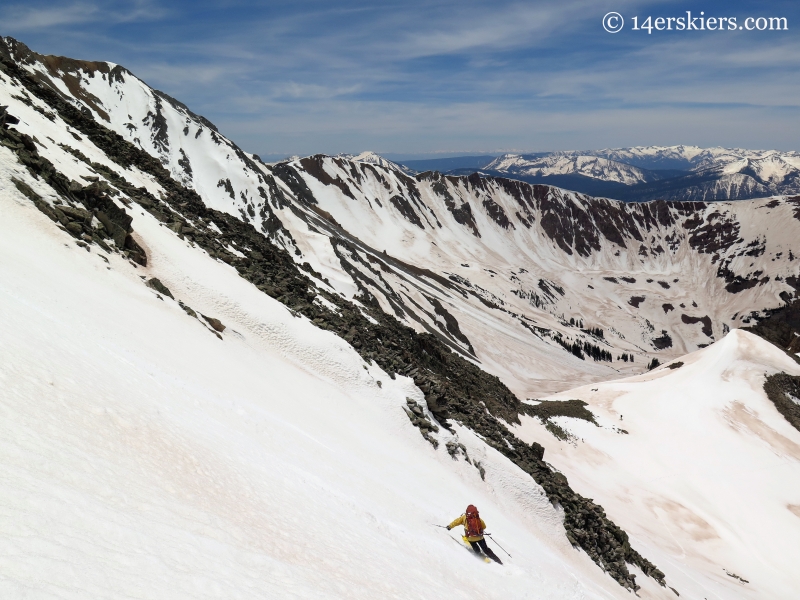 After descending to the saddle, we decided to hop over and drop into Queen Basin. Me.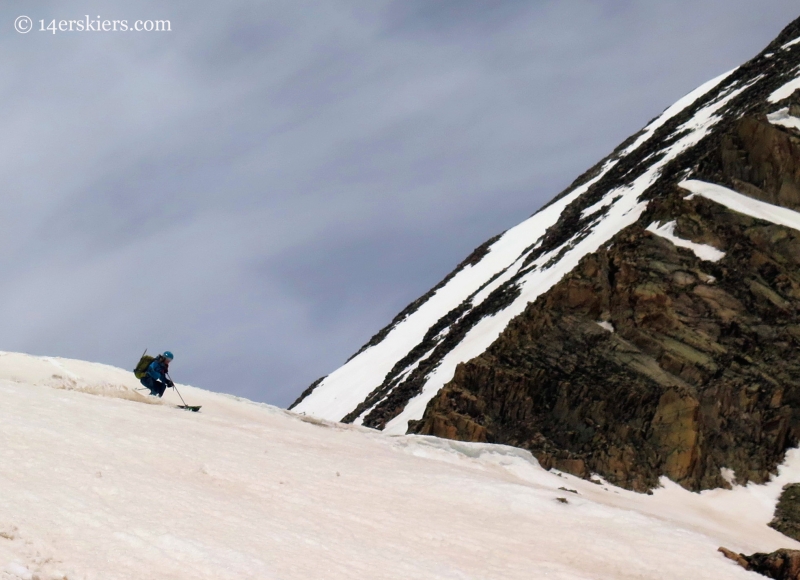 Ben.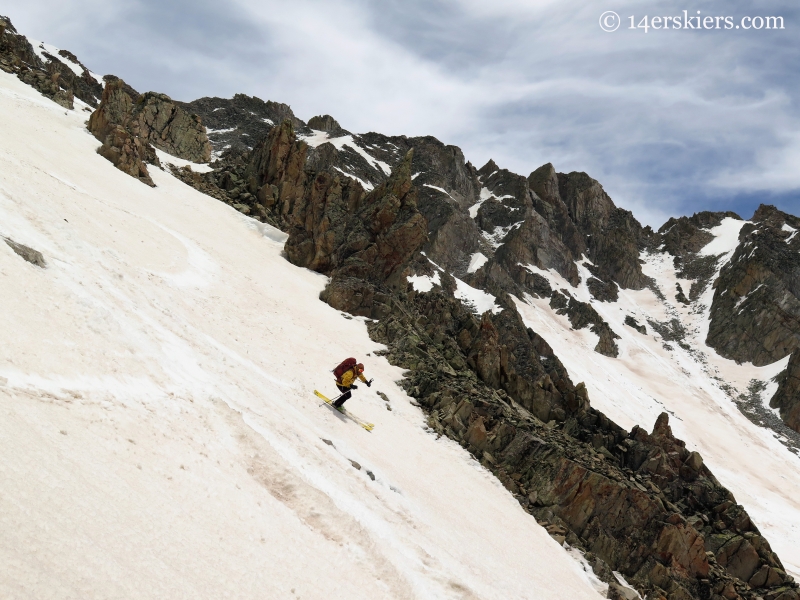 Jen.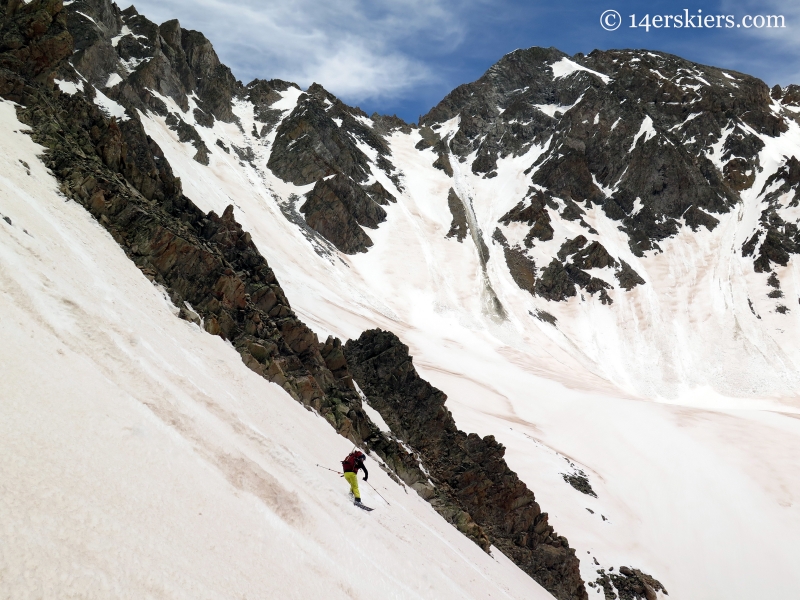 Jen with the upper end of Queen Basin behind her.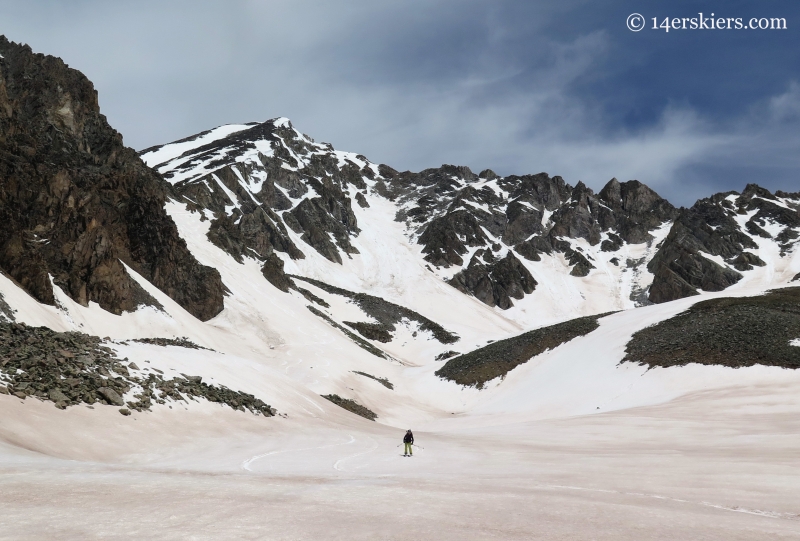 Throughout the day we'd seen evidence of recent slides, some of them quite large, like this. These slides were wet slides triggered from a long rain storm we had earlier in the week.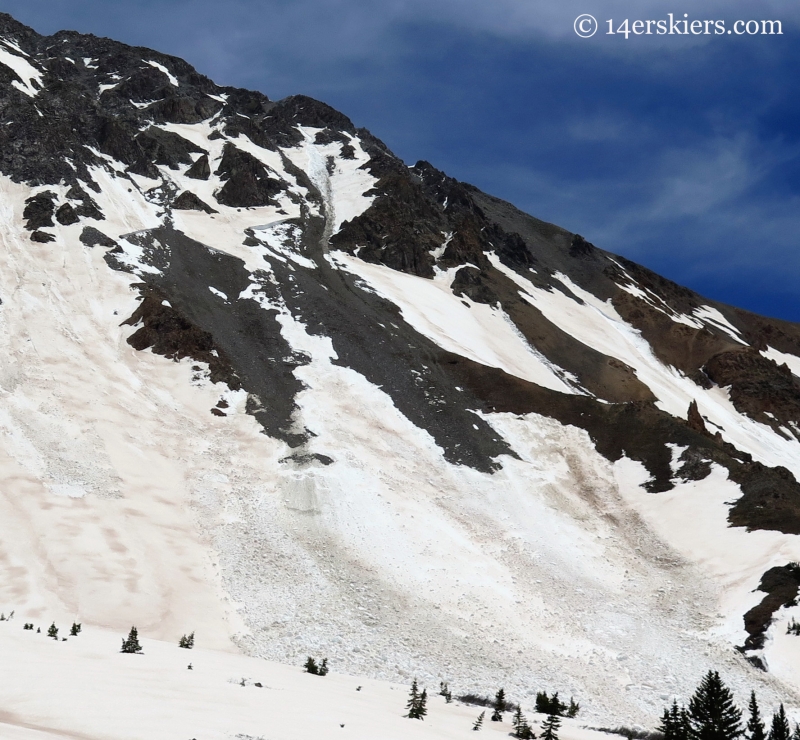 We continued to descend through Queen Basin. Me, with a line we call El Notcho above.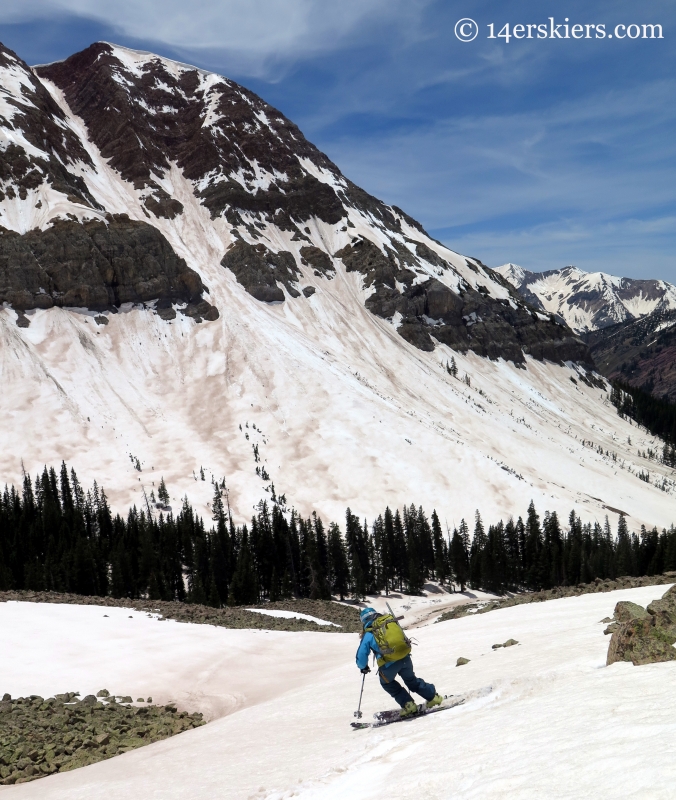 After reaching treeline, we descended through the trees to the trail on the valley floor. Often, the skiing in these trees is fairly manky and difficult this time of year. But, this year, likely due to consolidation from the rain storm, the snow was well-packed and easy to ski.
A view of White Rock on our way out Copper Creek.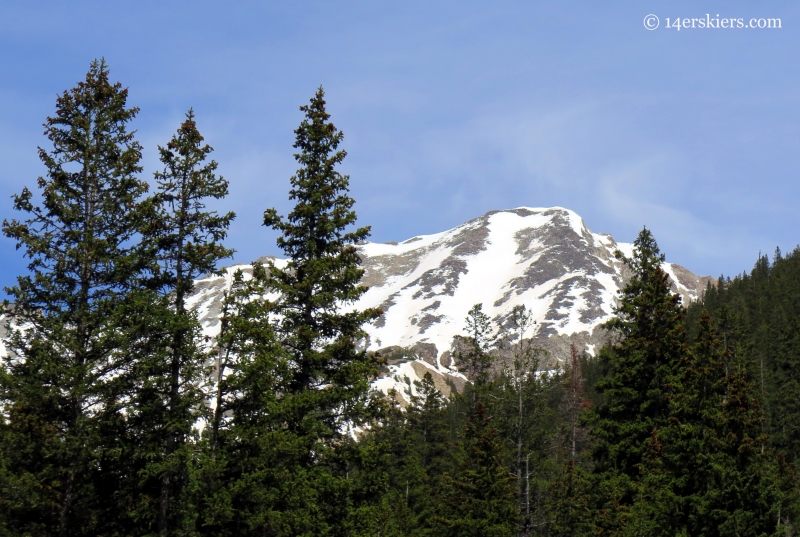 Even after having stood on top of White Rock for the third time, my opinion of it is unaltered – it still remains among one of my favorite peaks to climb and ski in the Crested Butte area.
Aside from skiing, biking, and all outdoorsy things,
Brittany Walker Konsella
also loves smiles and chocolate 🙂 Even though she excels at higher level math and chemistry, she still confuses left from right. Find out more about
Brittany
!
Latest posts by Brittany Walker Konsella (see all)