TR: Sunny Day on Augusta (17 Mar 2012)
(Last Updated On: March 21, 2012)
Augusta is one of the mountains that towers high in the backdrop of Crested Butte toward Paradise Divide. If you've been here, you've probably noticed it. From afar, it's majestic and beautiful- and it stays white longer than most of our surrounding peaks. For that reason, Augusta has been brought up a few times when Frank and I have discussed "what to ski this weekend". Simply put, it's fairly mellow and has kept good coverage in a bad winter. With our friends Jarrett and Kim visiting this weekend, it seemed Augusta was the perfect choice.
We snowmobiled up into Poverty Gulch and parked our sleds at the bottom of Cascade. Instead of skinning up Baxter Basin, we opted to continue up Poverty Gulch, approaching Augusta from the north. The scenery was beautiful along the way.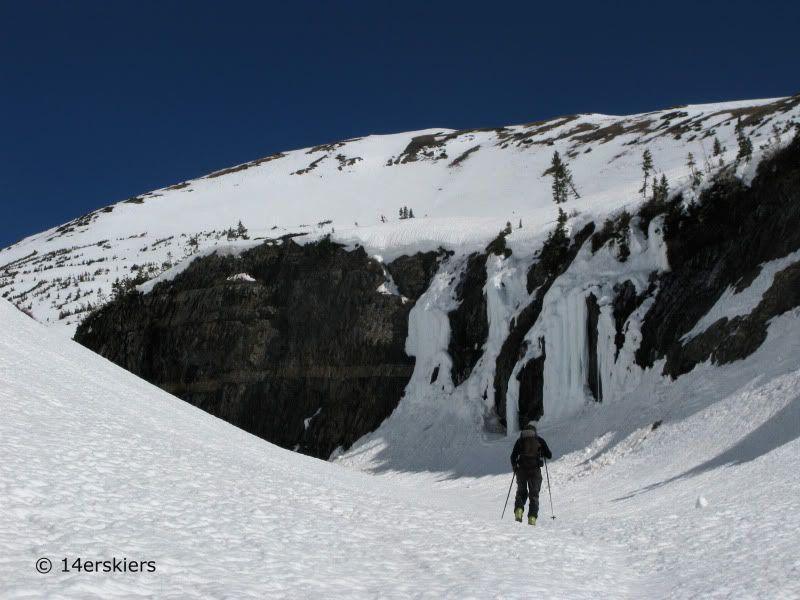 Purple Mountain on the right.


Photo courtesy of Kim Ross
We gained the ridge on Augusta's north side, and paused for a break. Sydney and I with Augusta in the back.


Photo courtesy of Kim Ross
Beckwith in the distance, as seen from the ridge.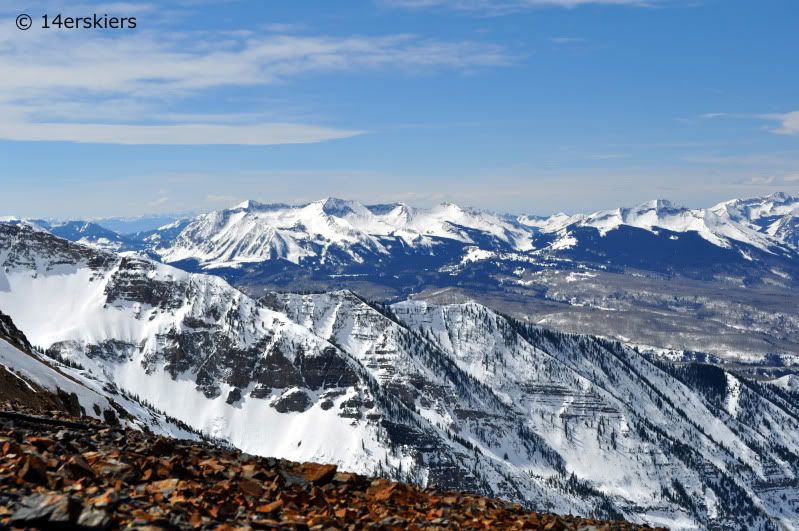 Photo courtesy of Kim Ross
After a few minutes of skinning on the ridge, we switched to boot packing for the final push. Kim and I.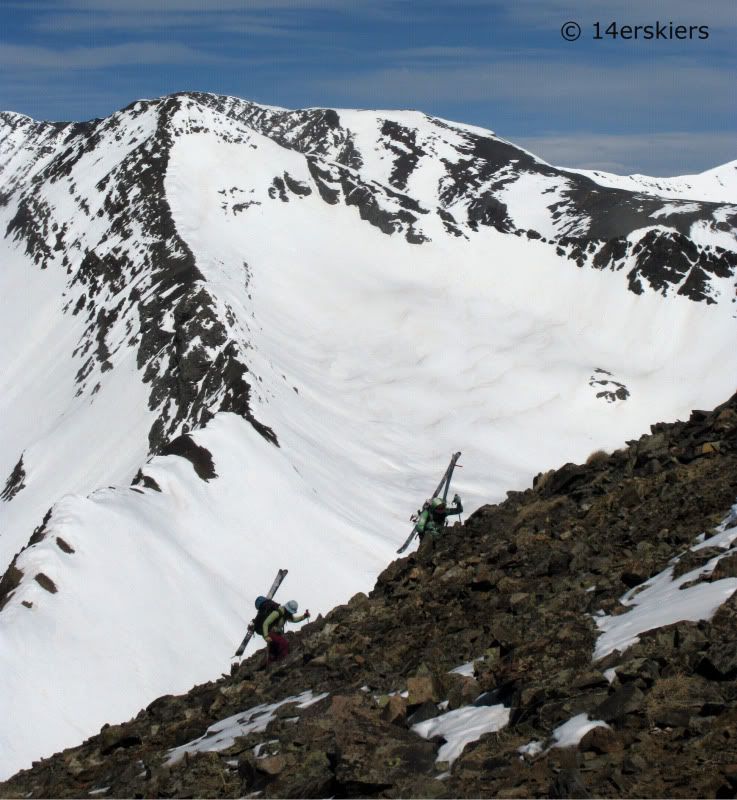 The views of Ant and Nipple were great.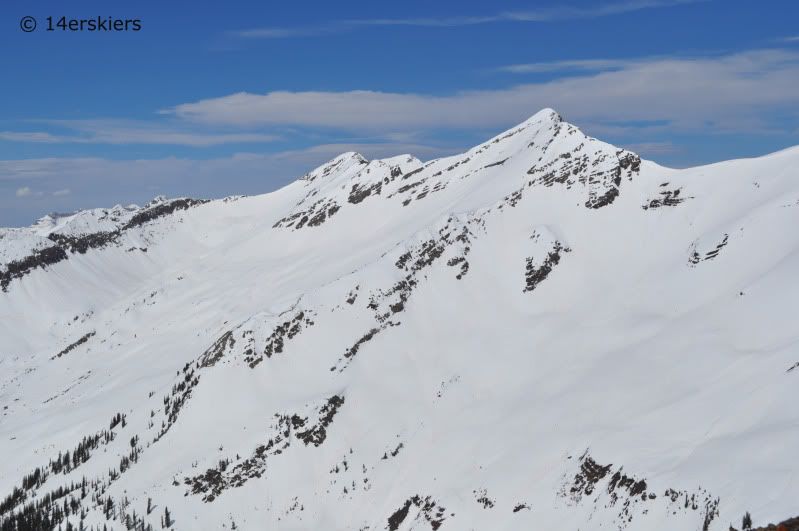 When we arrived at the summit, the weather was windless and warm- a perfect day for peak bagging. After hanging out and enjoying the scene, we readied to ski.
Jarrett.

Sydney.

Kim.

Me.

After making our way down the upper part of Augusta, we headed toward Angel Pass to grab a few good-looking north facing shots off Cascade. Jarrett on top of our line.

A look back at Augusta with Mineral Point on the right.

Scenic looking toward Richmond and the Diamond Face.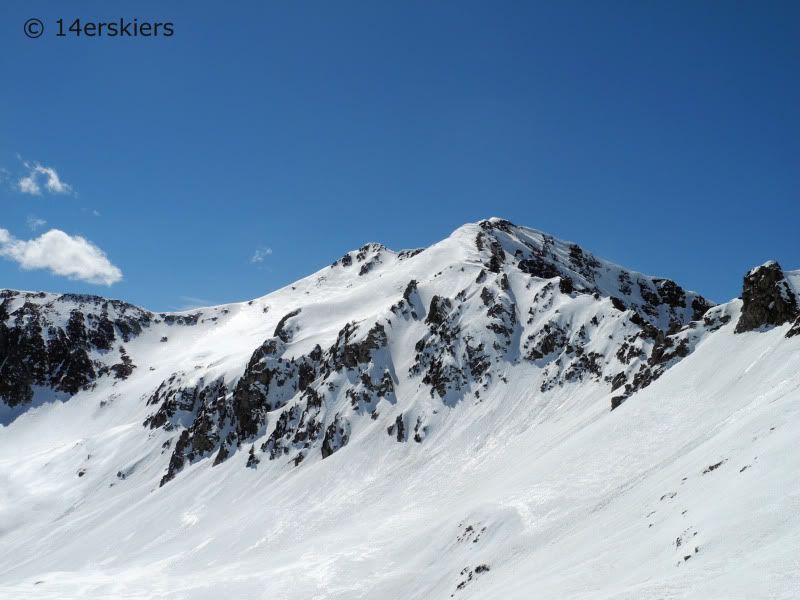 Frank checked out the line first.

Kim.

Me.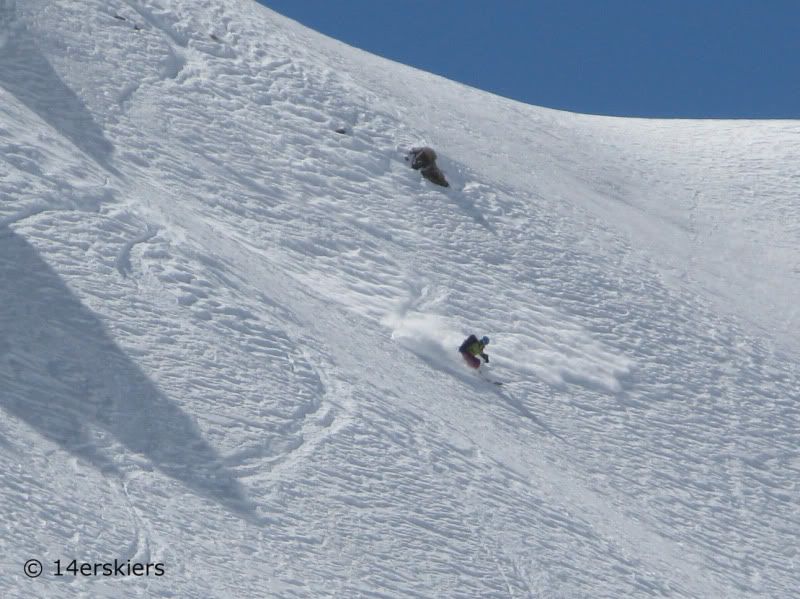 We enjoyed the lower pitches as well.
Sydney.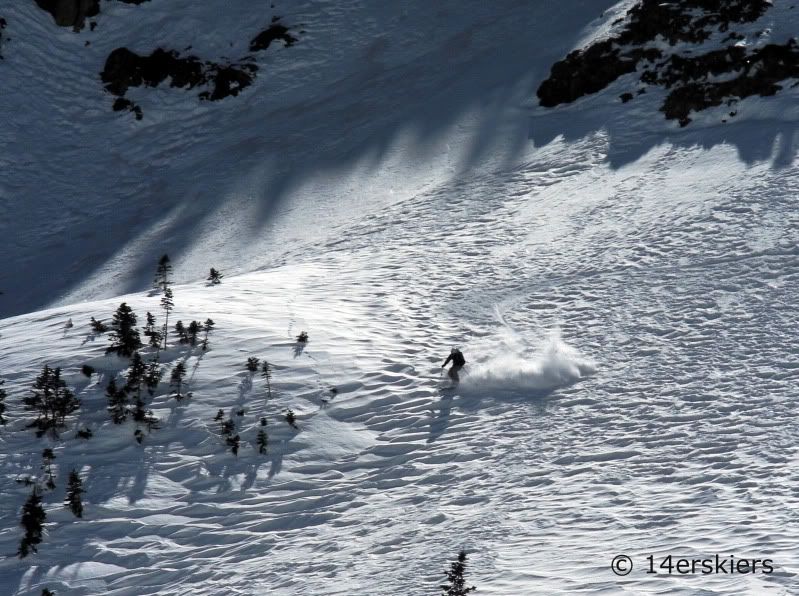 Jarrett.

Kim.

Frank.

Me.

With a season filled with dangerous and wildly unpredictable avalanche conditions, our time in the backcountry has been limited this year. It was great to stand on top of a peak once again- our first summit of the season! Thanks to Kim, Jarrett, and Sydney for joining us on another beautiful tour!
Support 14erskiers AND Crested Butte by clicking on the link to our local mountaineering shop below!.

Aside from skiing, biking, and all outdoorsy things,
Brittany Walker Konsella
also loves smiles and chocolate 🙂 Even though she excels at higher level math and chemistry, she still confuses left from right. Find out more about
Brittany
!
Latest posts by Brittany Walker Konsella (see all)