Mount Arkansas- Northeast Couloir Ski (10 May 2014)
(Last Updated On: May 13, 2014)
In 2006, I was still a backcountry skiing "newb". Yet, I'd developed my intentions to ski all of Colorado's 14ers. In June, Dave Bourassa invited me to ski Democrat, one of the fourteeners near the Front Range. Although we ascended via one of the worst scree fields I've ever encountered, the most memorable moment was when I scanned the views from the summit and laid my eyes on this: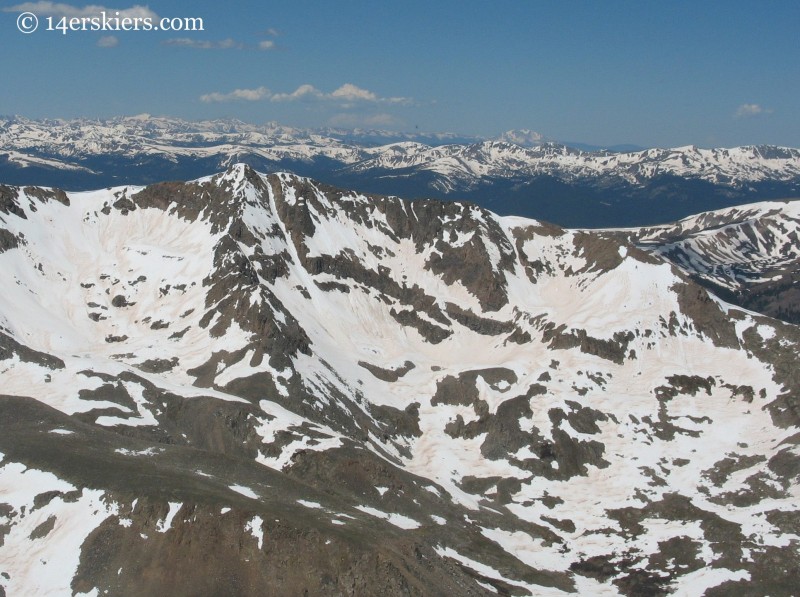 It was Mount Arkansas, the northeast couloir. And I knew I wanted to ski it someday.
Of course, with 54-fourteeners already on my list, this one got pushed aside, especially after increasing my distance from this peak by moving to Crested Butte. But, over and over again, it appeared on my wish list. And last weekend, I finally put a check-mark by Mount Arkansas.
Frank and I rose early, in the dark – the time of night where you're not really sure if you should call it night or morning. We picked up our friend Susan Mol and drove three hours to the trailhead, where we met our other friend Gary Fondl.
We ascended the toward the ridge. Susan.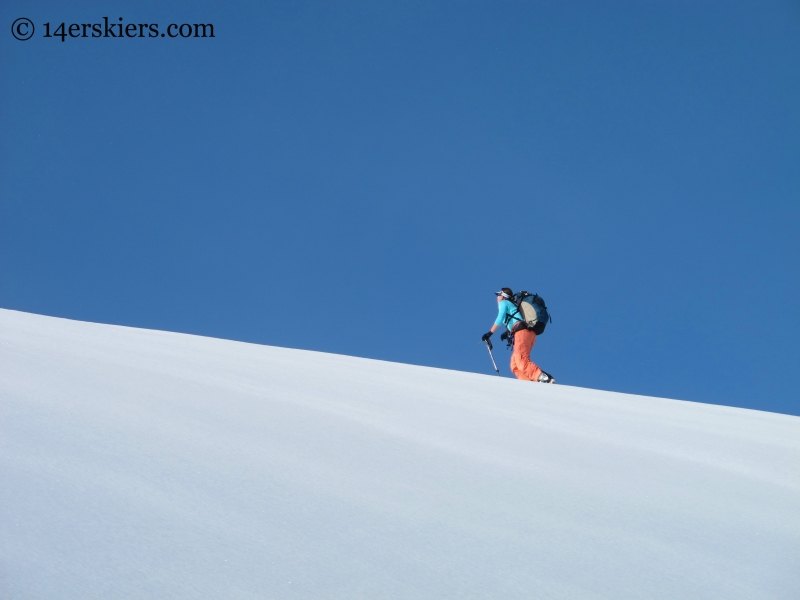 The day was windy.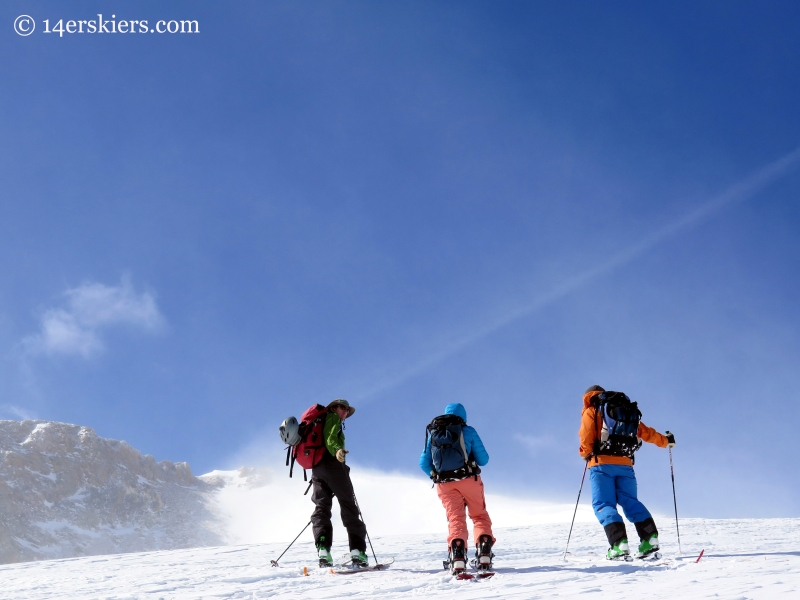 Just HOW windy? Find out for yourself;)

Windy Day on Arkansas from 14erskiers on Vimeo.
Recent snowfall decorated the rocks with rime.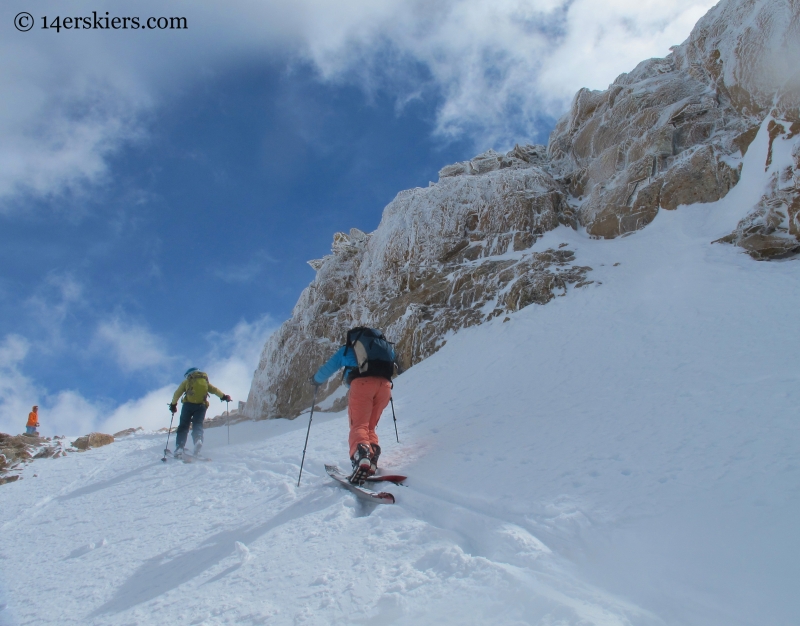 Arkansas has one mighty long ridge. The summit lies beyond this false summit shown in the picture.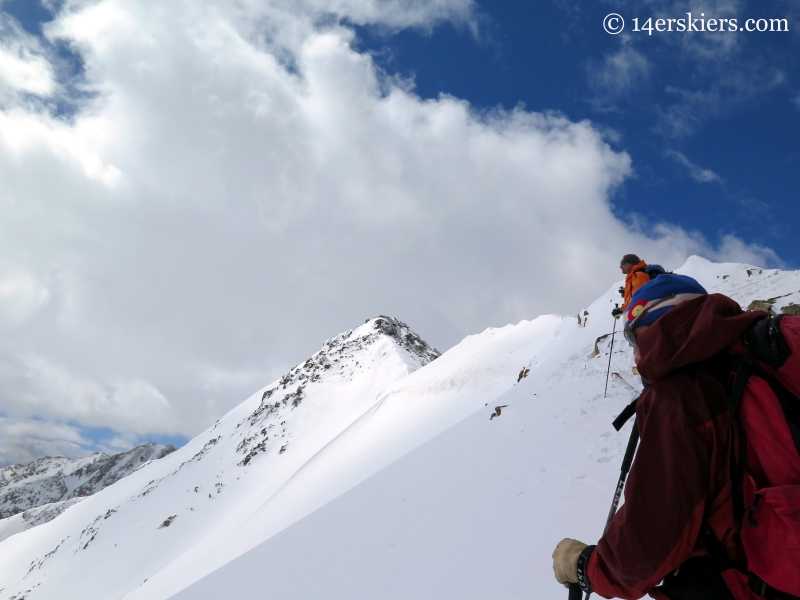 From the false summit, we could see we still had a ways to go. Here, only the very top of the couloir can be seen. Most of it is obstructed by other complexities within the peak.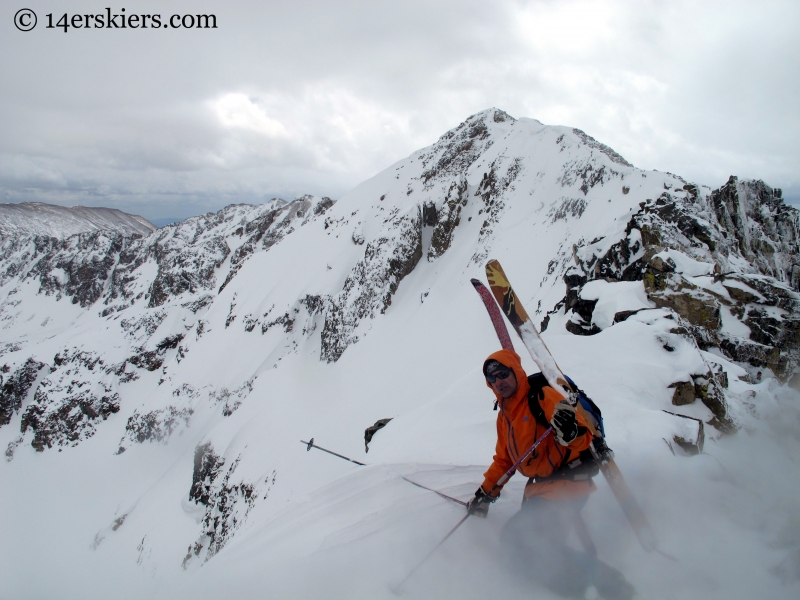 So, we kept walking.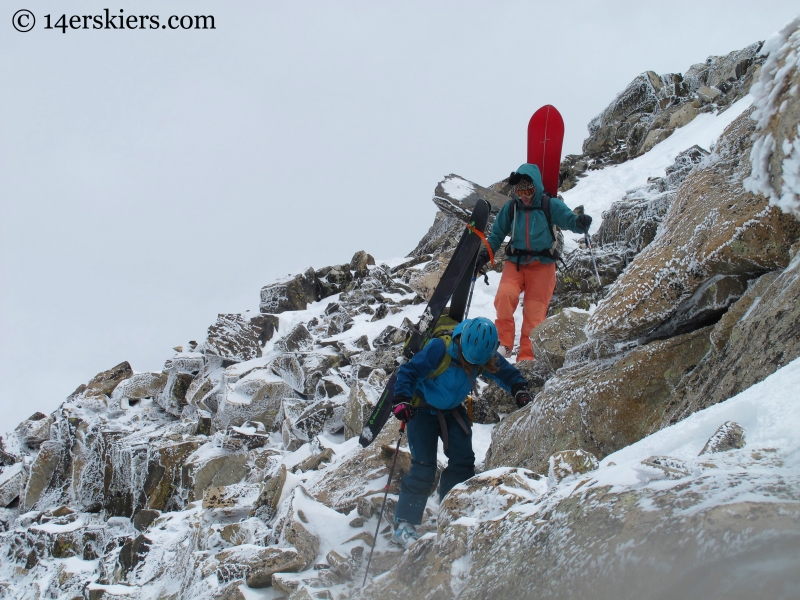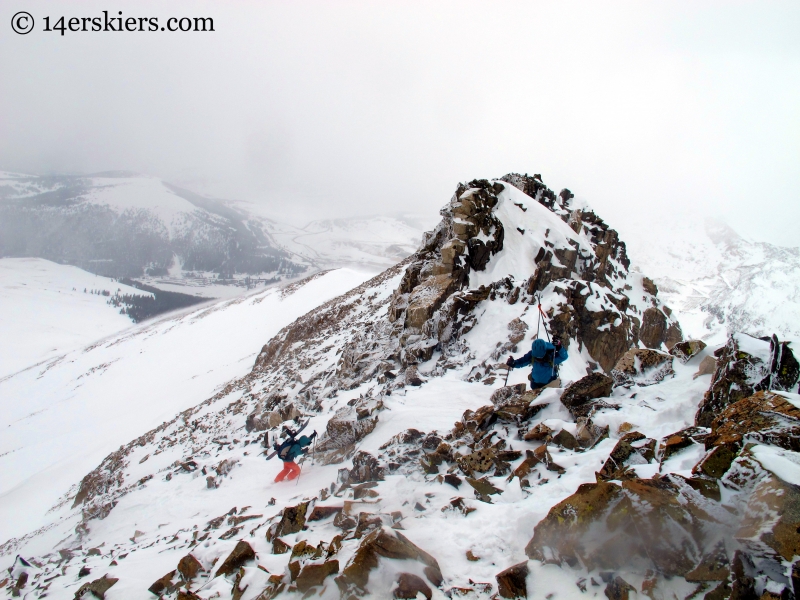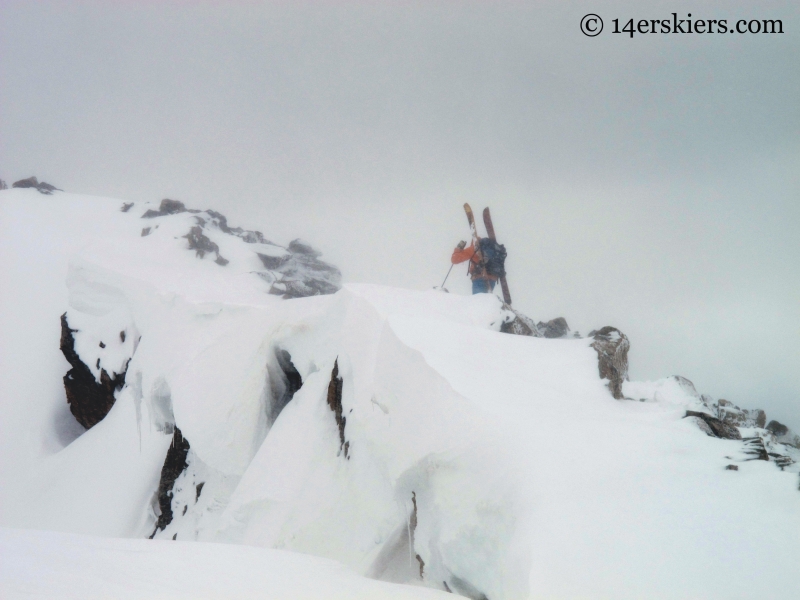 Finally, the summit. Susan had to sport her cat helmet-hat.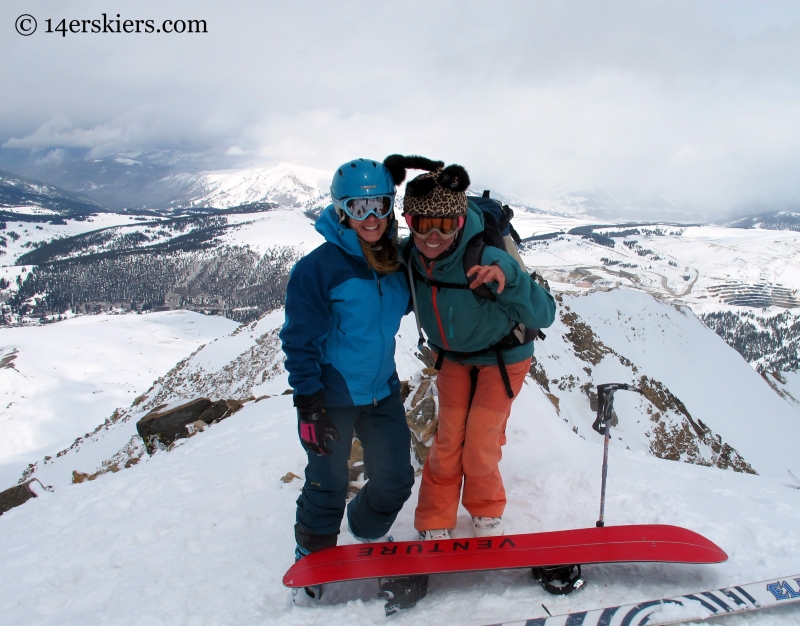 We were able to ski right off the summit and into the couloir. The couloir is guarded by a massive cornice, but it's usually possible to squeeze in on the skiers right side of it. The entrance to the couloir was steep, but still fairly easy. Susan.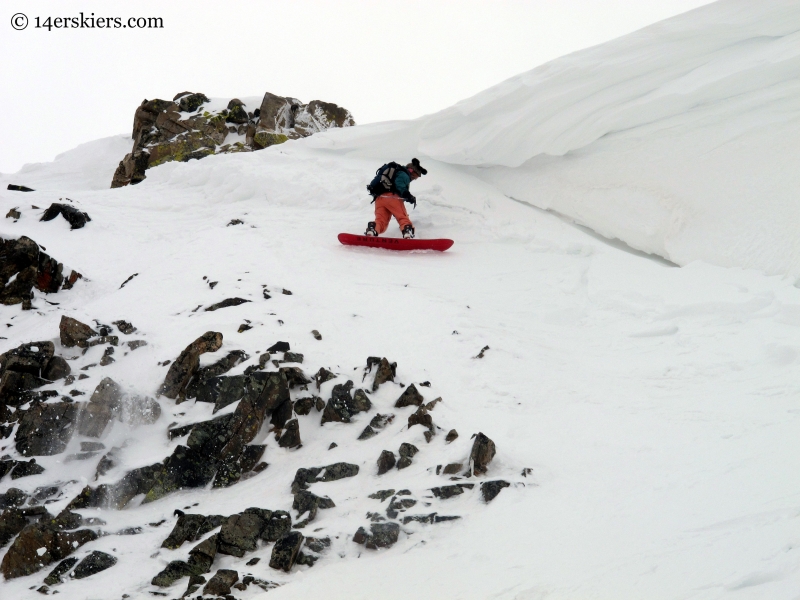 With freshly fallen snow, the skiing was pretty good. Gary.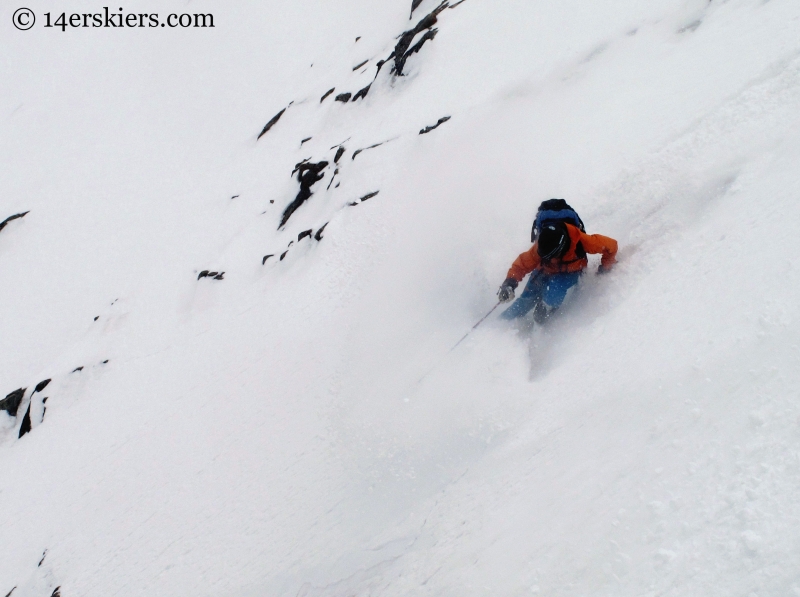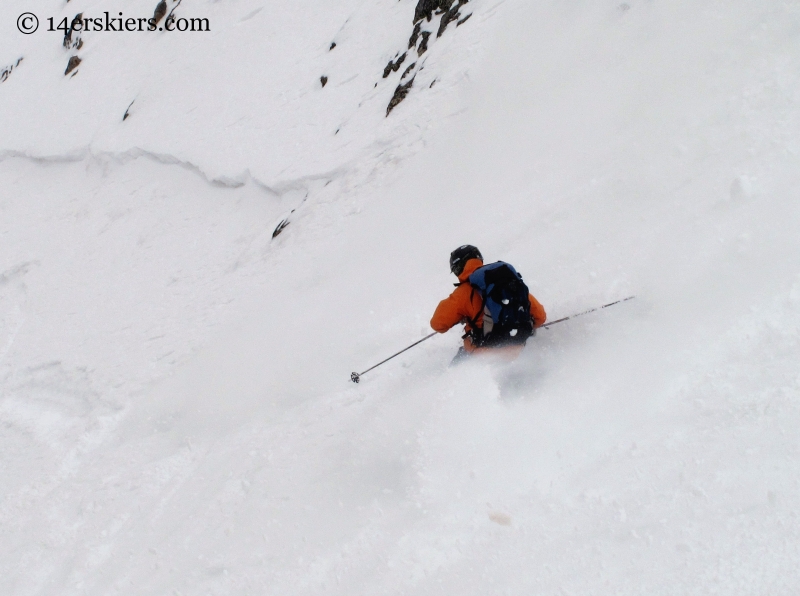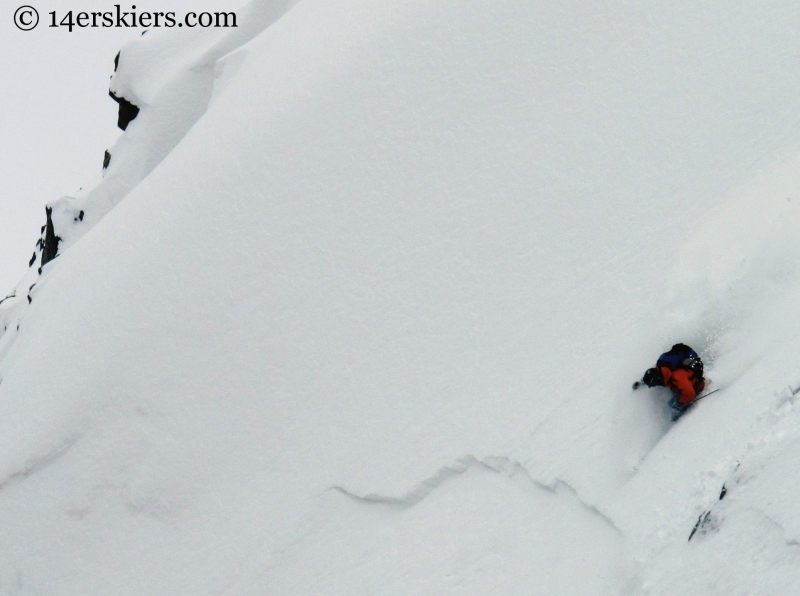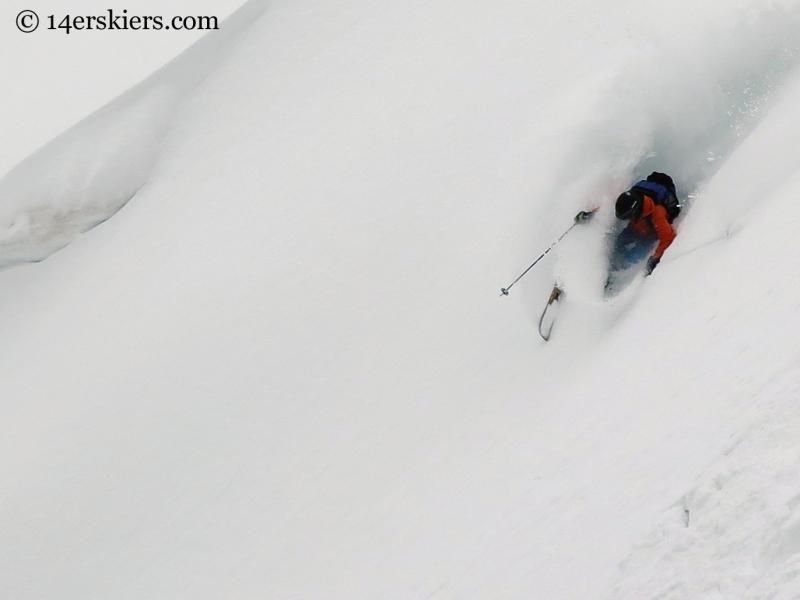 Susan.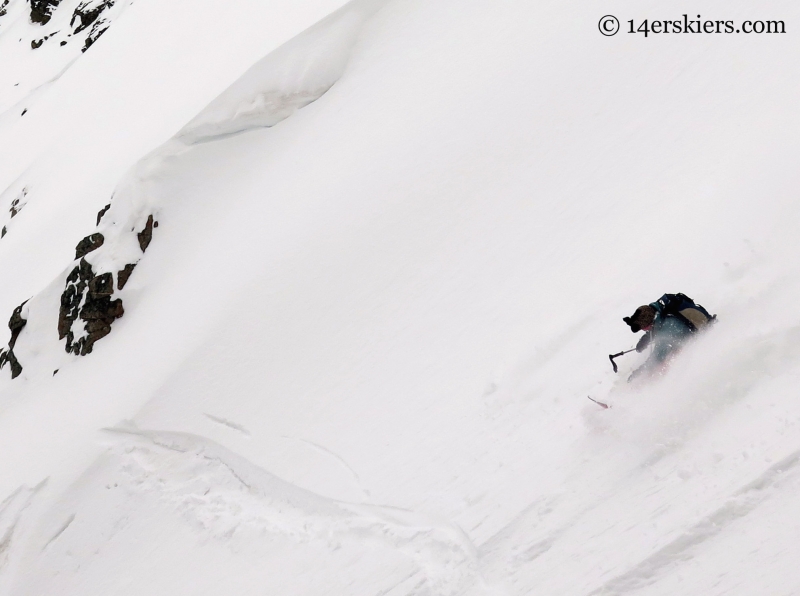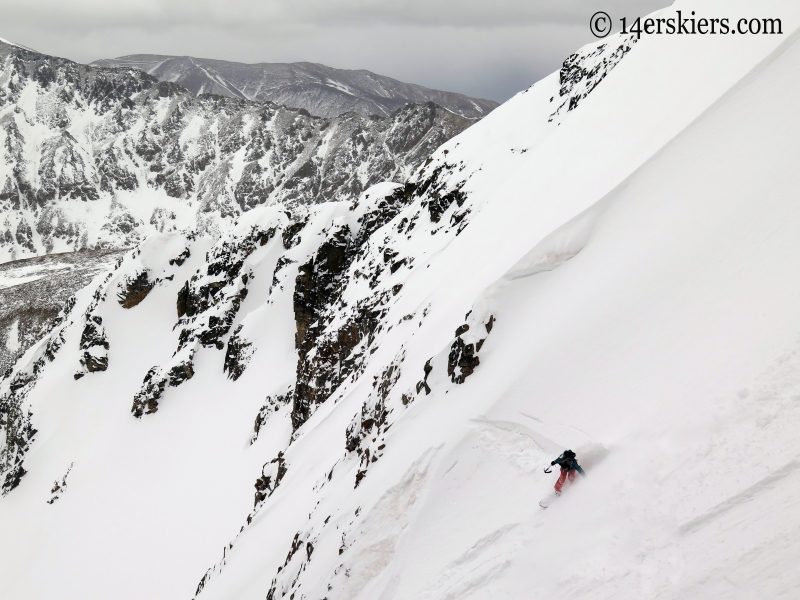 Me.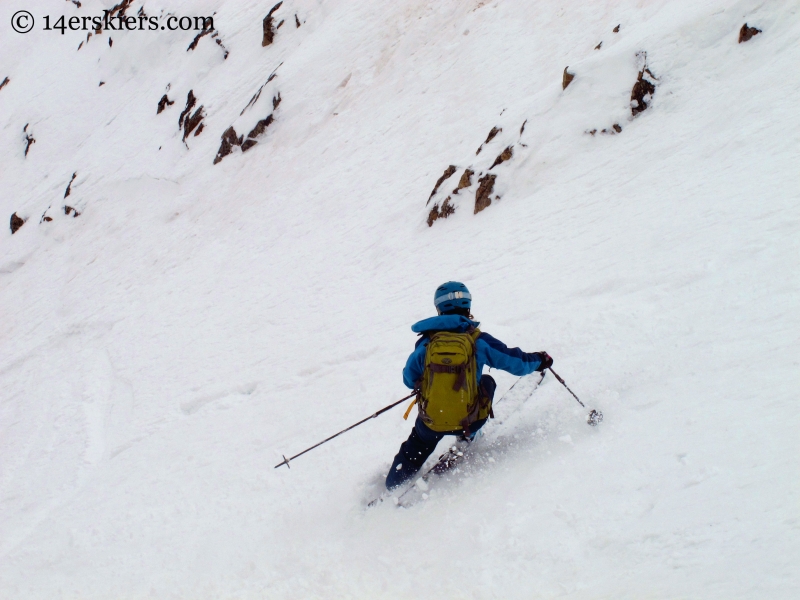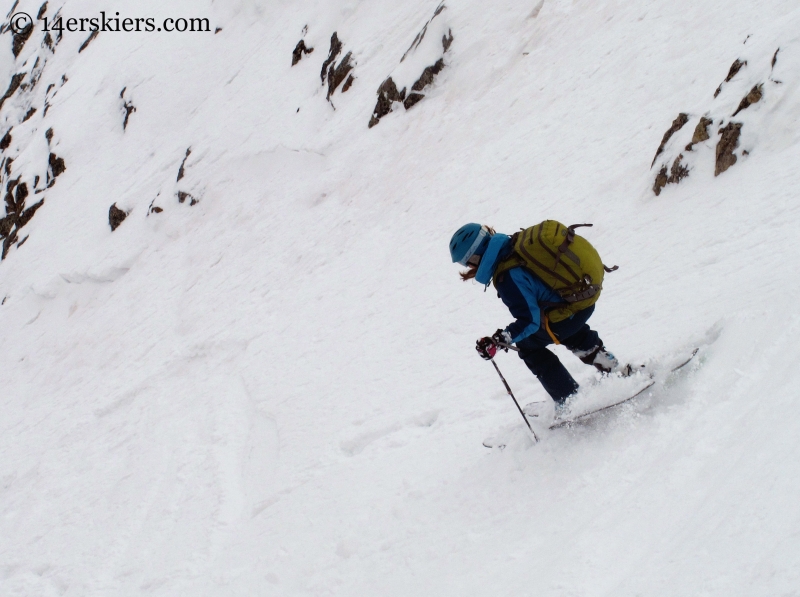 Frank.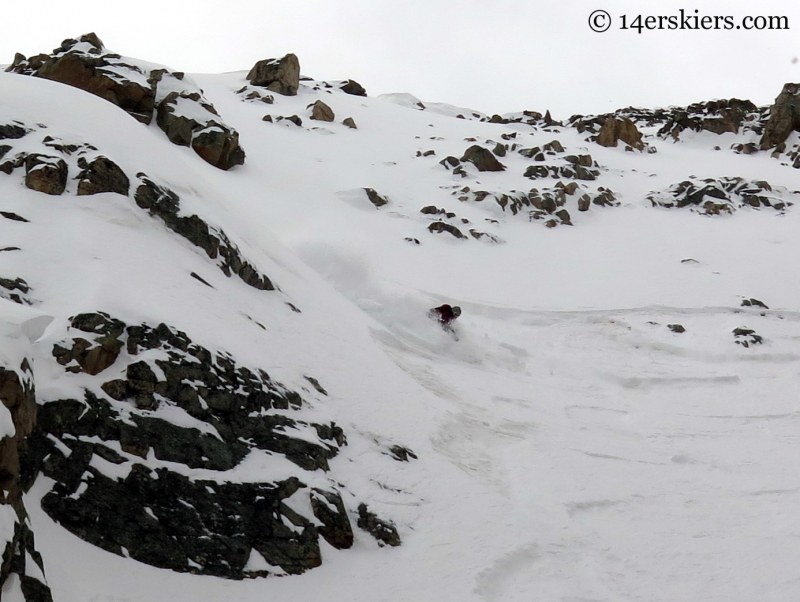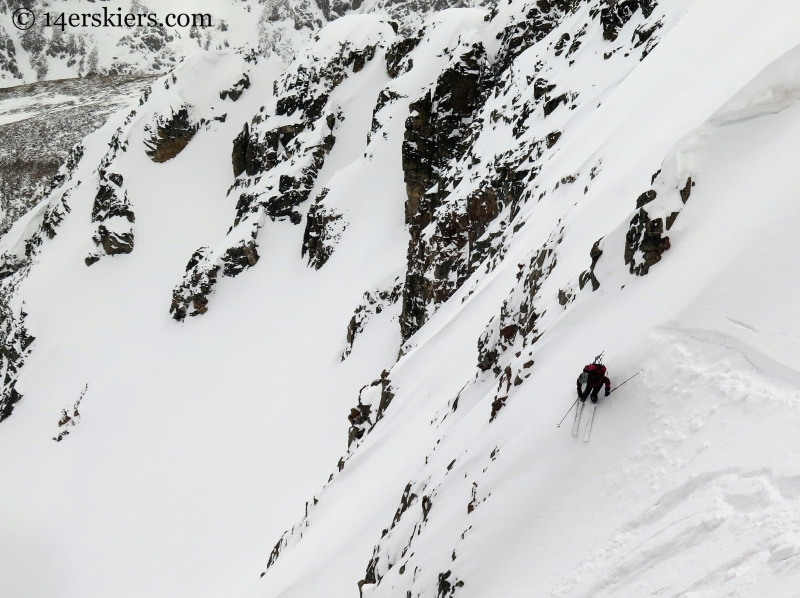 I think his smile says everything….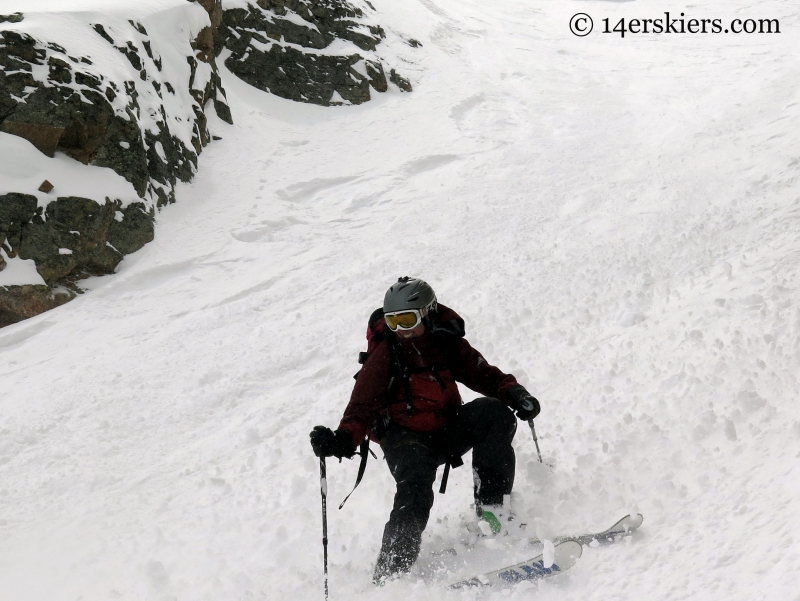 Gary coming out the bottom.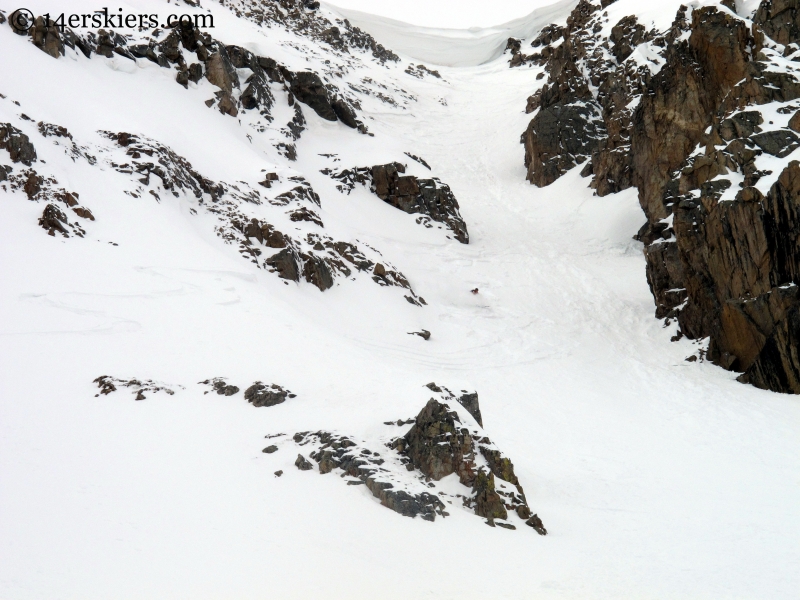 The turns in the apron were sweet, although difficult to see. Me.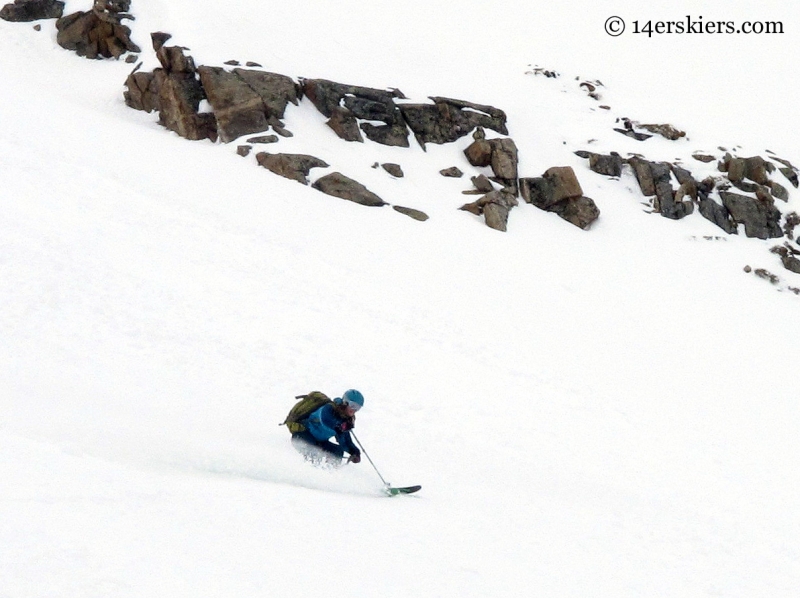 Susan still rockin' the craziness.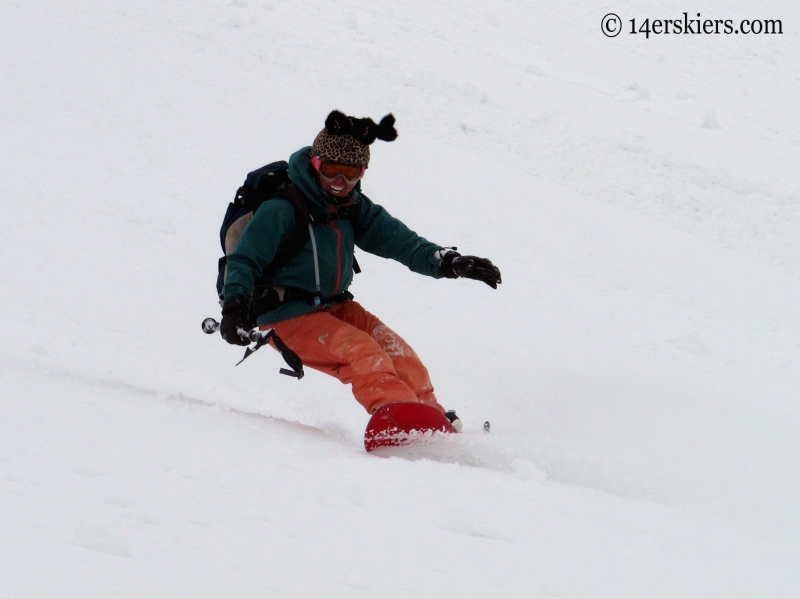 Although short, the northeast couloir of Arkansas is a solid line.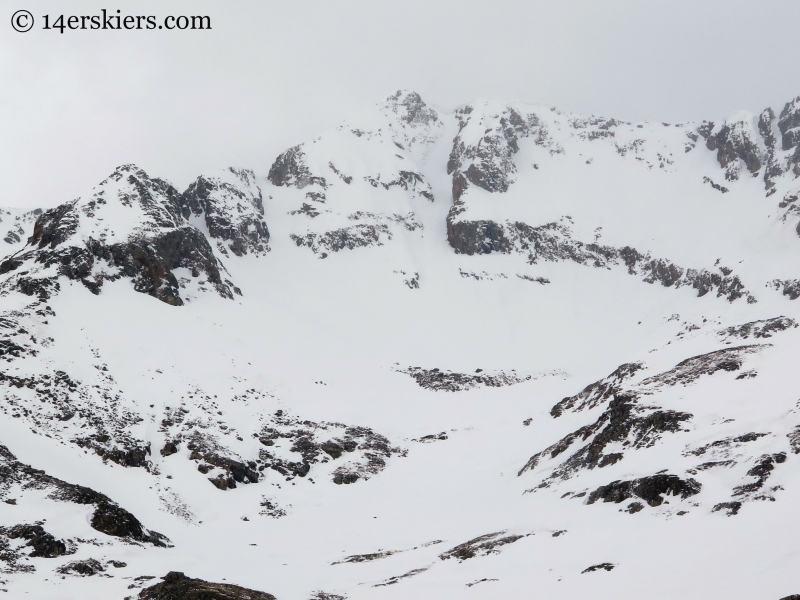 I'd even do it again 🙂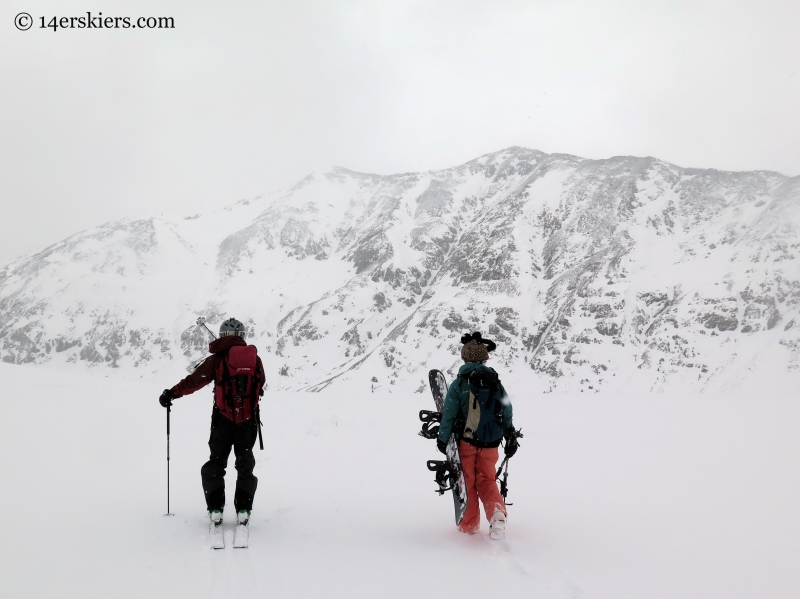 Aside from skiing, biking, and all outdoorsy things,
Brittany Walker Konsella
also loves smiles and chocolate 🙂 Even though she excels at higher level math and chemistry, she still confuses left from right. Find out more about
Brittany
!
Latest posts by Brittany Walker Konsella (see all)