Review: Neova DNA Damage Control Sunscreen
(Last Updated On: March 7, 2012)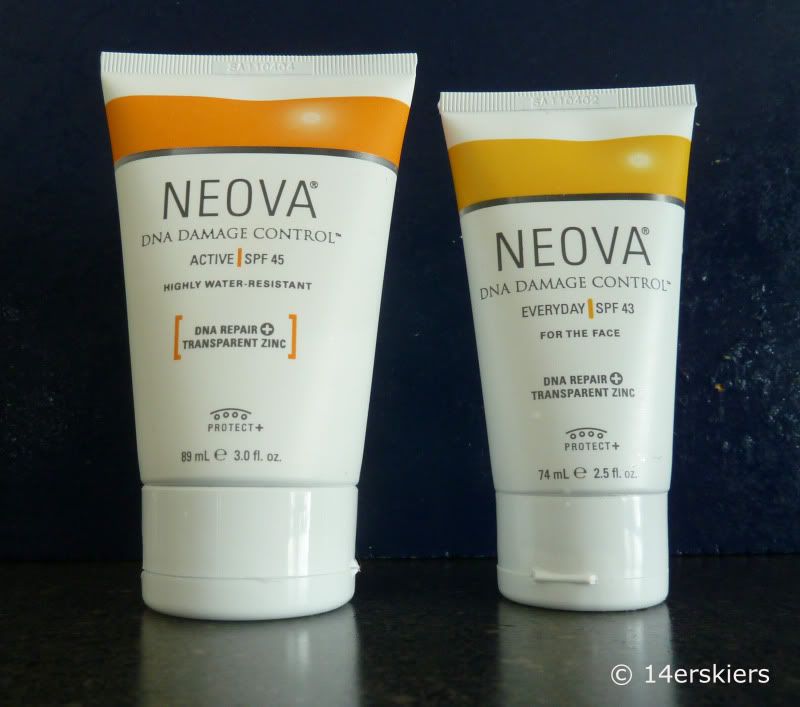 Neova contacted me a couple of months ago, asking me to review their sunscreen products. I'm always game for testing anything out. But, I have to admit, I was skeptical as I am usually particularly picky about sunscreen. I didn't know that Neova would send me the best facial sunscreen I've ever used.
I usually find that facial sunscreens are too scented and feel like a glop of grease on my face. Those that pass the initial odor and grease test often still continue to clog the pores on my already oily face, causing break outs. The one or two sunscreens that don't do any of the above still rub off easily if I want to use them while playing in the outdoors. Neova sunscreen is the only sunscreen I've tried that passes all these criteria.
After using Neova every day for the last month, I'll be honest, I'm amazed at Neova's performance. Using "transparent" zinc oxide, this sunscreen feels light when applying to my face. Instead of contributing to the oil on my face, it seems to reduce it. In fact, using this sunscreen has actually caused me to have less break-outs. With SPF's in the 40's it's a great, and essential, sunscreen for a high-altitude girl like myself.
More than just a Sunscreen
Neova DNA Damage Control does so much more than protecting you from daily doses of UV-rays. This sunscreen also contains DNA repair enzymes which help correct and reverse some of the cellular damage already caused by harmful UV-rays. Liposomes are used to deliver the DNA repair enzymes, targeting the site of the DNA injury, reducing the risk of skin cancer and premature skin aging. After using this sunscreen for a month, I already notice a reduction in dark spots and an increase in softer, younger-looking skin.
This video gives a brief explanation of how the DNA repair enzymes work:

Not just for the Ladies
There is no doubt that Neova DNA Damage Control Sunscreen is geared toward women. But, I did have Frank test the sunscreen as well. In his words, "Even a guy can tell that's some mean sunscreen."
Two Products
I had the opportunity to test two different Neova DNA Damage Control products: the Everyday sunscreen with SPF 43 and the Active sunscreen with SPF 45. Both sunscreens boast transparent zinc oxide for broad-spectrum protection, DNA repair enzymes, Vitamin C to promote vitality, and a superantioxidant (L-ergothioneine) to suppress free-radical damage.
While still providing the same basic protection and repair, there are a few things that do differ in the sunscreens. The Everyday sunscreen contains sodium hyaluronate to provide a moisturizing boost and Vitamin E for it's anti-oxidant and moisturizing properties. The Active sunscreen comes in a formula that is highly-water resistant, perfect for outdoor athletes.
I find the Everyday and Active sunscreens to be the perfect mix. Living at 9,800 feet, I know I am unusually susceptible to the sun, and I tend to wear sunscreen every day. The Everyday sunscreen is perfect for the weekdays where I work and then play hard after. The Active sunscreen is perfect for the weekends where I play hard all day. Either way, Neova DNA Damage Control sunscreen has become part of my daily regimen. I highly recommend this product to both active men and active women, especially those who have sensitive and picky skin like me. Like I said, it's the best facial sunscreen I have ever tried.
Link to Neova DNA Damage Control website.
Aside from skiing, biking, and all outdoorsy things,
Brittany Walker Konsella
also loves smiles and chocolate 🙂 Even though she excels at higher level math and chemistry, she still confuses left from right. Find out more about
Brittany
!
Latest posts by Brittany Walker Konsella (see all)