(Last Updated On: February 12, 2012)
Blizzard Skis
While checking out the Tecnica Cochise boots, we also took some time to check out next year's line of Blizzard skis. We were particularly interested in the free mountain series as well as the Kabookie, intended for touring. The free mountain series was largely a brainchild of the late Arne Backstrom. They are a rockered ski, but Blizzard prides themselves in the fact that the rocker is done before construction, rather than after. This helps to reduce "tension" in the ski. The free mountain series uses a metal topsheet with Blizzard's signature FlipCore, a lighter wood core. Next year's line includes the Bodacious (118 under foot), Cochise (108), Bonafide (98), and Bushwacker (88). The Kabookie takes the free mountain rocker construction and tweaks it a bit for easier use in the backcountry. The Kabookie is more or less like the Bonafide (98 underfoot), but lacks the metal topsheet, making it lighter and a bit more forgiving.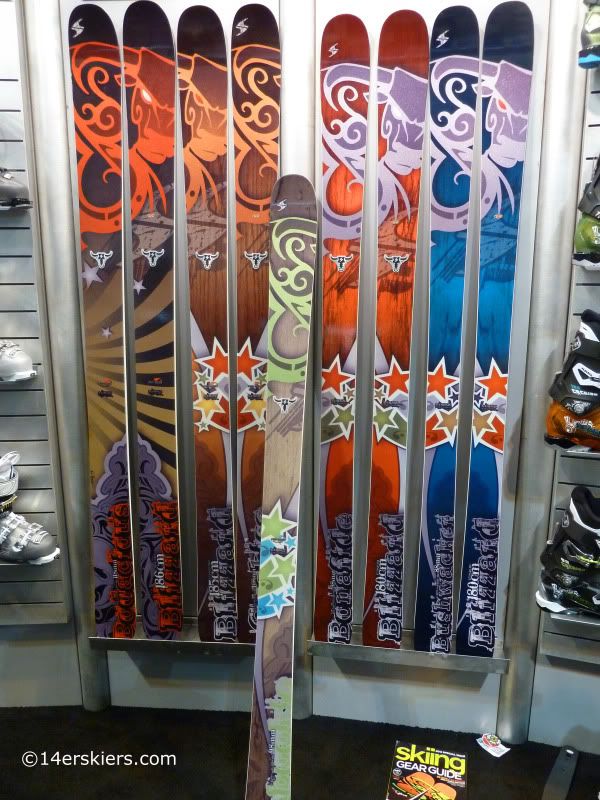 Scott Clothing
In case you haven't realized, Scott's clothing got bright this year. Neon bright. For next year, the brightness is maintained, but perhaps with a bit less neon. But one thing we found particularly interesting was this piece.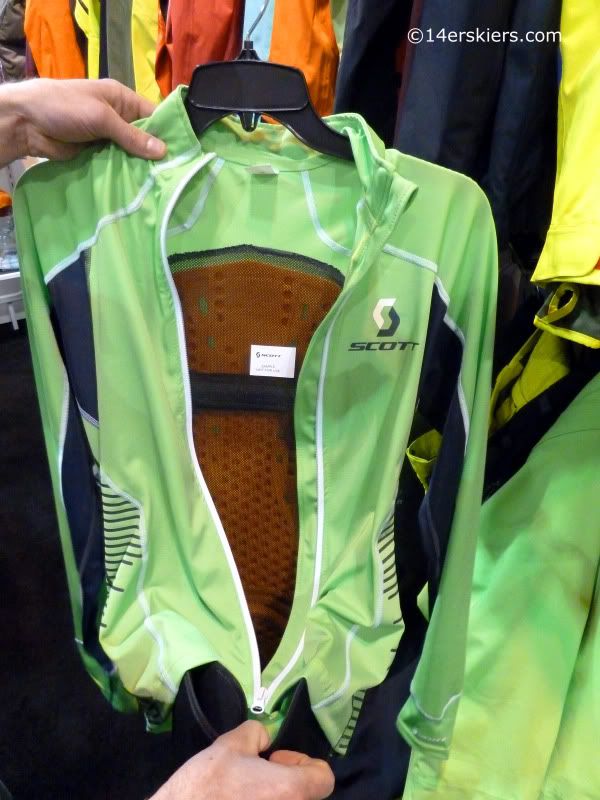 Scott Clothing has a full line of clothing that includes spine protectors, both soft and rigid, for both men and women, for this year and next. While we feel this is usually unnecessary in the backcountry (as backs are usually protected by backpacks), these clothes are a great idea for those desiring such protection at the resort, but looking to tone down the bulk just a little bit.

La Sportiva
La Sportiva continues with the RT Tech Binding. This Dynafit-esque binding has the added value of having a separate release adjustment for the touring mode which many skiers may also choose to use this locked mode while skiing (whether they should or not). In essence, the locked mode can be adjusted. Though it is not, unfortunately, a release adjustment for ski mode. In our opinion, the first tech binding manufacturer to add toe release values to their products will have a huge leg up on the competition.
La Sportiva also continues with their current line of skis, boasting the popular Hi5 alpine touring ski which, like many new skis on the market, has early rise. For next year, La Sportiva has focused much of their time and attention to releasing a brand new clothing line. Euro-colors will meet the American market. The pieces look practical and comfortable, with a bit of flare. But we like them and hope they do well here.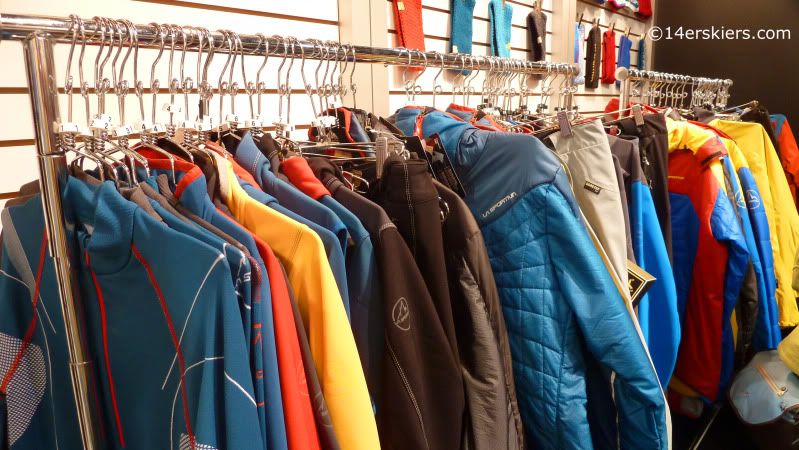 Garmont
Garmont is introducing the Cosmos. At 1450 grams in a size 27.5, they claim this is the lightest 4-buckle boot on the market. In this boot, Garmont merges the desire for a stiff high performing boot with the want for a light boot.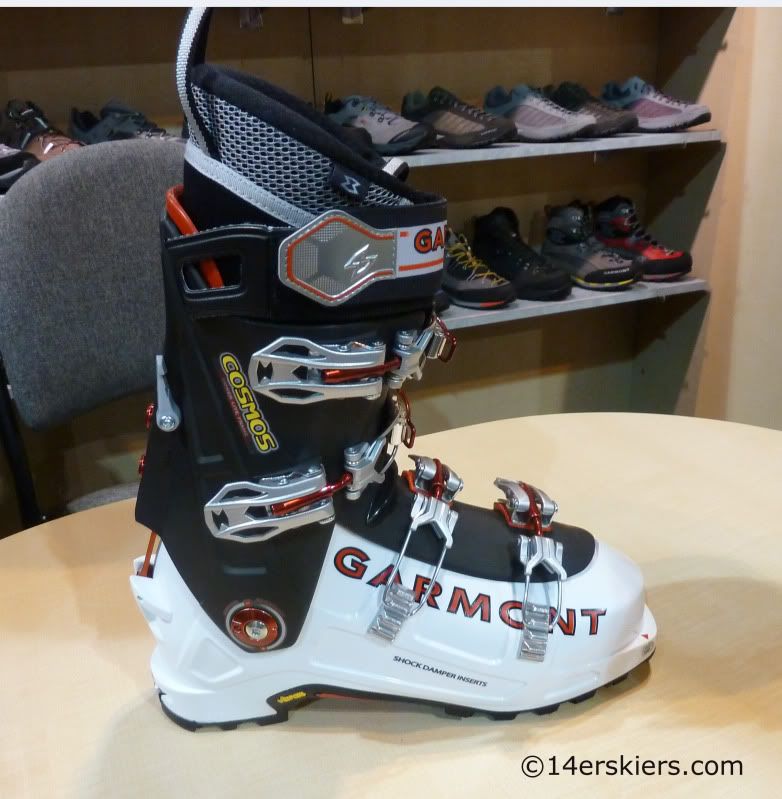 With a flex rating of 125, this boot also has quite the range of movement in touring mode, as shown in this picture above. Garmont is also coming out with a women's version of the boot, called the Celeste. With a flex rating of 120, this boot is 1250 grams in a size 24.5.
Next year Garmont will continue producing the Delirium and the corresponding women's Asylum. At about 75% more weight than the Cosmos/Celeste and with a similar flex rating, it will be interesting to see how skiers compare the performance of these boots on the slopes.
Tecnica Women's Cochise Boots
Frank has already reviewed the men's Cochise boots. But, Frank only has mentioned the upper end of the Cochise line (pro, regular, and light). Below you'll find the full line of Cochise boots.

The boots on the bottom two rows are some of the most interesting. Tecnica is leading the way in a potentially up and coming niche in the ski market. These boots, with a flex of 100 or 90, both men's and women's, are geared toward the resort skier who may choose to do some small tours. But, the locking feature on this "touring" boot is actually intended to be more of a walk mode. Simply put, the lock/un-lock will be marketed as a convenience feature rather than a performace feature. If I remember correctly, all of these boots come with DIN soles but have the option to replace with a tech sole. At retail prices of $399 for 90 flex and $499 for 100 flex, this boot could be a great and affordable option for recreational skiers and those looking for a boot for occasional touring. However, as a female who is passionate about skiing both in-bounds and out, I have to say I'm disappointed that Tecnica chose to focus on these lower lines rather than coming out with a higher end boot for females. Being the second year of the Cochise, I feel a bit shafted that Tecnica has made a recreational boot for women, but has not made a technical boot for us. I'm hoping to see a 110 or 120 flex Cochise boot for women in 2013-14!
Lange
Similar to Tecnica, Lange is working in the "walk mode" features into their line as well.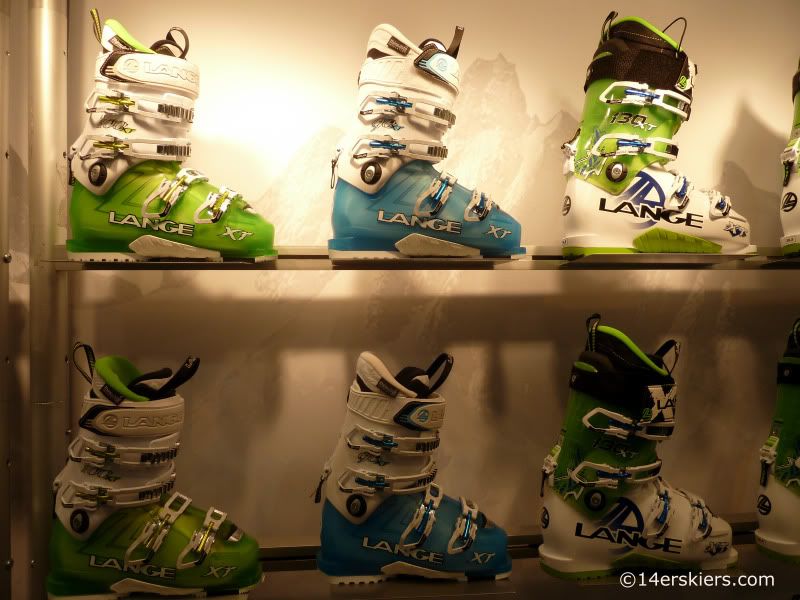 Lange has a 130 XT ($699), 120 XT ($649), 110 XT ($599), and 100 ($549) for men. Similar to Tecnica, only flex of 100 ($599) and 90 ($499) are available to women. These boots will be available in different widths, 97mm or 100mm. Lange is marketing these as an "adventure boot", for those who want some touring or walking capability. Lange has a releasable lock for walk mode, but locks down at 20 degrees for ski mode.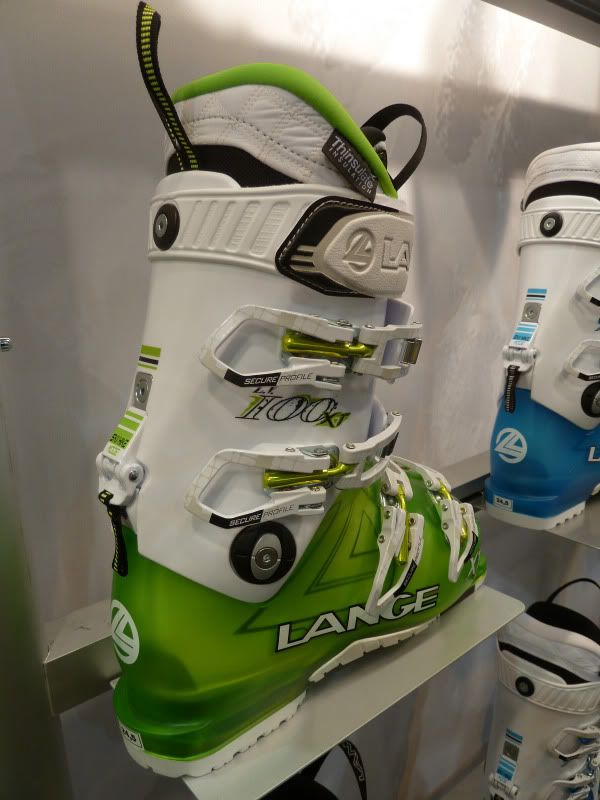 The soles are best described as a mix between a Vibram sole on a touring boot and a regular alpine ski boot. Made of a plastic that's harder than Vibram or vibram-type material, but harder than traditional plastic, it will definitely grip better than an alpine boot. But, it will not wear as fast as a softer material. One major downfall to these soles is that there is no tech sole option at this time. So, if you're using these boots, leave your Dynafits at home:)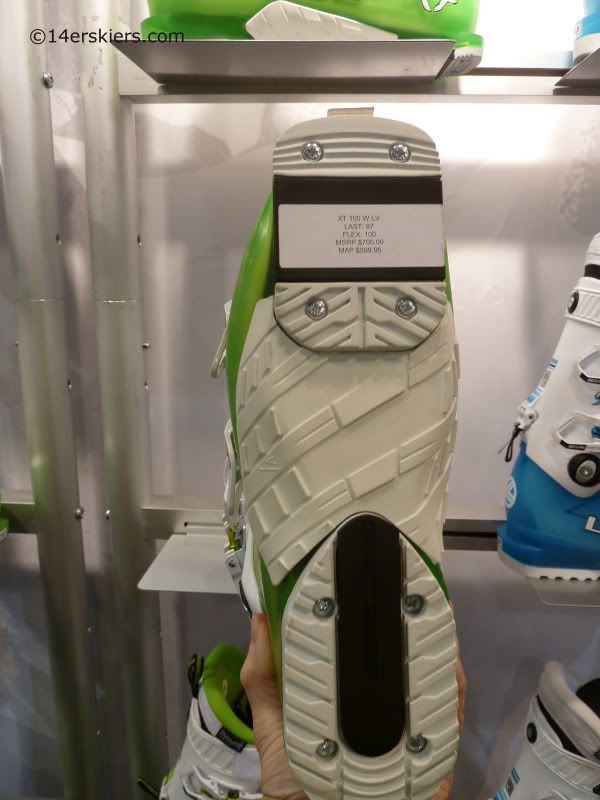 Like Tenica, I find it disappointing that Lange did not release a higher end boot for the women. Having skied Lange boots for 16 years (World Comp 120 ), I'm looking forward to them coming out with a 110 or 120 flex boot for us adventurous ladies!

Final Note on the latest boots
We find it interesting that many boots implemented this same walk-mode feature in the 80's, but then it was dropped because of lack of performance. It is interesting how the ski industry has come back full circle on this. But, we at 14erskiers also feel that the technology has significantly improved and these walk modes will perform much better than those that were used 30 years ago. We are looking forward further progression of these hybrid AT/Alpine boots and believe they are the future of today's ski industry!
Aside from skiing, biking, and all outdoorsy things,
Brittany Walker Konsella
also loves smiles and chocolate 🙂 Even though she excels at higher level math and chemistry, she still confuses left from right. Find out more about
Brittany
!
Latest posts by Brittany Walker Konsella (see all)