Marble Merriment (Aug 5 – 7, 2011)
(Last Updated On: August 11, 2011)
For years I've wanted to ride my bike to Marble. Only about 25 miles away (depending on exactly where you live in Crested Butte and which route you take) via Schofield Pass, it seemed like a trip that was long overdue. So, when our friend Ann invited us to her cabin for Marble Fest, we were in- and the bikes were going to be our mode of transportation.
So, early on Friday morning we made our way up Gothic road toward Schofield Pass. There is still snow in the "plug". It probably won't melt out this year!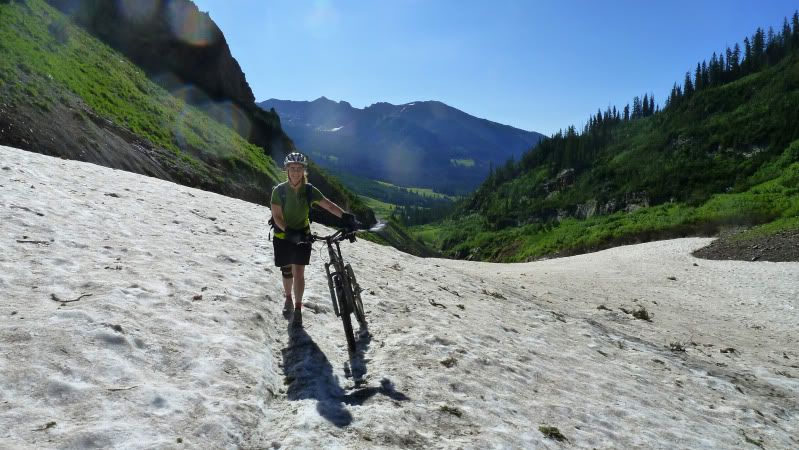 From there, we enjoyed some hiking and biking all the way to Marble, with spectacular views.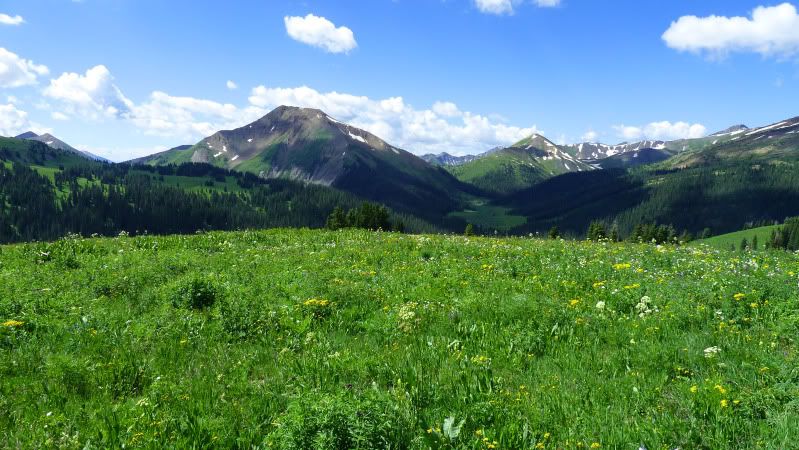 Treasure.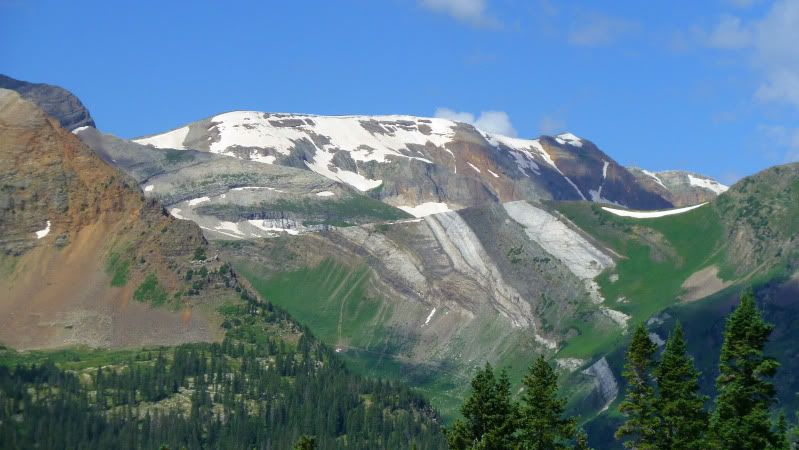 Looking toward Marble.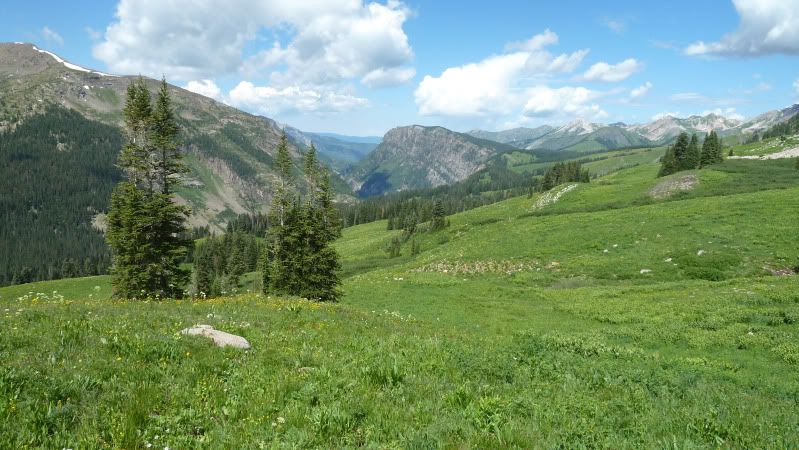 North Pole Basin, with Treasury above.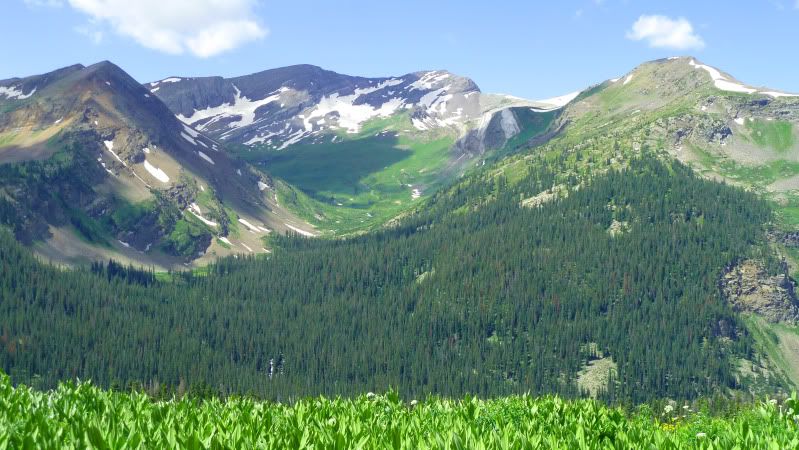 A close up of the Wine Bottle couloirs on Treasury- the right one still looks good!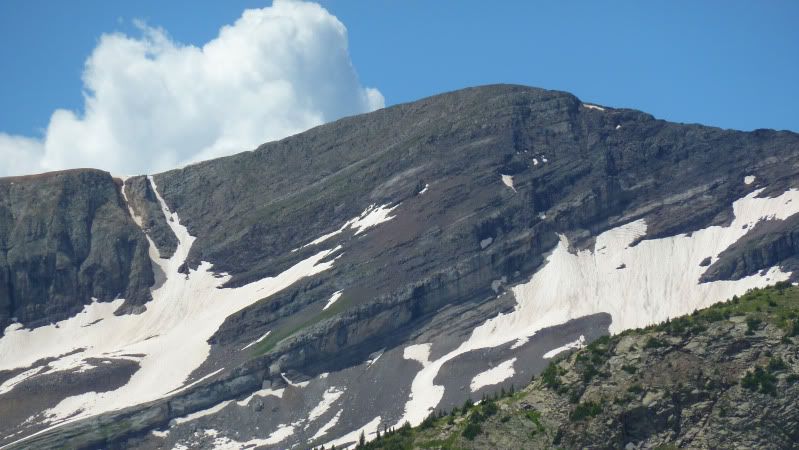 A view looking toward Lead King Basin, with Snowmass and Hagarman on the right.

We stopped to take in the views at the Crystal Mill- one of the most photographed sites in Colorado.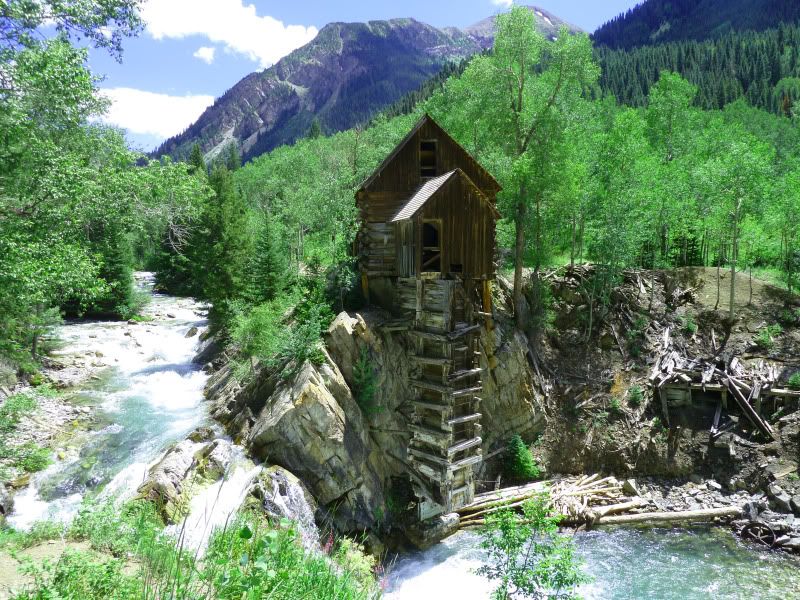 The Crystal River was crystal clear and beautiful.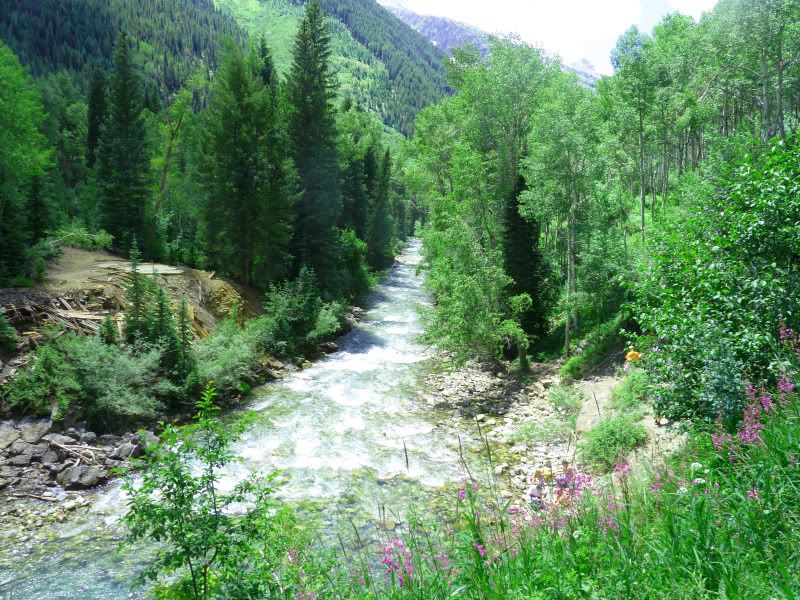 Shortly after, we arrived in Marble, and enjoyed merriment among many. Too much food, a good fire, and some thirst-quenching beverages. It was a peaceful and happy night.

The next morning Frank and I awoke. While Ann took a group of people on a separate ride, we headed with our friends Jarrett and Kim, also visiting, to Redstone.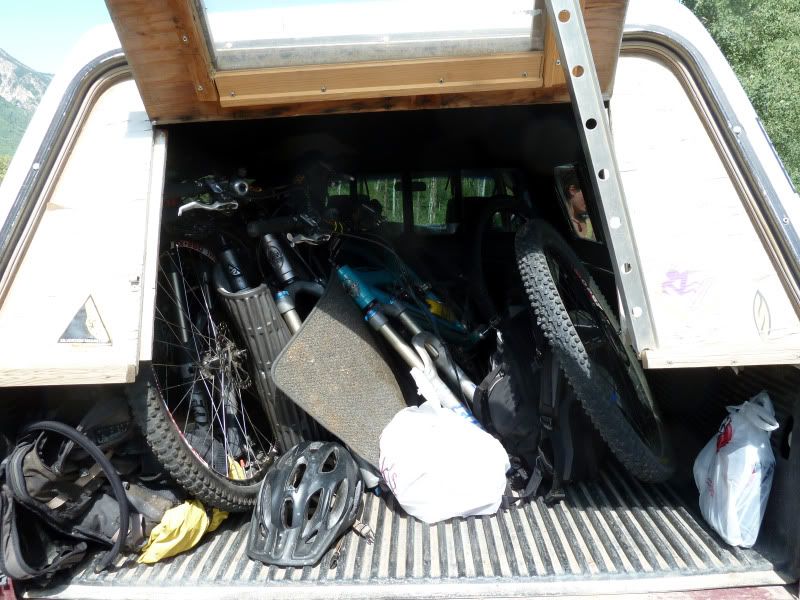 There we rode in an area which many call Thompson Creek, but it is also called Braderich creek. It is possible to take this trail all the way from Redstone to Carbondale. Or, there is also a loop that returns back to Redstone. With the heat radiating and our legs tired from the previous day's adventures, we knew we probably would only make it to the saddle that lies about half way on the trail between Redstone and Carbondale.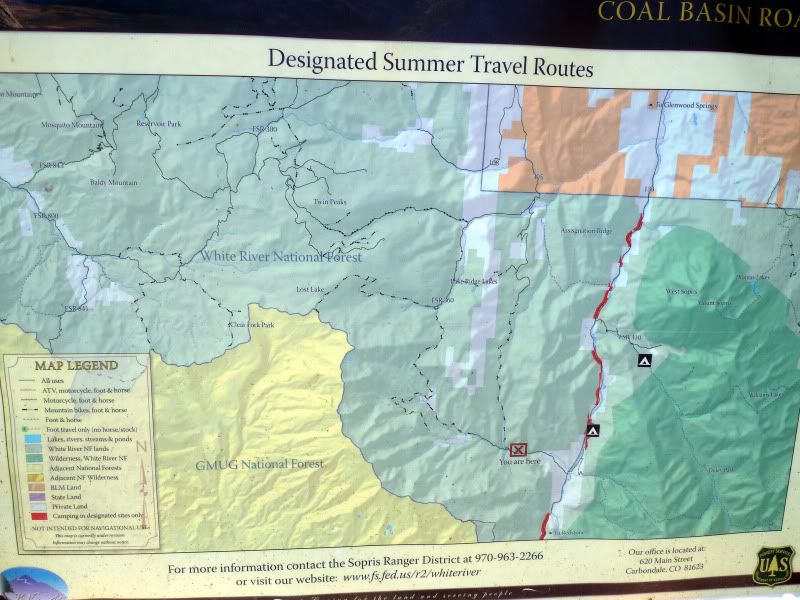 At times the trail was steep and grueling. But the dirt had good traction and the trail was surrounded in green. Kim.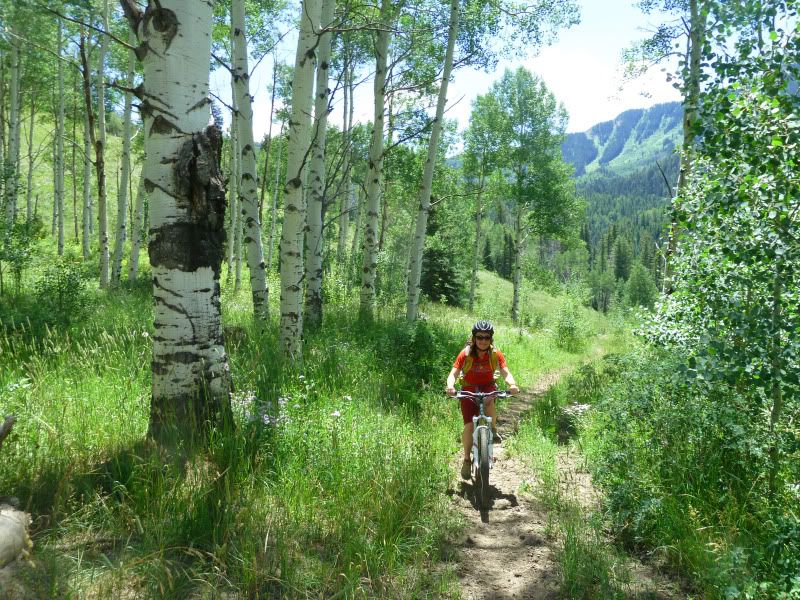 That was until we reached the dead aspen grove. This part of the trail was difficult, crossing a fallen tree every 10 feet or so. Me.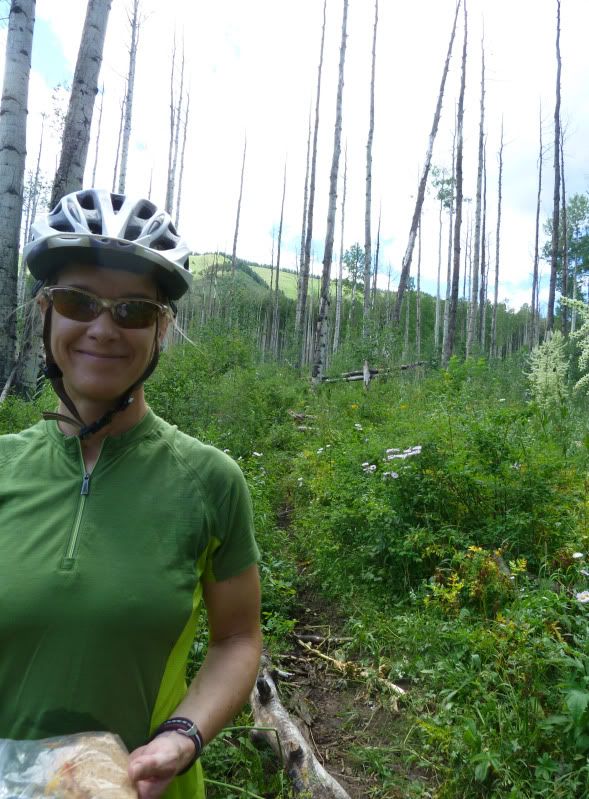 Once out of the dead aspen grove, the trail was better again.

Jarrett nearing the top of the saddle.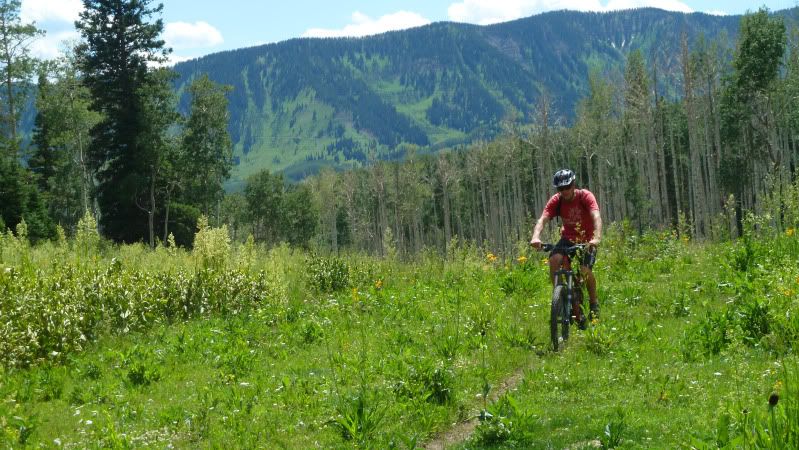 From there, we opted to turn around. Once past the dead aspen grove the descent was fast, flowy, and fun. Fun enough to skip the pics 🙂 That night we enjoyed more feasts, libations, and merriment… and also accompanying music at Marble Fest.
The following morning Frank and I headed back to Crested Butte again via Schofield Pass. Our friend Chris joined us part of the way. A view of Marble peak on our way out of town.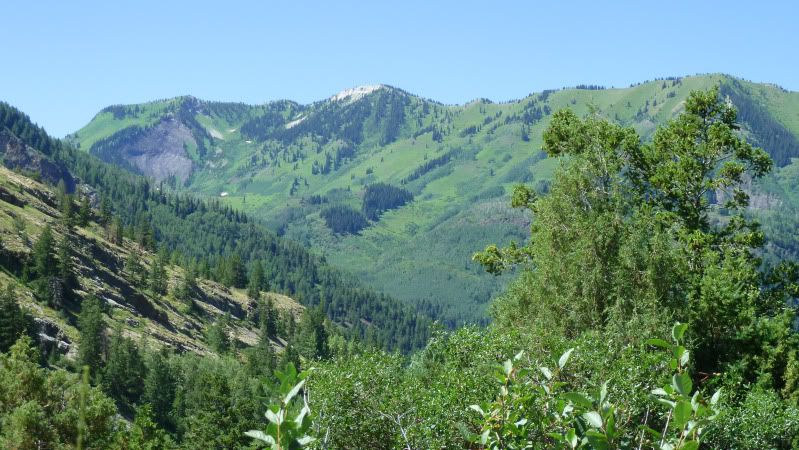 Anyone who has done this ride before knows the steep hill that leads out of Marble. It is grueling, especially in the beaming hot sun. When we rounded the top, we paused to rest, and our friends Kim and Jarrett drove up in their truck on their way to Lead King Basin. We paused for a group shot.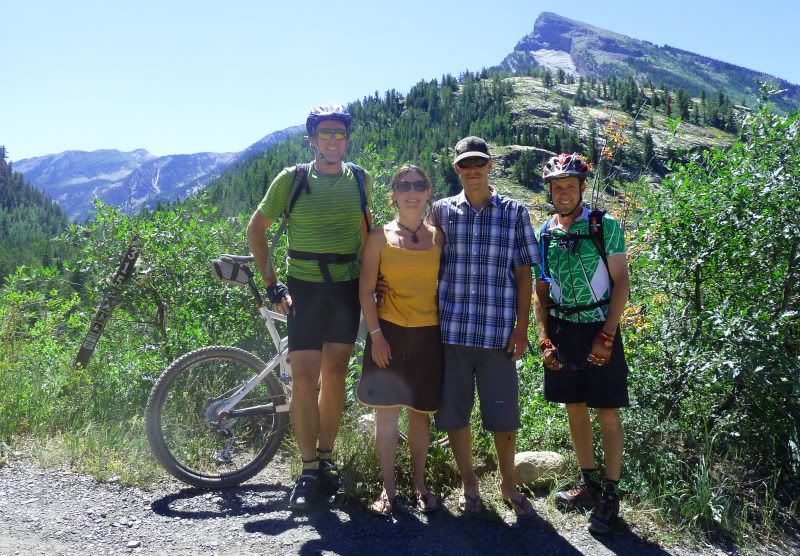 It's always funny how you notice more when going uphill than down, like just how beautiful this lake is.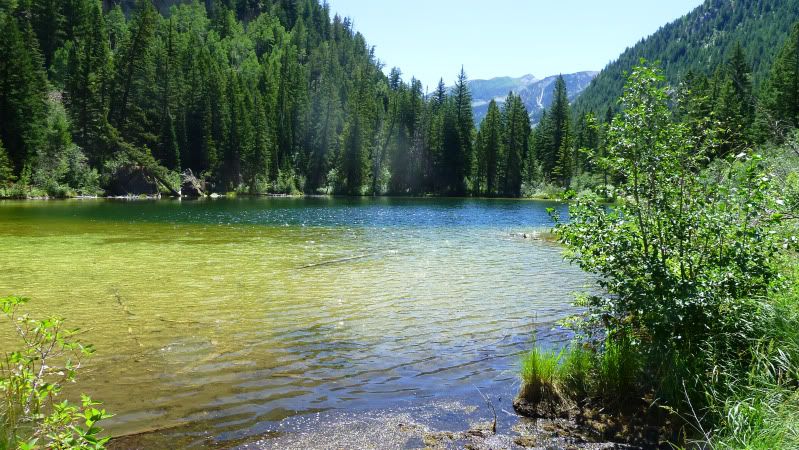 However, the flies were not our friends, despite the fact that they had a particular liking for Frank.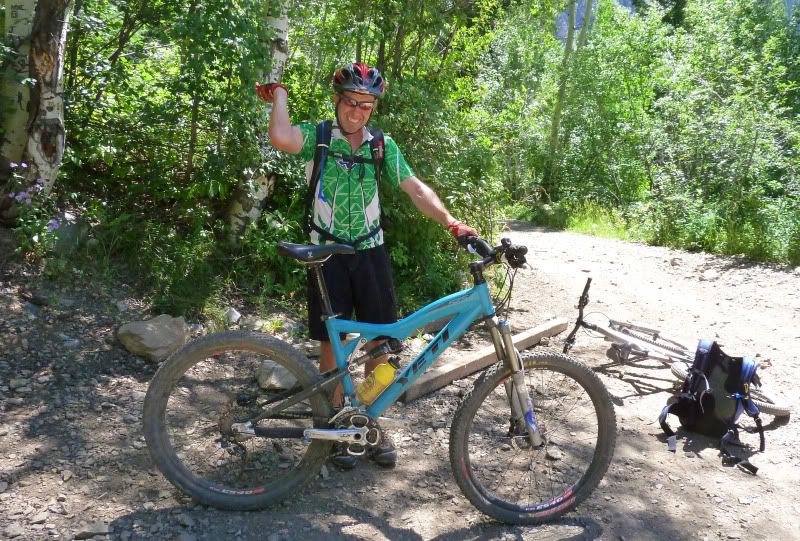 The beginning of Devil's Punch Bowl.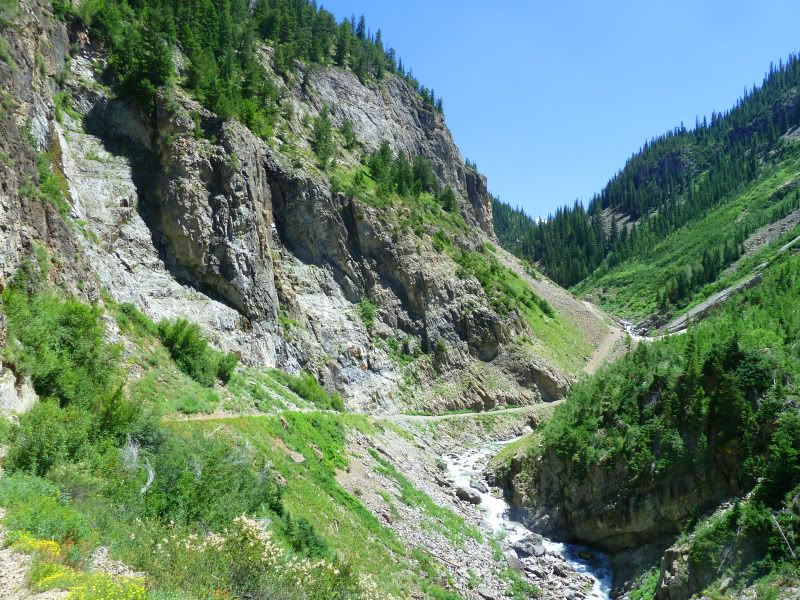 Devil's Punch Bowl refers to a narrow canyon that the river and road pass through. This area has been historically dangerous, especially for cars.

Frank crossing the river through Devil's Punch Bowl.

Looking back down Devil's Punch Bowl from the end.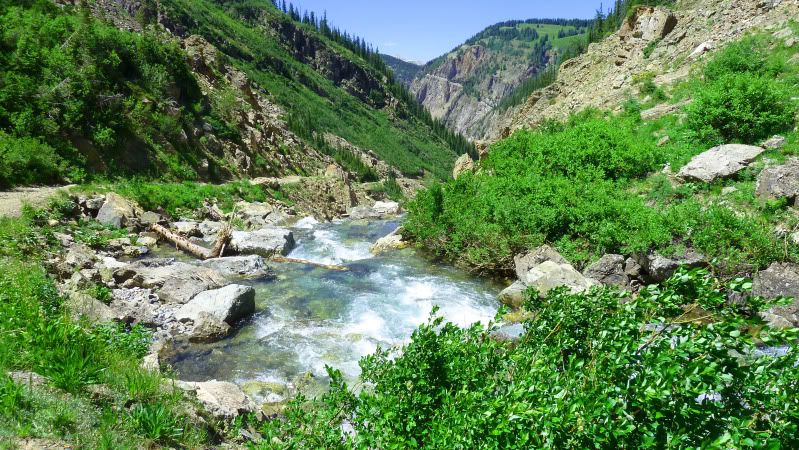 Shortly after exiting Devil's Punch Bowl we arrived to the flat Schofield Park. Notice Frank and Chris riding in the distance to the left.

Just as the road made it's last short ascent to reach the top of Schofield Pass, we parted ways with Chris. He headed back to Marble, while we continued on home.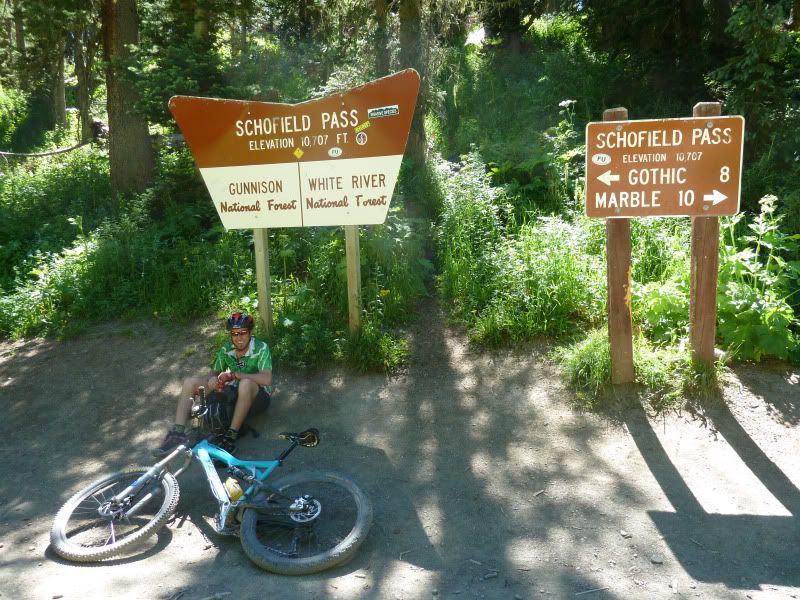 We couldn't pass up another ride on 401. Us at the top.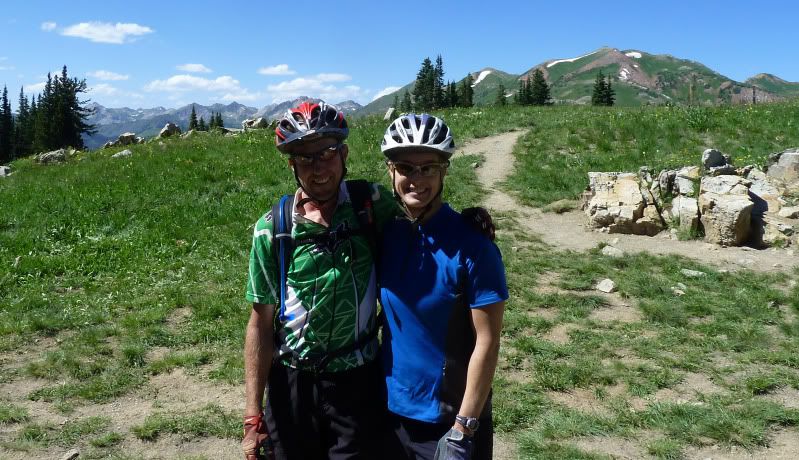 Frank enjoying his ride.

The beautiful East River valley as seen from 401.

Glad to be home, we were also happy to have spent our weekend in Marble among the Merry, the Melodies, and the Majestic. I'd gladly do it again 🙂
Aside from skiing, biking, and all outdoorsy things,
Brittany Walker Konsella
also loves smiles and chocolate 🙂 Even though she excels at higher level math and chemistry, she still confuses left from right. Find out more about
Brittany
!
Latest posts by Brittany Walker Konsella (see all)