(Last Updated On: April 14, 2011)
Winter has been wrapped up and has left room for spring. But, I have a few remaining miscellaneous pictures left to share. The first set are from the annual CBCS Snow Day and the second set are from Big Air on Elk.
Snow Day is an annual event for the high school students in Crested Butte. The students spend the first part of the day ice skating and sledding. During the second part of the day, they build snow sculptures which are judged as part of a contest. In the process, students mix with students outside of their grade and their "clique". They work as a team with both friends and acquaintances. This year's Snow Day was on January 26th and the weather couldn't have been more perfect!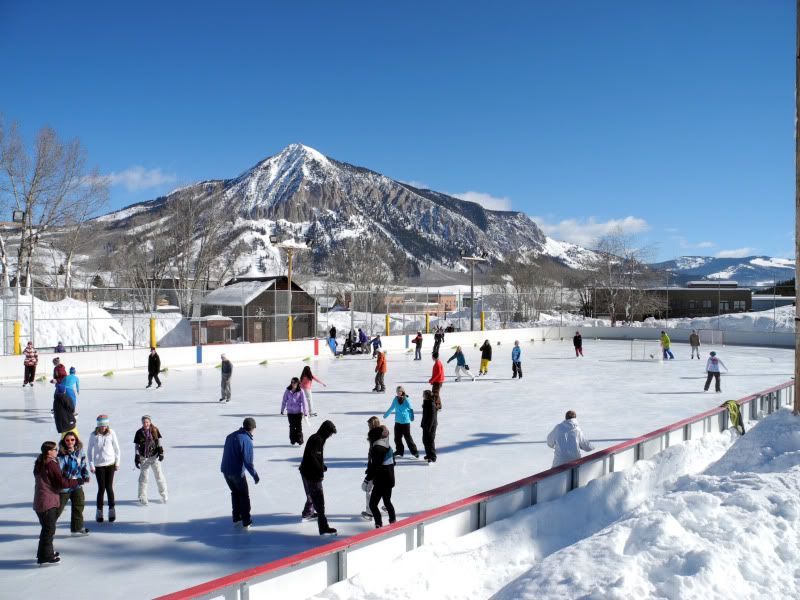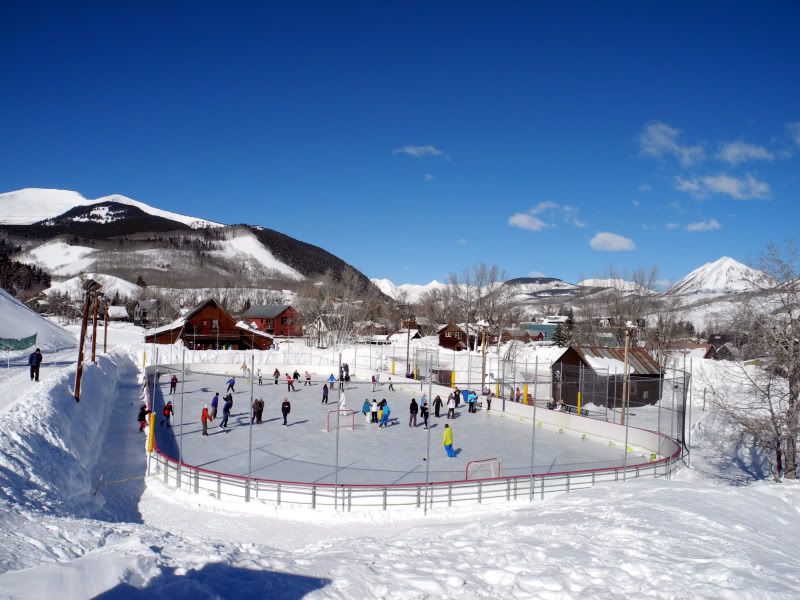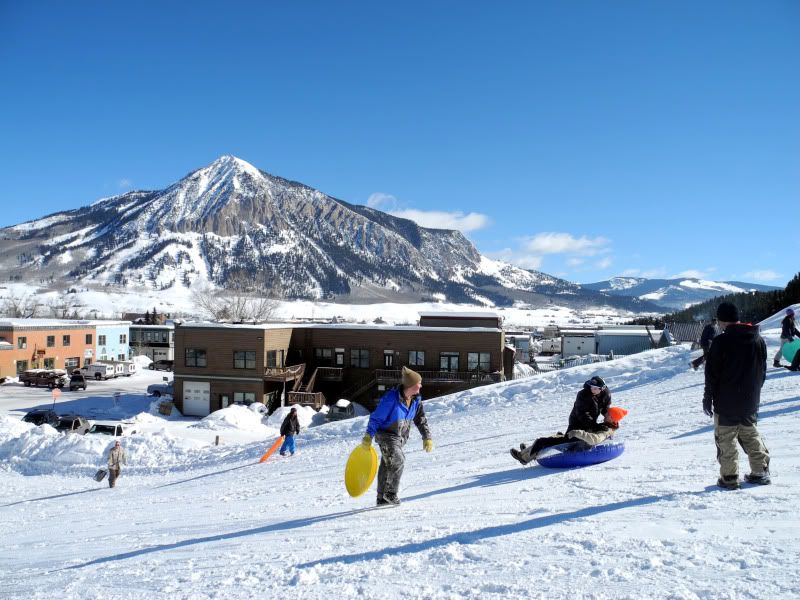 Students who did not have sleds had to improvise 🙂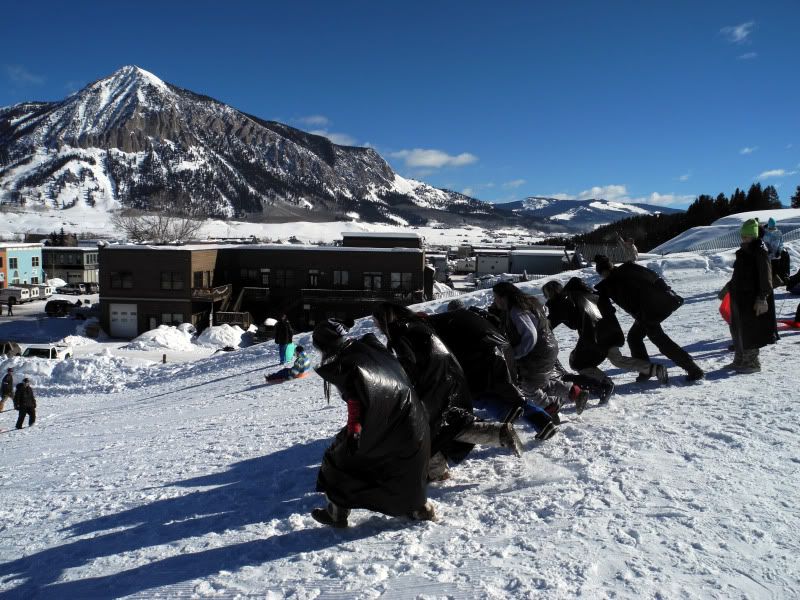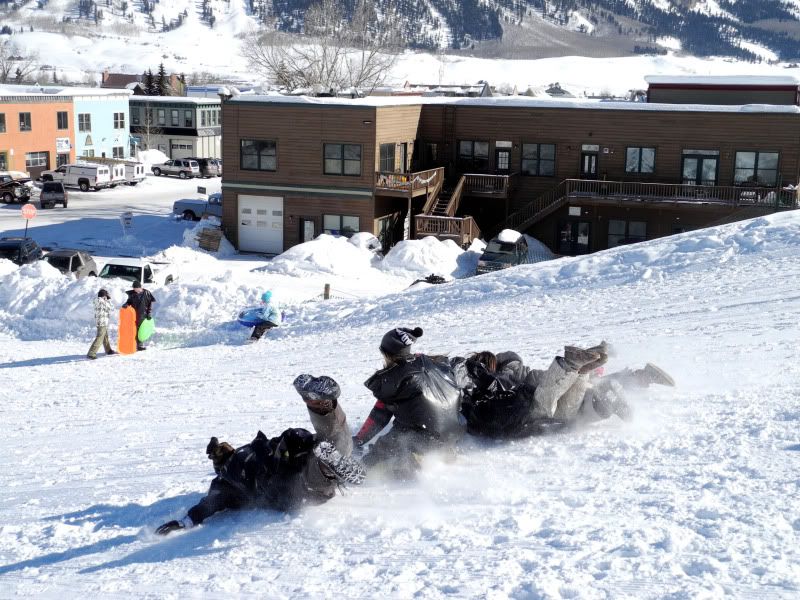 Before sculpting, there is a lot of digging. Here, students are shoveling masses of snow into a pile, which we then let sit for an hour or so and then begin sculpting.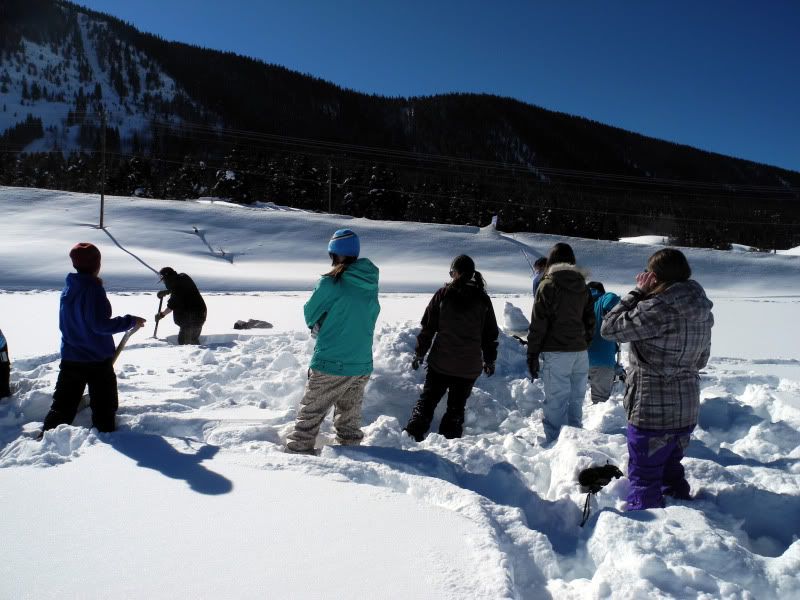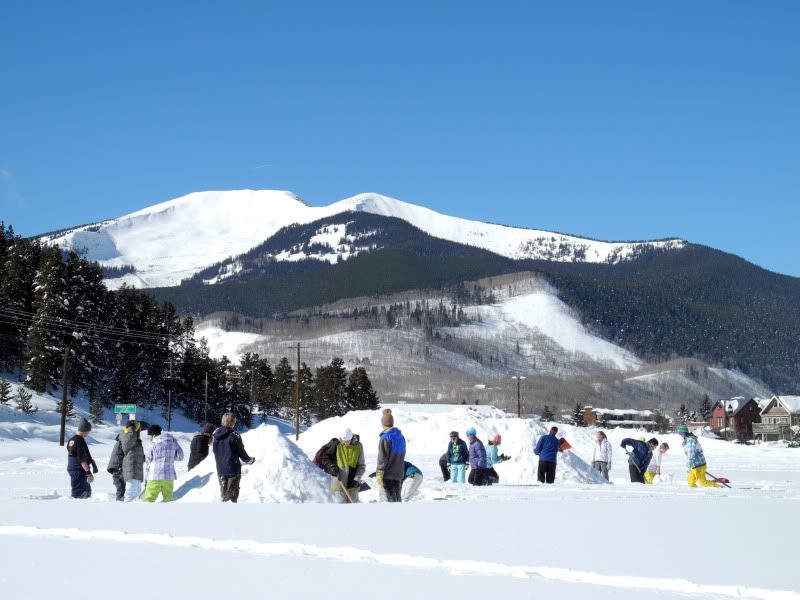 My group of students decided to make a toilet with a fish coming out- 3rd place winner! Yeah, um, don't ask 🙂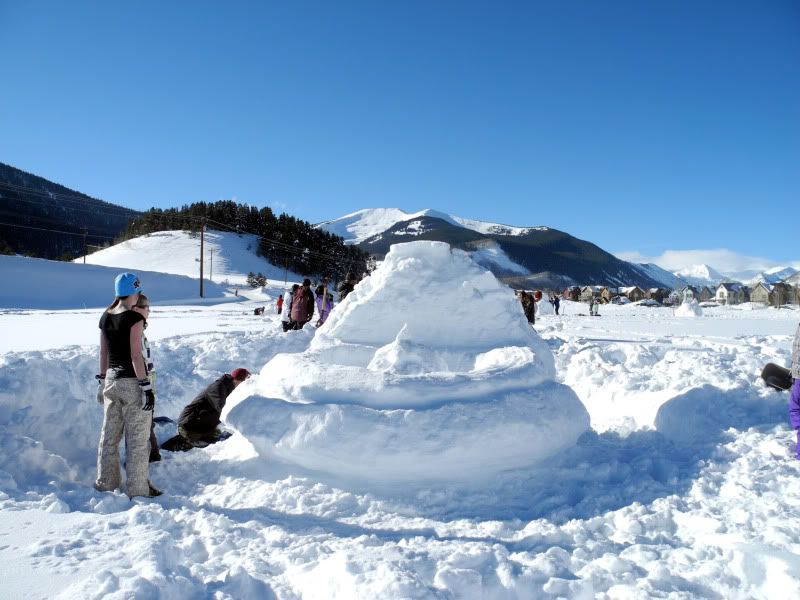 Another great sculpture.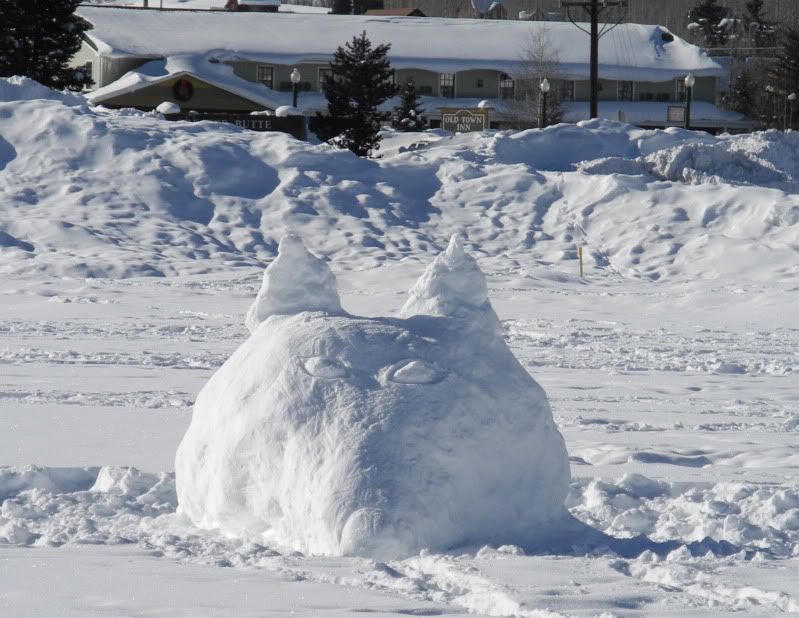 My favorite, and the winner.

Big Air on Elk happened on March 12. This was an annual event for several years, but was considered dangerous after many athletes were injured. After a 4 year hiatus, the event came back last year and was improved. Athlete selection became more selective and the jumps became bigger (bigger is safer, actually). Big Air on Elk is quite amazing really. Truck loads of snow are transported on to our main street all day long. All snow banks and piles are used along the side of the road. Giant park-sized jumps are built, and the road is covered with a blanket of snow. As the sun sets behind the mountain, snowmobiles are used to speed athletes along the road, as if they were water-skiers, and then the skiers let go to hit the jump. The athletes compete for about 3 hours. Then, the massive disassembly begins. Elk Avenue is clear of the jumps and the snow by the very next morning. The organization and efficiency of the event never ceases to amaze me. I had fun playing around with my Nikon Coolpix P7000 which I purchased back in December. It takes amazing pictures, even at night!
Elk Ave.

The take-off.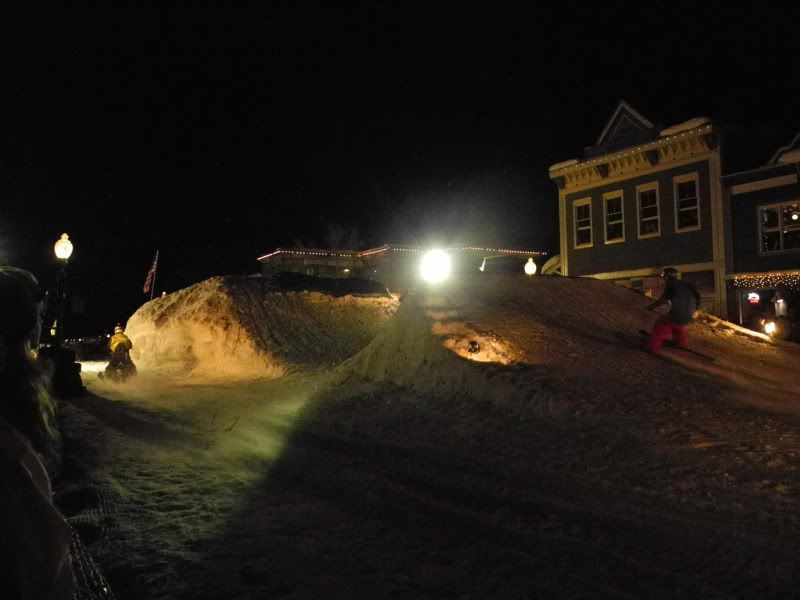 The jump.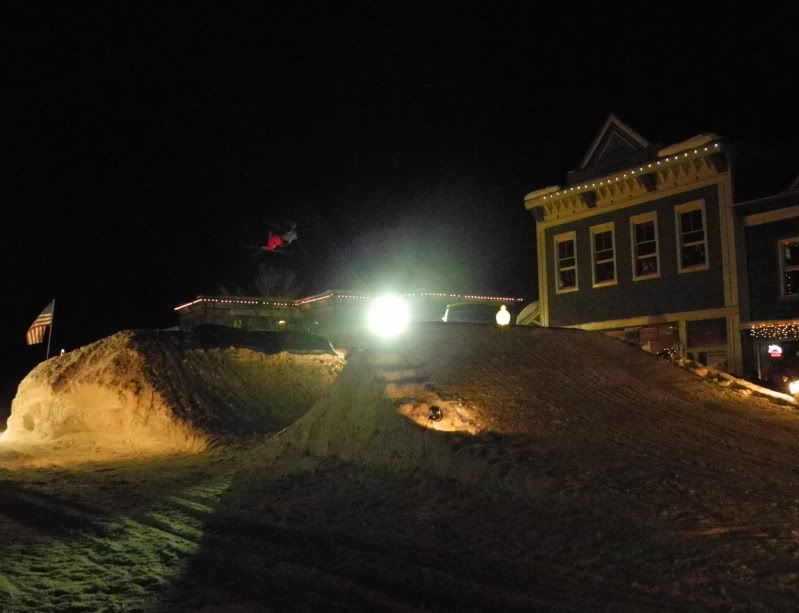 Some more tricks.

The best of the bunch.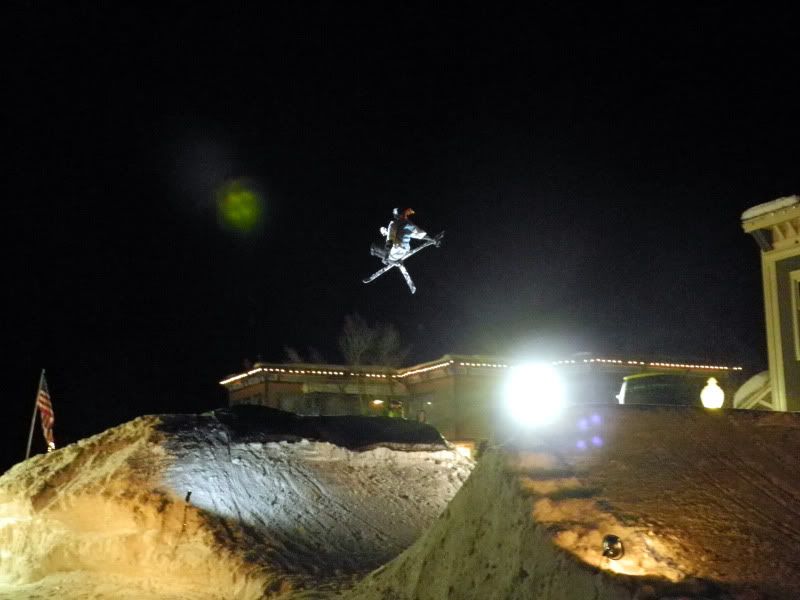 Well, that's my winter wrap up 🙂 I can officially move on to spring!
Aside from skiing, biking, and all outdoorsy things,
Brittany Walker Konsella
also loves smiles and chocolate 🙂 Even though she excels at higher level math and chemistry, she still confuses left from right. Find out more about
Brittany
!
Latest posts by Brittany Walker Konsella (see all)