Gear Review: Osprey Kode 38
(Last Updated On: February 27, 2011)
It's not very often that I give negative gear reviews. But, I must give a negative gear review to the Osprey Kode 38.
I purchased this pack in early December to use as a backcountry skiing pack. I had loved my Osprey Switch 36, but it was falling apart after a few years of harsh use. The Osprey Kode 38 seemed like the logical choice, as it has a lot of the same features as the Switch 36- some being the helmet pocket, big hip pockets (good for a camera and lots of food), and an insulated sleeve and pocket for a hydration bladder and hose. I spent a lot of time looking at different packs and had difficulty finding many that had these features that I liked. Most European packs are very minimalist and don't have hip pockets or infrastructure for a hydration bladder. My choices quickly narrowed down to the BCA Stash, Dakine Blade, and Osprey Kode 38. Having already owned several Osprey packs and wanting to endorse a Colorado company, I chose the Kode 38.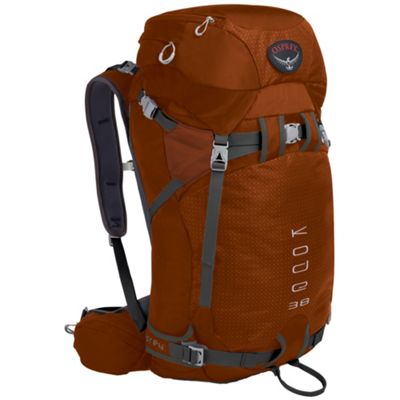 Image from bivouac
However, after using this pack about 5 times in the backcountry, I have come to really dislike it. First and foremost, the pack simply does not fit correctly. The hips are far too narrow. In fact, they are narrower than the shoulders. This is great if you are some skinny guy. But, I'm a woman. I have hips. While I'm not the skinniest girl in the world, at 5'3″ and 125 pounds I'm not exactly oversized. This pack is simply undersized. The hip pockets are useless on this pack as the basically sit on my ass. I can't reach into them because they are so far back. Additionally, the pack rubs uncomfortably on the center of my lower back because the pack is so narrow in the hip area. If Osprey is going to design their packs this way, then they need to have a women's model for a woman's hips.
After having trouble with the hip size on the small sized Kode 38 pack, I went to the Alpineer and tried on the medium. The pockets were still too far back for me to reach. The medium's torso length was far too tall for me. Yet, the medium Switch couldn't have fit more perfectly.
Photo showing how it was difficult for me to reach (and see what I was reaching for) into the hip pockets on the Osprey Kode 38 pack.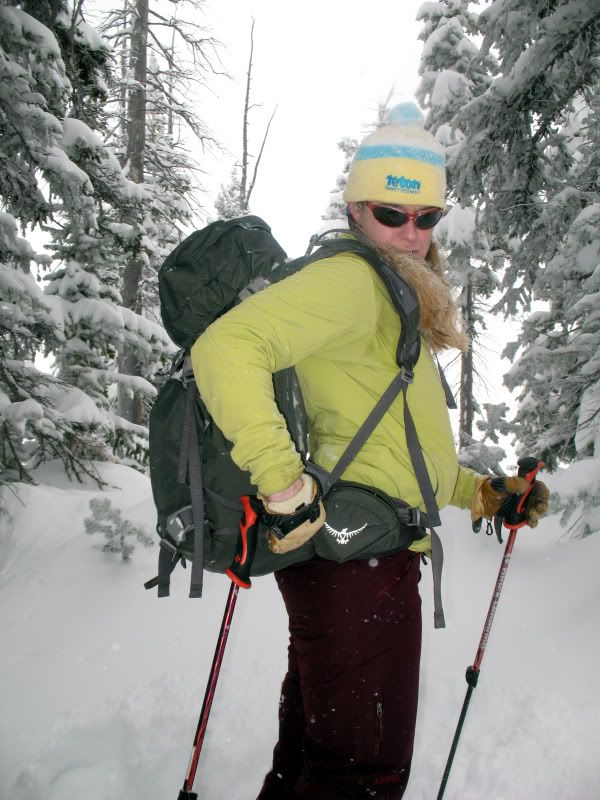 Second, getting to the avy gear is more of a process than I would like. In order to get to the avy gear, two small buckles and a toggle string needs to be undone. The Switch required one zipper to access the avy gear. If your friend is buried and you are frantic, two small buckles and a toggle seems like more than I want to deal with and can cost precious seconds.
Third, there are too many gizmos, straps, and zippers. I tend to like packs with a lot of gizmos. But, the Kode has too many for me. As I unbuckled straps I was constantly searching for where to re-buckle. I can't tell you how many times I tried using the wrong zipper for the helmet pocked (there are two- one for the pocket, and one used for expansion purposes). I had trouble with all of these straps getting caught on things a lot- skis, snowmobile, trees.
Fourth, the main pocket is too small. I like the fact that there is an avy gear pocket on the Kode that is separate from the main pocket, but the proportions are wrong. The avy gear pocket is too large and the main gear pocket is too small. This would cause most people to start storing non-avy gear in the avy gear pocket. Bad idea!
There are a few things I do like about the Osprey Kode 38. I like how the hydration system as structured. The bladder fits on the pack along the back. They were thoughtful in putting an expandable neoprene layer near where the nozzle to the hose would be located so zipping around the nozzle would be easier. I also like their oversized hip pockets (the fact that they are oversized, not their placement) and the helmet pocket (the fact that there is one, but the double zipper always threw me for a loop). One improvement of the Kode from the Switch is that there is a back panel access into the main pocket. The Switch did not have this.
Still, the negatives of this pack for me far outweigh the positives. I am disappointed with Osprey for their overall poor design of this pack. I have several other Osprey packs and I like them all. I purchased this Kode pack from backcountry.com and I'll be trying to return it there. I purchased the Dakine Blade instead and have been liking this pack so far. Gear review on this pack later.
Aside from skiing, biking, and all outdoorsy things,
Brittany Walker Konsella
also loves smiles and chocolate 🙂 Even though she excels at higher level math and chemistry, she still confuses left from right. Find out more about
Brittany
!
Latest posts by Brittany Walker Konsella (see all)