TR: Pearl Pass Bike Tour (11 Sept 2010)
(Last Updated On: July 16, 2017)
Don Cook couldn't state it any better: "It's not about the ride, it's about the history." We knew the rocky Pearl Pass was not going to give us the best riding, but we knew the experience would be filled with amazing views and a taste of history. As Frank and I lined up in front of the Crested Butte Museum at 8 am along with 20 other riders, we here happy to be part of the longest-lived mountain biking event in the world – the Pearl Pass Bike Tour.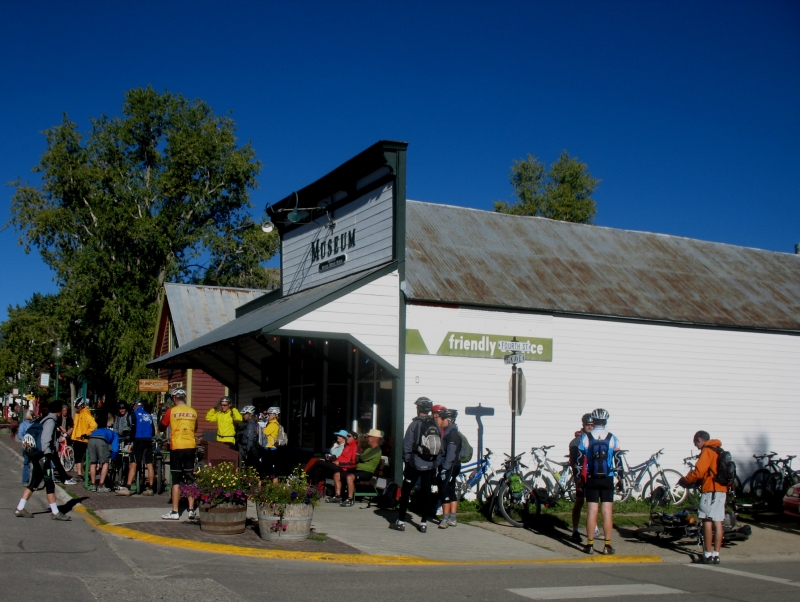 The story goes like this: The Pearl Pass Bike Tour is as old as I am. It is said that in 1976, a rowdy group of motorcyclists from Aspen made their way over Pearl Pass and into Crested Butte. They stopped at the no-longer existent Grubstake Bar (which, I believe, was housed in the building most current locals know as the "Old Brick"), bragging about their seemingly impossible feat. Well, Buttians are Buttians, and they wouldn't be outdone by some ostentatious motorcyclists from Aspen. So, on a September morning, a group of 15 Buttians met outside the Grubstake at 9 am with their clunkers (better known today as "townie" bikes) as their ride. They camped along the way, and the next day, seven riders made their way into Aspen. Those seven riders were Bob Starr, Rick Verplank, Walter Keith, Long Beach, Patty Ann Gifford, Patty Christie and Duane Reading.
A couple of years later, the Pearl Pass ride caught on with the big-wigs. Folks like Wende Cragg, Charlie Kelly, Gary Fisher, and Joe Breeze joined the ranks. Here's a famous photo from this historic 1978 event.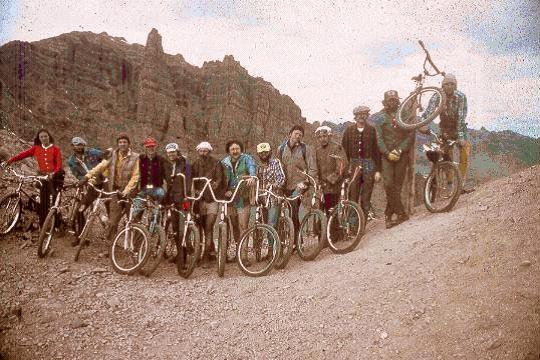 From left to right: Wende Cragg, Fairfax, CA (Breezer); the infamous "Neil Murdoch," Crested Butte, CO ('50s Schwinn); Richard Neilsen, Hotchkiss, CO ('60s Schwinn); Charlie Kelly, San Anselmo, CA (Breezer); Joe Breeze, Mill Valley, CA (Breezer); Jim Cloud, Crested Butte, CO ('50s Schwinn); Bob Starr, Crested Butte, CO ('50s Schwinn); Richard Ullery, Crested Butte, CO ('50s Schwinn); Gary Fisher, San Anselmo, CA ('38 Schwinn); Archie Archiletta, Crested Butte, CO ('50s Schwinn); Chris Carroll, Crested Butte, CO ('50s Schwinn); Albert Maunz, Crested Butte, CO ('50s Schwinn); Michael Castelli, Point Reyes, CA ('30s Schwinn). Read Charlie Kelly's account of the 1978 ride here.
Pearl Pass became famous.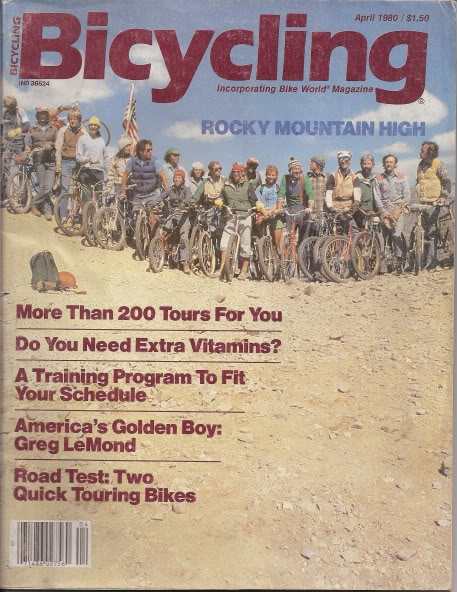 Photo courtesy of posters on mtbr.com.
Today, the Pearl Pass tour is kept alive by the efforts of the Crested Butte Museum and CB locals Don and Kay Cook. The tour continues as an annual event, leaving from the Museum every September. On this September, Frank and I joined the 34th annual Pearl Pass tour, along with 20 other fine riders.
We made our way up Brush Creek.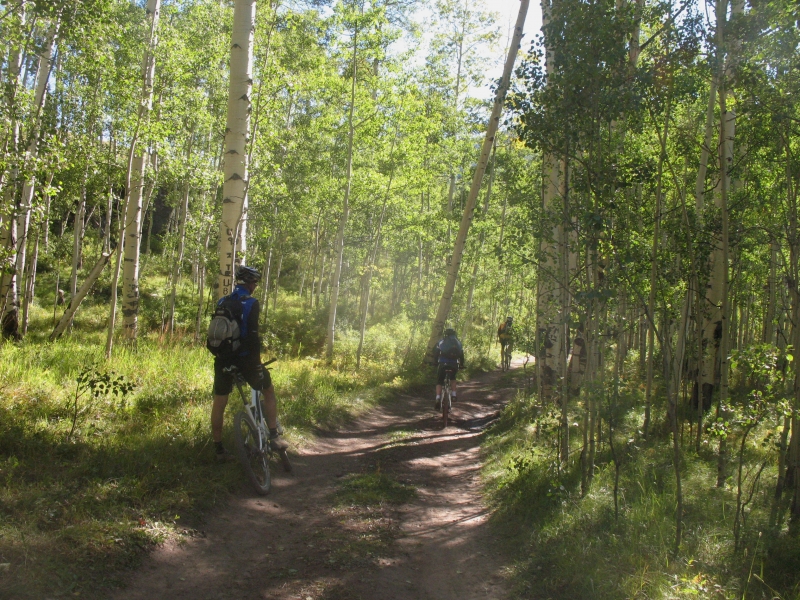 And then on toward Pearl Pass.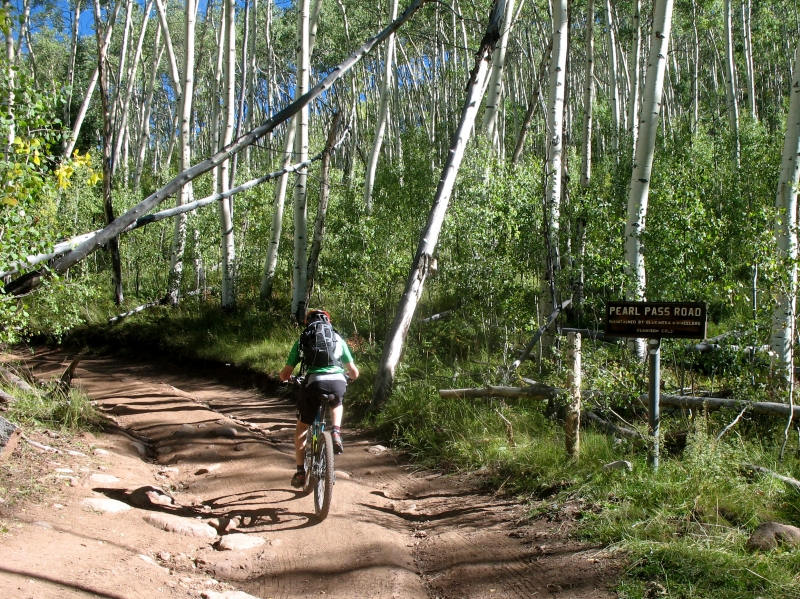 The scenery couldn't be better. Me with Teocalli behind.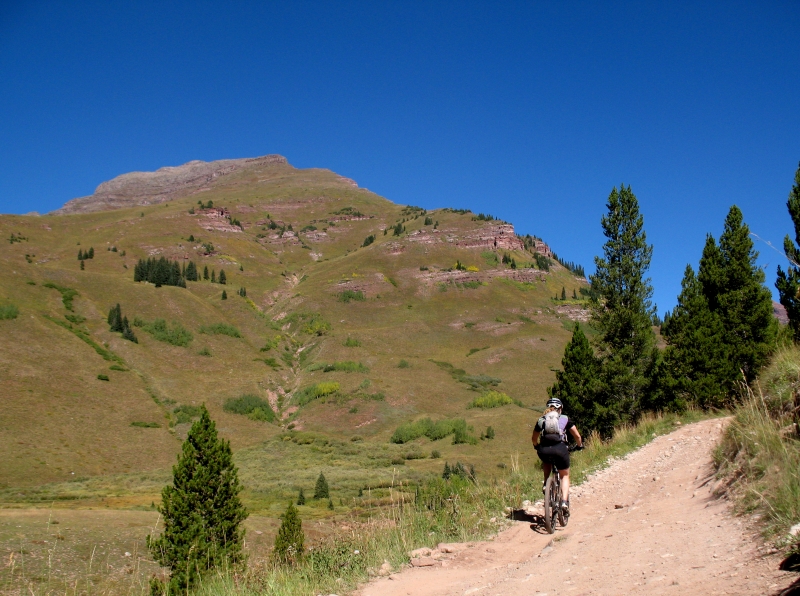 Frank.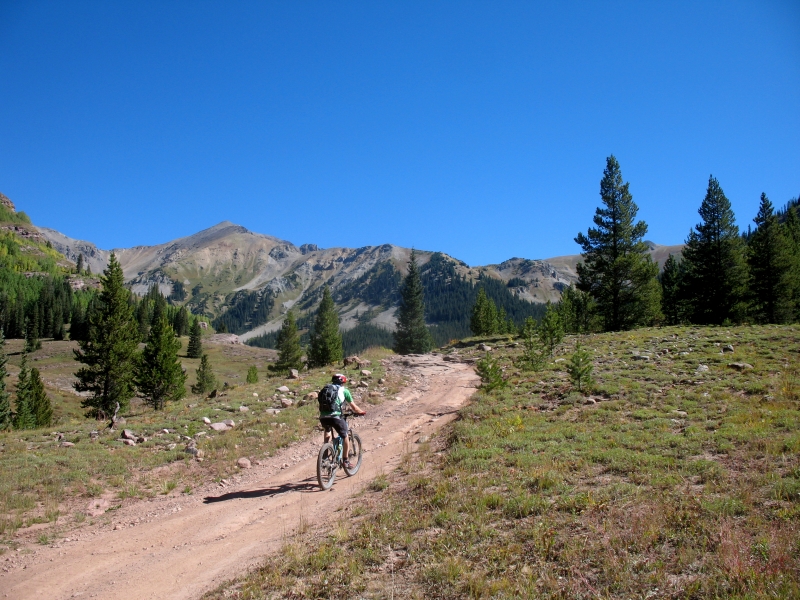 There were a few streams to cross.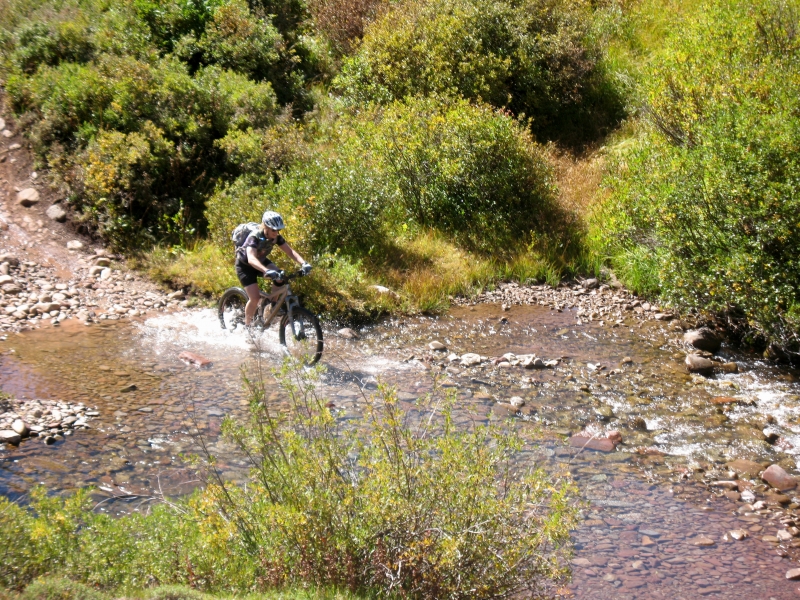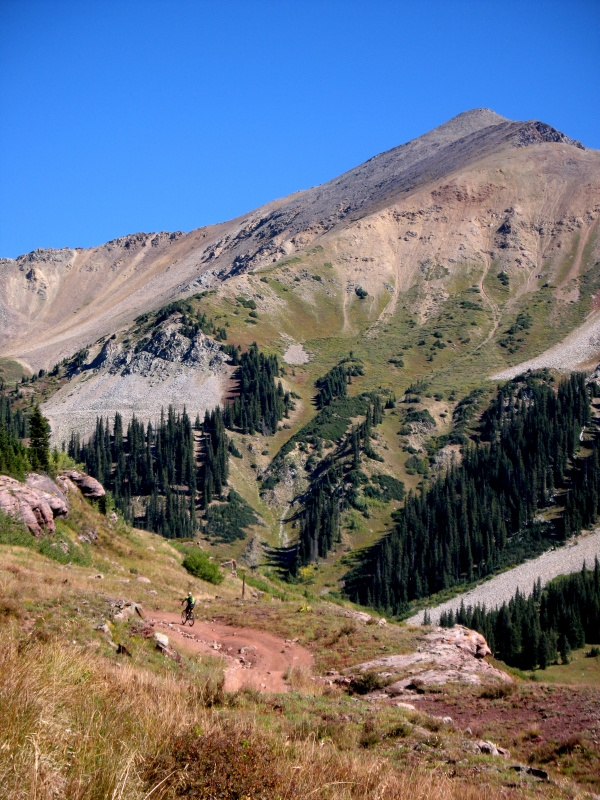 The beautiful Cumberland Basin.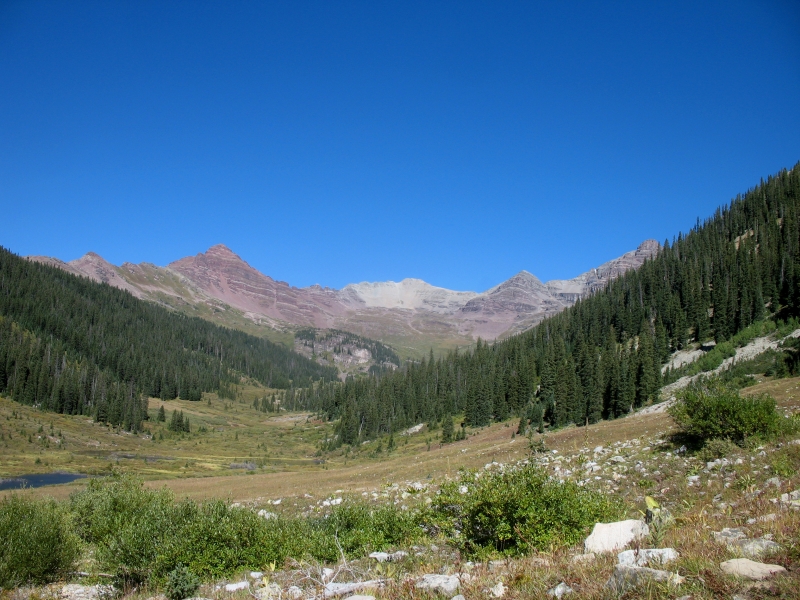 Above Cumberland Basin, Pearl Pass got downright gnarly. Full of baby-head rocks, it was difficult to ride.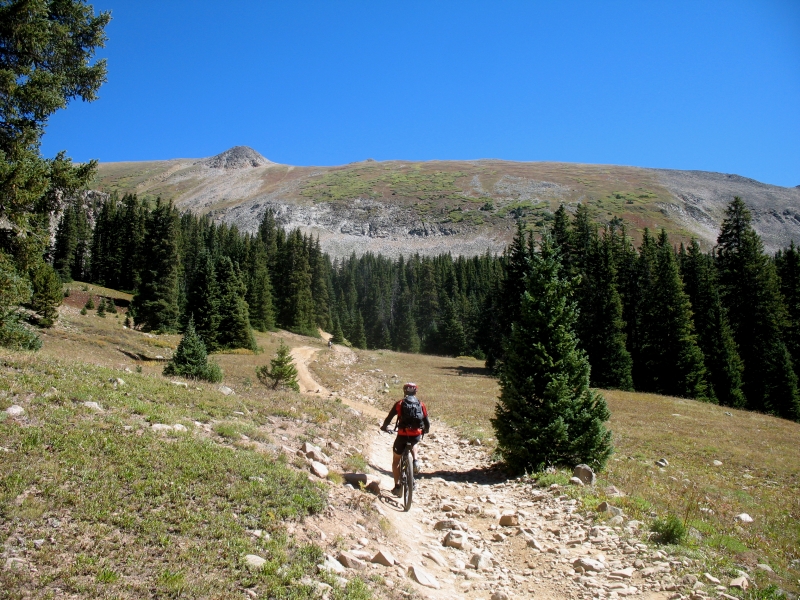 Hike-a-bike was plentiful. But, I tried to ride when I could 🙂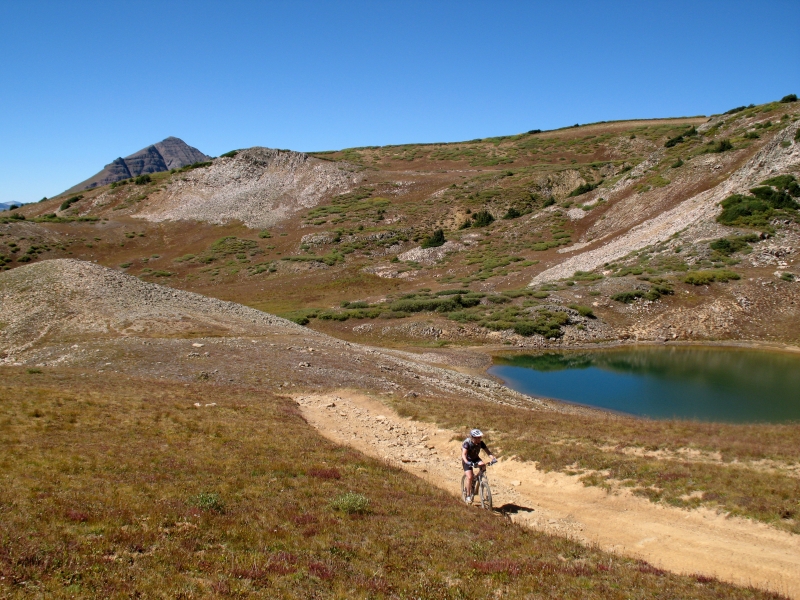 Frank nearing the "false summit".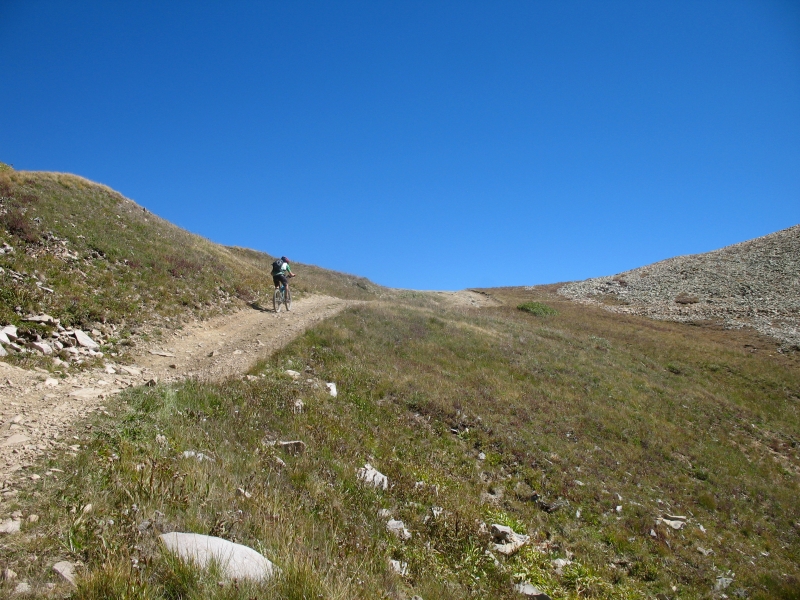 Looking back down valley. Simply amazing.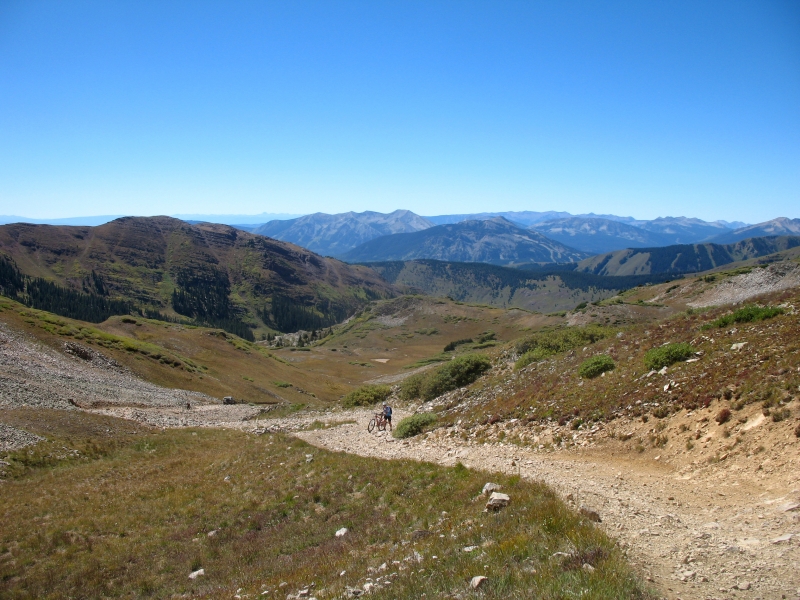 Still more riding to be done.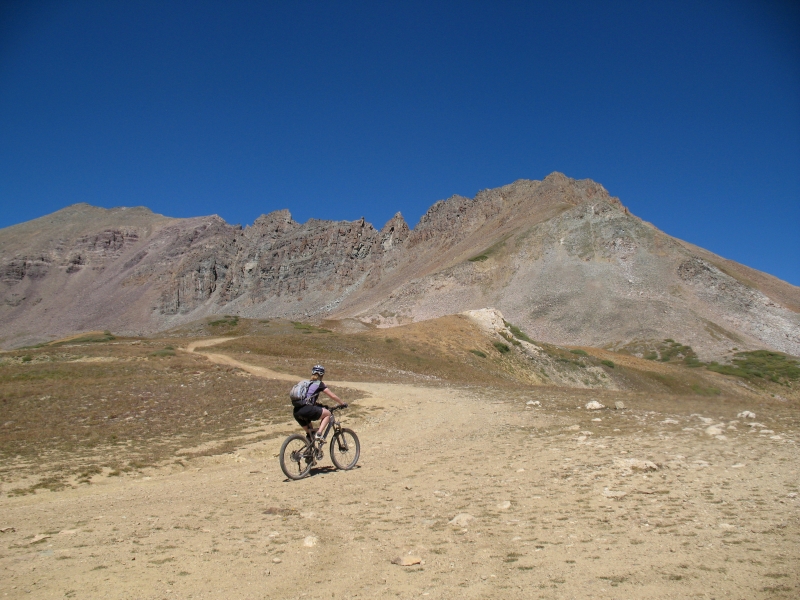 THE Pearl Pass in the distance.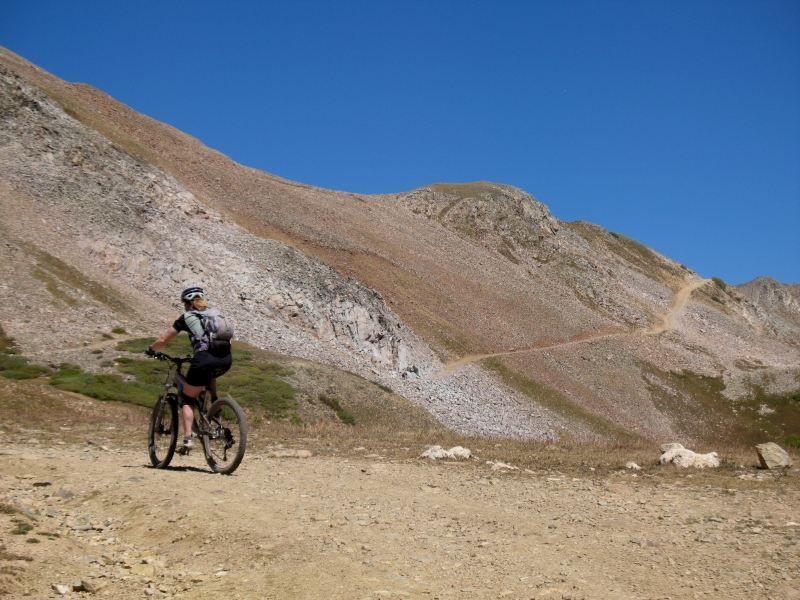 Looking back down the road.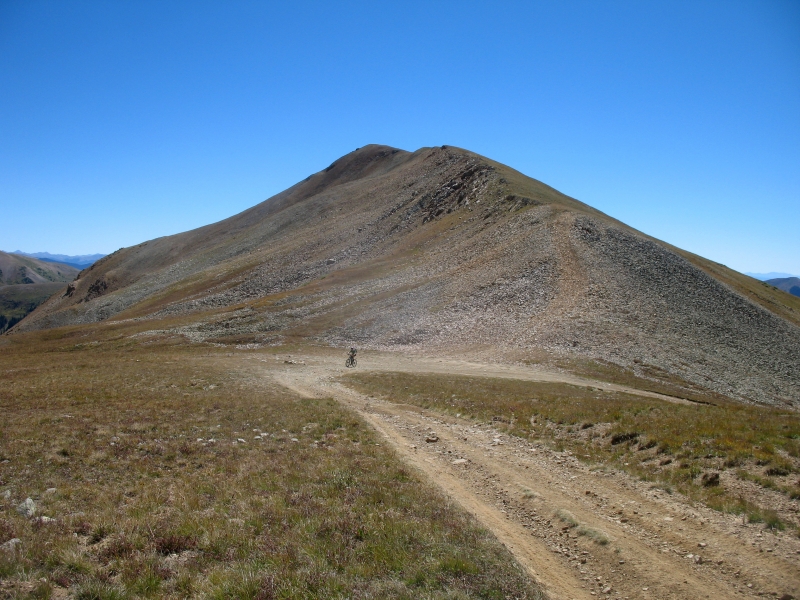 Up and up.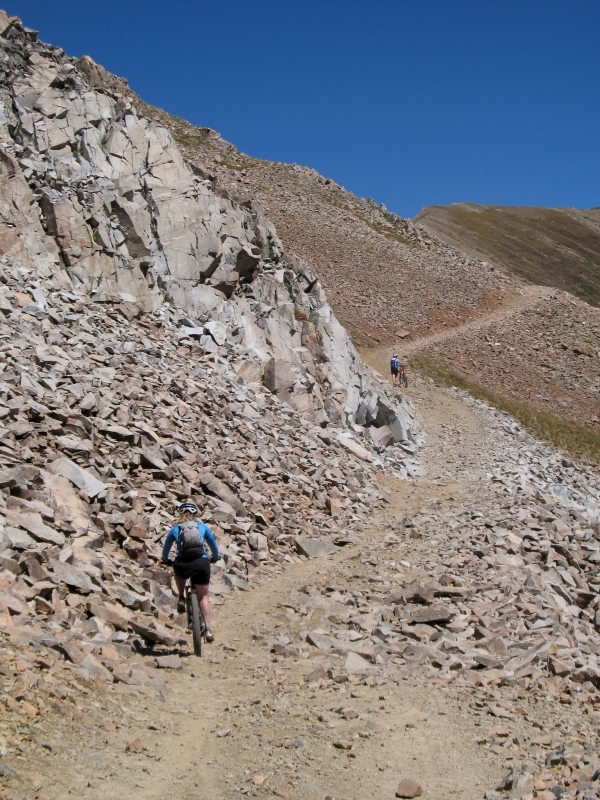 And finally, the summit!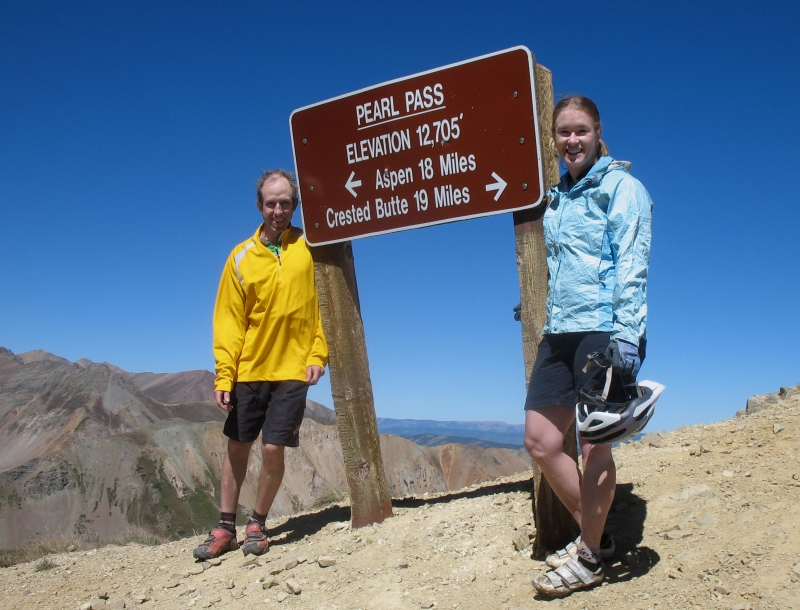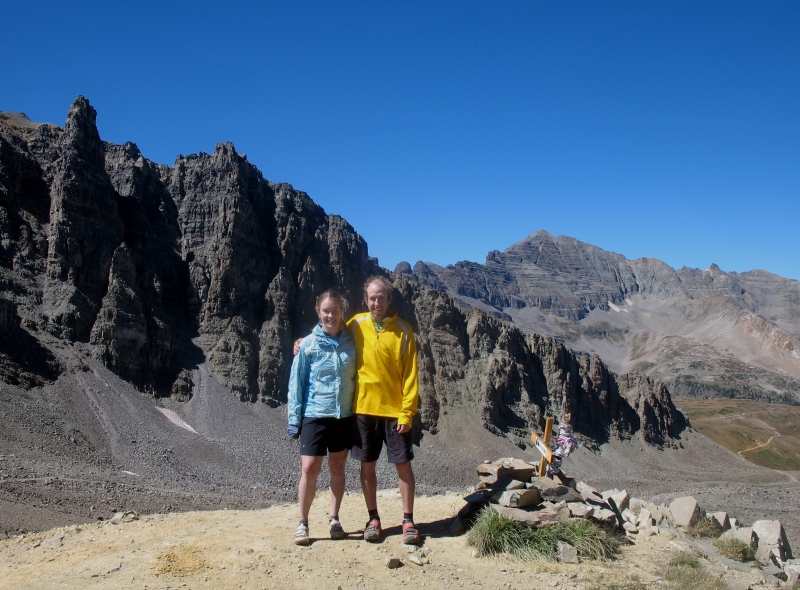 We took a long time to admire the views. Castle- probably my favorite 14er.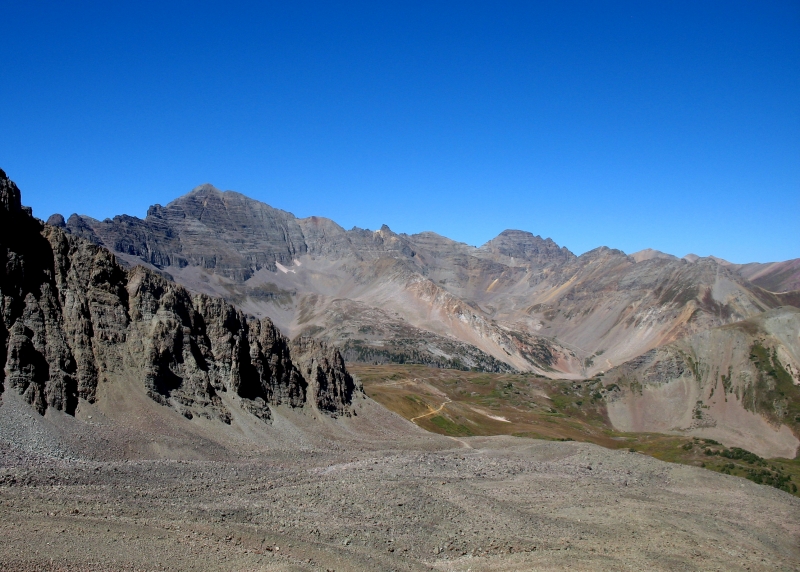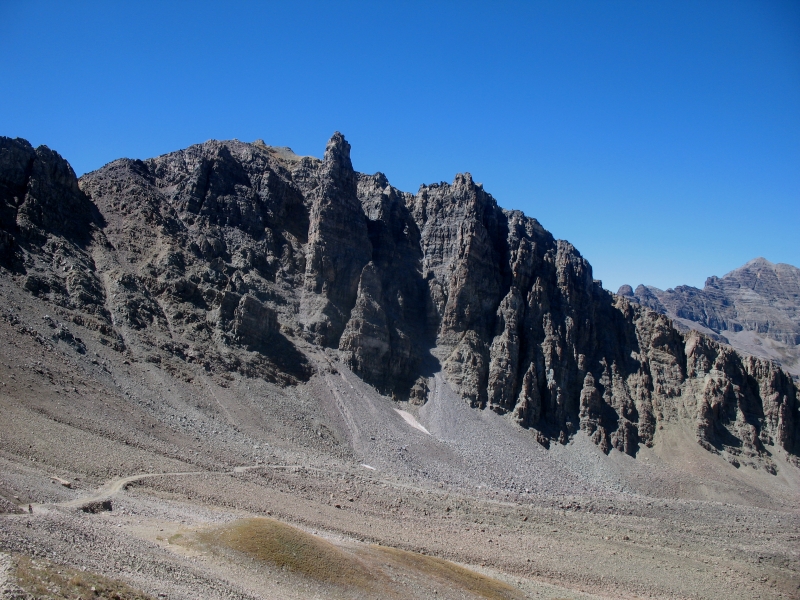 Looking toward Aspen.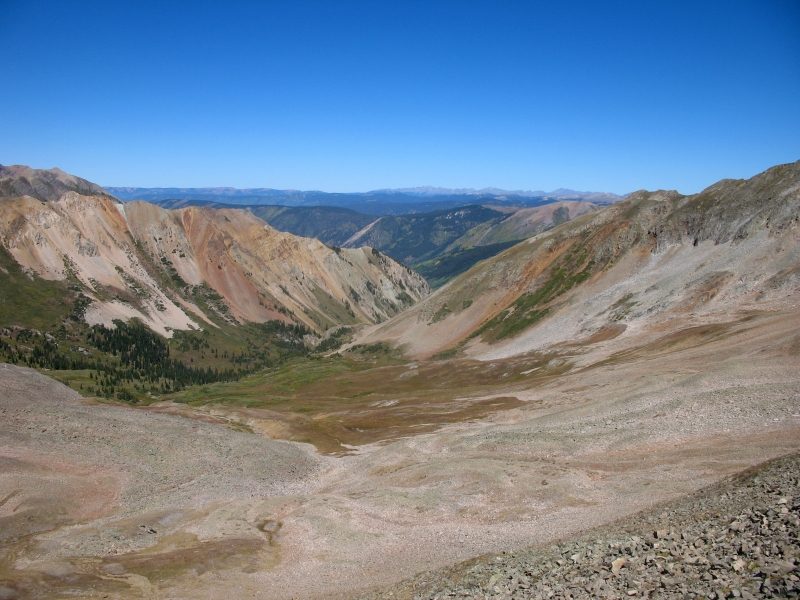 This memorial to someone lost, but not forgotten was a somber reminder of our friends lost but not forgotten. Jack and Lacy, we miss you.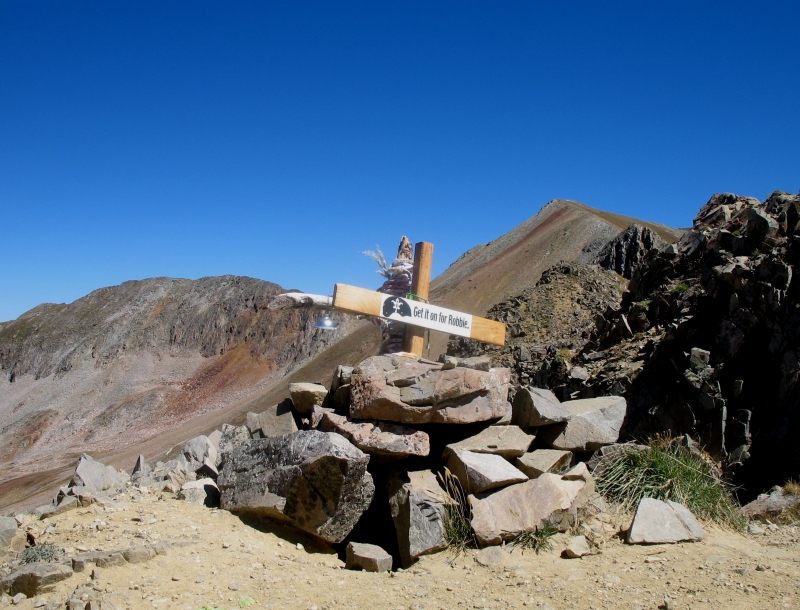 Finally, the descent.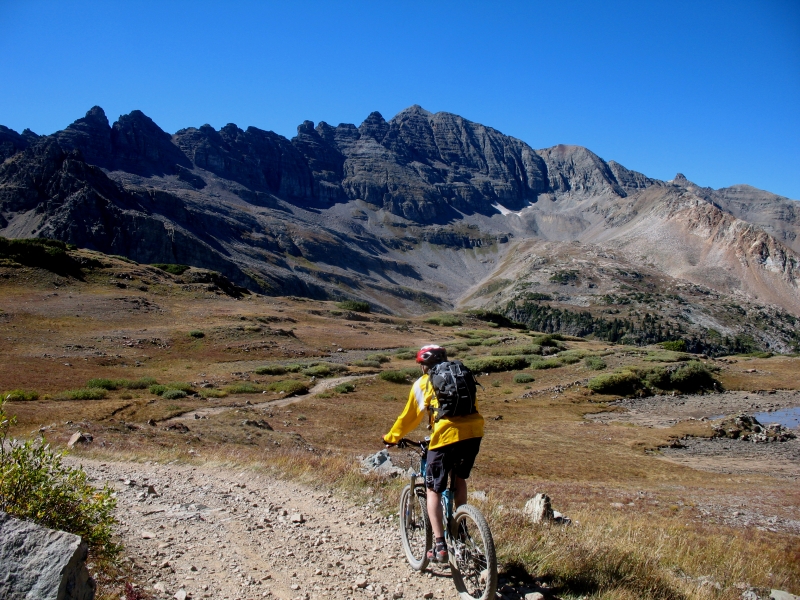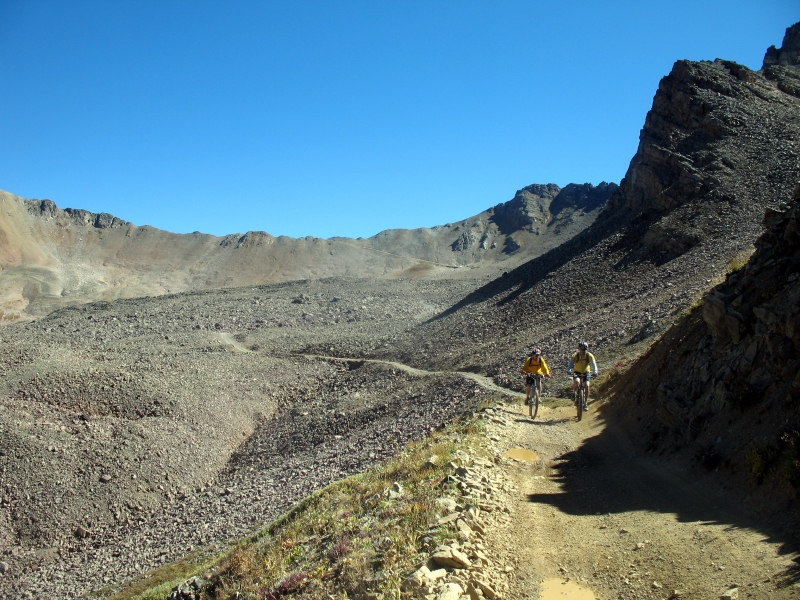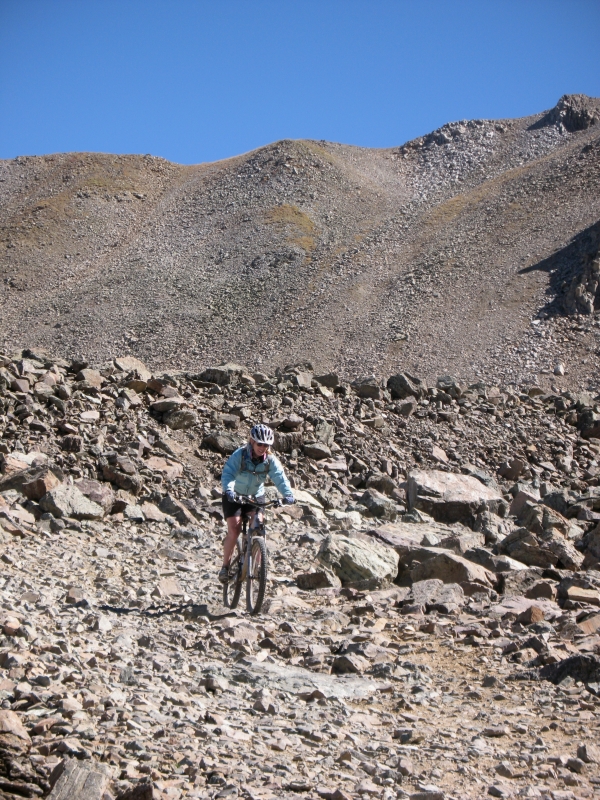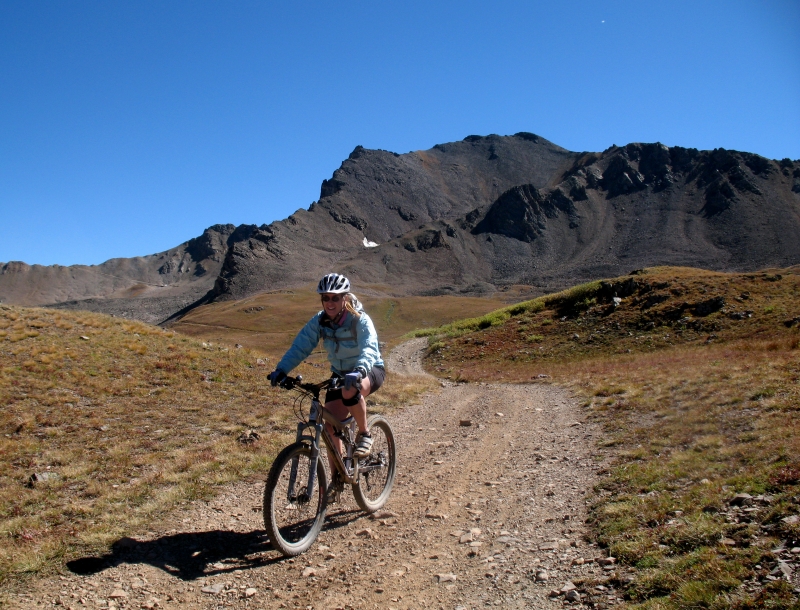 A view of Taylor, dreaming of winter.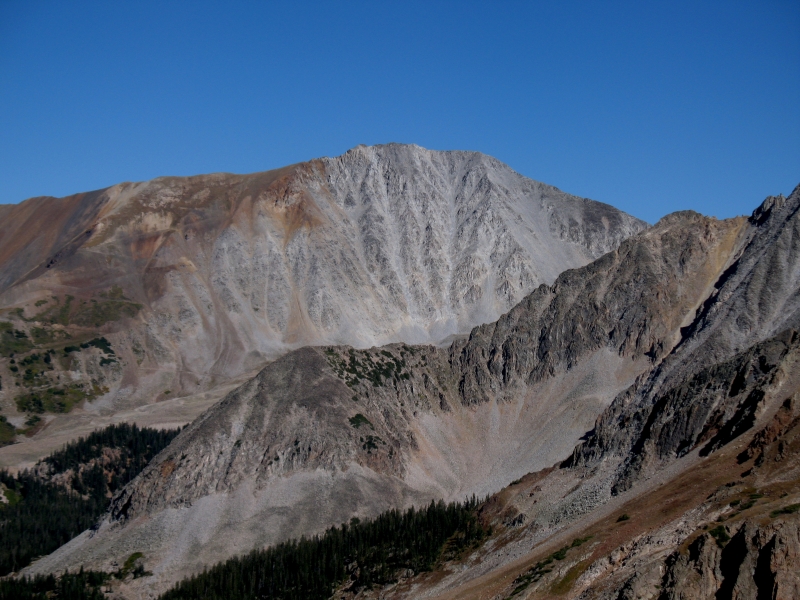 Me, with Castle in the distance.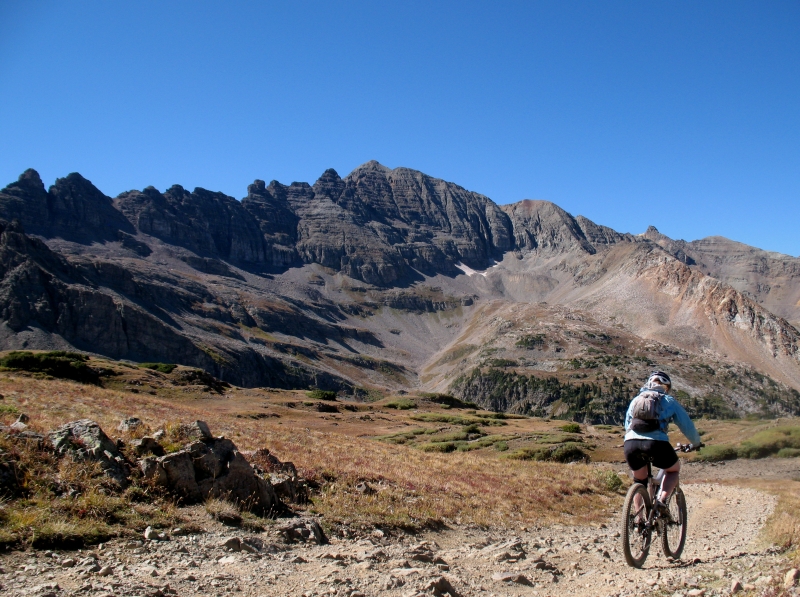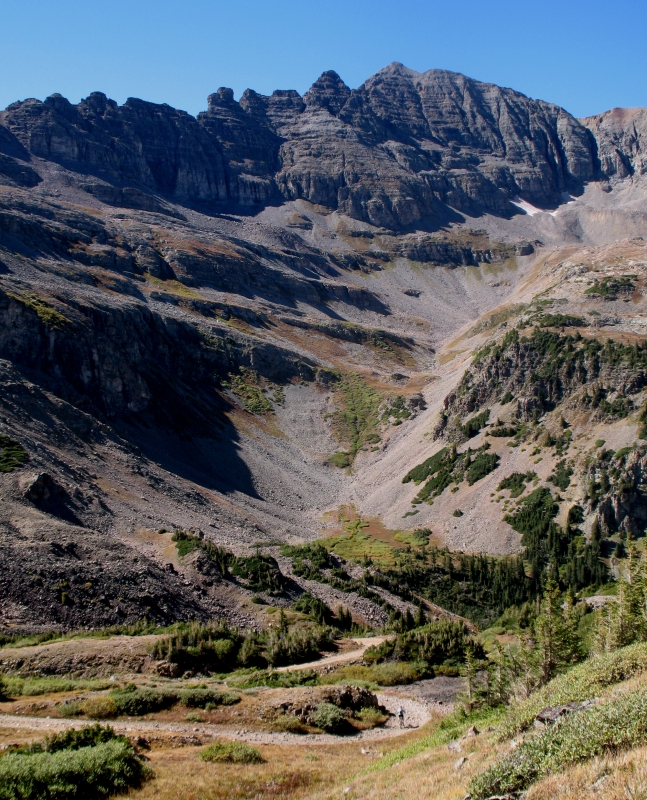 Though not on the same level as the 1976 victory, the Pearl Pass riders from this year met for dinner at Little Annie's in Aspen to celebrate our own accomplishment. A fun ride, fantastic views, and history kept alive. I'll drink to that 🙂
Up next- our ride back to Crested Butte via Taylor and Star Pass.
---
Resources
Original Article from the Crested Butte Pilot
Charlie Kelly's Website
Upslope Brewing
Crested Butte Mountain Bike Hall of Fame- Tours from 1980, 1978, and 1976
Crested Butte Mountain Bike Hall of Fame- 1976 tour from Dawn Belloise
Looking to do this ride on your own, and wondering about shuttle logistics? Try: Maroon Bells Shuttles
Aside from skiing, biking, and all outdoorsy things,
Brittany Walker Konsella
also loves smiles and chocolate 🙂 Even though she excels at higher level math and chemistry, she still confuses left from right. Find out more about
Brittany
!
Latest posts by Brittany Walker Konsella (see all)
Summary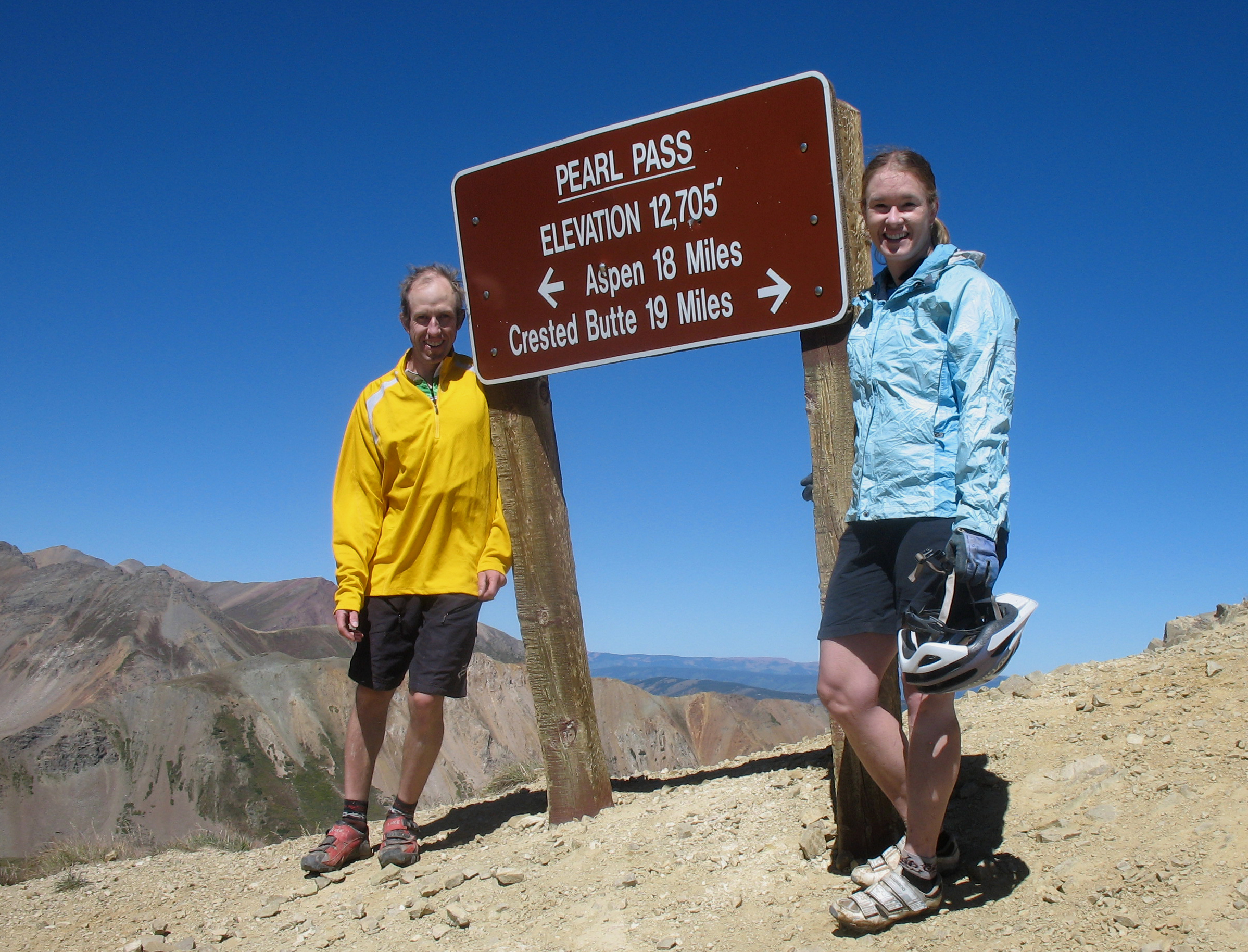 Article Name
Description
The Pearl Pass Bike tour is both a scenic and historic ride that travels between Aspen and Crested Butte. Find out more information in this post!
Author