TR: CB Dawn Patrol (23 Nov 2009)
(Last Updated On: November 25, 2009)
I've been itching to skin up the ski area since the first good snow fell a month ago…. I haven't put skins on my skis since my ACL injury last February. But, the ski area hasn't acquired enough snow to actually ski down without hitting bushes and rocks on the way down. But, last week Crested Butte put their efforts into getting the snowmaking running, ready for the opening date on Wednesday, Nov. 25th. Thankfully, I was able to rally Sydney to join me on our little outing 🙂
My alarm went off at 6 am and I just wanted to roll over in my bed and fall back to sleep. I hate getting up when it's dark outside. But, the light was strange… So, I took another look. Snow was dumping from the sky and had left a few inches of refreshing fluff on the ground. A few inches is better than none- I'll take it. And I knew it was going to be a fun morning for skinning up the mountain.
Sydney skinning up the mountain.


As you can see from the tracks, we weren't alone. 6 or 7 other people make the treck up the mountain this morning along with 3 dogs.
Gothic always looks yummier with some frosting.

We skinned to the top of the Red Lady chair.

And then the skiing commenced.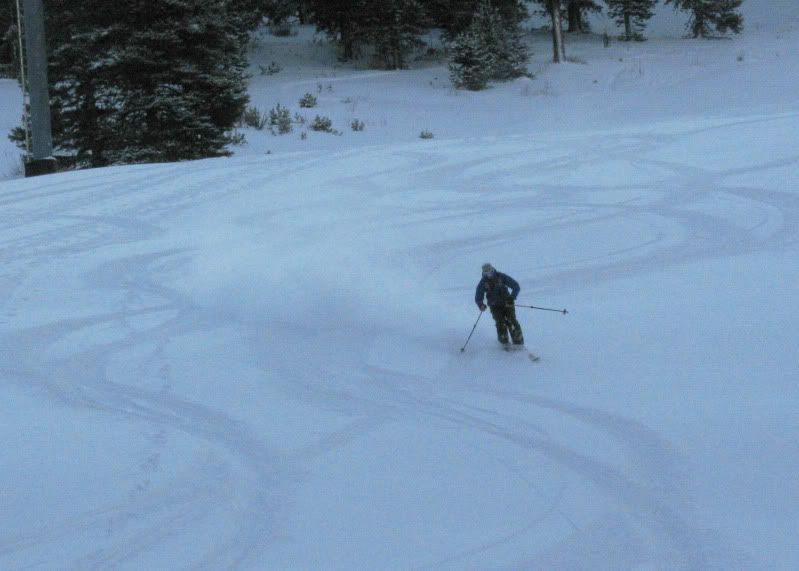 It felt so great to be skinning again. I've had an 8 month gap since the last time I put skins on my skis, which is entirely too long! I feel so lucky to have a ski area right across the street from where I live where I can do dawn patrols nearly any day I desire. Life can suck sometimes. But, today it didn't 🙂
Aside from skiing, biking, and all outdoorsy things,
Brittany Walker Konsella
also loves smiles and chocolate 🙂 Even though she excels at higher level math and chemistry, she still confuses left from right. Find out more about
Brittany
!
Latest posts by Brittany Walker Konsella (see all)