Belated TR: Ukraine – Kiev (July 2008)
(Last Updated On: November 24, 2008)
This past July I had the opportunity to travel to Ukraine. With my move being just before and after this trip, the Thrillhead Blog ceasing to exist, having to set up a new blog here, finding a new job, and working a ton, I have not been able to do a trip report on the Ukraine in a timely manner. Finally, things have settled down this week for me, and I've begun sorting through my Ukraine photos! And now I am ready to share some of my photos from this trip!
Summary of trip
My trip began on Friday July 18. I left Colorado at some insane hour like 4 am. I traveled all day (or night- the time change makes that blurry) and arrived in Kiev Saturday night. My dad and his former student Sonja had been traveling across Russia for the better part of the summer, beginning in Vladivostok and traveling east. During different parts of the trip, various people joined them. My time to join them was in the Ukraine.
Sonja has a particular interest in Ukraine. Her grandparents on her fathers side immigrated from the Ukraine to the US and she grew up very aware of her heritage. She was eager to explore the homeland of her grandparents.
Here is the overall plan of our trip

Sunday July 20- Spent day in Kiev, took night train to Odessa

Monday July 21- Explored Odessa

Tuesday July 22- Arkadia beach near Odessa

Wednesday July 23- Odessa Catacombs, Battery 411, night train to Simferopol

Thursday July 24- Arrived in Simferopol, took mini-bus to Yalta, explored Yalta

Friday July 25- Guide took us to explore Crimea beach, Sudok fortress, and then Bachchysaray

Saturday July 26- Explored Khan's palace in Bachchysaray. Guide led us on a 10 mile hike to a monastery and cave-town.

Sunday July 27- Hiked with guide to Grand Canyon. Drove to Yalta.

Monday July 28- Hired driver to take us from Yalta to Sevastopol. On the way we visited Livadia Palace, Swallow's Nest, Alupka (Alupkinsky Palace Museum), and Balaklava submarine base. Stayed in Sevestopol.

Tuesday July 29- Train all day and night to Kiev.

Wenesday July 30- Arrived in Kiev. Explored Kiev.

Thursday July 31- Spent morning in Kiev. Took plane Thursday night back to US.
Language
Ukrainians not only speak a different language, they use a different alphabet. Their language and alphabet is similar to the Cyrillic seen in Russia and Bulgaria. Thankfully, my former travels to Russia and Bulgaria have left me well-acquainted with this alphabet. Because of the different alphabet, translations to the English language are difficult. You'll find that many cities and sights will have their names spelled several different ways. However, their pronunciation is pretty much the same, despite differences in spelling.
Kiev Pictures
Today's heart of Kiev thrives in the area of vul Kreshchatyk- a street synonymous with shopping and grand European-style buildings.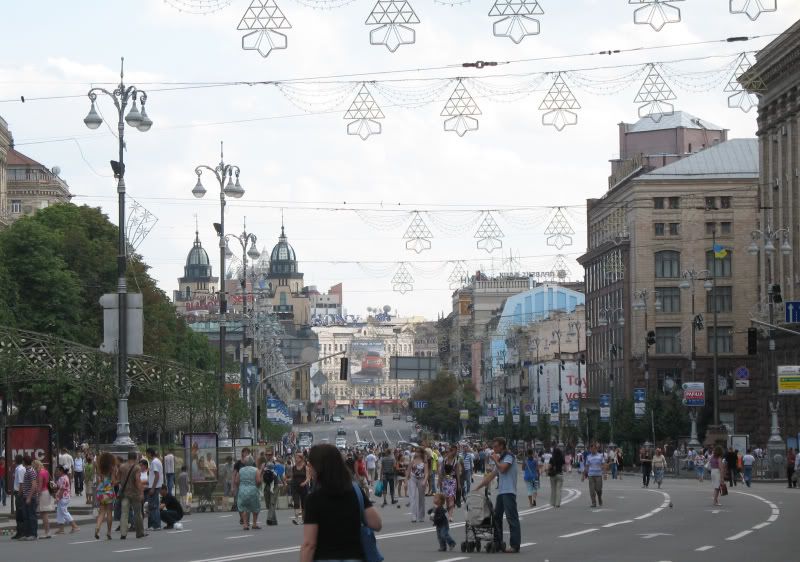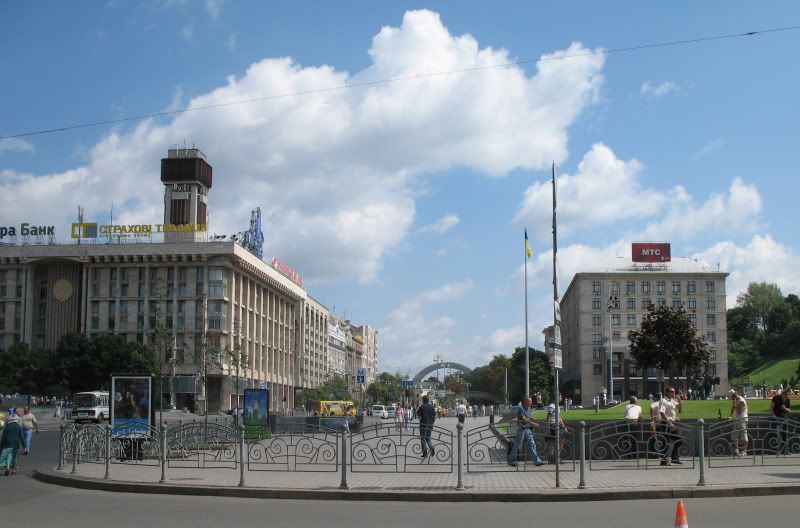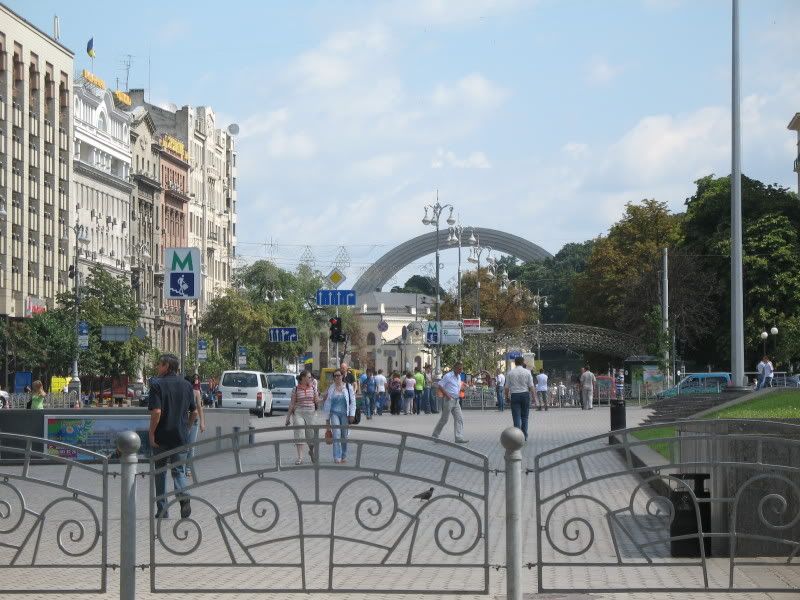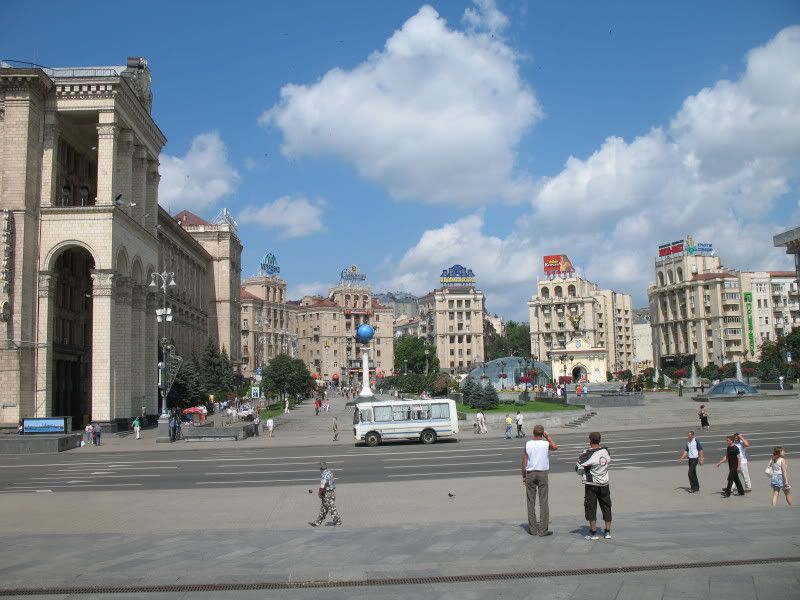 The Dnieper River runs through Kiev. Once a radioactive threat due to the nuclear accident in Chernobyl, it has since then become much cleaner and it is common to find people swimming in it.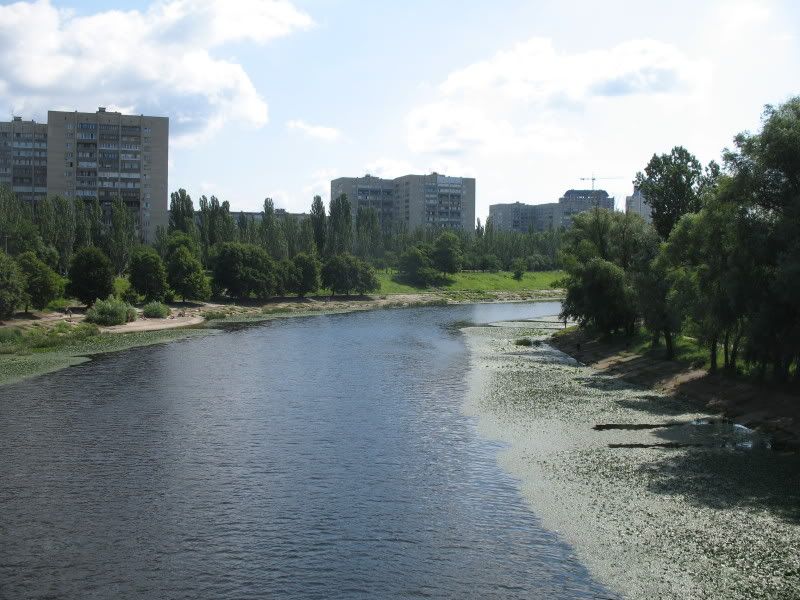 Notice Ukrainians taking pictures of one another…. In Russian and Ukrainian culture, it's very popular for people (locals and tourists alike) to take pictures at memorials, churches, statues, and fountains. People will literally line up to have their turn for a photo opportunity. I swear, they are worse than the Japanese with their cameras!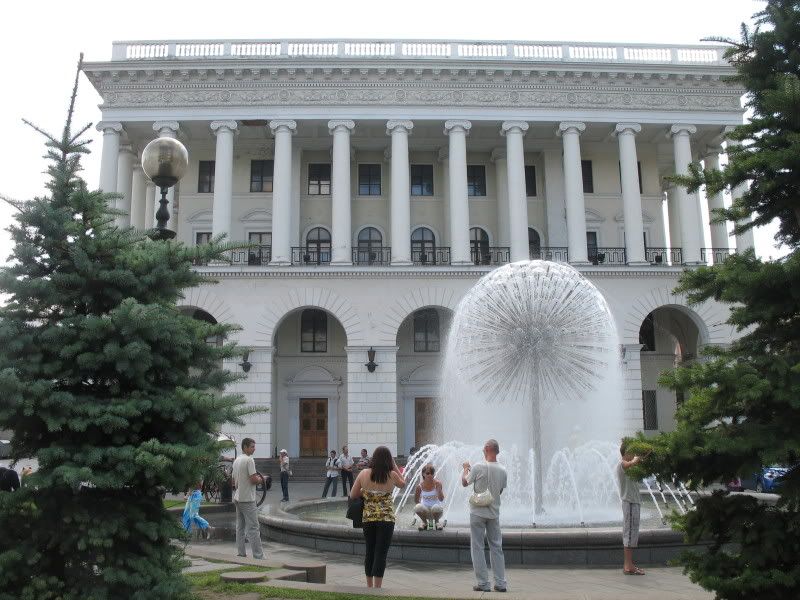 Volodymyrska Hirka-Park offers beautiful war memorials (memorials commemorating WWII are all over Ukraine since many Ukrainians died in this war and it had a huge impact on their country) soviet statues, and scenic views of Kiev.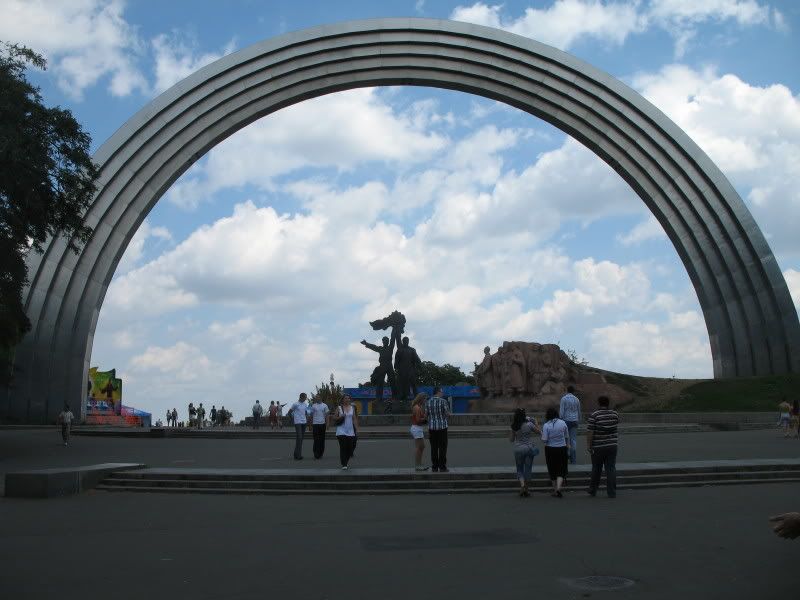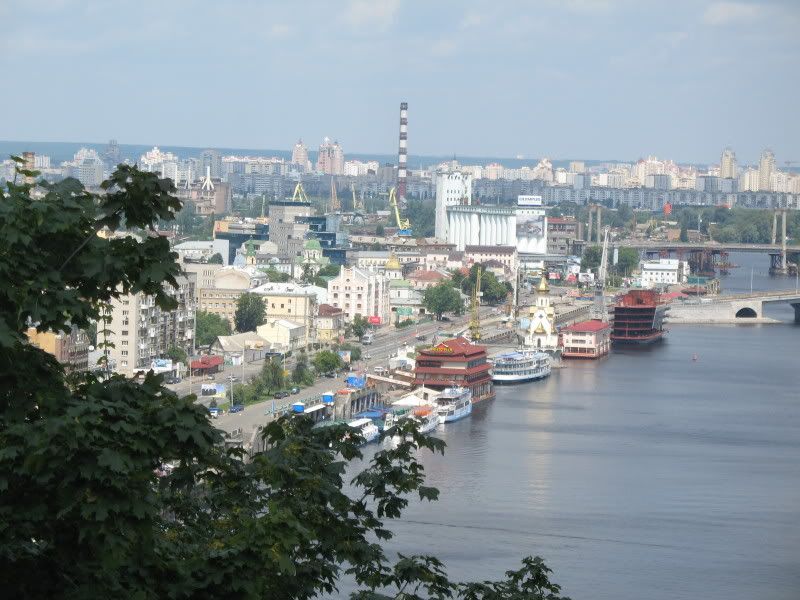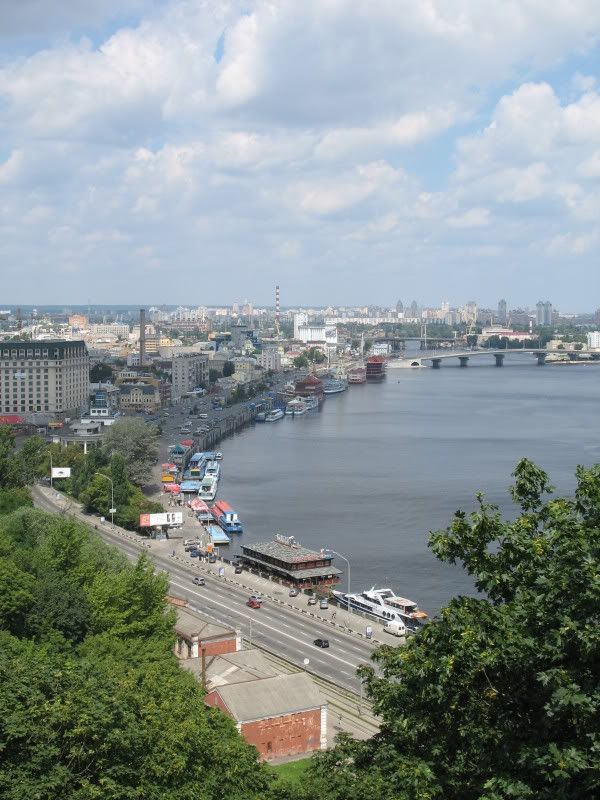 The hydropark is a popular spot for locals and tourists alike.

St. Michael's Monastery is one of the most beautiful sights in Kiev. It's blue color is one of the most vibrant things in the city.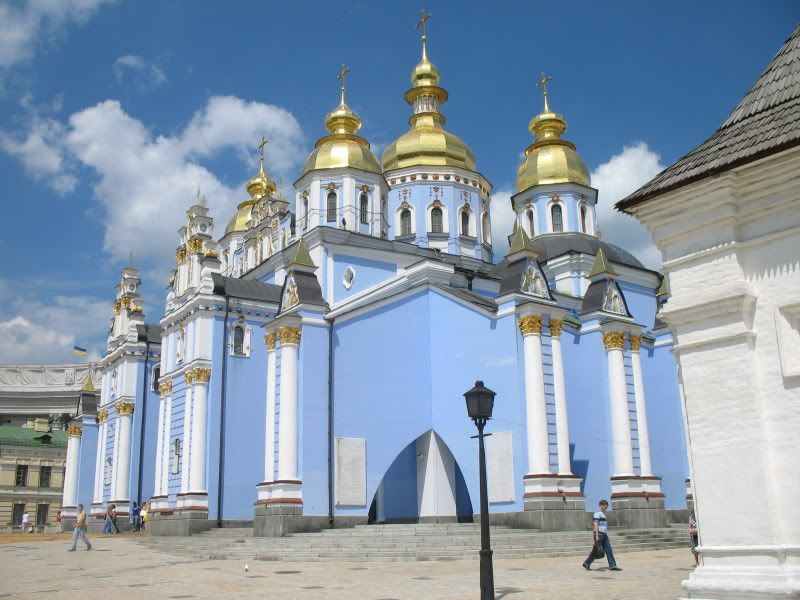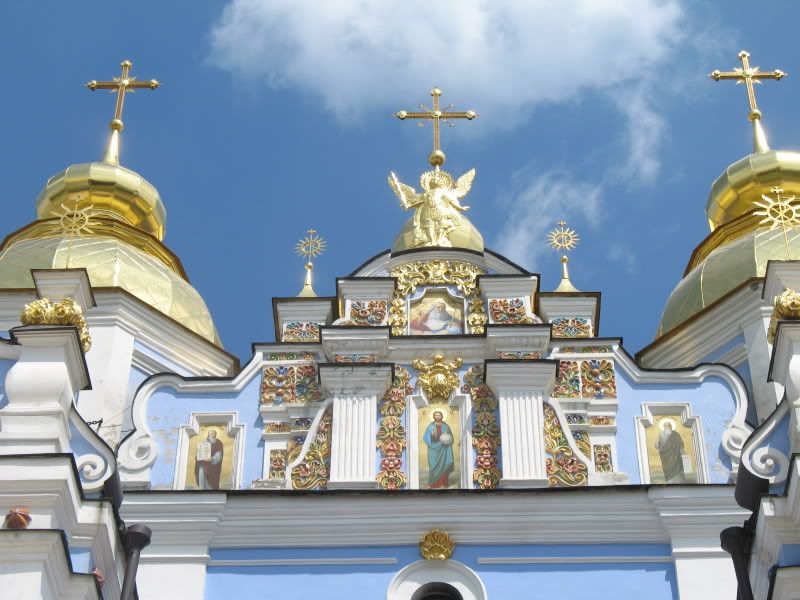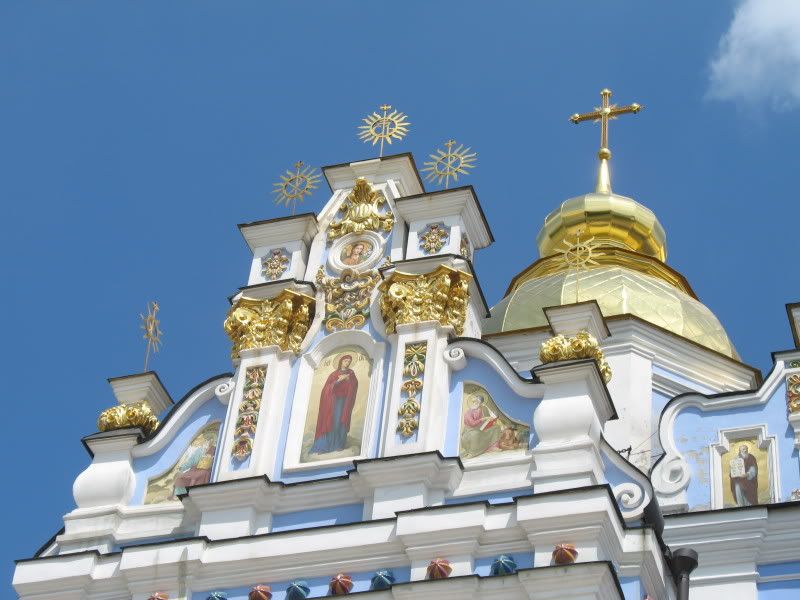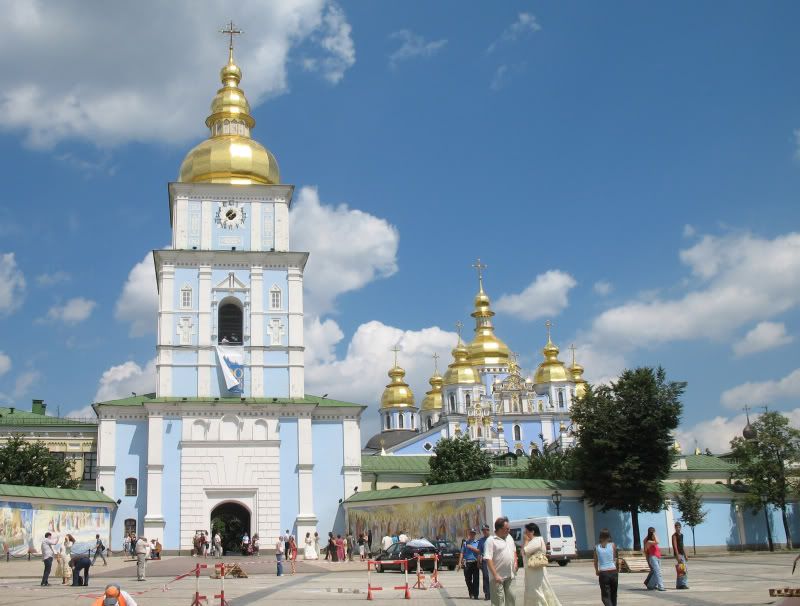 St. Sofia's Church, also called Sofiiskii Sobor or St. Sophie Church, is just down the road from St. Michael's. The photos below feature the bell tower.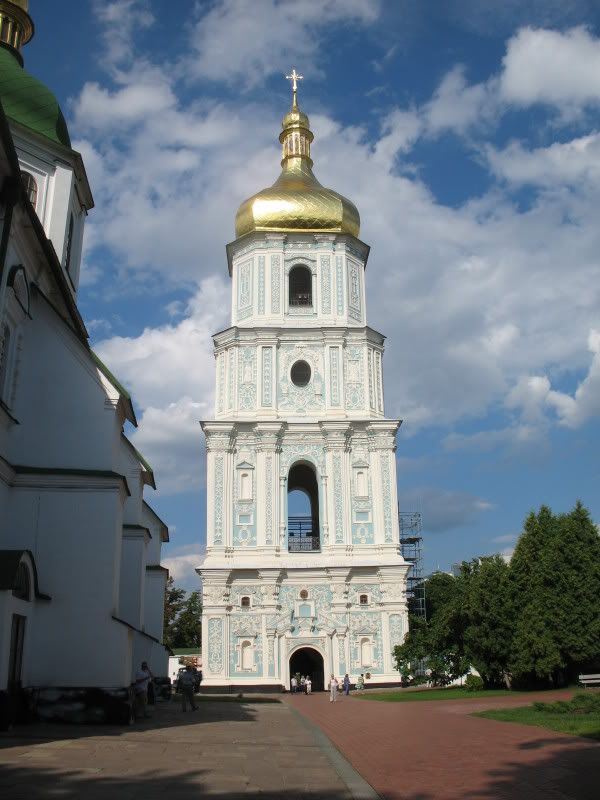 St. Andrew's Cathedral (Andriivska Tserkva) is hard to miss on the famous shopping street, Andriivskii Uzviz (Andrew's Alleyway).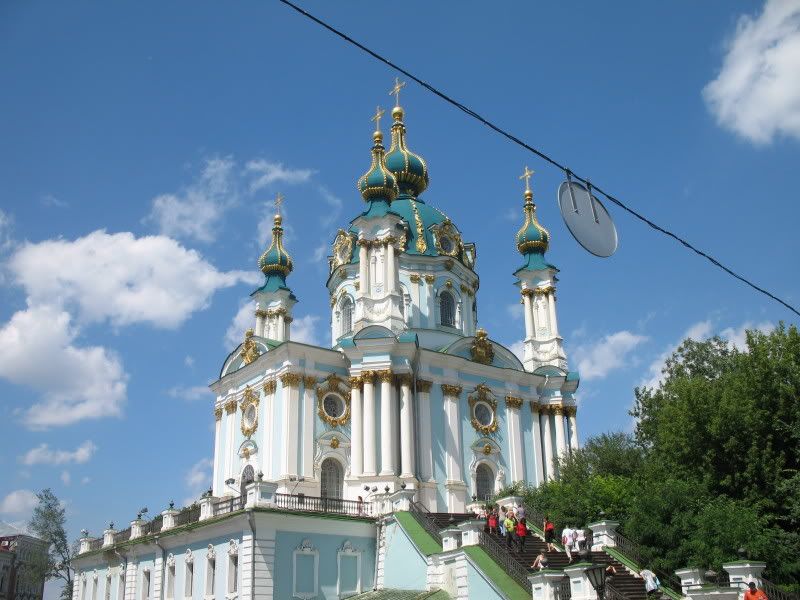 The aforementioned alley is a tourist's dream. The stands went on for something like a half a mile!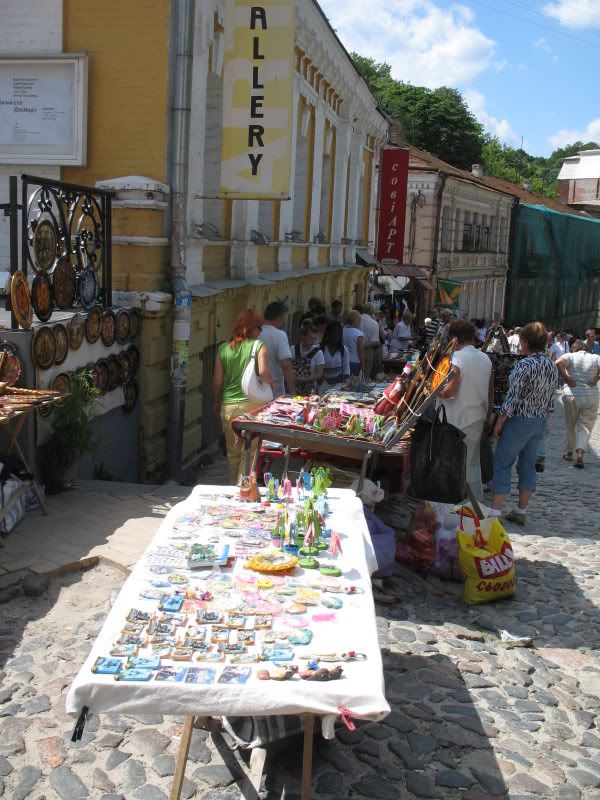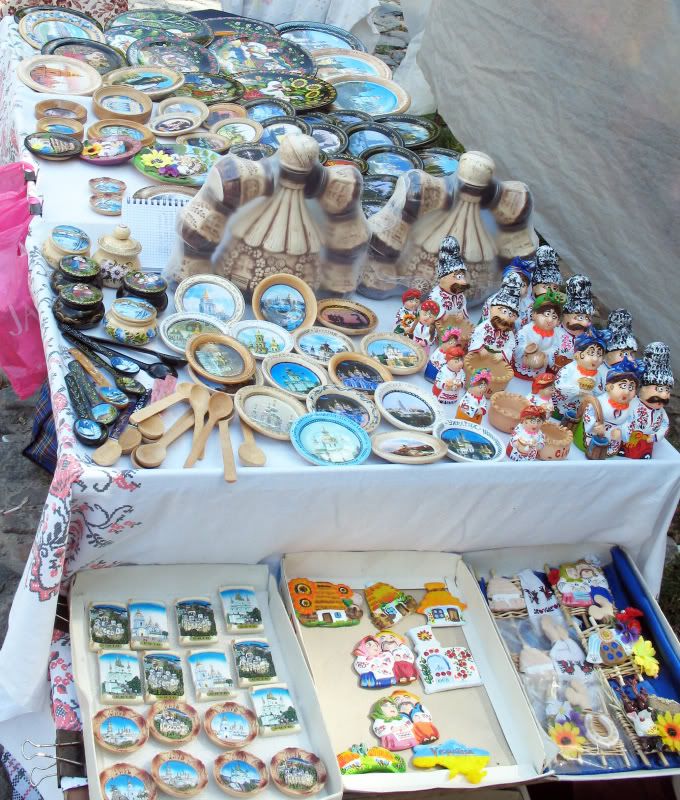 Our hotel, Hotel Slavutich, offered great views.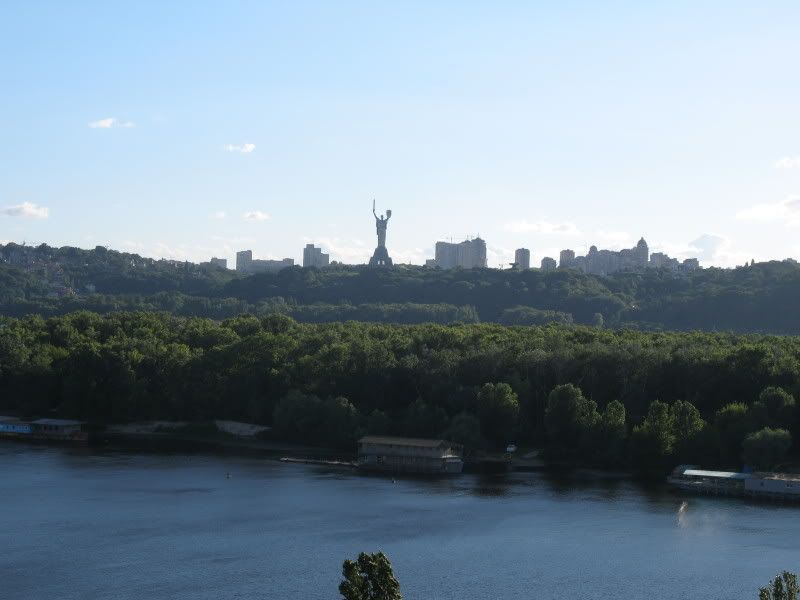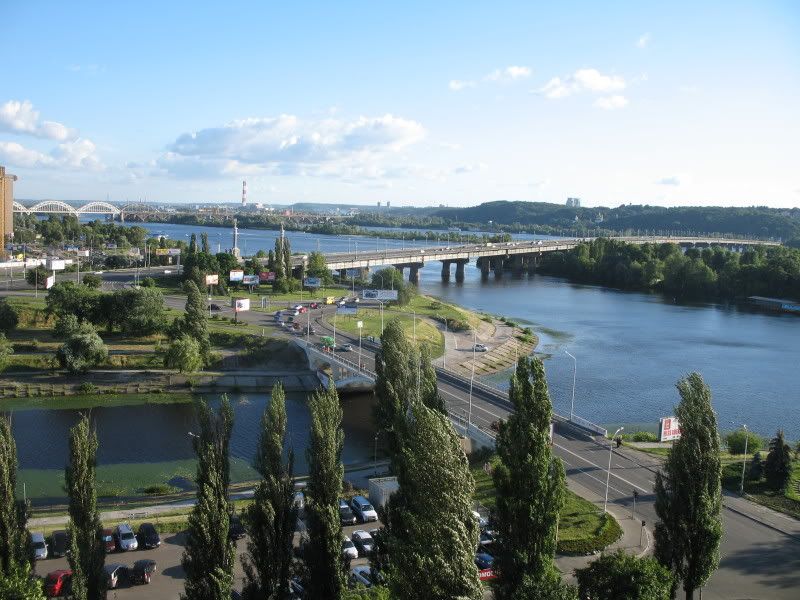 But, it's cleanliness left much to be desired. Typical of most Ukrainian hotels, the bathtub had not been cleaned for months.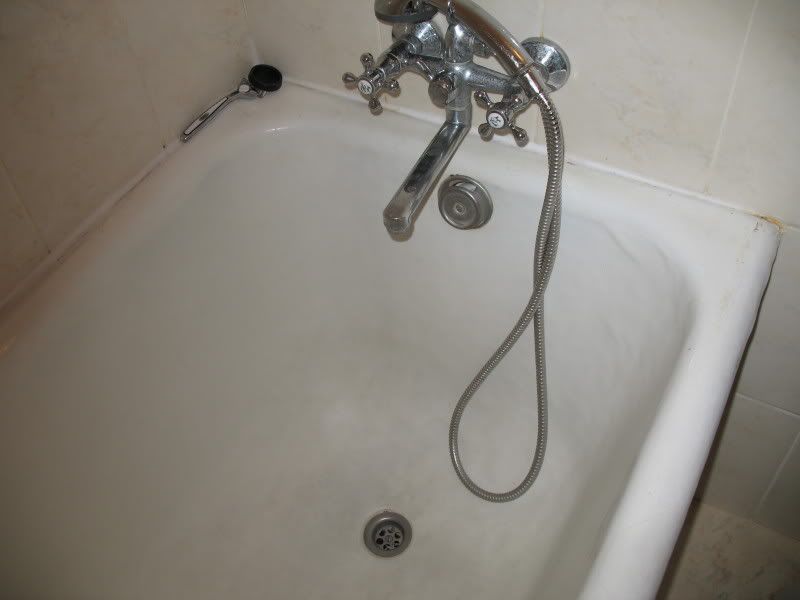 After seeing the statue from afar, we decided to go see it. Called Rodina Mat' (Mother Nation) it is the central figure in the National Museum about the History of the Great Patriotic War (that would be WWII to us- the Soviets called it the Patriotic War).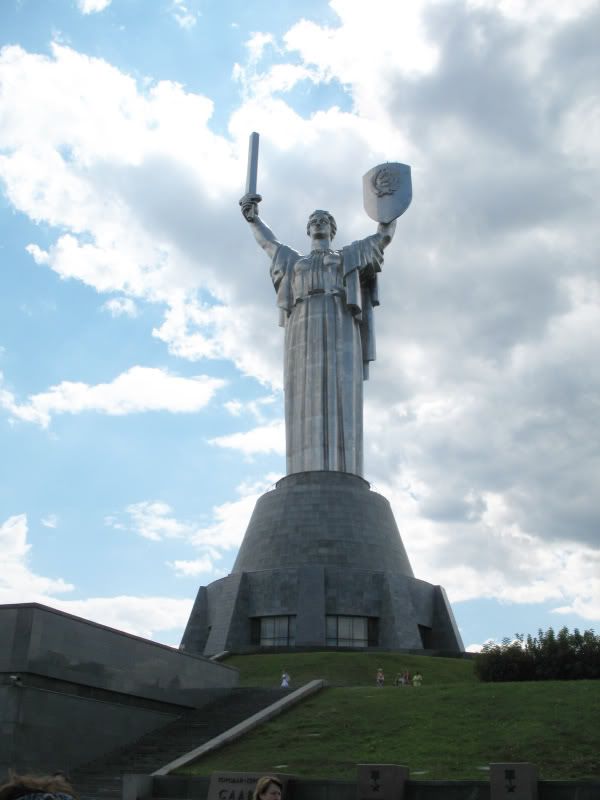 The statue was surrounded by Soviet statues and WWII relics.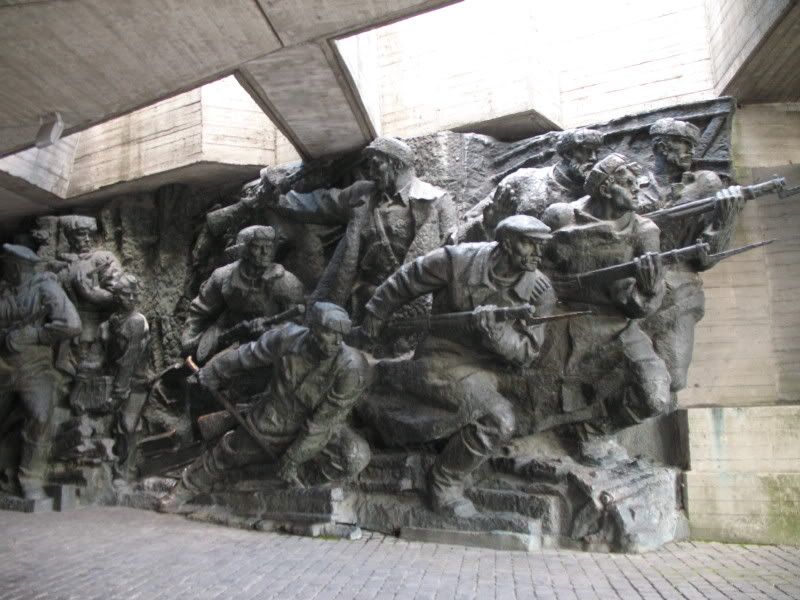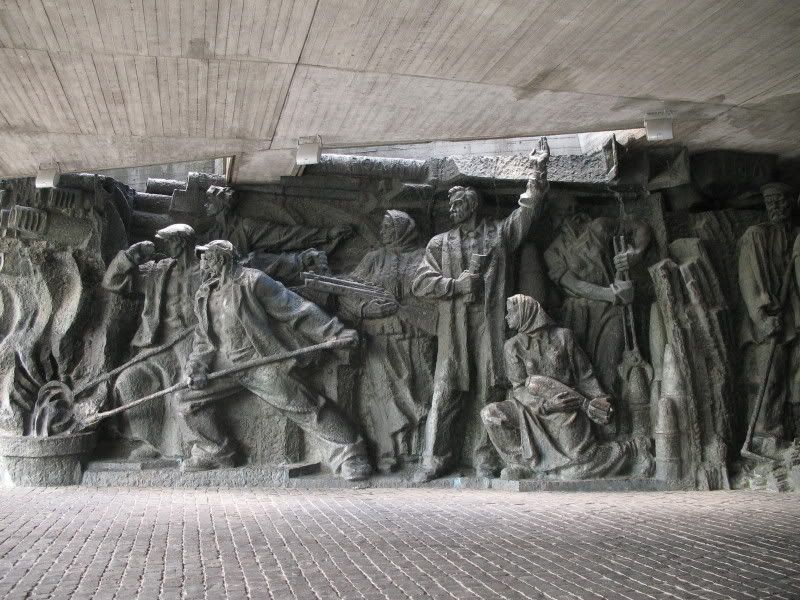 Kievo-Pecherska Lavra (the caves monastery) is the size of a college campus. It's located in one of the oldest parts of Kiev and is one of the most famous sights to see in the city.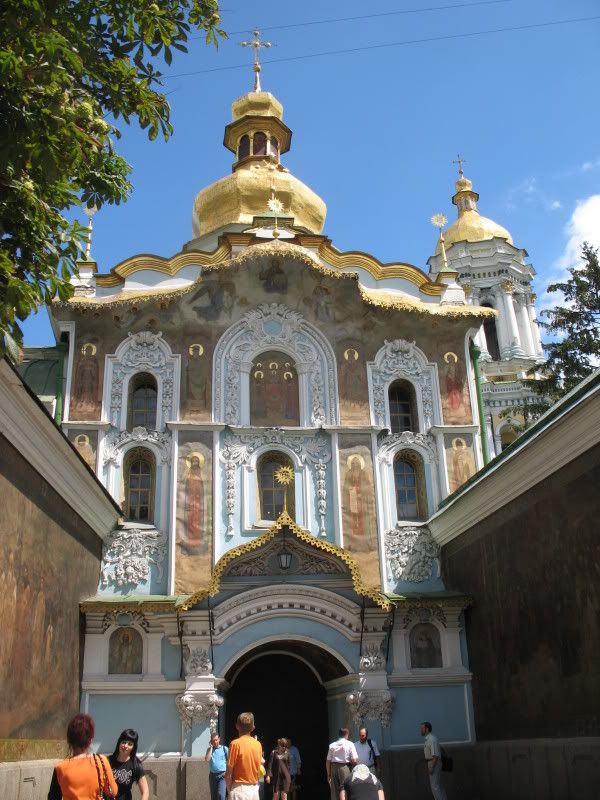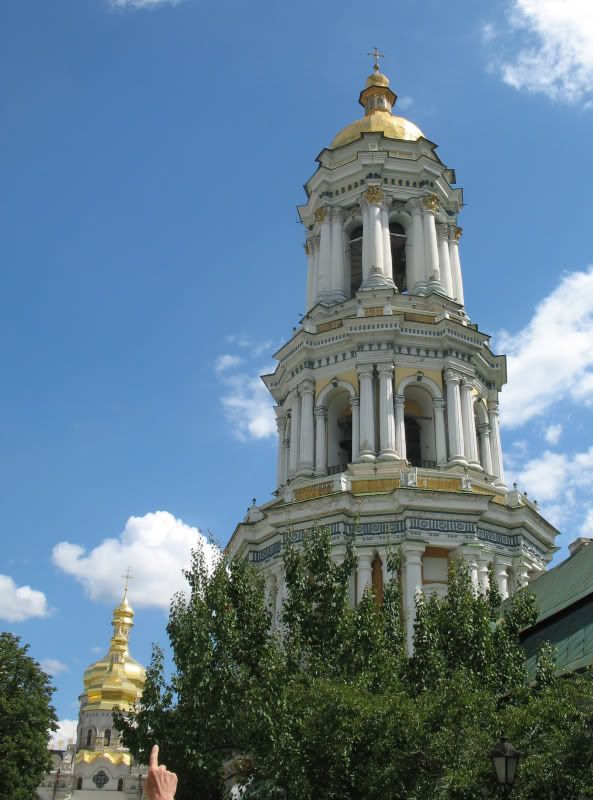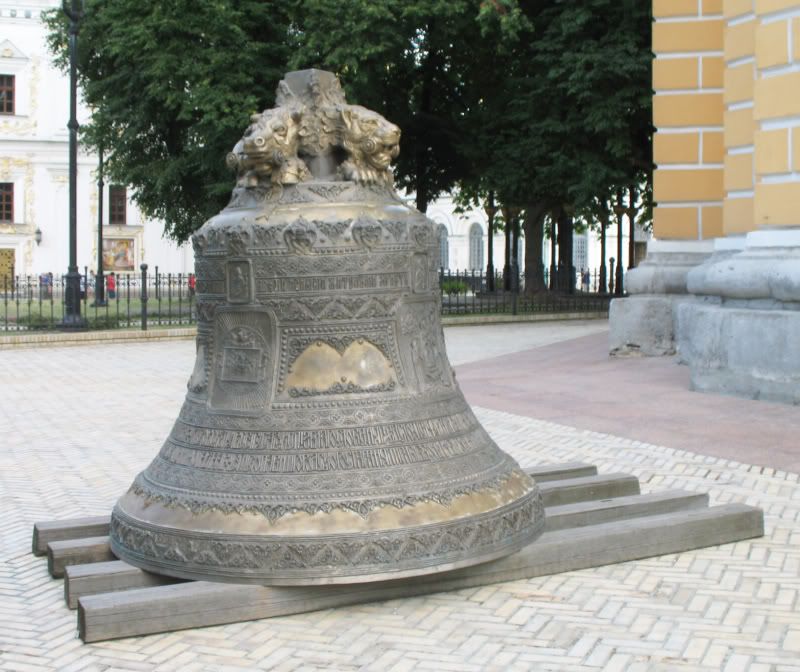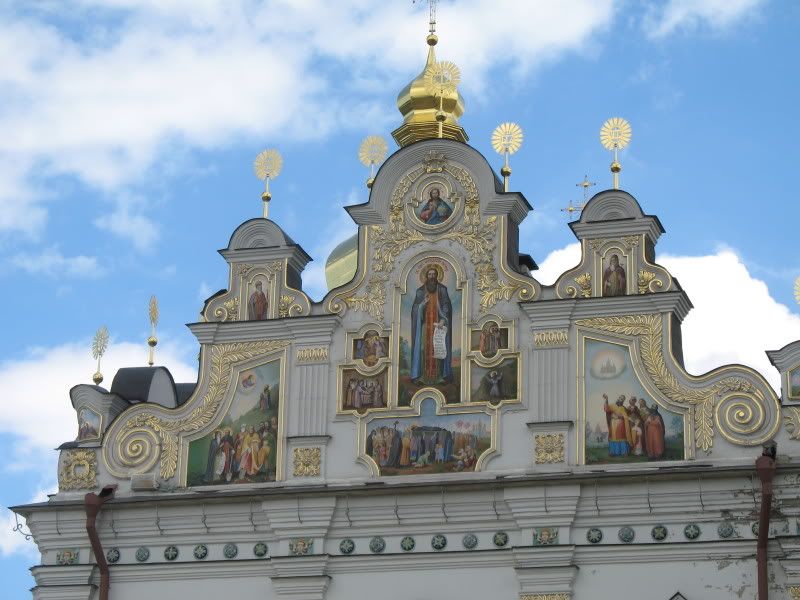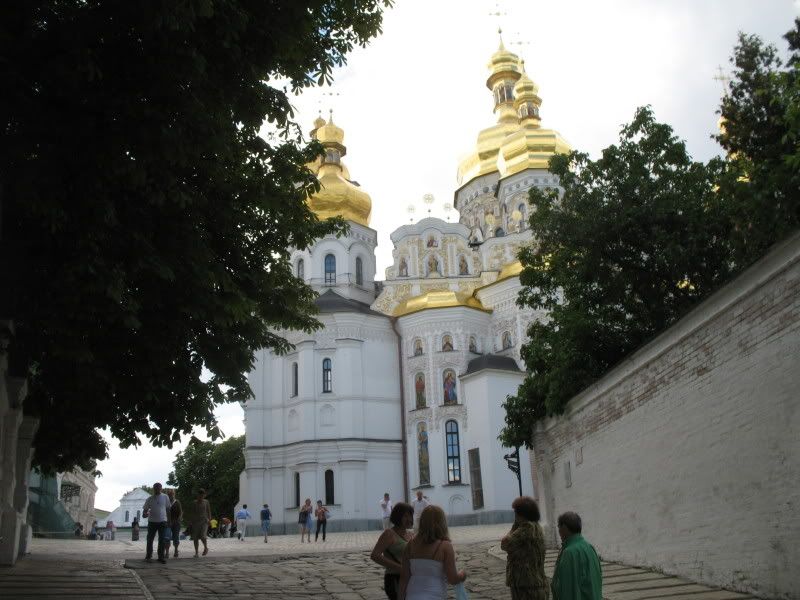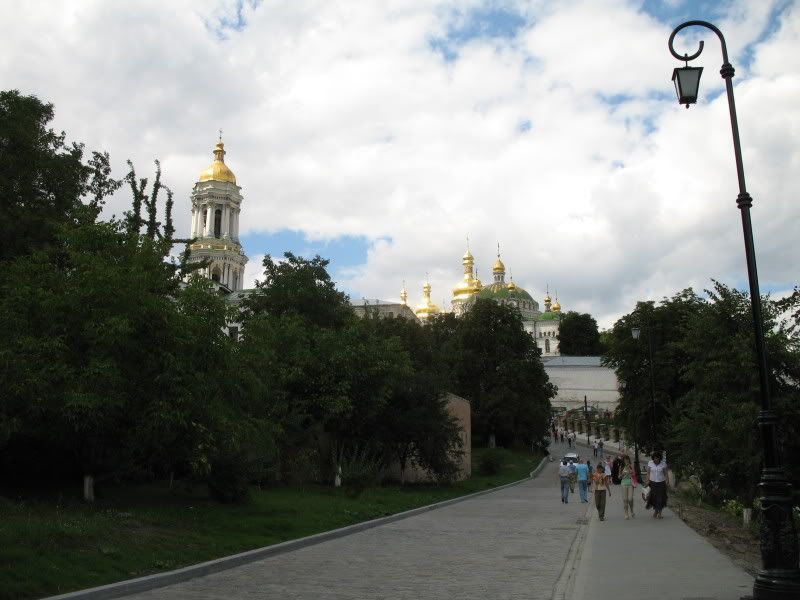 Kiev is an interesting place to explore…..
Like Moscow, they have a very efficient subway whose tunnels leading below the ground seem to never end.

Post-boxes are easy to find, but post-cards are not. Many locals don't even know what a post-card is.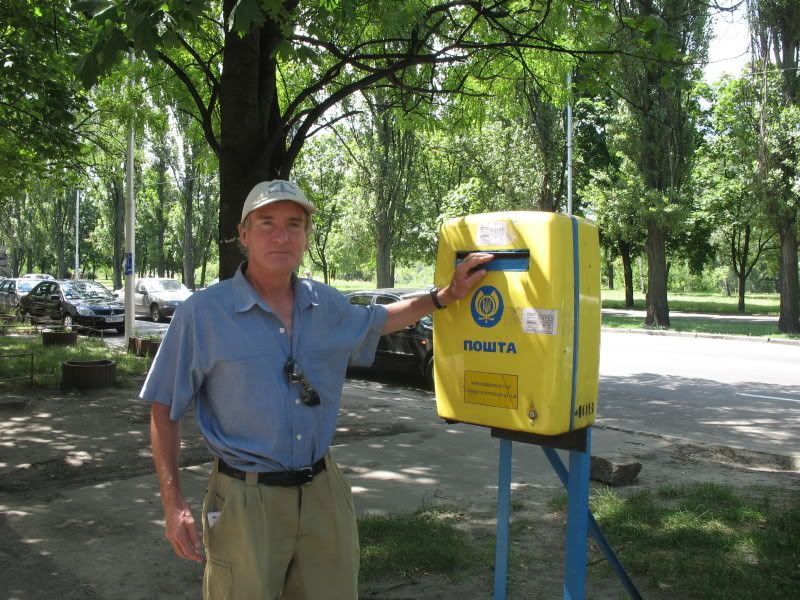 Once the third biggest city in Russia, Kiev is making a name for itself as one of the up and coming places in Eastern Europe.
Coming soon… more pictures from Ukraine!
Aside from skiing, biking, and all outdoorsy things,
Brittany Walker Konsella
also loves smiles and chocolate 🙂 Even though she excels at higher level math and chemistry, she still confuses left from right. Find out more about
Brittany
!
Latest posts by Brittany Walker Konsella (see all)