Congratulations to Frank!
(Last Updated On: May 18, 2008)
Originally posted on my Thrillhead Blog
On Saturday, Frank and I skied Harvard. This completed Frank's fourteener project, making him the fourth person (behind Lou Dawson, Chris Davenport, and Ted Mahon) to ski all of Colorado's fourteeners. Congratulations Frank!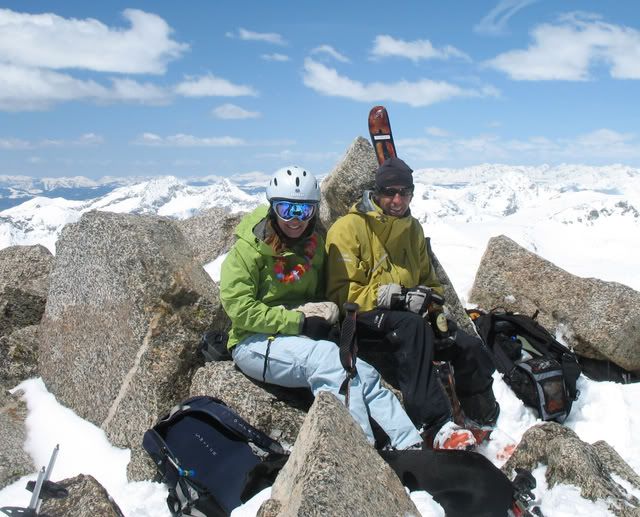 I first met Frank shortly after he [url=http://www.wildsnow.com/?p=243]skied Pyramid[/url] two years ago. His (and his friends) ski of Pyramid drew my attention. I knew at the time that I wanted to ski all of the fourteeners, and I was looking for good partners to help me with my effort. I asked Frank if he wanted to ski all of the fourteeners. Here's his response:
"I am not really sure that I want to ski them all…. Some of the 14ers were boring the first time around. Snow or not, the thought of skiing Bross or Sherman isn't too exciting, and I've already climbed them all, so I guess I'm just not sure. Jeremy and I have talked often about it, though. If we get Capital next spring, he will definitely be going for it, since the 2 hardest (technical-wise) will be done. He makes a good point- if we both have Pyramid and Cap, why not go for the rest? We'll talk more….."
I invited Frank on a trip to Castle over Memorial Day weekend. This was the first of many fourteener trips that would be made by the two of us. Frank supported me whole-heartedly on my fourteener project. Until, finally, somewhere part way through the spring of 2007, he'd done so many fourteeners that it became his project! He took the project on with a vengeance, tackling the majority of his fourteeners in just the last year.
Congratulations, again, to Frank. What a wonderful accomplishment! And thanks, also, to him, for being a fantastic fourteener partner!
Aside from skiing, biking, and all outdoorsy things,
Brittany Walker Konsella
also loves smiles and chocolate 🙂 Even though she excels at higher level math and chemistry, she still confuses left from right. Find out more about
Brittany
!
Latest posts by Brittany Walker Konsella (see all)