(Last Updated On: April 28, 2008)
Originally posted on my Thrillhead Blog
The Elk Range hosts the most difficult fourteeners in Colorado. This range is not one to be taken lightly. The recent high pressure that has entered Colorado and a stable, deep snowpack have opened up a perfect window of opportunity for these peaks to be climbed.
Victory #1- Capitol
Many of the Elk peaks do not fall easily. Sometimes it can take several attempts for people to find their sweet success. But success is ever so sweeter as the number of attempts grows. Capitol is one of those peaks.
On Sunday, [url=http://thrillheadcreations.com/forum/weblog.php?w=3]Frank[/url] and a crew of four others (Pete Sowar, Sean Crossen, Chris Webster, and Pam Rice) headed out to set up their base camp for yet another Capitol attempt. I am unsure how many other attempts Frank, Pete, Chris and Sean have made on Capitol in the past. But, I do know it was multiple attempts each. All of them were ready to get this peak in the past.
For those of you who are not familiar with Capitol, it is known to be the most difficult fourteener in Colorado. There are only two known prior descents: 1) Lou Dawson (unsure of the year) the fourteener man himself and 2) Chris Davenport and [url=http://www.wildsnow.com/?p=243]Neil Beidleman[/url]in 2006.
Last week, Ted Mahon and Al Beyer skied Capitol via a [url=http://www.wildsnow.com/?p=1096]new route[/url]. Also, [url=http://www.tetongravity.com/forums/showthread.php?t=121021]Andy Dimmen and Jordan White [/url]attempted to ski Capitol and opted to turn around not far from the summit. Al
Here are a few pictures from their trip report to give you a better idea of the severity of this peak: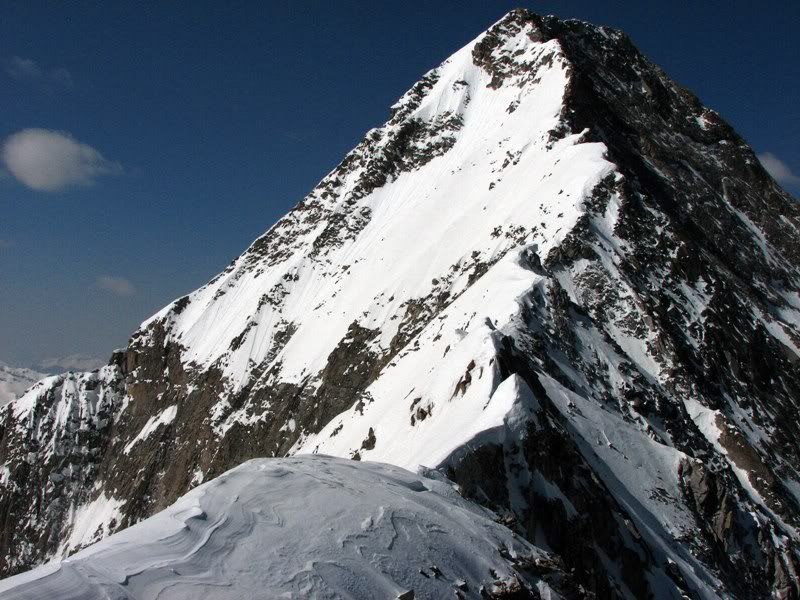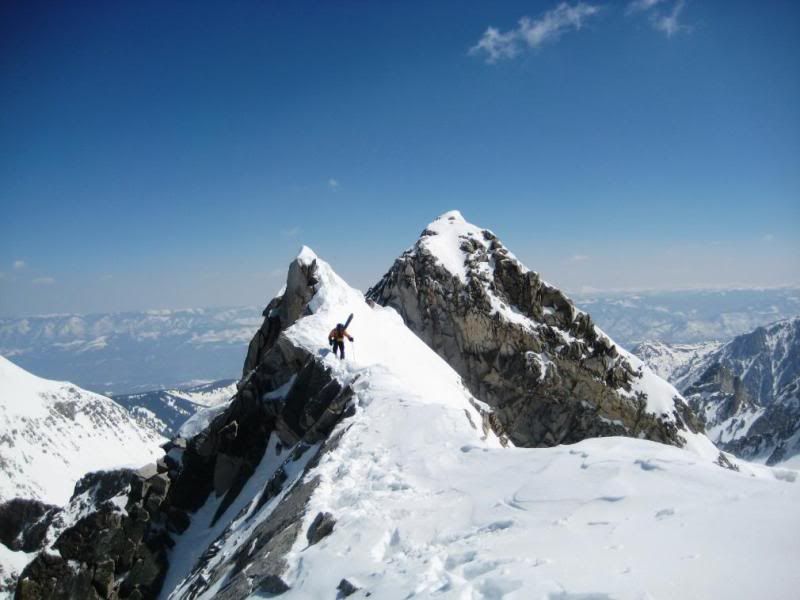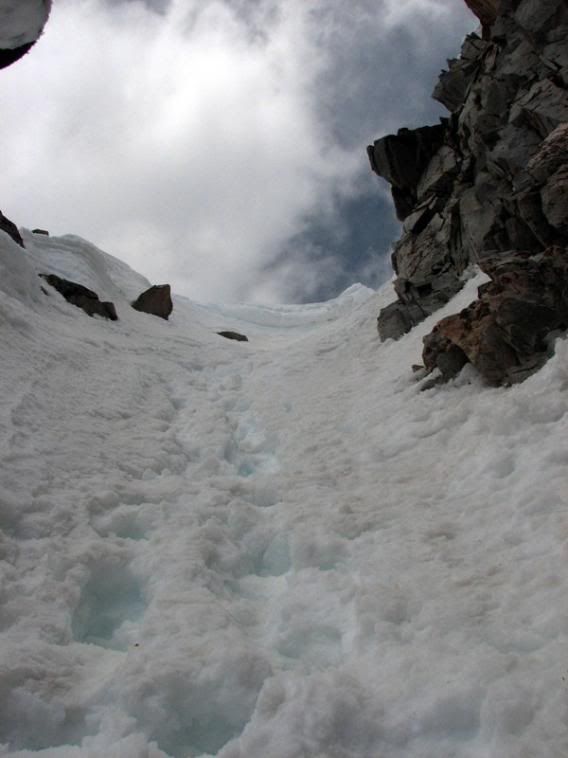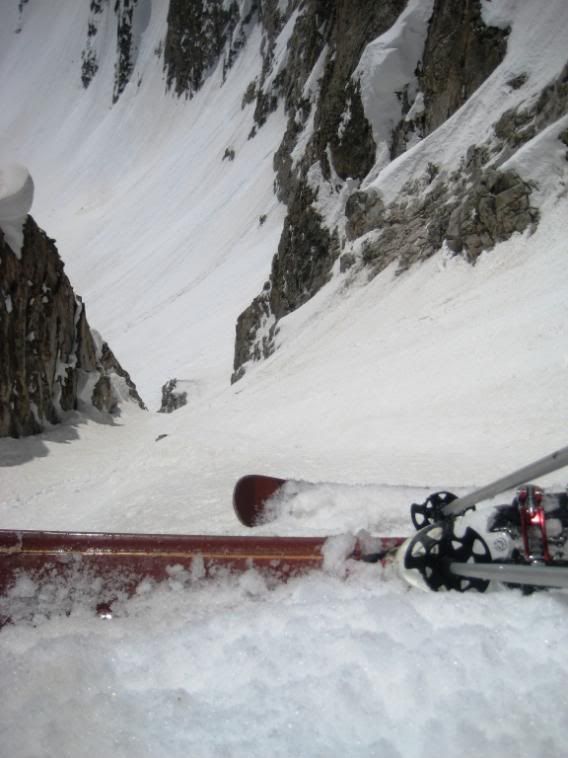 Today, ski mountaineering history has been changed. Just hours ago I received a phone call from Frank, standing on a pass after skiing Capitol. I would like to congratulate the following for their successful ski of Capitol via the Secret Chute (a new route developed by Pete Sowar): Frank Konsella, Pete Sowar, Chris Webster, and Pam Rice.
I know this is a huge victory for Frank. He has attempted this peak three other times, only to be turned around each time. I know this peak has made him suffer, both mentally and physically, as you can view in this [url=http://thrillheadcreations.com/forum/weblog_entry.php?e=138]blog entry[/url]. His success on Capitol leaves him with only five fourteeners left to ski: Long's Peak, Windom, Sunlight, Eolus, and Harvard.
I know Capitol was a huge personal success for Pete Sowar. He has developed more than one route on this peak. His first route was snagged by the Davenport-Beidleman duo in 2006 and named as such. For Pete, this made the thirst for this peak even stronger. A poor snow/weather year in 2007 meant that this peak had to wait another year. I bet the victory was felt sweetest by Pete himself.
With the success of Capitol, Chris Webster has less than 50 fourteeners to ski as well.
And I would like to give a special kudos to Pam Rice, the first woman to ski Capitol. What an accomplishment, and I hope to follow shortly in her footsteps. I cannot think of a better woman than Pam to have been the first to ski Capitol.
Victory #2 – North Maroon
Victories come on different levels. I had my own victory this weekend when I skied North Maroon on Saturday.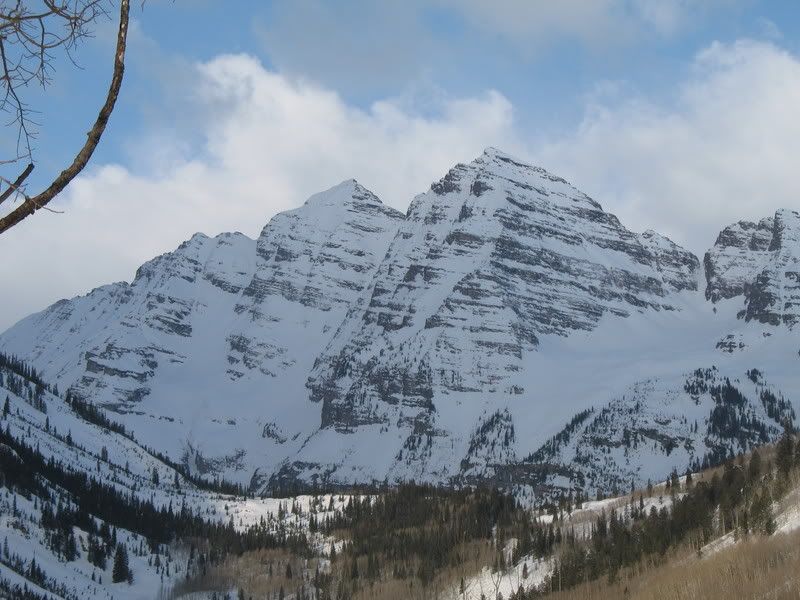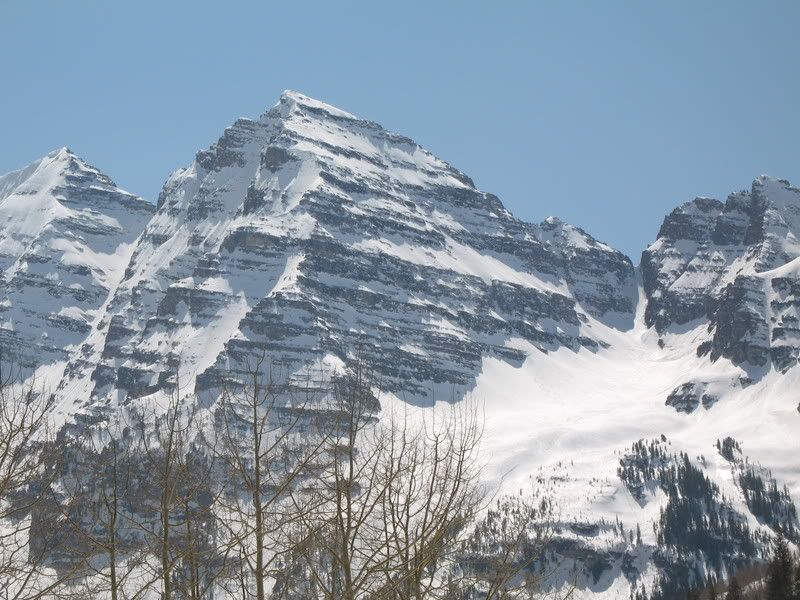 Last June, I gave North Maroon my first attempt. But, when I started up the first couloir on the North Face, I was immediately on edge, and trembling. The face was iced over- to the point where only the front points of my crampons and only about 1/2 of an inch of the pick on my ice axe would dig into the ice. Frank looked down at me and asked how I was doing. I said, "I'm scared. Really really scared." He said, "Okay, I think it's time for you to turn around." No argument there. North Maroon would have to wait.
But I didn't know how long it would have to wait. After feeling humbled by this peak, I wasn't sure if my skills were up to tackling it this year. But, after my friends Dave, Andy, and Mark skied it last weekend and said that it was in good condition, I regretted not joining them at the time. I was so elated when Joe emailed me, asking if I would join him on North Maroon this weekend. Andy (who had skied the peak the weekend before) also joined us.
It's amazing how conditions can make a peak seem so difficult. And it's amazing how much easier a peak can seem in good conditions. The same couloir that made me turn around last June was a cake walk through some powdery yet consolidated snow. I had my own success on North Maroon Saturday, and the success was even sweeter since I was turned down last June. Check back for a trip report in the next day or two.
Victory # 3- Pyramid
Some victories come easier than others. Congrats to Joe and Andy. The two of them skied Pyramid (another difficult Elk peak) on their first attempt on Sunday, after joining me on N. Maroon the previous day. Congrats for standing in the face of such a difficult challenge and succeeding! I'll be posting a link to their trip reports soon as well.
Lines, Lines, Everywhere Lines
Lines the the Elks are falling like crazy. I know I have only included a few of the major accomplishments done in the Elks in the last few weeks. But, congratulations to all who are achieving great things on this fabulous peaks!
Aside from skiing, biking, and all outdoorsy things,
Brittany Walker Konsella
also loves smiles and chocolate 🙂 Even though she excels at higher level math and chemistry, she still confuses left from right. Find out more about
Brittany
!
Latest posts by Brittany Walker Konsella (see all)