3 Podcasts Every Backcountry Skier Should Listen To
(Last Updated On: November 26, 2018)
It's no secret. Podcasts are becoming ever more popular. And there's a podcast for just about every subject that you could think possible – including backcountry skiing. I've been listening to podcasts for nearly a decade. At first, some of the more adventure-centered podcasts posted a few episodes about skiing, but there were no podcasts devoted only to skiing. Only in the last few years have they really gained enough popularity to start spanning into the realm of the sport that I love the most.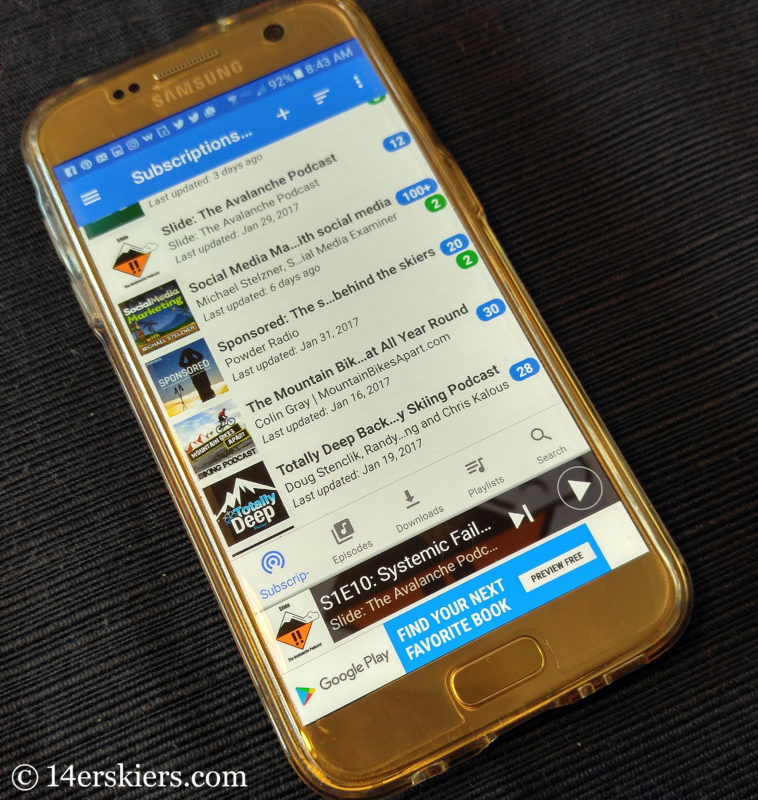 Podcast are growing and it seems like many new ones pop up every month. I've listened to many of the skiing-related podcasts and have narrowed the best down to just three. Sure, there are more out there, but these three are the ones that I think are the best and worth spending time listening to. I listen to these regularly, and I hope that you will be inspired by them too.
The three podcasts every backcountry skier should listen to are:
Powder Radio – Sponsored

Brought to you by none other than Powder Magazine, Powder Radio was in my opinion long overdue. They just started broadcasting in September 2016 – and my thought was "finally a big ski magazine is hosting a good podcast". Although they've only been in the game a short time, their episodes have been fantastic. Currently hosted by Mike Powell, this interview-based podcast has featured episodes with long-time skiers like Wayne Wong and Glen Plake, as well as new generation skiers like Caroline Geich, Lexi du Pont, and David Lesh. They even did an episode with Greg Stump, the ski film director who changed the direction of skiing in the late 80's. Although not backcountry oriented, this podcast is the best skiing-related podcast I have found.

Note: In May 2017, the Sponsored podcast was discontinued by Powder Magazine. But the host, Mike Powell, has given rebirth to the show as The Powell Movement. So, be sure to check it out! A little less censored than the show above, this one is sure to entertain!

Slide: The Avalanche Podcast

Slide was another podcast that just started this fall. Hosted by Silverton's Doug Krause, Slide discusses all things related to avalanches. Doug spends a lot of time discussing things like heuristic traps, and how the dynamics of a group can impact people's decisions in avalanche terrain. His discussions are not interview-based, but rather like a magazine article in-print. The information he presents can be a bit intense at times, and I've had to listen to some episodes multiple times to really understand them fully. But, even if you don't do that, I promise you'll take away something from each episode. The best parts of Doug's podcast are his anecdotes, where he brings avalanches and decision-making to life.

Totally Deep

Based out of Carbondale, CO, Totally Deep is hosted by Doug Stenclik, Randy Young, and Chris Kalous of the Cripple Creek Backcountry shop. This podcast features backcountry skiing but occasionally has an uphill focus. Really, this podcast jumps all over the place – some episodes are interviews, some are just banter. And don't expect a regular posting of podcasts either. They broadcast when they have something interested to do a podcast on, which means they could go months between episodes. These guys have interviewed people like Aaron Carlson (Friends of CAIC), Chris Davenport, Lou Dawson, Glen Plake, and Ted and Christy Mahon. They even held a rather rowdy episode at the Brick Oven here in Crested Butte. Two things can be guaranteed with these guys – you'll get some good laughs while talking about skiing, and expect them to drink a lot of beer. 🙂
Crested Butte is Home
Since this post was first published, Frank started his own podcast- Crested Butte is Home. While this podcast isn't specifically ski-related, many of the episodes are ski or bike related (or honestly, they're applicable to mountain towns everywhere). As one reviewer stated, "The mountains catch your attention when you arrive, but the people are really the secret behind the uniqueness of Crested Butte. In this podcast Frank meets up with various CB residents and lets them reveal how they got there, why they stay, and what makes it what it is. Highly informative and enjoyable." For more on Frank's podcast and links to the show, visit this 14erskiers post and read more deeply into one of the episodes.
But, wait! What's a podcast anyway?
Some of you may have heard of "podcasts" but don't really know what they are. Podcasts are a type of digital radio. Usually they are in the format of "talk-show-radio". But, instead of listening to them on your radio, you can listen to them on your computer or cell phone. Back in the day before cell phones were as "smart" as they are now, I used to download episodes onto my computer and then transfer them to my phone and then listened to them with my music player. But now, you can download podcast players which makes it all the more easy to search for a podcast, subscribe to it, and even download specific episodes. iTunes can be used to search for podcasts on iPhones. But Android has many more podcast player options. Stitcher is known to be the most popular Android app for podcasts, but I had enormous problems with it freezing in the past – plus I thought that the user interface was pretty poorly designed. So, now I prefer Podcast Republic.
Now its your turn
I've told you my favorite backcountry skiing podcasts, so now it's time to open it up to you. What ski podcasts have you found that you enjoy? Please share them with us!
Aside from skiing, biking, and all outdoorsy things,
Brittany Walker Konsella
also loves smiles and chocolate 🙂 Even though she excels at higher level math and chemistry, she still confuses left from right. Find out more about
Brittany
!
Latest posts by Brittany Walker Konsella (see all)
Summary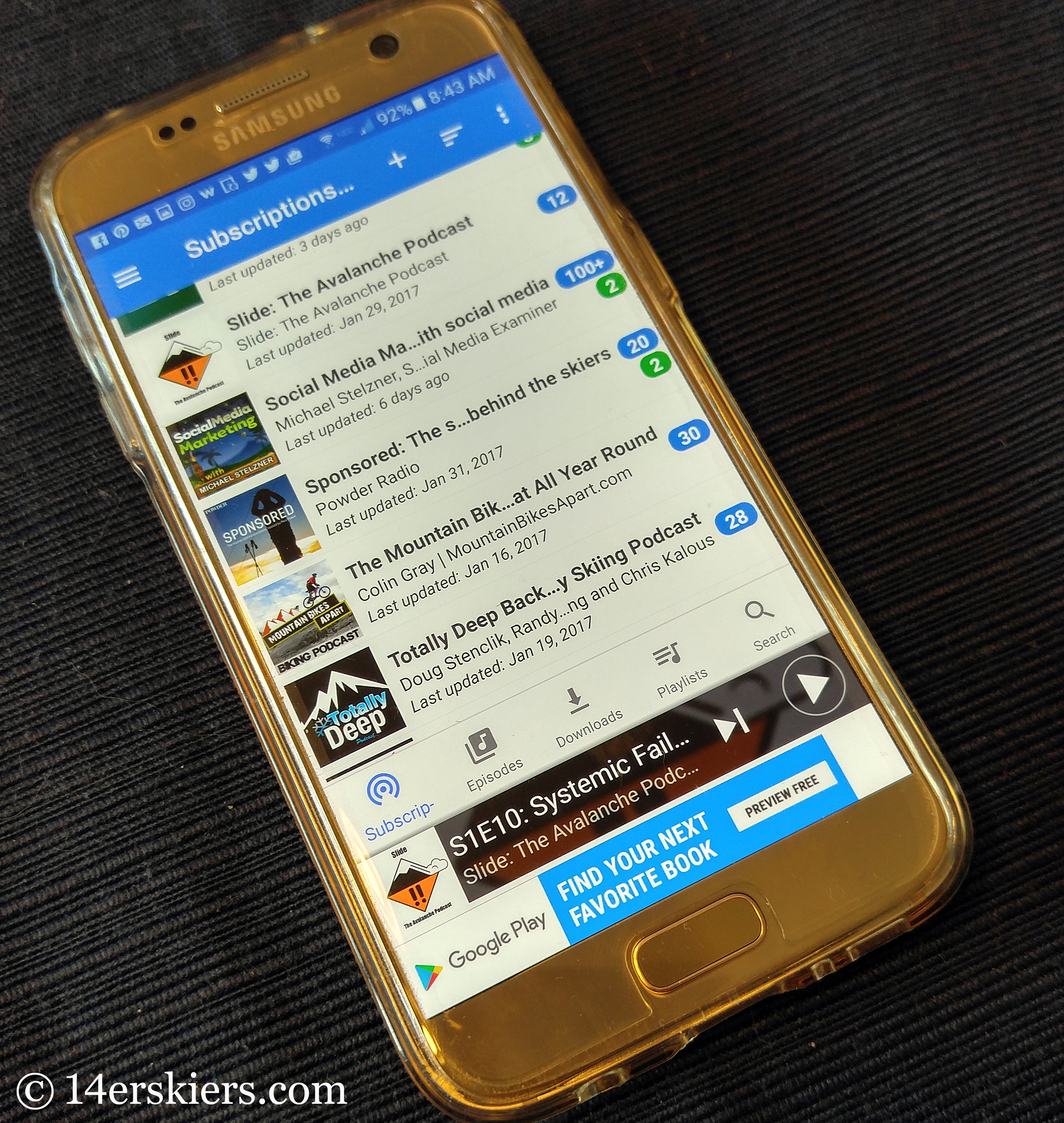 Article Name
3 Podcasts Every Backcountry Skier Should Listen To
Description
With new podcasts popping up every month, it's hard to keep up to date. These are the 3 best podcasts that every backcountry skier should listen to.
Author