Gear Review: Intuition Liners
(Last Updated On: December 13, 2016)
Both Frank and I are firm believers that boots are among the most important part of our backcountry skiing kit. We spend countless hours in our AT boots each season and need them to be both comfortable and lightweight for our ascents as well as stiff enough for dependable performance on steep descents.
My feet don't typically fit the normal mold of a stock liner, especially for a boot that I wear more than any other footwear that I own and sweat in incessantly. I've relied on Intuition Liners for several years, over several models of boots to help improve both the comfort and performance of the AT boots I use in the backcountry.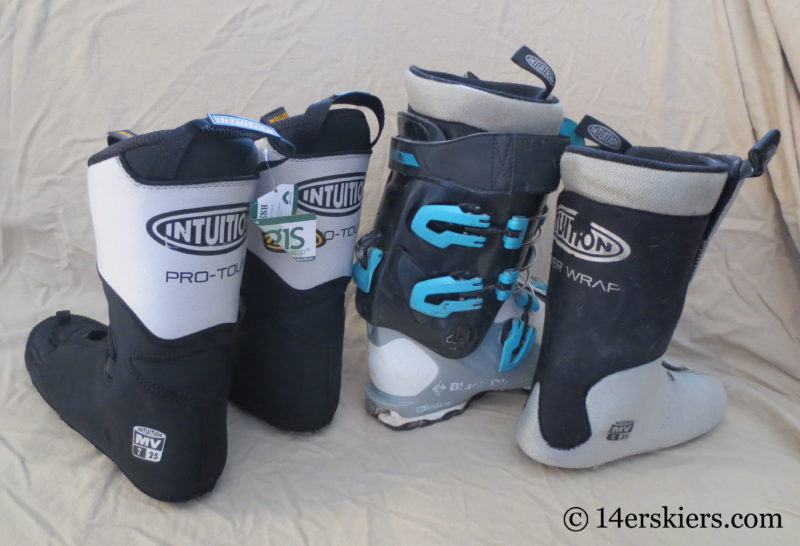 Benefits of Using Intuition Liners
As I have mentioned, I have used Intuition Liners a lot – over 10 years, to be exact. And in 4 different models of AT boots. By now I have a pretty good idea of the benefits they have provided for me in the backcountry. Here's a summary of what I've found:
• Better comfort – While Intuition offers liners that do not require thermo-molding, I have always used ones that are custom-moldable. Using heat, the liner is molded to fit my foot exactly, and can be molded to help relieve pressure points that I typically have on the top of my foot and on the "sixth toe". I also tend to have a narrow heal, which typically slides around in a stock liner. But the molding capabilities of the Intuition Liners help lock my heal in place.
• Decreases weight- While this might not be true of every AT boot, I have always found that the Intuition Liner is lighter than the stock liner provided with the boot.
• Improved performance – I typically use the Power Wrap model of the Intuition Liners which has added to the stiffness of every AT boot that I have owned. The height of the liner allows pressure to be distributed over a greater area, thereby improving stiffness and performance on the descent.
• Warmer – I am not sure exactly what the chemical compound is in Intuition Liners, but it helps keep my feet incredibly warm. I have poor circulation in my feet, yet I rarely have cold feet while using Intuition Liners in the backcountry. For contrast, Zip Fits, another custom liner that I currently use in my alpine/resort boots, are the coldest liners I have ever owned.
• Longer lasting – In the rare case that I am able to use a stock liner, these liners may last me a season if I am lucky before they become too packed out to be useable. On the other hand, Intuition Liners have always lasted at least the life of each of my boot models, if not more. There have been times when I have been able to transfer the liners into a new boot if that boot has been retired.
• Re-moldable – If the first molding didn't quite do the job or the current molding gets worn out – or even if your liner outlasted your boot and you wish to transfer them to your new model, Intuition Liners are re-moldable.
Downfalls
There is really only one downfall I have found with using Inuition Liners. As I mentioned above, they keep my feet extremely warm. This means my feet are prone to sweating in these liners, which in turn produces a horrible odor. Nearly every time I use my boots I take measures to ensure that the liners dry between uses – things like taking the liner out of the boot or using boot dryers. I've used powders and sprays to try to reduce the odor, but have not had much luck.
On their site, Intuition does give some suggestions for how to wash their liners and even lists a couple of products that they recommend for cleaning. I have yet to use these products, but I think I will be trying them in the future!
How Intuition Liners Work
Intuition Liners are made from a proprietary substance that they call "EVA Foam" . There are different varieties of EVA Foam and the compounds are blended together to achieve the desired density to make sure they have the proper elasticity and resilience. In the end, Intuition used close cell foams that have excellent memory (keep their shape once molded), strong, and non-toxic.
Which Liner is Best for You
Intuition offers over 25 different models of liners. Not all of them are for ski boots, but most of them are. Choosing which liner is best for you can be difficult, especially if you have not used their liners before. The model you choose should be based on various things, like how much extra space you have in your shell, if you intend to use a custom foot bed or not, what kind of skiing you plan to do, how much flex you want, and whether or not you have a high arch or a wide foot. Thankfully, Intuition has a guide to help you decide.
For myself, I prefer the Power Wrap because I am usually need to "round up" in size and it usually improves the stiffness of my boot – it is the stiffest model they provide. Additionally, this liner is good for people who need a little better fit in the heel.
Frank prefers the Pro Tour, as he likes the flexibility of movement which he gets with a tongue in the liner. The Pro Tour is offered in three different thicknesses to obtain the right fit with the shell. There are also three different tongue options. While it comes with the Flex Tongue, you can also swap it out for the Power Tongue or Thick Tongue.
Fitting Intuition Liners
After choosing the right Intuition Liner model and the desired size, if the liner is thermo-moldable, then you'll want to get it custom fit. Intuition does provide suggestions for how you can do this at home. But, the better way is to request the help of a boot fitter at your local boot shop – preferably an Intuition dealer. If you purchase your liner at a local shop, then usually custom-molding is also included. But, check with your retailer before you buy. Intuition does offer a list of retailers that offer their products. In our hometown of Crested Butte, we recommend that you get them from Crested Butte Sports (LINK).
The Wrap on Intuition Liners
While Intuition Liners have caused my boots to produce an extra-aromatic odor, I have found that the benefits they have provided greatly outweigh this one downfall. The improved comfort and performance, decreased weight, and increased durability have allowed me to better enjoy my time in backcountry skiing. Currently, Intuition Liners range in price from $85 to $200, but they are well worth the additional purchase!
Aside from skiing, biking, and all outdoorsy things,
Brittany Walker Konsella
also loves smiles and chocolate 🙂 Even though she excels at higher level math and chemistry, she still confuses left from right. Find out more about
Brittany
!
Latest posts by Brittany Walker Konsella (see all)
Summary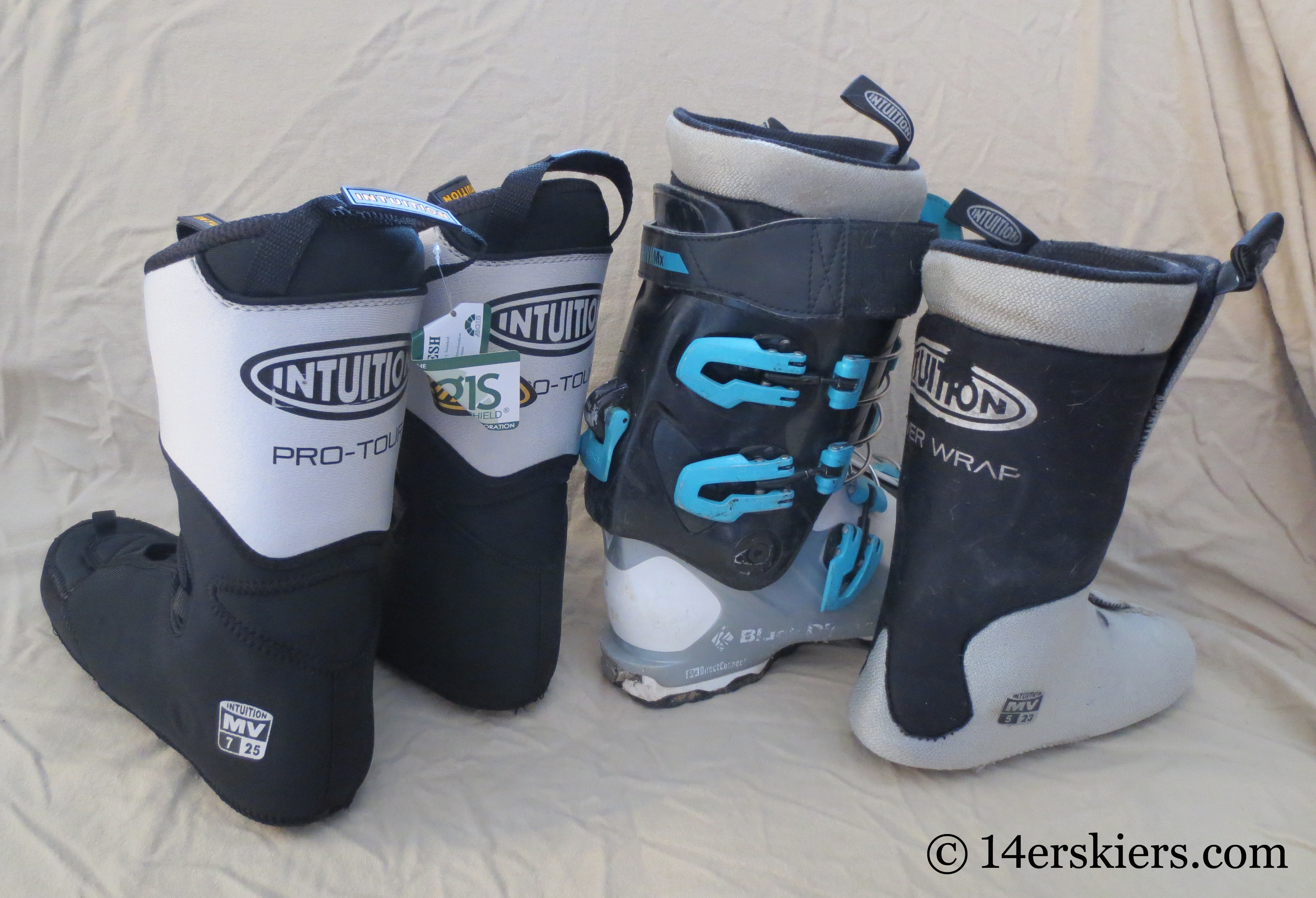 Article Name
Gear Review: Intuition Liners
Description
The thermo-moldable Intuition Liners can improve comfort, performance, stiffness, warmth, and durability of backcountry ski boots.
Author