My Condundrum on Conundrum Couloir
(Last Updated On: August 21, 2016)
It's August, and it's that time of year when many people start to look ahead, dreaming of snowflakes and skiing. For me, I pretty much think of skiing all the time year-round, even though I don't typically ski year round. Which is why this post hurts the most. I won't be skiing this coming winter… or spring. That bites hard into the deepest part of my core. Skiing is my being. It's who I am. It's what I do. Perhaps that's why I waited so long to write the report. Although, I'd like to say it was because I decided to wait until people were having thoughts of skiing again. But in reality, I had a conundrum on Conundrum. And it will be my last ski for a very long time.
The east facing couloir on Conundrum Peak holds snow pretty much year round. I've always wanted to ski it, but for some reason had just never gotten around to it. Well, this year was the year. It was a perfect line for an end-of-June ski! (June 28th to be exact)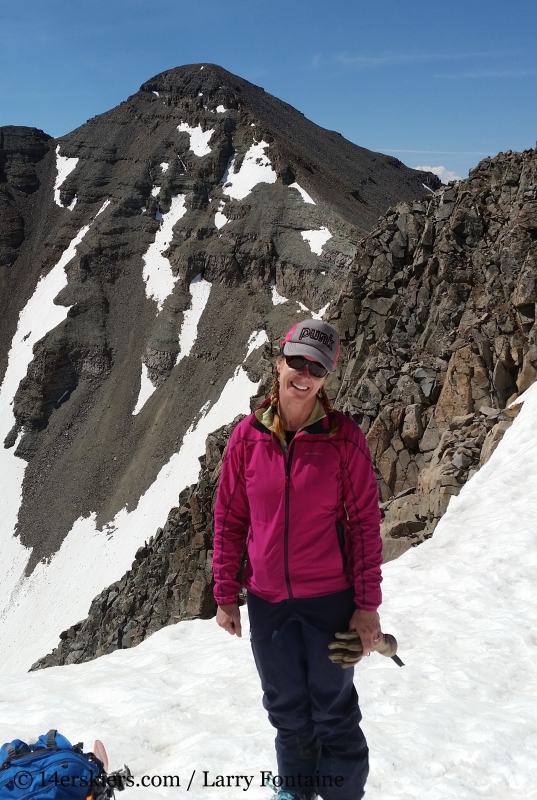 I headed to Conundrum with our friend Larry. At 14.032′, Conundrum Peak is a fourteener, but since the saddle between it and Castle Peak is less than 300′, it technically doesn't count as its own peak. It is "Unranked". Sometimes these rules are a bit silly and arbitrary. But, there must be something in place, or else every little hump near the summit on a fourteener might actually be considered another fourteener.
We drove up the 4WD road toward Montezuma Basin as high as we felt we could. This guy tried to go further just a few days before. He nearly died.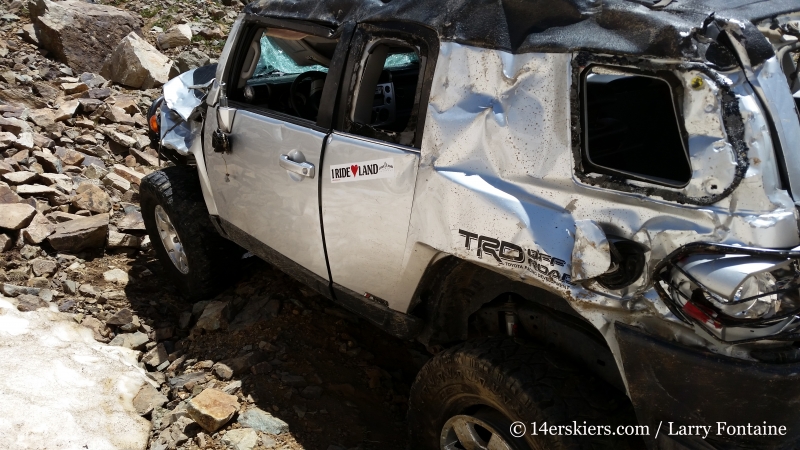 We didn't walk long before making our way to the snow line. Shortly after, we ran into a guy who was walking downhill. I had to do a double-take. Wait? Was he walking on snow with skis on is back? Wait, just one ski? Yep, that's what it was. We stopped and chatted with him. He had gone to ski the Conundrum Couloir early in the morning and found it to be rock-hard frozen. He dropped in anyway, but his G3 Ion didn't hold up, and his ski bounced right off his boots. Where it ended up, he didn't find out. And since we never found it either, our best guess is that it sank in the lake below. Lot's of conundrums going on on Conundrum here. But, we kept going anyway.
By the time we found ourselves climbing Conundrum Couloir, the snow had mostly softened except in a few shaded spots.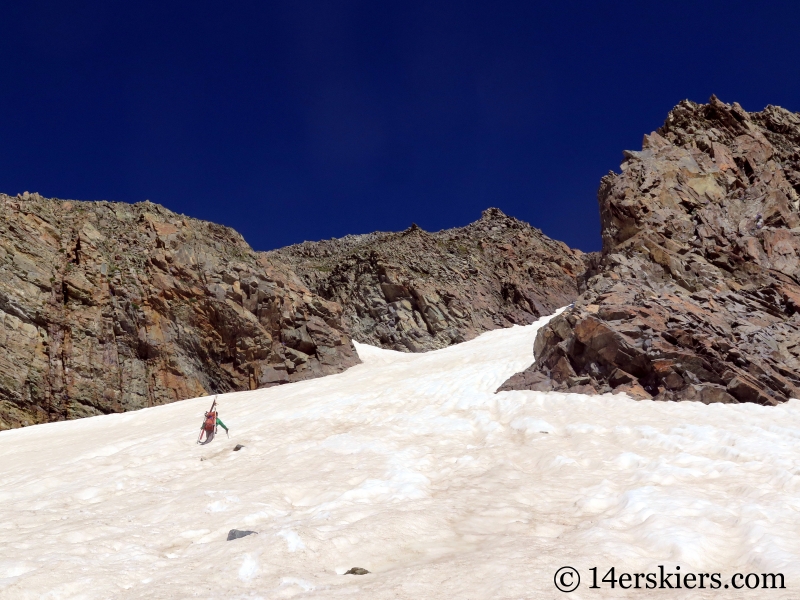 A look over at the north side of Castle Peak and the lake below.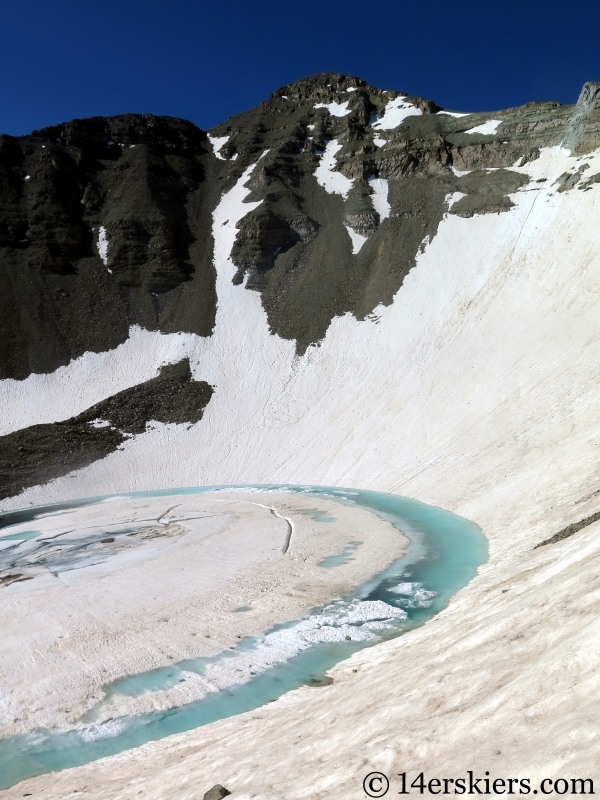 And we climbed on.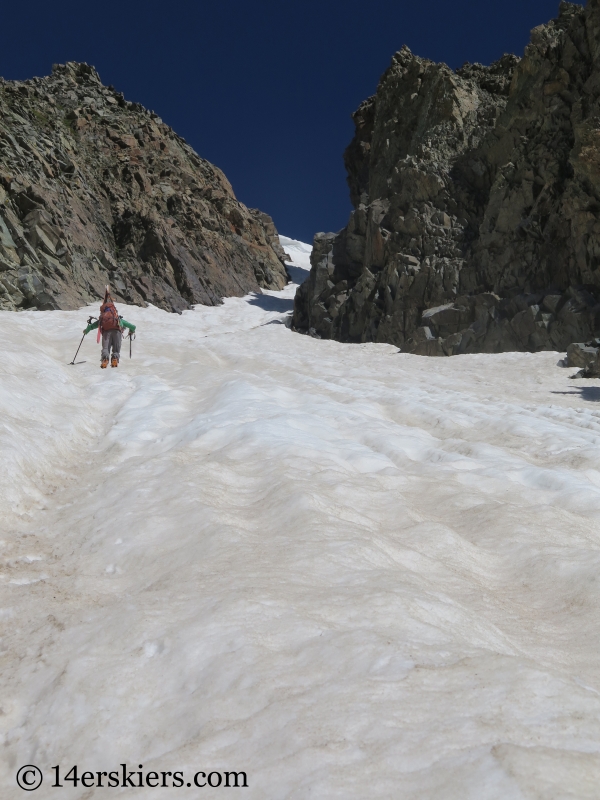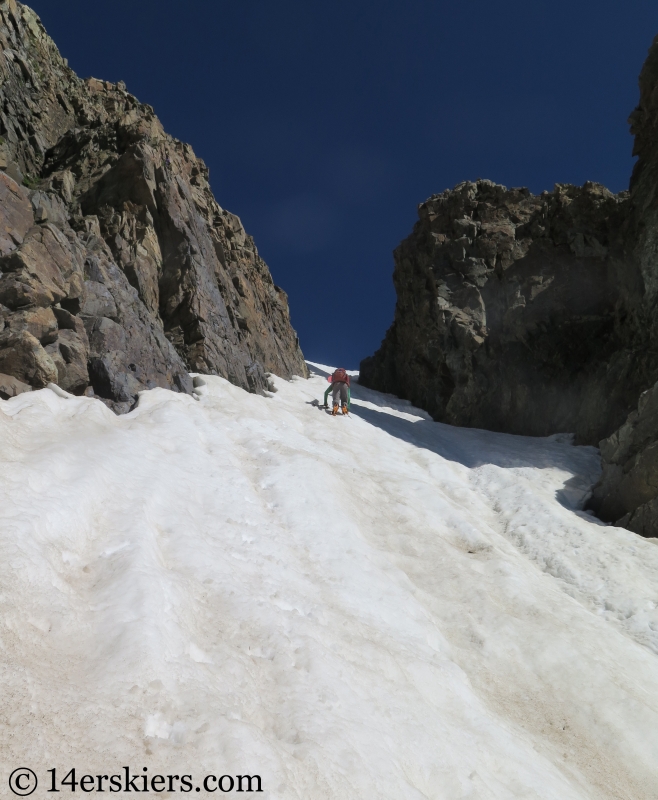 Me nearing the top of Conundrum Couloir.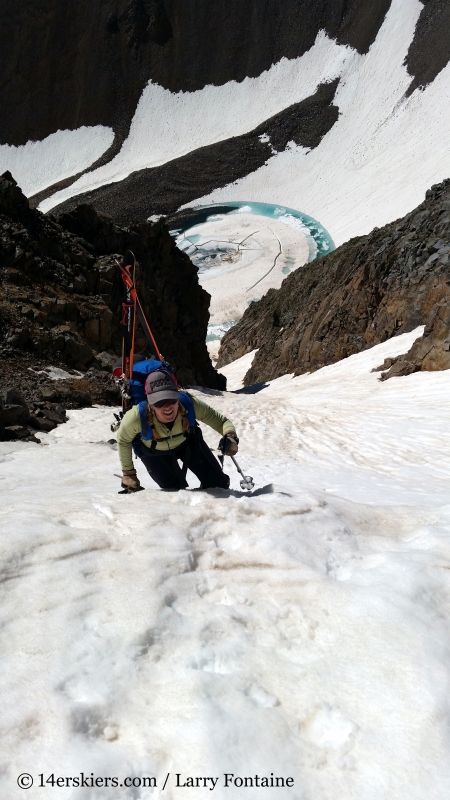 Once we climbed the couloir we dropped our skis and followed the ridge south to the summit. I hadn't stood on top of very many fourteeners this ski season. It was good to be back on top of the world! Views of the Elk Range.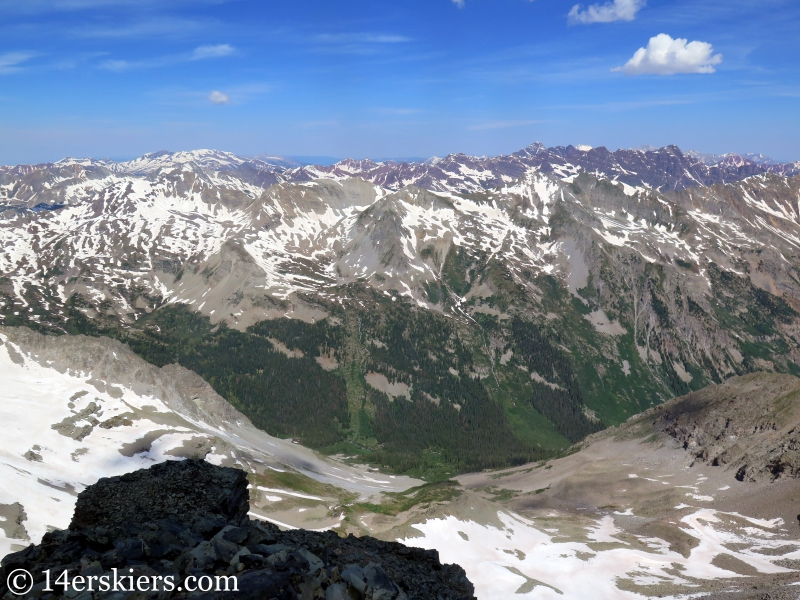 Looking toward the Maroon Bells and Pyramid.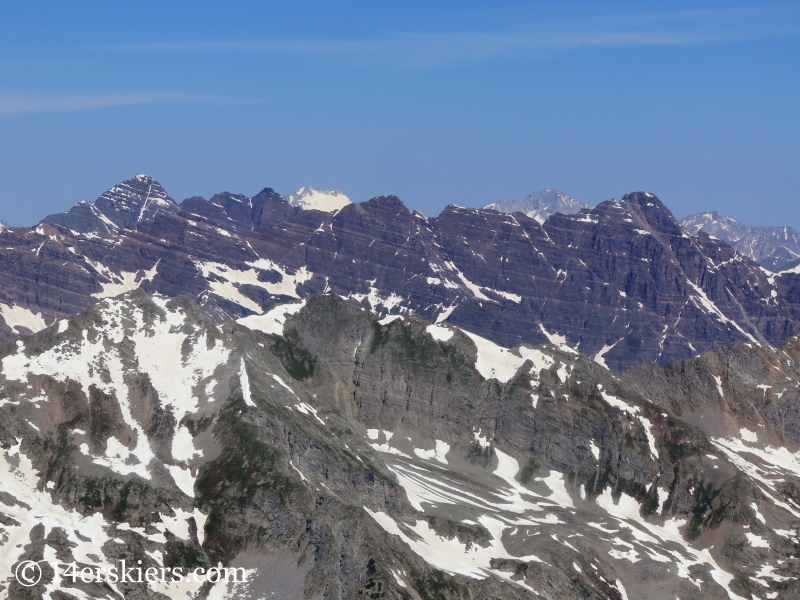 Whetstone behind and Teocalli in front – in my backyard of Crested Butte, but so far because we were approaching from Aspen.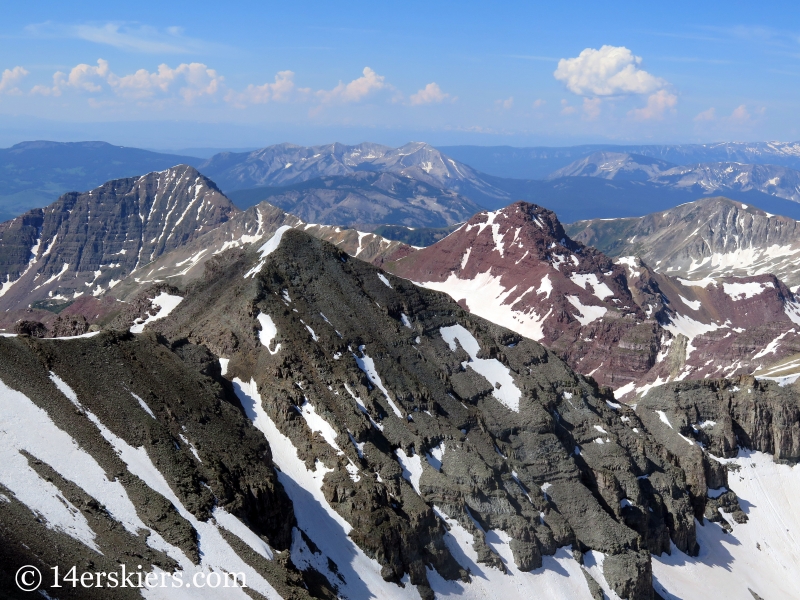 Mount Owen in the distance, looking still caked with snow at the end of June.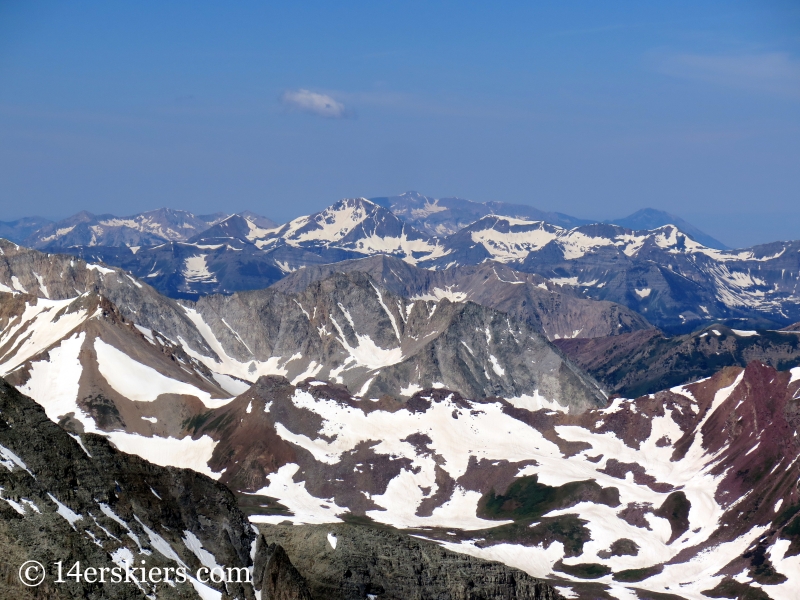 After waiting for conditions to soften a little more, Larry was the first to drop in.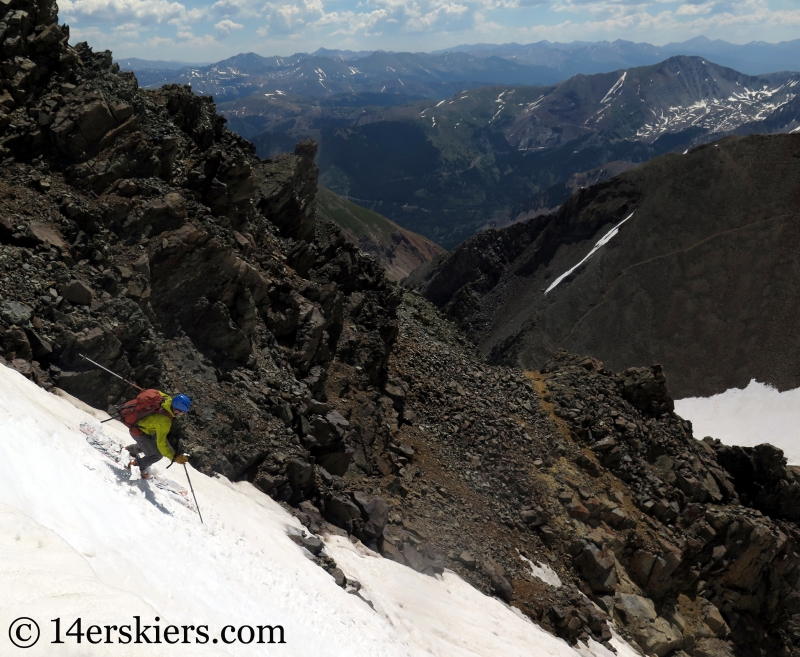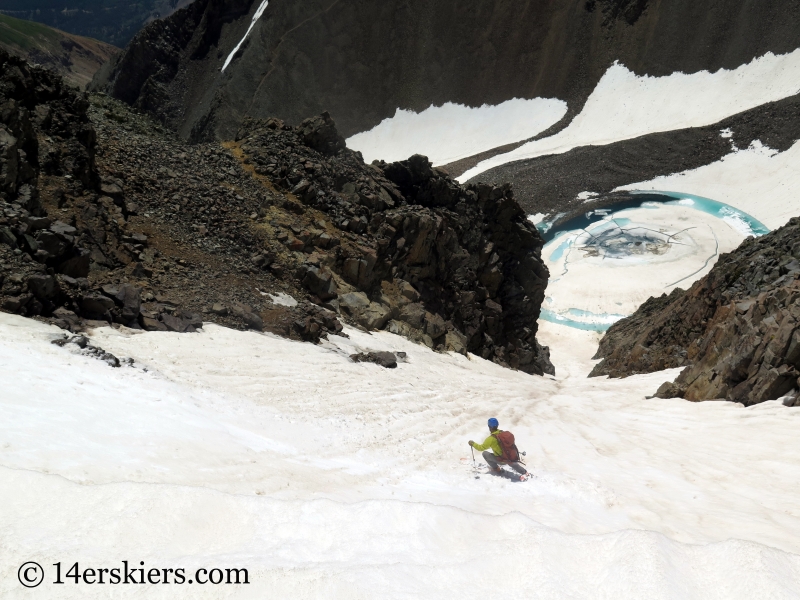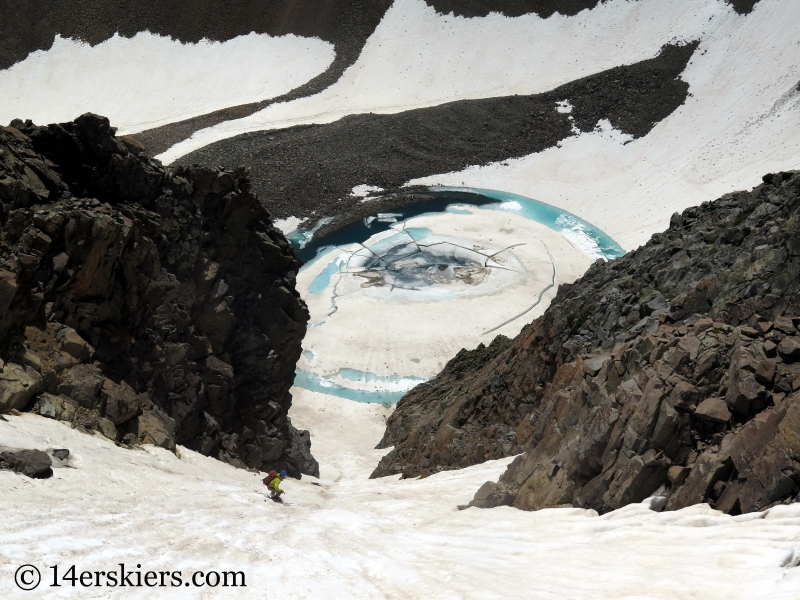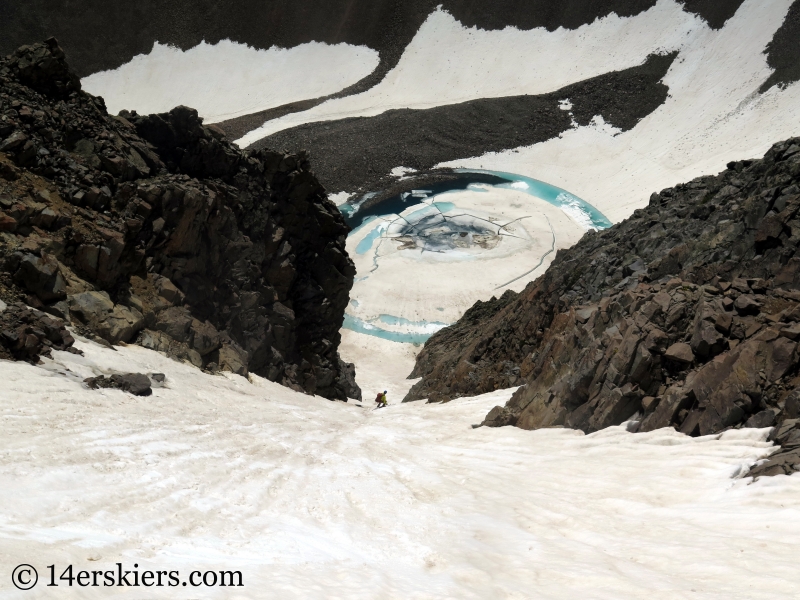 Me.

And just a few turns after, my pole slipped from my hand. It threw my weight back, and I did a little sit-down fall. It looked like nothing, but it felt like so much more. I felt my knee move it ways that it should not – my tibia coming forward from my femur, and a pain in the back of the knee. Did I hear the pop? Well, yes, there was lots of popping, but not the classic ACL pop – and having torn the ACL in each knee before I am well accustomed to that feeling.
I sat there for a minute, and then got up, putting weight on it gingerly, gradually adding more and more weight. Yes, there was pain in the back of the knee, but it felt stable. The last ACL I tore I could not put my full weight on it right after the injury. I figured I had probably torn the meniscus or some cartilage, and continued skiing cautiously down the mountain, knowing I too had just had a conundrum on Conundrum.
More pictures of Larry.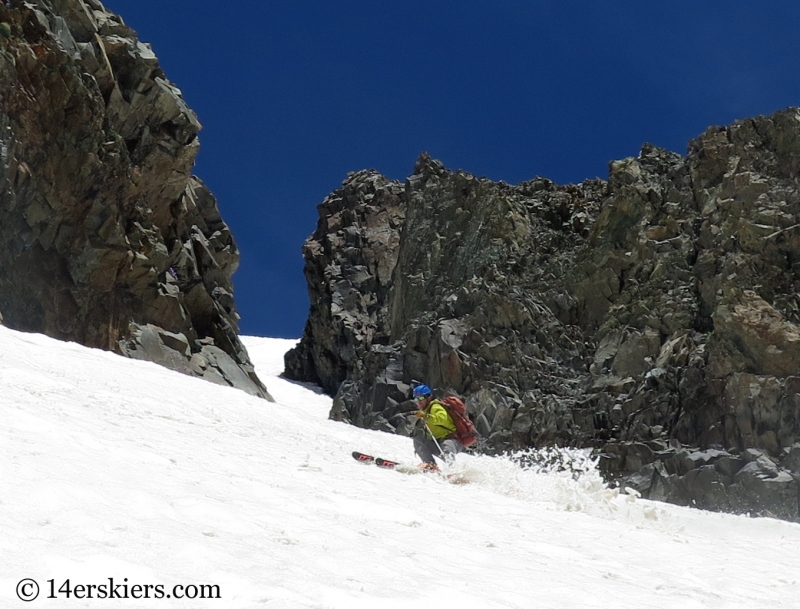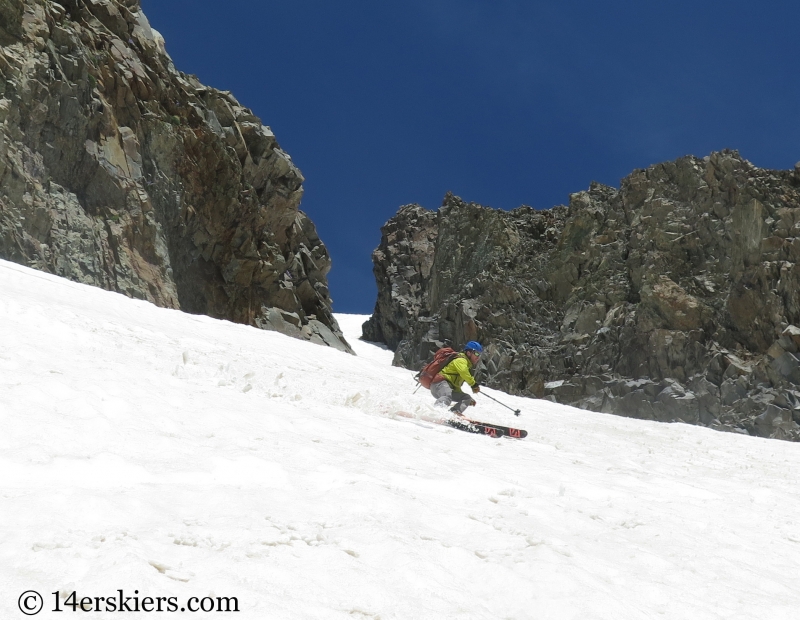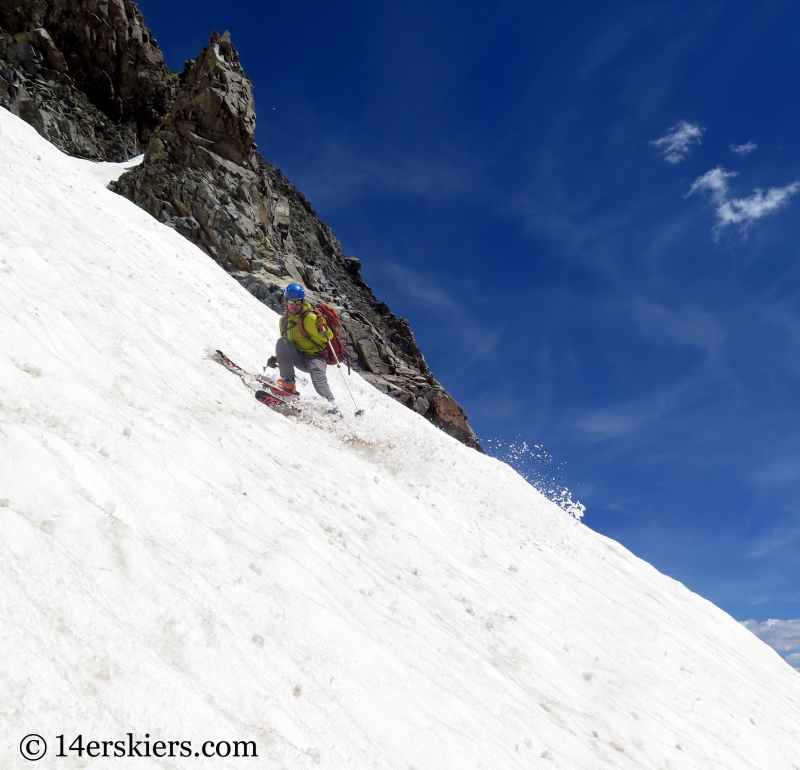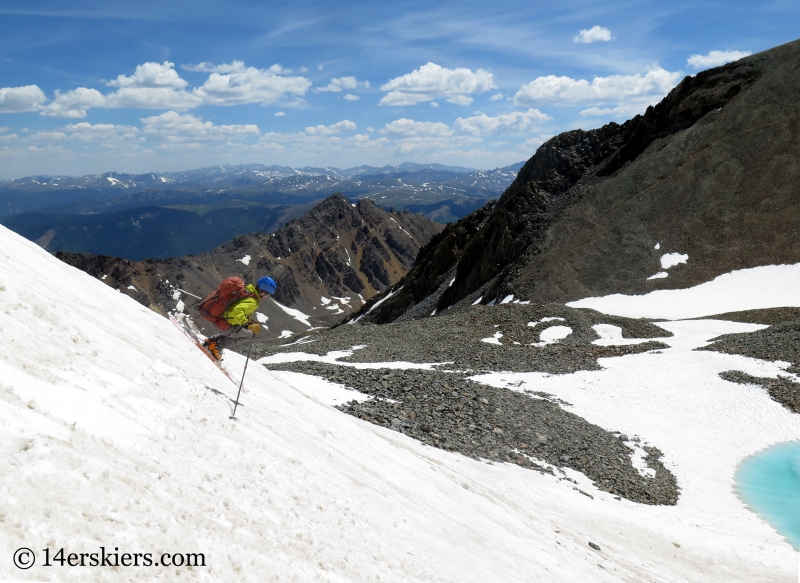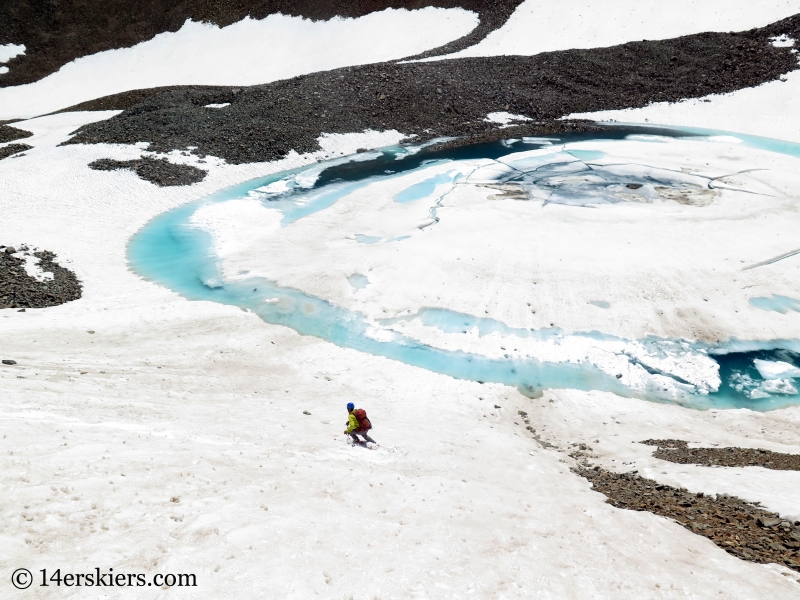 After we finished skiing the couloir, we continued skiing down the basin, following snow as long as we could – which was quite a ways actually.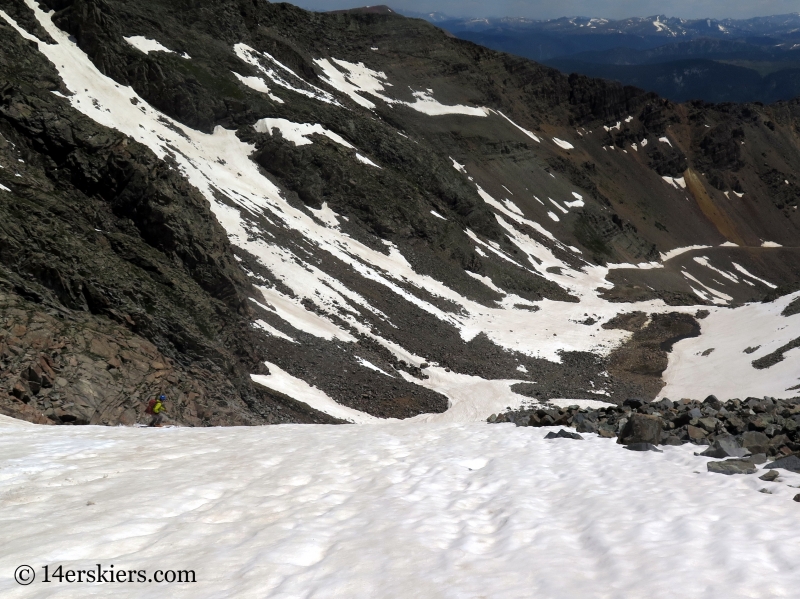 Once leaving snow, we hiked on the road back to the car. I hiked cautiously, but I had no major problems making it back to the car.
So, what does this have to do with me not being able to ski next year? Well, after my conundrum on Conundrum, I decided to get my knee checked out, which led to me getting and MRI. An MRI revealed I had torn my ACL once again and also had a medial meniscus tear.
Honestly, it's a conundrum – I can't say whether I tore my ACL during my fall on Conundrum. All I know is that I didn't fall hard like I did when I tore my two ACLs prior. Simply said, my knee hasn't felt right since having its ACL repaired 7 years ago and there's a handful of times I have injured it since it was repaired, including one just this past April. Maybe I tore it during one of those times. Or maybe the allograft simply failed. I'll never really know.
I have a whole other story to tell about how I visited 5 different orthopedic doctors throughout Colorado before finally deciding on a surgeon in Denver. To fix my ACL requires two surgeries. The first is a bone graft surgery to fill in the tunnels in my tibia and femur from my previous repair, as well as hardware removal and clean up of tissues – like the shredded ACL that was hanging out in my knee. I actually had that surgery 9 days ago now, and healing is going well. I'll be back riding single track in 2 or 3 weeks.
I have to wait 12 weeks for the bone graft to heal before going in for surgery #2. Then I will have my ACL and meniscus repaired, which will be a long and grueling process – 6 weeks in a straight leg brace and followed by another 7 months of recovery. Do the math, and that means no ski season for me.
This is the short version of the story. But, there's a lot more to tell and I'll have a lot of time to tell it.
But for now, I'm dealing with the fact that I won't have a ski season by focusing on healing from this first surgery as fast as possible. If I can't ski, then I want to ride my bike all that I can… It will be the Year of the Bike for me.
Aside from skiing, biking, and all outdoorsy things,
Brittany Walker Konsella
also loves smiles and chocolate 🙂 Even though she excels at higher level math and chemistry, she still confuses left from right. Find out more about
Brittany
!
Latest posts by Brittany Walker Konsella (see all)
Summary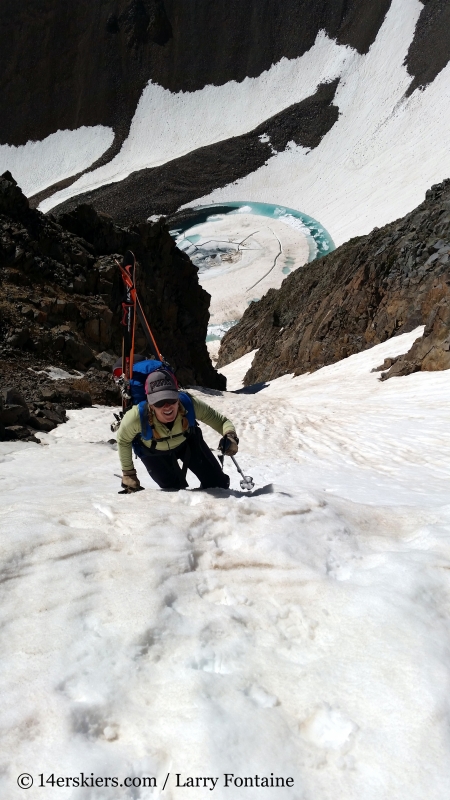 Article Name
My conundrum on Conundrum
Description
The aesthetic east-facing Conundrum Couloir holds snow year-round, making it a perfect spot for a late spring or summer ski!
Author