TBT 14er: Wilson Peak Ski (12 June 2008)
(Last Updated On: March 9, 2016)
This is part of an ongoing series re-telling Brittany's fourteener-skiing story. Look for the reports every Thursday, as part of a Throwback Thursday theme.
It was June and I knew fourteener ski season would soon be over. But, I still had two more fourteeners I wanted to ski before calling a done season, making it so I could begin with less than 10 fourteeners left to ski for 2009. Wilson Peak fit the bill. Below is a slightly modified version of my report for skiing Wilson Peak, which would become my 44th fourteener skied.
---
Over the last few years, I've skied a whole heck of a lot of fourteeners and aside from Frank, my partners on these fourteeners have been a mix. I've done fourteeners with one other person, I've done them with five others. I've even done one solo. But, an all ladies fourteener hadn't happened yet, and was long overdue. I was happy to have Pam and Catherine joining me on this peak.
Wilson Peak is one of those peaks you may have seen a lot in pictures, but not even realized it. This peak has been used by Coors for years as part of it's logo- an advertising symbol.
Wilson Peak is the smallest of a cluster of fourteeners often referred to as the Wilson Group: Wilson Peak, Mt. Wilson, and El Diente. This cluster is located in the San Miguel Range of the San Juans, near the town of Telluride.
So, why is there a Wilson Peak and a Mount Wilson? History doesn't have a great explanation. These peaks seem to be self-named by Wilson himself, who was an established mountaineer who worked as a topographer on the Hayden Survey of the San Juans in 1874.
The Wilson Group are among the most difficult fourteeners to reach for folks residing in Denver as they are about 8 hours away. Because of this, Pam, Catherine and I left mid-day on Wednesday to make our trek southwest.
We arrived in the daylight, with plenty of time to catch a glimpse of the mountain.

Closer.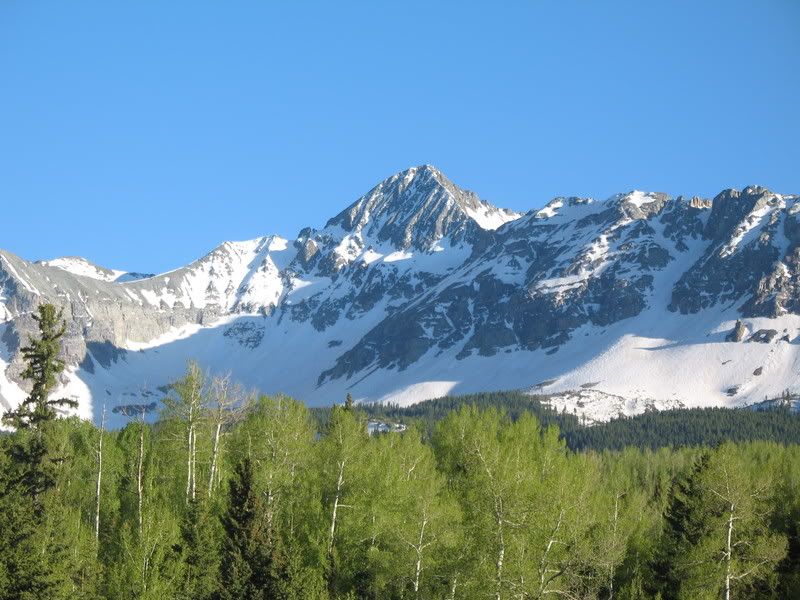 Around 9,700′, the dirt road to Silver Pick begins to turn a bit burly. We found many fallen trees over the road. We were able to move most of them out of the way at first.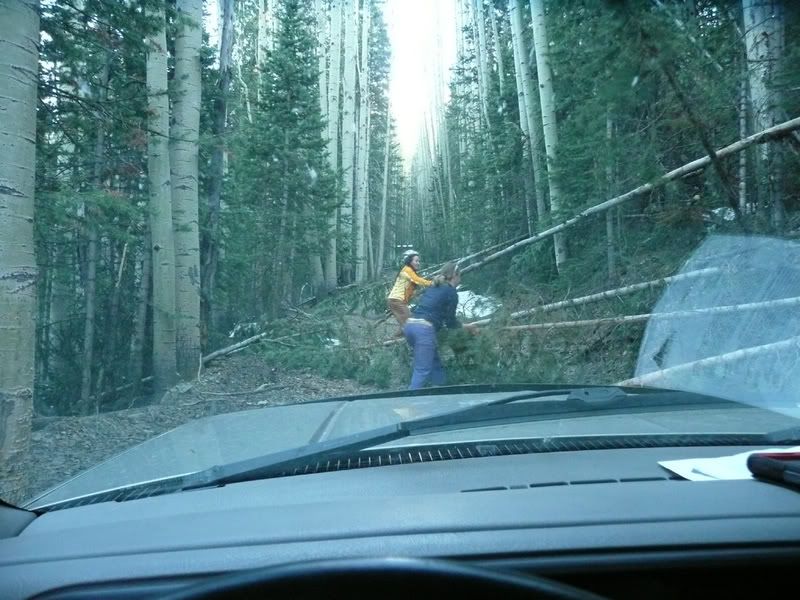 But, eventually there were two trees in a row that were too big for us to lift. Someone needs to go in there with a chainsaw! We ended up working our way back down the road and camping at 9,700′.
We began our morning early, starting our hike at 3:30 am.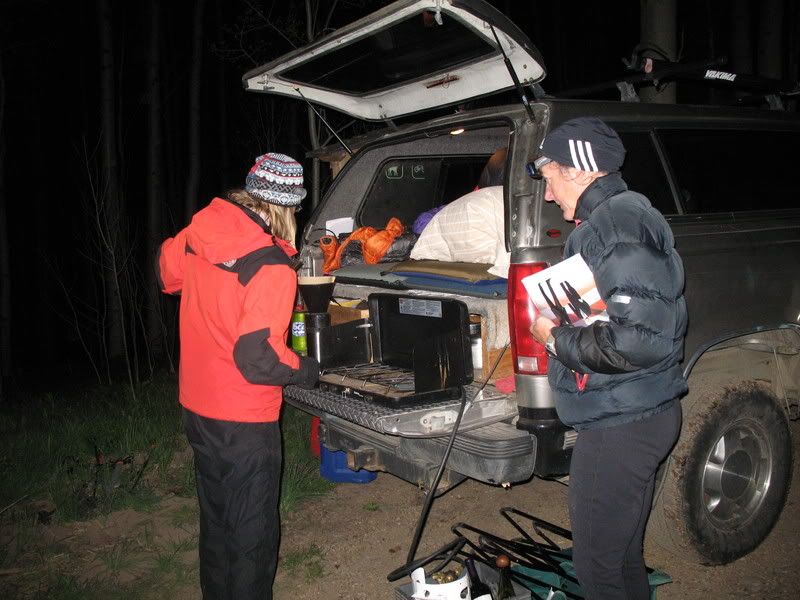 We approached Wilson Peak via the Northwest, via Silver Pick Basin.

Pam and Catherine making their way up Silver Pick Basin.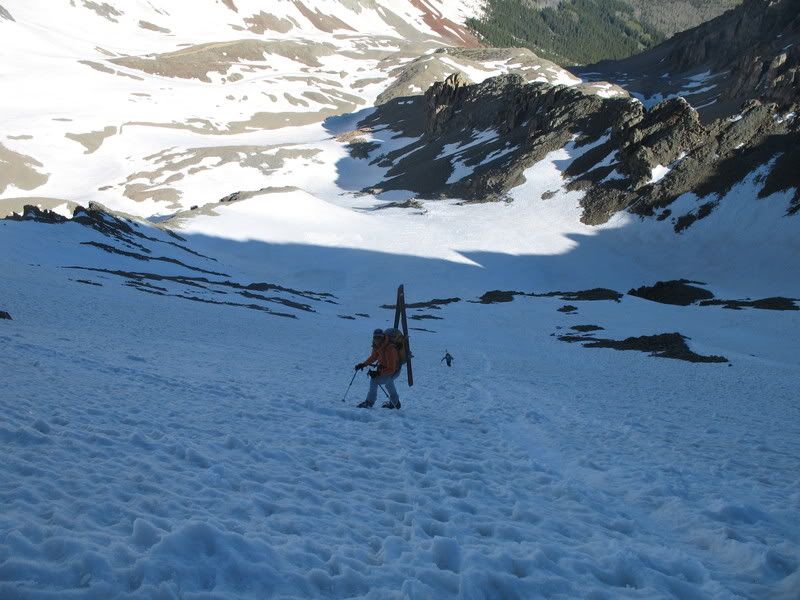 Approaching this route requires booting up a bowl, followed by a couloir. Me booting up the last bit of the bowl.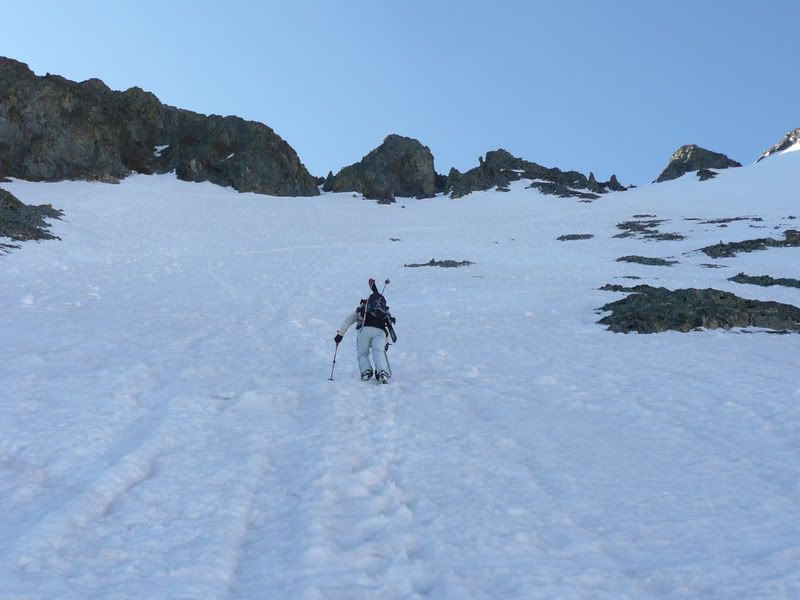 Pam and Catherine in the couloir.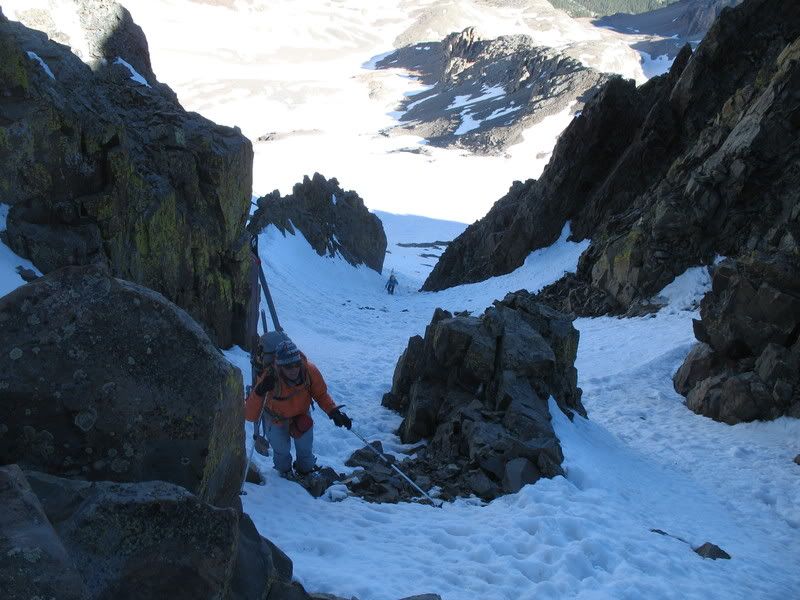 Once at the top of the couloir, the climb became fun! 🙂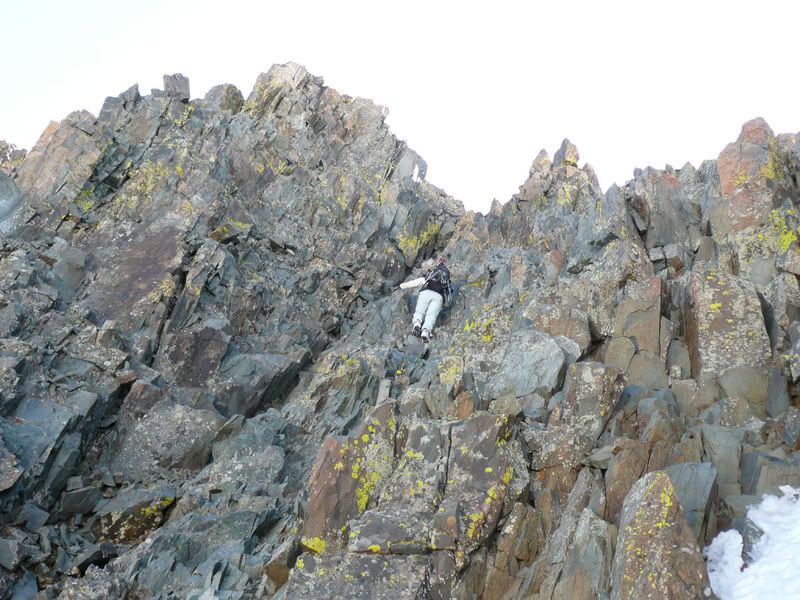 This particular section was the crux of the climb. A lack of footholds and huge exposure to the right made it tricky.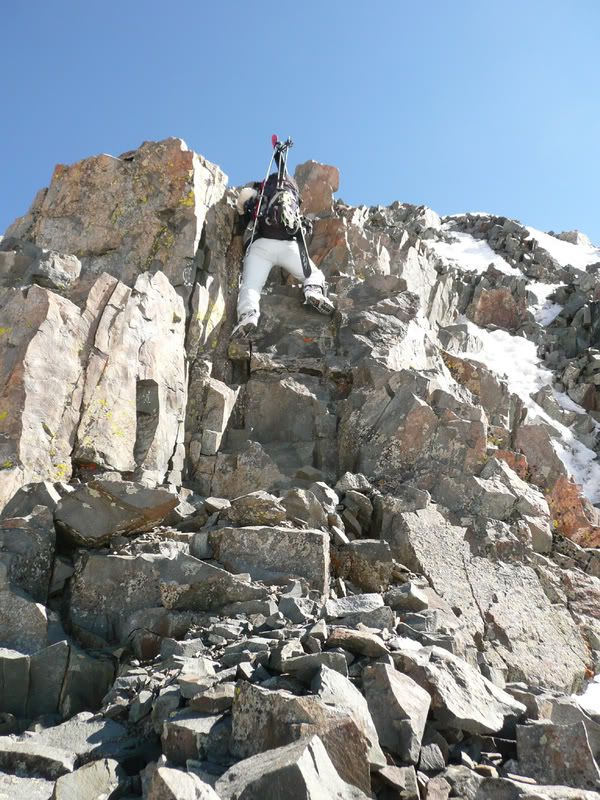 Pam shortly after the crux.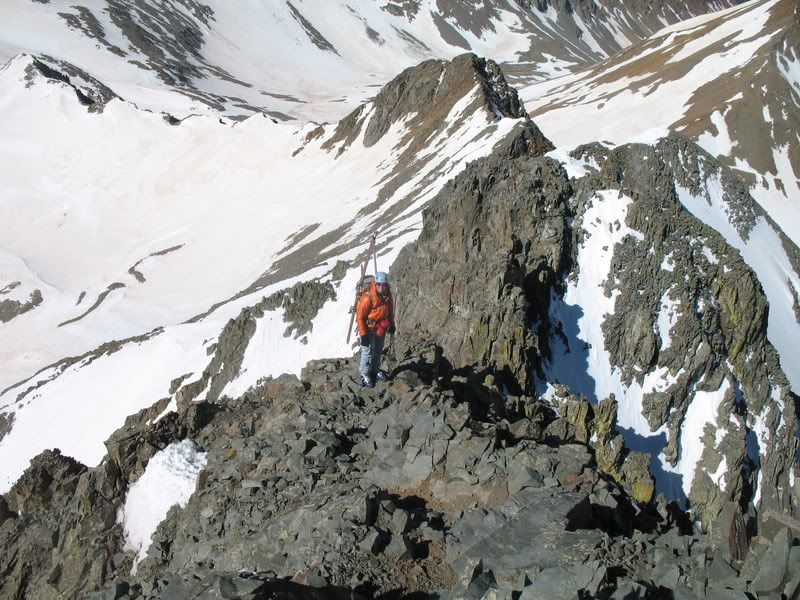 Once we reached the summit, proper celebrations began. We each brought up a can of Coors- a must do for this peak : ) Catherine, Pam, Me: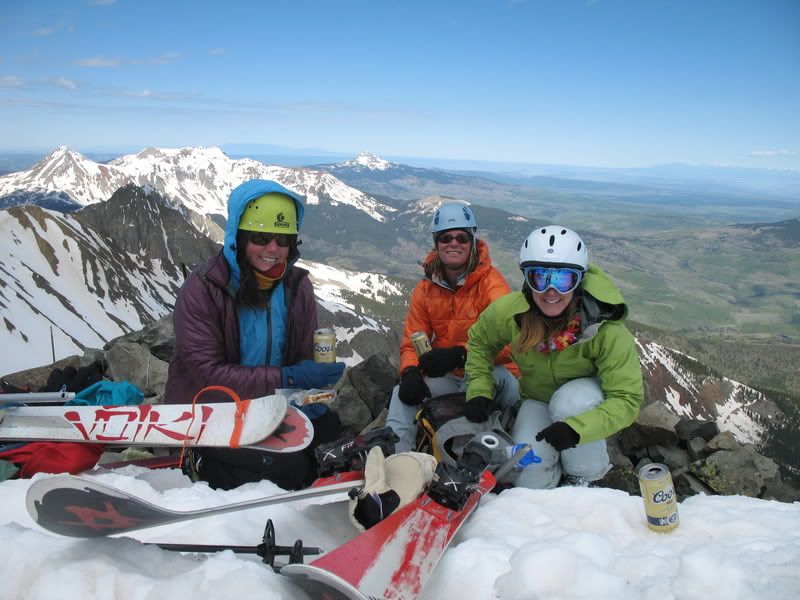 As from all fourteeners, the views on the summit were spectacular. You can faintly see the town of Telluride, with Sneffels, Wetterhorn, and Uncompahgre in the distance.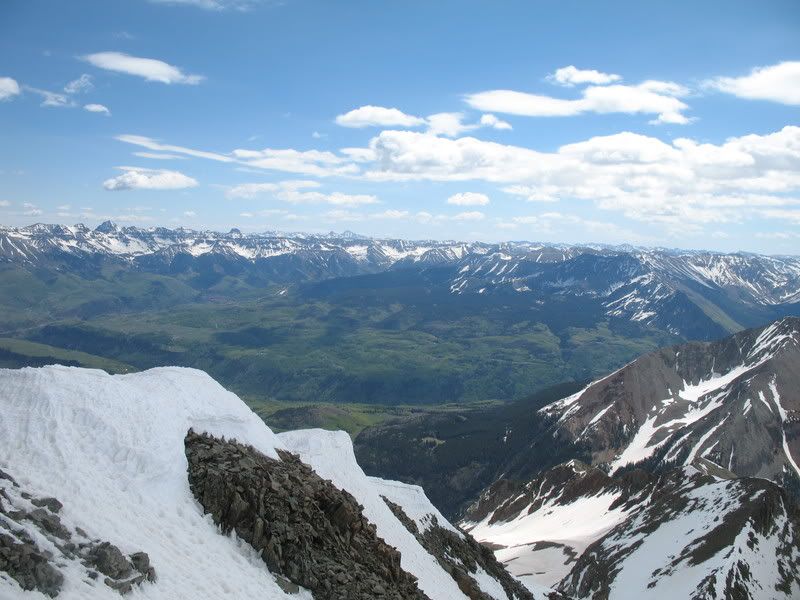 Mount Wilson and El Diente, the neighbors of Wilson Peak.

Lizard Head, one of Colorado's thirteeners- known to be a very difficult climb due to the rotten rock.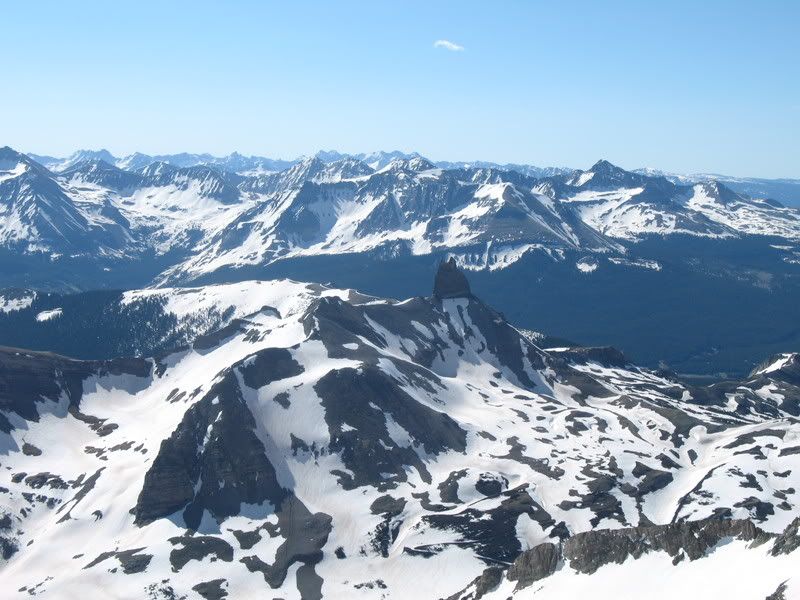 Our planned descent route was via the northeast face. As we gazed at the face from the summit, we were disappointed at how melted out the couloirs were. There are two couloirs that people generally ski, one on the skiers left and the other on the right. The route on the left had no snow at the top and would have required a sketchy downclimb over loose rock. The route on the right followed the ridge down a bit, then entering a couloir that had a mix of rocks and snow at the top. I'd say after the last couple of hot days, this line is most likely fully melted out now at the top.
Me skiing from the summit.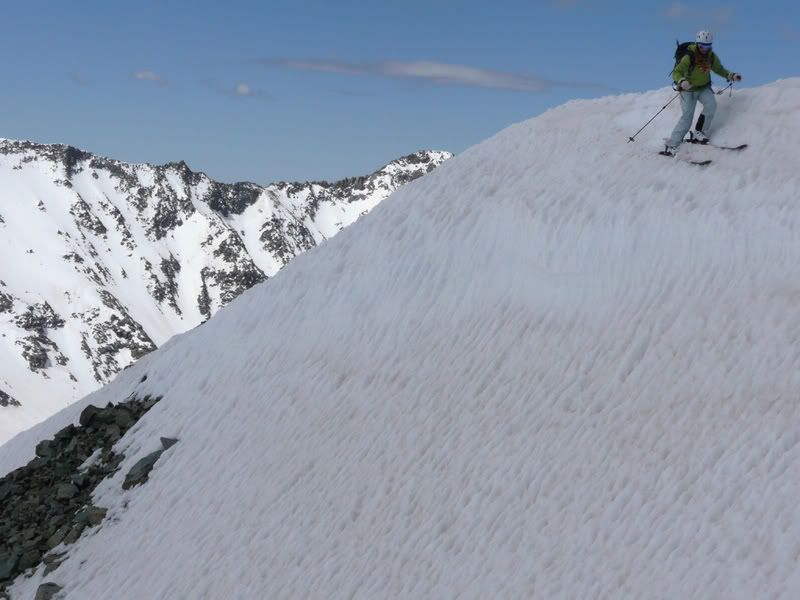 Pam.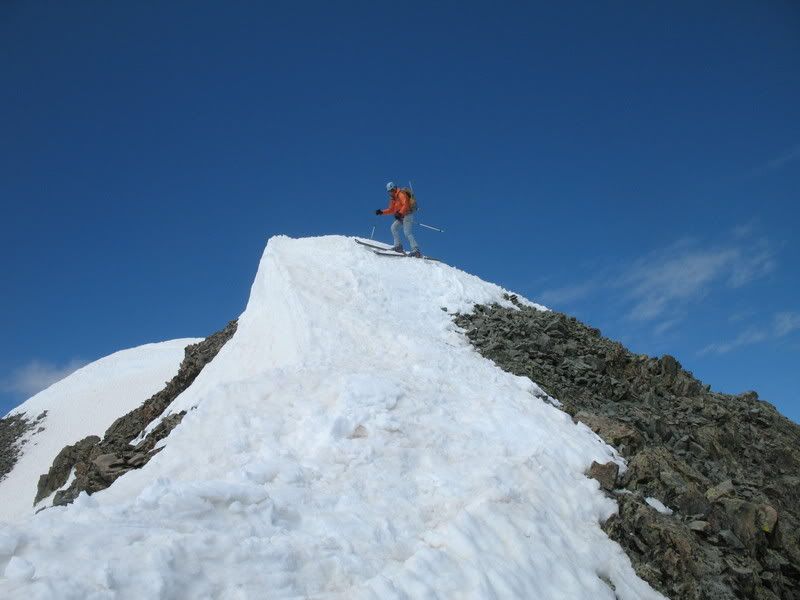 Like I said, the entrance was pretty bony.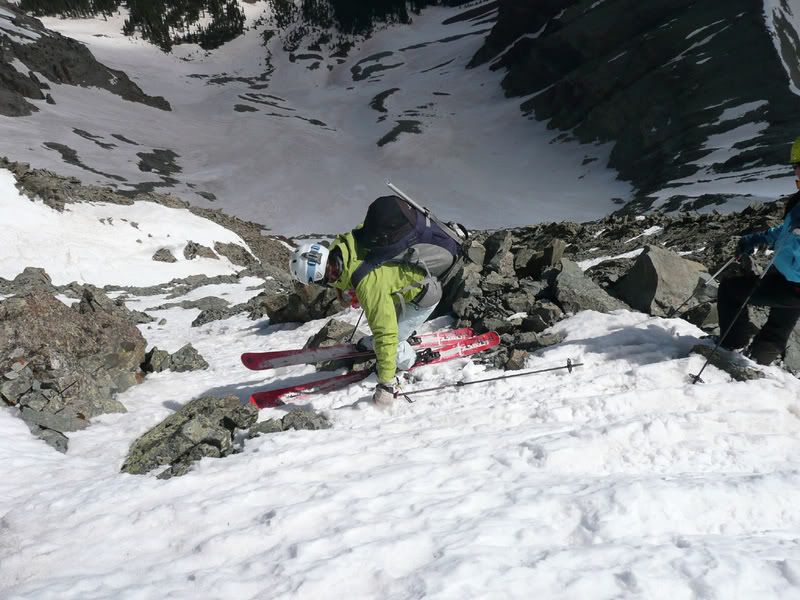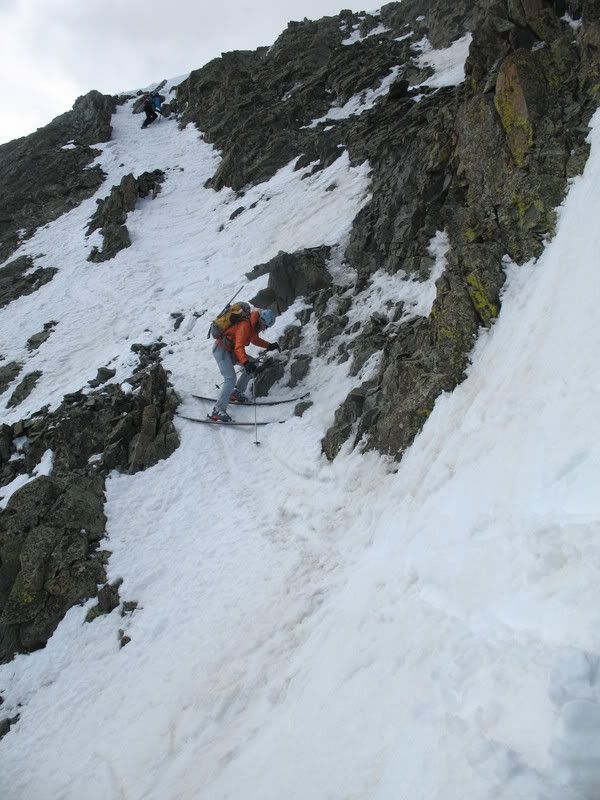 But then it got better. 🙂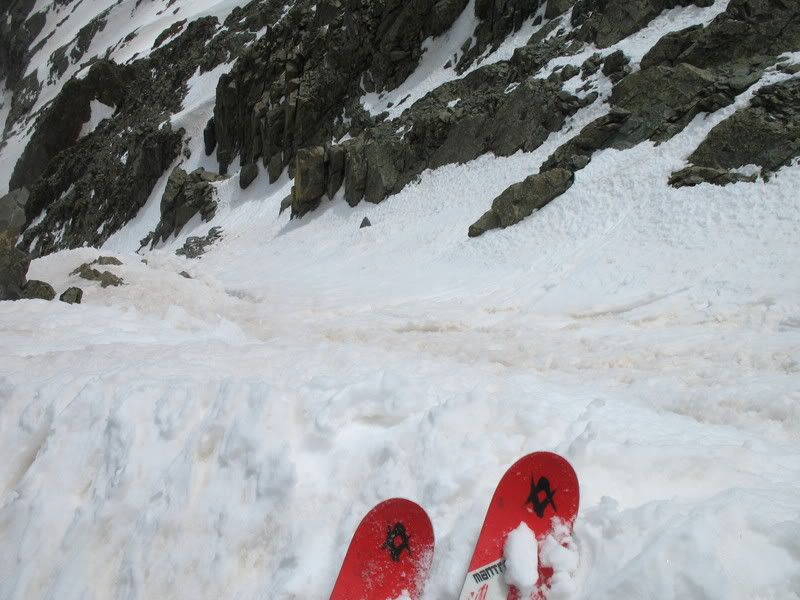 Pam.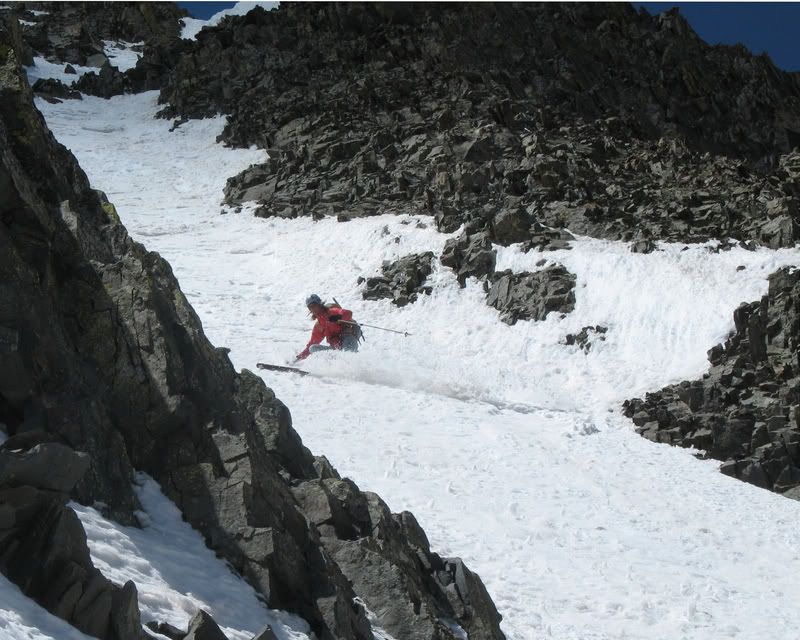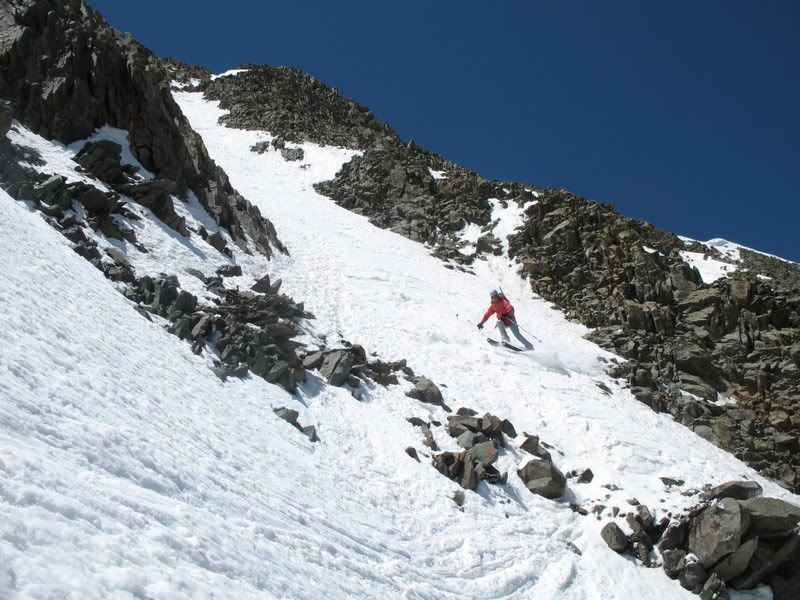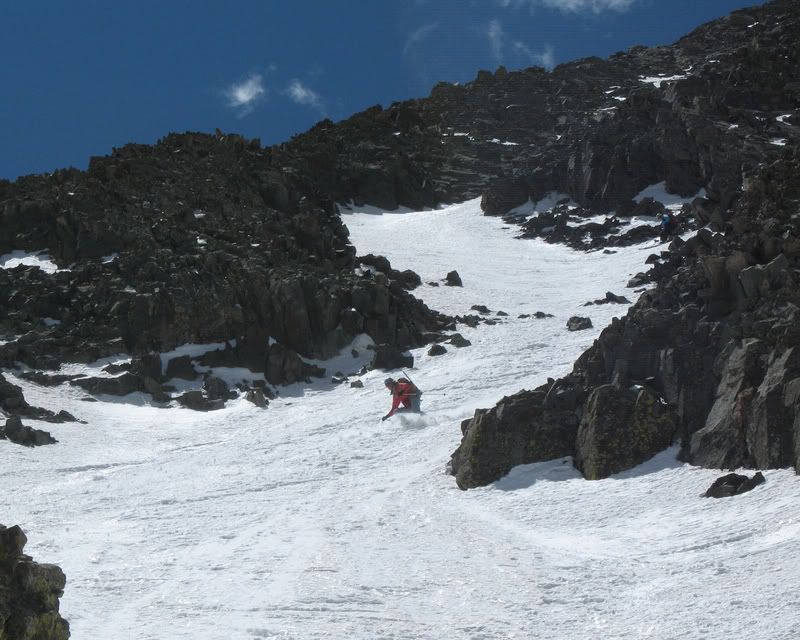 Catherine.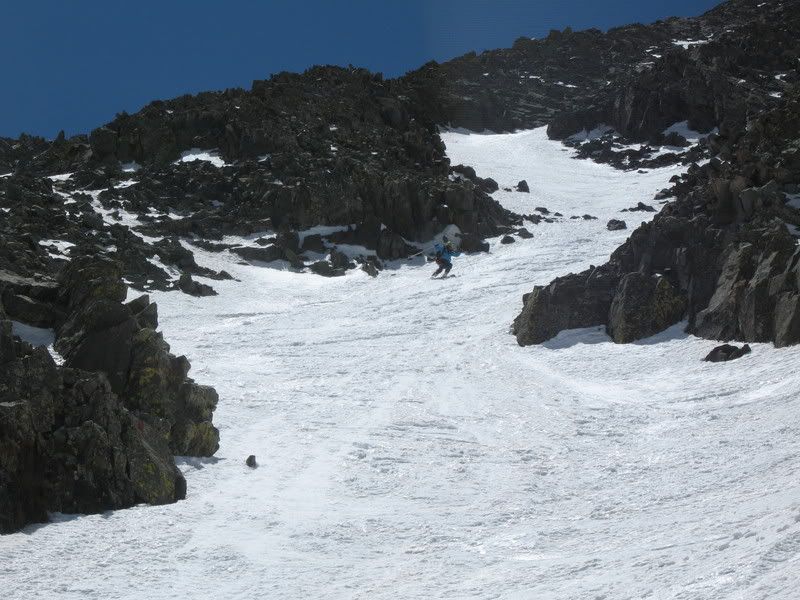 Apparently I thought my lei tasted good 🙂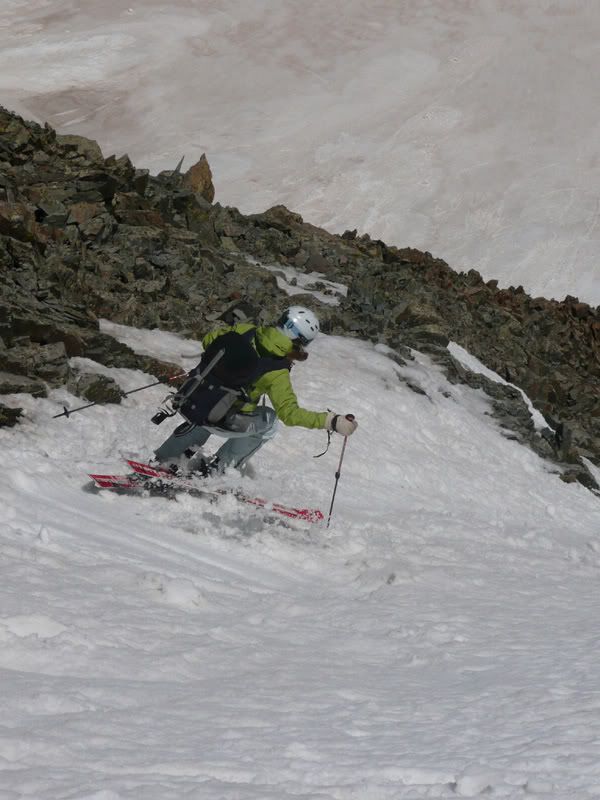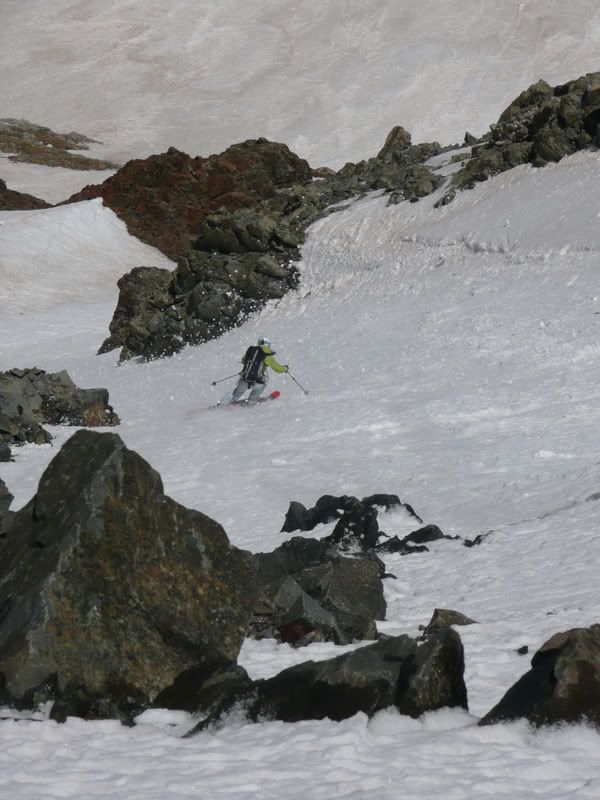 And then our line opened up to a wonderful apron of corn.
Pam.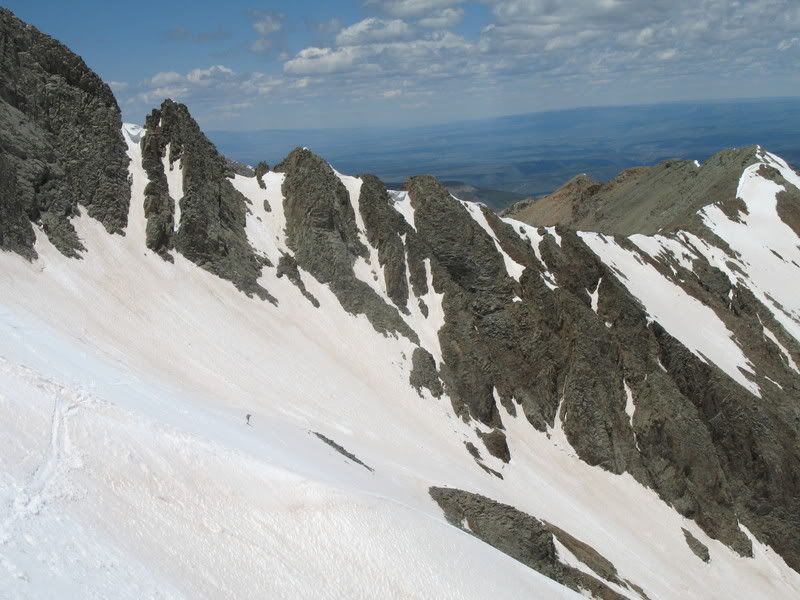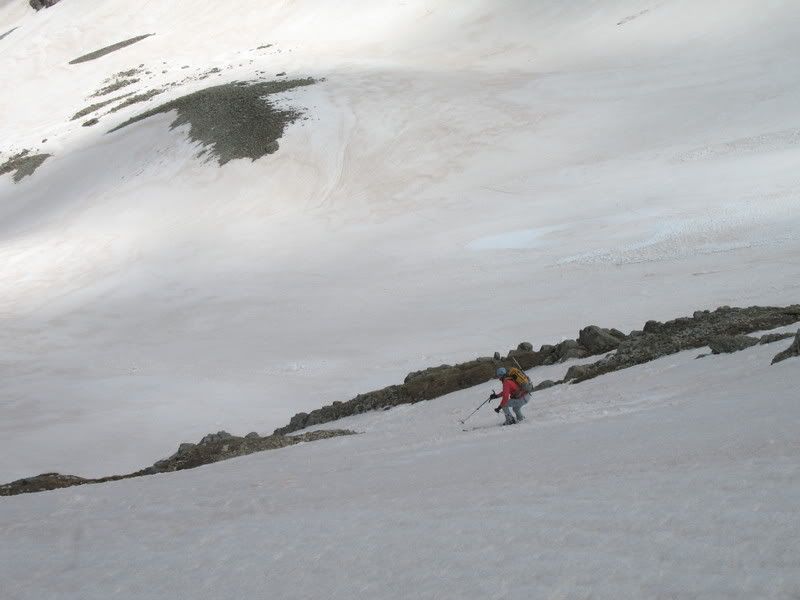 Me.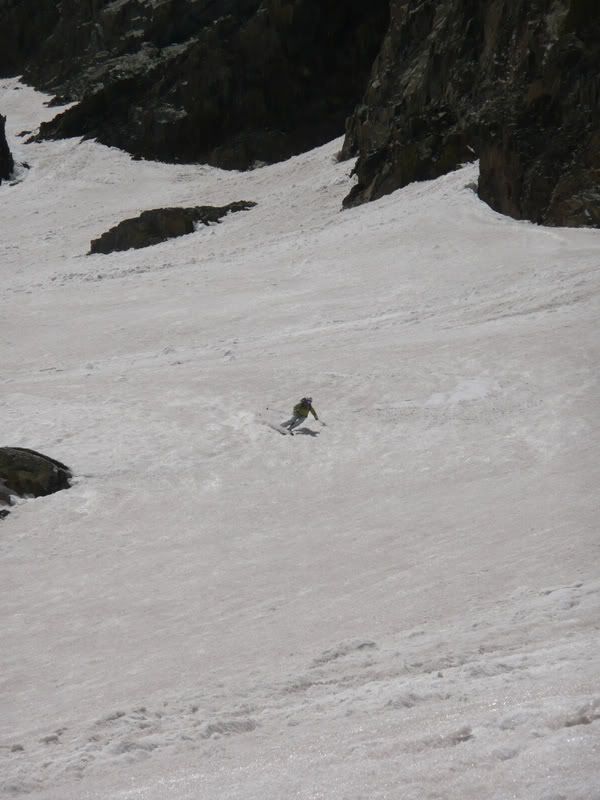 Catherine.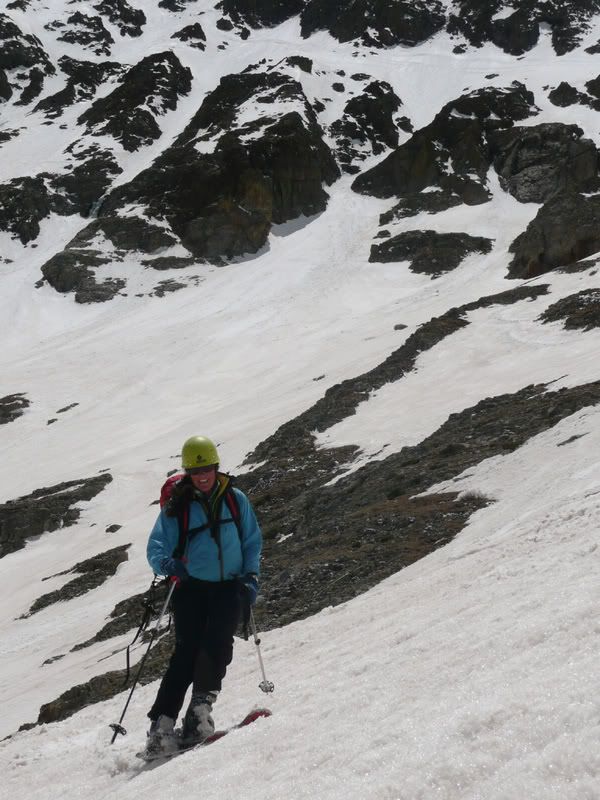 Our line.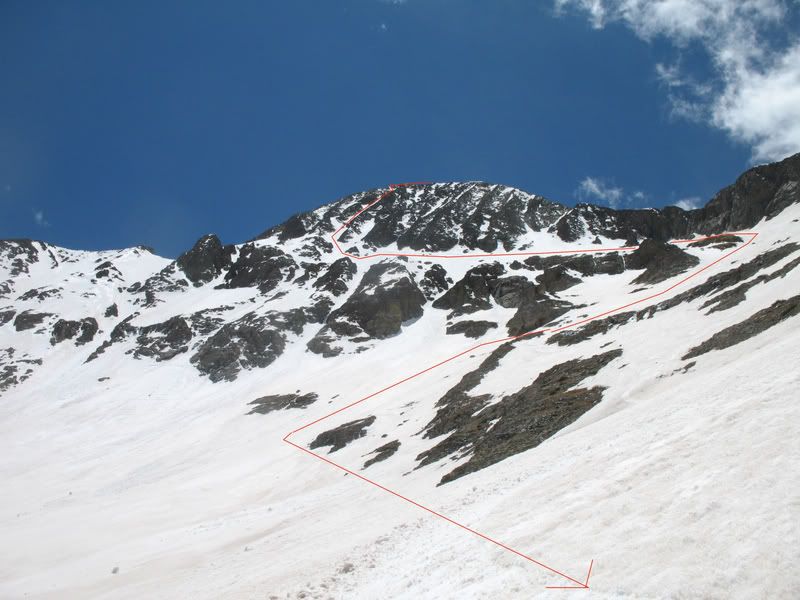 To get back to the Silver Pick road, we traversed left, staying as high as we could, generally above treeline. The traverse was a bit more difficult than usual, I suspect, as parts of it were no longer snow-covered.
The snow wasn't all that we were hoping for on this line. Still, the climb was fun. And I had a great day out with the ladies!
Just one more fourteener left for 2008! Snowmass is up next!
Aside from skiing, biking, and all outdoorsy things,
Brittany Walker Konsella
also loves smiles and chocolate 🙂 Even though she excels at higher level math and chemistry, she still confuses left from right. Find out more about
Brittany
!
Latest posts by Brittany Walker Konsella (see all)
Summary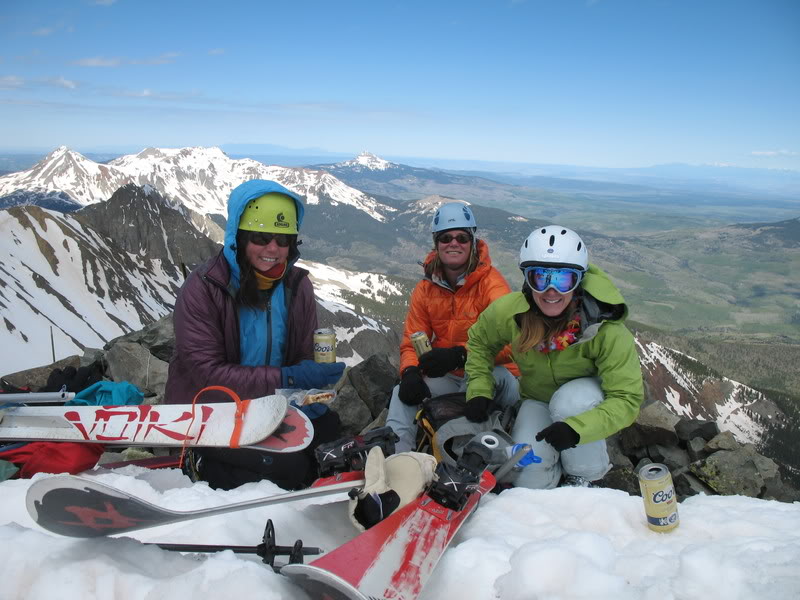 Article Name
Description
Brittany recounts her all-women's climb and ski of Wilson Peak, one of Colorado's more iconic fourteeners, making it her 44th 14er skied!
Author