5 Things that Caught Our Eye at SIA, Part 2
(Last Updated On: February 15, 2016)
In our last post, we covered the first two things that caught our eye at SIA 2016: the Tecnica Zero G touring boot and the Leki Vertical Trigger and Condor self-arrest pole.
In this post, we'll complete the set of five with products from BCA, Scott, and Arva.
3) BCA – Conversion Kits and Floor Pump Options
BCA has been leading the charge in using one tool for multiple things. They led the charge with the Shaxe, a shovel that can be converted into an ice axe, a couple of years ago.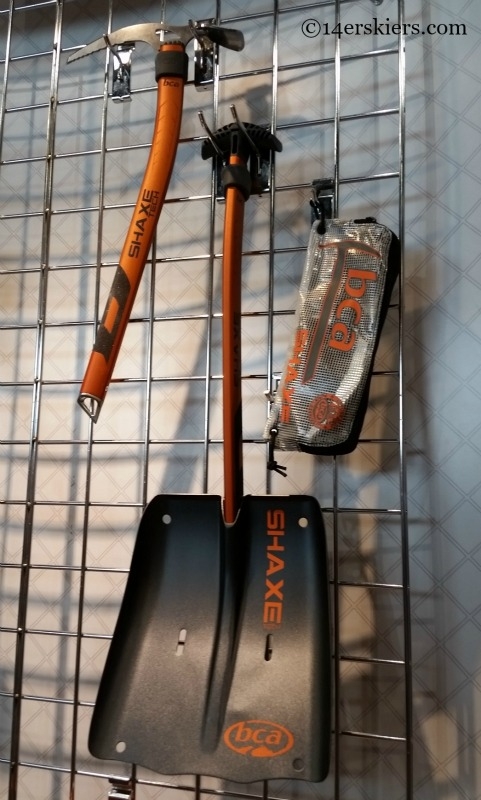 But this year we noticed a new conversion kit – one that takes your skis (with holes in the tips/tails and a BCA shovel and converts it into a rescue sled.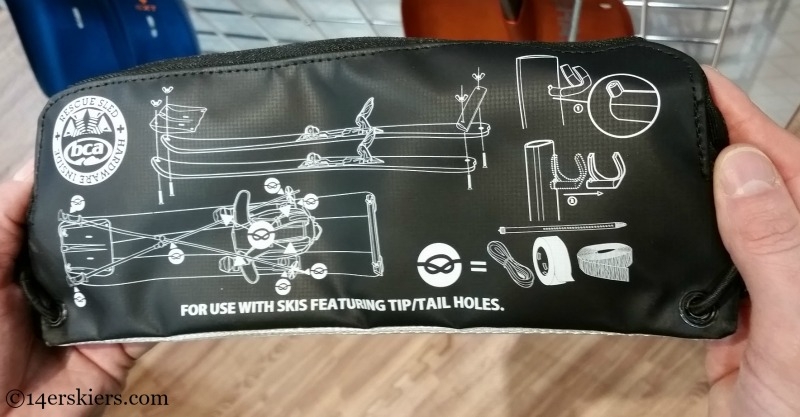 While you might not carry a rescue sled like this on every mission, it could be an important addition to your pack for longer or multi-day tours.
Last, BCA was showing off a high-pressure floor pump which can be used to fill the air canisters used in their Float Airbag backpacks. At first, we thought it was made by them. But, it is actually not. This floor pump can be found on Amazon.com and other places and is called the Benjamin High Pressure Floor Pump and it costs roughly $150.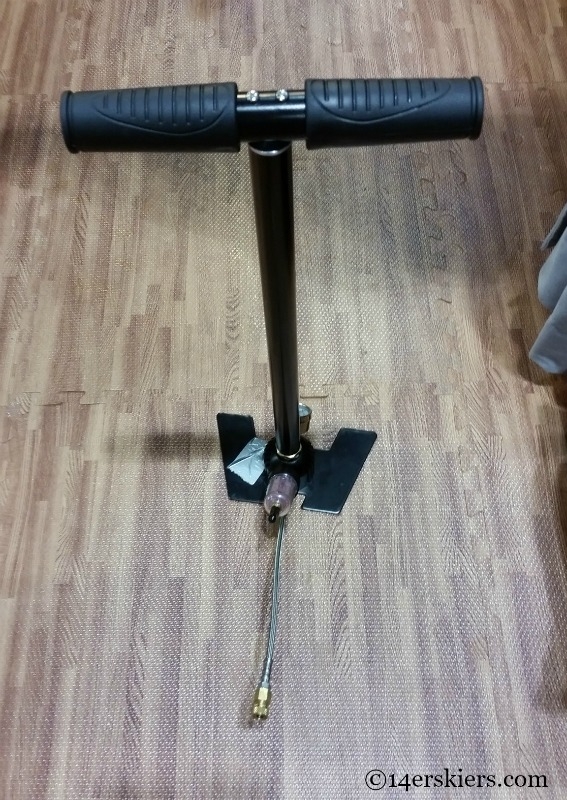 The fact that the BCA canisters can be filled with a high pressure floor pump in the first place is great! Now, if you're flying to a destination (which requires you to empty your canister as compressed air is not allowed) where you're unsure where you can get your canister refilled, your problem is automatically solved by bringing the floor pump! This can also be a great addition to have at backcountry lodges and huts… and certainly something that should be flown in to your Alaska basecamp 😉
4) Scott – Alpride Airbag Technology
Everyone is making an airbag. And, although Scott is relatively new to the world of backcountry skiing, they still have their own version of an inflatable avalanche airbag.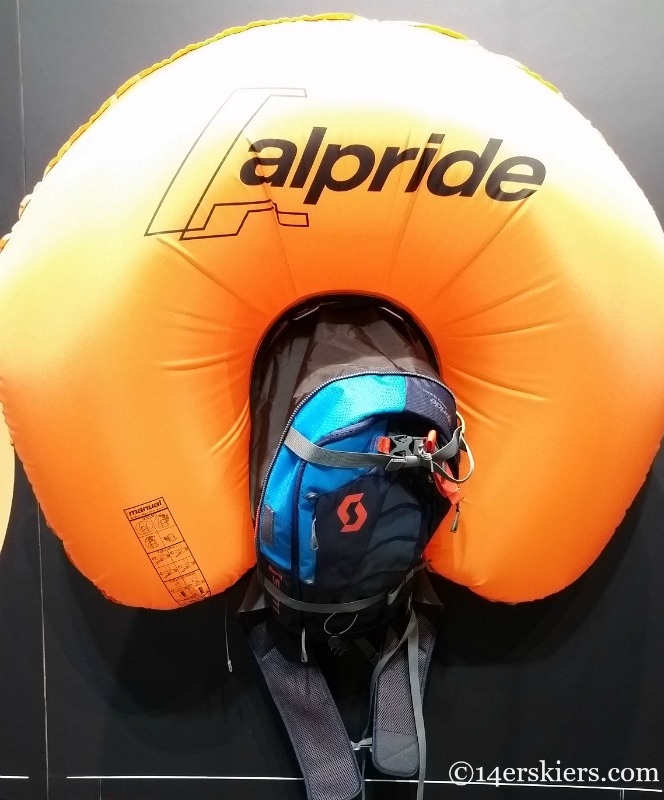 But, what makes this design unique is the capability of putting your skis A-frame on the pack, and not inhibiting the release of the airbag. They've achieved this by making the whole airbag compartment expandable outward, and the skis on the pack go right with it. That means that if the airbag should release, the skis will move back further on the pack and be less likely to be in the way as the bag inflates.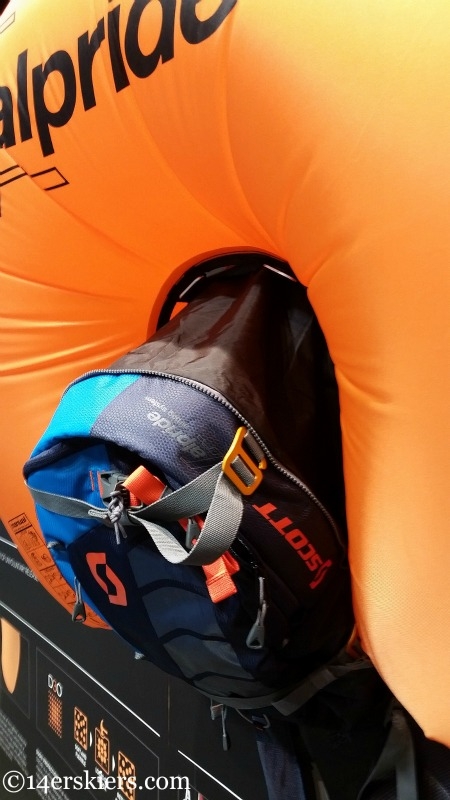 Of course, it may not be a great idea to rock an A-frame with an airbag pack to begin with, as it probably increases likelihood of puncture. But this design creates a pretty viable solution. Why not just stick to carrying your skis diagonally? Well, some people, like me, just prefer the more balanced and less awkward A-frame carry overall. It's just a preference, and Scott now has an airbag that will allow for this.
5) Arva Airbag Backpacks
Arva is one of those companies that is not a well known face of backcountry skiing like Black Diamond or G3 or BCA. But, this European-based company has been gaining ground on US Territory, and rightly so. Those Frenchies are certainly innovative.
We like the concept of their airbags with a dual-chamber system. The concepts is simple – there are two chambers to fill with the high pressure canister, so if one side is punctured, the other side should still work. This reduces the risk associated with puncture on an airbag if it is deployed.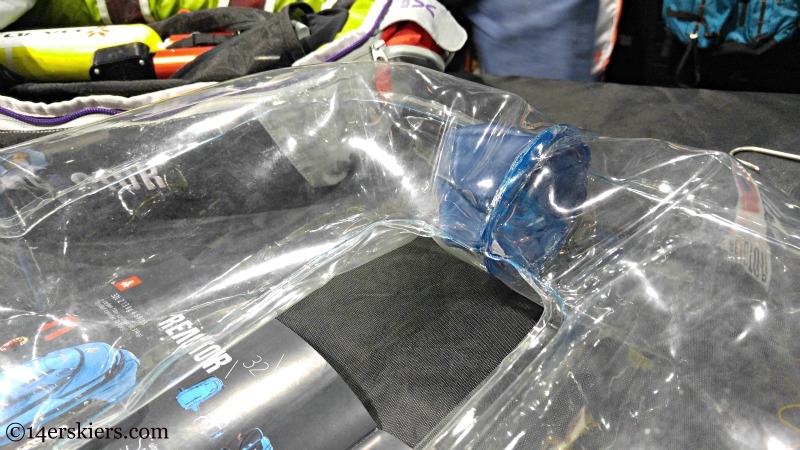 Arva has also split away from the ABS system. They now have their own pressurized air canisters – and has different kinds. The European cylinders are more compact and therefore lighter, and come in both steel and carbon options. The North American model is larger and a bit heavier, and refills are done through exchange. Just like you drop off your propane tank from your grill to the grocery store and get a new one in it's place, the Arva Nitrogen canisters work under the same principle. Exchange costs $40.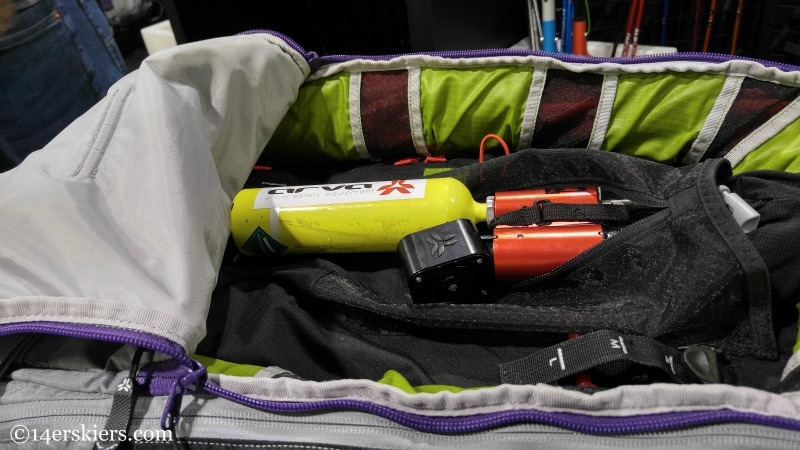 Arva prides themselves on this exchange concept as they say that air pressure in refillable canisters can be susceptible to leakage. Another interesting feature is that the top of the shoulder strap has an additional feature which can help to adjust the fit of the pack to small, medium, and large.
Arva also claims to have the lightest airbag packs on the market. For example, the 32 L Reactor pack weighs 4.69 lbs without the cylinder. The North American steel cylinder weighs 1.29 lbs. Put them together and you've got a pack that is slightly under 6 lbs. Not too shabby really!
Arva's Reactor pack comes in 18 L ($599.95), 24 L ($649.95), 32 L ($699.95), and 40 L ($749.95) – all prices without the canister. A filled cylinder costs $175, while an empty cylinder costs $135.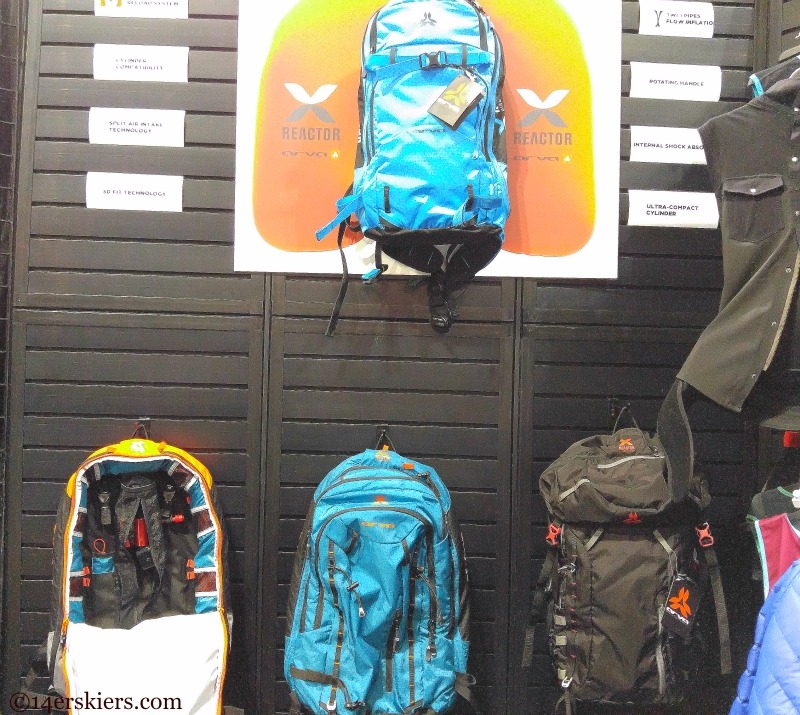 Personally, I prefer a refillable canister as it is easier to deal with while traveling in more remote places. But, Arva's technology should not be overlooked. They have a lot of good things going on.
And that brings SIA 2016 to a wrap for us! This year we were not able to test skis for the on-snow demo due to the epic storm cycle. We simply could not make ourselves leave super powder in Crested Butte to test skis at Copper Mountain.
But, we still have plenty of reviews of new products coming up – ones we've been able to spend ample time testing in the backcountry!
Aside from skiing, biking, and all outdoorsy things,
Brittany Walker Konsella
also loves smiles and chocolate 🙂 Even though she excels at higher level math and chemistry, she still confuses left from right. Find out more about
Brittany
!
Latest posts by Brittany Walker Konsella (see all)
Summary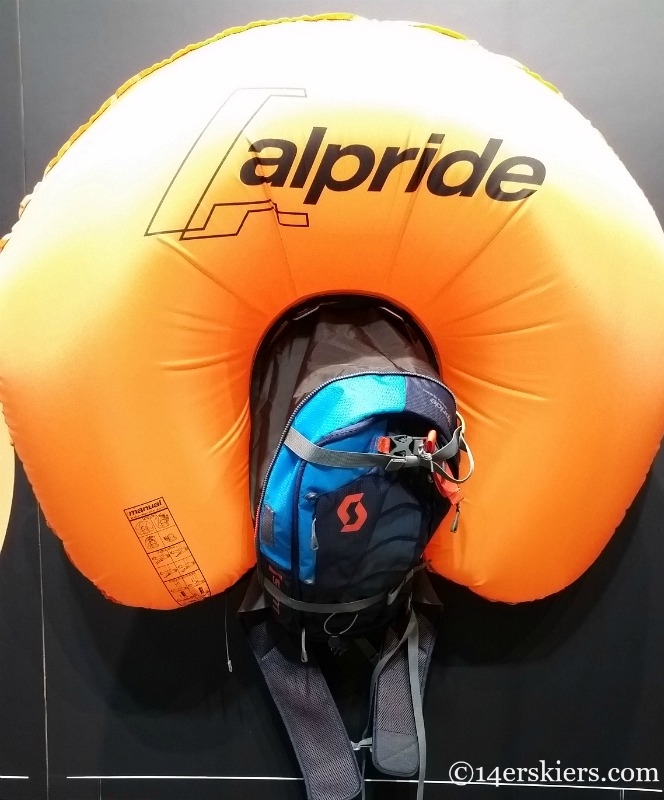 Article Name
Description
At SIA 2016, we found some interesting products from Scott, Arva, and BCA - all worth checking out. Take a look to find out more!