TR: Mount Champion Ski (3 July 2015)
(Last Updated On: July 22, 2015)
On July 2nd, Natalia and I stood on top of Mount Oklahoma and scanned the skyline around us. Some peaks were devoid of snow, while others held nice pockets of white stuff. These ones struck our fancy: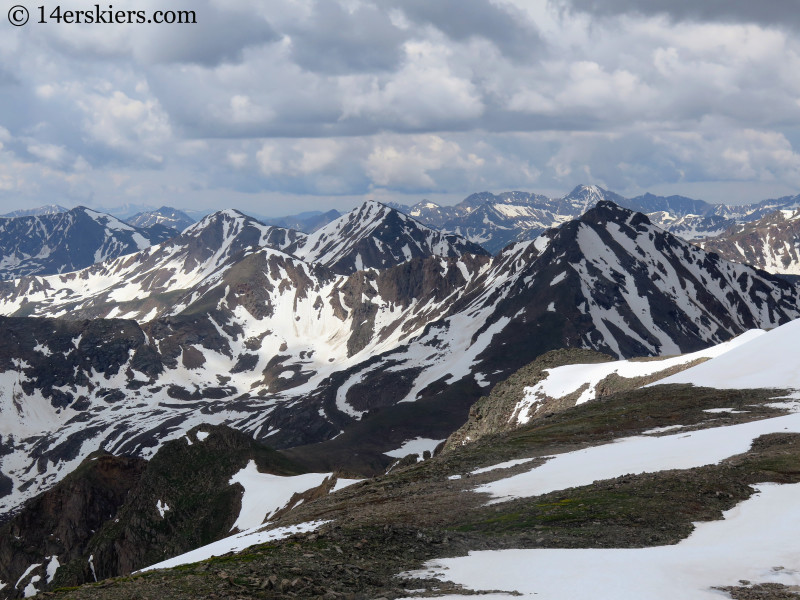 We'd originally had plans to ski the north face of Democrat, but upon seeing this, we decided to try for the northeast sides of Mount Champion and/or the adjacent 13,736′ instead.
We started at dawn with a rather freezing cold river crossing right off the bat. Although paths were not on our maps, we found trails to follow for a ways until this cabin.

After the cabin, willow hell ensued.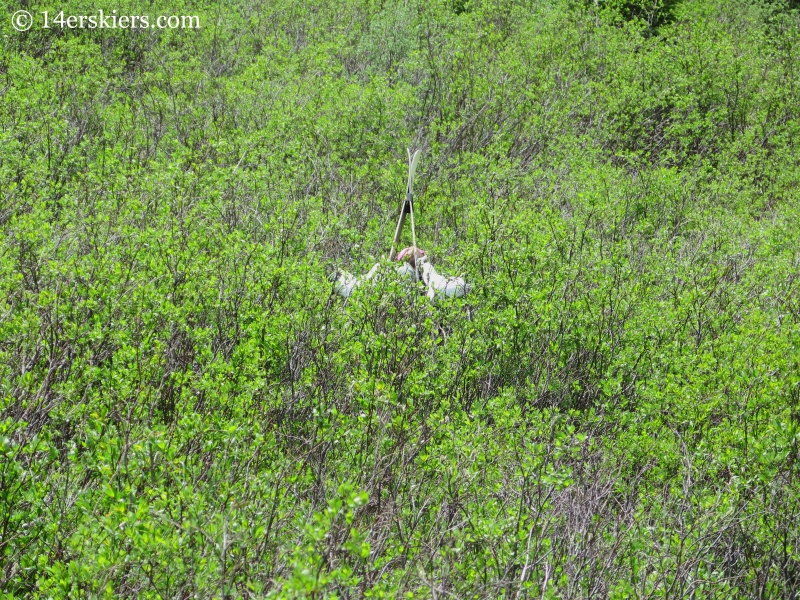 We'd been making such good time until then. But, this particularly long section of soggy willows, along with trying to figure out how to cross the very deep and fast moving creek kind of sucked the life out of us. Or at least me, anyway.
Our shoes were soaked, as well as the rest of us including our ski boots after brushing up against willows wet with dew. Dark clouds and rain squals threatened us. I almost gave up and turned around.
"We'll go another 30 minutes and see what the weather is doing then," I said. "I couldn't be more wet anyway."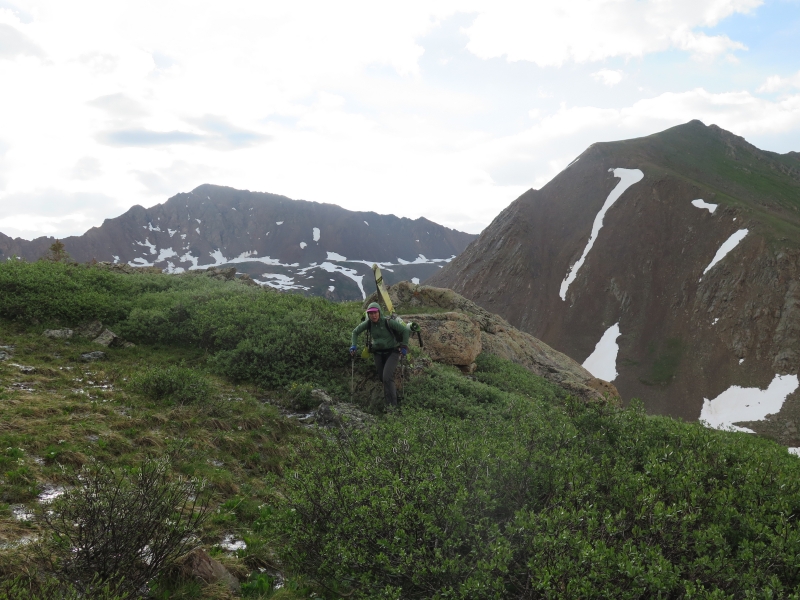 Grizzly still sure looked good!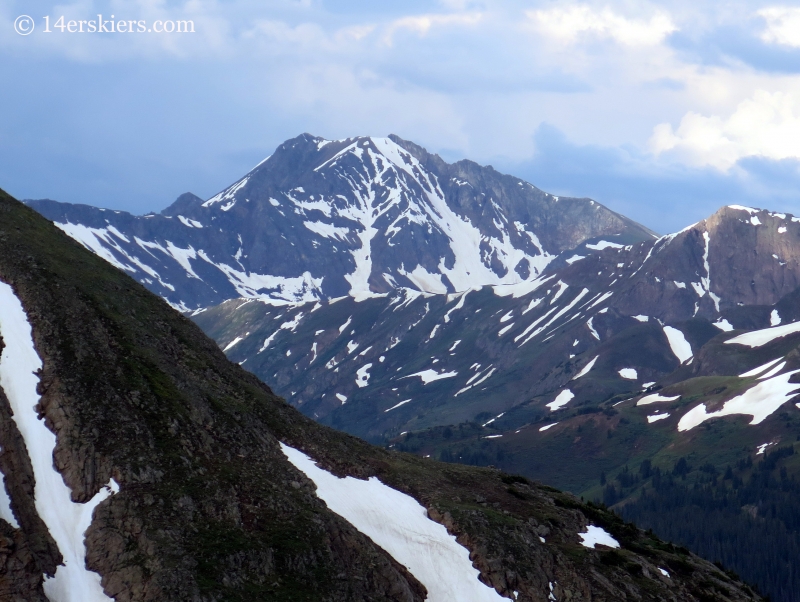 But, as we ascended, our spirits lifted, along with the clouds. And the sun began to show its lovely rays. Mountain Boy from afar.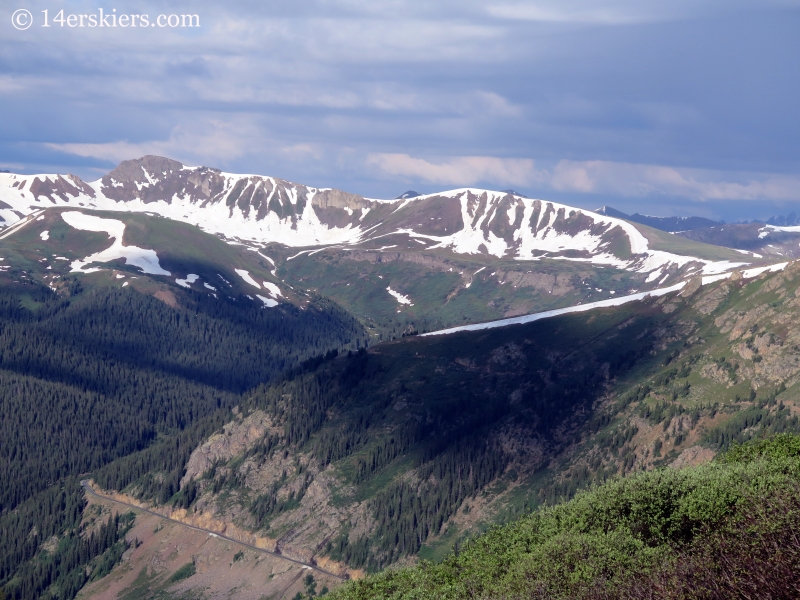 Twining still also looked pretty good for July 🙂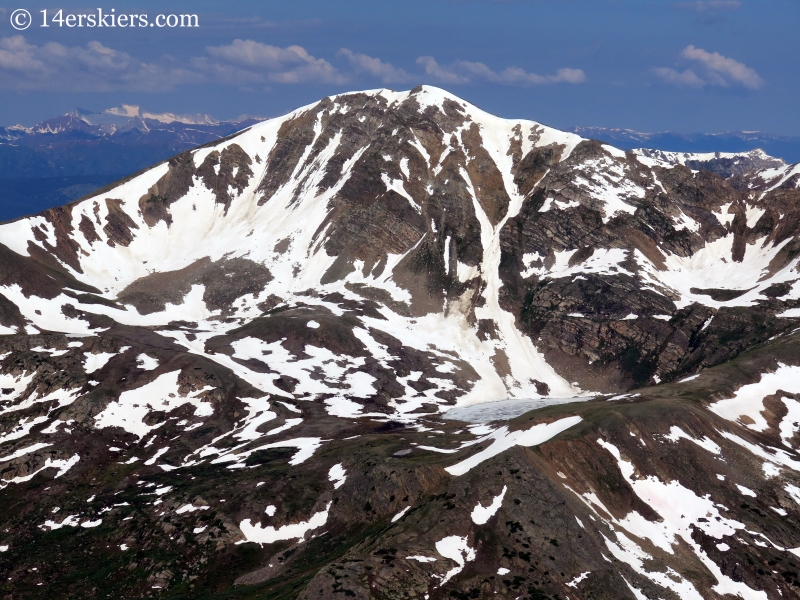 The entire southern side of Mount Champion is marked on the map as being a large mining claim, of which remnants are scattered all around.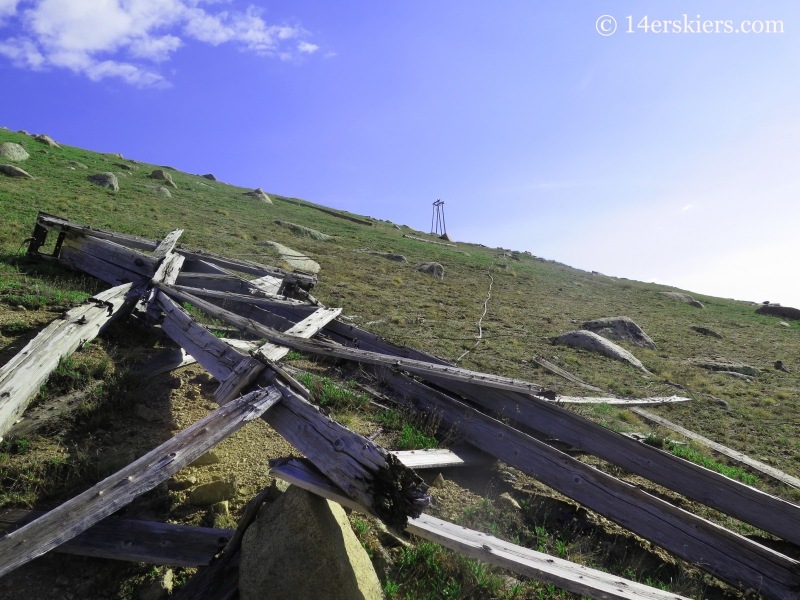 The "aerial tramway" ran from the Champion Mine on the south flanks of the mountain to the Champion Mill in the valley to the east.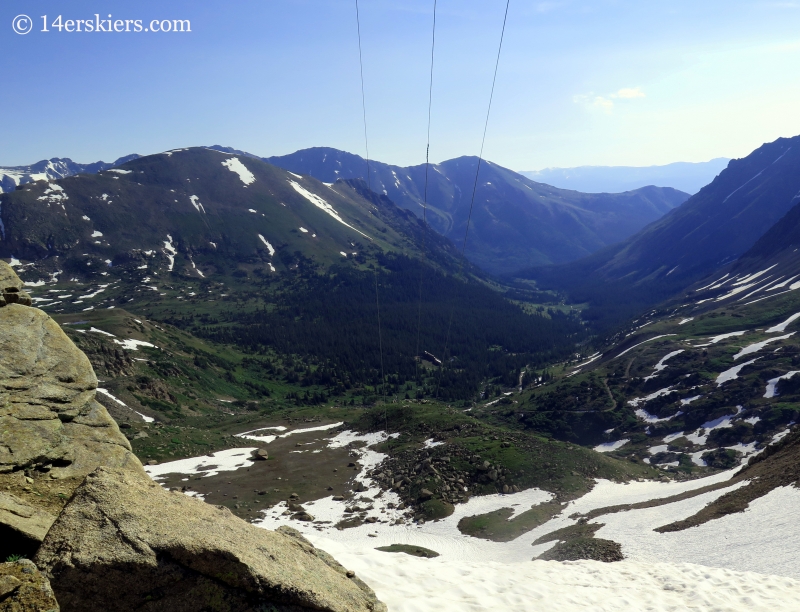 The Champion Mine produced a lot of precious ore, including gold and silver. These ruins are largely from the 1890's. More parts of the aerial tramway.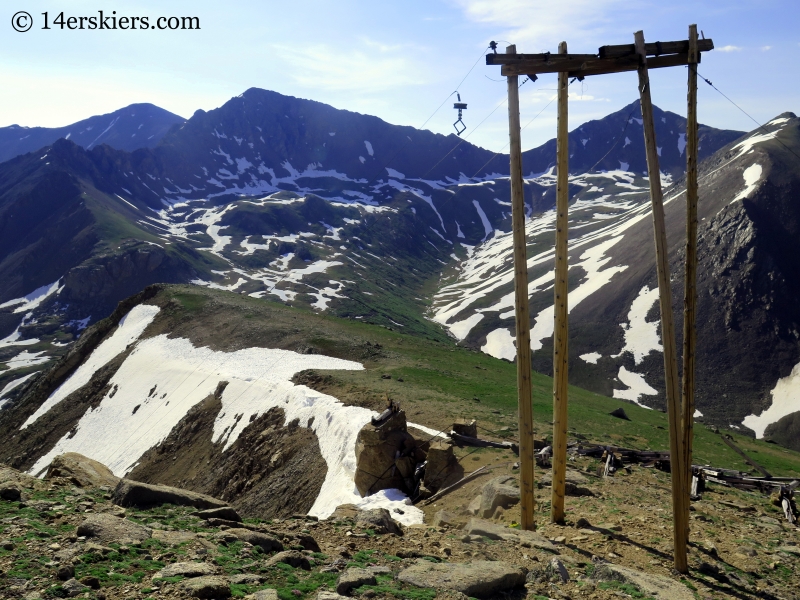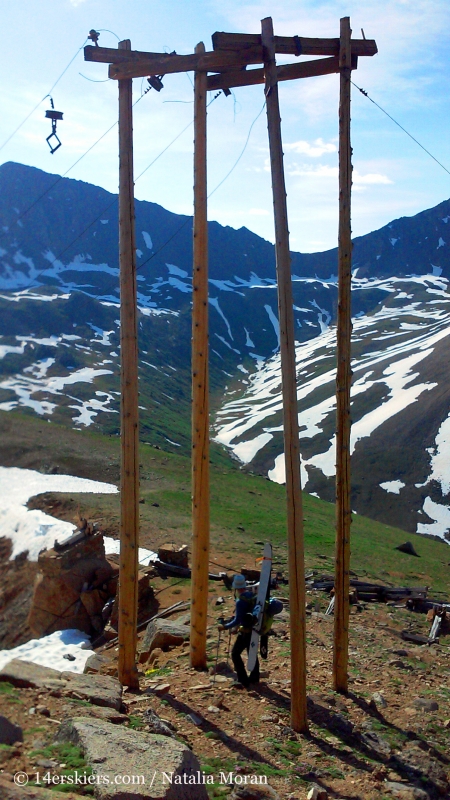 Alas, it was time to leave the mine and keep climbing toward the summit.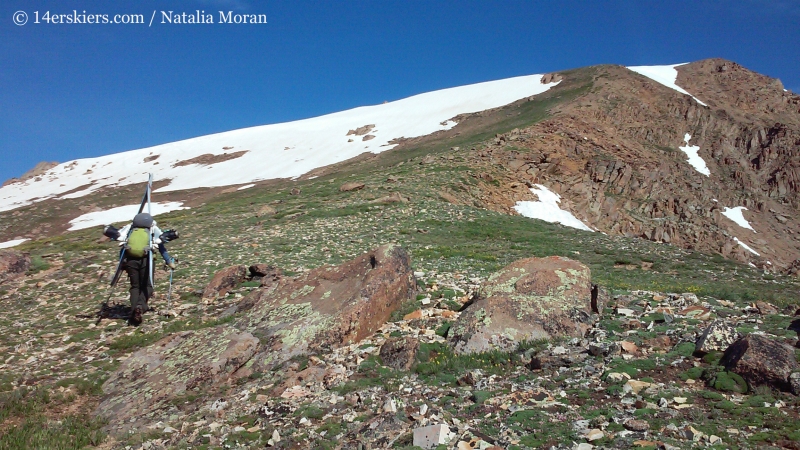 We passed a couple of massive cornices along the way.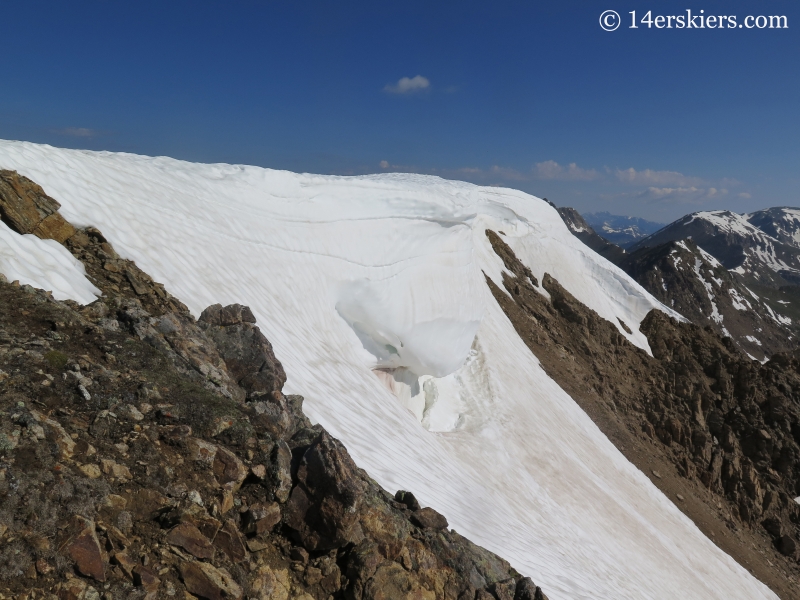 Almost to the summit!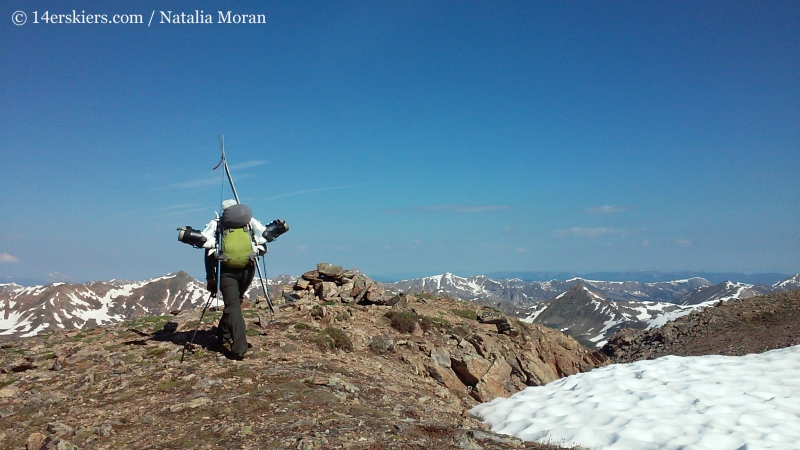 Again, some familiar names on the register.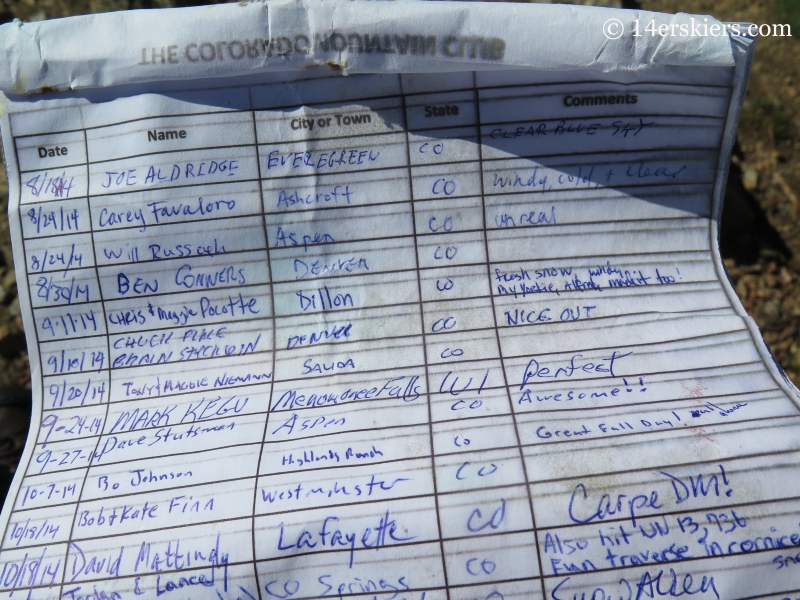 Natalia soaking in summit views.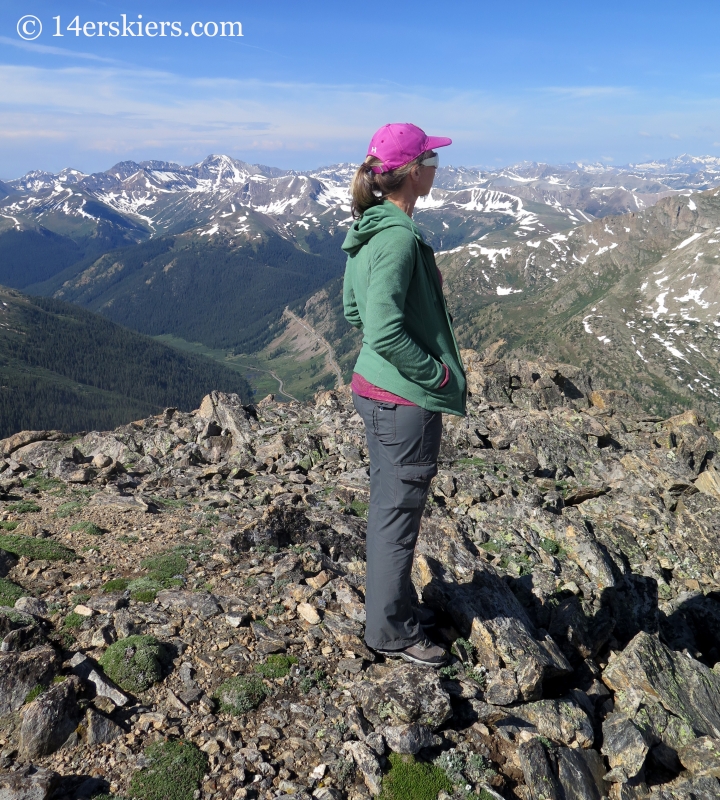 Wildflowers speckled the summit.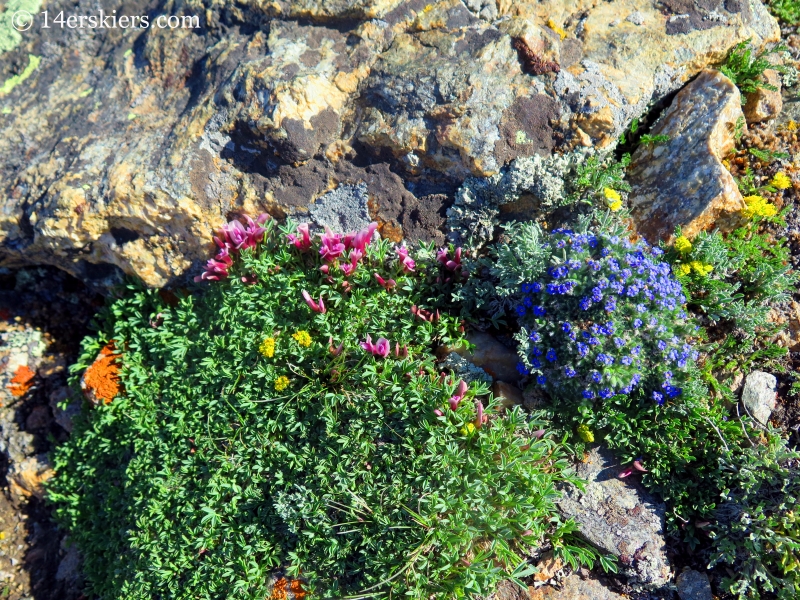 We originally intended to continue on the ridge to ski the NE side of 13,736′. But, the willows sucked some time and a lot of energy. And, after getting a better look at 13,736′ we determined we'd get more ski vert off of Mount Champion. So, we descended Champion.
Natalia.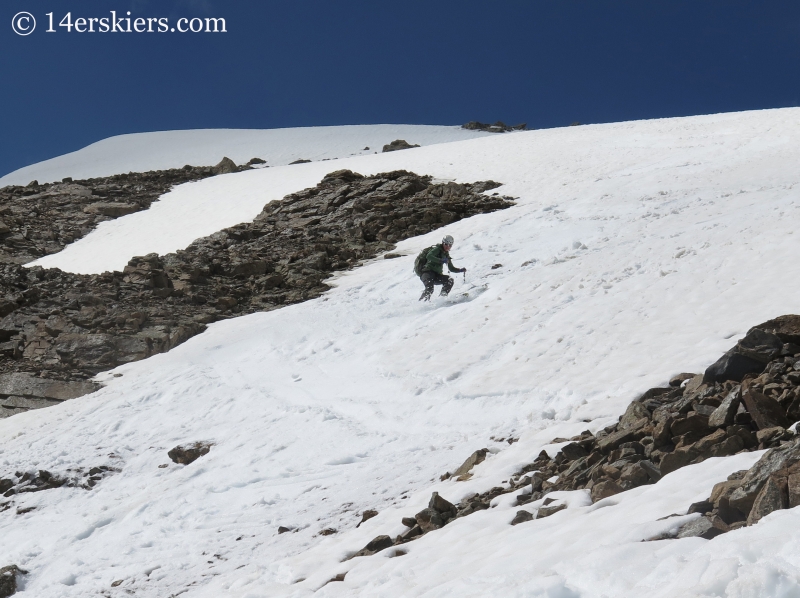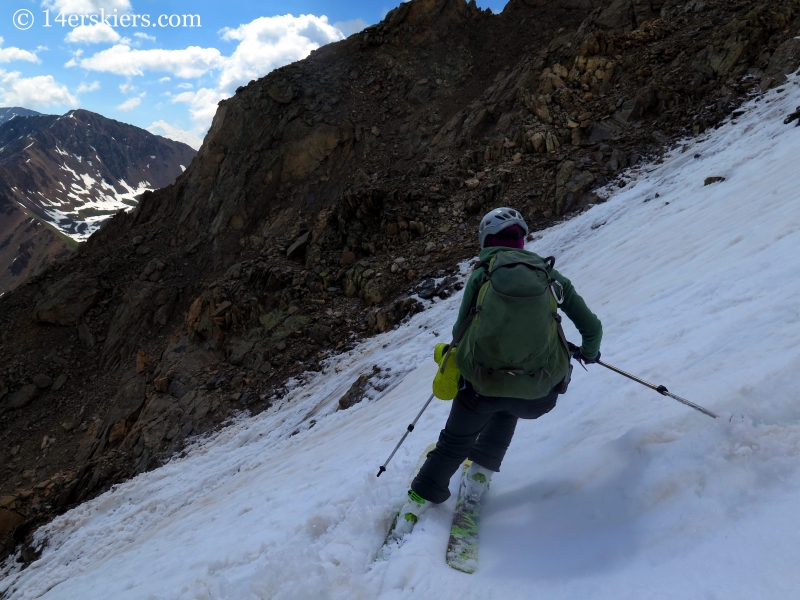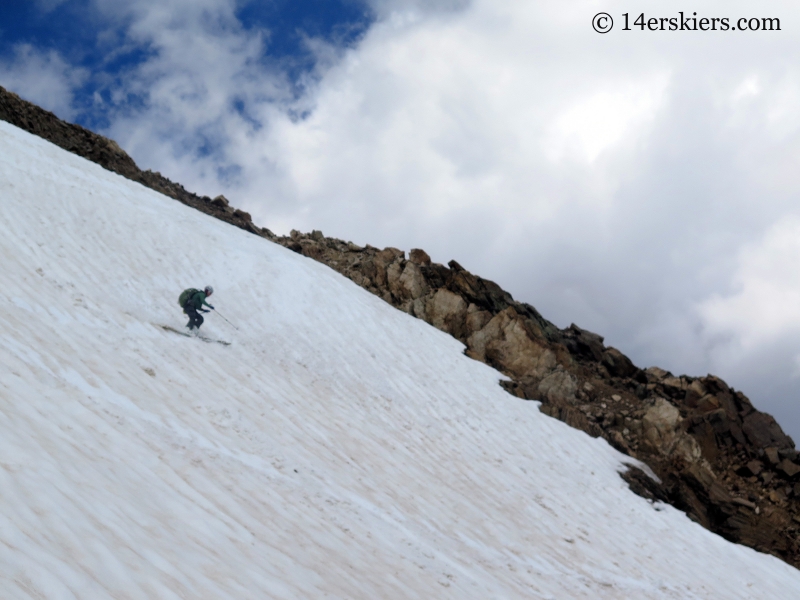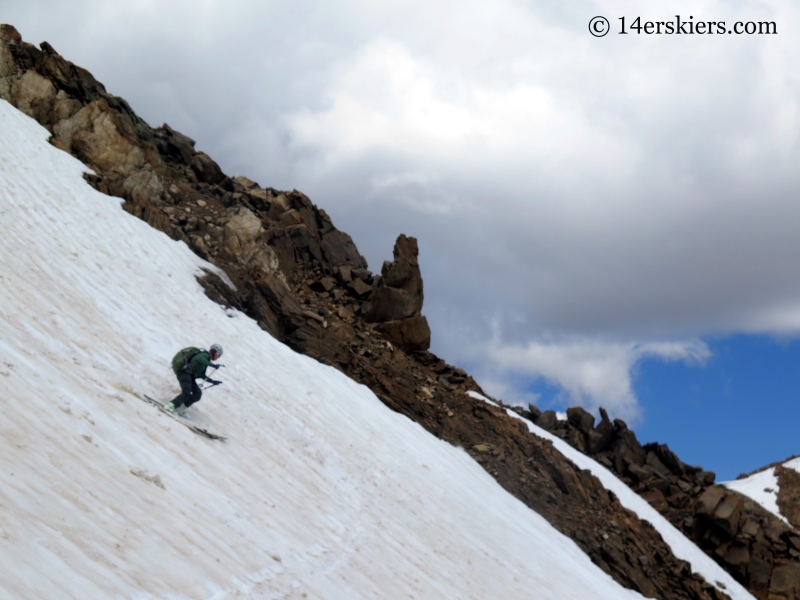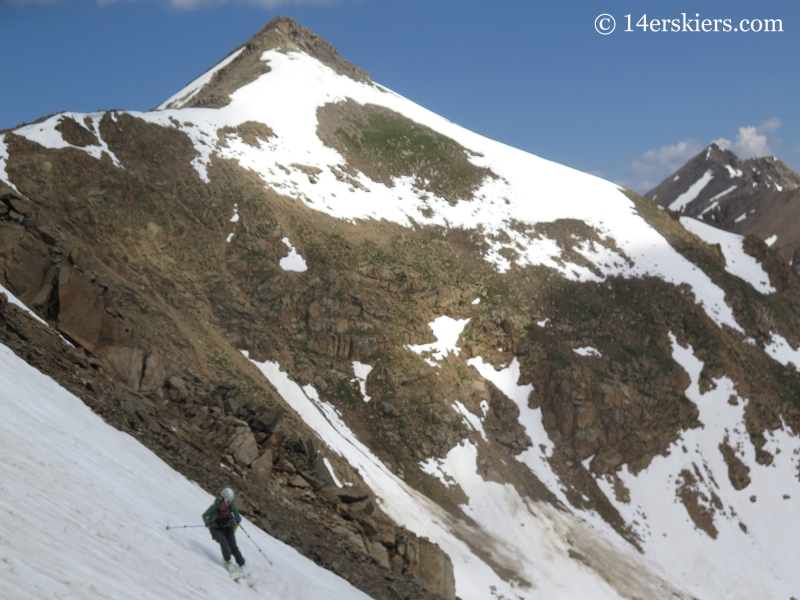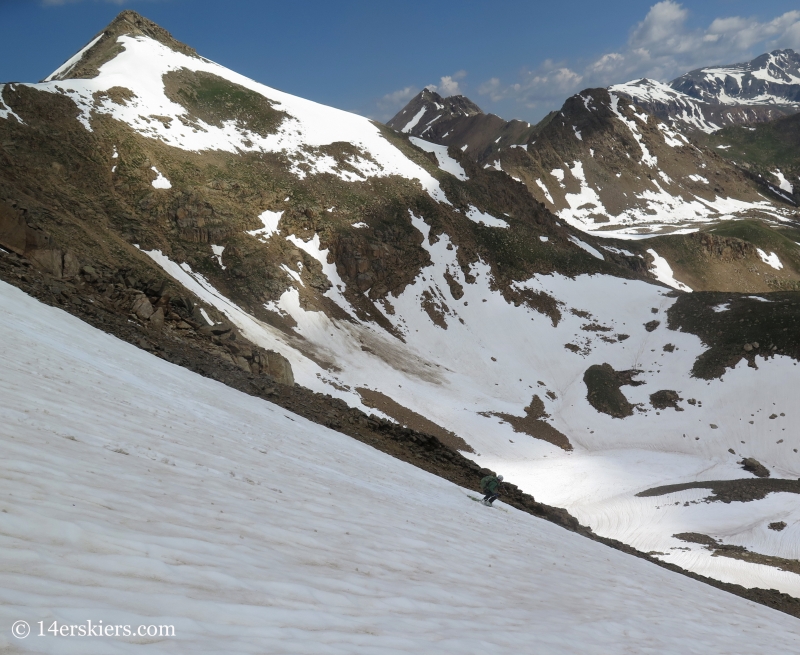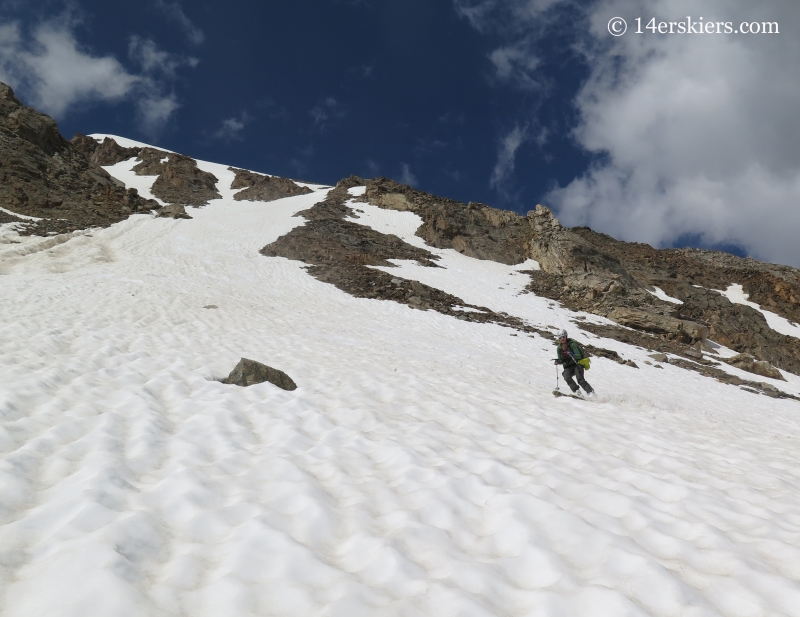 Me.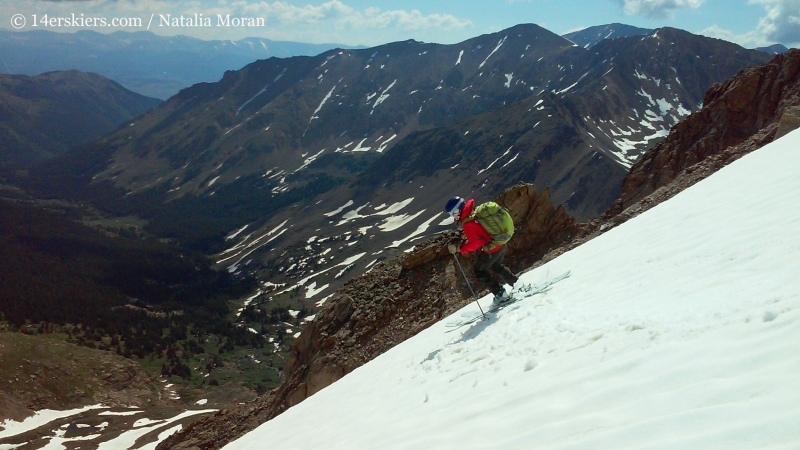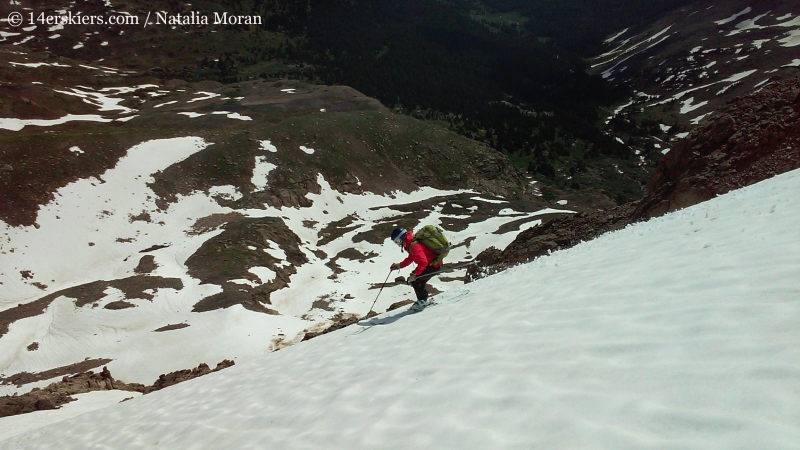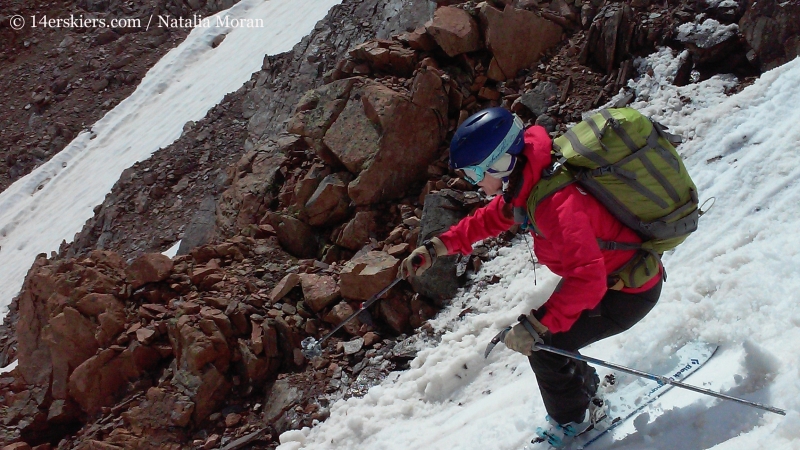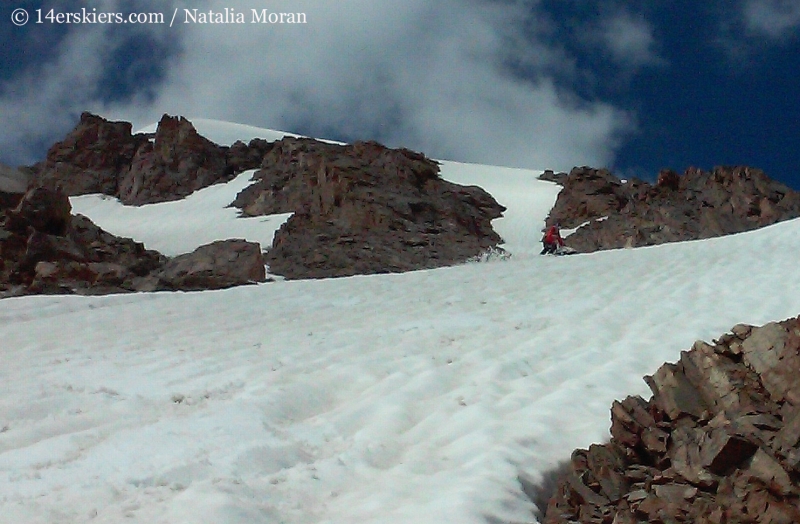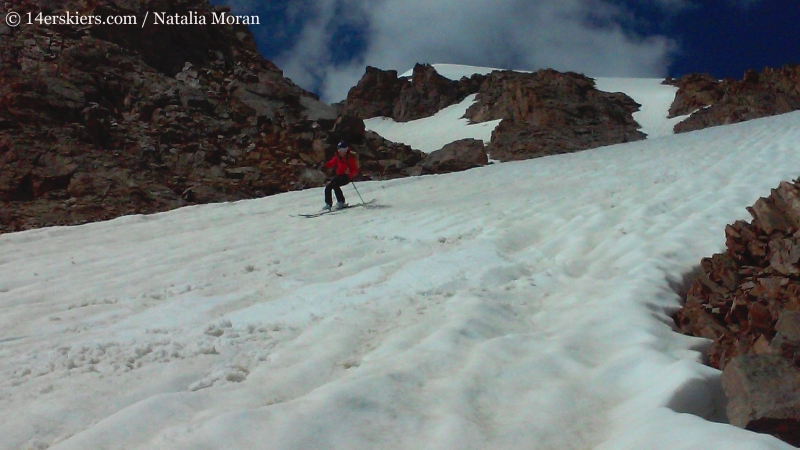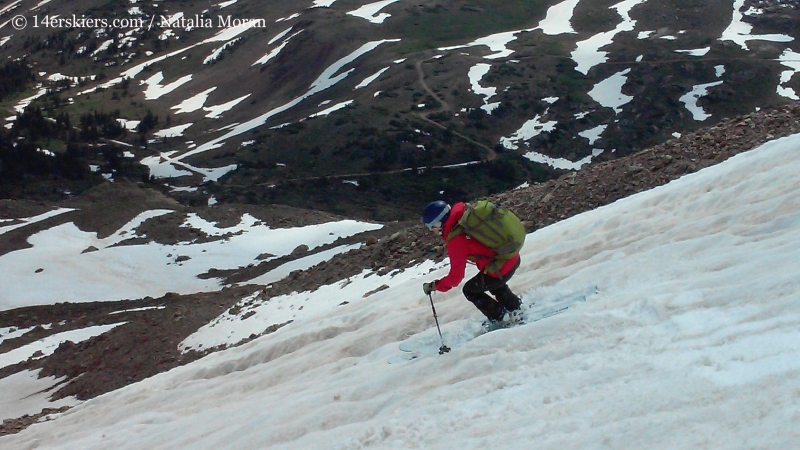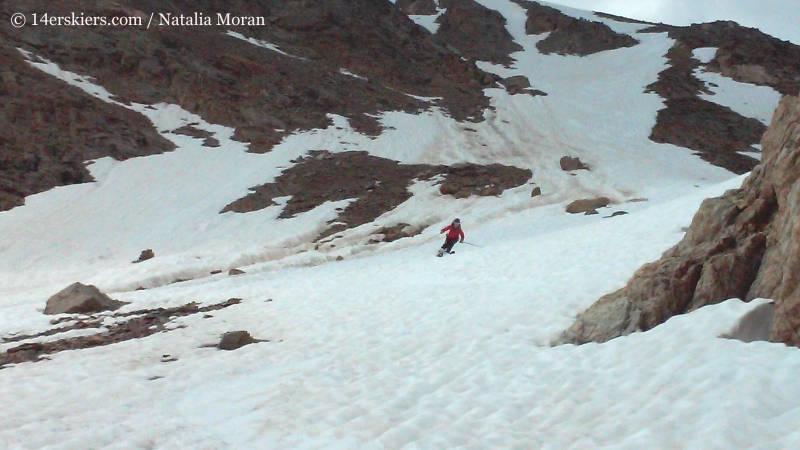 Our ski line.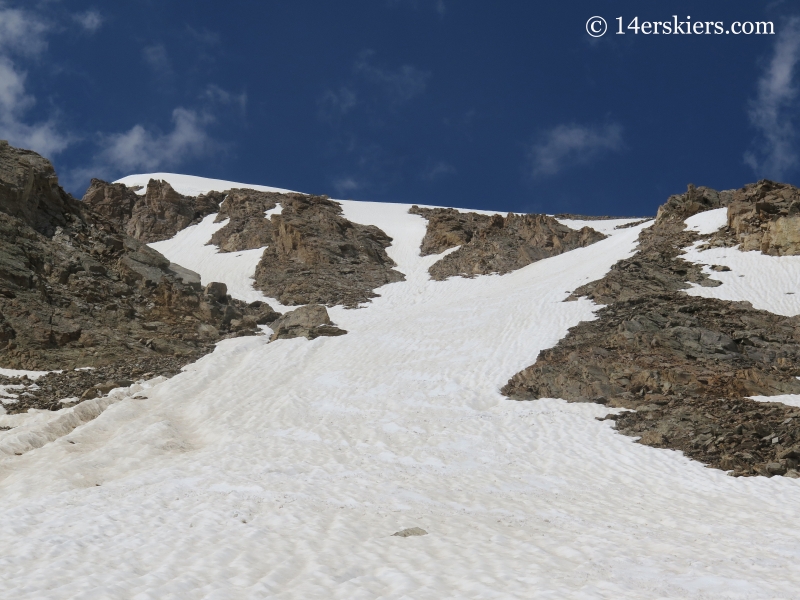 Still skiing! Natalie.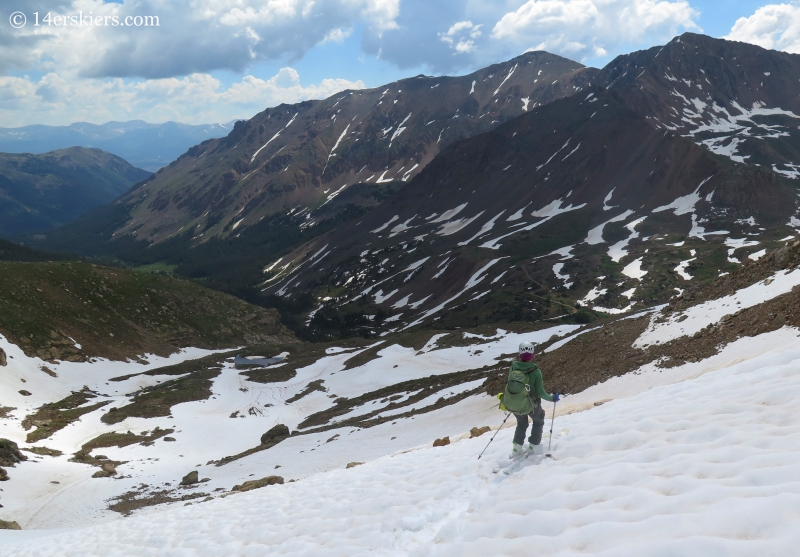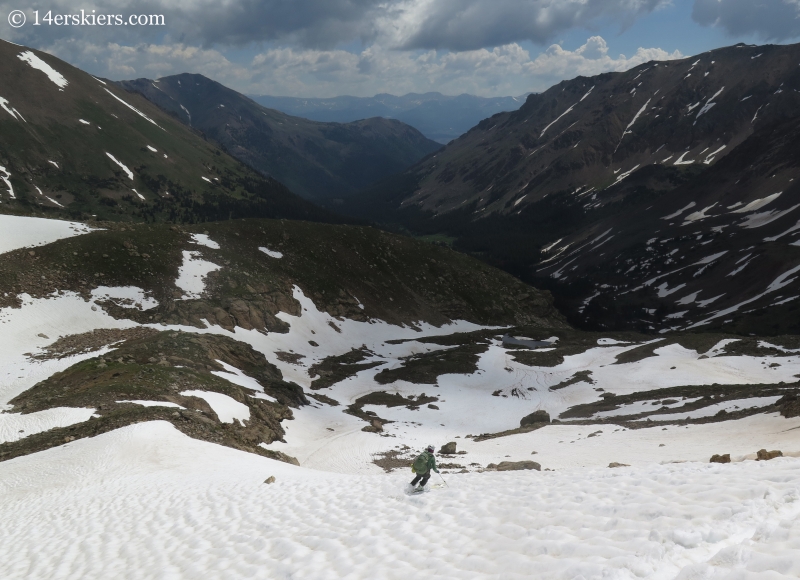 We skied nearly 1500′ vert to the valley, near the Champion Mill.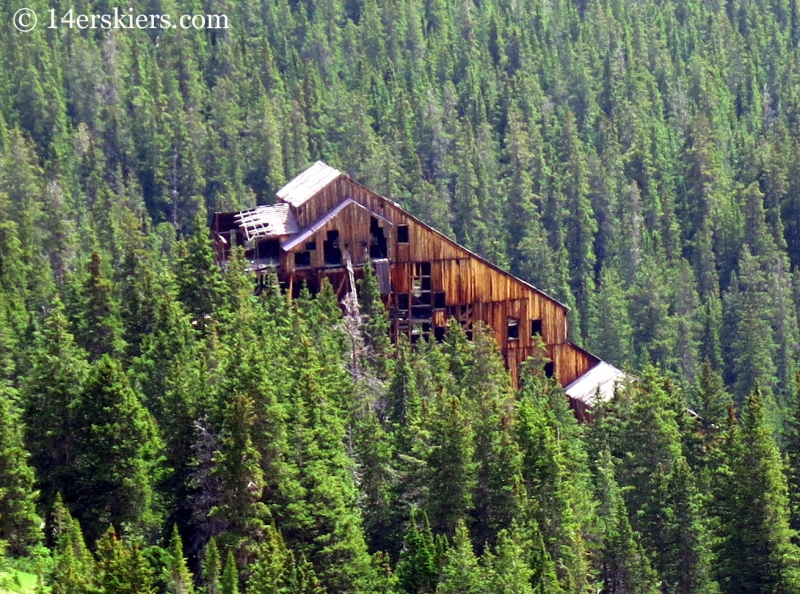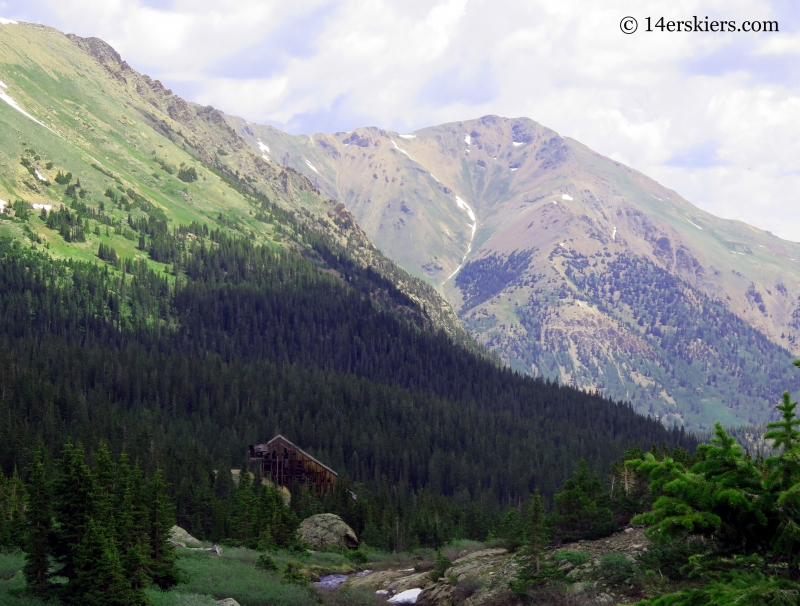 Another view of Mount Champion.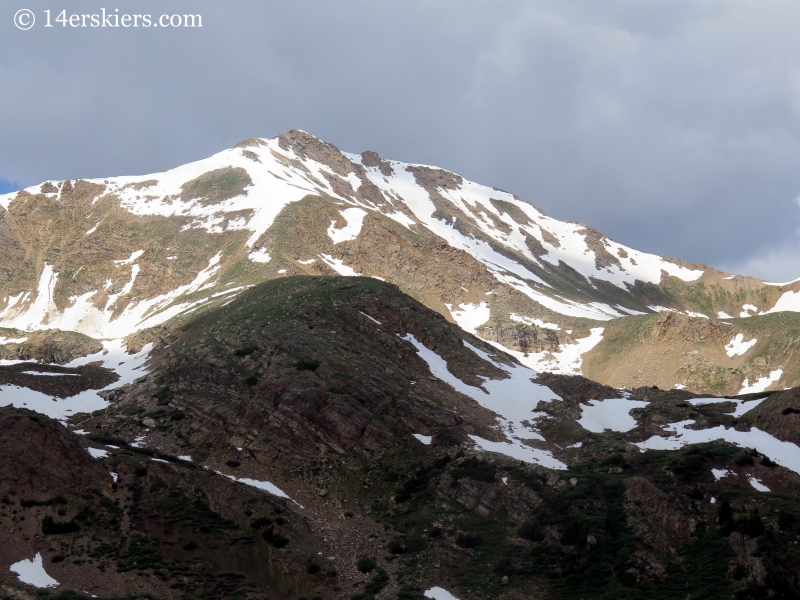 Snow was melting and being replaced by beautiful wildflowers.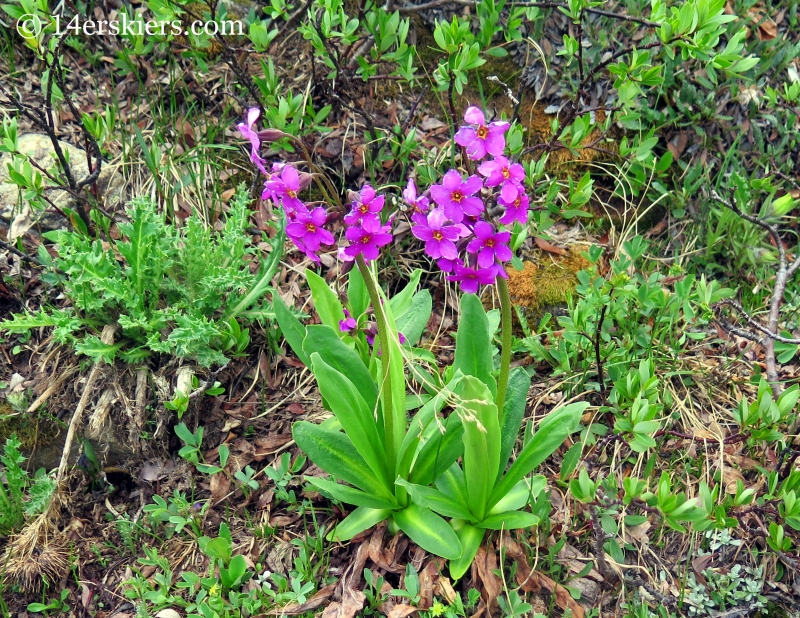 We followed the Champion mining road up to the saddle and back over to Lackawanna Gulch and descended from there. We found a little better route through willow hell. But, we still had some willow-bashing to do.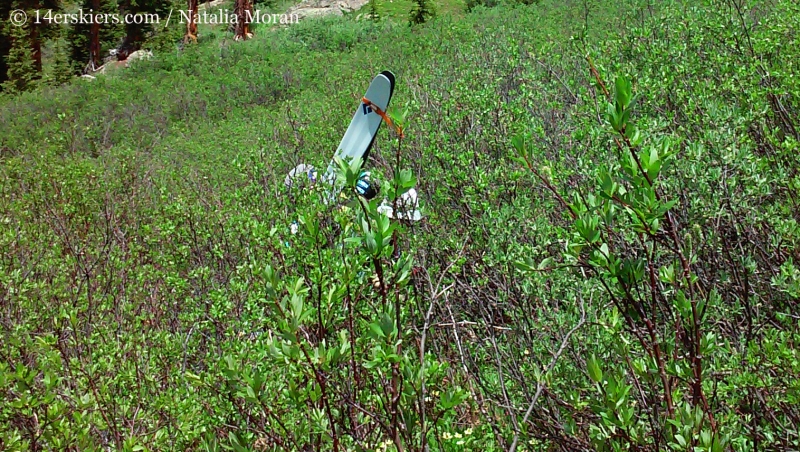 When we reached the beautiful old growth forest, the rain came back. And we were thankful we did not take the extra time to ski 13,736′.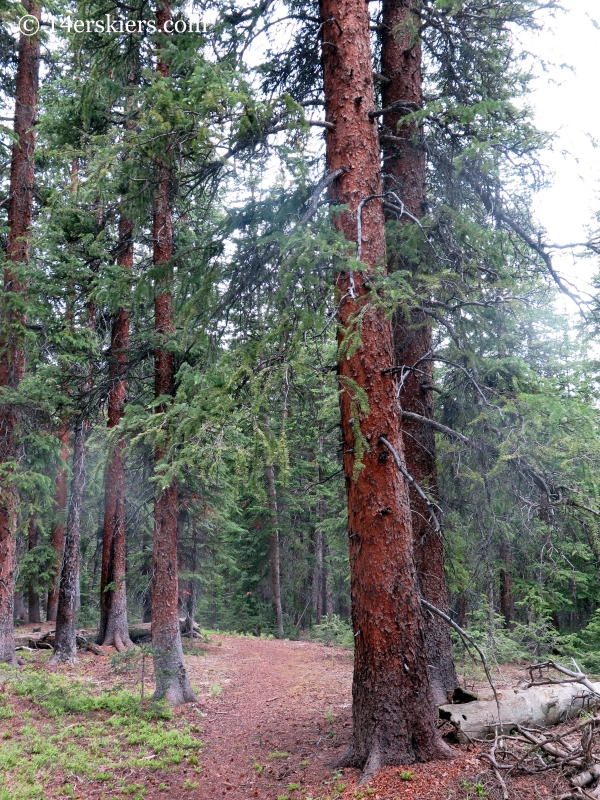 We had the stream crossing left to brave as well.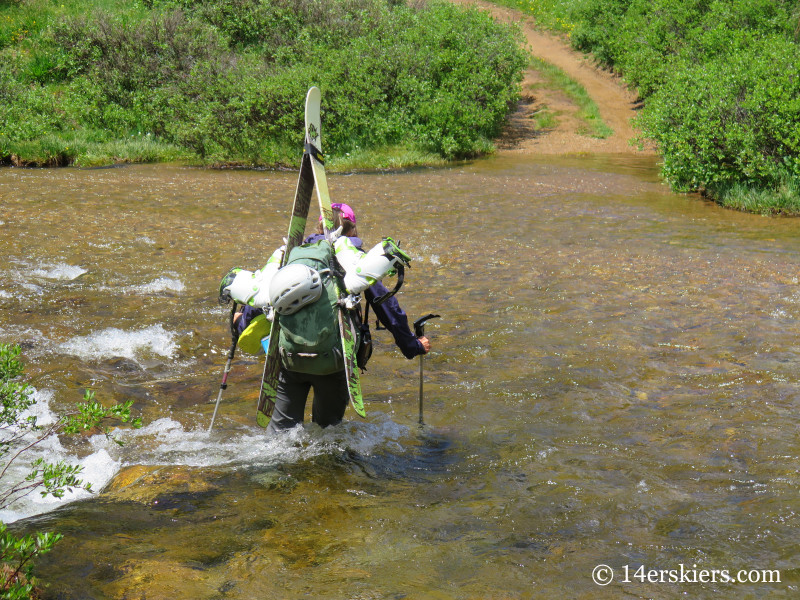 And then the skis turned blue once again, so we could enjoy one last view of Mount Champion.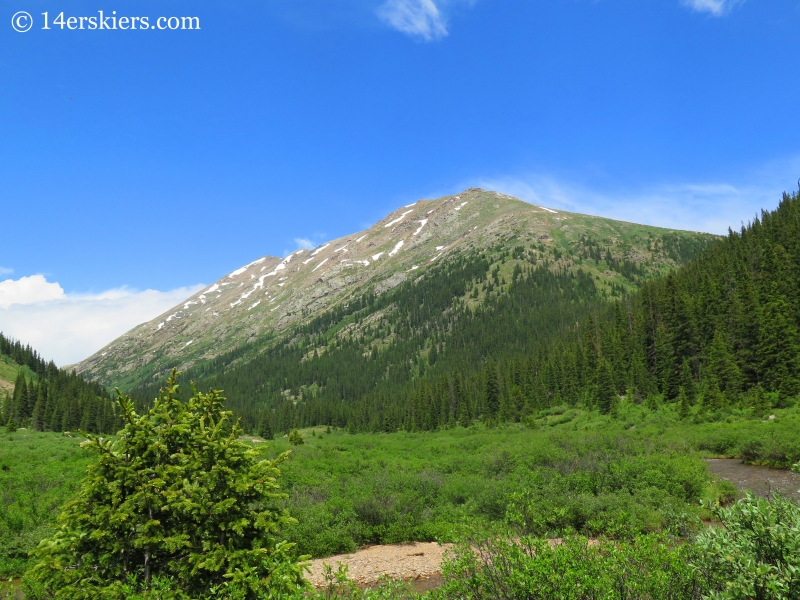 And that's it folks. I am officially ending my 2014-15 ski season with this descent on Mount Champion. Perhaps if my friend Kim Ross were still in Colorado, I'd try to help her bang out some summer ski lines so she could continue her turns-all-year streak, which currently stands at 188 months. But, alas, she is far away in Oregon.
Although I'm enjoying sniffing the flowers, hiking without a heavy backpack and skis, and flying through descents on my bike, I'm eagerly waiting for when the snow flies again 🙂 But, it's nearly August at this point. And the first issue of POWDER magazine will be arriving in our mailbox soon, always signifying the start of yet another ski season!
Aside from skiing, biking, and all outdoorsy things,
Brittany Walker Konsella
also loves smiles and chocolate 🙂 Even though she excels at higher level math and chemistry, she still confuses left from right. Find out more about
Brittany
!
Latest posts by Brittany Walker Konsella (see all)
Summary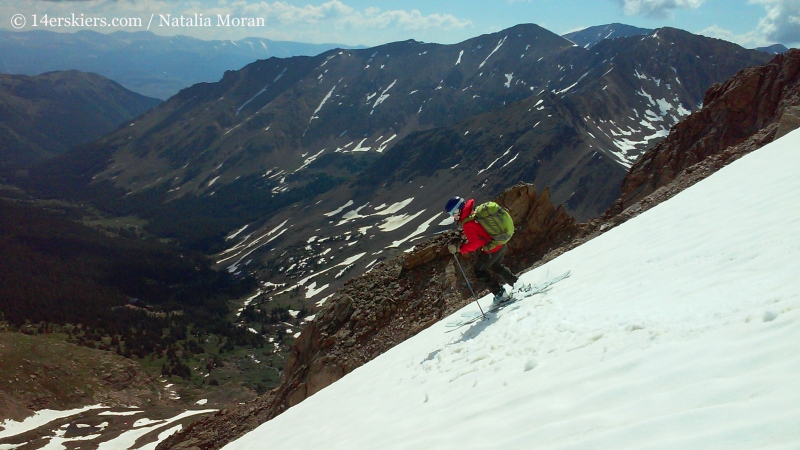 Article Name
Description
Mount Champion is a great descent for backcountry skiers, and a fun place to visit mining ruins too!
Author