14er TBT: Mount Massive Ski (6 June 2007)
(Last Updated On: June 4, 2015)
This is part of an ongoing series re-telling Brittany's fourteener-skiing story. Look for the reports every Thursday, as part of a Throwback Thursday theme.
It was now June and I had at least one more fourteener to ski before I booked off for a trip to hike the Inca Trail in Peru. Mount Massive seemed to fit the bill, becoming my 30th fourteener skied. Below is a slightly modified version of my original trip report.
Mt. Massive (14,421′) 6-6-2007
Brittany, Jon Turner

Mt. Massive has been on my list for awhile. I'd wanted to do it about this time last year, but never got around to it. I'd talked about doing in in March and April, but snows prevented me from doing so. Jon Turner and I had spoken about doing Massive several times, but timing/weather never worked out for us. Yesterday it finally worked out for us!
We met at the gas station near the corner of the turn off for Half Moon Creek Road and then drove up to the North Halfmoon Creek TH. Jon's Jetta would only make it a bit past the South Halfmoon Creek TH, but my Subaru made it all the way to N Halfmoon, but I did have to be careful on a few sections. Our plan was to approach Mt. Massive from the SW couloir.
The trail along Halfmoon Creek is easy and we made good time on it. Where the trail breaks off toward the SW couloir, the turn off is marked with a large cairn that is pretty much impossible to miss. The trail is steep, but is relatively easy.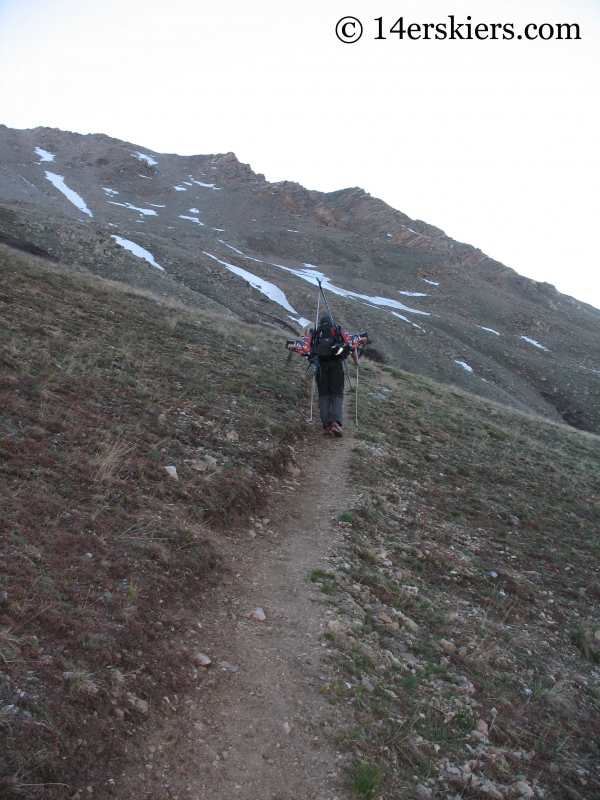 Looking back down the Halfmoon Creek valley- Mount Elbert Northwest Gullies in the distance.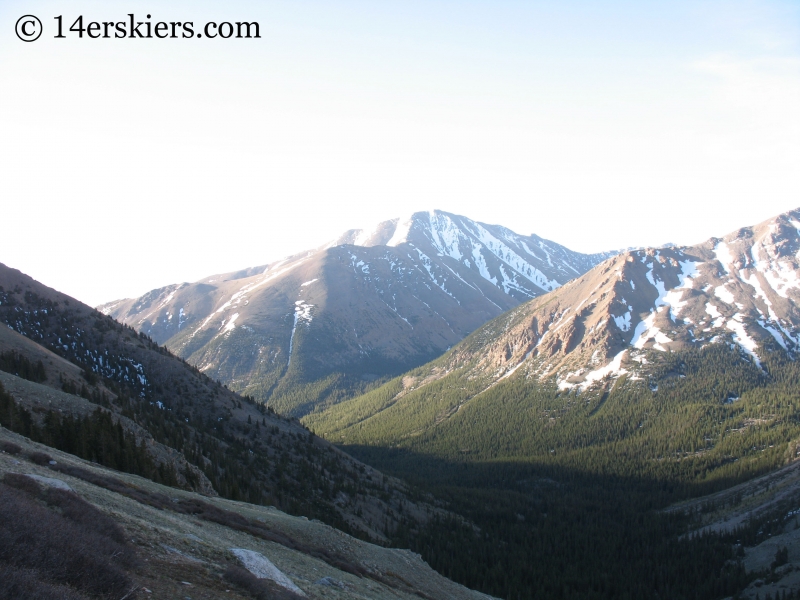 Taking a break along the trail. You can see the snow field behind Jon. The snow went down as far as 12,200 feet. But we chose to stay on the snow-less trail as far as we could.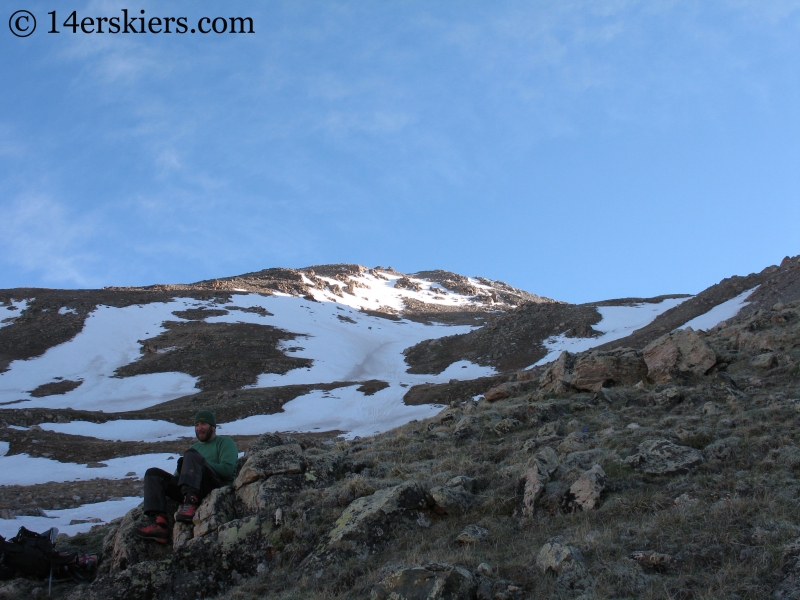 We followed this trail up to about 13,000 feet or so before we were crossing enough snow paths to warrant going a snow route. We left the trail, and took a very obvious snow route the rest of the way up. The snow route is approximately the top half of the snow shown in the picture above.
Jon climbing.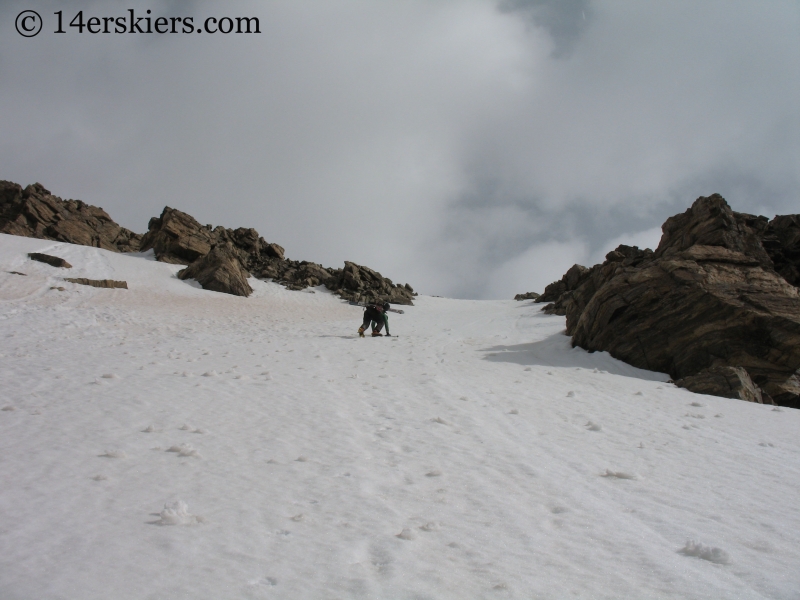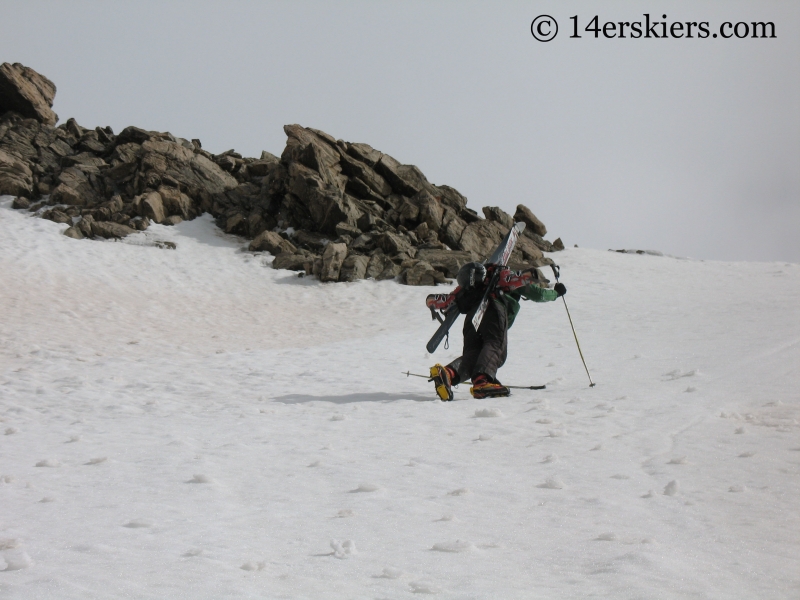 Me climbing.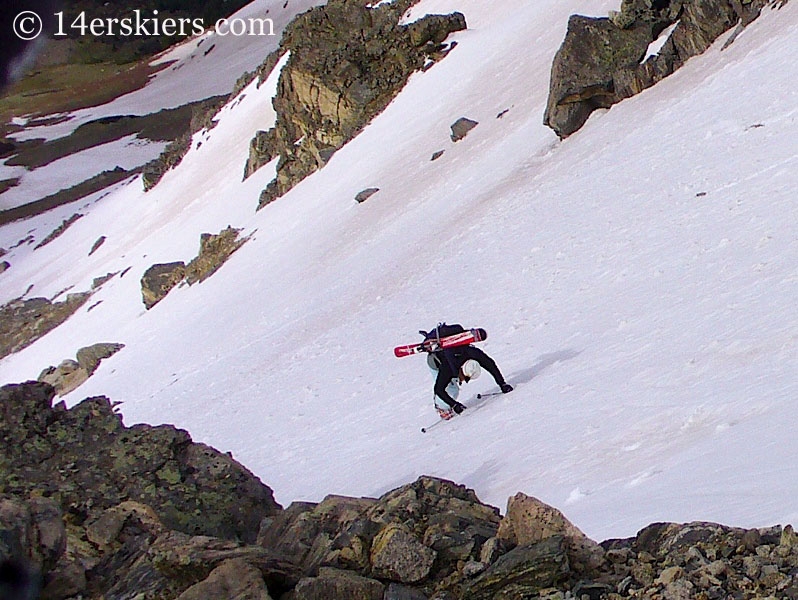 On our way up we took some time to admire the wonderful lines that surrounded us. I believe the photo below shows unnamed peak 13,535 (left) and Deer Peak (right). (Please correct me if I'm wrong! I didn't have a decent topo with me that showed these peaks on my ascent. I looked them up afterwards).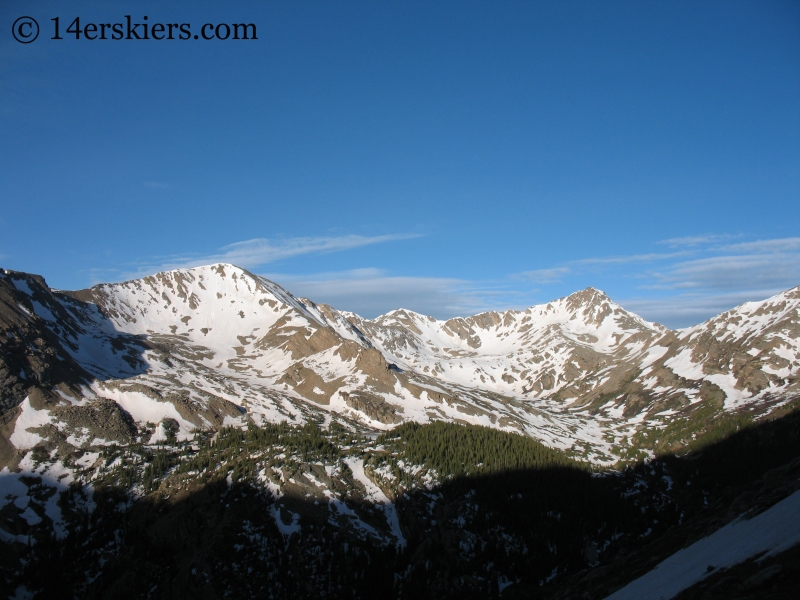 I think this amazing peak might be Frasco, with French to the left. Nevertheless, there's some great lines coming off of it!!!!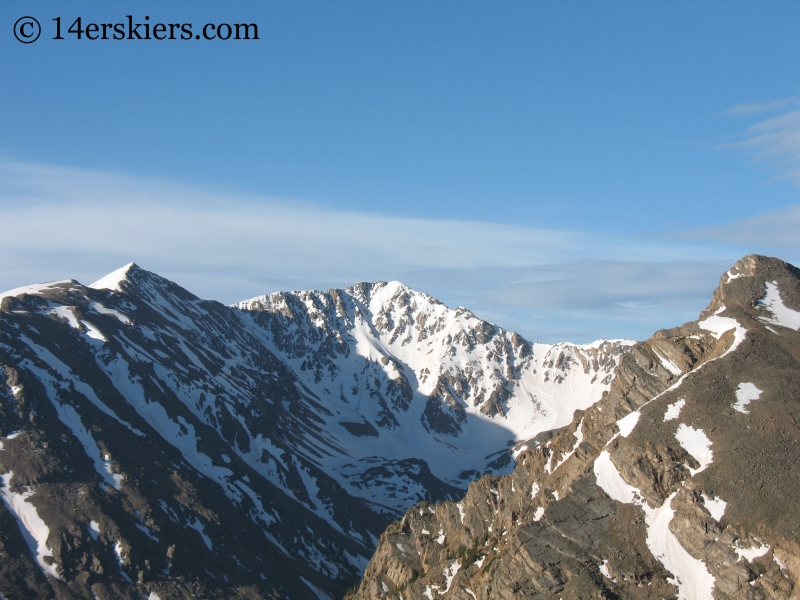 On our way up the winds began to increase more and more. We eventually saw these clouds moving in. A cold front was on the way.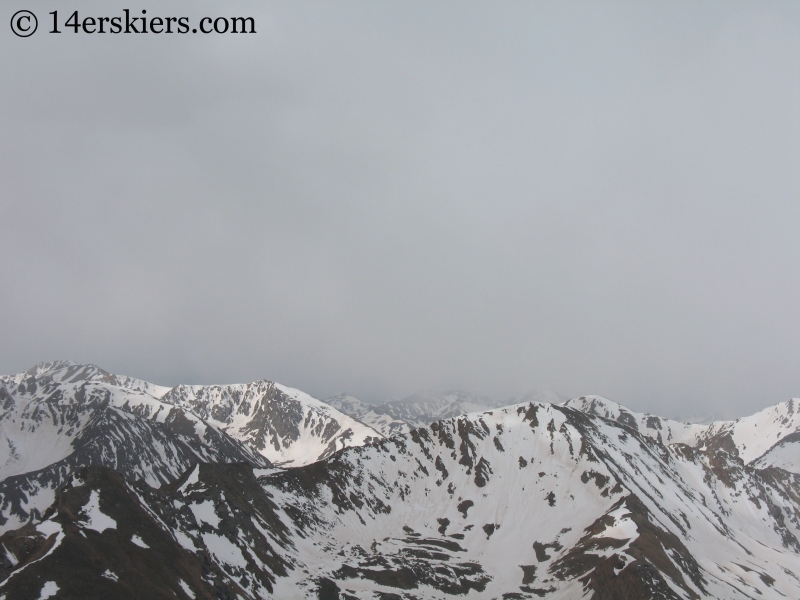 La Plata. Still looking excellent. Gosh do I love that peak!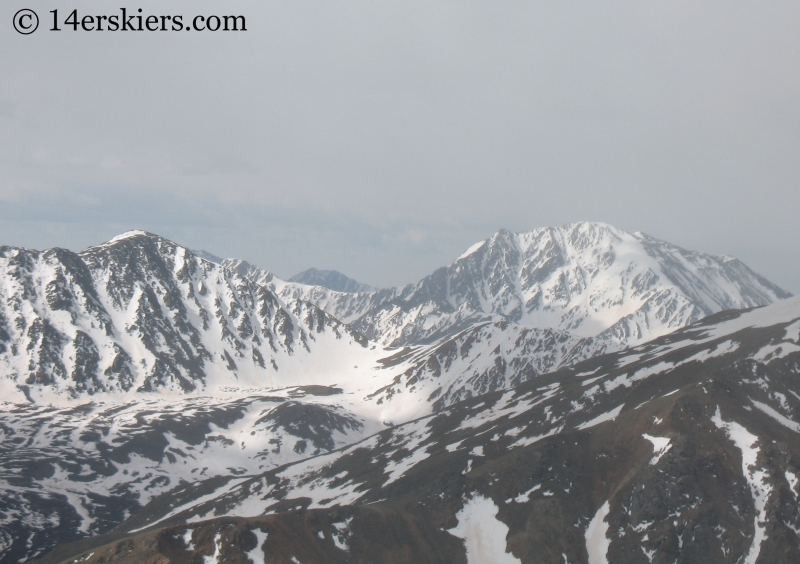 The SW couloir takes you to a ridge that is south of the summit of Mt. Massive. The winds were increasing more and more as we approached the ridge and became a factor in choosing our route. Sometimes gusts would be so strong that they would knock me to the ground- largely due to the "sails" of my skis on my pack. When we ended up on the ridge and looked north, the ridge looked daunting, especially with the wind. But we headed over to the east side of the ridge. There, the wind was significantly less, and there was an obvious route there, which wasn't apparent from the other side of the ridge. This route required us to sometimes stay below the actual ridgeline, but on the east side of it, crossing many snowpaths along the way. Other times it required us to climb up onto the actual ridgeline rocks as shown below.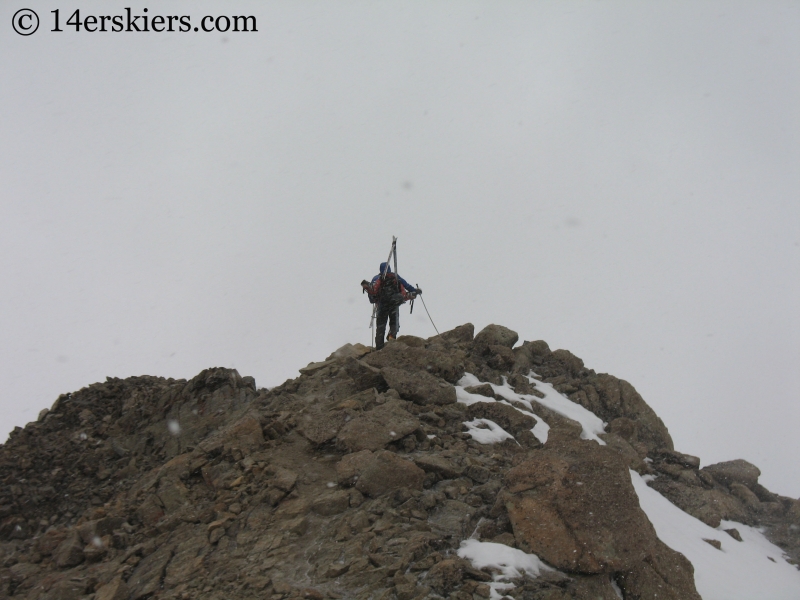 If you go this route, don't be deceived. There's quite a few false summits along the way!
As we approached the actual summit the weather was worsening, quickly. There was snow falling and visibility was quite limited.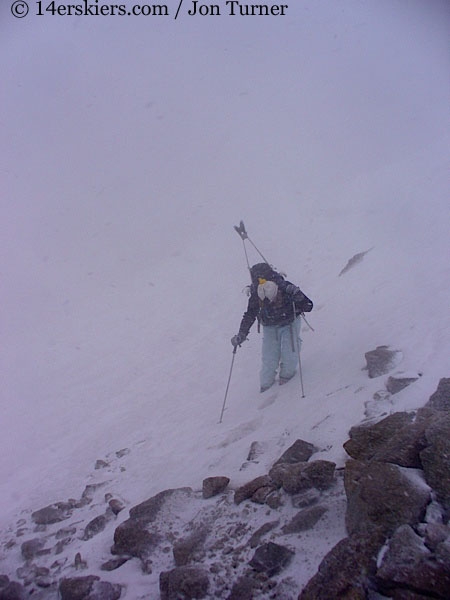 Jon was pretty cold putting on his ski boots on the summit!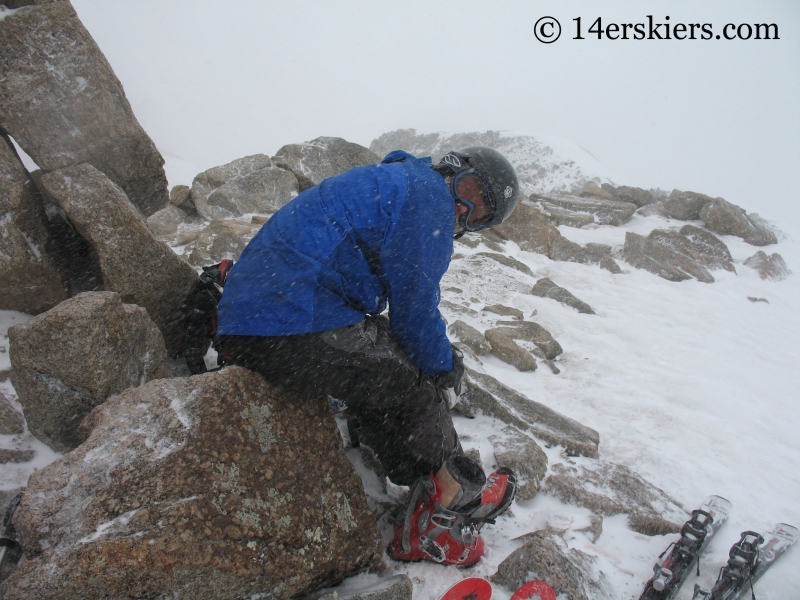 This was our lovely summit view.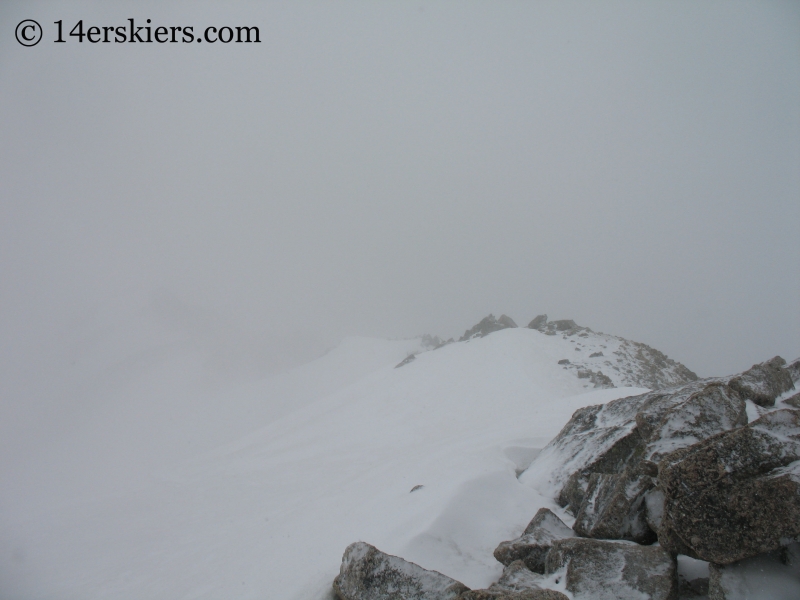 Me on the summit. If I look cold, that's because I am!!!!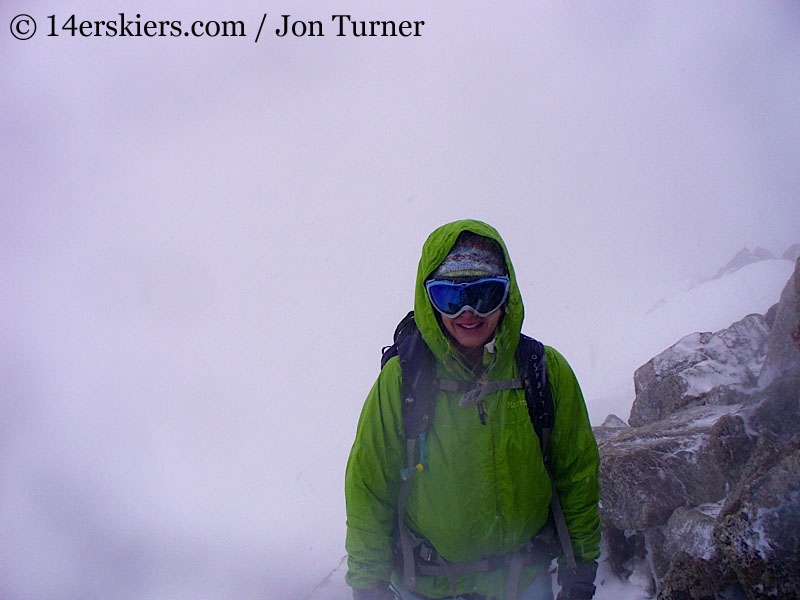 Our plan all along was to ski a bit down the east face, work our way to the saddle south of Massive, and then traverse over (w/o skis) back to the SW couloir. This was still our plan, but we were worried about being able to find the saddle since we couldn't see it. Because of that our ski descent on the east face was a bit less than desirable. We did a lot of traversing, trying to stay high near the ridge so we could find the saddle.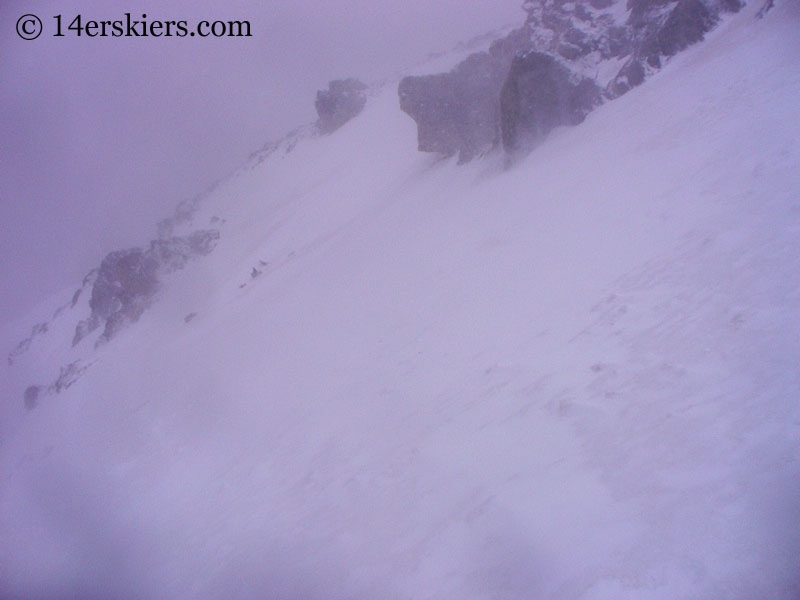 Jon's self-portrait (he looks pretty funny doesn't he 🙂 )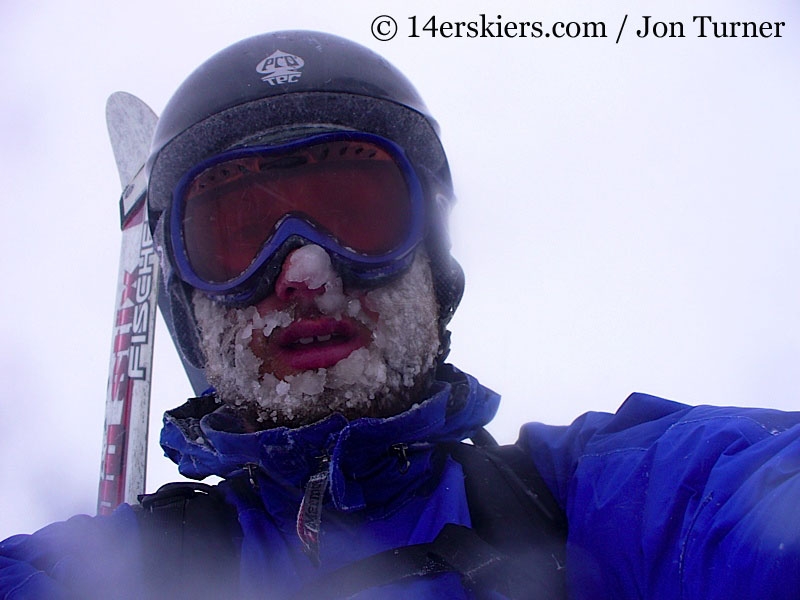 Thankfully, we found the saddle without any issues. This pic shows Jon putting his skis back on his pack for the traverse over to the SW couloir.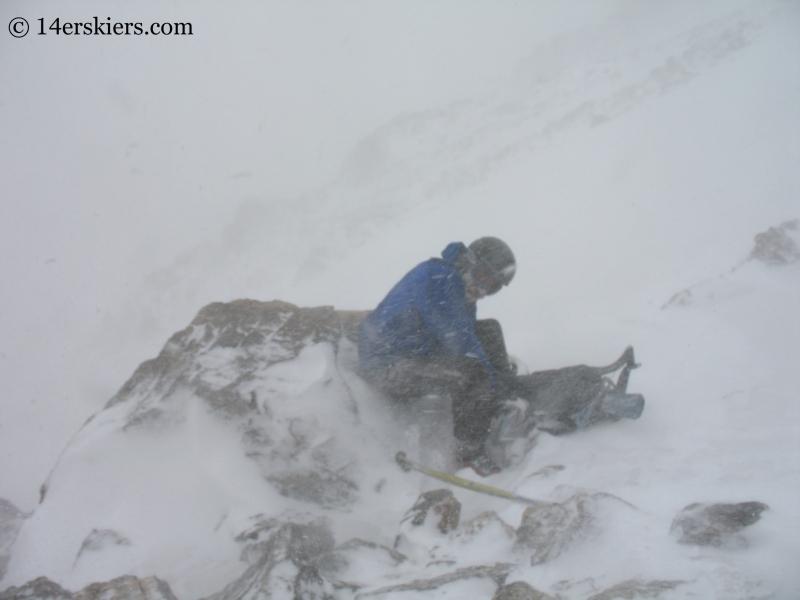 The traverse over was pretty bad. The wind was blasting. The talus was really loose. And the rocks were really slippery due to newly fallen snow. We took our time traversing. We found our SW couloir without any problems and began skiing.
After we'd descended about 1000 feet from the summit the visibility began to improve and we were finally able to take a few ski pics!
Me.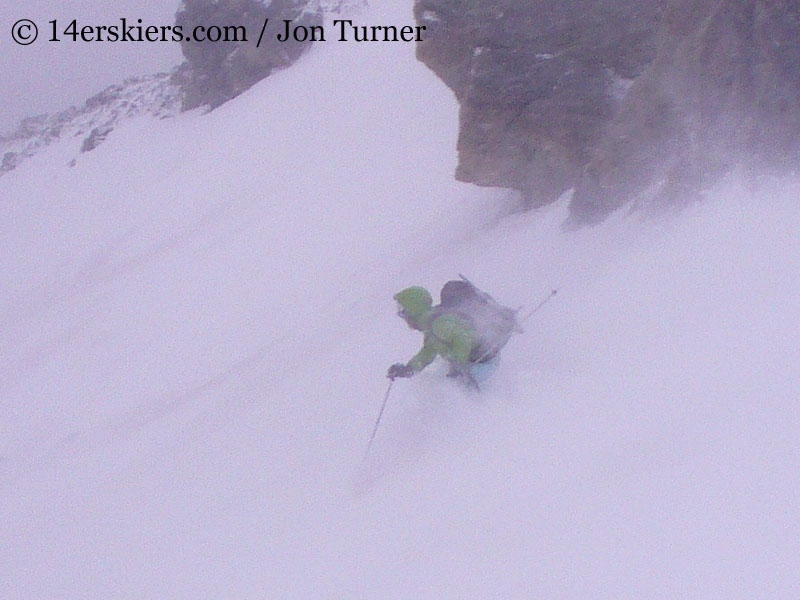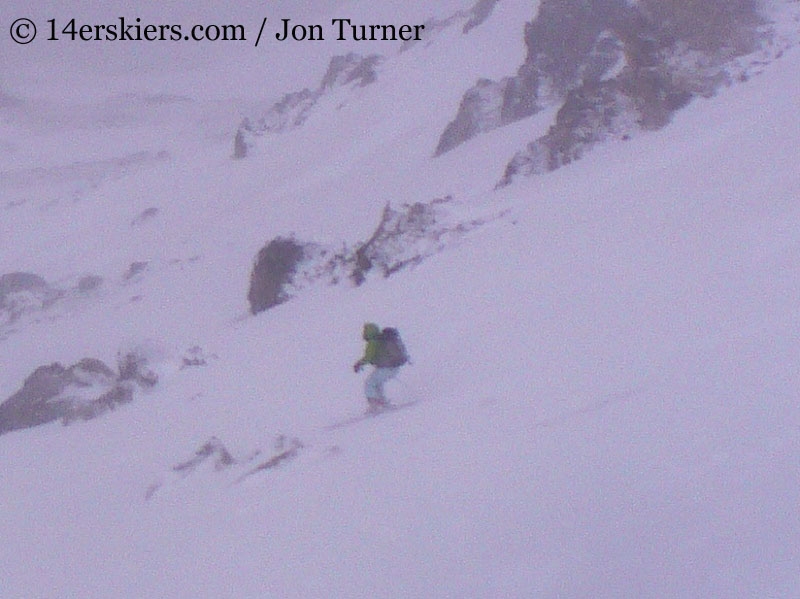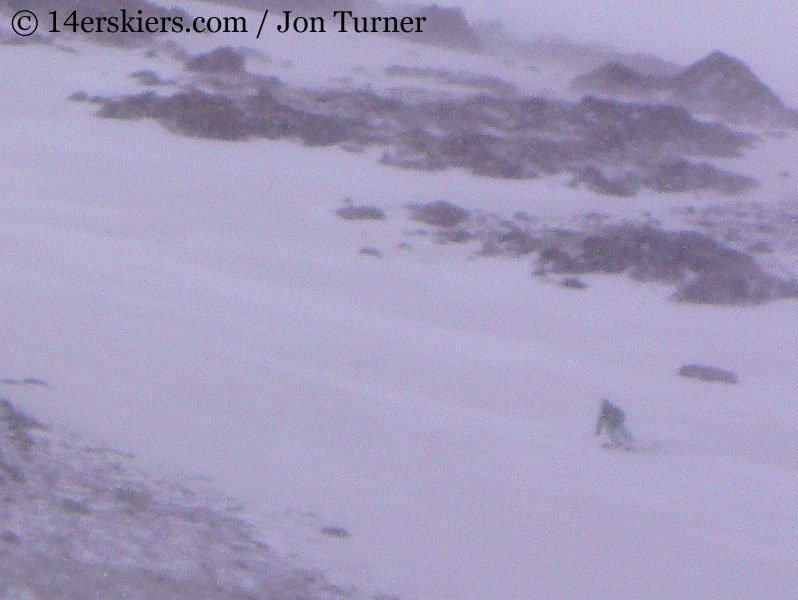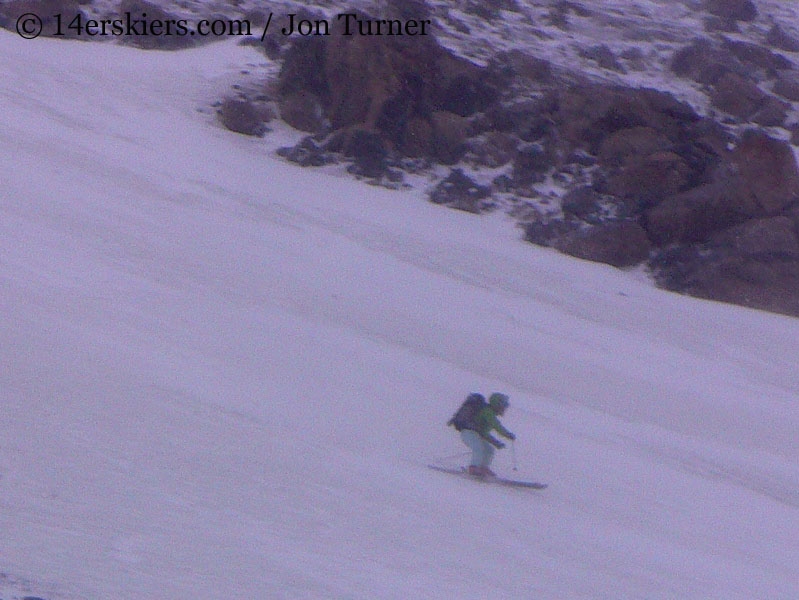 Jon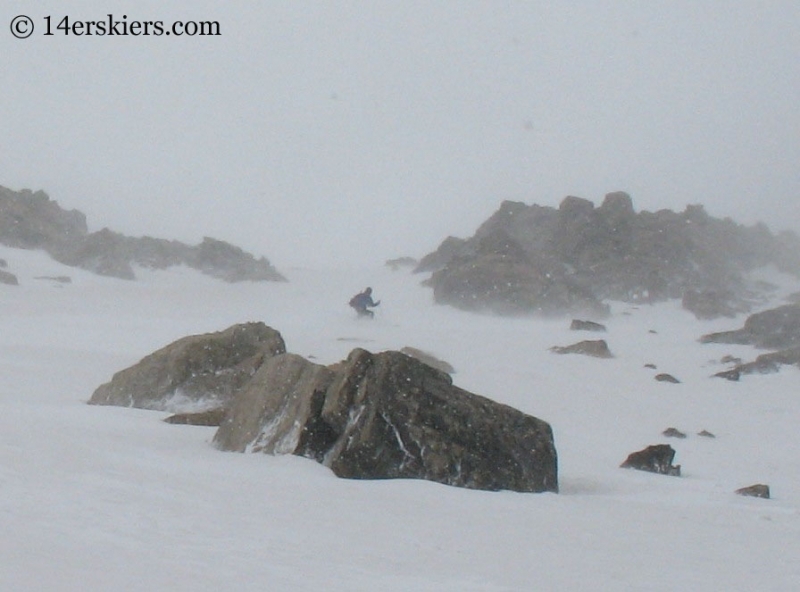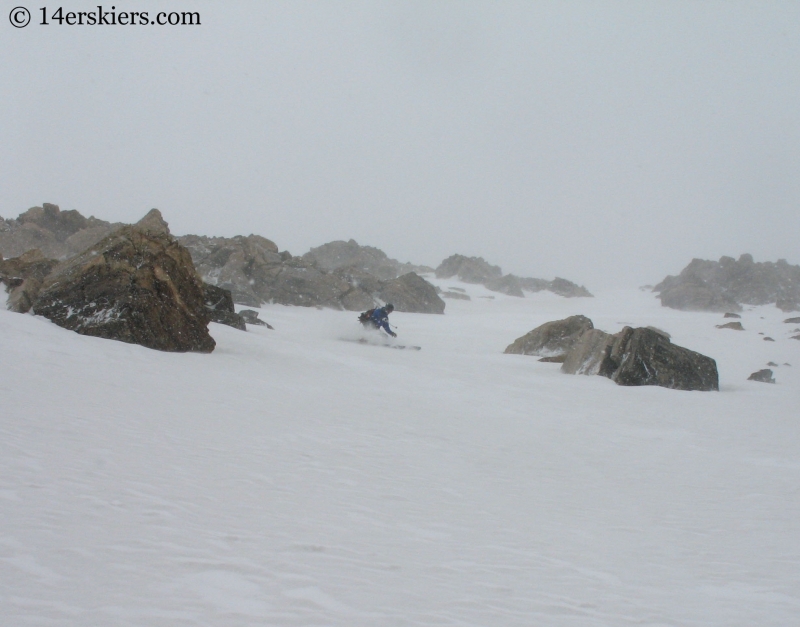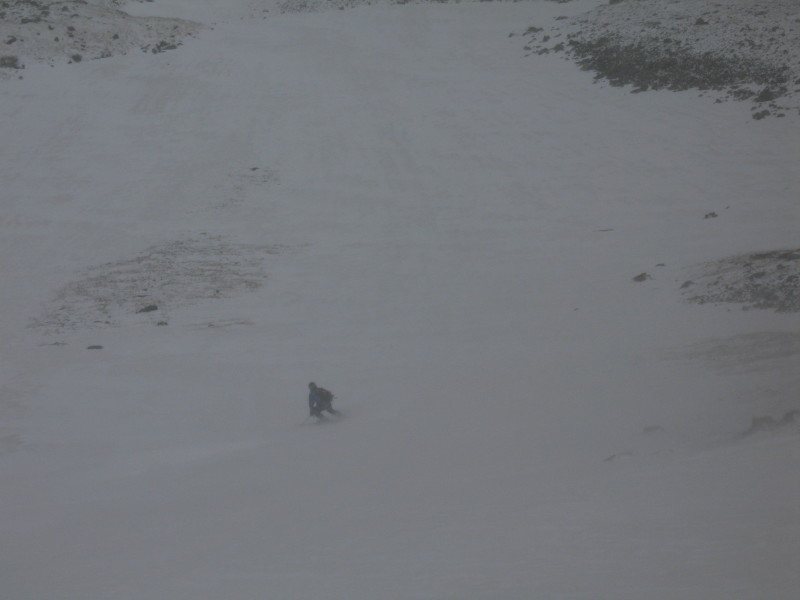 We were able to ski the SW couloir until about 12,200′. It ended here (the pic below) with the trail close-by (you can see it in the pic).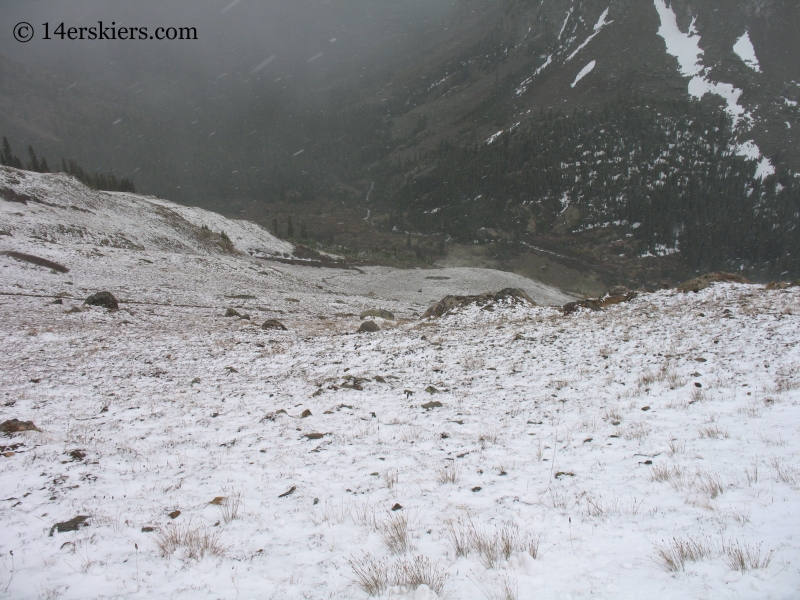 A look back at our descent route. Note that I had a pic above taken at a similar point, but there was not snow everywhere earlier in the morning!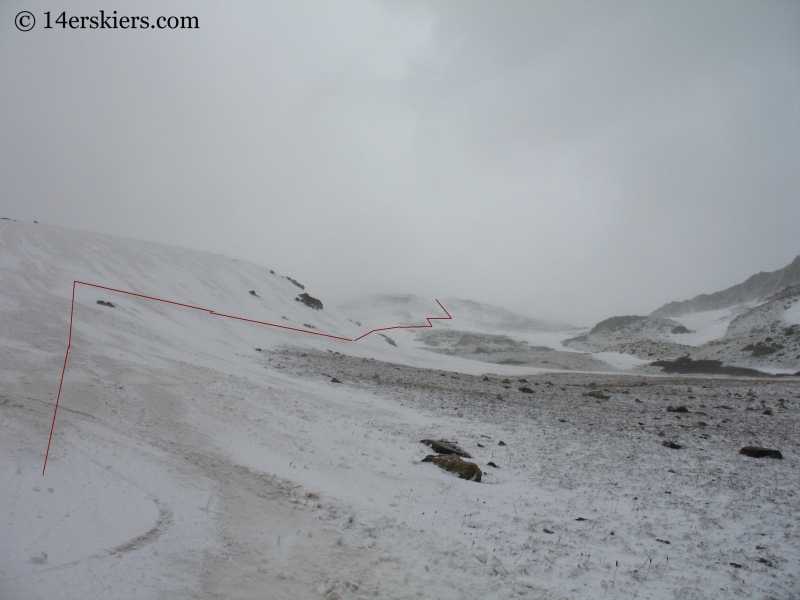 On the trail we packed our skis back on our packs and enjoyed the snowfall all the way back to the car.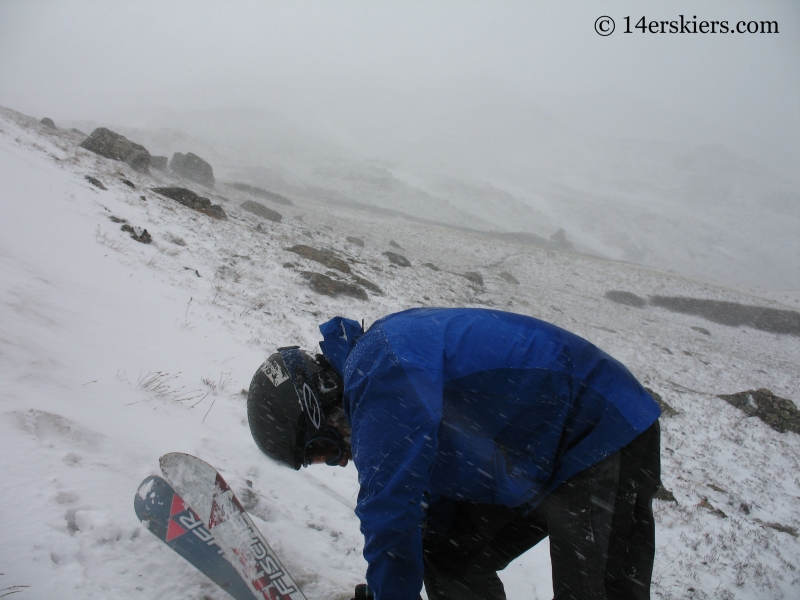 All in all it was a good day. The oncoming cold front and near white-out conditions made for a more interesting day for sure! Thanks Jon for taking a day off to go ski with me!
This will be my last TR for quite awhile as I'm headed out of town for a bit! Off to Ohio and then on to Peru!
Looking back, Mount Massive would seal up the fourteeners I'd skied that season. I was now over half done with 30 peaks in the bag. I had skied 23 fourteeners in the 2006-07 season. I was well on the way to being able to finish my fourteeners in the 5 years that I had planned. But, I also knew that I had the hardest ones remaining…. What would next season bring?
This seems to be an appropriate breaking point and will be were I conclude the 14er Throwback Thursday series for this season. Check back next November for more 14er Throwback Thursday reports!
---
Like this report? See more of Brittany's 14er skiing journey.
Aside from skiing, biking, and all outdoorsy things,
Brittany Walker Konsella
also loves smiles and chocolate 🙂 Even though she excels at higher level math and chemistry, she still confuses left from right. Find out more about
Brittany
!
Latest posts by Brittany Walker Konsella (see all)
Summary
Article Name
Mount Massive Ski (6 June 2007)
Description
A June day quickly turned to winter making for interesting conditions during this fourteener ski on Mount Massive, Brittany's 30th fourteener descent.
Author