14er TBT: Sunshine and Redcloud Peaks (26 May 2007)
(Last Updated On: June 30, 2015)
This is part of an ongoing series re-telling Brittany's fourteener-skiing story. Look for the reports every Thursday, as part of a Throwback Thursday theme.
Sometimes you have to be patient. For the San Juans, you often have to be patient. Late spring access in the San Juans is unreal, but you have to wait for the roads to open. Finally, roads were beginning to open up and it was time to spend the three-day Memorial Day Weekend banging out peaks in the San Juans. Below is a modified version of my original trip report for Sunshine and Redcloud Peaks, skiing both in the same day.
Sunshine (14,006′) and Redcloud (14,035′) Peaks
Frank, Brittany, & Jordan White
Frank, Jordan, and I all headed down to the Lake City area over Memorial Day weekend to tag some peaks. We were blessed with fantastic weather and excellent snow. The plan was to ski Sunshine and Redcloud Peaks on Saturday, Handies on Sunday, and San Luis on Monday.
Time was not on our side in getting out of town on Friday night. Delays on all parts caused us to arrive at the Grizzly Gulch and Silver Creek Trailheads around 12:30 at night. We found a good campsite near the trailhead (BTW, there is lots of camping at the trailhead, but it's not always easy to be close to your car since some of the campsites have no parking). The earliest we could see ourselves getting up was at 4 am, so that became the plan.
The night was cold, and we new when we woke up in the morning that the snow was well-frozen, which was a good thing.
We began around 5:15 or 5:30 am, just at first morning light.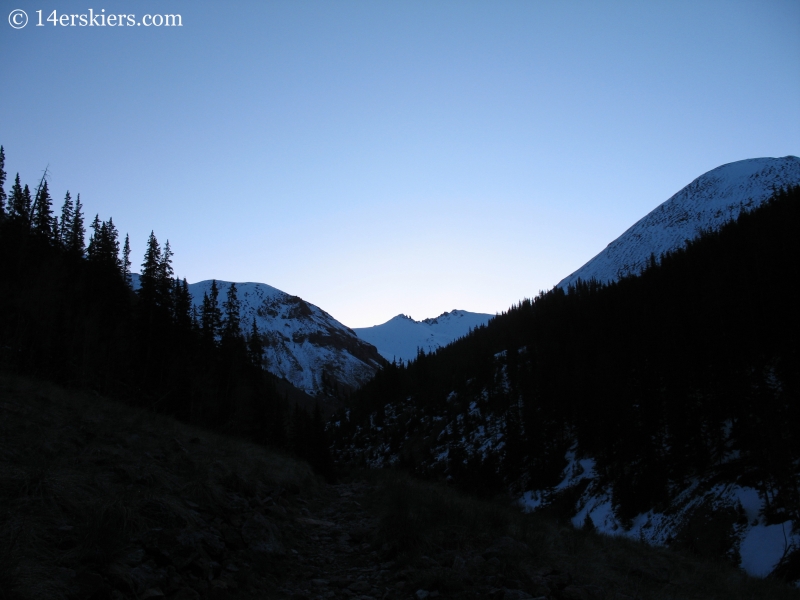 We hiked up the Silver Creek trail until it split off to the South Fork drainage. We followed the South Fork drainage toward Sunshine. At the split we were able to put on our skis and skin up the drainage.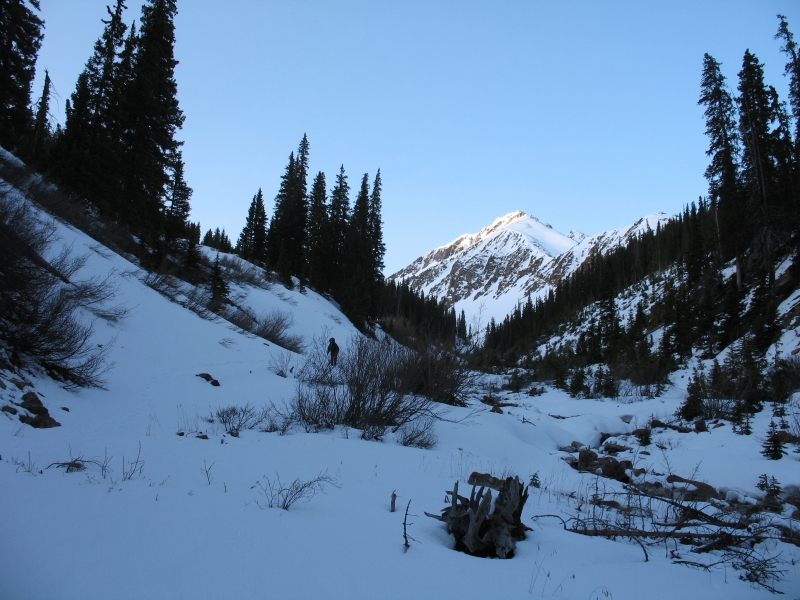 Skinning up toward the couloir on the route.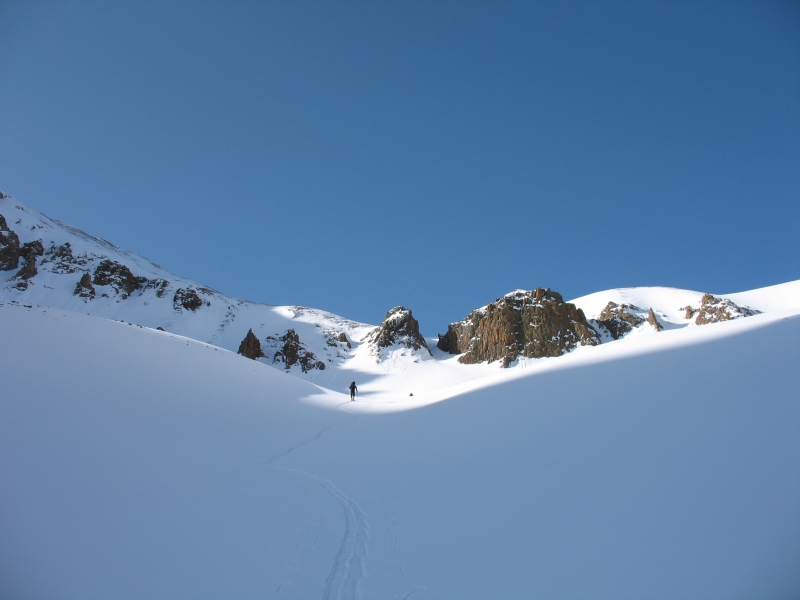 Frank had a bit of bad luck in the couloir. This was the one place all weekend we could have experienced rock fall, and we did. As chances would have it, a rock fell 50 ft from the cliffs above the couloir and landed on Frank's knee. It caused him a great deal of pain, but luckily it was only a really bad bruise. A second later, and inch different, the rock would have hit him it the head. I was thankful it was not worse. After that we wanted to get out of the couloir ASAP. We had to briefly boot up the couloir toward the top.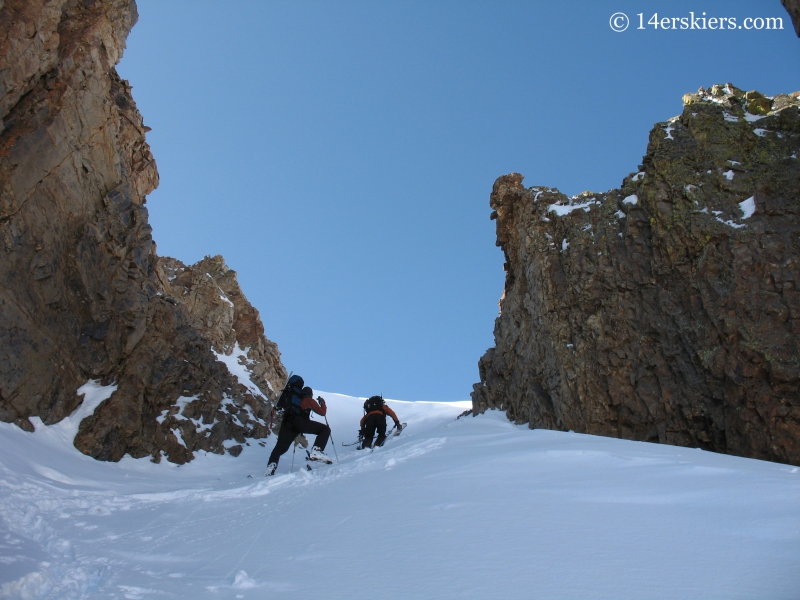 We then were able to skin up for a few hundred more feet until the slope was too steep and icy for skins. We were able to boot up the last few hundred feet to the summit.
View of the west face of Sunshine which we booted up (seen from Handies the next day).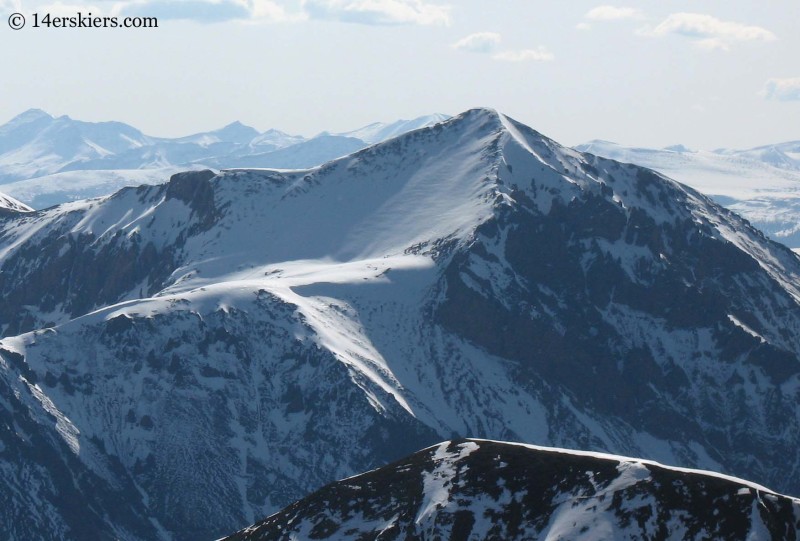 Jordan arriving at the summit.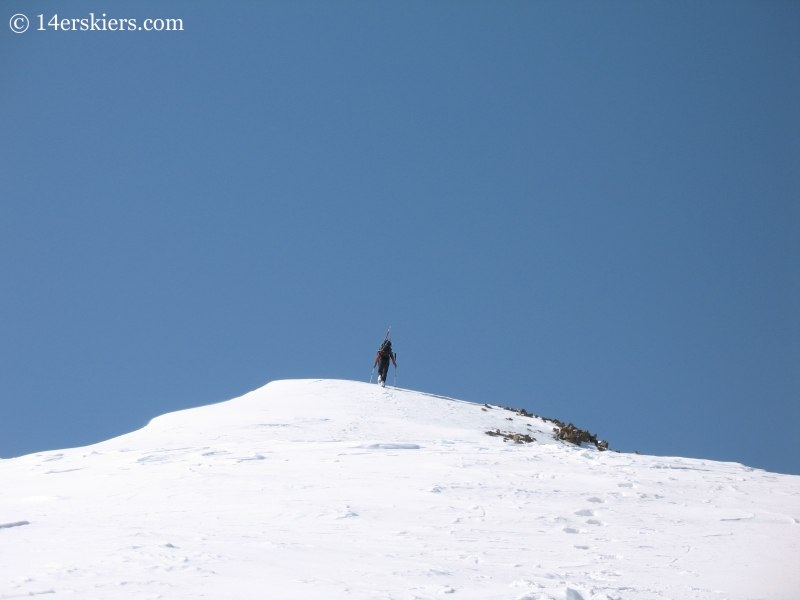 We enjoyed the views of the San Juans from the summit. Looking toward San Luis.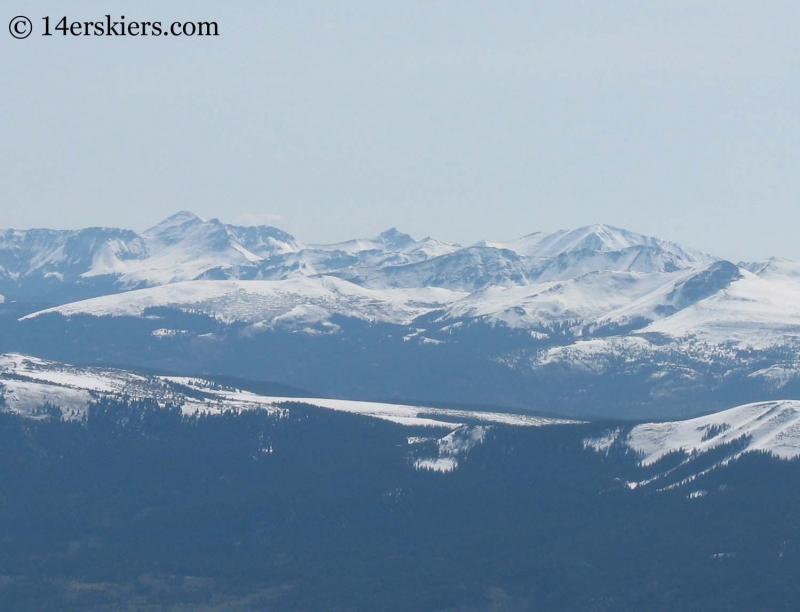 Sneffels.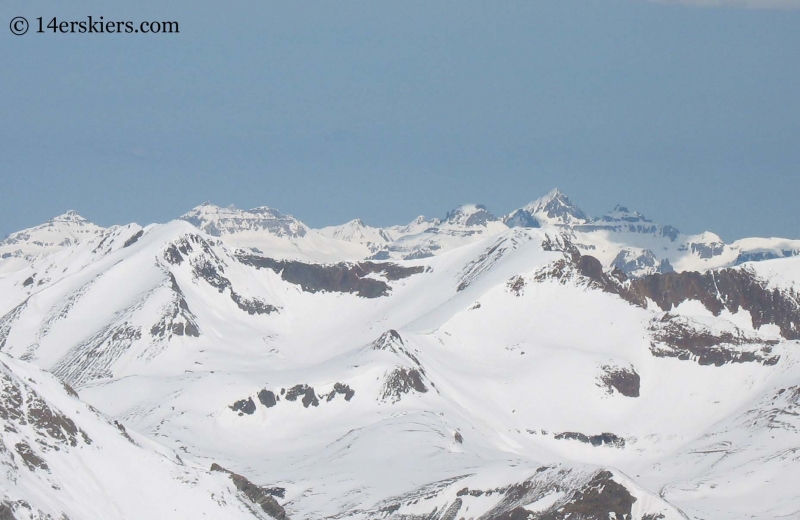 We summited around 9:30 am and the snow was prime on the NE face of Sunshine.
Jordan dropping into spring corn.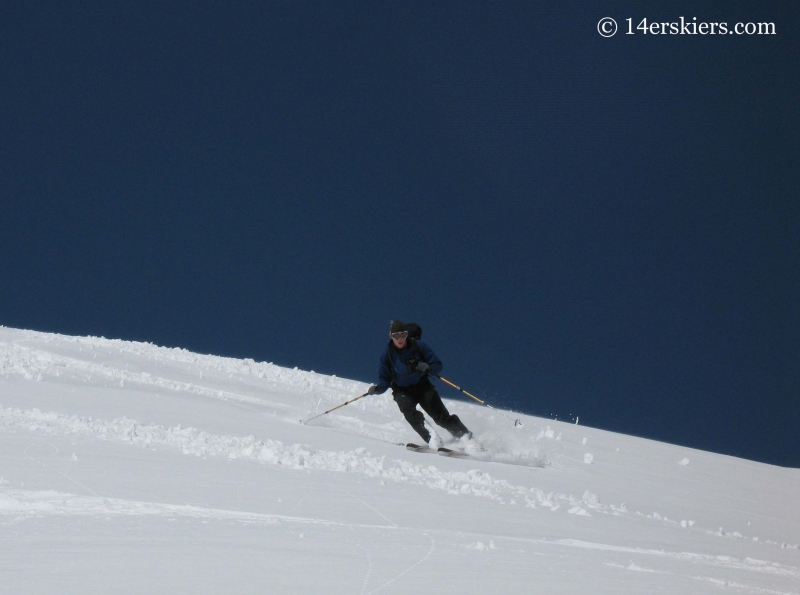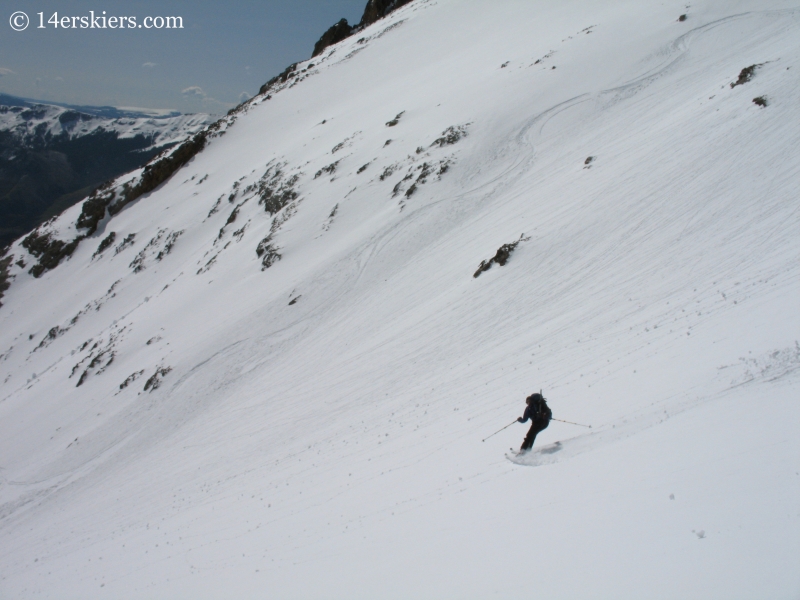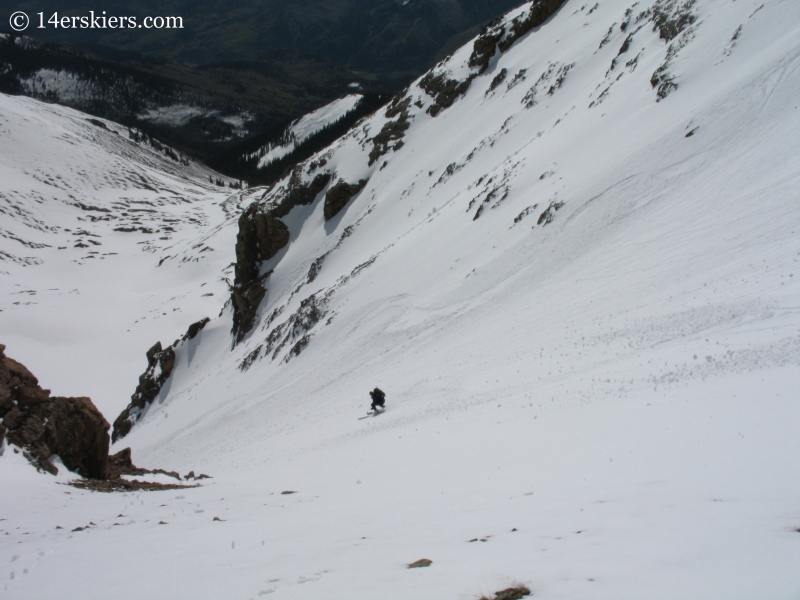 I have no pictures of Frank skiing Sunshine because he took off to the bottom right away so he could shoot some video of us skiing down. But Jordan got a good one.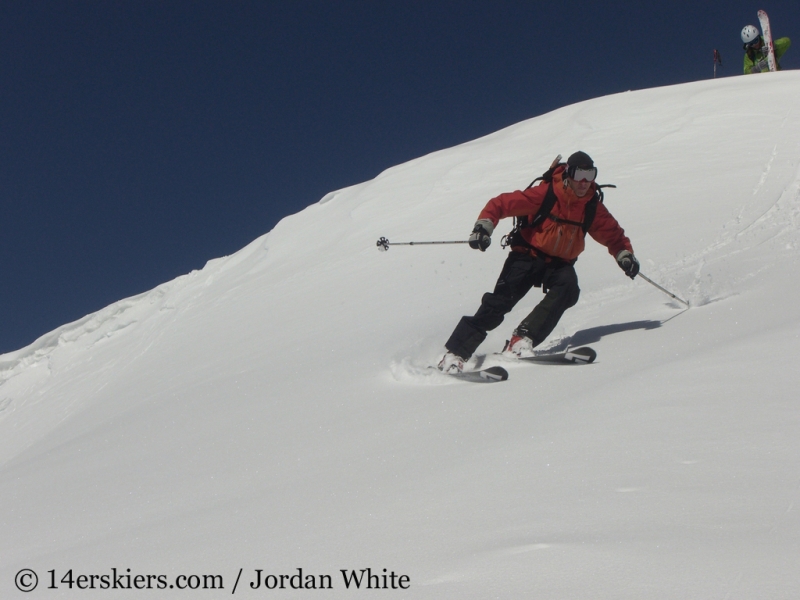 Me.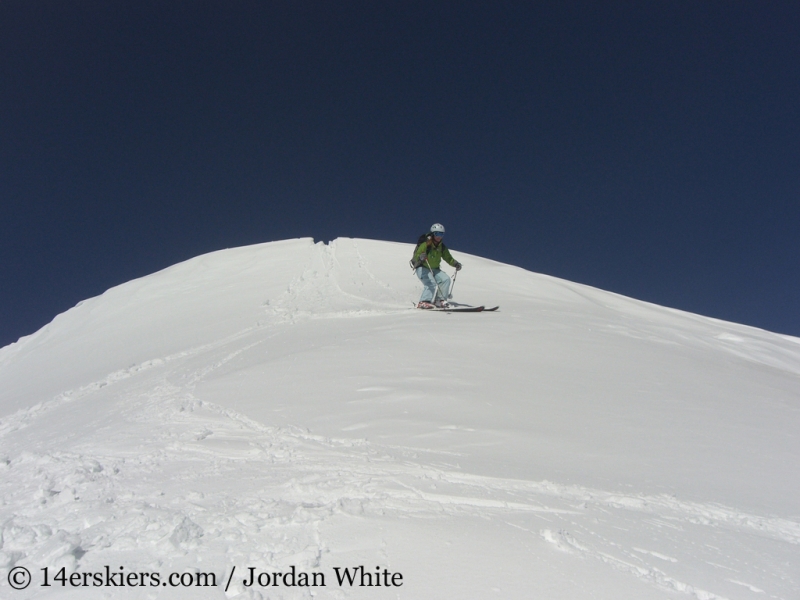 View back at the NE face we skied off of Sunshine. We had a sunshiney day and a sunshiney ski on Sunshine!!!! :biggrin: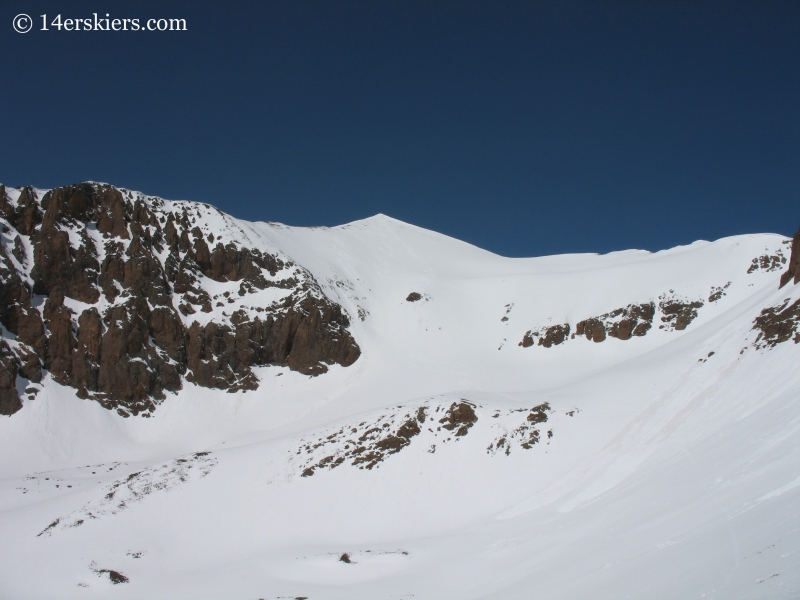 We skied to about 2,300 ft down to 12,700′ elevation. From there we scoped out our options: How were we going to get to Redcloud? As we looked up we could see a very obvious slope we could boot up that would bring us to the ridge between Sunshine and Redcloud. But this slope was primarily east facing and the snow was warming quickly. The cornices at the top of this slope made us leary, so we traversed over to the ridge. The ridge was lower angle and less susceptible to wet slides with the warming snow.
Frank's knee was obviously feeling better as he seemed to move in fast-forward motion, leaving Jordan and I in the dust, and out of sight. When I rounded to the top of the ridge and finally got a better view of things, I saw no Frank. This was the first view of Redcloud's summit I could see since skiing down from Sunshine. I looked over at the summit. Several people were on the summit, but I could see one of them was covered in orange. Frank is on the summit already!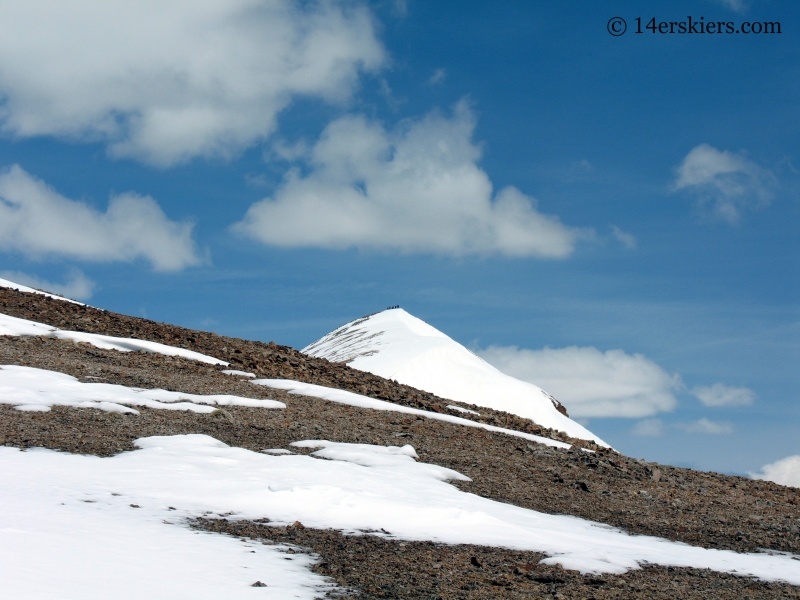 We skinned up this ridge to a saddle and then followed the obvious ridge toward Redcloud.
By this time the snow was getting really wet and sticky. It was sticking horribly to my skins. I went from going an average pace to a really horribly slow pace. I was cursing the fact that my Glop Stopper wax was in the car and not in my pack. Every couple of steps I had to knock the snow off my skis/skins by hitting my pole against my skis. Well, I guess one time I just got really frustrated and hit my pole too hard against my skis….. as I watched the last 8 inches of my pole go flying off. Yep, carbon pole split. Great. I proceeded to the summit, cursing. A couple of minutes before I reached the summit, Jordan caught up to me. He wondered why he'd caught up so fast, but quickly learned: glopping snow and a broken pole. Not exactly my day!
We didn't summit Redcloud until around noon. I think Frank might have been waiting for us for nearly an hour. He's like the Energizer bunny or something. 😉
At the summit, I contemplated how I should fix my pole. Meh, nothing a little duct tape couldn't fix!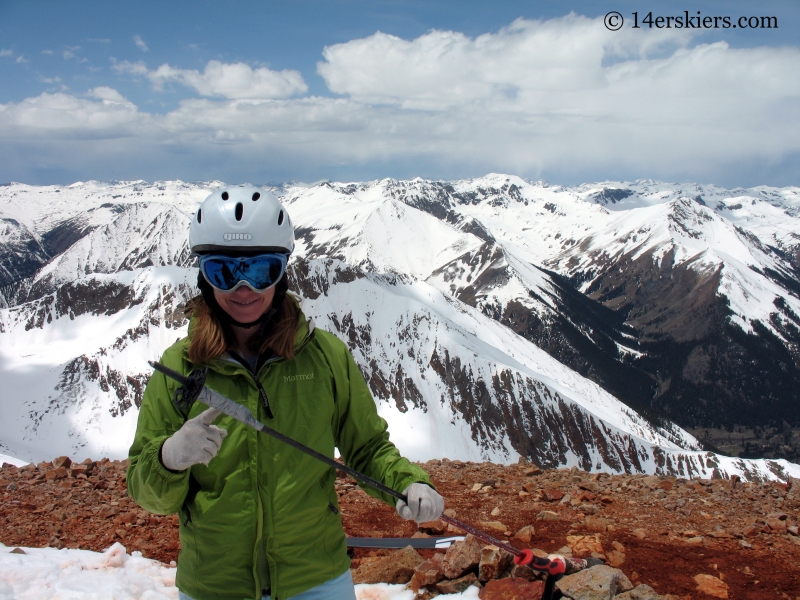 Admiring sweet lines from the summit of Redcloud.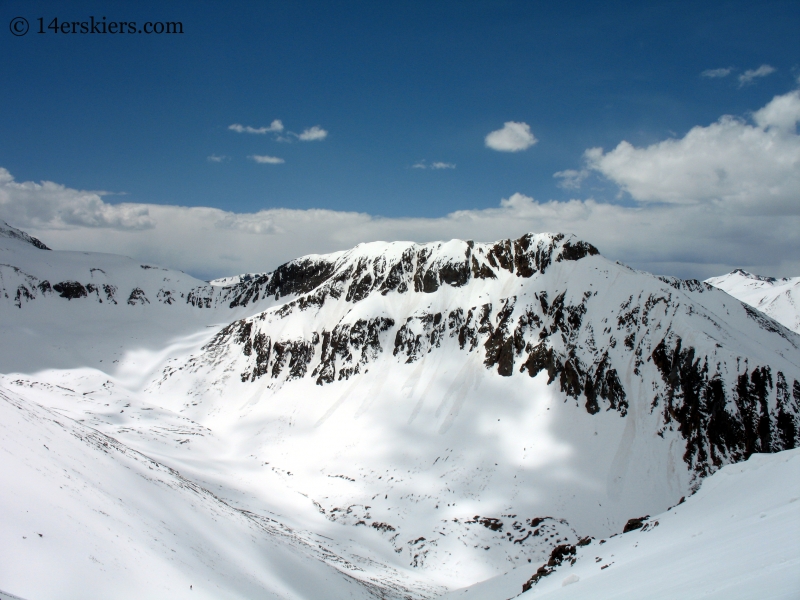 Frank and me ready to ski down Redcloud.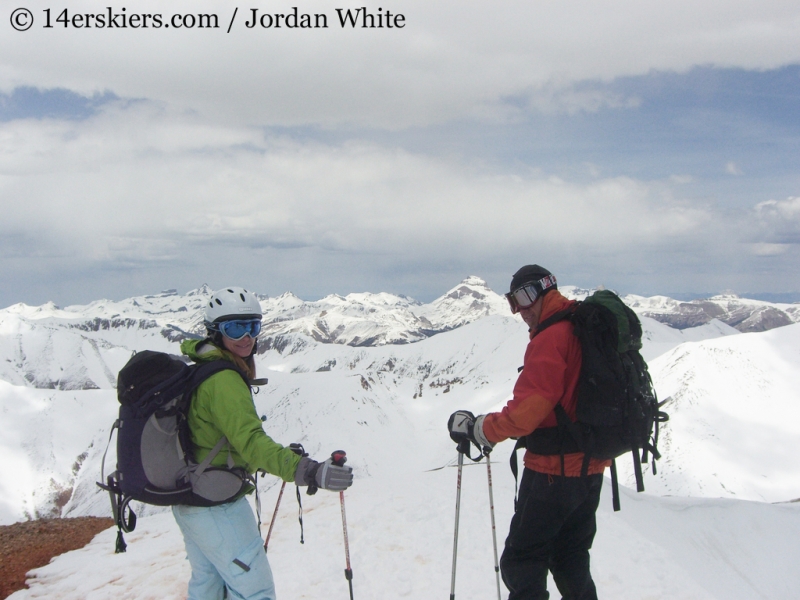 Jordan skiing off the summit of Redcloud, Uncompahgre and Wetterhorn in the background.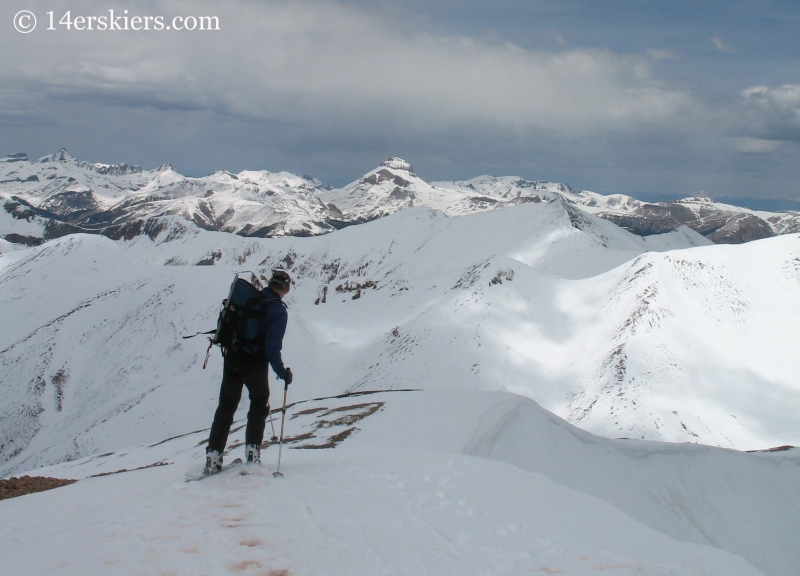 Frank skiing NW ridge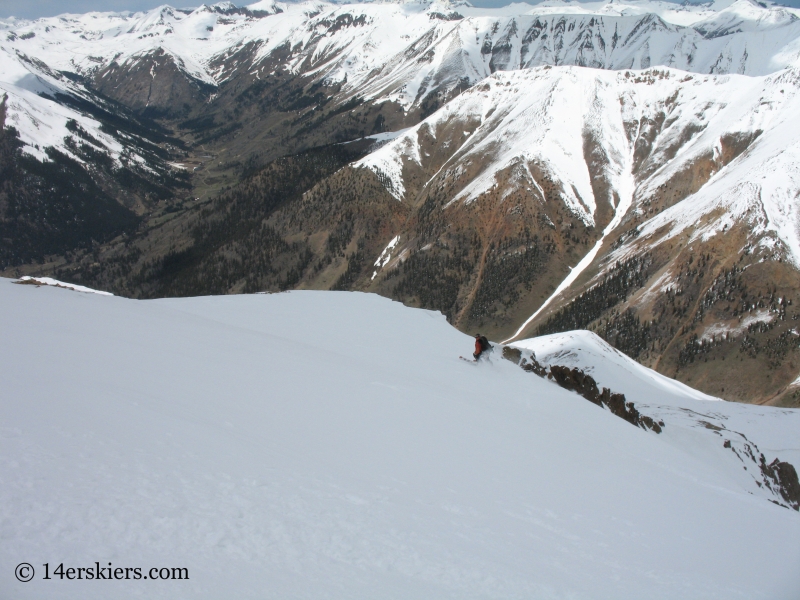 At the summit we scoped out a couple of line options. Originally we'd intended on skiing the east face, but it was far too late for that. So, we followed the NW ridge down a bit to check out the NW face. It looked great! Some fantastic lines there! But we couldn't tell what lines were continuous. It looked like they all might cliff out. So, we opted for a large chute that dropped off the west face. We'd spotted it on the way up. This would bring us right back to the South Fork drainage and we'd be able to ski back to the Silver Creek trail.
Jordan.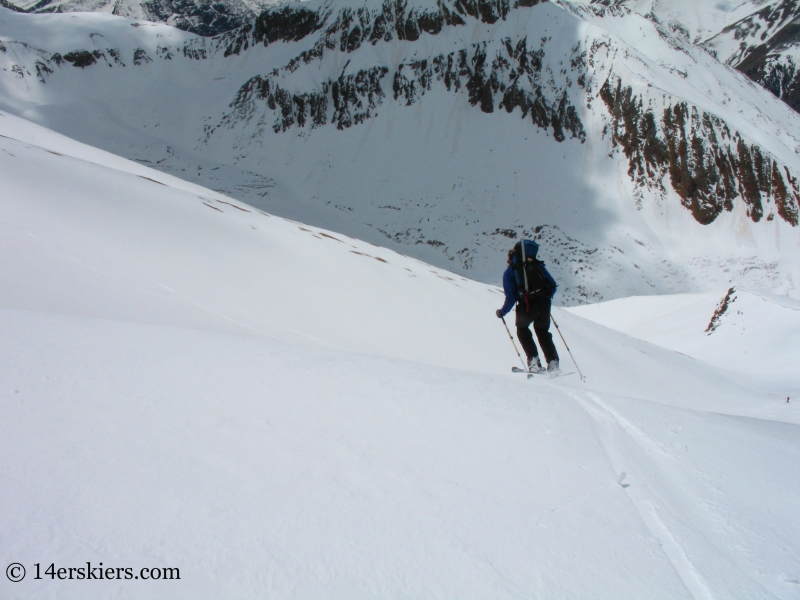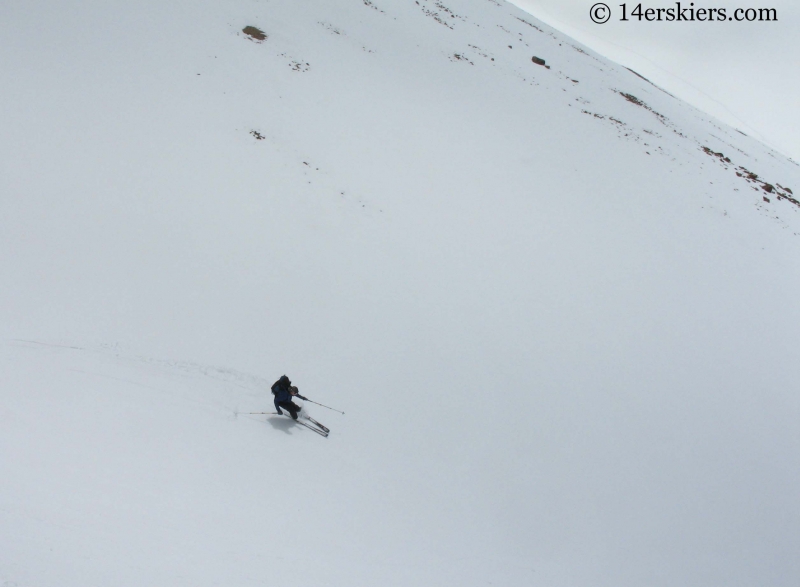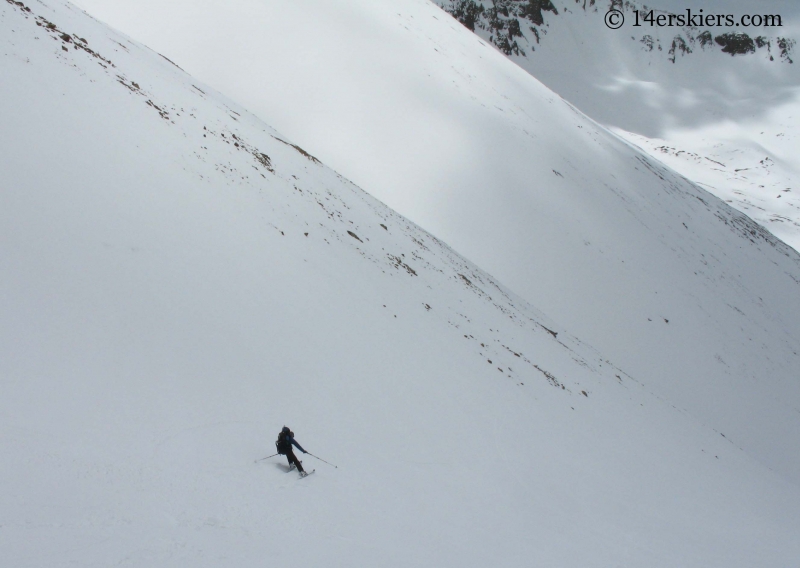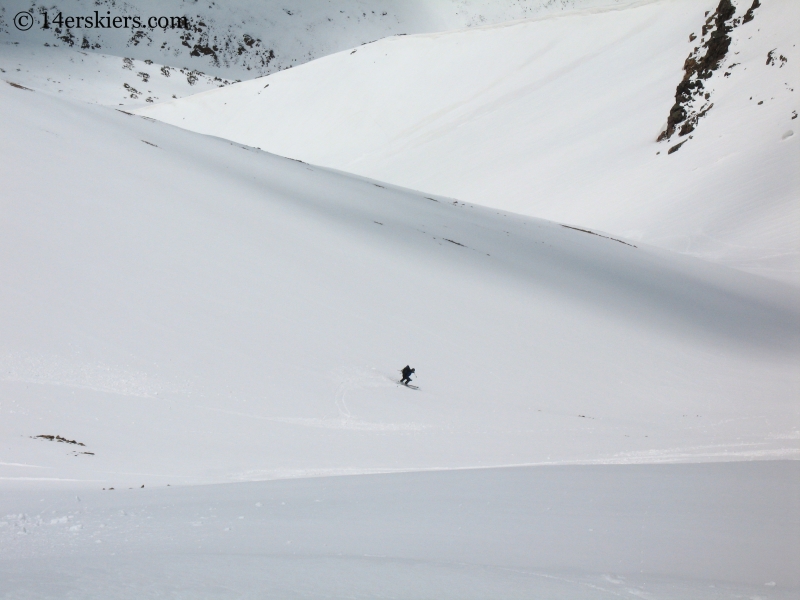 The snow was pretty fun! Good corn on the skiers left side (more N facing) of the chute!
Frank.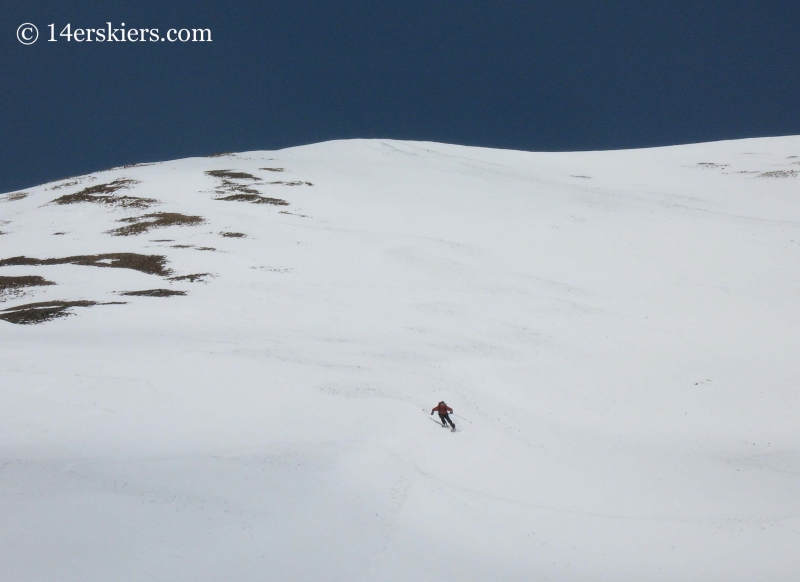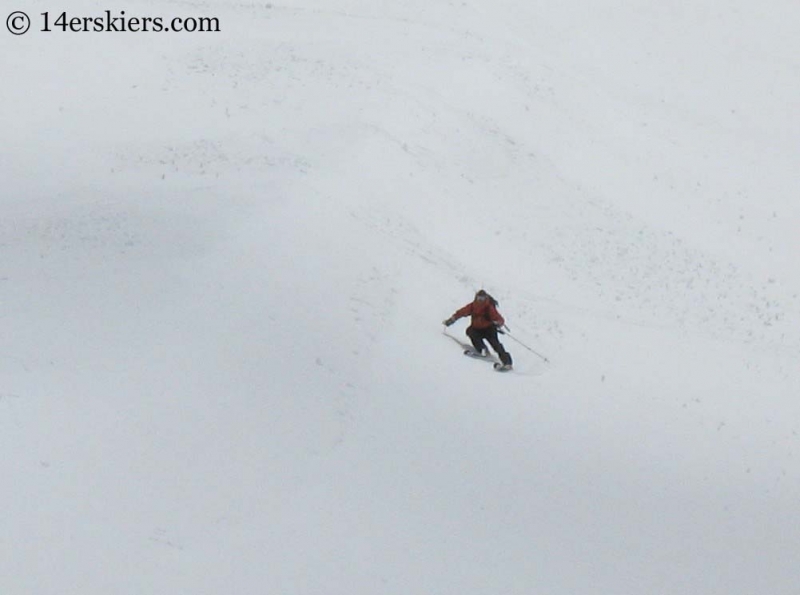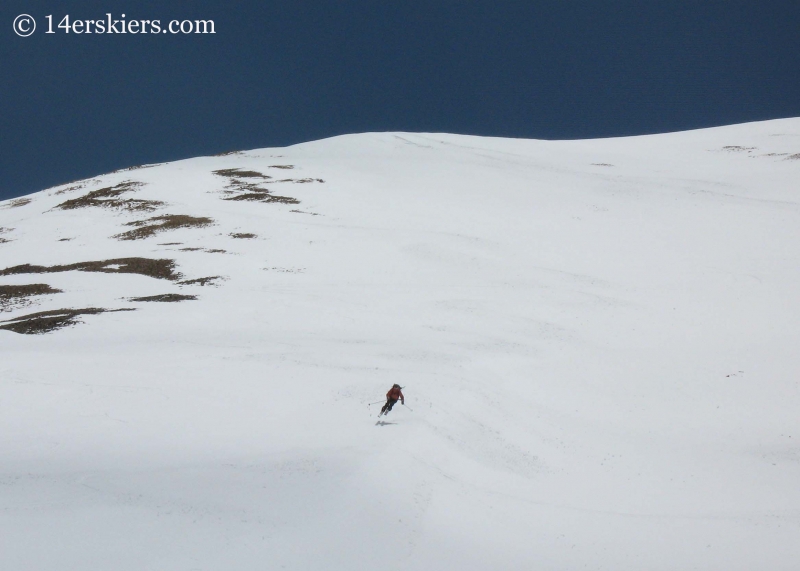 Frank tearing it up with Handies in the background.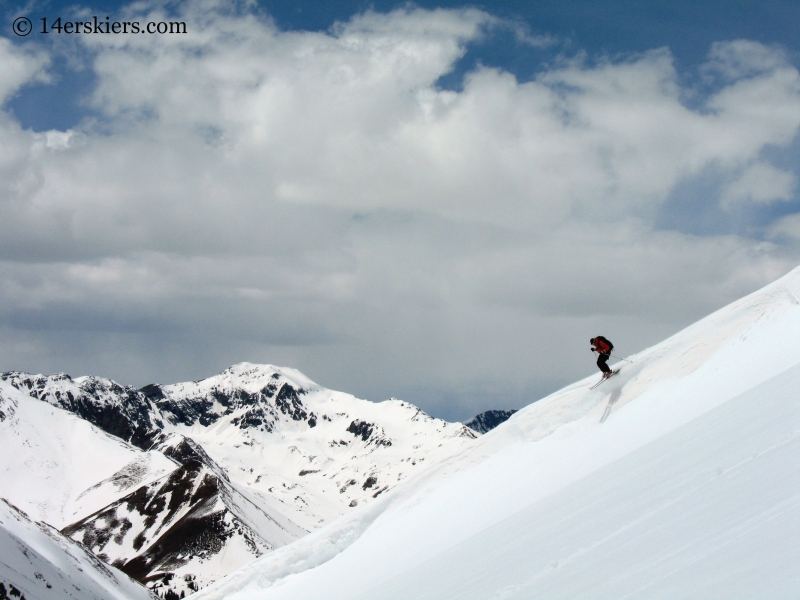 Me.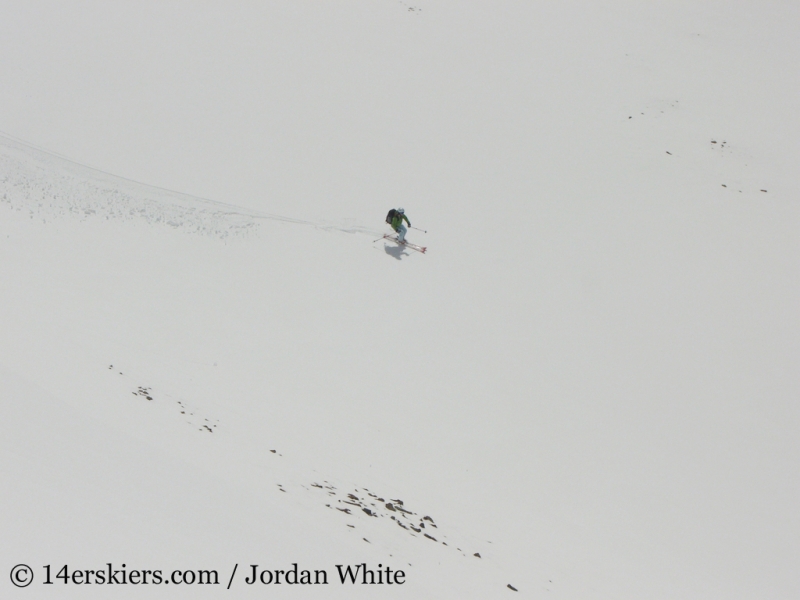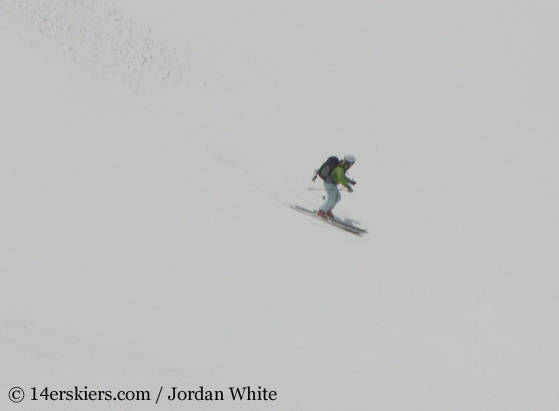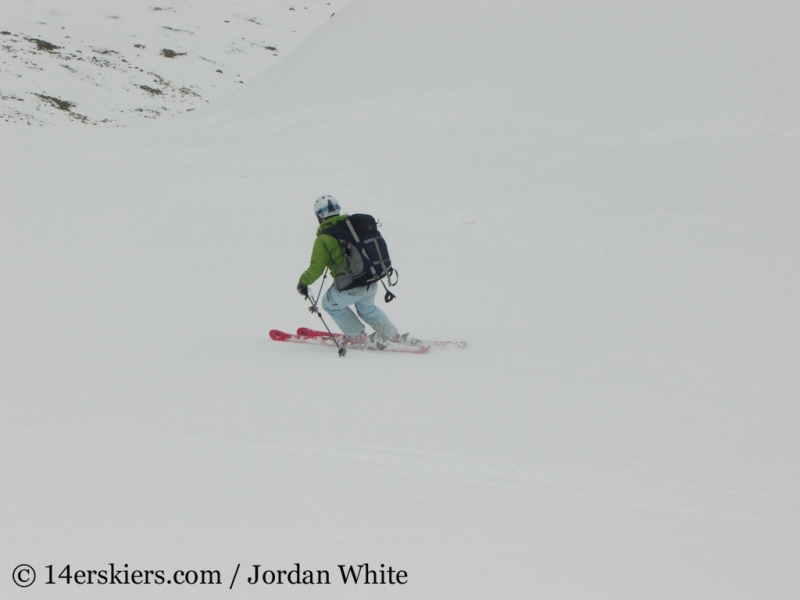 View of the line we skied off Redcloud, seen from Handies the next day.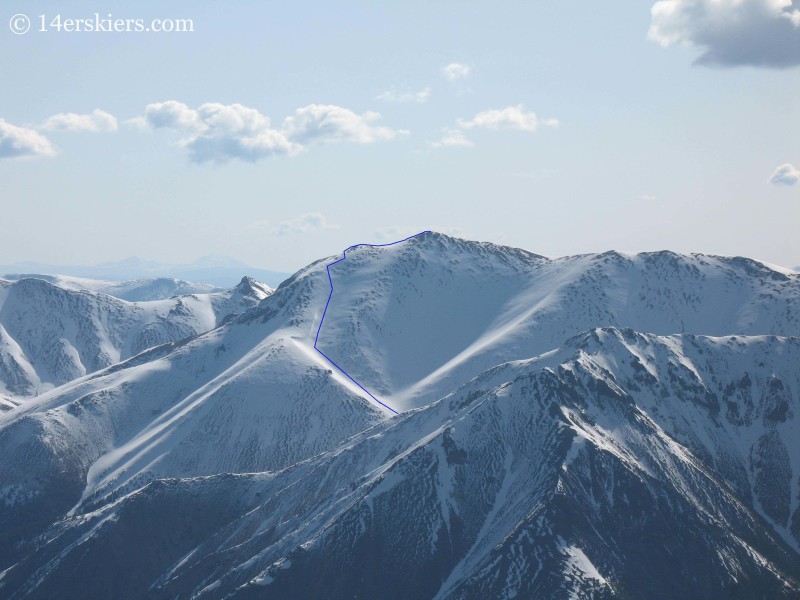 All in all, it was a good day, despite a rock-fall injury and a broken pole. I was thankful I had an extra set of poles waiting for me back at the car. On our way back down the Silver Creek trail we could spot Handies and began planning our line for the next day.

We arrived back at trailhead around 2:30 pm. Total time: 9 hours. Total vert climbed: 5,900 ft. Total vert skied: 4,800 ft.
Looking back, Sunshine and Redcloud Peaks were only my second & third San Juan fourteeners. I was looking forward to what this magnificent range had to offer! Skiing Sunshine and Redcloud Peaks concluded by 25th and 26th fourteener descents. I was almost half way done with my fourteener-skiing goal!
---
Like this report? See more of Brittany's 14er skiing journey.
Aside from skiing, biking, and all outdoorsy things,
Brittany Walker Konsella
also loves smiles and chocolate 🙂 Even though she excels at higher level math and chemistry, she still confuses left from right. Find out more about
Brittany
!
Latest posts by Brittany Walker Konsella (see all)
Summary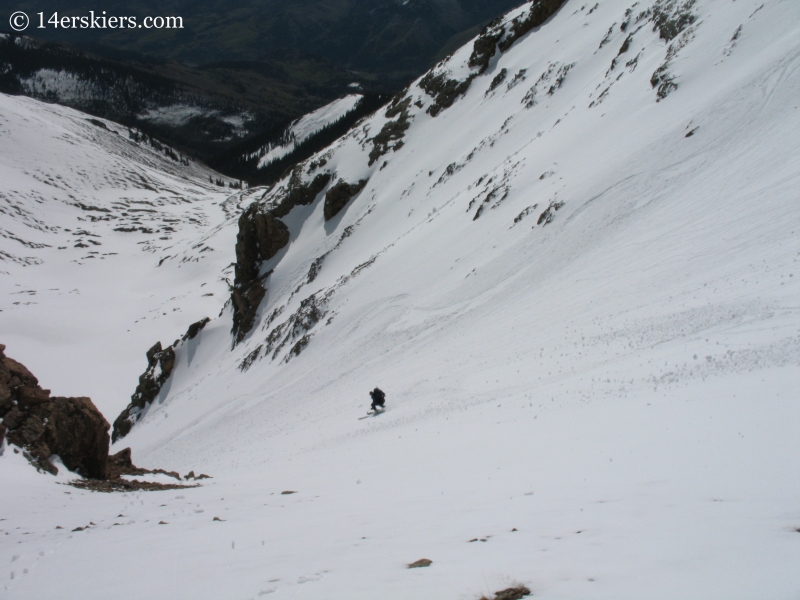 Article Name
14er TBT: Sunshine and Redcloud Peaks (26 May 2007)
Description
Sunshine and Redcloud Peaks in the San Juans are often tackled together. Find out what it's like to ski these wonderful fourteeners!
Author