14er TBT: San Luis Peak (28 May 2007)
(Last Updated On: May 31, 2015)
This is part of an ongoing series re-telling Brittany's fourteener-skiing story. Look for the reports every Thursday, as part of a Throwback Thursday theme.
We were on a roll during Memorial Day weekend, 2007. We were trying to ski four fourteeners in three days, and make it back to work for Tuesday morning. San Luis was the last one in the series, and the longest day. Below is a modified version of my original trip report for Handies Peak, which would become my 28th fourteener skied.
TR: San Luis Peak (14,014′) 5-28-2007
Frank, Brittany, Jordan White
After hitting up Sunshine and Redcloud on Saturday and Handies on Sunday, we packed up our camp and headed down to Lake City to stay with Jordan's grandparents who were visiting from Texas, staying in their family cabin. Things in Lake City were pretty slow with their season just starting. At least it wasn't as bad as when we came here in April and couldn't find a restaurant that was open!
The wake-up call was at 3 am on this Monday morning. We drove toward Creede, which took us about an hour from Lake City. We went over some amazing passes, but I was barely even awake to notice :frown: We arrived at Creede. still in the dark. But as we began taking a dirt road that goes up about 7 miles to the Equity Mine, the light of the day slowly brought us back to life.
After messing around with our packs for awhile, we began hiking around 6:15 am. We followed the Willow Creek road north from the Equity Mine (at 11,090′) for a couple of miles. When hiking through the willowed area of the valley I saw lots of evidence of moose. I didn't think that moose lived in the San Juans- I usually think about them being more north toward Fraser and Steamboat, but evidently they were reintroduced here. I think they are doing pretty well here as there were moose droppings and tracks everywhere.
We then took a right turn NE heading toward a saddle.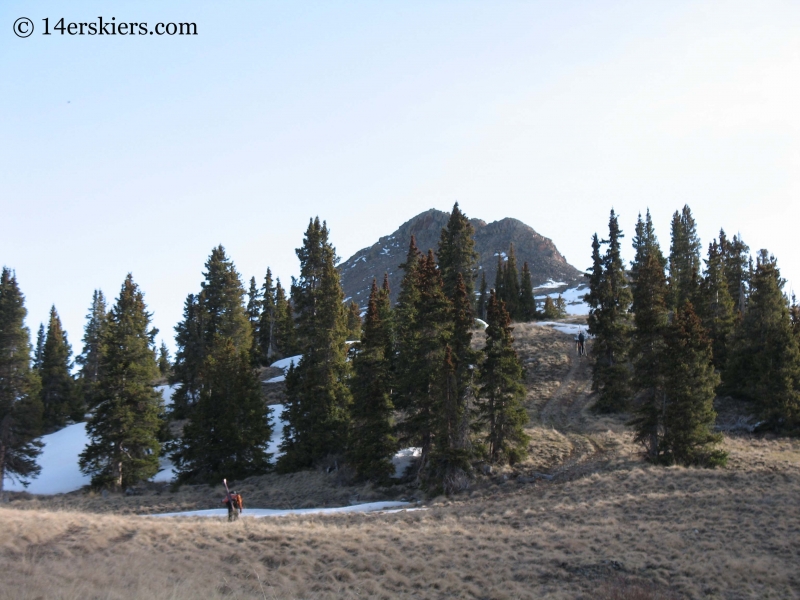 Looking back down at Willow Creek valley.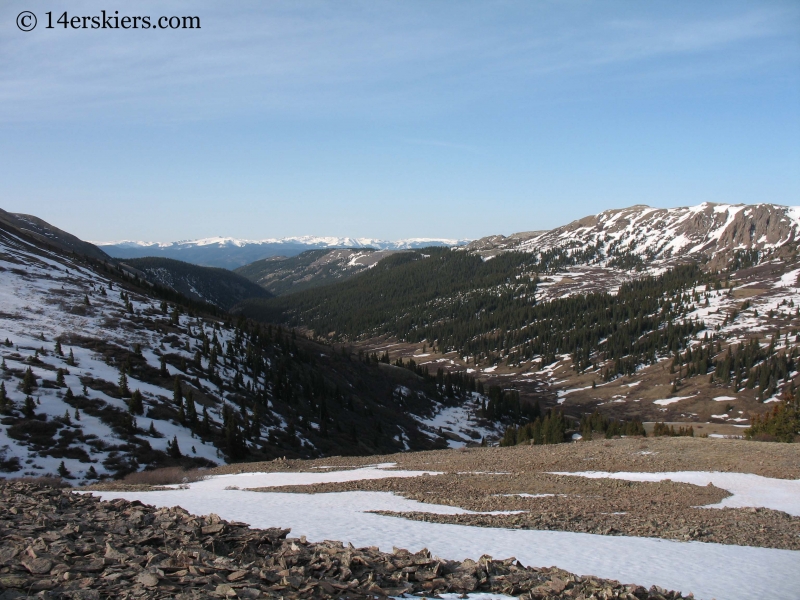 I was moving slow. I was so tired from too many mornings of waking up early, lack of sleep and being sick earlier in the week. Finally we reached the saddle at 12,300 ft and got a good view of San Luis.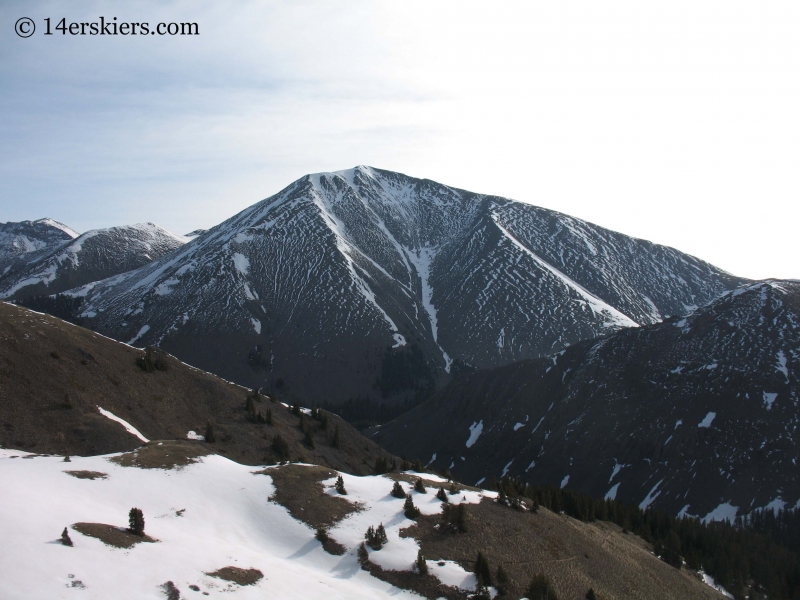 A closer look revealed that our intented line, the Yawner Gullies, were indeed filled with snow.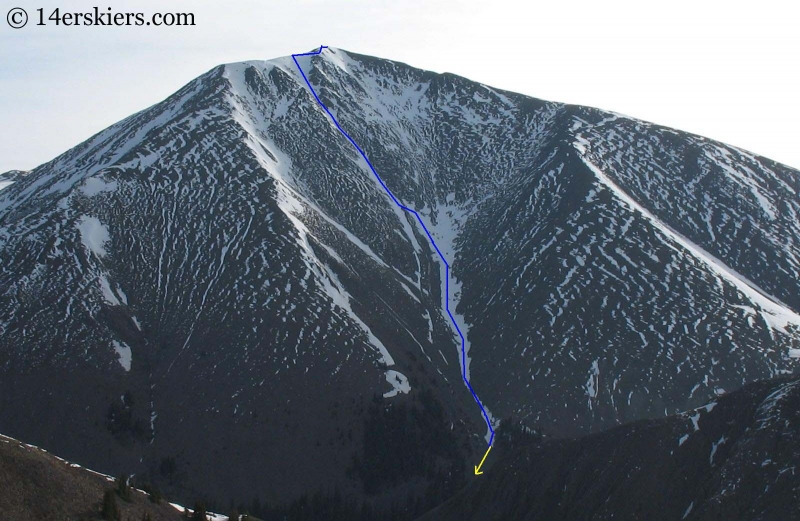 But closer look also revealed to what we were going to do to have to get there. We were going to have to traverse across the basin on skis, losing some elevation, then work our way up to the second saddle at 12,400 ft. Then we would go down that saddle, traverse across the next basin to the third saddle at 12,600 ft. That saddle would bring us to the southern ridge of San Luis and we could follow that ridge to the summit.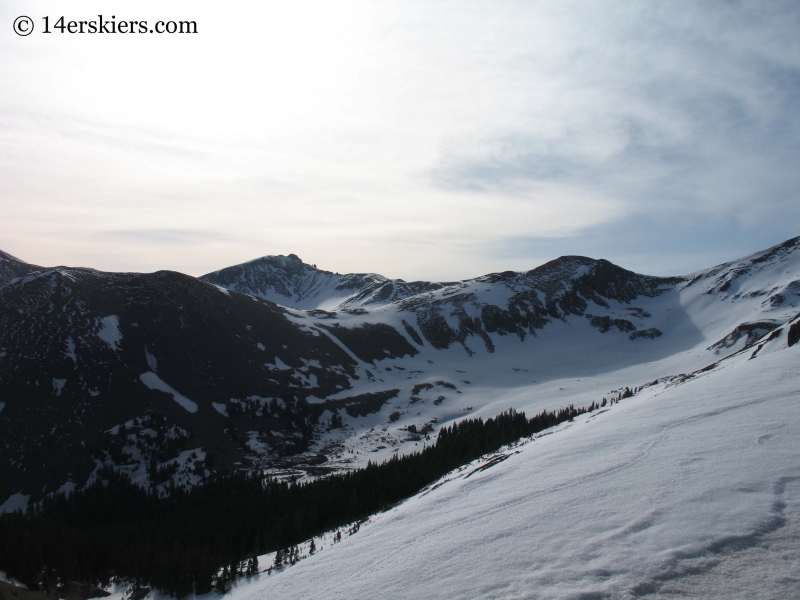 I looked at Frank and said, "It's going to be a LONG day". Okay, time to wake up, I thought to myself!
We put on our skis (we had hiking boots on before this point) dropped about 450 ft from the first saddle, boot packed up to the second saddle and dropped another 250 ft, and began skinning up to the 3rd saddle. From there the route was pretty easy. We were able to skin the whole way along the ridge to the summit.
Jordan and Frank at the summit.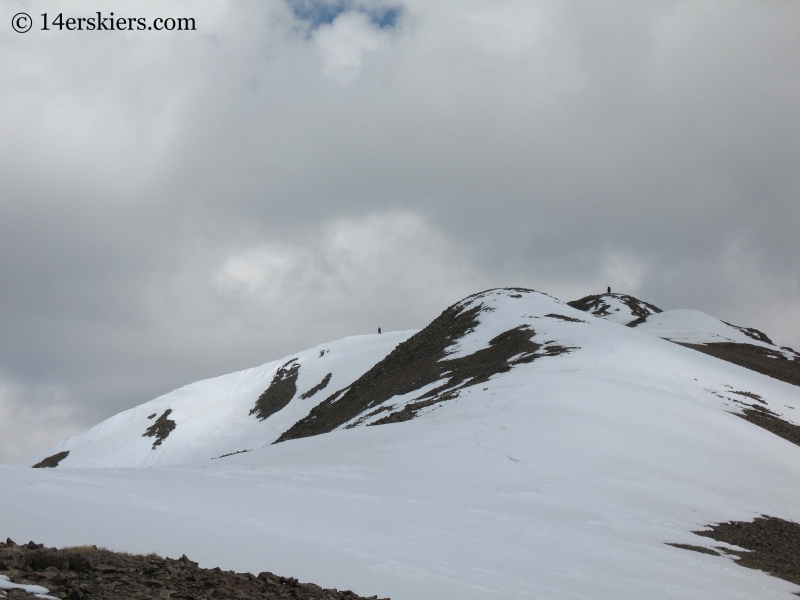 Yay, I'm close to the summit!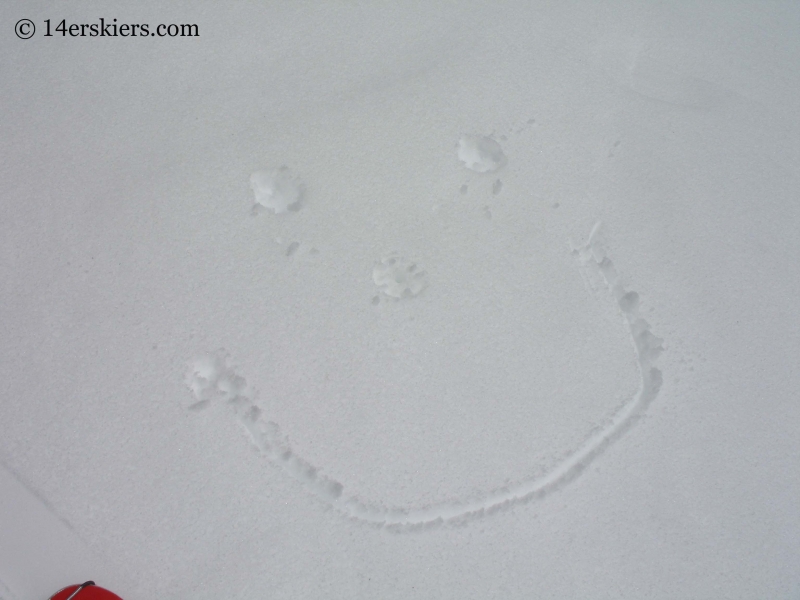 Jordan summited around 10:45, Frank shortly after, and I summited around 11 am. Despite the length of the route, it only took us about 4.5 hours to reach the summit.
Looking back at the ridge we followed to the summit.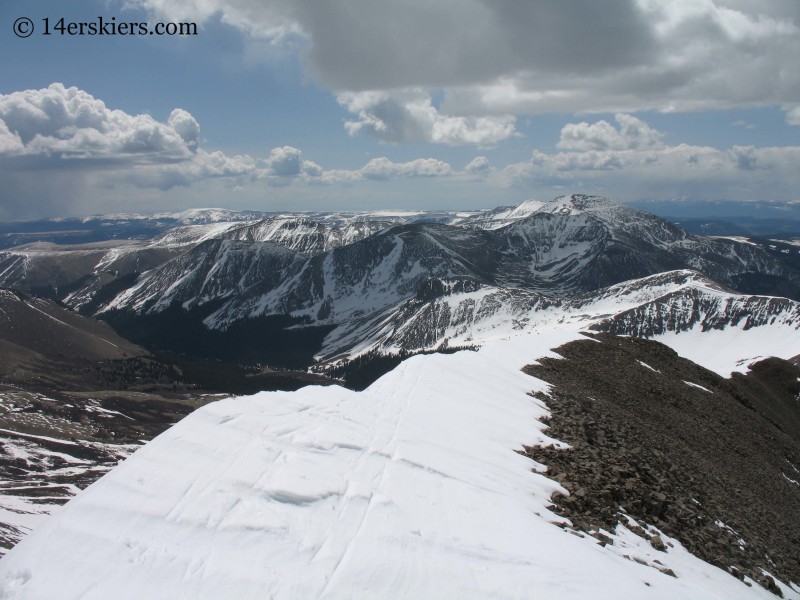 Uncompahgre and Wetterhorn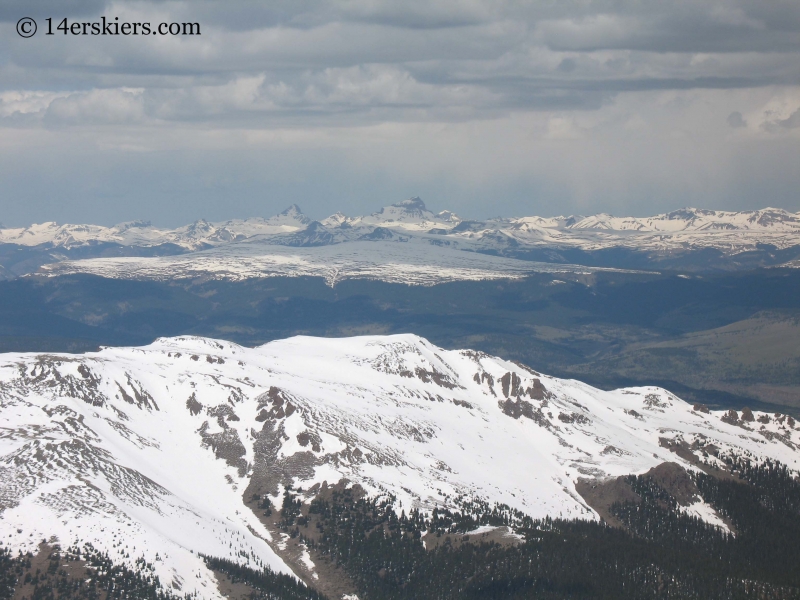 Looking east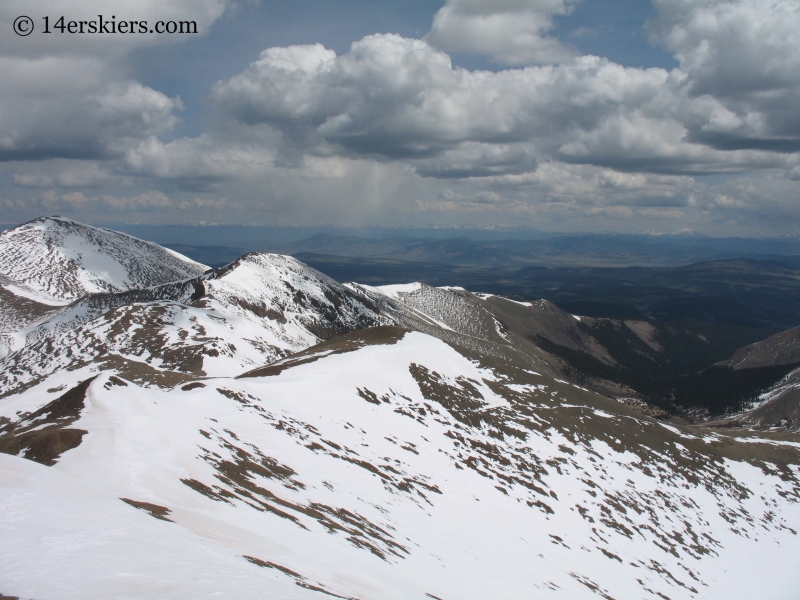 Looking north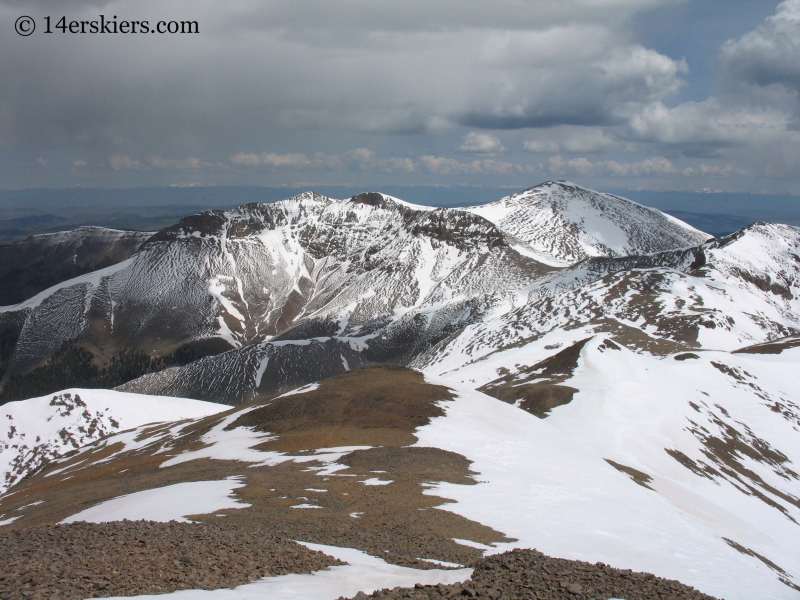 Looking west, back at our ascent route. Red lines show traverses done on skis. Blue shows climbing up either on skins or boot packing. Pink marks part of our eventual return route where we skinned back up to the first saddle.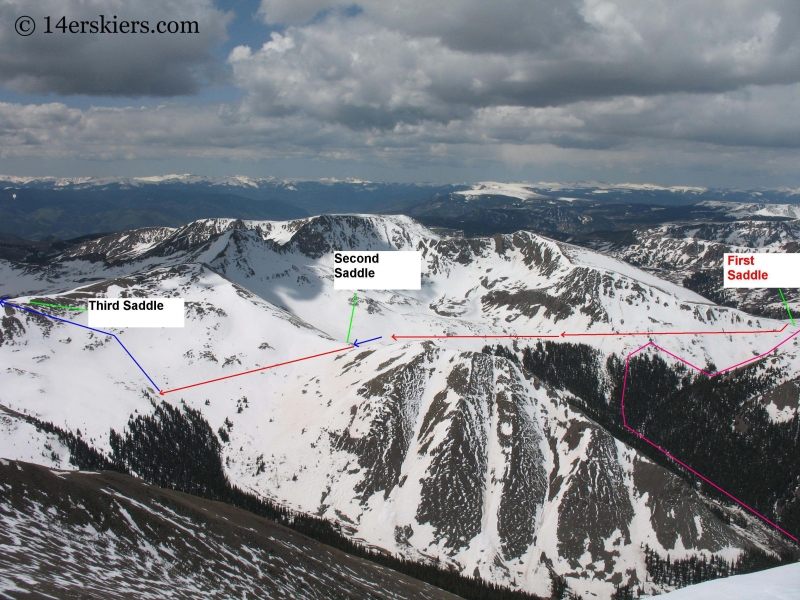 We could see clouds moving in. While they didn't seem like they would bring thunder or lightning, we did think they might bring rain. So we hurried off the summit.
Frank acting like a gaper off the summit 🙂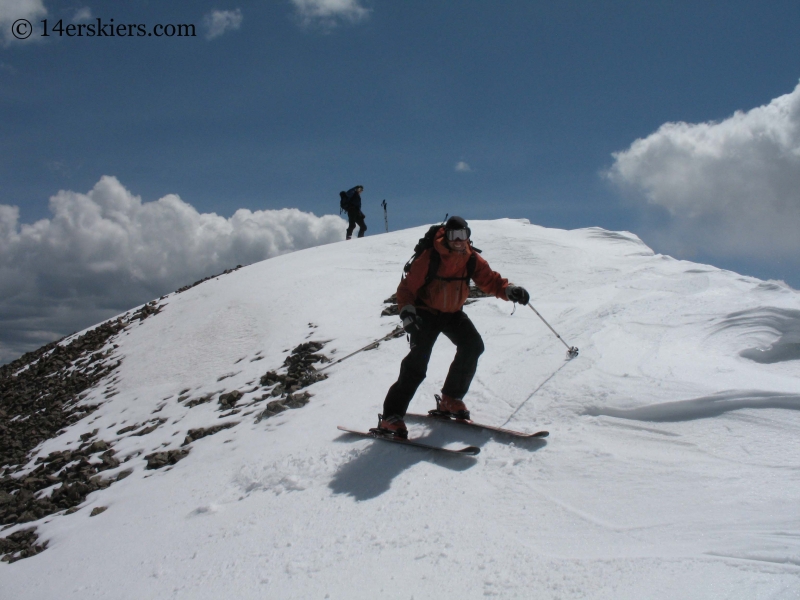 Jordan skiing off the summit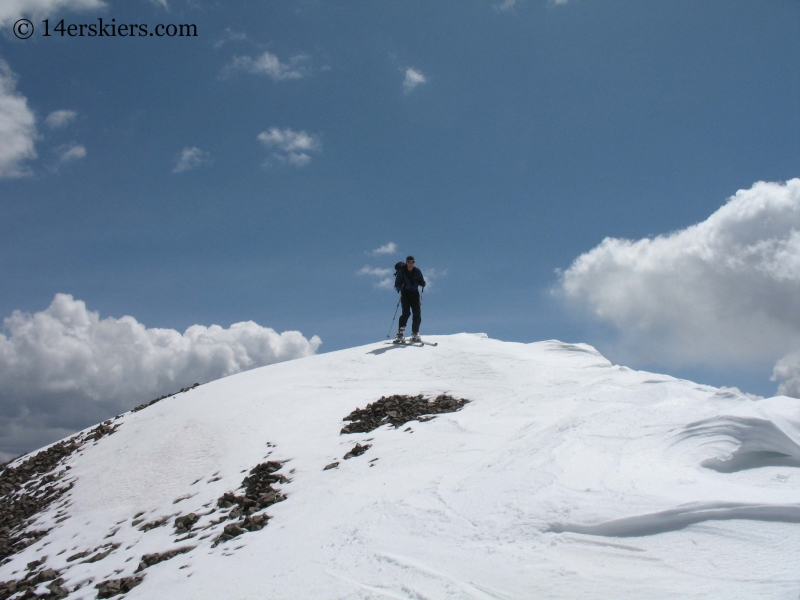 Frank shreds it down the Yawner Gully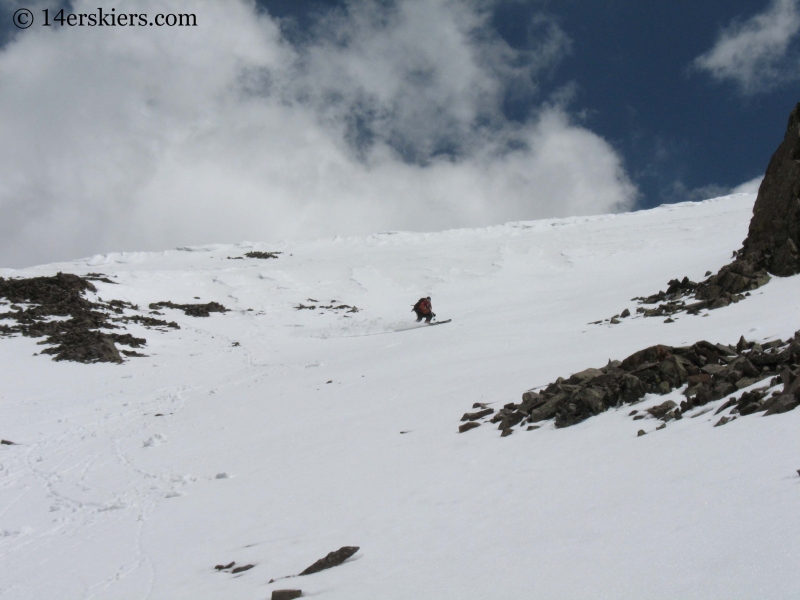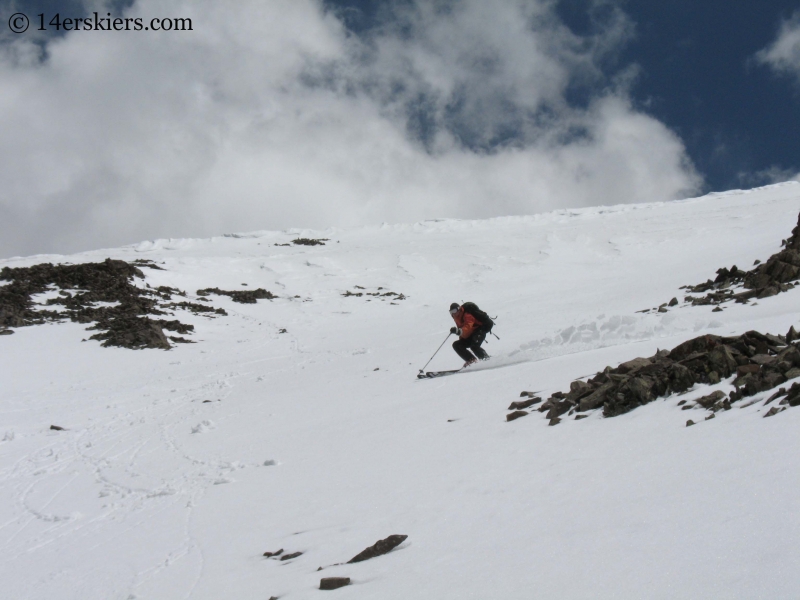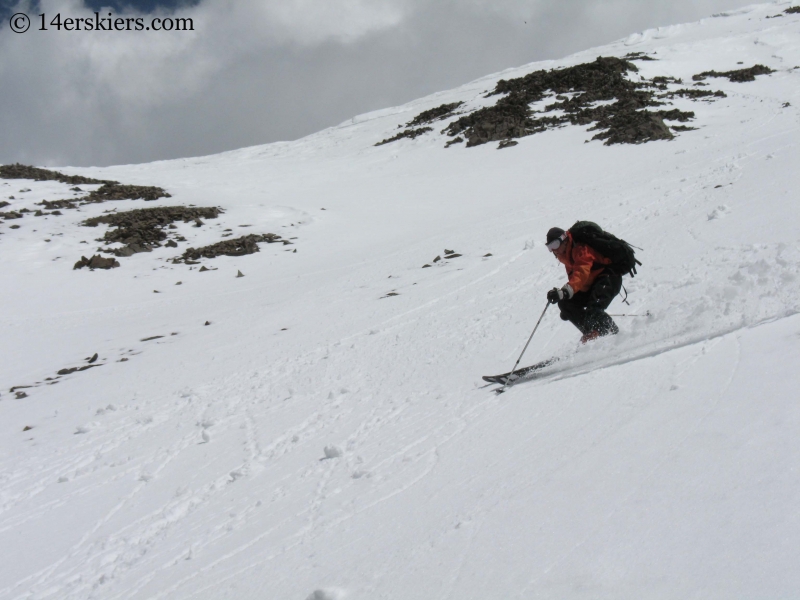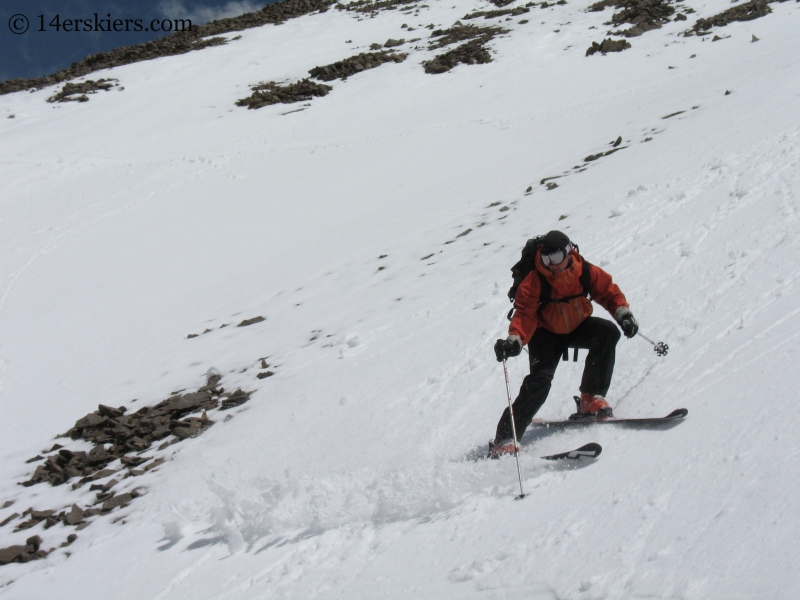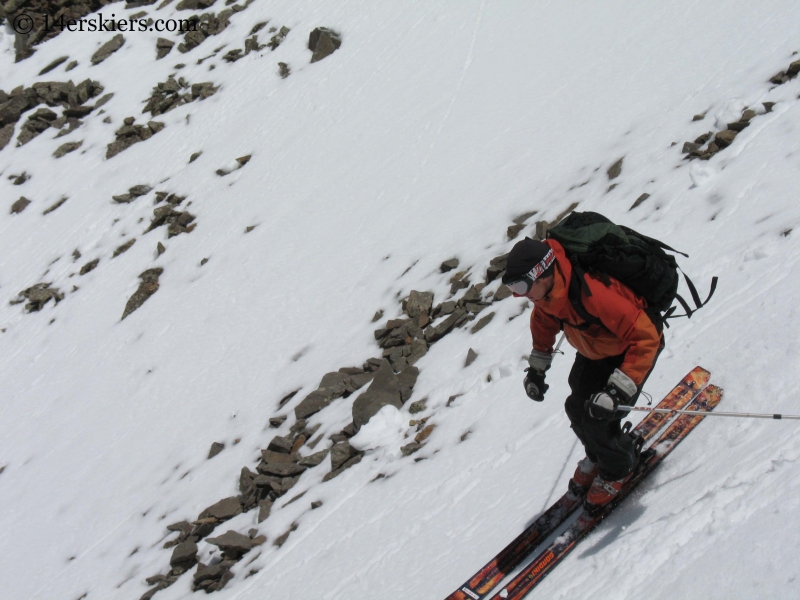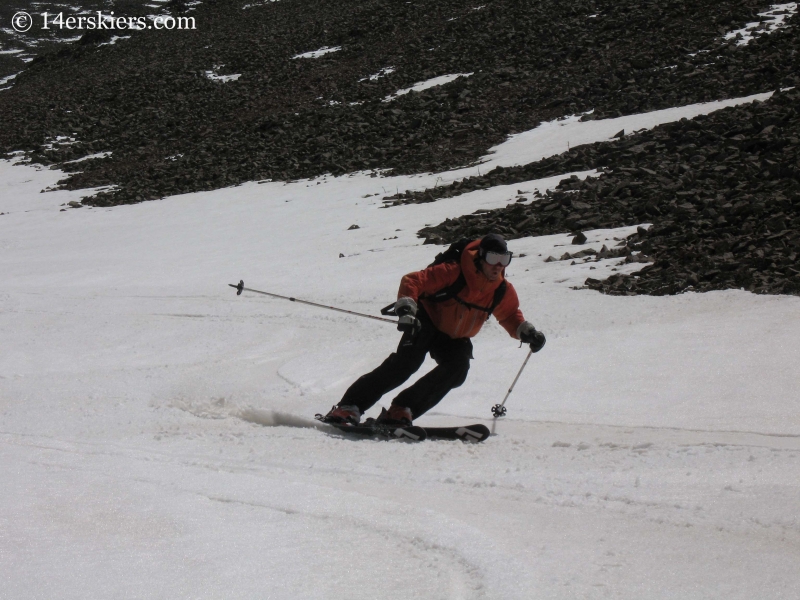 Me.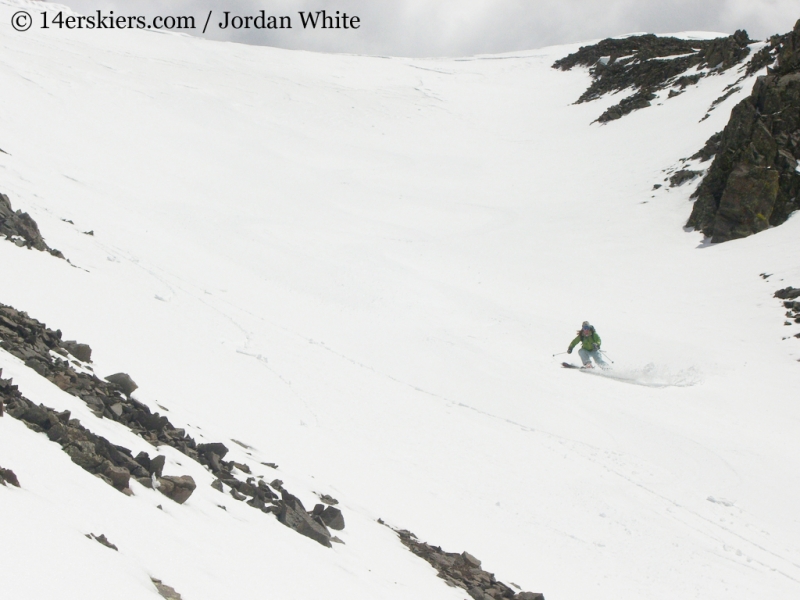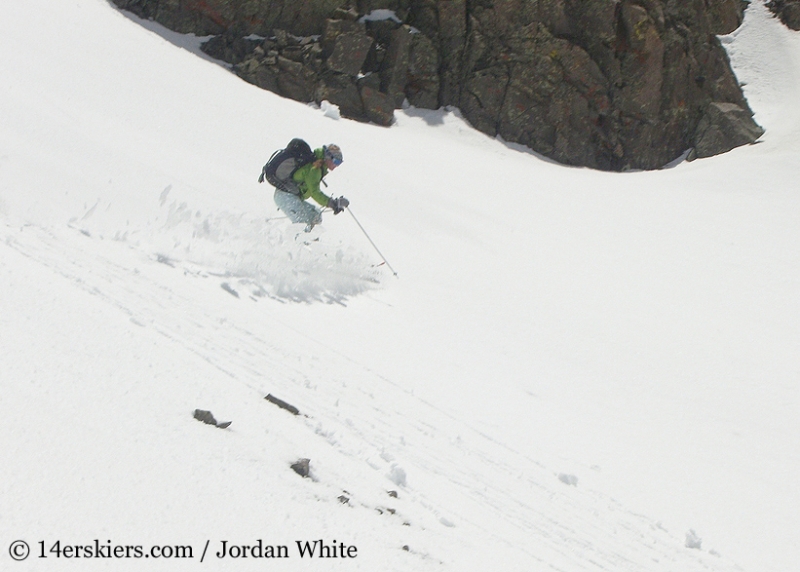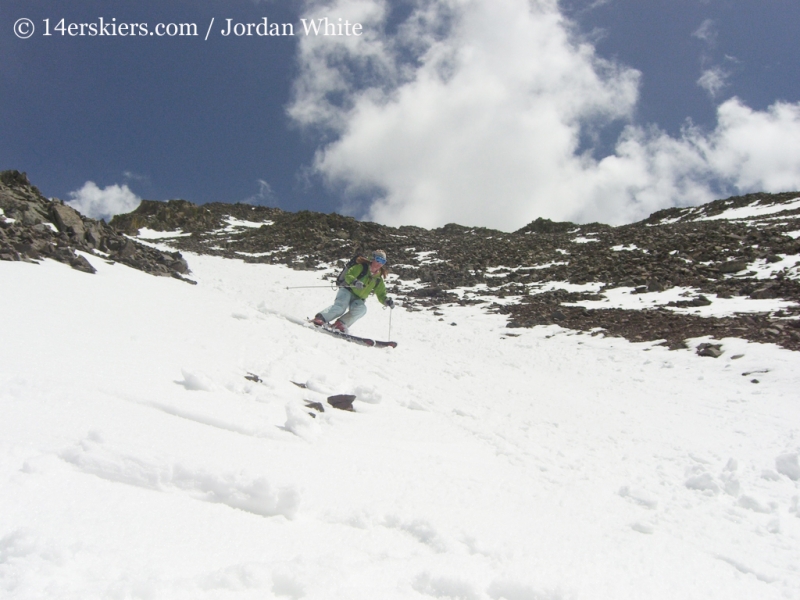 I wish I had more pics of Jordan, but I seemed to have contracted Frank's disease for taking blurry pictures 🙁 I had a few more of Jordan, but they turned out blurry. Sorry Jordan!
Here's one of him skiing down the lower part of the Yawner Gully.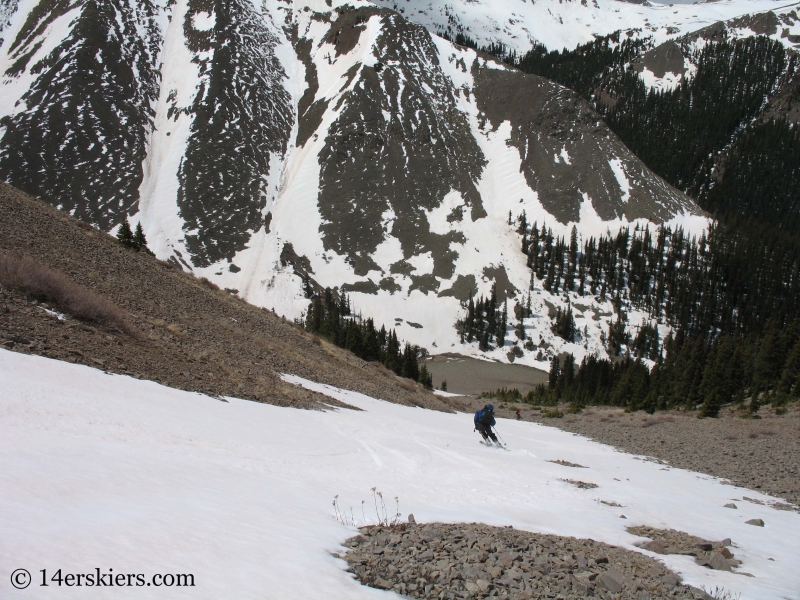 We were able to ski down 2,200 ft to about 11,800 ft. From there we had to walk a couple hundred vert down to the valley over scree. We then followed the valley down for a bit, with intentions of following it down to where it intersected with another valley, which we had to go up to reach the first saddle. But moving through this valley was slow. The snow was collapsable, fallen logs everywhere, and we seemed to be going no where fast. Eventually we worked our way up the ridge, and then went back down the other side into the valley. We found much of the same conditions in that valley– collapsable snow, fallen logs. We tried to stick as close to the creek as possible on narrow strips of snow, in order to avoid these obstacles.
Then the valley opened up into this: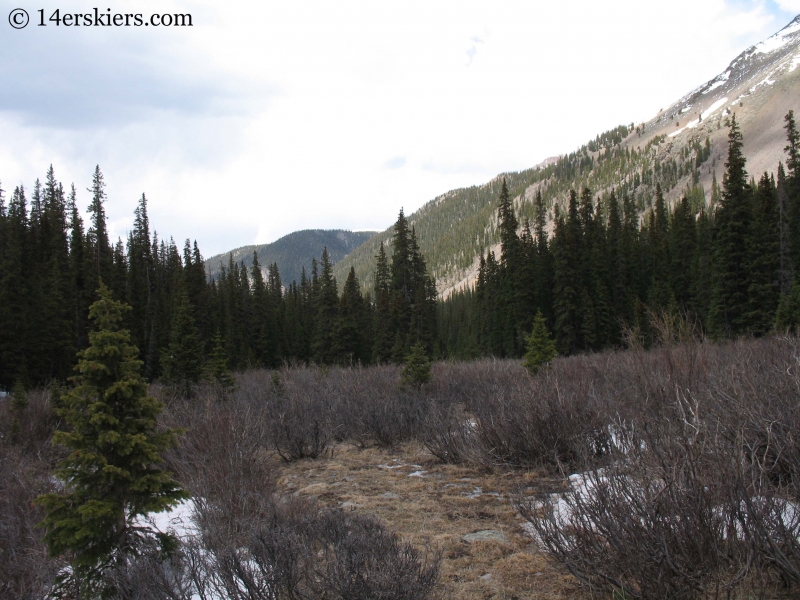 A valley of willows- my worst enemy. Now, Jordan doesn't have such a problem with willows because he's so dang tall. He's a foot and 2 inches taller than me. Frank seems to adore willows- afterall, he's so dang skinny he can fit easily between them. Me, on the other hand…. well, I'm munchkin-sized and I'm not exactly skinny, so me and willows– we are not friends.
Frank and Jordan posing, during a break in the willows.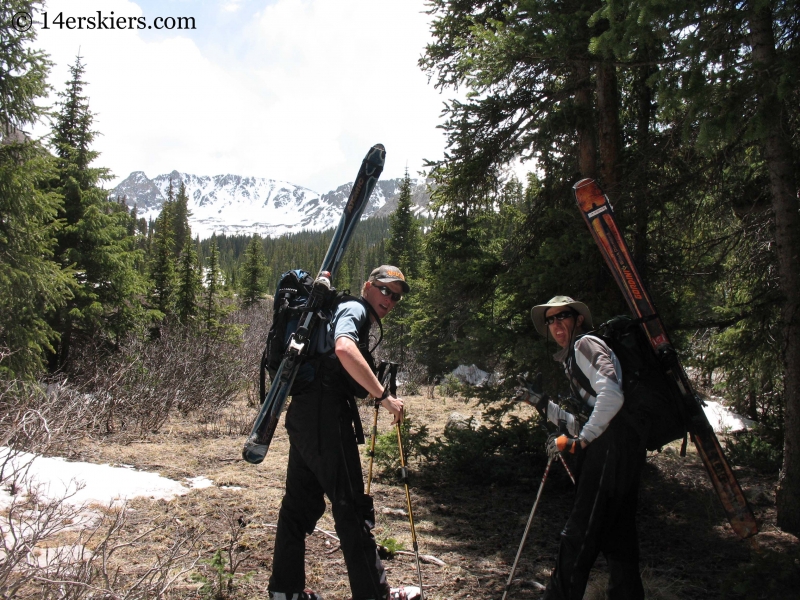 Like the willows on the other side of the ridge, there was lots of evidence of moose. We wondered if we would be so lucky as to see one. And then we did.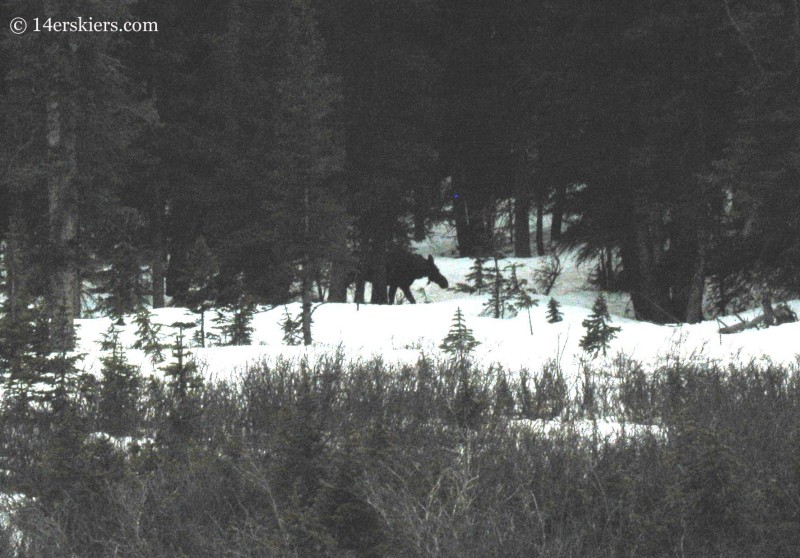 And she had a little one with her too!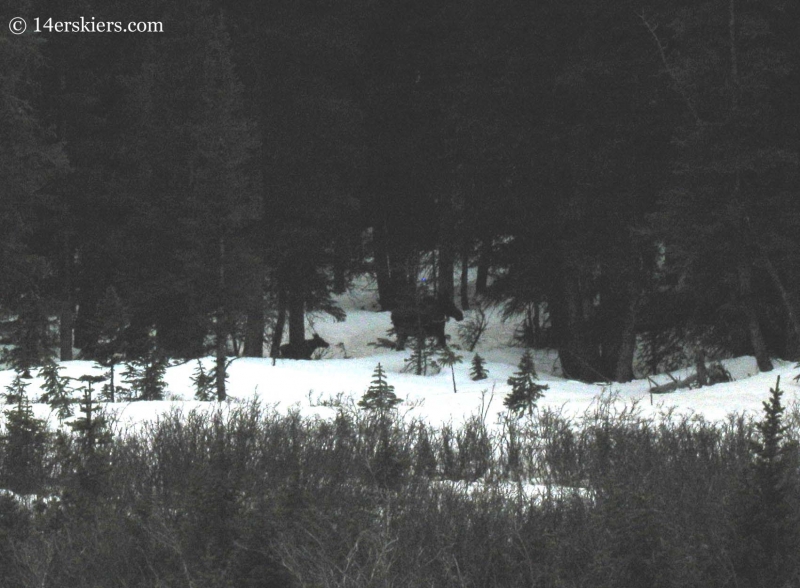 The moose were a bright light in a thicket of darkness. It was good to see them. But we still had a long ways to go! It seemed like forever that we skinned up this valley, and finally we took a right, heading up toward the first saddle.
Looking back down the valley we skinned up.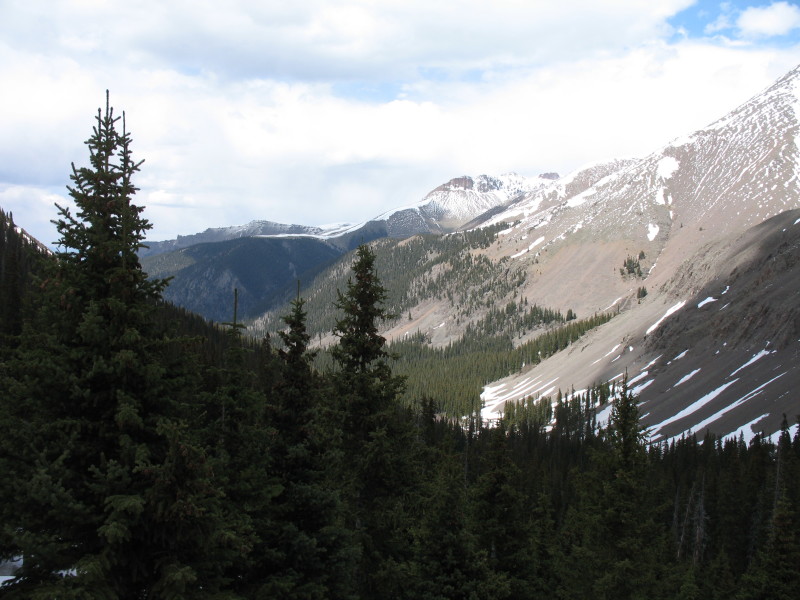 Frank waiting for us on the first saddle.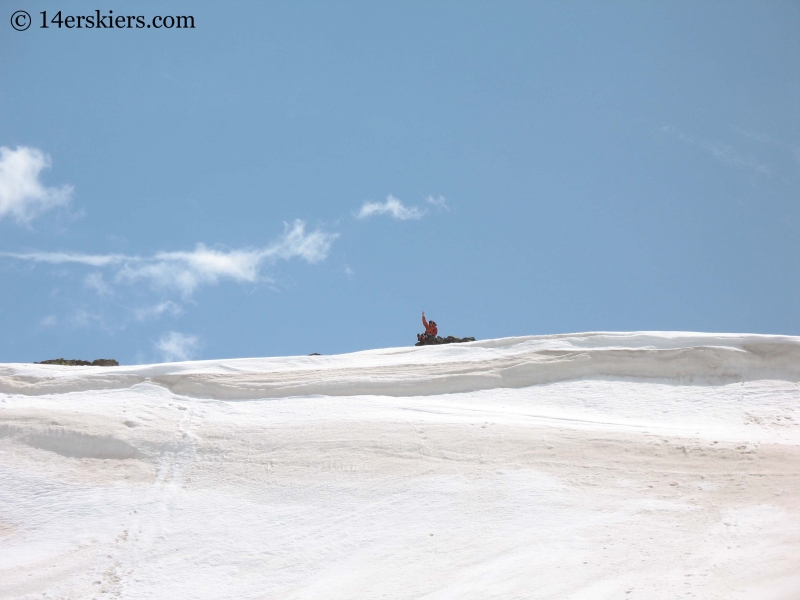 From the first saddle, we were able to ski down a SW-facing gully for about 700 ft. until it met up with the Willow Creek rd. From there we changed back over to shoes.
My AT boots have been causing me much grief this season, causing me unbearable pain under my metatarsils. I feel the worst pain when I take my boots off. The only thing I can equate it to is when your feet freeze really cold and then you take your boots off and they start thawing and they really hurt in the process. This pain is really similar, except it has nothing to do with cold feet. It's far worse when they are warm actually. Anyway, this pain has brought me to tears several times this season when taking my boots off, and this day was no different.
I began hiking down the road, limping from the pain in my feet.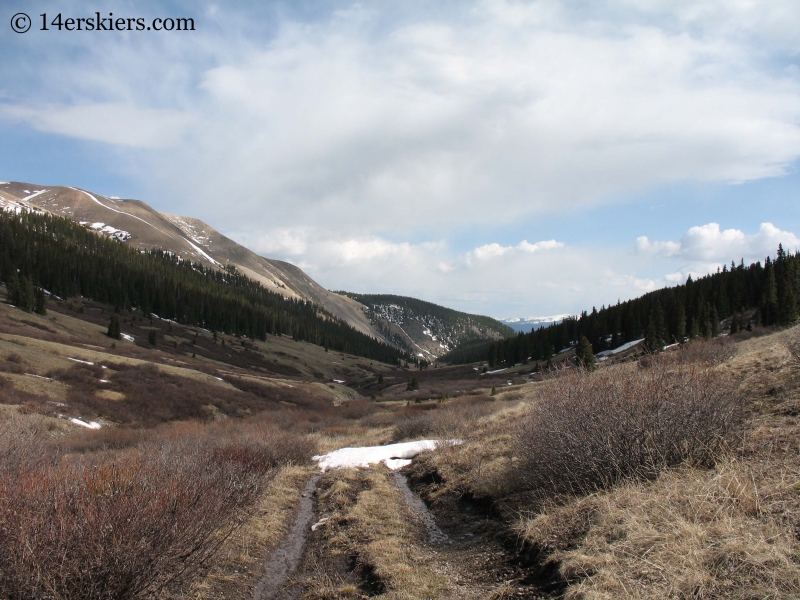 Jordan offered to take my pack as it was quite heavy. But it was nearly impossible for him to carry 2 packs with skis and ski boots on them. So, he strapped my skis and boots on his pack instead. This was fantastic! My feet still hurt, but with much less weight on my back I was able to walk a more normal pace.
Before we knew it we were back at the Equity Mine. Frank and Jordan pass by a mine shack. Note Jordan is sporting 2 sets of skis! 🙂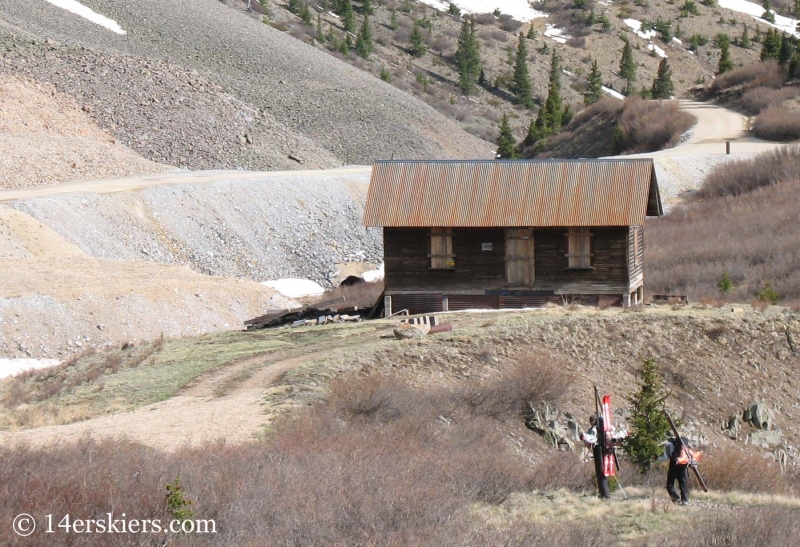 We missed these on the way up, but they amused us on the return.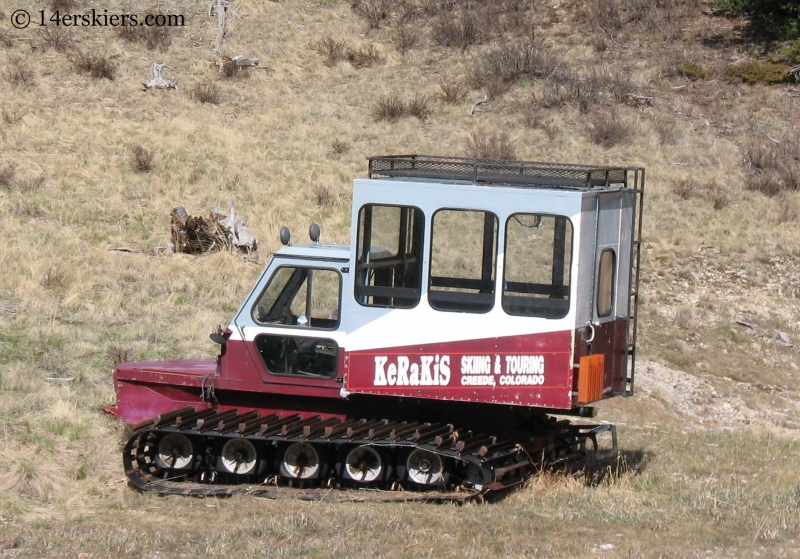 Anybody missing a pair of skis and poles???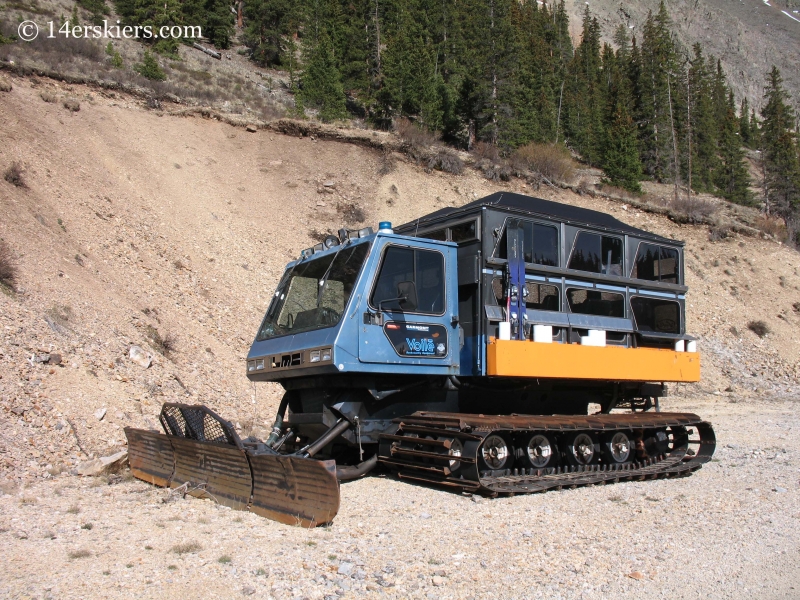 We arrived back at the cars just before 5:15 pm, making it an 11 hour day. Since goldenboy asked, I had to figure out the stats. So here they are. Total vert climbed: 4350 ft. Total vert skied: 2900 ft + 700 ft in traverses.
The drive back down the road takes you through some amazing mining ruins. The shutter to my camera wasn't opening all the way for some reason so not all the pics turned out. Here's what I have: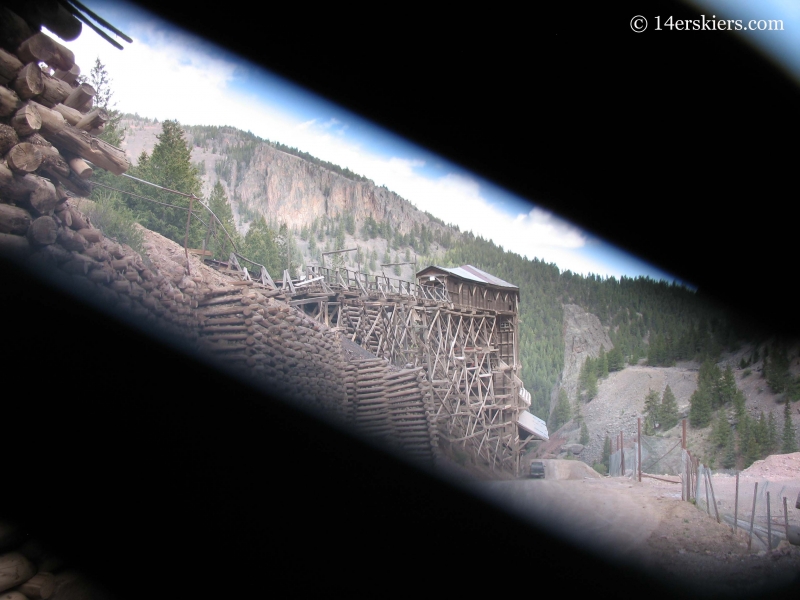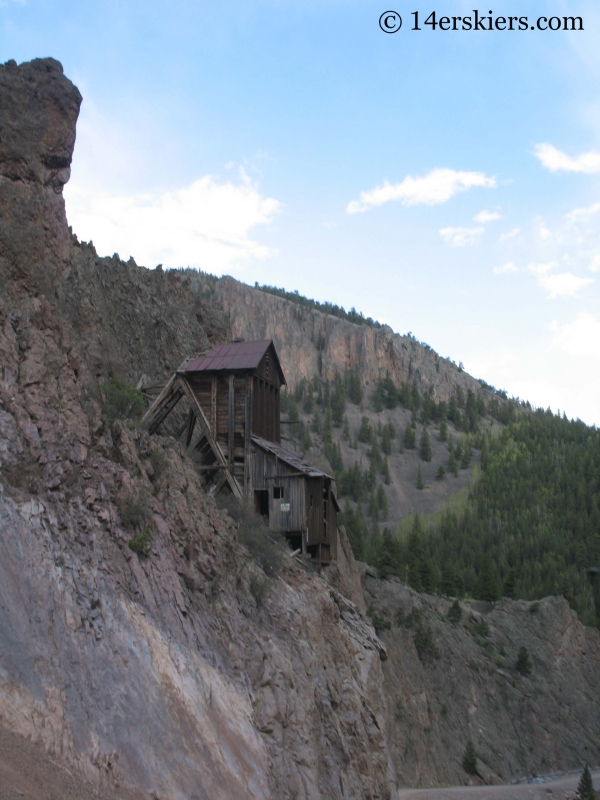 We stopped in Creede for dinner. Creede is a sweet little town, but things were a little slow here on this Memorial Day!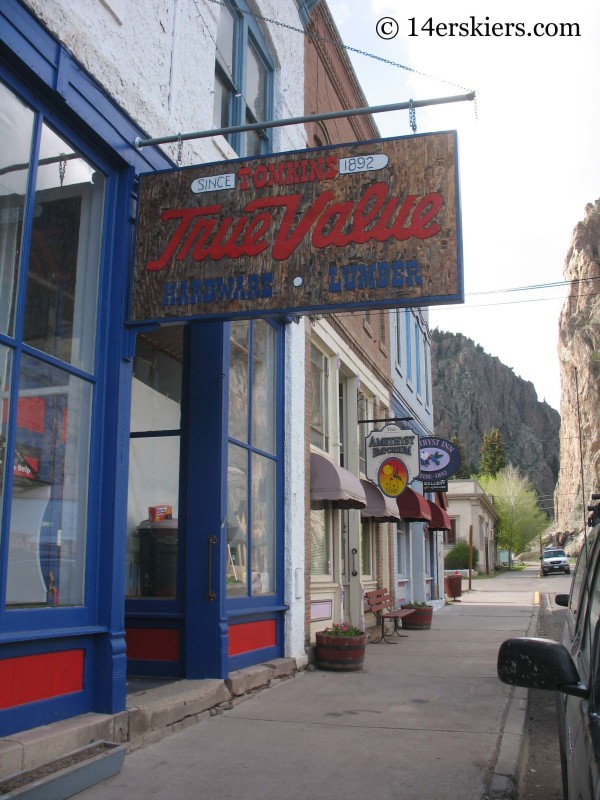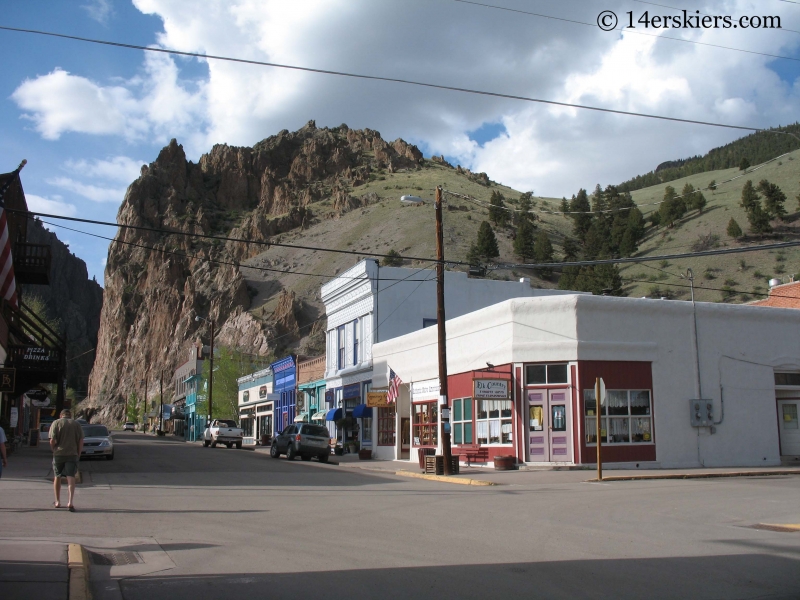 From Creede, Frank headed back to Crested Butte via Lake City and Gunnison. Jordan and I followed the Rio Grande to South Fork, heading toward Denver. What a pretty road it was too!
We got great views of the Sangres along the way.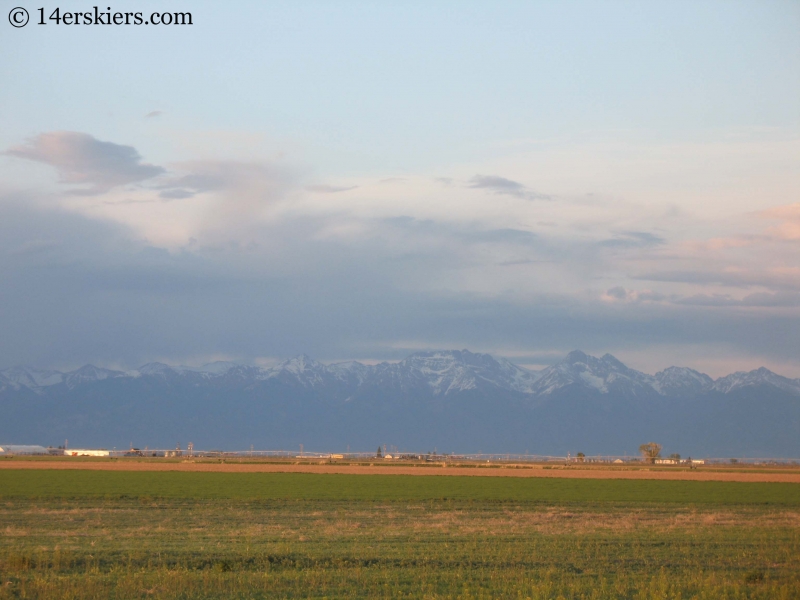 And we had a beautiful sunset.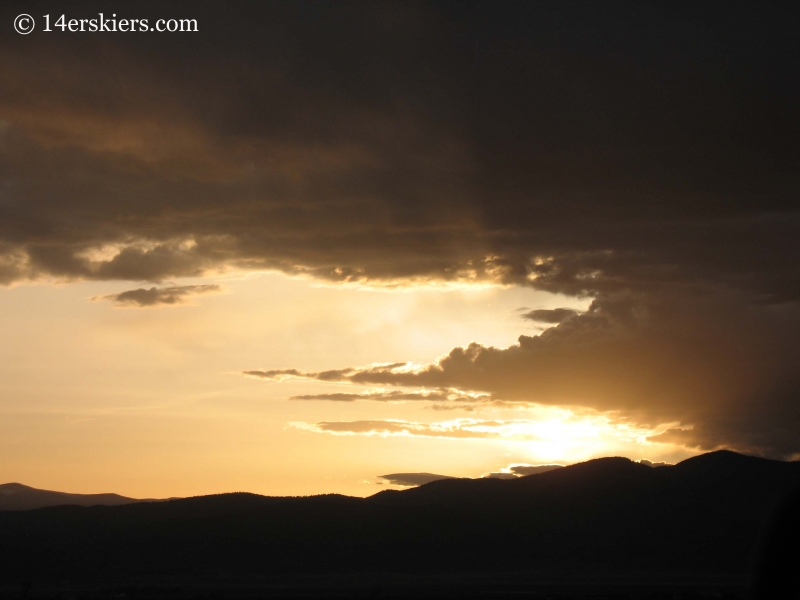 All in all it was a great weekend.
And, of course, weekend totals for Frank!
Total vert climbed: 12,900 ft
Total vert skied: 11,300 ft.
San Luis Peak was a pretty fun ski, but quite a slog! I was now over half way done with my fourteener skiing project. But, the season wasn't over yet!
---
Like this report? See more of Brittany's 14er skiing journey.
Aside from skiing, biking, and all outdoorsy things,
Brittany Walker Konsella
also loves smiles and chocolate 🙂 Even though she excels at higher level math and chemistry, she still confuses left from right. Find out more about
Brittany
!
Latest posts by Brittany Walker Konsella (see all)
Summary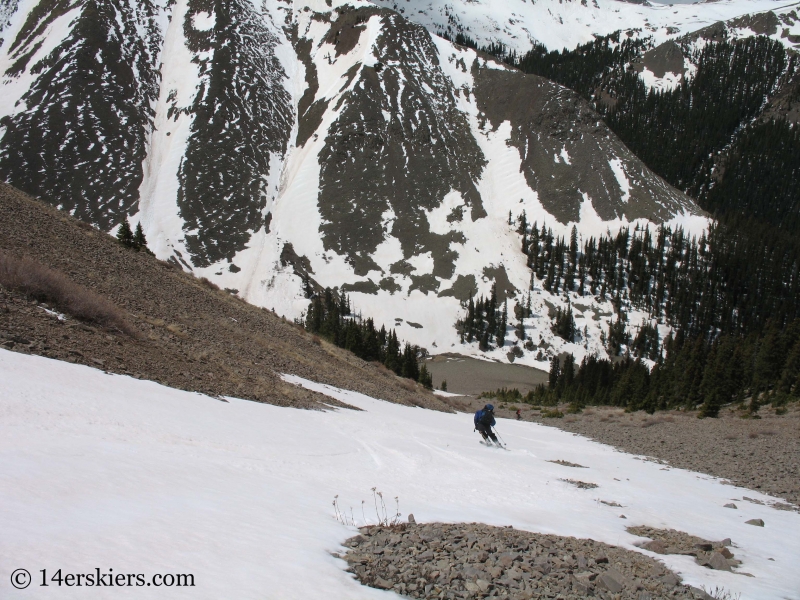 Article Name
14er TBT: San Luis Peak (28 May 2007)
Description
Backcountry skiing on San Luis Peak is fun, especially on the Yawner Gullies. Read more about it!
Author