14er TBT: Tabeguache Peak (19 May 2007)
(Last Updated On: May 3, 2015)
This is part of an ongoing series re-telling Brittany's fourteener-skiing story. Look for the reports every Thursday, as part of a Throwback Thursday theme.
Tabeguache Peak is one of the less obvious Sawatch fourteeners. It's hidden far up Brown's Creek drainage, and not easily visible from HWY 285 like the rest of those in the Sawatch. But, when we stood on top of Antero only days prior and caught a good glimpse of what Tabeguache's north face had to offer, it motivated us to get on top of this peak. Thankfully, the weekend was shaping up nicely for a Tabeguache ski, completing my 24th fourteener descent. Below is a modified version of my original trip report.

Tabeguache Peak 14,163′
Brittany, Frank, & Brad Bond
After seeing the looks of the north side of Tabeguache Peak from Mount Antero we knew it was looking prime so we decided to go after it this weekend.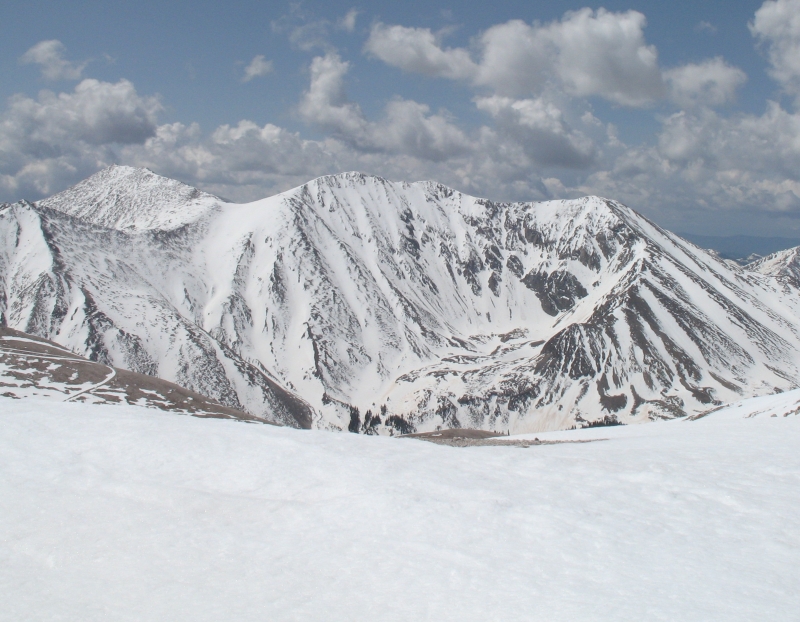 We also knew it would be a slog… The North Face of Tabeguache is accessable from Brown's Creek TH which is at 8,960 ft. This makes for a 14 mile day with about 5,200 vert of climbing.
According to 14ers.com, Tabeguache is also called Mogwatavungwantsingwu (yeah, go ahead and try to pronounce that one!). Tabeguache is short for this, which was the name of a Ute tribe. Mogwatavungwantsingwu means "cedar-bark sun-slope people."
We camped the night before near the Brown's Creek TH and began hiking at 3:30 am. With the darkness of the night we got a bit confused at some of the trail intersections so that took a bit of time.
But finally dawn arrived. And we continued up the trail.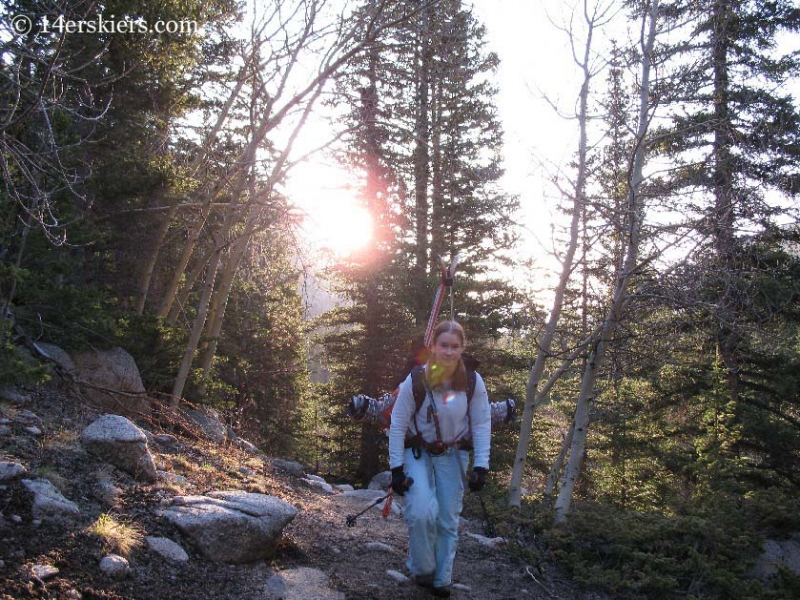 We hiked in our shoes, since the trail was largely dry. Around 10,500 there were patches of snow, but not enough to warrant putting on skins or even our ski boots.
It's about 5.5 miles to Brown's Lake, and it took us about 3 hours to hike there. The lake was at about 11,000 feet.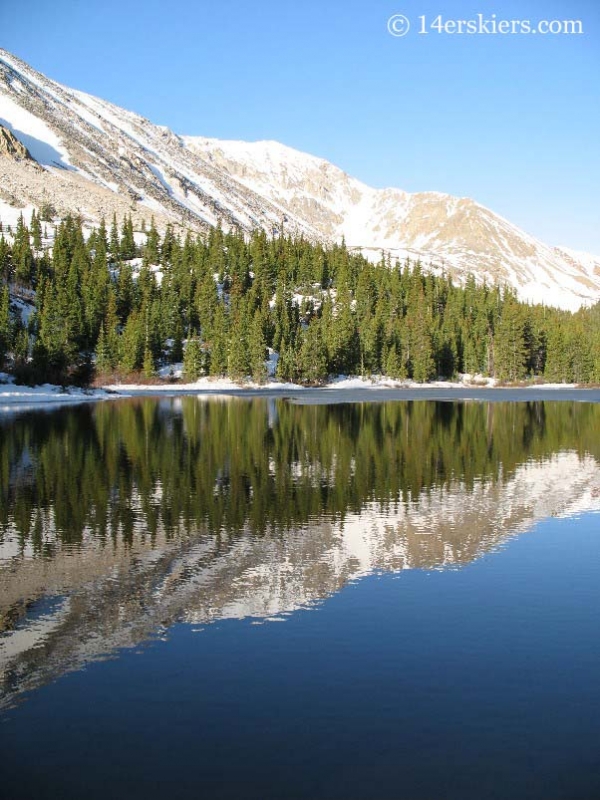 Brad enjoying the morning lake views.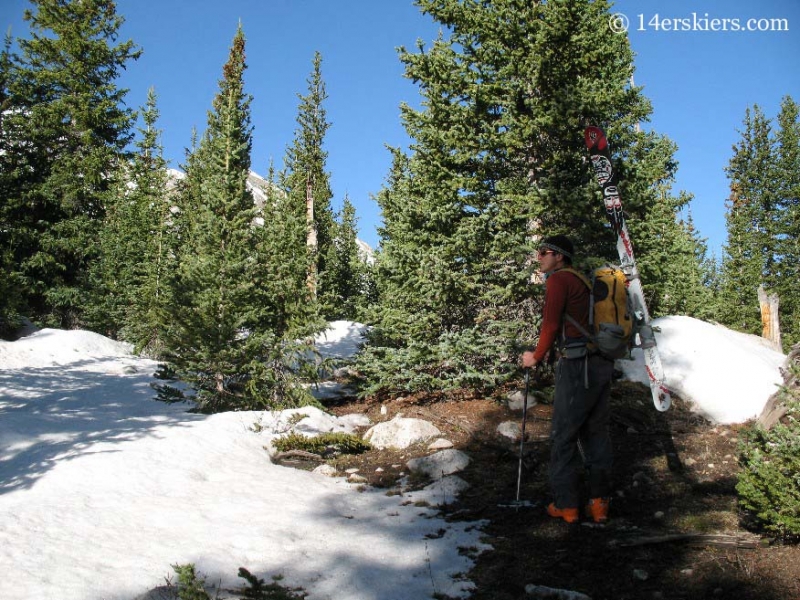 From the lake we could see Tabeguache, but we walked past the lake to obtain better views of our route. This pic shows our eventual routes.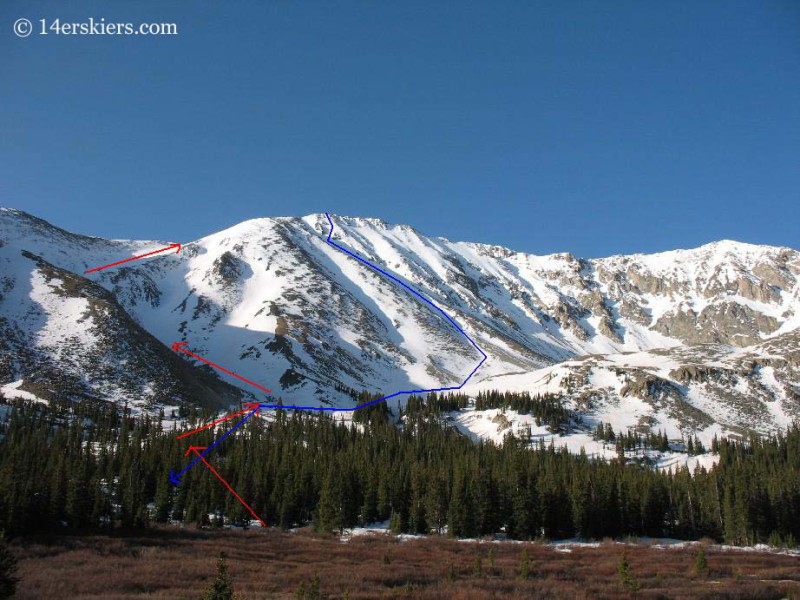 But getting over there required us to cross Brown's Creek which was running pretty high. So, we scoped out the area and finally found a make-shift bridge to cross the creek.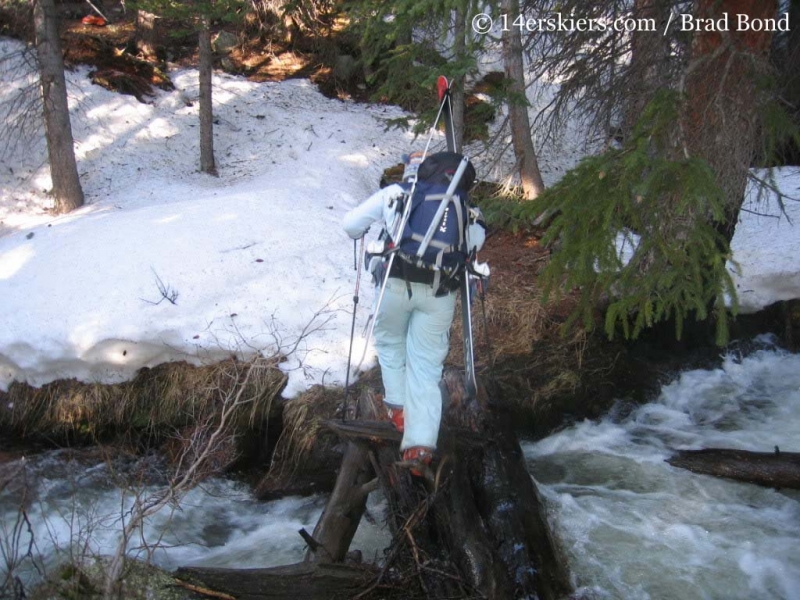 The bridge led us to a climber's route marked with cairns. Through the trees and a bit above the trees skins would have been helpful. Frank and I didn't have our skins so we suffered through a bit of postholing. But it didn't last very long, only about 20 minutes. After that we were easily booting over frozen snow. When we began to head up the gully we put on our crampons.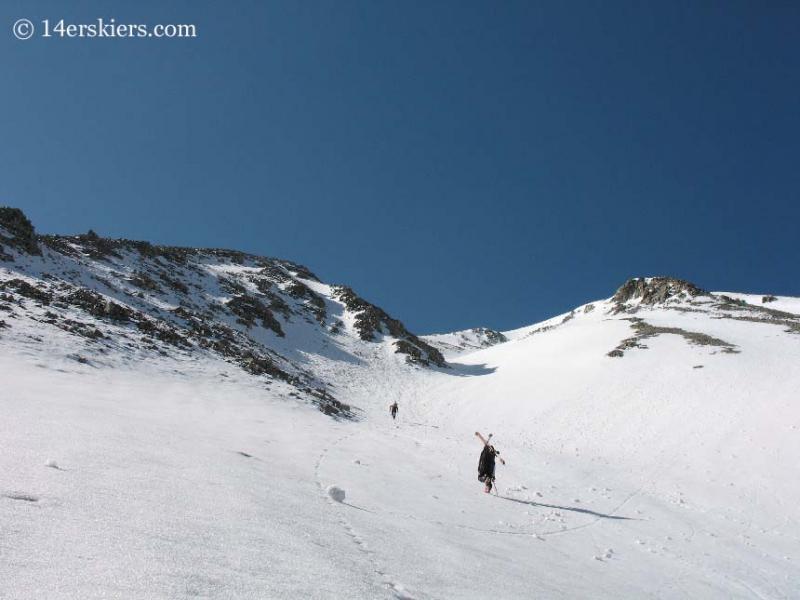 Brad near on a false summit.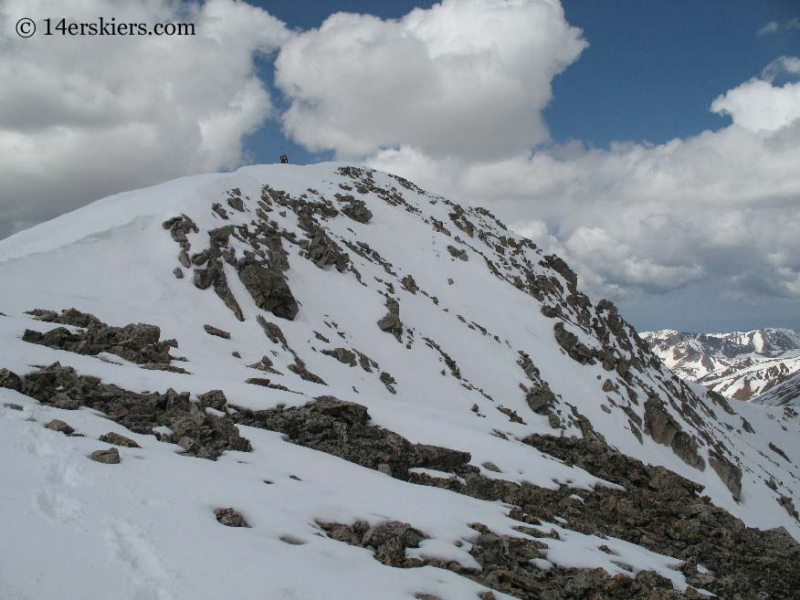 A couple of hours later, there was the summit! We summited around 10:30 or 10:45 am.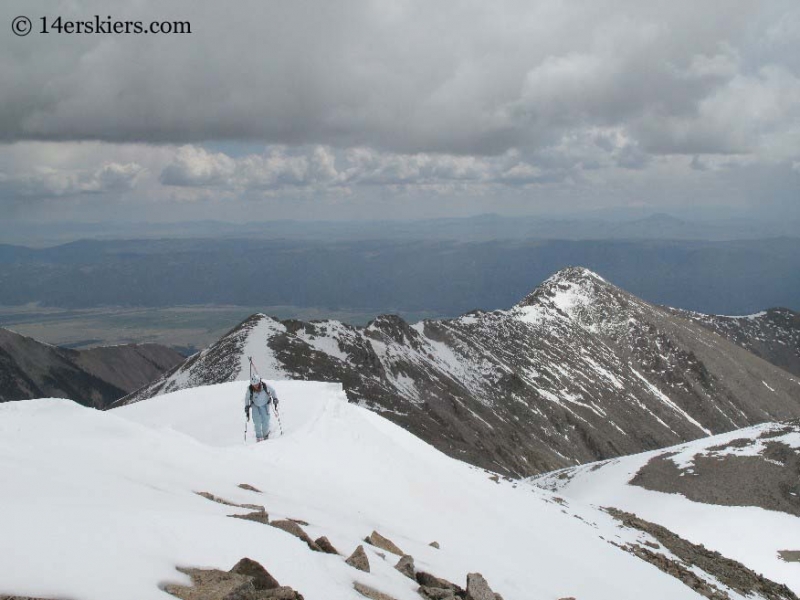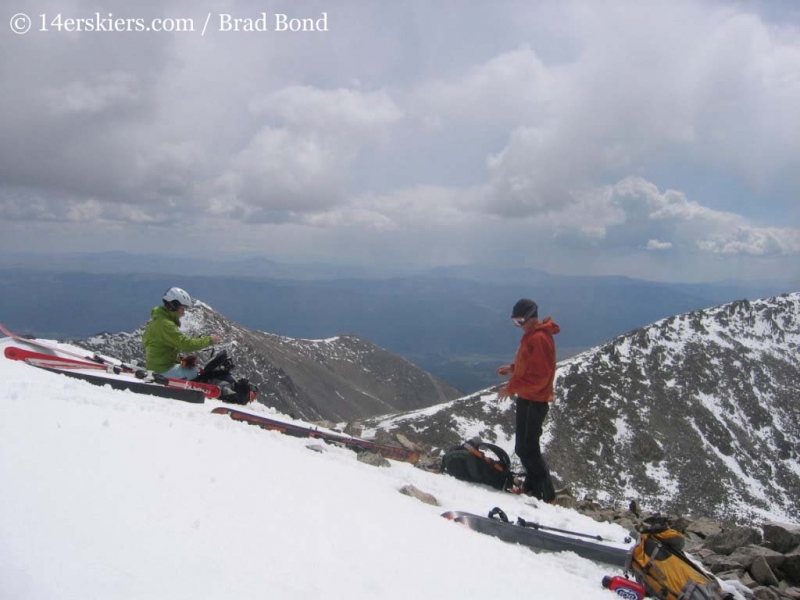 From the summit we could get a great view of the N face of Shavano.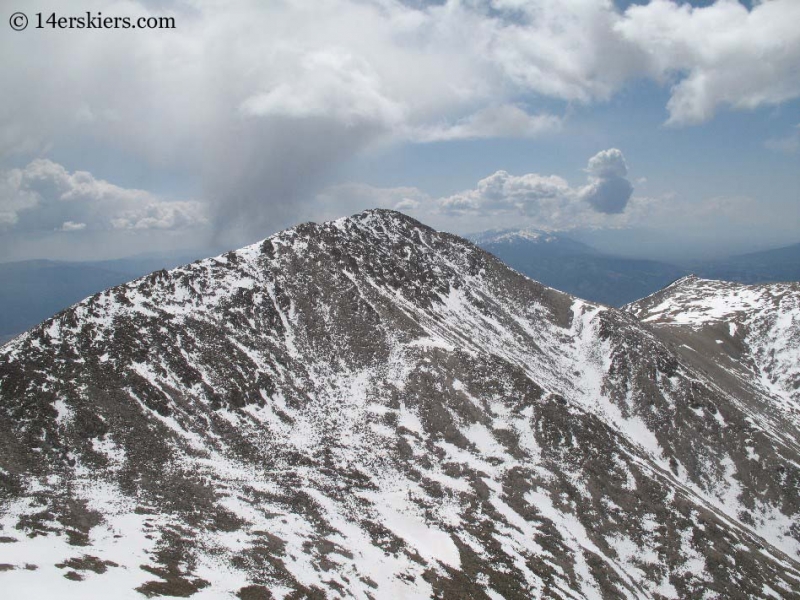 A close up shows that people were hanging out on the summit!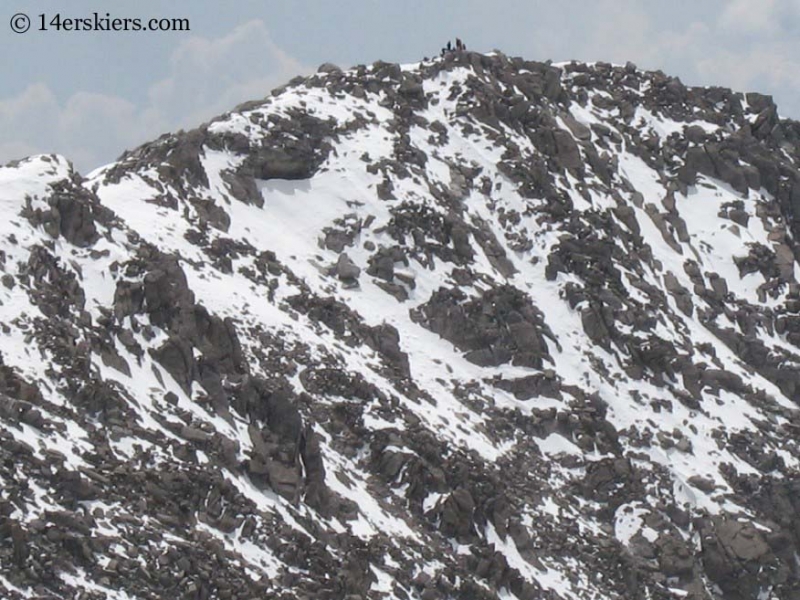 A look over toward Monarch Pass and Monarch Ski Area.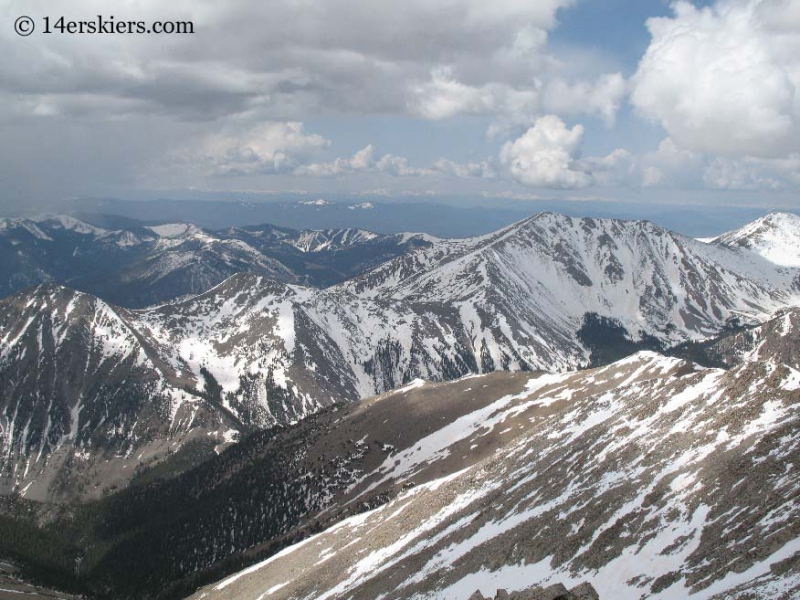 Frank and me on the summit, getting ready to ski!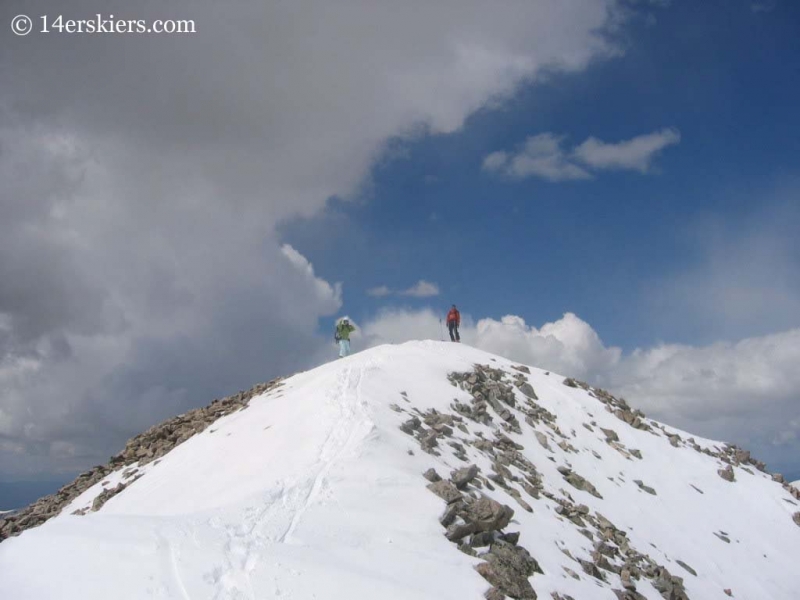 Finally it's time to ski! Frank drops in and shreds it 😀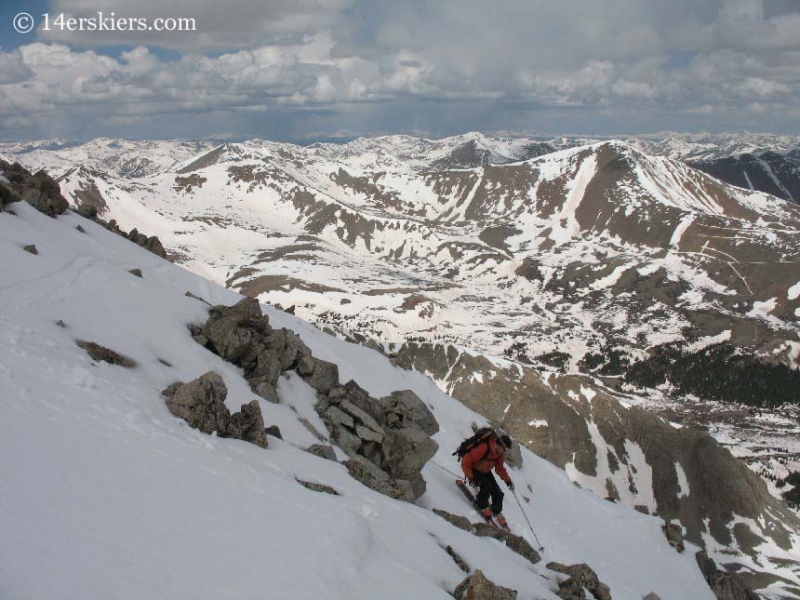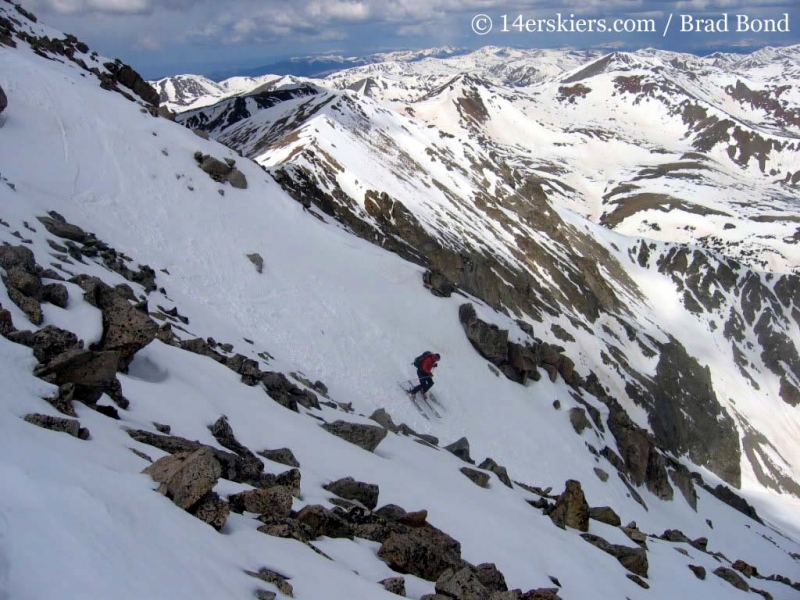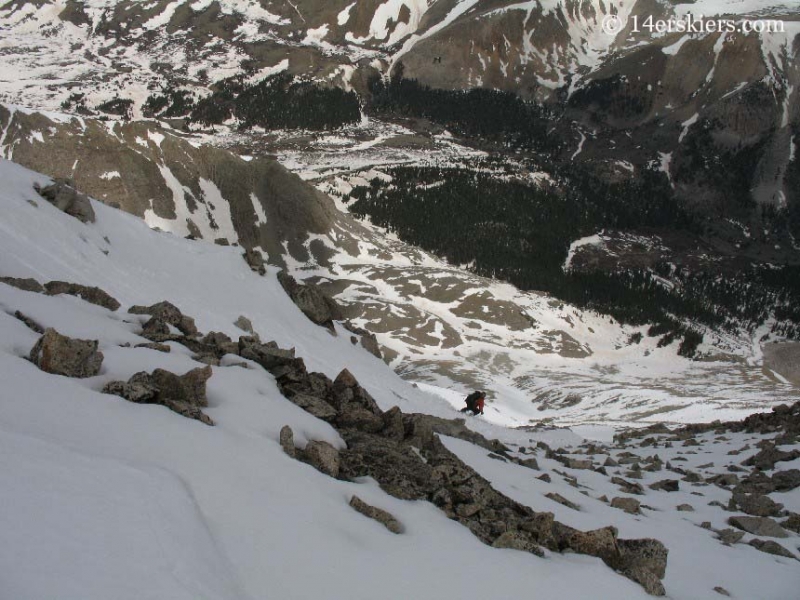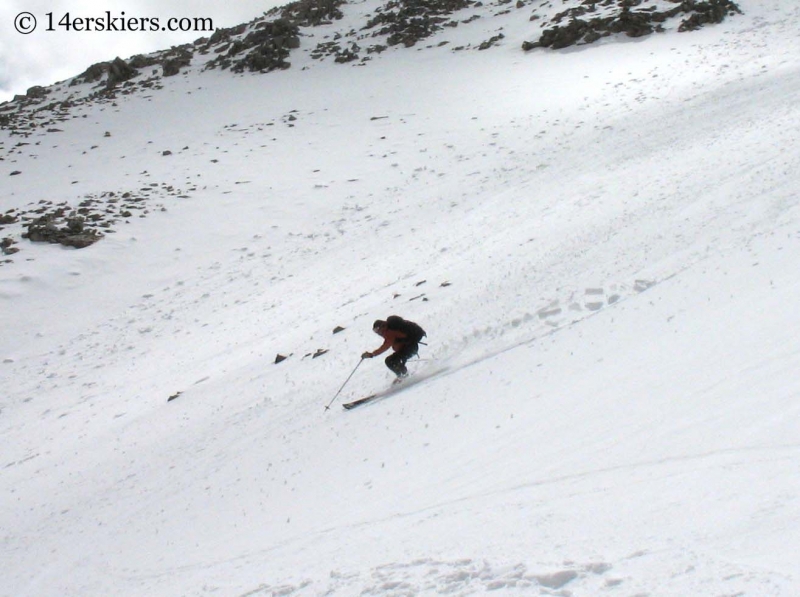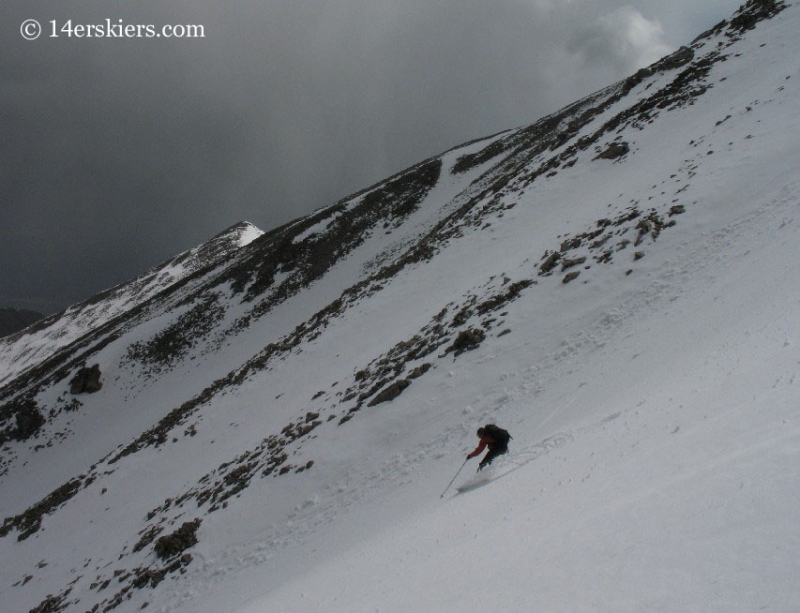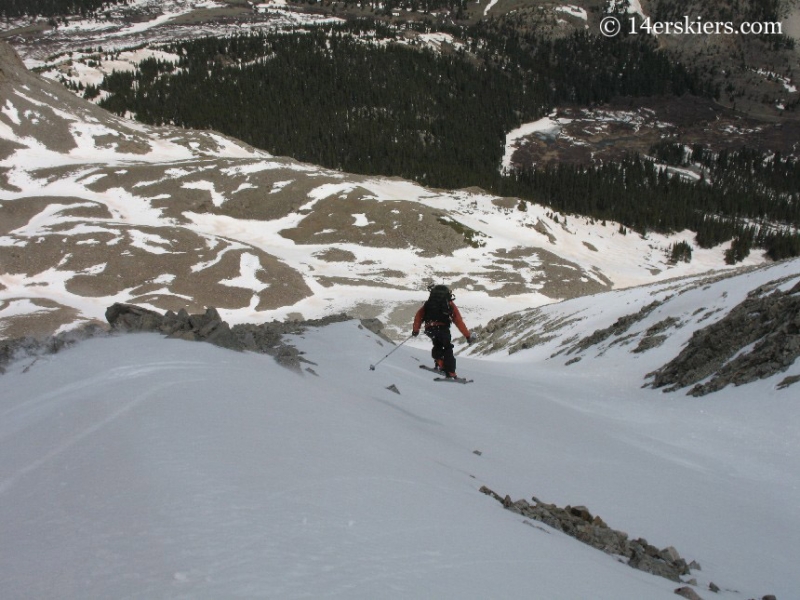 We found GREAT corn on this face around 11 am. Couldn't ask for better corn!
Brad's turn!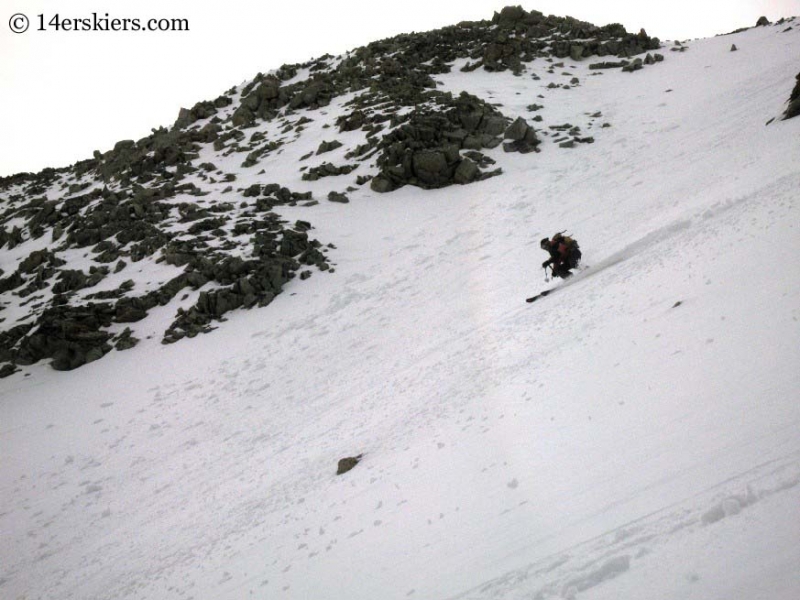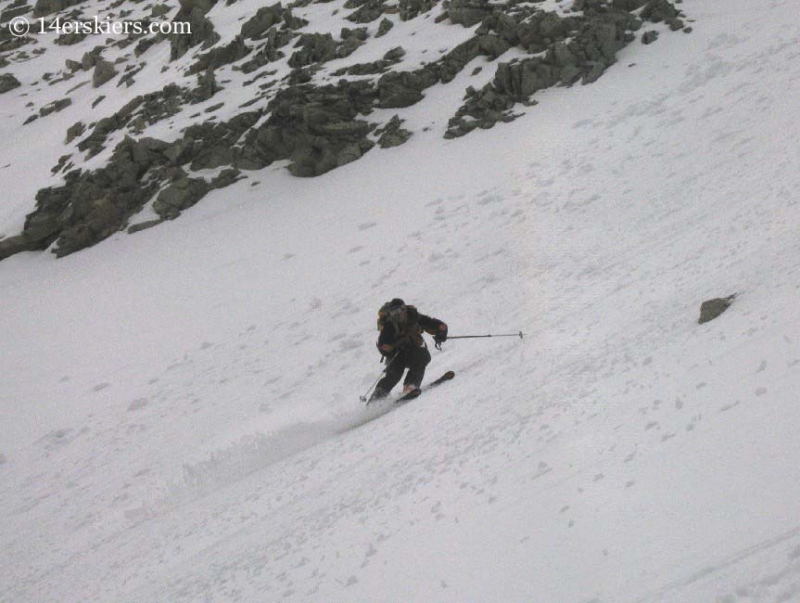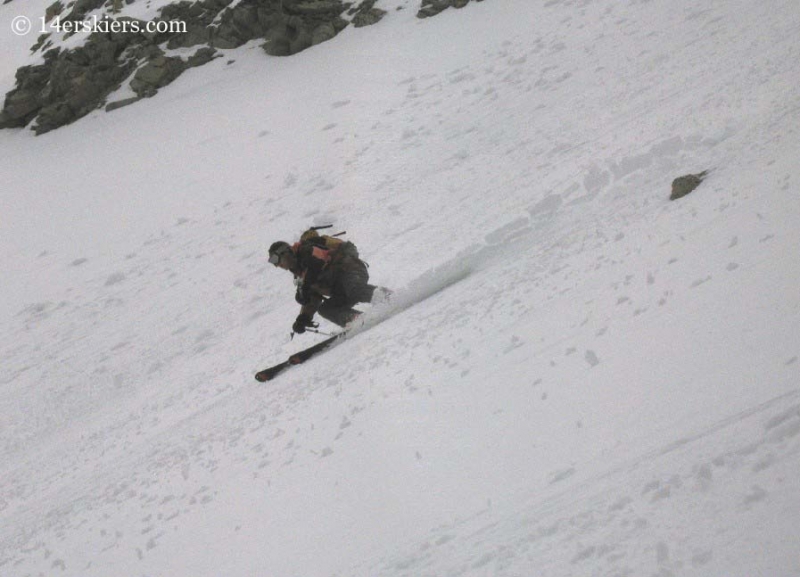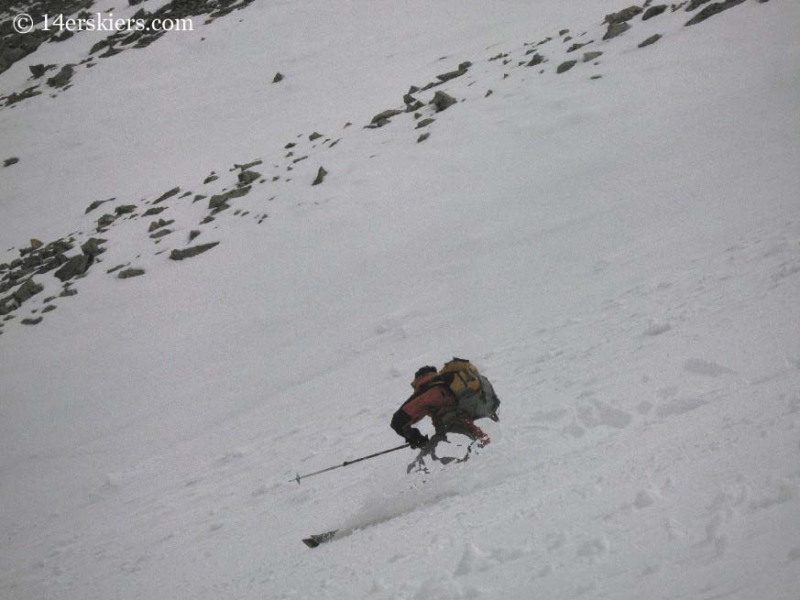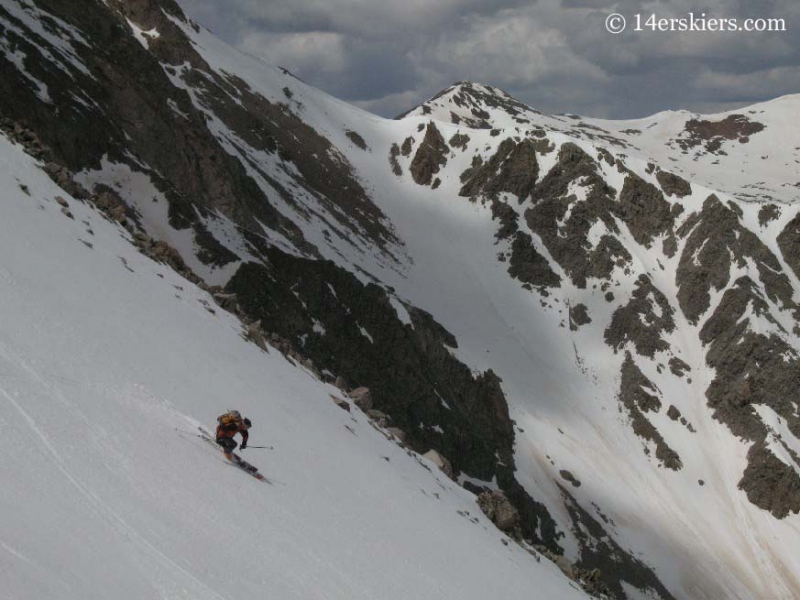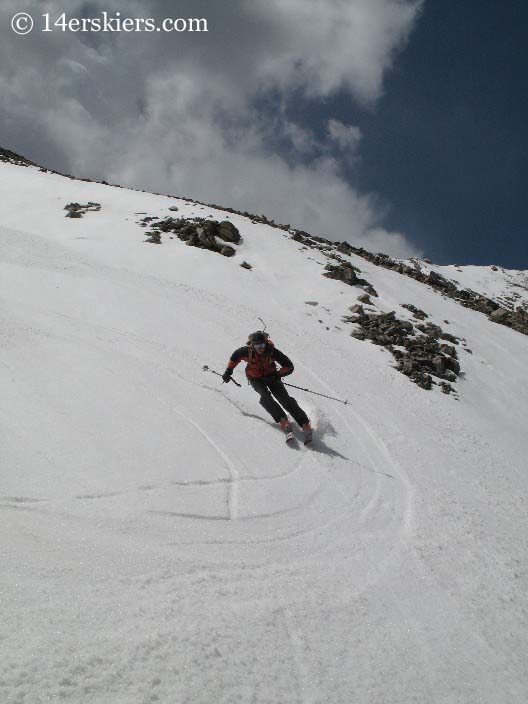 My turn! (Oh yeah, I opted to go back to my old blue pants b/c I knew the trail would be muddy! No pink pants this time!)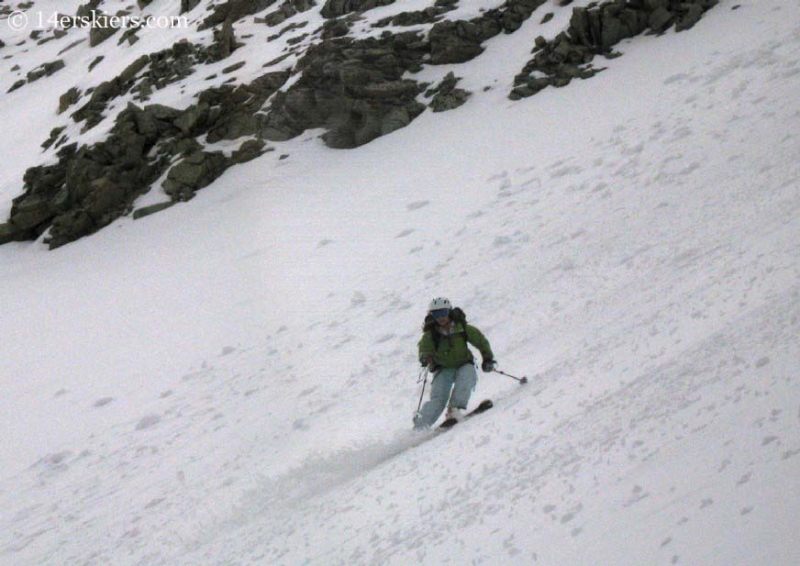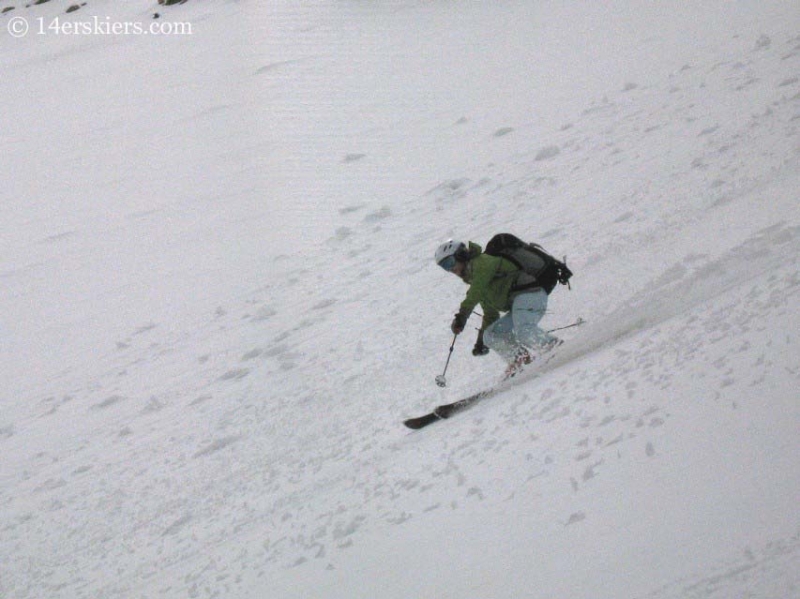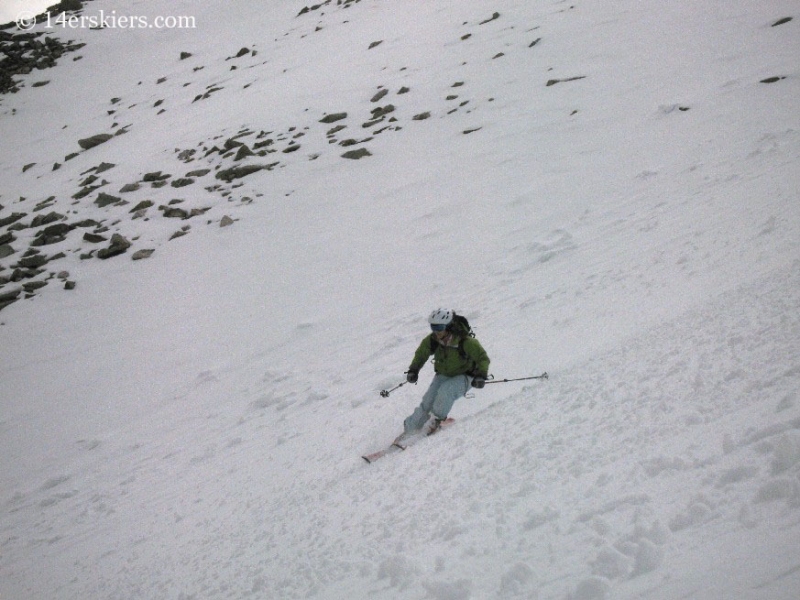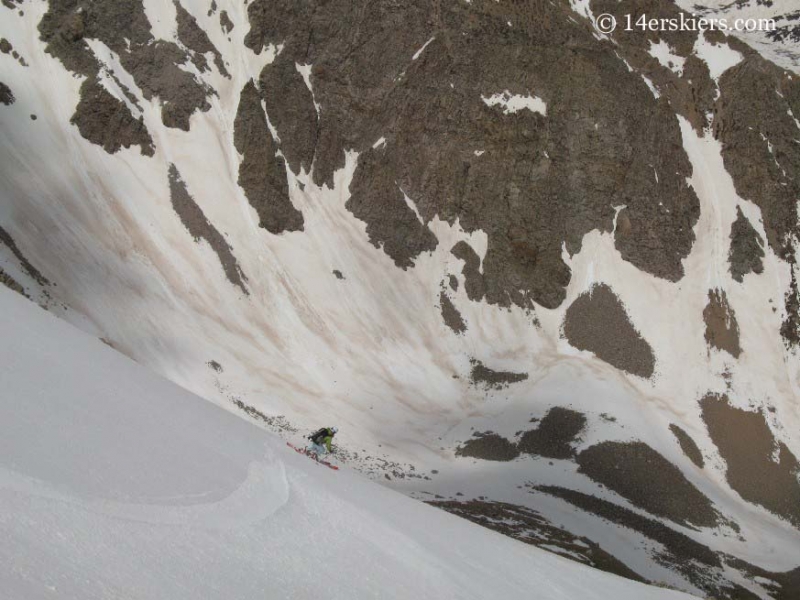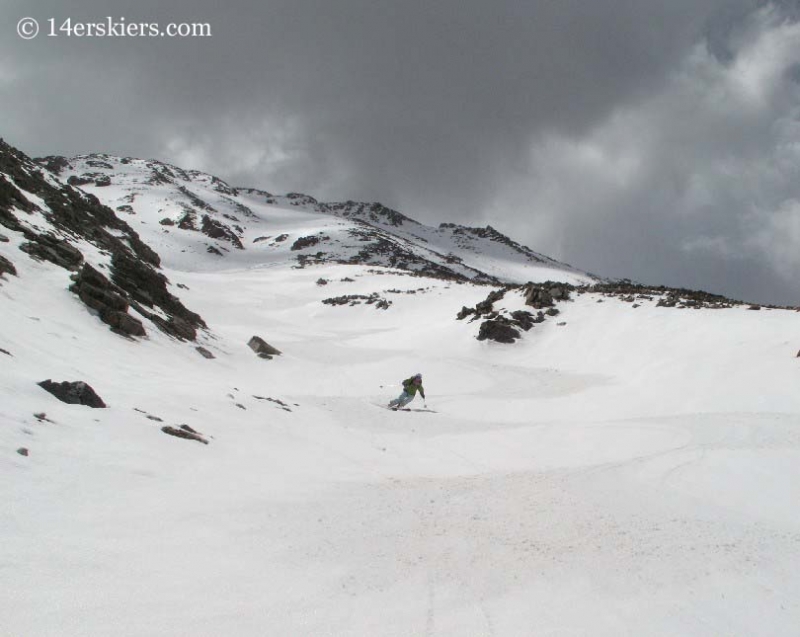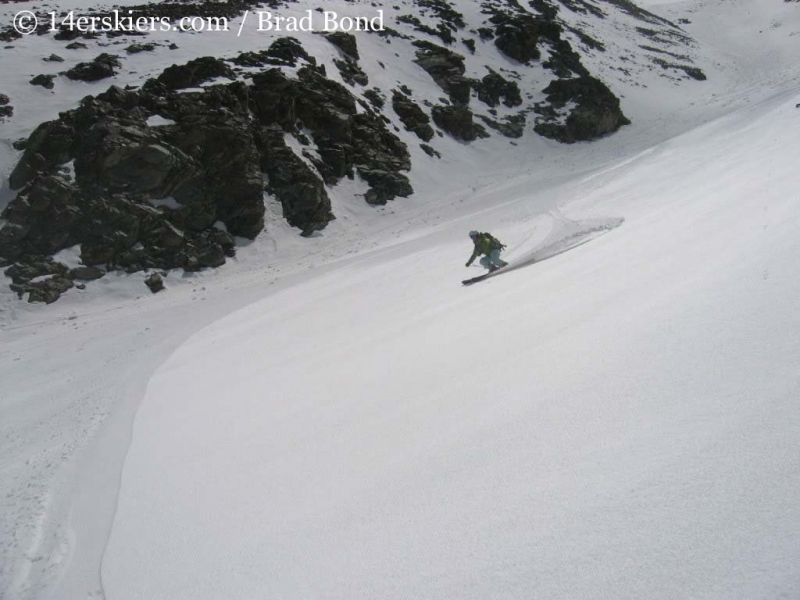 At the end of the couloir we began to go down the valley to find where we originally had crossed the stream.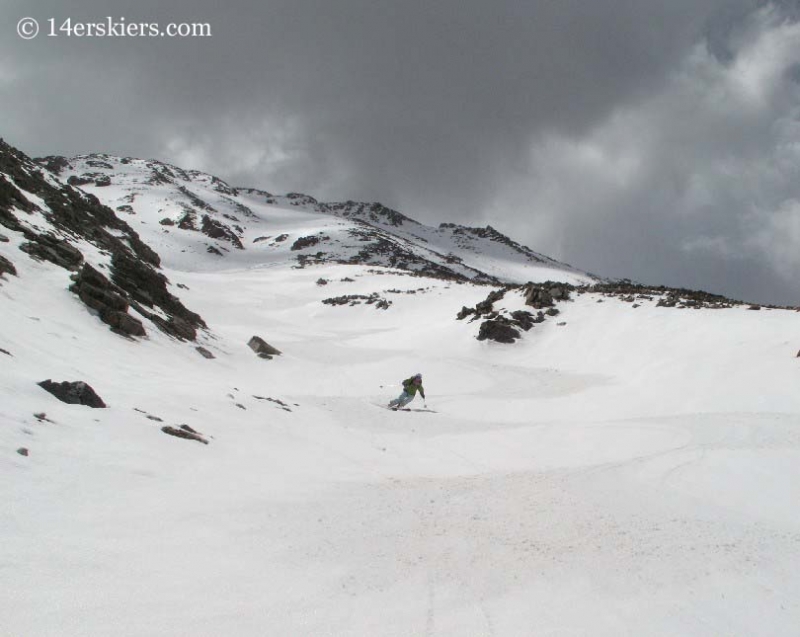 Then it was onward. We still had 5.5 miles and over 2,000 ft to go down.
Around 1 pm we got hammered with thunder, lightning, and huge graupel falling. It lasted for nearly an hour. But we were well within treeline, so it wasn't so much of a worry, until we got to icy bridge crossings like this: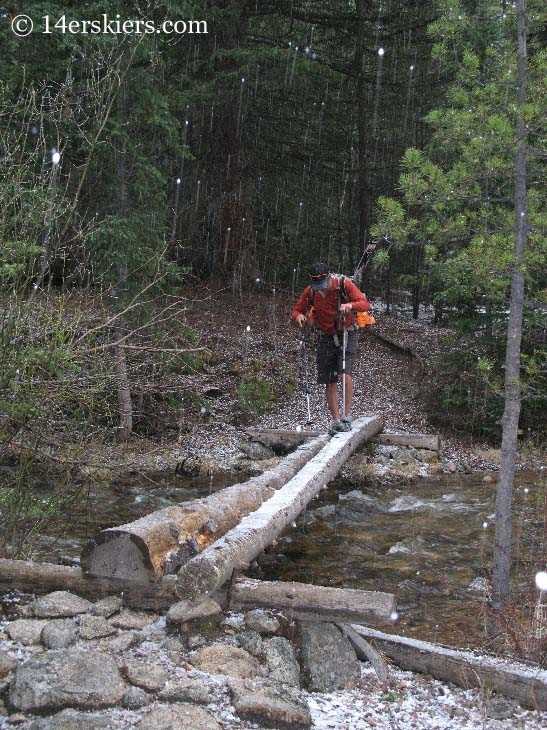 The graupel accumulated some on the trail.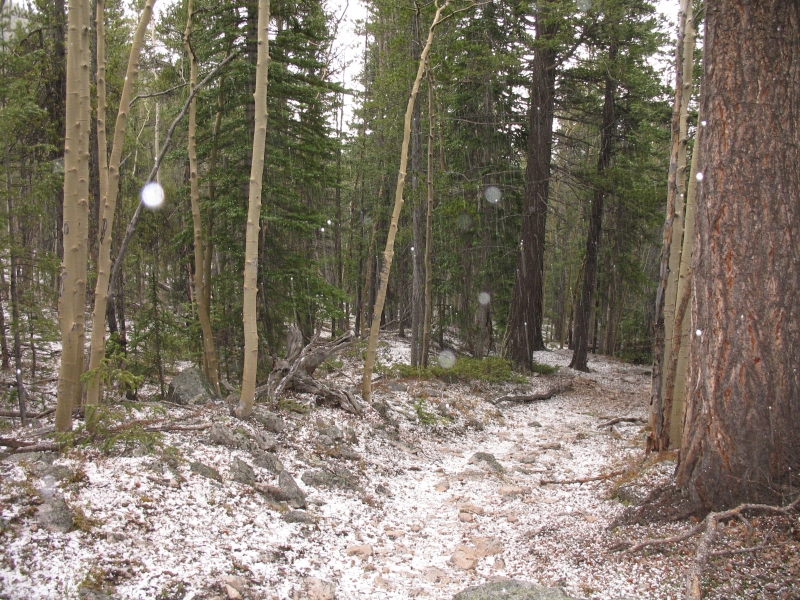 We arrived back to the parking lot around 3:15 pm, so just short of a 12 hour day. The skiing, however, was most certainly worth the slog!
Thanks to Frank and Brad for a great day out there!
Looking back, Tabeguache was one of the more memorable Sawatch fourteeners, and my second to last one in that range. I was slowly ticking off peaks one by one. And the season still wasn't done!.
---
Like this report? See more of Brittany's 14er skiing journey.
Aside from skiing, biking, and all outdoorsy things,
Brittany Walker Konsella
also loves smiles and chocolate 🙂 Even though she excels at higher level math and chemistry, she still confuses left from right. Find out more about
Brittany
!
Latest posts by Brittany Walker Konsella (see all)
Summary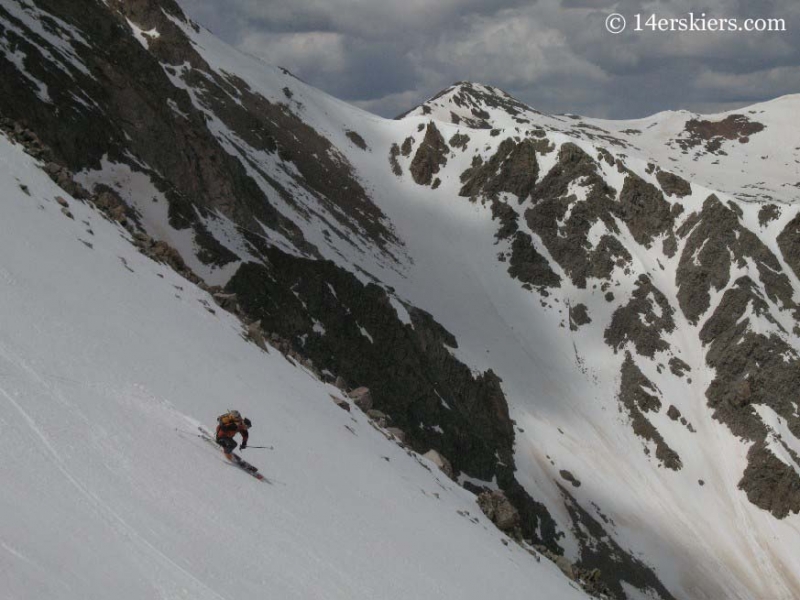 Article Name
14er TBT: Tabeguache Peak (19 May 2007)
Description
Brittany recounts her 24th fourteener ski, which happened on Tabeguache Peak, one of the more worthy Sawatch 14ers.
Author