14er TBT: Mt. Yale (7 Feb 2007)
(Last Updated On: January 28, 2015)
This is part of an ongoing series re-telling Brittany's fourteener-skiing story. Look for the reports every Thursday, as part of a Throwback Thursday theme.
Frank and I went a good two months without skiing fourteeners after Lincoln and Bross before tackling Mt. Yale. This would be my 11th fourteener skied. I was joined by Frank and our friend Pete Sowar. Below is a slightly edited version of our trip reports, part from me, and part from Frank. Frank and I were both cameraless at the time, so all photos are courtesy of Pete Sowar.
Frank's take
Mt. Yale, 14,196′
Feb 5th, 2007
Mt. Yale is a fourteener lying just west of the town of Buena Vista, CO, in the Sawatch range. This area of the range doesn't get much snow, and what it does get is often blown off by the winds. It was first climbed in 1869 and was named for the alma-mater of Josiah Whitney, A USGS surveyor and the same man that Mt. Whitney, CA's highest peak, was named for. Other peaks in the area were also named for colleges, like Princeton and Harvard, resulting in the area now being called the collegiate range.
With the recent wind wreaking havoc on many areas, we decided to blow off the search for good powder and climb and ski a fourteener, just because it's there.
I headed over to the Salida area just in time to catch the superbowl sunday night at a friend of a friend's. Brittany arrived later from a comp in Aspen where she was coaching her "little girls" at a mogul comp. We enjoyed the Super Bowl and some Wii games after: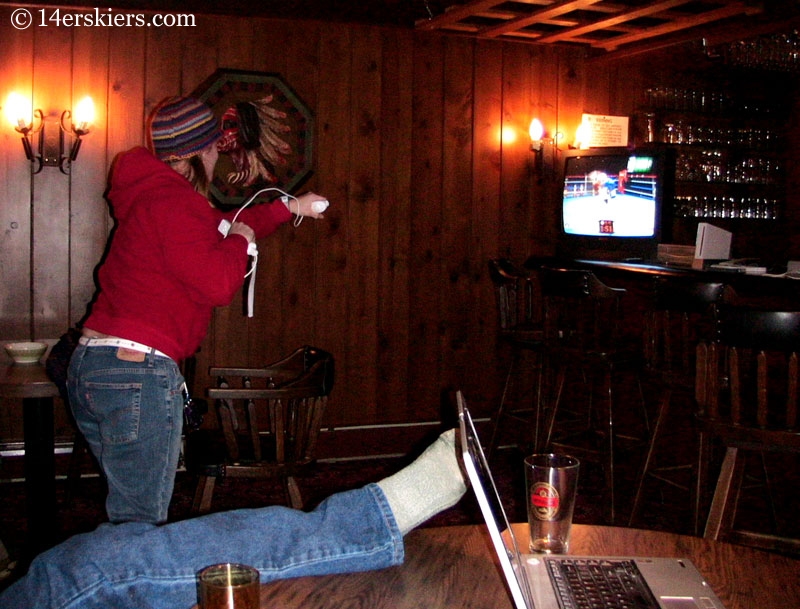 We later met up with our friend Pete Sowar. A nice semi leisurely start had us at the trailhead by 9 the next morning.
Mt Yale, as seen from Denny gulch. We followed the snow, traversed right over some rocks, and repeated the process.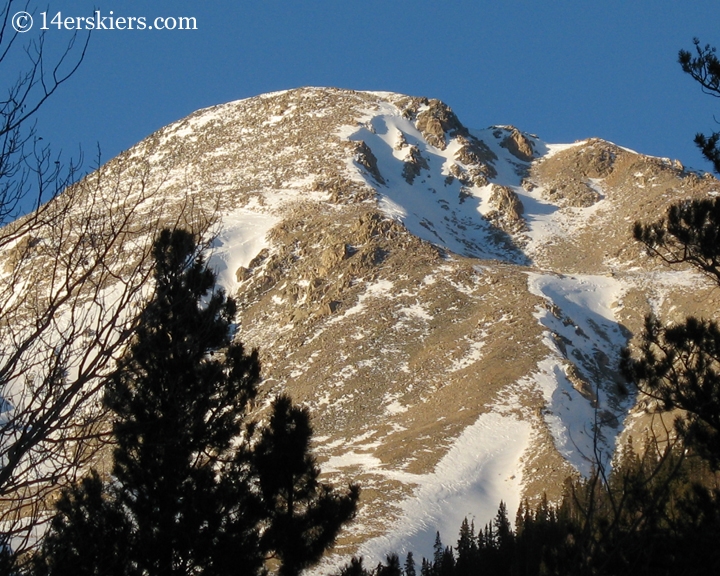 Much of the climb above treeline was a bootpack on dry ground.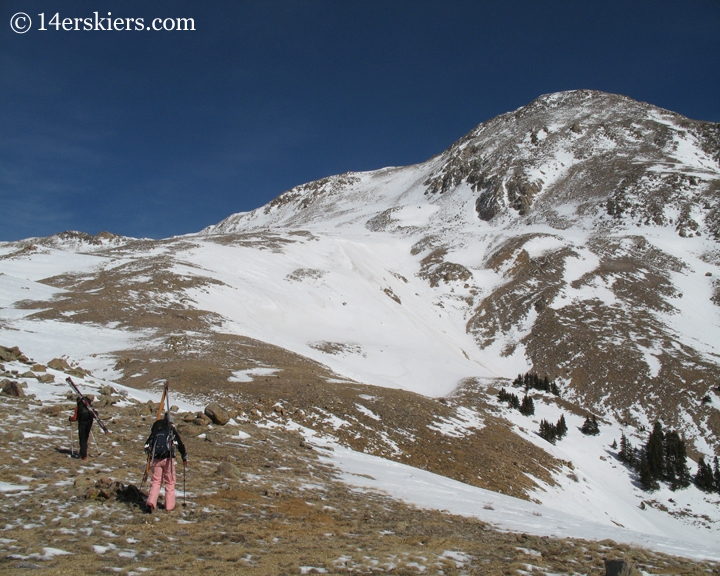 Thankfully, the views were top-notch. E face, Castle: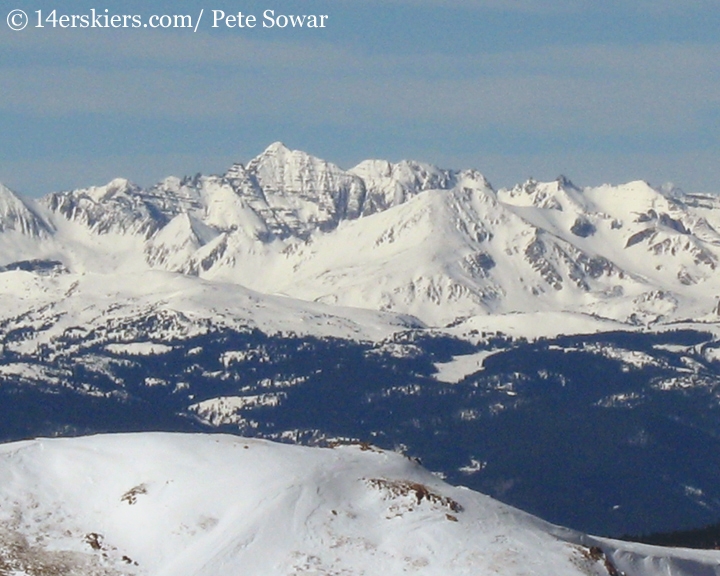 Ice mtn/ one of the Apostles: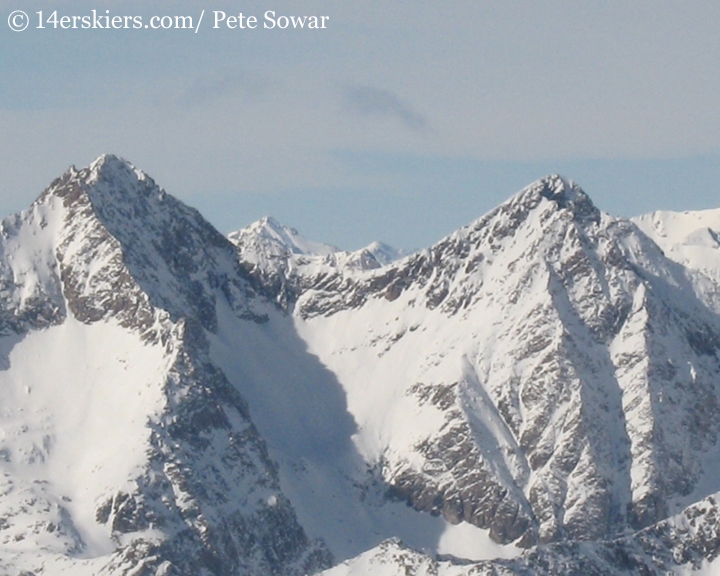 The last bit of the ridge was at least a little sporting, enough to keep us on our toes and hopefully give us some practice for better lines to come this spring. Brittany.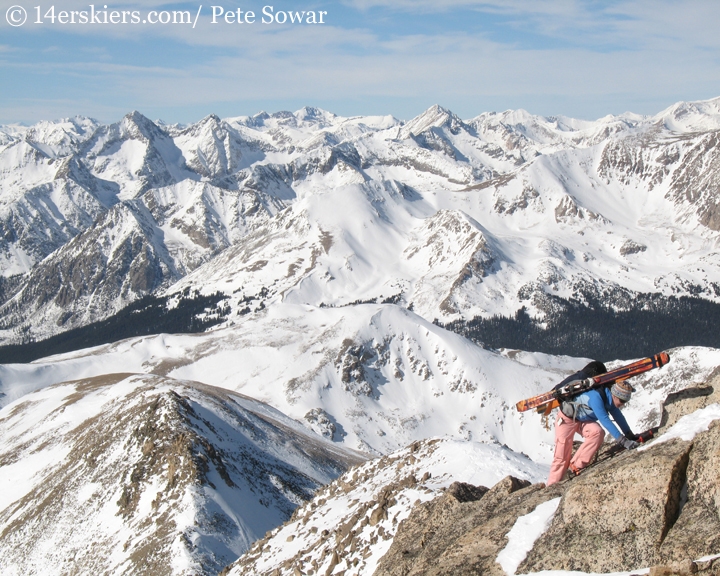 Frank: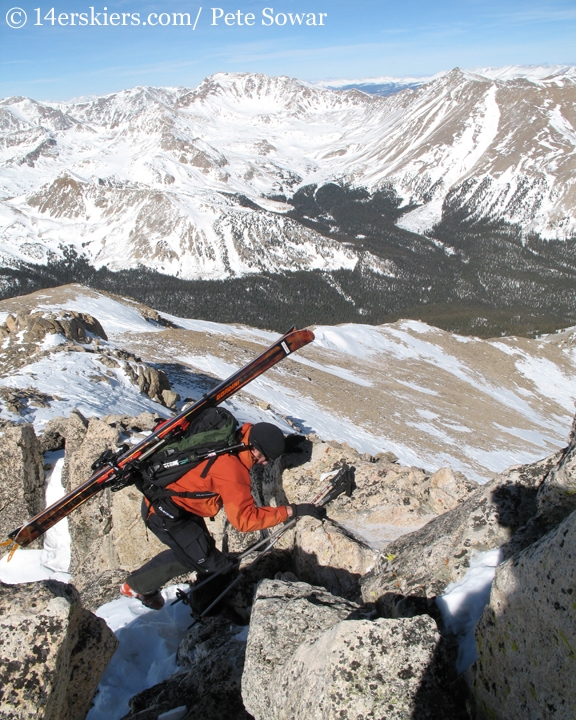 The skiing was a little better than expected, at least in spots. Brittany.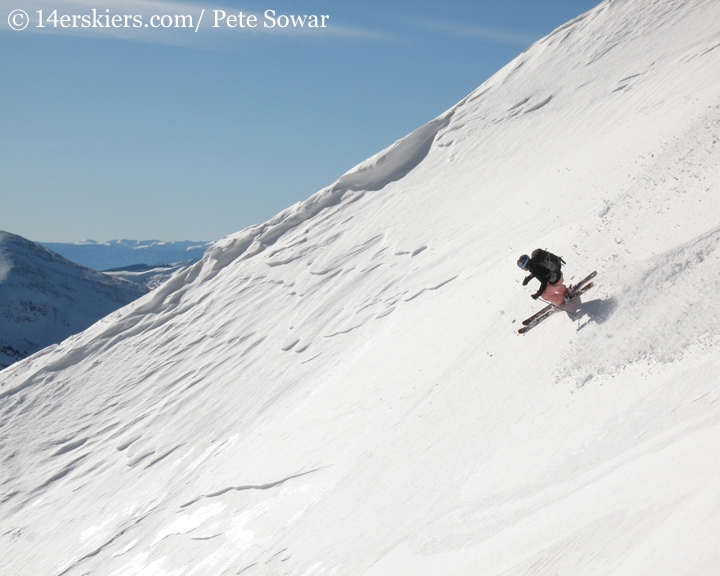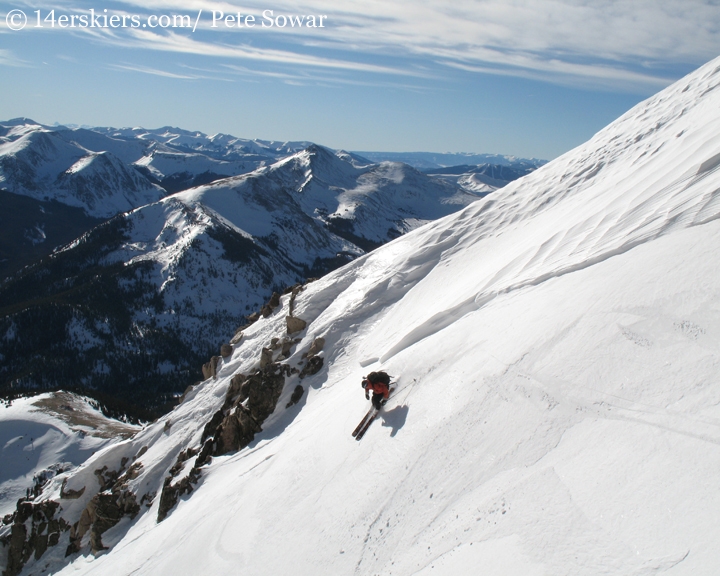 Down lower, the snow was practically non-existent, and rotten to the core. We set off some little loose snow point releases (expected), and sidestepped down the paths. If a big storm ever rolls through, it will be a mess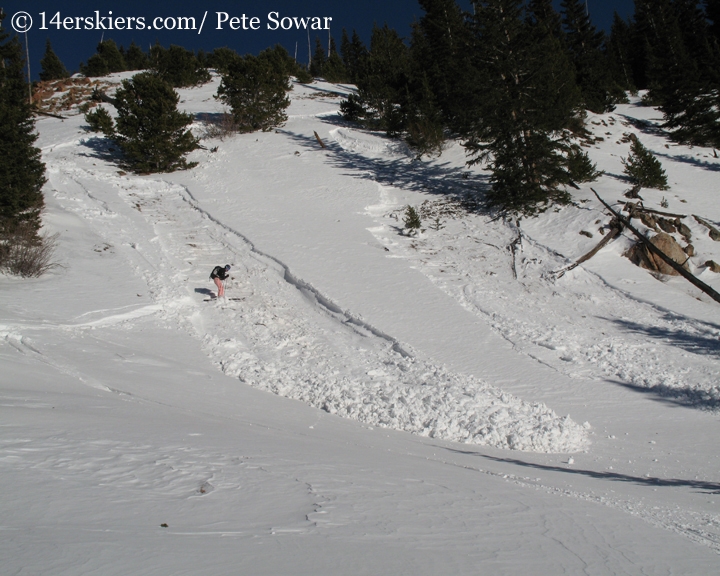 I forgot my camera at the trailhead, and Brittany is still waiting to acquire another one, so all these shots are from Pete Sowar – Thanks! And thanks again to Tom for the hospitality.
Brittany's take
A successful ski descent of Yale was made by me, Frank, and Pete Sowar! Vicious winds earlier in the week had blasted the area, and Frank worried about avalanche danger due to windloading of snow. But I figured there would be so much wind it would just carry the snow away, rather than cause it to be wind-loaded. My theory was exactly right. The day before our climb there was no wind which allowed what little snow was left to settle a bit. We were blessed with a warm and virtually windless day. I was able to climb to the summit in only a long-underwear shirt and a fleece jacket.
From CO state Hwy 50 you can get a great view of the East face of Yale. This face holds the classic Avalanche Gulch, which seems to be an obvious ski route. From the road, it looked like this line went. When we reached the summit there was snow on top and we put our skis on at the exact summit. We worked our way down the ridge, looking to drop into the Avalanche Gulch. But after several episodes of "rock-skiing" and then finally walking, we could tell that we would be walking several hundred feet down from the summit to the Avalanche Gulch. On our way down the ridge we found some chutes that went from the ridge near the summit down the south face of the mountain, primarily funneling into Denny Gulch. We walked back up to these chutes and opted for those as a better route. We worked our way down these chutes and snowfields, and then traversed skiers right over to Delaney Gulch, which was our ascent route.
Our ski line on Mount Yale.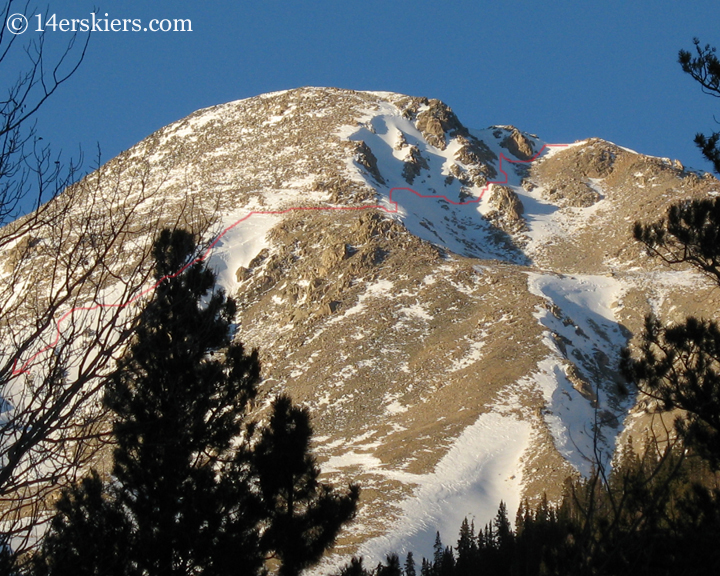 Topo map of our ski line.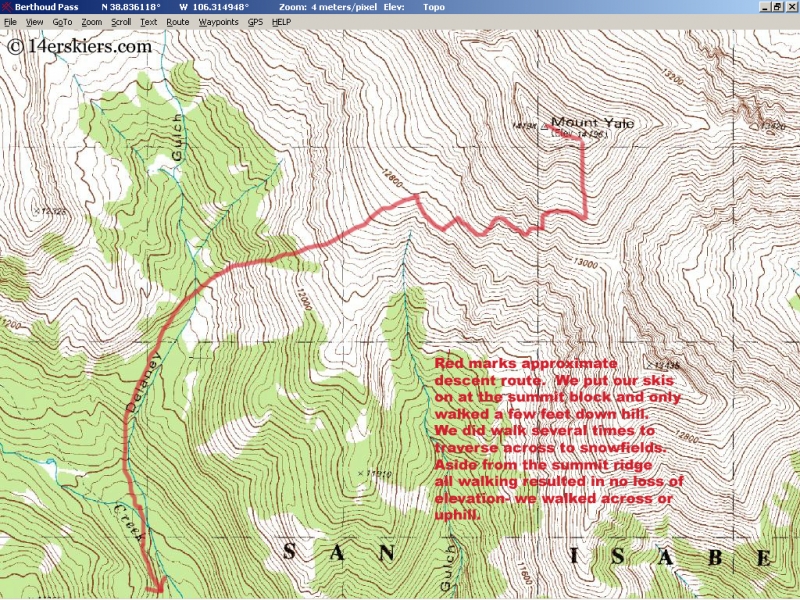 We got so incredibly lucky! I happened to do a bit of research on trip reports from 14ers.com and figured that Yale would be filled in enough to ski. When I arrived in the Arkansas Valley and was able to get a view of the 14ers that line up in a row there (Shavano, Antero, Princeton, Yale, Columbia) it became painfully obvious that the ONLY peak that could be skied was Yale. What a lucky guess! Princeton might have been able to be skied, but I skied that last April. We were also lucky to have such a windless day in a range that is known for it's horrid wind!
Looking back, while the skiing on Yale might not have looked great, it was actually pretty fun. I was looking forward to skiing more fourteeners in later in the year, and expanding beyond the Front Range and Sawatch ranges.
---
Like this report? See more of
Brittany's 14er skiing journey
.
Aside from skiing, biking, and all outdoorsy things,
Brittany Walker Konsella
also loves smiles and chocolate 🙂 Even though she excels at higher level math and chemistry, she still confuses left from right. Find out more about
Brittany
!
Latest posts by Brittany Walker Konsella (see all)