Interview: Andy Eflin – Growing up as the son of the founder of Crested Butte ski area
(Last Updated On: December 7, 2018)
Andy Eflin has his roots deep-set in the town of Crested Butte. His dad, Dick Eflin, began the ski area in 1961 along with his friend Fred Rice. Andy was born that same year, and grew up surrounded by skiing and nature. With a father that greatly influenced the Crested Butte Community, Andy has become an influencer himself. Here's Andy Eflin's story, in his own words.
Growing up in Crested Butte
When I was born in Crested Butte in 1961, there were about 300 people who lived here. There was only one other person born in Crested Butte the same year as myself and that was Karen Ruggera. There were only two of us. We were the same age, of course, and in the same class. So, it was only the two of us for 4 yrs in the Community School. School was in the building that is the Town Hall now. We went kindergarten through 8th in that building and then to Gunnison for high school. Growing up here, we kind of battled for staying in school in Crested Butte through 8th grade because RE-1J school district wanted us to go to Gunnison because we had such a small crowd. Before and after I made it through 8th grade, there were kids that had to be bussed down to school in Gunnison in 6th grade. A lot different nowadays! Classrooms are packed and kids are being born, and all the rest.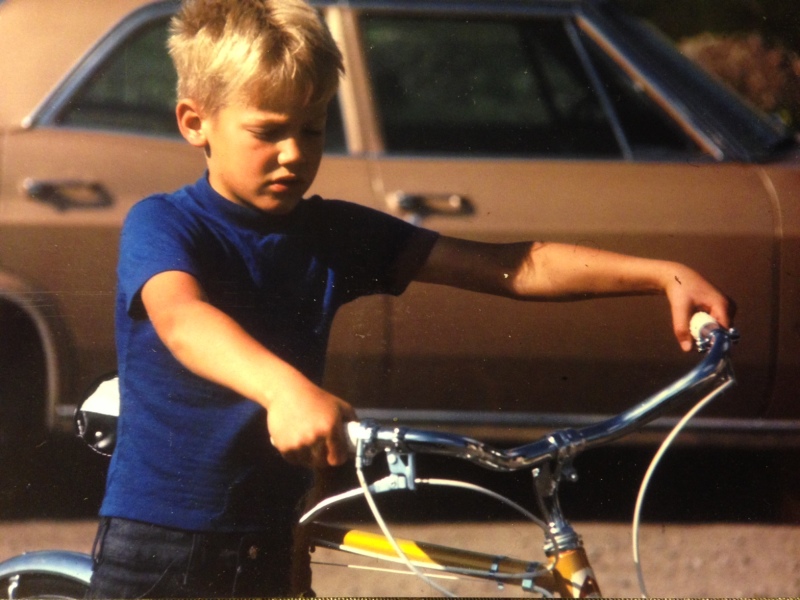 I grew up on 1st and Sopris for the first 8 yrs of my life and we used to walk to school. We had mornings that we'd walk to school and we'd try to cut in between the Wooden Nickel and the Liquor Store. We'd get stuck in there and couldn't get out because our boots were stuck in the snow. And we'd show up to school in our socks. The teacher was all freaking out and my parents were mad at us because we lost our boots.
The kids that we grew up with – they were all like your brother or your sister.
When we had big snows, they'd come in with the grater with a snow-blower hooked on the front of it. They'd cut these banks kind of like they do now and they'd be really hard-capped on the top so we'd walk along the top.
In school, we'd ski every Wednesday, for most of the day, during the winter. During the first ski of the year, you'd have your ski school guys directing which group you'd end up in. By the time we were in 7th or 8th grade we were all in the best group. It was always pins and needles which group you'd get put in.
My brother and I kind of grew up on the mountain because my parents worked here. When the old warming house was here we'd spend all day there. When we got tired of skiing we'd be horsing around in the restaurant.
Town was Different Back Then
It's funny, you look at pictures of town back in 1961, and all the trees are much smaller. The town is much more beautiful today than it was back then because so many trees have been planted and have grown. Before that, it just wasn't a concern of the miners. They just didn't plant a lot of trees. They were meant to be a boom and bust towns. Now, you can go up any of these valleys and there's hardly any signs of towns that were once 4000 people. It's more beautiful today for sure. The side streets were all dirt. The only thing that was paved was the main drag. There weren't any restaurants open during off-season – even when I was in college. You'd be lucky if the Wooden Nickel was open during off-season. Nowadays, you have lots of choices. Teo is always open. Pitas is always open.
Some of the restaurants are still around but they've changed. Bacchanale is still called the Bacchanale but it's changed owners. In middle school we used save our money to go to the Bacchanale and have strawberry crepes for desert. Now, the Last Steep is in that space that used to be the Bacchanale. Power House had a long run but they're not around anymore. Donita's has been around forever. When I was growing up, their spot was the Way Station. My friend's mom worked there. I don't know how long it was the Way Station but that's what I remember it as. There was a fire in that building. It used to be a big hotel I believe.
There were some other restaurants that burned down. Frank & Gals burned down, Sanchos, and some others too. I remember in middle school, looking out the window, and I could see flames leading up from the center of town. And one of those restaurants burned to the ground right by the post office.
It was all volunteer fire departments back then. My dad was on the volunteer fire department way back in the day when I was really little. Their claim to fame was that they'd had however-many fires and hadn't saved one yet! They would show up to put the fire out, hit the fire hydrant, and all the pipes would be frozen. People knew there was a fire because they would hit the alarm. You can still hear it today – the noon siren. If you heard that siren and were on the volunteer fire department you'd be bookin' it toward the fire.
The Beginning of a Ski Area
There was a J-bar that ran right beyond the now-Silver Queen Lift. See the little steep part that comes back from Peach Tree? Kind of by the zip-line now. There was a little thing called a J-bar and that's what I learned to ski on. Only one person could ride it. There was no spring and there was no rope so when that thing hit you it hit you hard. And if you were a little kid, like I was, it would just pick you right up off of the snow. You'd kind of go sailing up the ski hill. The J-bar was the bunny slope. And the West Wall Lift was a t-bar. They did racing for the college on it. That was actually "real" skiing! And it was actually the first lift.
The second winter, in 1962, they put in the gondola up the old lift line. In the summer of '62, My dad was driving around promoting the resort and showing movies of this gondola running that hadn't even been installed yet. They were still working on it! I think they finally got that thing running in November or December of 1962. It went all the way up to the top, ending at the upper terminal at the ski patrol shack. It took 12 or 15 minutes – pretty much the same as now. It was an Italian 3-seater that was detachable –almost as fast as a high-speed quad. You had to take your gear off and it only took 3 people. The clamps that would attach back on to the cable weren't always the best so sometimes there would be a gondola that would slide. My mom has the story of one gondola that was in front of her that was empty sliding toward the one that she and my brother were in. She pushed my brother out the window and she jumped and landed on International. She ended up getting whiplash that bothered her for years. Rich was fine – he ended up landing in the powder. My dad was like, "Why did you jump out? You should have rode it and you would have been fine." She said, "Well, I didn't want our gondola to fall off." She didn't know. The thought of falling off with a gondola was worse than jumping out the window. But, they kind of had a key. So, when you got in the gondola they kind of locked you in there. So, it wasn't really easy to open the gondola from the inside. So, I think they went out the window. The operator at the top was all shocked when the two gondolas came up to the top touching one another – the first one empty and the second one had skis on it but no people.
You could take the gondola up and ski into Paradise. You could ski Paradise Bowl and come out Yellow Brick Road. There was no skiing below that back then.
My dad was an architect by trade and he designed the original mountain. He designed all the trails on the upper mountain. They used to sit around at parties and name them. He designed future drawings of what Paradise would become and drawings of Upper Park.
The warming houses were really small. They were just real steep-roofed. The roofs almost went right to the ground. They were almost like A-frames. I just remember the old Paradise warming house and how packed it would get because it was so small. The building that's there right now is just such an improvement.
The Growth of the Ski Area
I think the next lift after the gondola was where the Red Lady is now. It was a two-seater an it was fixed and was called the Keystone Lift – named after the Keystone mine. It had two get-offs…. Two stops.
My dad sold his part of the ski area after 8 years. His partner, Fred Rice, realized that the land was going to become valuable. So, he wanted to buy my dad out and sell the land. When they started the resort, they bought 600 acres here at the base area. It was what you see. Fred was having trouble buying my dad out, so he ended up giving my dad land. That was a pretty cool deal for my dad. He sold it over the next 20 years. I don't know how far his land went exactly. But, those lots behind the Nordic Inn, those were some of the lots that by dad owned. He ended up with a couple of business sites. He used one of those business sites as collateral to build the Artichoke – which is now the Avalanche.
Fred owned the resort for awhile. But, Fred ended up passing away at a fairly early age – in his early 40's. And then the banks took over for awhile – maybe 5 years. My dad and I were talking and we think that the Keystone Lift was actually put in by the banks. Then, the Calloways and the Waltons (Ralph Walton and Bo Calloway) bought the resort from the banks.
Each owner of the ski area has brought something different. The current owners have had their own unique perspective because they started a ski area out East. The Waltons and Calloways were instrumental in getting the town bus going and pioneered the "Airline Guarantee Program" – the first one for any ski area in the state. They owned it the longest and did most of the expansions.
College Days at the ski area were a lot of fun. They would happen in March. It was in the spring and put on by Western. They would always have a fun competition on some sort of kicker. When you ride the Queen up here, and especially on the old lift line, and you crossed the road coming back from the t-bar, between that road and the top of the ridge, there's that real steep slope. You can follow the old lift line, do that dip, and go sending it right off that nose. People would be partying like they do for the Al Johnson, and people would be jumping, and others would be climbing up into the trees watching people sail off that thing. I literally saw people go off that jump and then land on the road coming back from the t-bar. They'd jump the whole thing. And, of course, people would be wearing costumes 
All the extreme skiing that started here in Crested Butte was a hike before there was a lift. Even in 1990 and 1991 people were still hiking to the headwall. There was no High Lift. The hike was a boot pack right above the patrol shack following basically the current High Lift lift line. When we used to do the North Face, you used to come in on the road that comes in from the bottom of the Head Wall. You would just hike all the way up that to the Notch entrance.
A Father with Many Trades
My dad was initially involved with the resort only for about 8 yrs. After he was done with that, he did a lot of different things. One of the things my parents did is they ran the Princess Theater, which is now the Princess Wine Bar. That has an angled floor and they used to run the movie house every night for a few years. My brother and I would walk over from the house and watch the Bugs Bunny cartoon and then go home and put ourselves to bed.
We moved out to the Steakhouse later, which is the first house on the right on the Lower Loop. I lived there for 5 or 6 years and my parents ran the Steak House . The Steak House was restaurant that served chicken, steak, and biscuits. That was kind of an adventure place to live for sure. I used to go on Peanut Lake all the time, I used to build rafts. I used to float the river, snorkel the river. We used to put in with a tube and my parents used to pick us up an hour later at the cemetery.
My dad was in partnership with Bill Allen owned the Artichoke for 10 years. They build the building and expanded it at least once or twice. Eventually, they sold to Jeff Hermanson. Pete Schue then bought it and made it the Avalanche, which it's called today. Then Todd Barnes, who owns the Avy now, bought from Pete.
The Origin and Evolution of Eflin Sports
I was gone from Crested Butte for about 10 years – during the time when mountain biking really began to take off. During that time, I went to college in Durango and got a business degree. Then, I ended up working for a company named Sports Stalker up in Steamboat. Within a year and a half I had my own store and was a store manager and stayed as a store manager there for about four and a half years.
I have a long history in ski retail industry. I actually did work programs even as far back as 8th grade. I worked for Coal Creek Sports which is where Big Al's is now. And during college I worked for a ski shop in Durango called Alpine Sports.
Somewhere around 1989 my dad was speaking with Ralph Walton and Ralph said they wanted to be out of the retail business. At that time the store building was still fairly brand new – no more than 2 yrs old. CBMR had a shop here called the Colorado Ski Company. They decided they wanted to stop competing with themselves because they had the big rental shop over in the Gothic Building. I was working for a company called Sports Stalker up in Steamboat when my dad and I started talking. And I said, yeah, I would love to go into business with you. So, we had this talk with Ralph Walton and he said he wanted to get out of the retail business. My dad said, well, we'd like to be in it. So, we ended up buying Colorado Ski Company from CBMR and naming it Eflin Sports. So, I started the shop as a partnership with my dad in this exact location in June of 1990. We put in the repair shop, put in the lockers downstairs, ordered a rental fleet, & retail merchandise. We owned it for 12 years and we experienced anywhere between 15 and 25% growth each year until the recession hit. Skier days were decreasing and we still had a lot of product, but slower in business. We'd opened a store in Gunnison right before the recession that wasn't doing well because the business model we'd used up here didn't work down there. We started making frequent trips to the bank. Right around 2000, we decided we wanted to make some money. My dad said, "the only time I've ever made money off of anything is when I sold it". Well, one day, I was busy in my office (in the CB store), and some guy named Ken stopped in the store and asked to see me. It ended up being Ken Gart. He said he'd been looking at our space for over 5 years and said he was interested in buying it. When we finally sold it in 2001, I had a lot of people ask me if I was going to retire. I was like, "Retire now, are you kidding me?" It's not like we made a lot of profit. We just got out from under our debt.
For two years, we still operated under the name of Eflin Sports. Then, one winter I think we were named Eflin Peak Sports and then finally just Peak Sports. It took about 4 years to transition the name. We've been Peak Sports ever since.
I took a 40% cut in pay and started working for the new company. At the time, the company was called SSV- Specialty Sports Venture – and was owned by Ken and Tom Gart, sons of the "Gart Brothers" dad, combined with 55% Vail Resorts. SSV had a buyout clause from Vail, and two years ago Vail bought out the last 25% of SSV. So, now Peak Sports is 100% owned by Vail Resorts – Vail Resorts Retail.
Going back to the Gunnison store, the Garts did not want to buy that location. So, there was kind of a strange dynamic there for about 3 yrs until we got that one sold. I was running Peak Sports, but still owned the shop in Gunnison. I had a guy down there running it for me, but I was doing a little bit of juggling between the two. We sold the Gunnison shop in 2003. The shop was at Denver and HWY 135. Most recently it was called Dixon's rental. Now it's Hartman Brothers.
The Story of Eflin's Way
I was sittin' around thinking that down in Steamboat Buddy Warner has a run named after him. I thought gee that would be pretty cool if my dad could get a run named after him too – and he could find out about it before he passes away. So, I asked Ethan Mueller what he thought of the idea. Ethan said, "Let me talk with the family." Ethan came back and said, "We like that idea. So, why don't you come up with some names?" So my kids, my employees, and I kind of shot some names around. I sent Ethan a list of names and he ended up picking Eflin's Way. Ethan asked which trails we thought would be good to rename. I gave him 3 choices: Treasury which would be hard to rename because it's one of the longest trails on the mountain, Keystone since it was one of the trails he designed, or North Star because my dad likes to take people skiing there. I thought North Star would be perfect because it's kind of a newer name and it would be a short trail to rename. But, now there still is a North Star. They only renamed the upper part of it Eflin's Way. So, we got two trails out of one!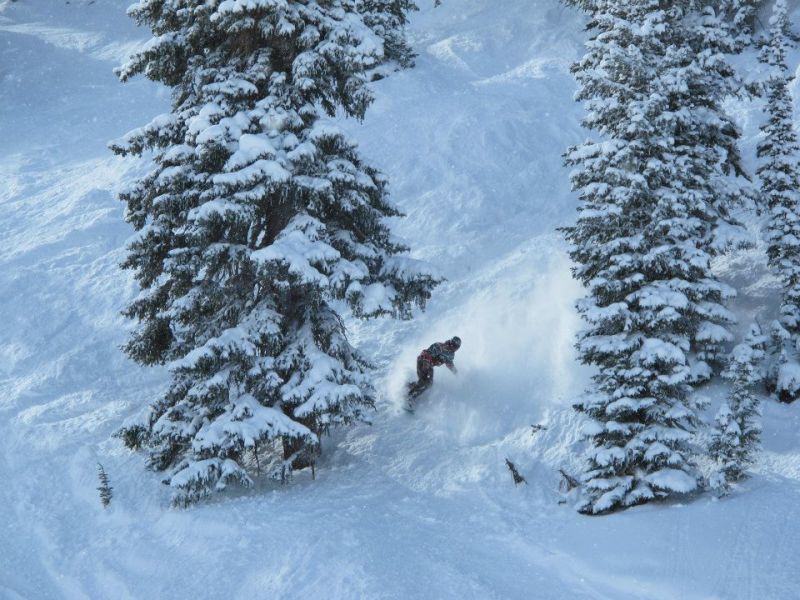 Looking toward the Future
Having a new twist is always good and that's why I'm a huge advocate for single track trails from Crested Butte all the way to Gunnison. That would be something new – a new amenity that would make ripples. That kind of think could bring Europeans over here. Other things, like maybe that expansion on the back of the mountain – Teo 2. It includes both intermediate and extreme skiing. And I think that's awesome. (Note: A week after this interview, CBMR announced its intentions to open Teo 2 this winter, if conditions permit.)
There are a lot of problems expanding our mountain. So, I think we need to look at what we have and make it better. For example, why isn't there a lodge of some sort on top of the Silver Queen? All it needs to be is a small little restaurant with a big deck. I think it needs to be on the top of the Peel. It needs to be a little well-done cabin that you could just ski over to and from on a nice green trail. Of course, it be kind of hard to get that approved through the Forest Service and probably pretty expensive. But, I've been working here for 24 years and in the summertime, how many people have asked me, "So what do you do when you get to the top of the lift?" I wish I could tell them that if they're not in shape enough to hike to the top of the peak, then they could go have lunch or a cup of coffee or a beer on the deck of this commanding view. It would be awesome. You could kill two birds with one stone – summer and winter use. It doesn't need to be fancy. Hot dogs and fries would be good enough. It doesn't need to be expensive, just a cool little spot.
I view skiing as a pseudo-clean industry when you compare it to mining, oil, refining, and things like that. People would argue to death that skiing is not a clean industry but the fact that there are bears and deer and lots of other wildlife on this mountain that live there, shows that skiing is certainly better than some things. A lot of people don't get to experience the outside until they come to a place like this and they're like, "Wow, this is what nature's like!"
I think the ski area should be preparing for a greener future as far as operating the lifts, doing more recycling, or any of that kind of stuff. The fossil fuels aren't going to last forever. That is what our ski area should be thinking about.
If you could ever invent a lift that was solar-powered… now that would be quite an invention. And that would really carry skiing into the future. Now, our lifts are already run electrically. So, maybe something like this is not that far out of reach – if it could be powered even partially by solar-electric. Maybe there could be a solar farm somewhere in this county that gets huge sun.
It would be awesome if the dream could happen – trade a mine for skiing – on Red Lady with a lift right outside of Crested Butte. How nice would it be if you could get rid of the miners forever by putting a ski area on it? They could buy out the mining claim, put a lift up, and then have access gates into Redwell Basin that are unpatrolled.
Looking Back
It's been great growing up in this valley. I wouldn't trade my growing up here for anything. We did a lot of hiking and backpacking and camping. I thought it was awesome growing up in this place. And I still love it to this day. I hope to keep making a living in this valley for a long time.
Want to Learn More?
Updated October 2018: Frank later interviewed Andy for his podcast, "Crested Butte is Home". To hear that episode please
Aside from skiing, biking, and all outdoorsy things,

Brittany Walker Konsella

also loves smiles and chocolate 🙂 Even though she excels at higher level math and chemistry, she still confuses left from right. Find out more about

Brittany

!
Latest posts by Brittany Walker Konsella (see all)