TR: Yule Lakes Hike (8 Sept 2012)
(Last Updated On: July 11, 2017)
Through the course of the summer, I'd been meaning to make the hike to Yule Lakes. But, repeatedly, I had be shut down by weather or time restrictions in my schedule. When I made plans with my friend Sonya to hike to Yule Lakes the week prior, I was half expecting some sort of scenario to shut my hike down again. But, this time, the weather was perfect and my time was open. And Sonya and I embarked in the morning on what was to become a fantastic day of exploration.
We began at Paradise Divide, parking the car just off the side of the road.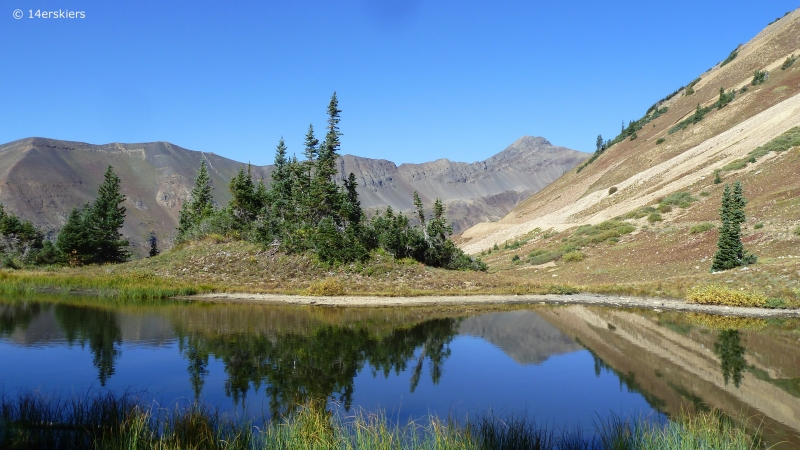 We followed the old rocky road toward the Wilderness Boundary at Yule Pass. Sonya with her dog Teo.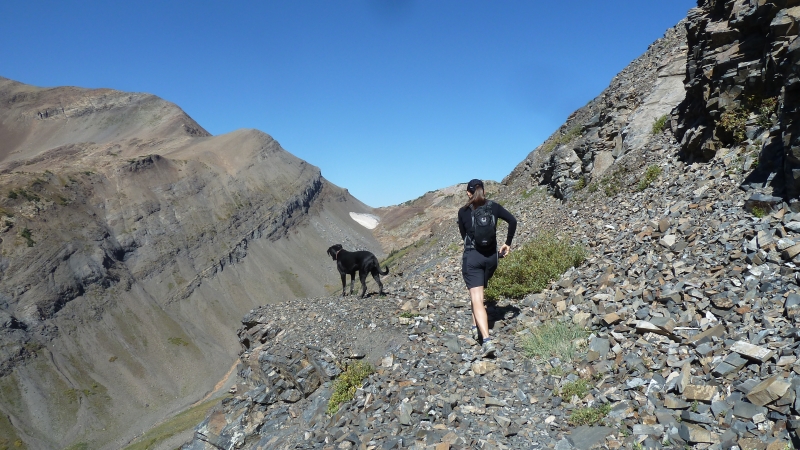 Purple Mountain on the left and Treasury on the right, with Yule Pass in between.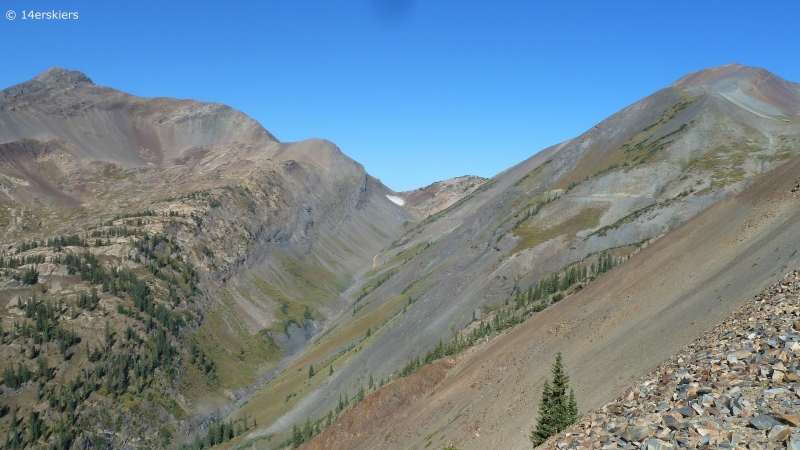 Looking back down the Slate River Valley.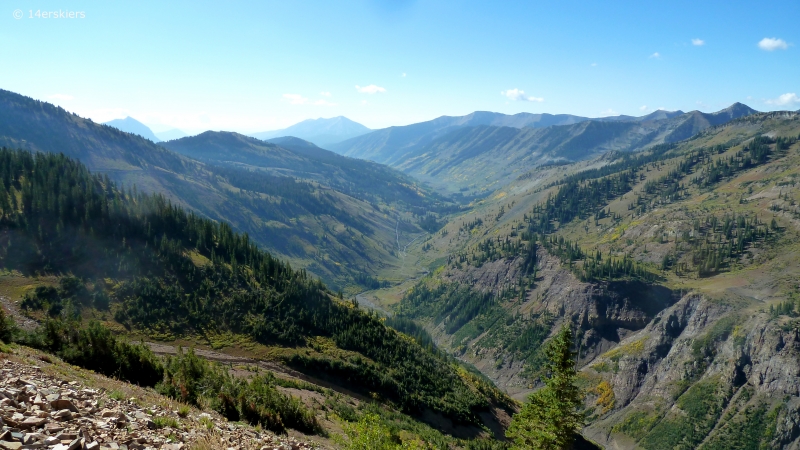 From the pass, we gazed down the Yule Creek Valley toward Marble Peak and Mount Justice, with Chair and Ragged Peak hovering behind.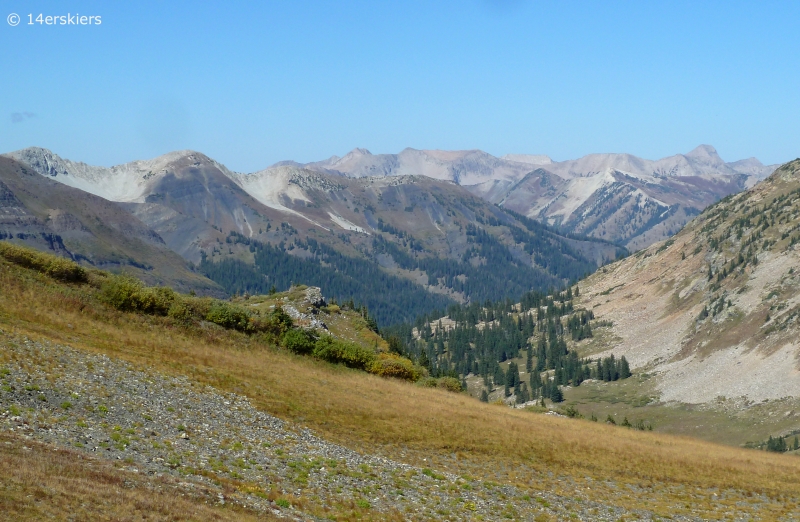 We followed the Yule Creek trail for a bit as it descended into the valley. Sonya with Treasure and part of Treasury behind.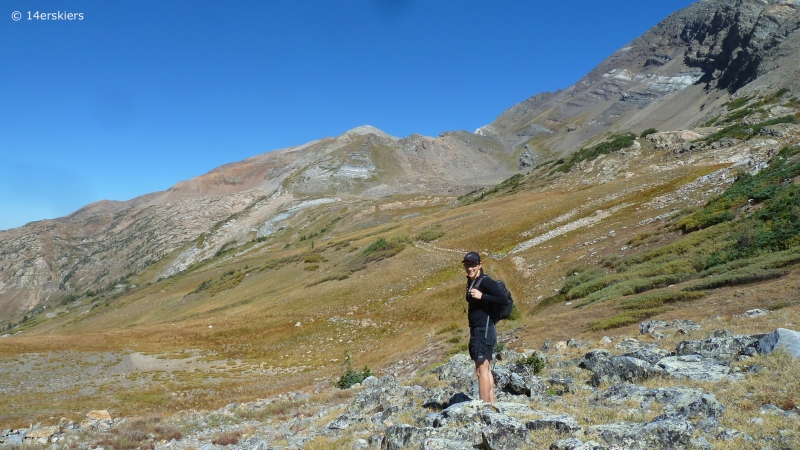 Eventually, we saw a trail marked with a cairn. This trail was not on my map. But, given the many people that make the trek to Yule Lakes from Crested Butte, I was expecting to see a trail of some sort. The trail climbed up toward Treasure.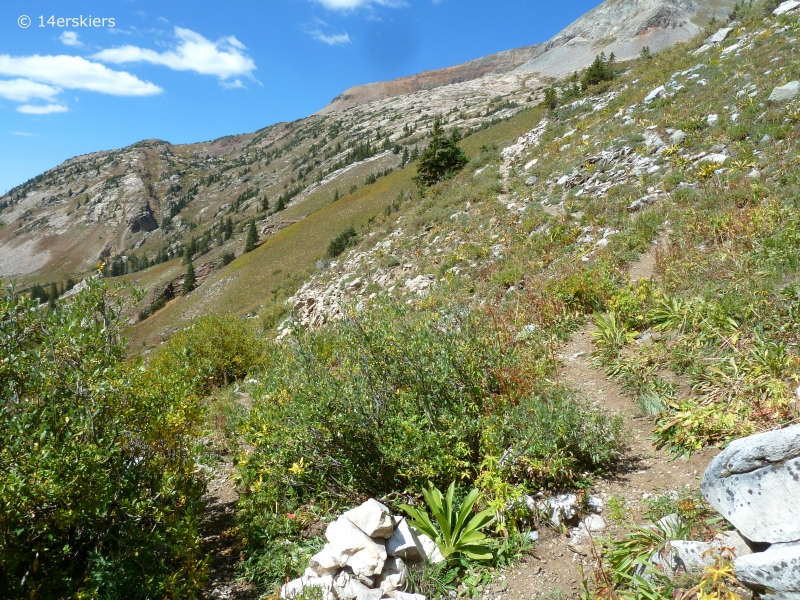 The wonderful peaks that line the Yule Creek Valley – The Blob, Nipple, and Ant.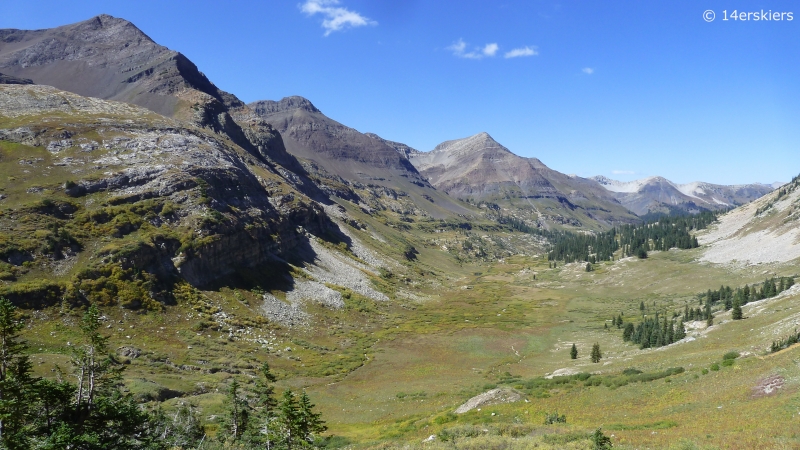 Sonya with Purple Mountain behind.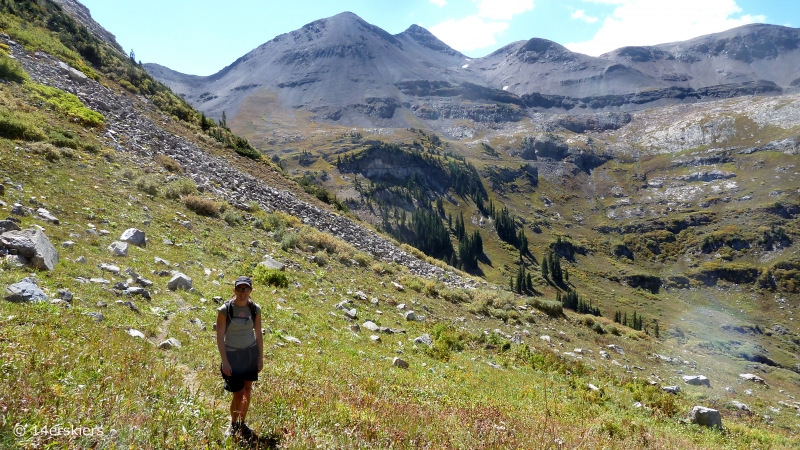 We followed the trail for a little over a mile before it faded at a stream crossing. Sonya with Treasury towering above.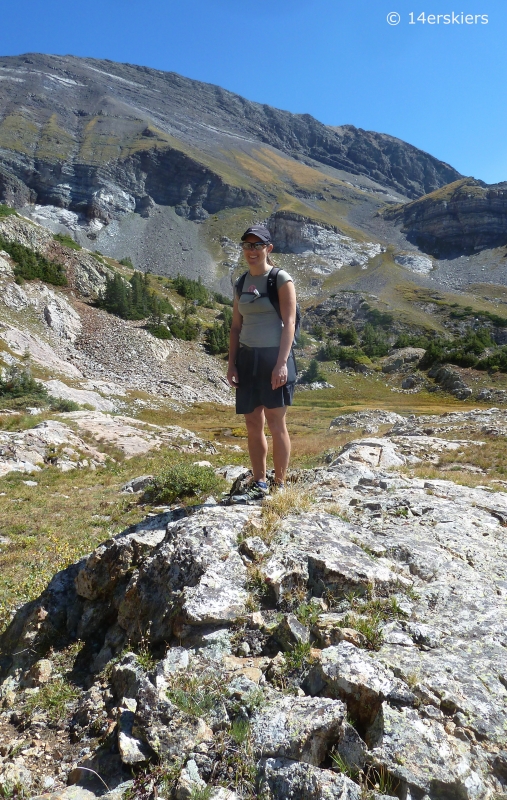 Although we did see a faint trail, we decided to explore a bit, gaining a bit more elevation.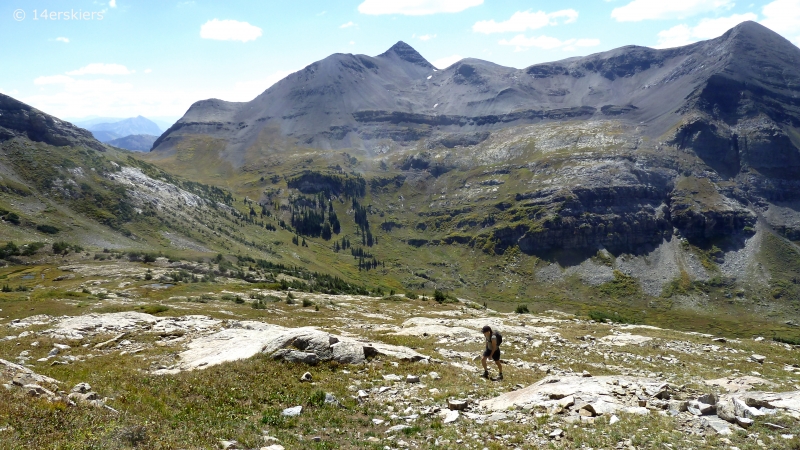 Because of our explorative detour, we ended up approaching Yule Lake from above- a somewhat accidental, but highly wonderful, way to approach the lake.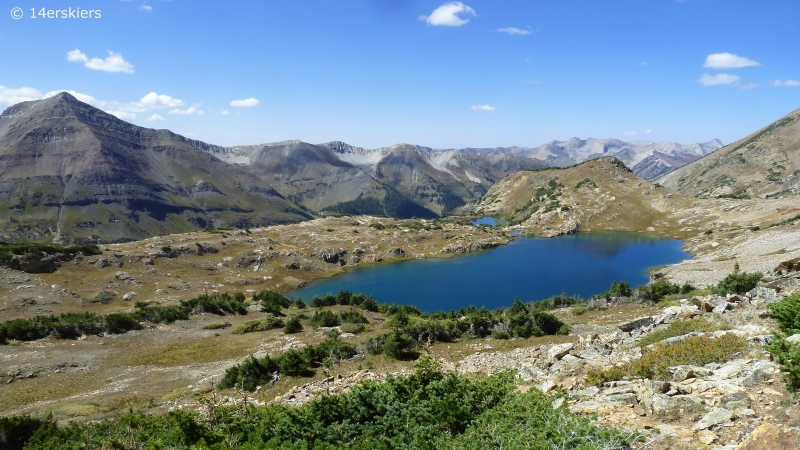 Chair Mountain peeking out from behind.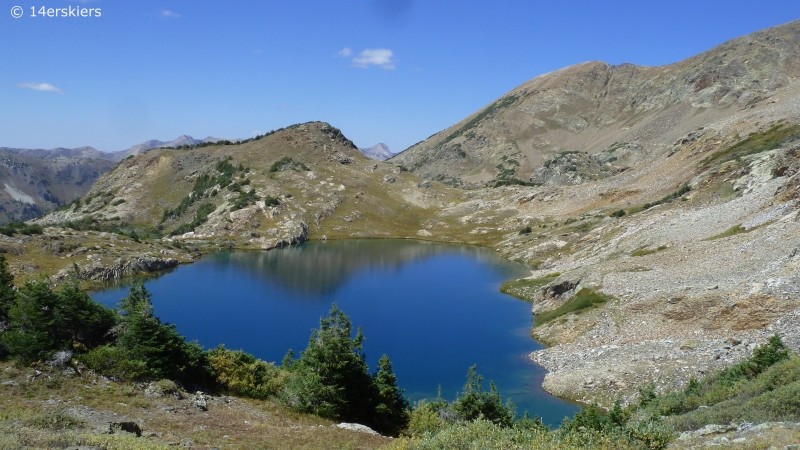 Yule Lake was as beautiful as alpine lakes come – a haven in the wilderness.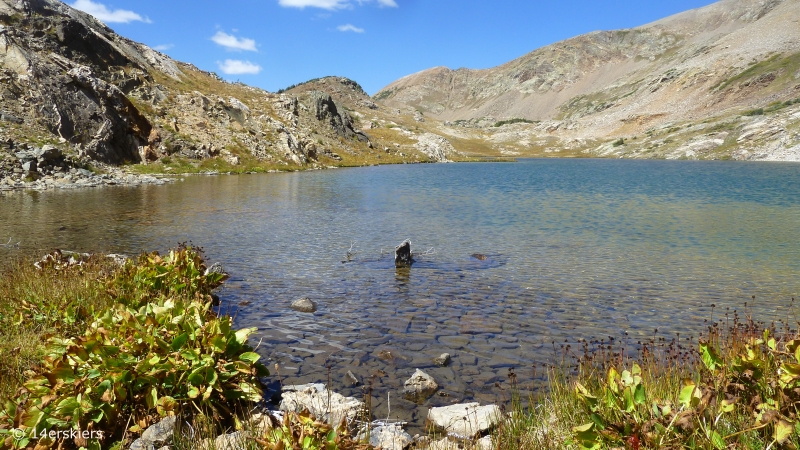 Nestled along the flanks of Treasure, Yule Lake offers some dramatic scenery.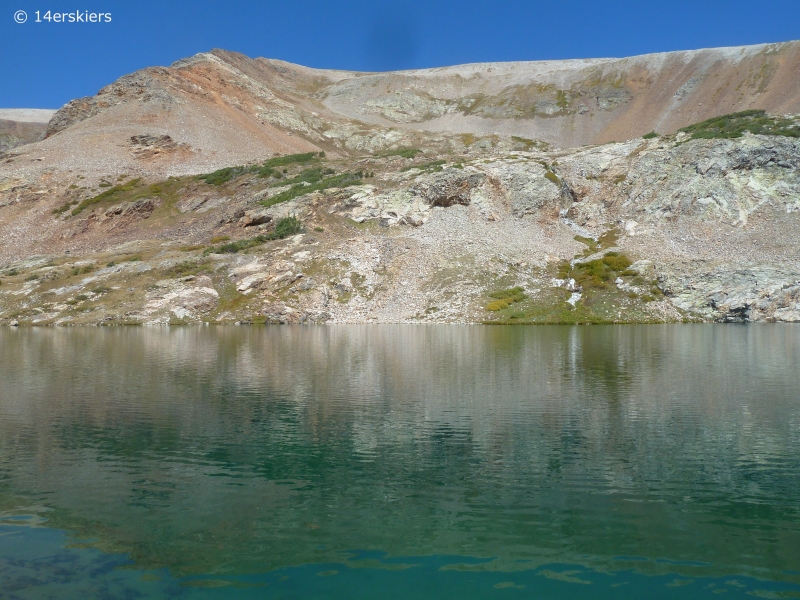 Sonya's dog, Teo, soaked in the views of the lake along with us.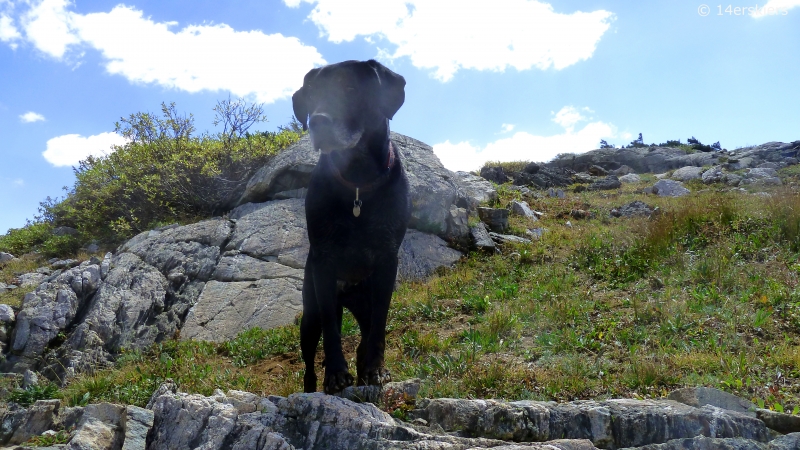 Or maybe she was drooling over the fish.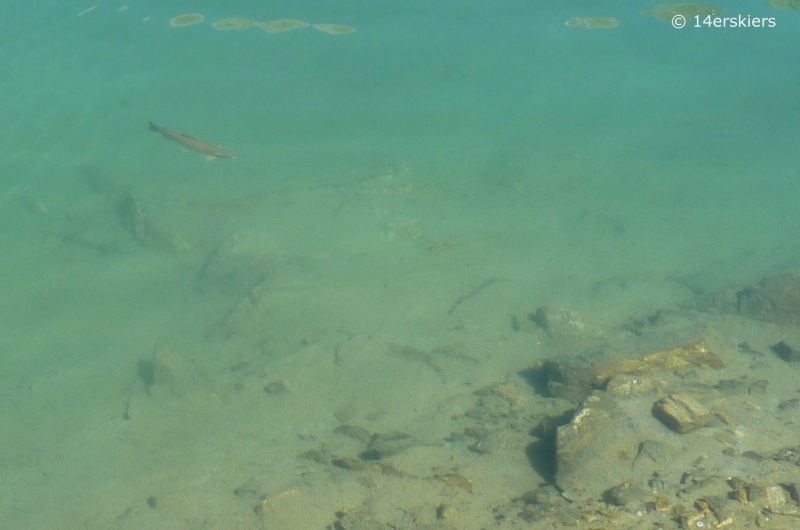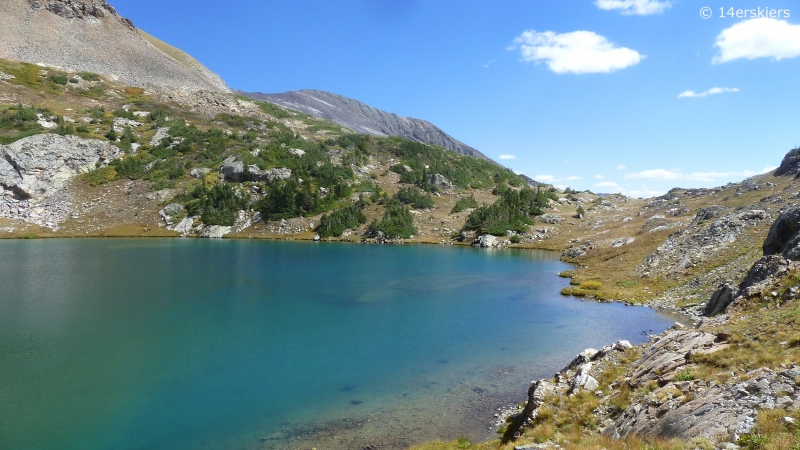 For our return route, we stayed along a bench which contours the length of Treasure. A faint trail was present at times, others not. But it led us straight back to the stream crossing where we lost the trail at the beginning of our hike. From there, we followed the trail back to Yule Pass.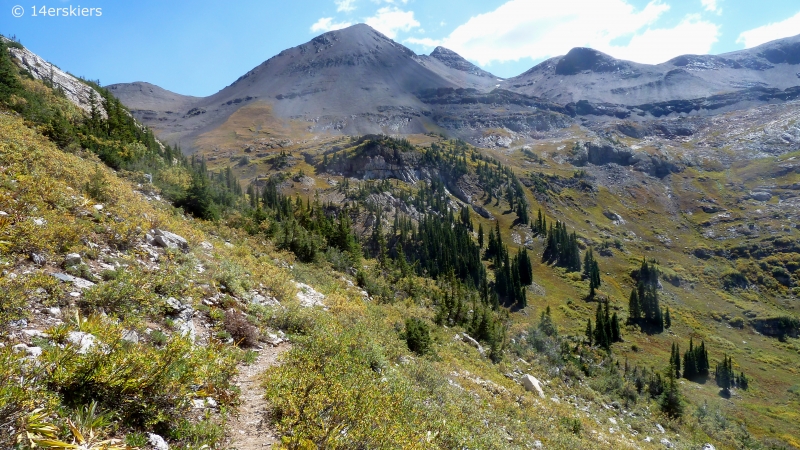 Sonya and I only had time to explore one lake in a series of four others. Collectively, they are called Yule Lakes. Many choose to camp near the shores of the lakes, and the area is undeniably perfect for a backpacking trip. I can't wait to get back and explore this area more! Thanks Sonya for joining me on a great hike!
Find out more about how to get here on my Crested Butte Hiking Guide!
Aside from skiing, biking, and all outdoorsy things,
Brittany Walker Konsella
also loves smiles and chocolate 🙂 Even though she excels at higher level math and chemistry, she still confuses left from right. Find out more about
Brittany
!
Latest posts by Brittany Walker Konsella (see all)
Summary
Article Name
Description
A little more off the beaten path, Yule Lakes are a beautiful sparkle of blue among the Ruby Range in the Elk Mountains near Crested Butte!
Author