(Last Updated On: July 3, 2012)
After skiing Grand Targhee, we headed to Utah in search of more pow. We got it 🙂 We spent Friday skiing in-bounds at Snowbird. We milked the goods and knew the next day it would be best to head out for a backcountry tour. Our friends Jen and Jonathan put some ideas on the table and together we decided to head out to the "Alta backcountry"- slackcountry often accessed by the Superior lift, but this time of year the lift is closed.
We made our way up to Catherine's Pass, enjoying the occasional views the spotty squalls allowed us to see along the way. Me with Superior in the background.

Along the way most of us suffered from glopping skins. But, it was me who definitely suffered the worst. I decided to stop short of our goal, Sunset Peak, opting to ski off Rocky Point instead, while the rest of the crew continued upward. I hoped that giving my skins a bit of time to dry would be the glopping cure.

Frank, Josh, Jen and Jonathan making their way to Sunset Peak.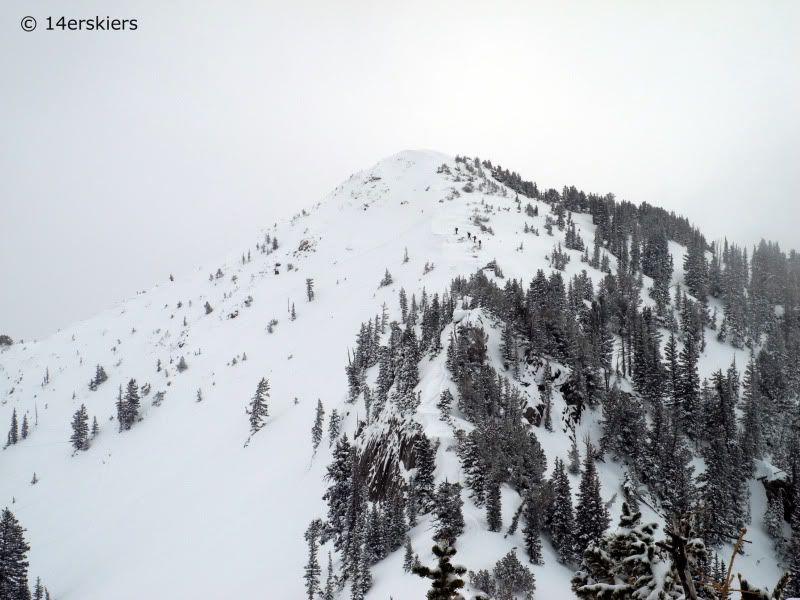 After the group reached the summit, they watched me ski my line.

On top of Sunshine, Josh got first tracks.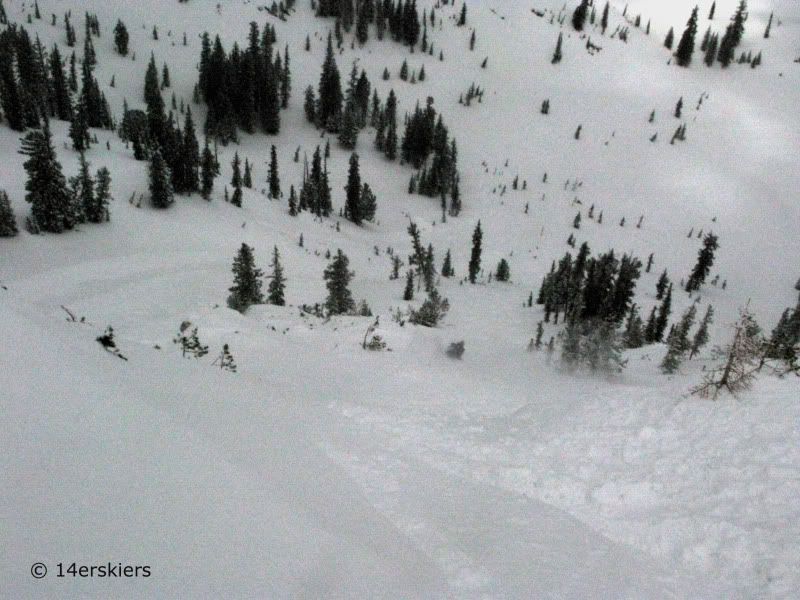 The rest of the gang on top.

Jonathan.

Frank.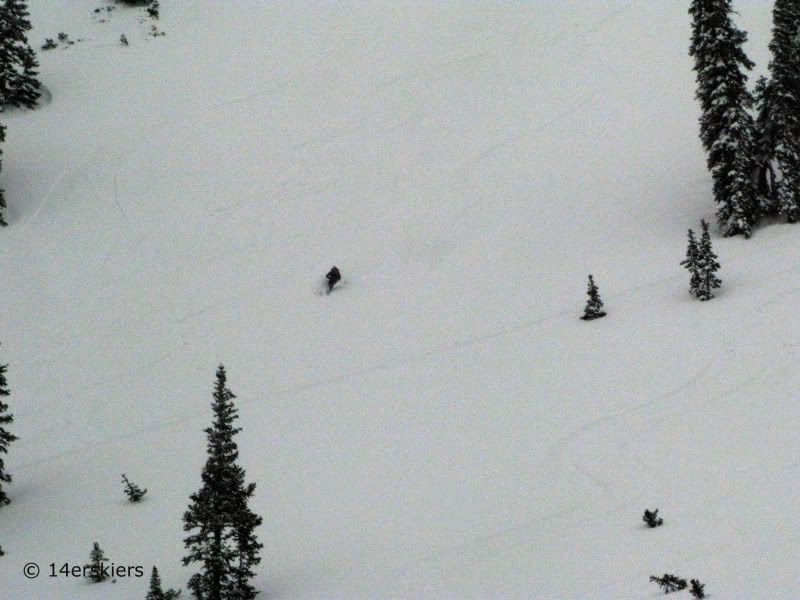 Jen.

By the time we re-grouped, my skins we cured of the glop. Woohoo! So, we headed up and over Catherine's Pass to Tuscarora and over to Wolverine.

In Wolverine, we found some steep and fun lines. Me dropping in to Zoot Chute and the clouds.

Jonathan, who also skied Zoot Chute.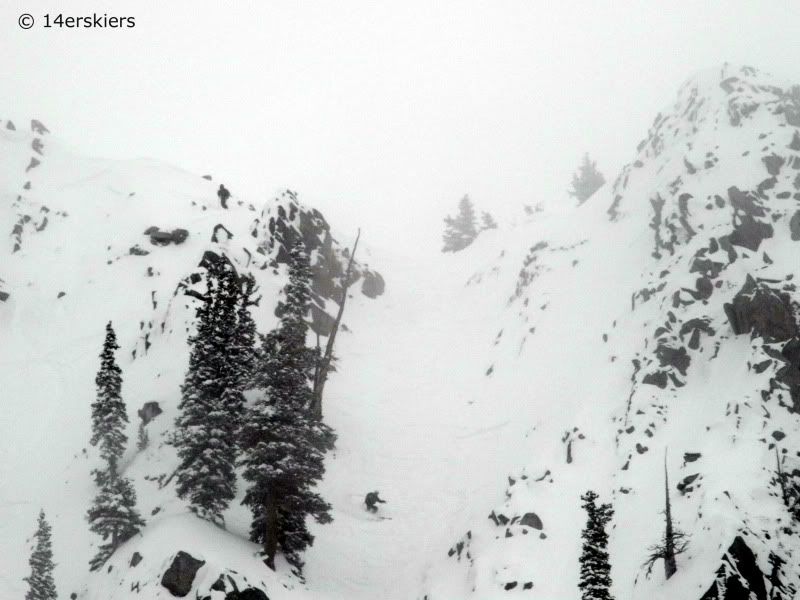 The rest of the group skied Bronco Couloir. Jen.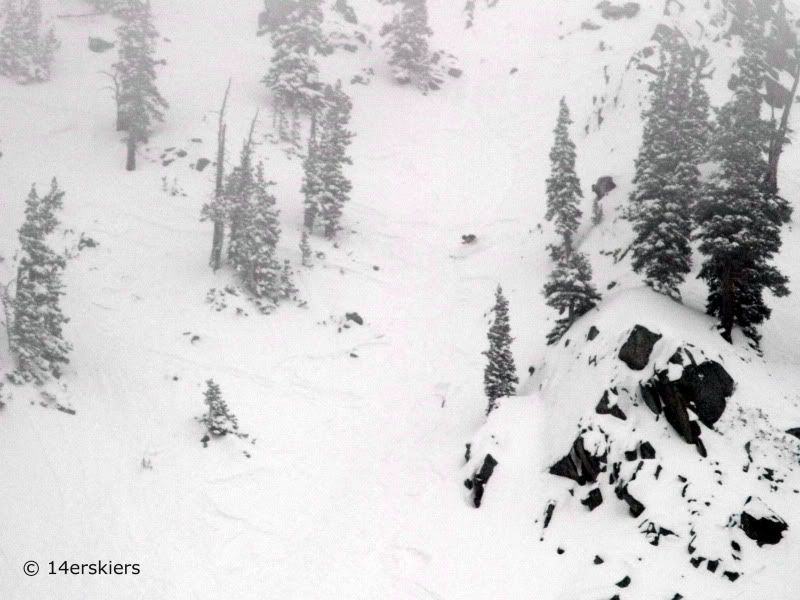 Looking back at Wolverine.

We found some good turns lower down too. Jen.

Jonathan.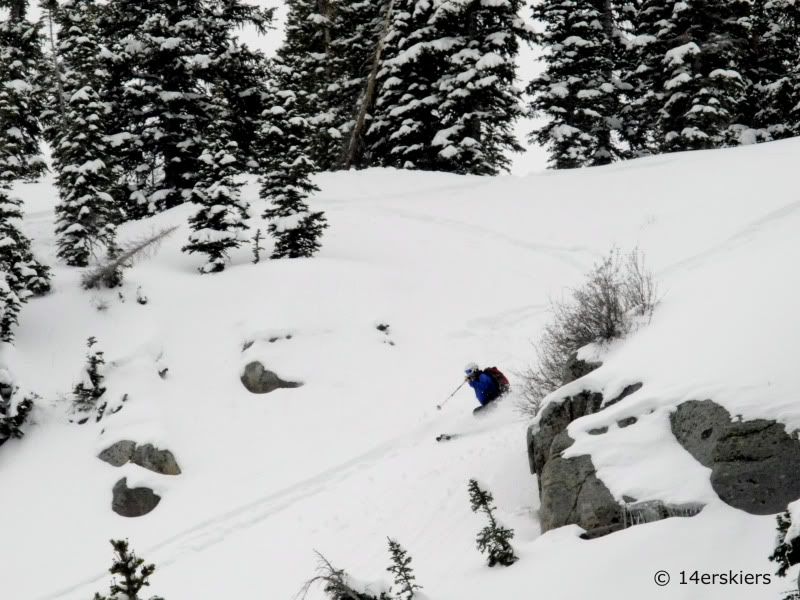 Frank.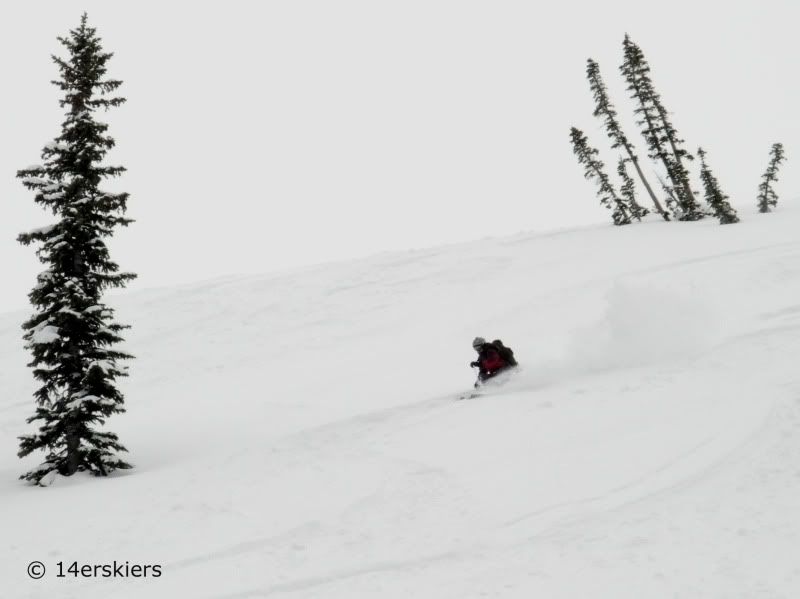 We then skinned our way up to Twin Lakes Pass where we followed Grizzly Gulch back to the parking lot.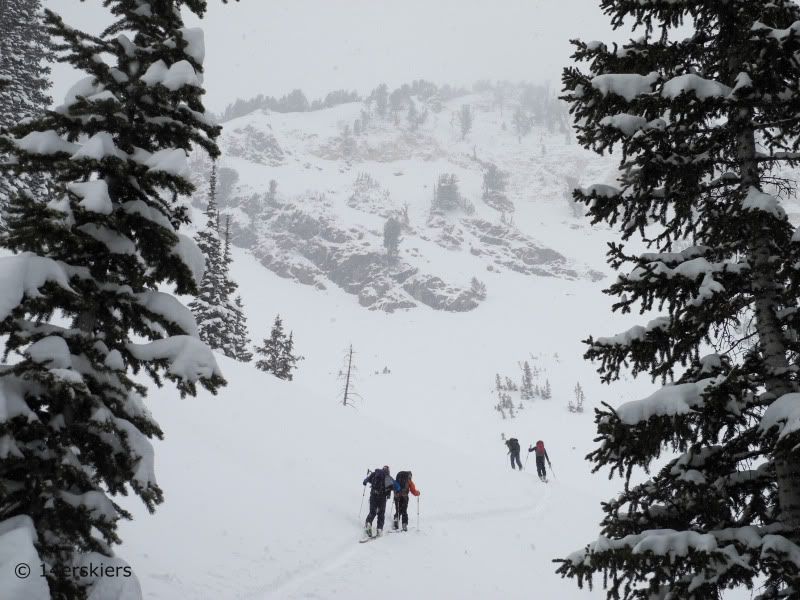 It was a fun day out for sure, but at the same time, I found it amusing that we could not get out of the site of a chairlift, unless we were engulfed by the clouds. I pondered at how different the typical Wasatch backountry tour is compared to touring in Crested Butte. In Crested Butte, our touring almost always takes us far from the ski area, often using snowmobiles for access. Except for a few select hot spots, it's likely that we won't see anyone else out skiing, or if we do, it's not very many people. Fresh tracks are not hard to find. Yet, on our Wasatch tour, we saw a train of people. Almost every line had already been skied, in our zone and across the valley. And, from what I hear, that's typical with the standard Wasatch places.
The plethora of people touring in a small area and the constant view of "civilization" got me thinking. Utah backcountry can be dangerous. And what makes it dangerous is the the number of people and easy access to ski areas. It's easy to get caught by heuristic traps- "I can go solo because there will always be someone out there", "If we don't ski this now, somebody else will soon", "Not to worry, if something happens, we are close to the ski area and ski patrol can help." All of these are dangerous thought processes. I'm not saying that everyone gets caught in this mindset. But, I know I found some of these very thoughts popping up into my head. Does that mean easy backcountry and slackcountry are more dangerous than more remote backcountry? Do thoughts like these force people into terrain that that should not ski? I don't know. That's a discussion for our readers… 🙂
Aside from skiing, biking, and all outdoorsy things,
Brittany Walker Konsella
also loves smiles and chocolate 🙂 Even though she excels at higher level math and chemistry, she still confuses left from right. Find out more about
Brittany
!
Latest posts by Brittany Walker Konsella (see all)