(Last Updated On: December 19, 2010)
Today we woke up to powder day #2. While today's powder was half of what we had yesterday and was considerably more dense, it was still another good pow-day.
It's a big storm. Joel Gratz of the Colorado Powder Forecast agrees. He even featured one of Frank's photos of me from yesterday on today's forecast!
His forecast is calling for the "biggest storm ever". There are 6 days of snow predicted and the majority of that snowfall will be hitting around Crested Butte and the San Juans, ranging from 31 to 61 inches total…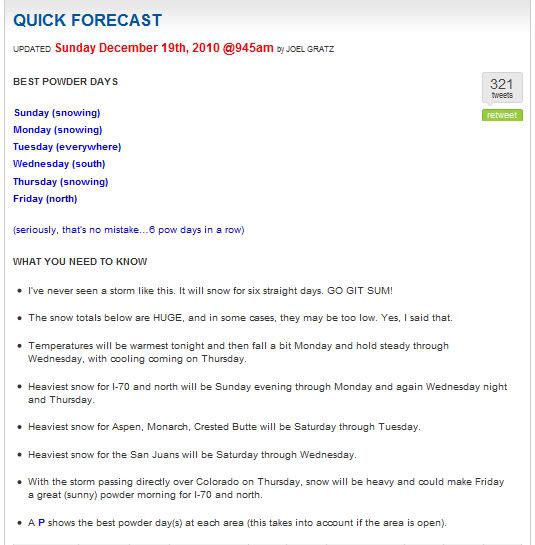 According to NOAA: THE CONSEQUENCES ARE SIGNIFICANT AND PRONOUNCED AS THE CURRENT WEATHER PATTERN IS EVOLVING INTO A WINTER STORM OF EPIC PROPORTIONS…SNOW WILL BECOME HEAVY AND RELENTLESS AND COULD BECOME NONSTOP THROUGH TUESDAY. CONFIDENCE IS VERY HIGH THAT THIS STORM WILL PRODUCE SUBSTANTIAL AMOUNTS OF SNOW THAT OCCURS EXTREMELY RARE…PERHAPS OF EPIC PROPORTIONS. BUT THE BOTTOM LINE IS THAT SUBSTANTIAL SNOW WILL IMPACT GUNNISON COUNTY AND CONCEIVABLY THE AREAS SURROUNDING AND INCLUDING CRESTED BUTTE THAT COULD RECEIVE 6 TO 8 FEET FOR A STORM TOTAL BY THURSDAY.
As I sit here and write this, I am watching snow fall in plumes out my window, smelling the delicious Thia-style chili we have roasting in our crock pot, and listening to enormous slides falling off the roof. The tourists love it. And we locals love it too 🙂 I can't wait for tomorrow!
Aside from skiing, biking, and all outdoorsy things,
Brittany Walker Konsella
also loves smiles and chocolate 🙂 Even though she excels at higher level math and chemistry, she still confuses left from right. Find out more about
Brittany
!
Latest posts by Brittany Walker Konsella (see all)