(Last Updated On: January 1, 2011)

Photo courtesy of La Boite Verte
Snow has arrived again in Crested Butte and we've been enjoying freshies for the last two days. While this last storm has not brought as much snow as the last, we have enjoyed a foot and a half of snow so far. A little snow can go a long way!
Skiing the ski area has been far too fun to stop and take pictures. I'll try to get some up in the next couple of days. For now, snow-lovers should check out this really cool video on snowflakes 🙂 Sorry, the video could not be embedded.
http://gizmodo.com/5713983/the-weird-and-wonderful-world-of-snowflakes
The ski area has been skiing well. Since my last post, some considerably steeper terrain has opened. Earlier this week Headwall opened as well as the North Face to "Easy Way Out". Unfortunately, Last Steep, Sock-It–To-Me-Ridge, and Staircase aren't open and will not be open anytime soon- they slid naturally at the end of the last storm and slid to the ground. This latest storm is building the base for our favorite steep terrain. However, yesterday, we caught the opening of Teocalli Bowl and today we caught the opening of lower Peel.
Coverage on open terrain is overall fairly good at the ski area , but there are the typical rocky areas here and there. However, be surprised of some unusual terrain features. There are huge avalanche crowns all over the ski area as well as a few glide cracks (kind of like crevasses but in snow) that can be a huge hazard. Know your terrain before you charge down it because there can be surprises even in your favorite spots and there aren't always signs like this to warn you 🙂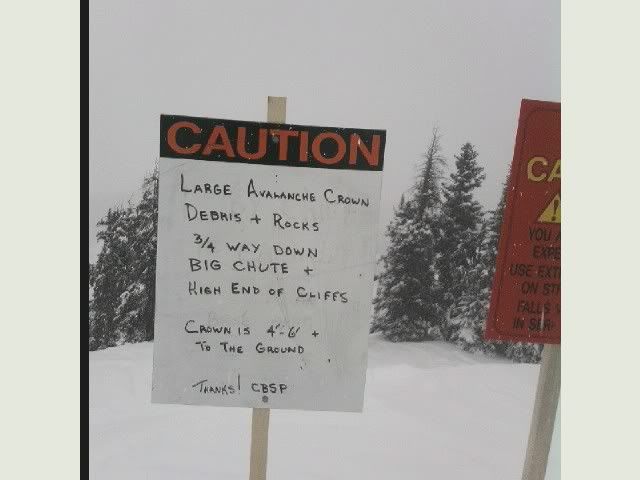 Get out there and enjoy our fantastic winter!
Aside from skiing, biking, and all outdoorsy things,
Brittany Walker Konsella
also loves smiles and chocolate 🙂 Even though she excels at higher level math and chemistry, she still confuses left from right. Find out more about
Brittany
!
Latest posts by Brittany Walker Konsella (see all)