TR: XX Trail (7 Aug 2010)
(Last Updated On: August 22, 2010)
There are some trails here in Crested Butte that I can ride over and over again and rarely get bored. Those include trails like Doctor's, 409.5, Strand, Green Lake trail, the classic 401, and even many of the ski area trails. One of the more popular rides in Crested Butte is Reno-Flag-Bear-Deadman's. People rave about this trail combo, but frankly, it's just not something that gets me that excited. Too often, I dread the crowds and user conflicts that occur there- far too many dirt bikers on top of the already numerous mountain bikers. And I just don't get the same feeling of satisfaction from riding these trails like I do the ones listed above…. not to mention that it's a tad on the short side. I know others differ in this opinion. But, that's just it- it's an opinion.
The weather for the weekend was looking a little iffy. Forecasts called for 70-80% chance of rain for the entire weekend. . But, this is Crested Butte and forecasts rarely seem to actually apply here when it comes to rain. The worst rainstorm I've ever been caught in – poured for hours with huge lightning and thunder – happened on a day where the forecast called for 10% of rain. Riding in this kind of weather is just not the most enjoyable thing in the world. So, despite the fact that we believed the forecast to be vastly wrong, we decided to look for a ride that had "options". If the weather looked like it was deteriorating, we could take a different trail than planned and end the ride early. Frank suggested heading to Reno-Flag-Bear-Deadman's, but putting a different twist into it. Instead of taking Flag, we would traverse along Old Italian Creek road from the top of Reno, and then follow this to the top of XX. We could descend XX to Spring Creek Reservoir, and then head up Bear from there. I've never ridden XX before and I'm always game to ride a new trail. As it turns out, I loved it.
From the top of Reno road, it's a 30-45 minute fairly easy climb to the top of XX. Can you spot Frank?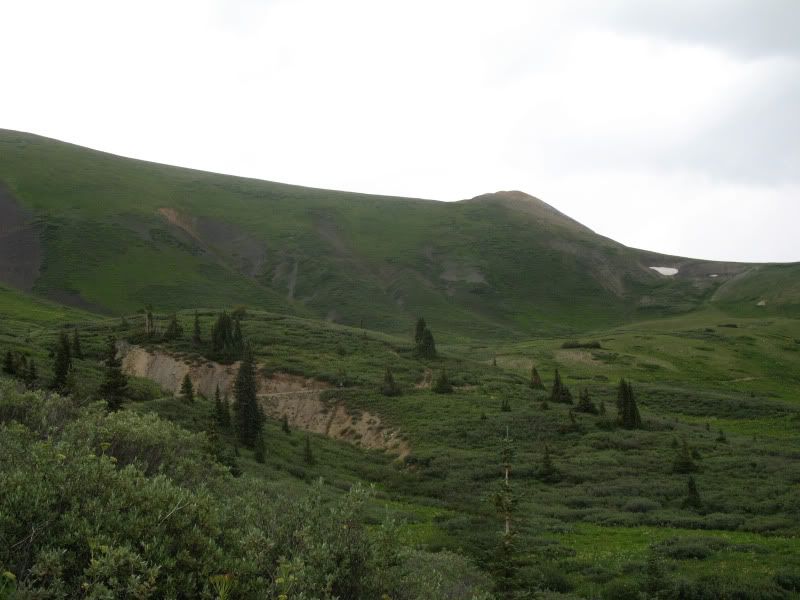 The road near the top.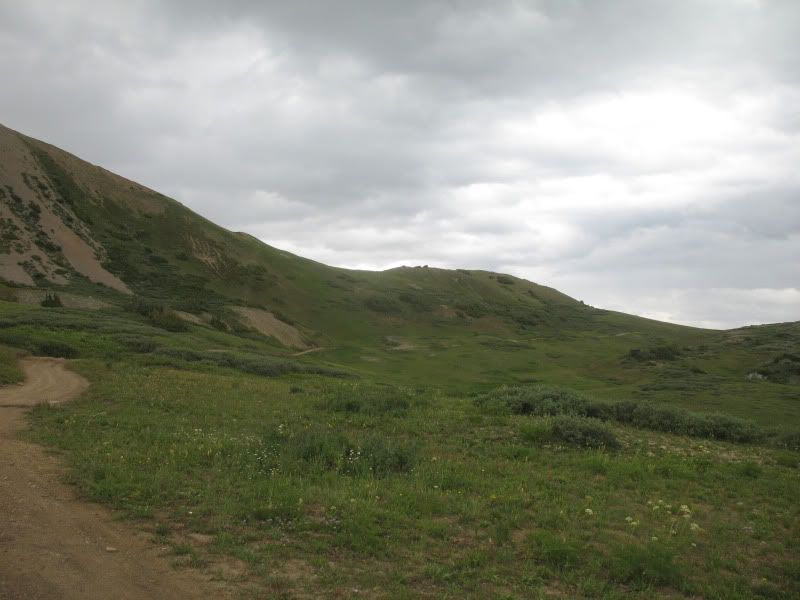 Frank getting ready for the XX descent.

And away he goes!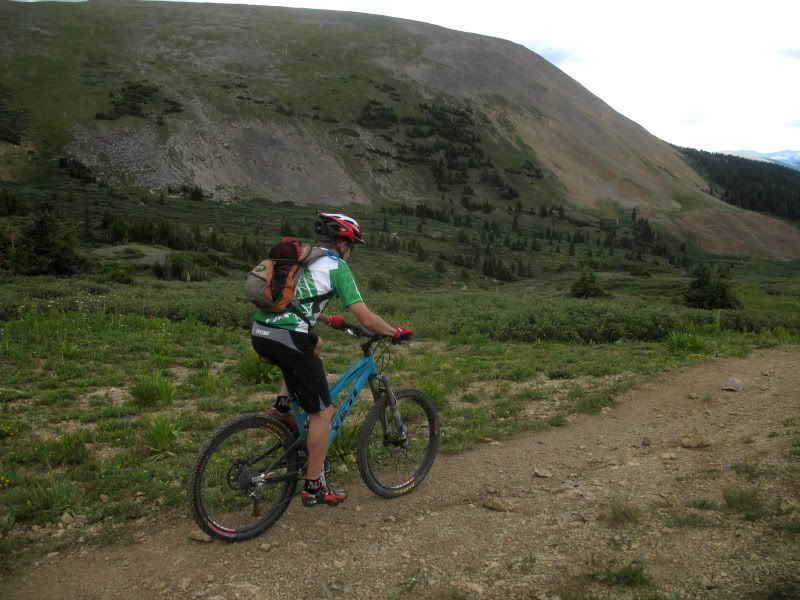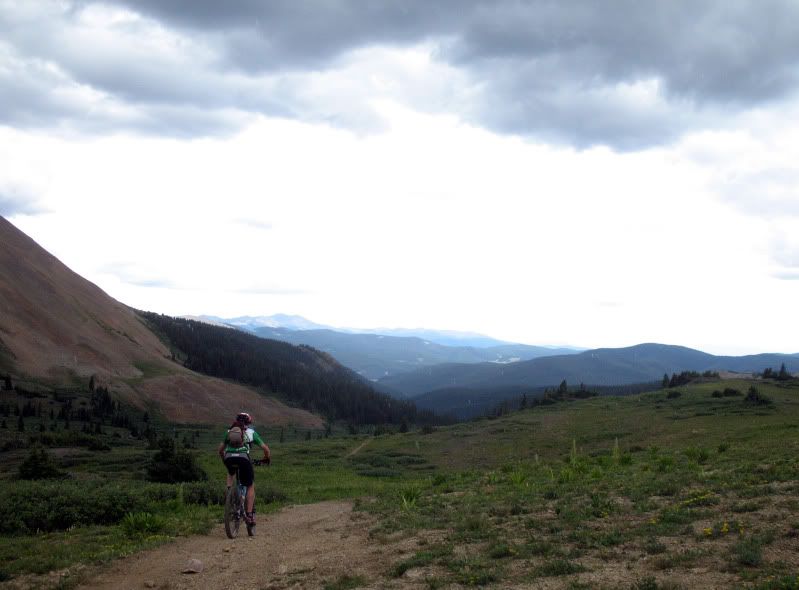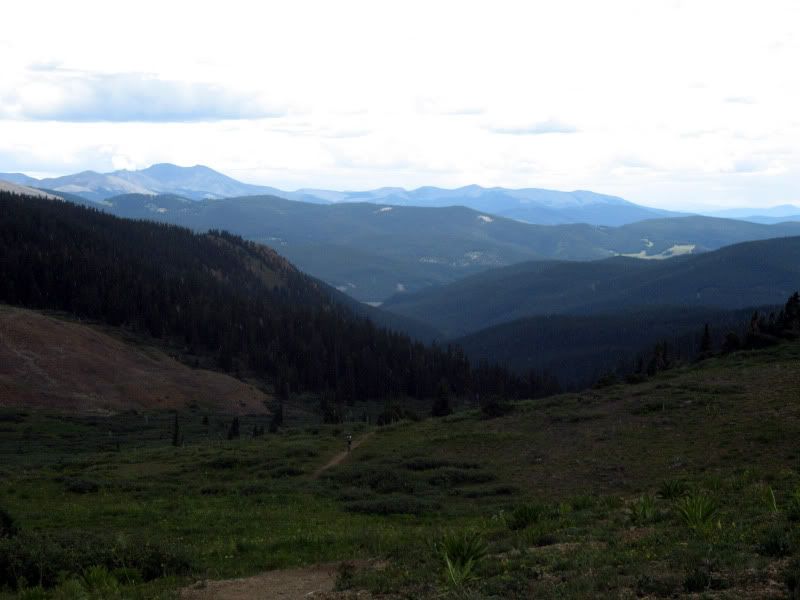 If you like steep technical rocky descents mixed in with some easy flowy parts, you'll love XX.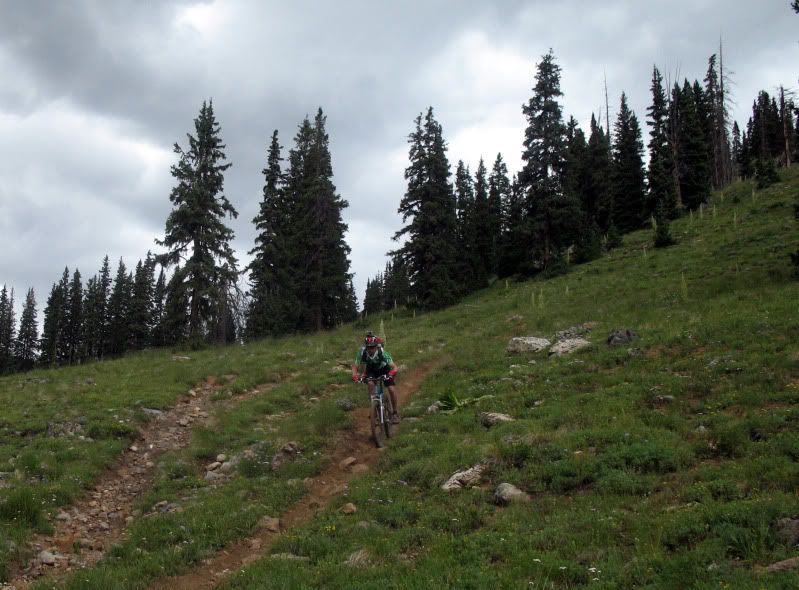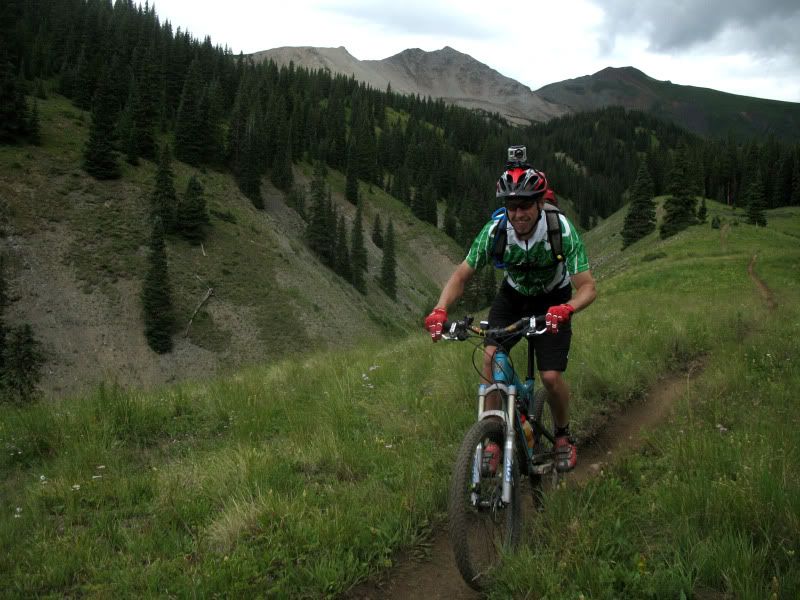 This section was by far the most technical part. Although pictures don't do it justice, the section was quite steep and rutted – which resulting in Frank doing a flying endo over his bike, captured quite nicely on helmet-cam (video coming soon). Here's a couple of pics before the crash.

A look back up at the steep section. If you look hard you can make out the trail coming through the trees.

Frank.

A couple of shots of me, taken with Frank's Go Pro helmet camera.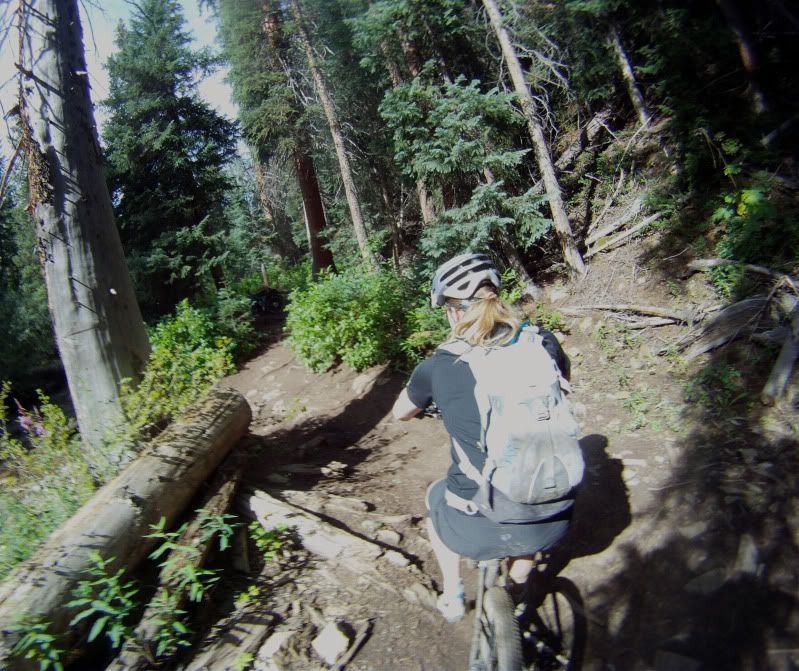 Those not used to steep, technical, rocky sections won't like XX. But, I love to ride things like this. In my personal opinion, this trail is a gem- easily one of my favorites here in Crested Butte. Can't wait to ride it again 🙂 Oh, and the rain forecasted? It sprinkled on us for about 2 minutes 🙂
Videos:

The Trail That Needs a Name from 14erskiers on Vimeo.
Bear Creek 8.7.10 from 14erskiers on Vimeo.
Deadman's Trail from 14erskiers on Vimeo.
Aside from skiing, biking, and all outdoorsy things,
Brittany Walker Konsella
also loves smiles and chocolate 🙂 Even though she excels at higher level math and chemistry, she still confuses left from right. Find out more about
Brittany
!
Latest posts by Brittany Walker Konsella (see all)