TR: Daisy Pass Hike (26 June 2010)
(Last Updated On: June 30, 2010)
My folks are in town visiting and after a few days of riding our bikes, we decided it was time to do something different. How about a hike? Now, keep in mind that Frank and I don't really just hike. We hike to do something- to ski, to ride a bike back down. That's just what we do. In fact, I mentioned to Frank that very morning, "We've never actually just gone hiking together." "Yes we did. We went hiking along the tow paths along the Cuyohoga River when we visited your family in Ohio in October." "That wasn't a hike, that was a walk." Daisy Pass was going to be a hike!
We parked at the Oh-Be-Joyful campground and began the hike with a bang- Nothing like a nice scary log crossing over a raging river to start off your day.

From there, we continued along the trail through a dry wooded area near Schuykill Ridge. Susan, Frank and I.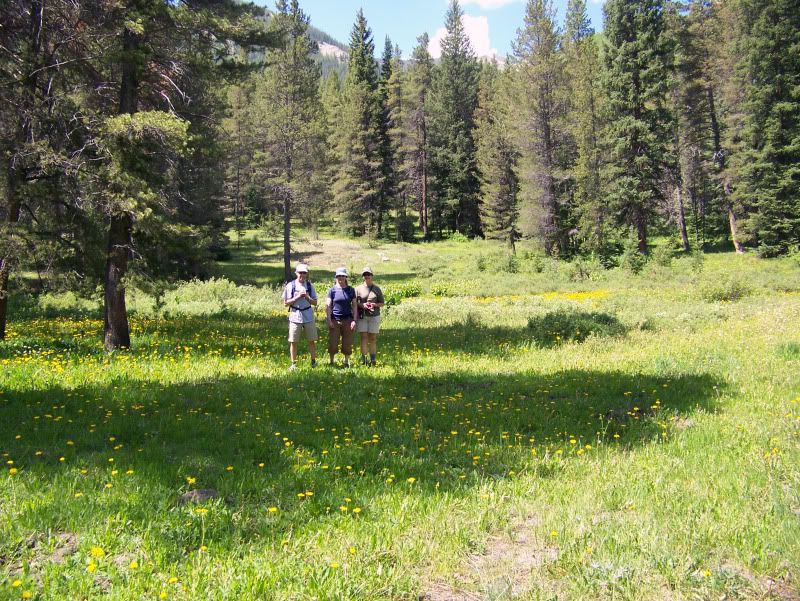 Frank, and I.

Oh-Be-Joyful.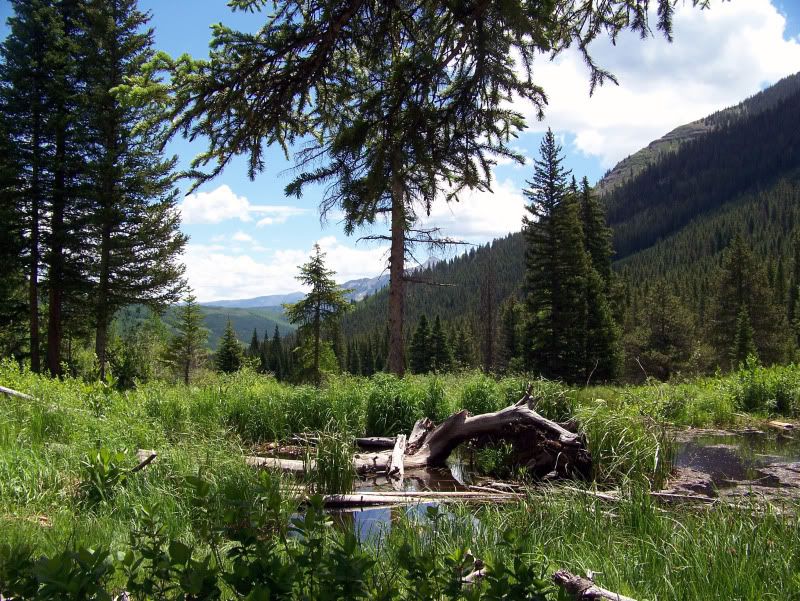 Falls coming down from Redwell Basin. We skied right over this waterfall back in December.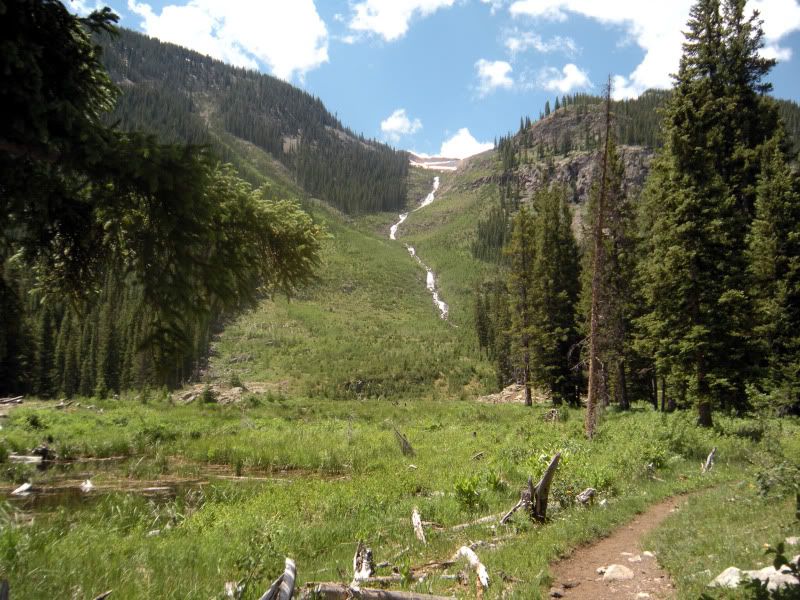 Then, the valley opened up, inspiring us with amazing views.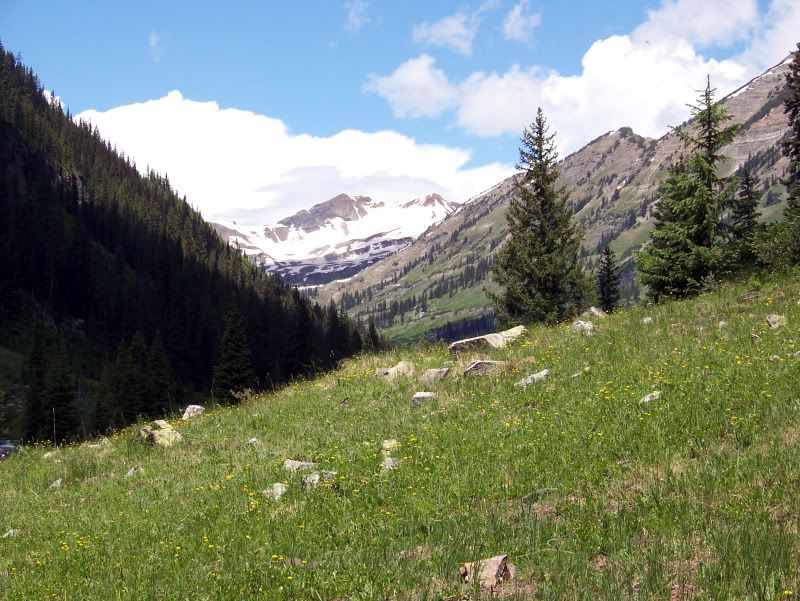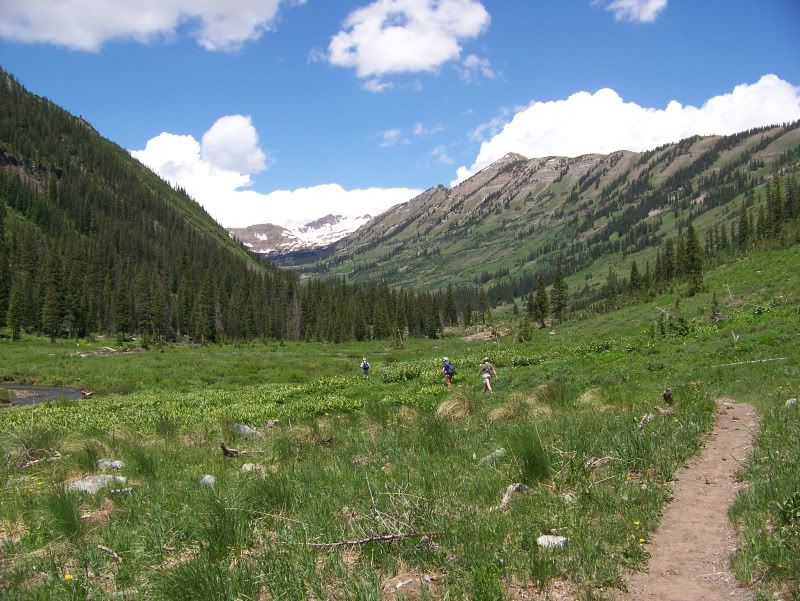 But, we still had many more stream crossings to contend with.

The valley leads its way up to a basin called Democrat Basin.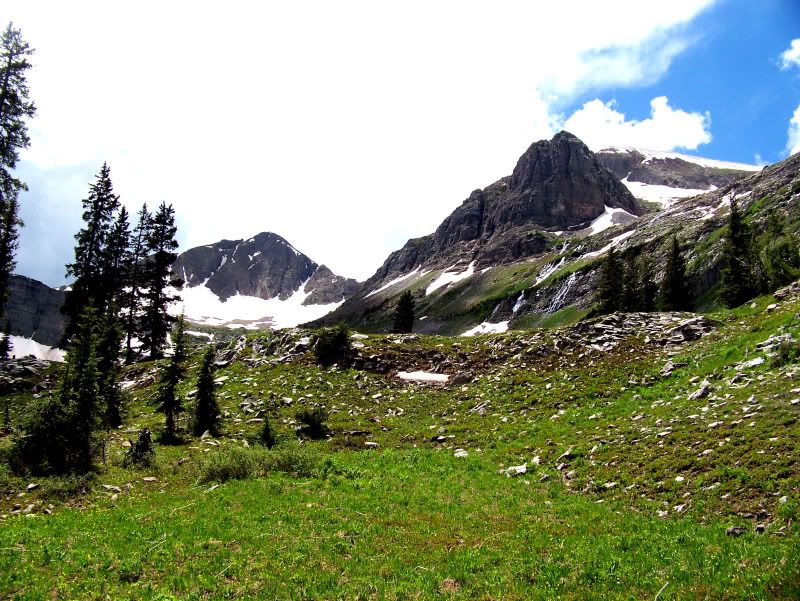 After 7 miles of hiking through amazing scenery, crossing several streams, and making our way through the boggy basin, we arrived at the top of Daisy Pass.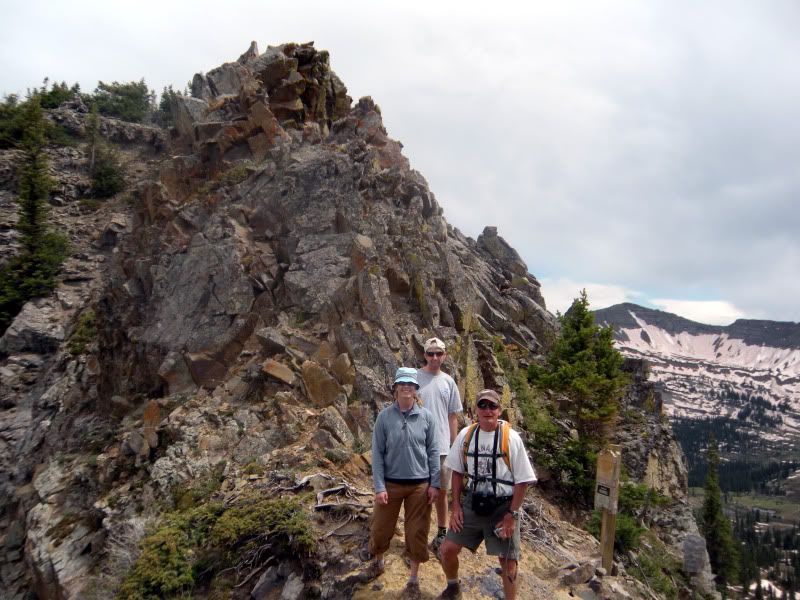 Frank and I, with Hancock behind, which we skied in March.

A look back at Democrat Basin.

View down the other side of Daisy Pass toward Baxter Basin.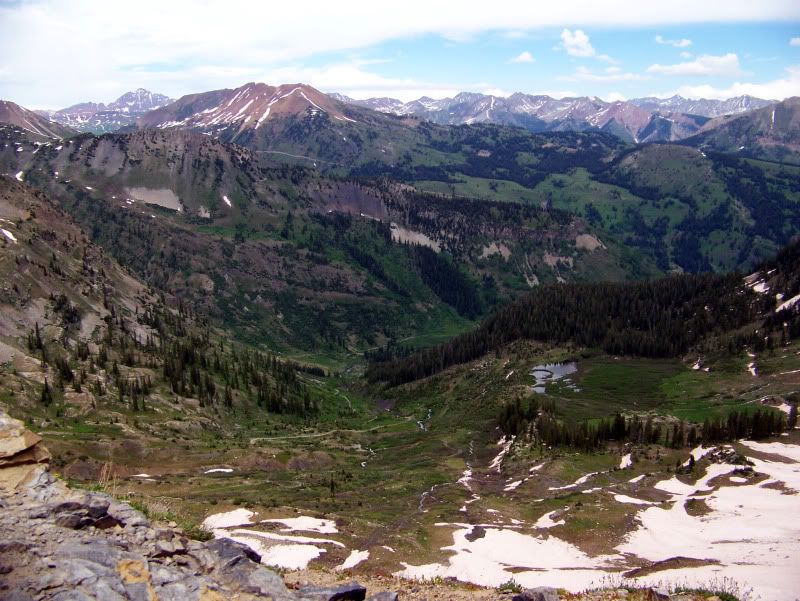 The views from Daisy Pass are spectacular. Avery, the red diamond, with Castle towering behind.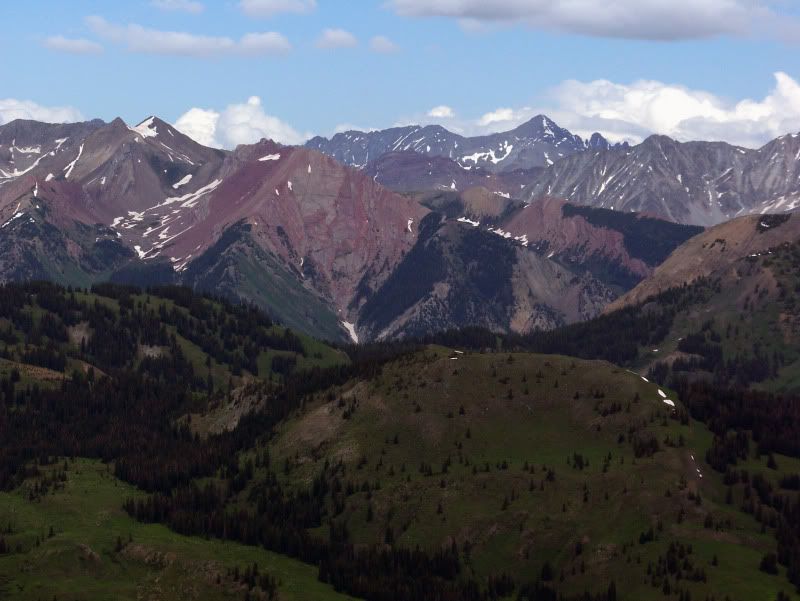 South Maroon.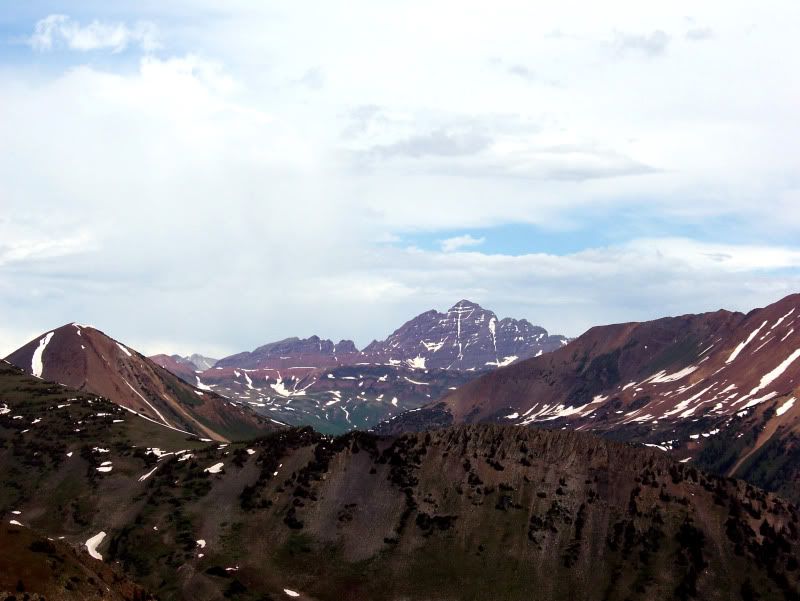 With the sky darkening and threatening us with rain and thunder, we didn't rest long on Daisy Pass. Heading down.

There was more snow on the northern Baxter Basin, then Democrat Basin.

This one didn't quite make it through the winter.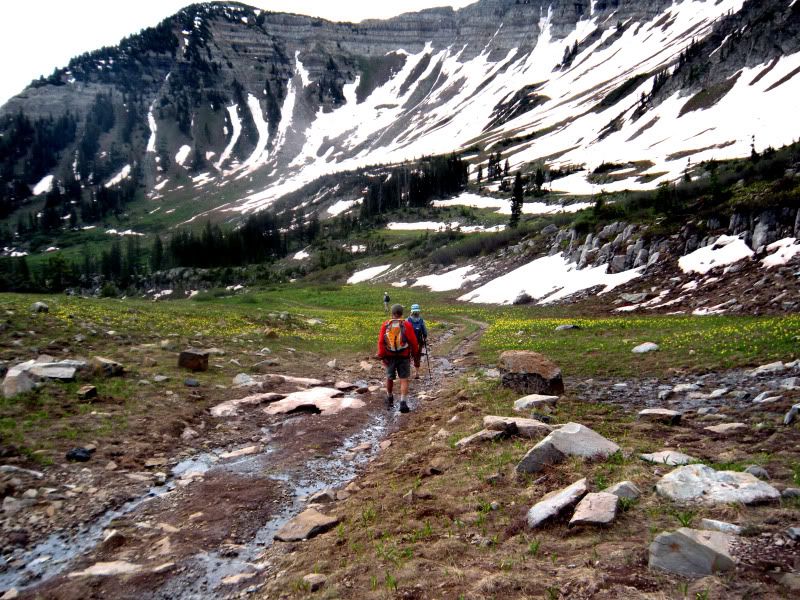 As we descended Baxter Basin I glanced at my watch and saw that it was after 5. Knowing we had a long ways to go, many of which were flat along the Slate Road from Pittsburg, I decided to send Frank ahead to go get the car. As he left, the rain set in.
The stream at the bottom of Baxter Basin was raging, and difficult to cross. But we found a snowbridge to aid our way.

Baxter Basin leads to Poverty Gulch where the rain continued for awhile. But, as soon as the rain left, and rainbows sprung out.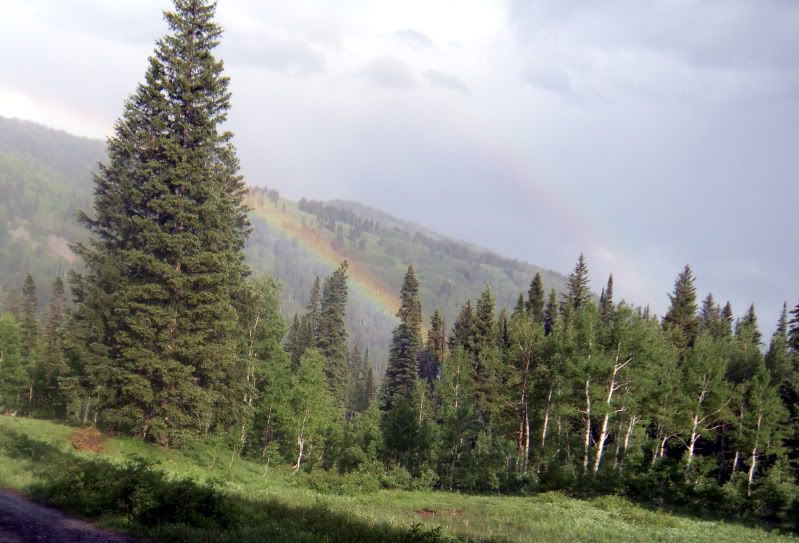 Shortly after, we reached Pittsburg, where there was yet another stream crossing. But, as we were half way across, Frank showed up with the car. He had been able to hitch a ride from Pittsburg to the Oh-Be-Joyful Campground.
11.5 miles, 7 hours, and 2600′ of vert was a pretty solid day, especially for my folks visiting from Ohio. But the views were worth it 🙂
Aside from skiing, biking, and all outdoorsy things,
Brittany Walker Konsella
also loves smiles and chocolate 🙂 Even though she excels at higher level math and chemistry, she still confuses left from right. Find out more about
Brittany
!
Latest posts by Brittany Walker Konsella (see all)