(Last Updated On: August 19, 2009)
Below are a few updates from Spain that I've been writing periodically. For speedier updates, join me on Facebook. Otherwise, just check back to our blog in a few days!
Spain 8/15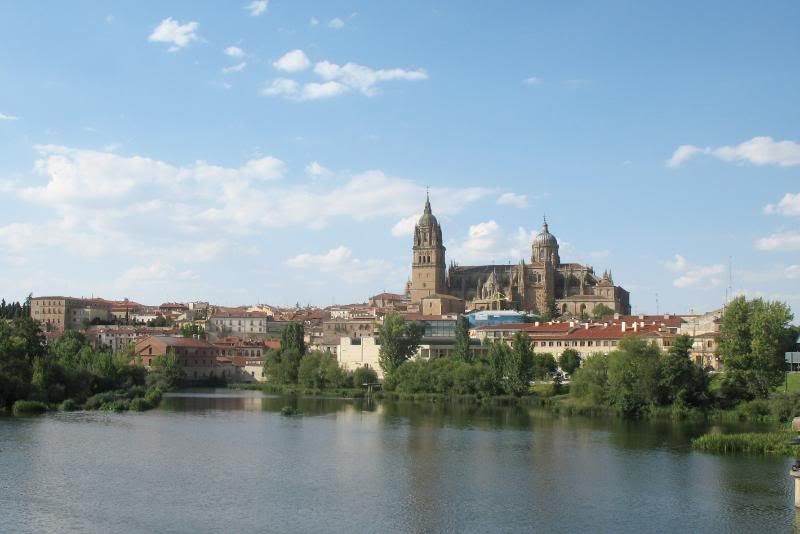 We have been in Spain now for over 24 hours. I'm enjoying things very much here. The people are nice and it's not overcrowded with tourists. Temperatures have been warm- in the 90's. I wish it was cooler, but I can bear the heat because it's very dry.
As usual, my luggage didn't make it to Spain. I don't know what the deal is with me and luggage. What did I do to earn myself bad-luggage-karma? Whatever it is, I feel like I've paid my dues by now. I just want my luggage! We hoped it would arrive today, but apparently it did not. Continental basically has no idea where my luggage is at this point in time.
Yesterday, we arrived in Madrid. We rented a car and then drove a few hours to the town of Salamanca. Despite jetlag, we took time to enjoy the city in the late afternoon and evening. This morning we woke up and had breakfast in the beautiful Plaza Mayor. Then we left Salamanca and went to the fabulous city of Avila. Avila, like Salemenca, is a very quaint Spanish town with twisting winding narrow roads. But Avila also still has it's medieval walls, which surround the old city. We walked around on top of the parts of the walls, where it's allowed, and we spent a few hours walking all over the old city. We then drove to Toledo, where we will be spending two nights. It too has medieval roots and walls, but on a larger scale. I will tell more about Toledo after I have spent more time exploring it!
Spain 8/16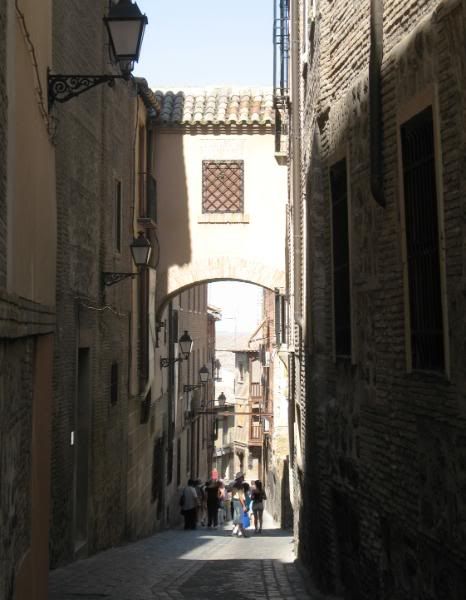 For years I've wanted to come to Toledo. Back in college, I often watched Rick Steve's television programs on traveling in Europe. During one show, Toledo was featured, and I've wanted to come here ever since. So, for me to finally have the opportunity to tour around here has been spectacular.
We began the morning by seeing a famous painting in the Santo Tome church painted by El Greco called El Entierro del Conde de Orgaz. From there we went to see Sinagoga de Transito- 1 of 3 still standing Jewish synagogues in Spainfrom the 1300's. After the synagogue, we visited a monastery called San Juan de los Reyes. But the highlight of the day so far has been the Catedral. Toledo is known for it's Catedral and I can see why. It is one of the most spectacular and huge cathedrals I have ever seen. Personally, I think it easily rivals any Cathedrals in Rome/Vatican, and even my most favorite so far- the Duomo in Milan. I am not really a holy person of sorts, but when I walk into a Cathedral like this, I feel holy.
Our sightseeing is not fully over today either. Now we are in for a late "siesta" to avoid the horrendous afternoon heat. Later this evening we will go out and sight-see some more. Since Spain is in the western part of the time zone, the sun rises and sets quite late. I woke up at 7:30 this morning and it was still virtually dark, but the sun doesn't set until well after 9 pm.
Things are still confusing about my luggage, which is still missing. It's possible it may be in the airport in Madrid, but I am not sure. Tomorrow we are driving from Toledo to Barcelona and can easily pass through Madrid on our way. So, we will do so and hope to find my luggage there.
We've been enjoying the food in Spain. Of course the paella is most excellent. Prices have not been too bad, despite the poor exchange rate with the Euro. For dinners, we often go with "menu" options where you get 2 courses, plus bread, wine, water (bottled), and dessert all included. Most of these range between 9-15 Euros, which means about $15-20 approx. I think this is pretty good, considering a bottle of wine is $20 or more at most restaurants in the US!
Manana, to Barcelona!
Spain 8/17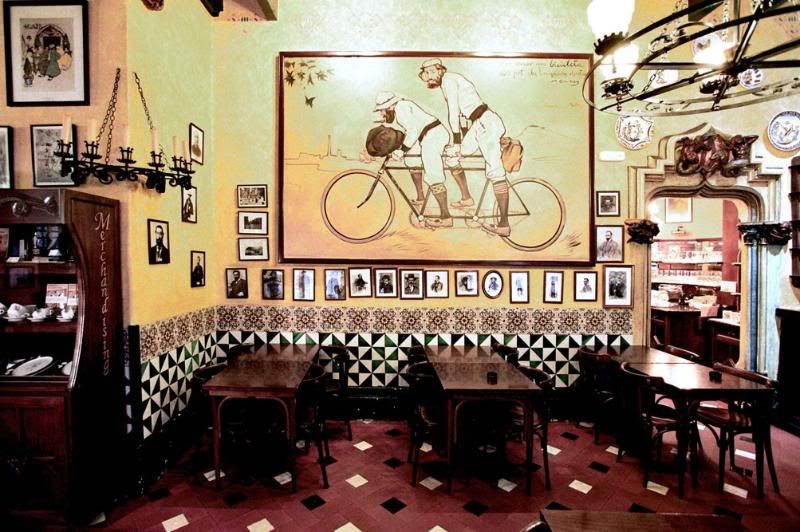 Photo from 4 Gats
Today we drove from Toledo to Barcelona, with a stop on the way at the airport in Madrid to see if my luggage had made it. Parking the car at the airport was a nightmare. Then, trying to get through customs (backwards) to the baggage claim where my luggage was supposedly being held took some slyness. But, it finally worked, and I now have my luggage on day 4 of my 10 day trip.
The drive through the center of Spain was very interesting. This country is surprisingly dry and arid. The whole center of the country is sparsely habited. There were times I swear I looked out the window and felt like I was back in Colorado.
Every country and every culture has a different version of a gas station. Well, we got going on the road early by Spain's standards- at 7:30 am or so. We passed about 5 cars on the road in about a half an hour. Then, we pull up to a gas station just off of a highway. Supposedly the gas station was open 24 hours, but it looked dead inside- the lights were all off. We gave it a whirl anyway, and tried to go in. It was indeed open. We wanted coffee. But the only way to get coffee there was to stand at the coffee "bar" while the one gas station attendant prepared the cafe con leche. There were no "to-go" cups– it's just not the norm in a country like this. So, we sat at the coffee bar, enjoying our coffee, chatting with the gas station attendant who didn't speak a word of English, eating fresh baked bread- still warm when I picked it up. Now, really… can you get any of that at a gas station in the US? A gas station redefined…. 😉
Hours later we arrived in Barcelona. What a city! I'll elaborate about the city later. But right now I want to talk about the Hotel Continental where we are staying. This hotel is right off of the famed "Ramlas" street in Barcelona. The Ramblas is where people literally ramble about, walking aimlessly, watch street performers, look at the pets for sale (yes, pets for sale on a street!), watch artists paint and draw, or even sit to enjoy a meal or some sangria. This street is so packed with people it's hard to move. Well, our hotel is on this street. The hotel Continental has a lot of personality. I can't think of a better way to describe it really. I mean, the hotel offers WiFi all over, has a 24 hour included buffet with all kinds of food including bread, pasta, fruit, chocolate and even ice cream, beer, wine, Coke…. FREE…. But this very same hotel can't make their one elevator work, has hallways and stairwells that are devoid of air-conditioning so you're walking through a sauna… Then, to top it off, the rooms are cheesy as hell- flowery pink and green wallpaper that's slightly crooked and is coming off in places, matching pink bedspreads to match that look better suited for grandmas bed than a hotel in modern cosmopolitan Barcelona, tupperware drawers…. yes, I said TUPPERWARE drawers… and to really put the icing on the cake, they took those plastic chairs and the little plastic table that belong in your back yard and put the grandma-pink-bedspread material over them as a slipcover to disguise the real origin of the plastic furniture. The whole thing just cracks me up. I mean, this place is great, really! It's better than a college dorm with all the free food, wine, beer available at all times of the day. But, this place has a lot of personality!
Tomorrow, we see more of Barcelona!
Spain 8/19

Photo from http://blog.isango.com/wp-content/uploads/2009/07/park-guell.jpg
Barcelona is definitely one of Europe's most happening cities. There are always people. People everywhere- walking, talking, eating, smoking, performing, buying, driving, biking… There is a constant bustle and these people are at the heart of it. The streets are packed. Walking down the Ramblas in the afternoon and evening is like trying to drive in LA's rush hour. I equate it to being in a video game. Can I make it down to the other end of the Ramlas without smacking into someone or having someone step all over my feet. Personally, there's a few too many million people here for me to handle on a regular basis. But, the people are what makes this city- habitants and tourists alike. They are Barcelona.
Barcelona is famous for it's art during the late 1800's and through the 1900's. We visited the Picasso museum which is interesting as it has all of his early work, where he was experimenting and developing as an artist. On display was work from even his childhood- 10 yrs old. It amazes me that he was making a name for himself by the time he was 20. But, the museum was a bit lacking- it didn't tell the whole Picasso story. It left parts out. Like it told about his "blue period" but left out what caused him to spiral into this depression and paint everything in blue. Then, it left out whole chunks of his life once he reached about 25 yrs or so. Very little art was on display that would have been considered the "Picasso-style" that has made him legendary. I suppose the rest of his life's work is on display at the Picasso museum in Paris- one I have not yet been able to see because they have either been closed or the museum workers have been on strike every time I've visited Paris. Nevertheless, the Picasso museum is worth the visit as it's a rare opportunity to see the development of such a renown artist.
We visited the Contemporary Art Museum which I found hard to relate too. I've visited other displays of contemporary art before and have liked it. But this collection is particularly abstract, lacking in actual artistic talent, but leaving the audience looking for something deeper-a double meaning. I mean, you walk into a room and see a bunch of static TV's or another room with a set of bleachers…. this is called "art". Not my idea of art.
But, I do love the modern art- "art nouveau" from the late 1800's and early 1900's which can be viewed throughout the city. Architects like Lluís Domènech i Montaner, Antoni Gaudí and Josep Puig i Cadafalch left their marks scattered all over this city, and it's all wonderful. When not dodging people like you're in a video game it's important to keep your eyes up, so you can see the beautiful facades on the fronts of the buildings that were either developed by these architects or inspired by them. My favorite of these artists is Gaudi. We visited his Casa Mila (built for the Mila family) which made me feel like I was in some sort of Alice in Wonderland kind of dream. He's also well known for his work at Park Guell- a literal outdoor museum which displays his work. I felt like I was walking around in Canyland, except that it was 100 degrees and all the candy should have been melting. Gaudi also began building the Sagrada Familia Cathedral during the last 16 years or so of his life, which is still unfinished today. Perhaps it's appropriate that it has a Gothic element to it as it will take over 100 years to finish, much like the churches of the Gothic era. Gaudi's work is colorful, full of interesting shapes and illusions, and is very "organic" for lack of a better work. Gaudi was inspired by the symmetry and asymmetry of nature, and it's obvious in his work.
We've completed our artist experience by eating dinner last night at 4Gats (Quatre Gats)- a restaurant where artists like Picasso and Gaudi used to hang out. It was good food and a good experience.
Tomorrow is our last day in Barcelona. We will be visiting the Palau (Concert hall) and Montjuic- which has the Olympic Stadium.
Aside from skiing, biking, and all outdoorsy things,
Brittany Walker Konsella
also loves smiles and chocolate 🙂 Even though she excels at higher level math and chemistry, she still confuses left from right. Find out more about
Brittany
!
Latest posts by Brittany Walker Konsella (see all)