TR: Baldy via Washington Gulch (11/30/2008)
(Last Updated On: December 7, 2008)
The day started like this…..
It was snowing. It had been snowing for a few days straight at that point. Yet, the snow yielded little accumulation in Crested Butte and on the resort. The resort was open, but only 2 chairs were running with 3 runs open. And those runs were flat. The wind was howling, and had been howling for at least 2 days, making skiing at the resort sheer misery. We knew just a few miles away it was probably snowing feet of snow. So, we planned on a backcountry mission.
Just before Frank and I were about to leave from our condo, I got a call from Sydney. "Uh, do you guys have an extra spare tire for your trailer?" Sydney and Rob started out their day with a flat tire from their snowmobile trailer, so we went to save them. We had one that was a perfect fit.
As Frank and I were loading our trailer onto his truck, the maintainence guy came out to have a little chat with us. "Yeah, so… you guys might not be able to keep your trailer here anymore?" As Frank had words with the man, I hooked the trailer to the truck… distracted by their conversation. Into the truck Frank and I both go. He asks, "Everything good with the trailer?" "Yep," I replied. Boy was I wrong. As we turned onto the snow and ice covered Gothic Rd, we heard a crash from behind. The trailer had fallen off the truck. Frank and I worked to fix it. Thankfully, the spare tire that we were bringing to Rob and Sydney had played "bumper cars"- it had protected the trailer from damaging Frank's truck.
So, off we go to meet Sydney and Rob with the God-send spare tire. The expended tire from their trailer was in pieces. But, the new tire went on smoothly.
Our plan was to access terrain Schofield Pass. But, like I said, it had been snowing for a few days straight. We were half expecting Gothic Rd to be close for the season, just past it's usual winter closure near Snodgrass. But no, the road was open! So, up the road we went. As we progressed, the snow on the road became deeper and deeper. But, it was not the depth that worried us. We knew about the hill. The hill just past the town of Gothic. The steep hill. The one hill that could cause a potential threat to our plan. When we got to the bottom of the hill, Rob and Sydney pulled up in their truck just beside us. Frank said, "Well, give me a little room. I'm going to go for it."
So, we went for it. Frank tried to "gun" it as much as he could. We were doing it! We were making it up the hill! Then all the sudden the engine slowed. The truck was struggling pulling the heavy trailer behind it. We were so near the top…. "Shift!" I said. Frank shifted. But, it was to no avail. The tires were skidding on the ice beneath the snow.
Frank put on the brakes. For a second we stopped. And then my heart sank. We both felt it. Even though the brakes were locked, we were sliding backwards. We were sliding backwards with a trailer on the back. Visions happened. I had visions of us going backwards off the road, getting so stuck in the snow that the truck and trailer would be lost for the season. I envisioned the trailer jackknifing, crushing Frank's truck.
We slid for a ways until the trailer jackknifed, preventing us from sliding further down the hill. Sydney and Rob could do nothing but watch, jaws dropped. Frank and I jumped out of the truck. Sydney and Rob came running. I scurried to release the trailer from the truck. Amazingly, the trailer had once again been saved from damage. If the trailer had twisted an inch more to the side, Frank's truck would have been crushed. But, we were saved by an inch.
We spent at least a half an hour digging, pushing, and pulling the trailer to get it out of the snowbank were it was stuck. But, we got it.
Have we had enough yet? No. On to option #2. Washington Gulch.
We unloaded our snowmobiles at the winter closure on Washington Gulch. The snowmobile up Washington Gulch was easy at first. But then it got more difficult. Snowmobiles began to get stuck, and we'd expend a lot of energy digging, pushing, and pulling our sleds out of the snow. Then, our options ended. Waves of snow covered the road in the form of drifts and we knew trying to make our way through it would require endless digging. So, we parked the sleds and broke out the skins.
At this point, disappointment set in. We didn't get as far as we had wanted with the sleds. So, accessing the terrain that was in our original plan was no longer possible. Plan B was to scope out Mt. Baldy.
The road provided easy skinning and we followed it for a ways. But, we remained cognizant of the avalanche paths crossing the road. The wind was howling, visibility was low, and we knew it was possible for some snow to come tumbling down above us. We crossed each avy path one person at a time.
Eventually, we found the general area where we wanted to make our way up the mountain. At that point, we had just come around a "corner" which had provided some protection from the wind. But, now we found ourselves without trees or rock to shield us. And the wind was howling.
Once again, our plan changed. We were hoping to ski a west-facing aspect of Mt. Baldy. But the wind was making that task both unsafe and miserable. So, enter Plan C. We decided to climb the scoured ridge of Baldy and then descend on the SE side, back down to the road where we had skinned.
This picture sums up our ridge experience.

Eventually, the ridge turned to rock and we stashed our skis on our packs. After being blown to the ground several times, we finally found a place to traverse across to access some better snow.
We traversed our way across to an avy path that seemed to have good enough snow to ski. But, the snow was unhappy. A slick bedsurface topped with windloaded snow made for a very unstable snowpack. The snow was cracking all around us. So, we used the terrain to our advantage, hugging a ridge for safety to the skiers right of the avy path.
As we descended a bit, we saw that a natural slide had released. You can barely see it in this picture.

While the crown was less than a foot high and only about 10 yards wide, the slide continued for about 1000 vertical feet- enough to cause some significant damage to a person caught, or some one below. Even scarier, was the fact that we had crossed under this avy path on the road just an hour or so before.
A picture of the slide crossing the road.

Because we were choosing our route based on safety rather than powdery-goodness, the skiing wasn't very enjoyable. However, for the last few hundred feet, we were able to open it up and enjoy some of the freshly fallen snow.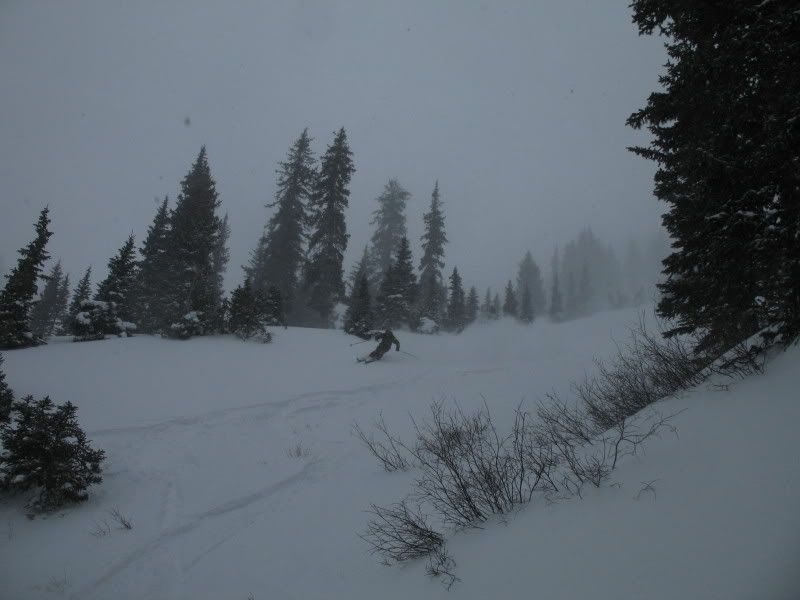 We returned to our cars just before dark. We were all thankful to be back after such and arduous day. Sydney and Rob finally had a first hand experience of the situations that Frank and I sometimes endure for a day of skiing. Lesson learned: If more than one thing goes wrong at the beginning of the day, maybe it's time to head for the resort 🙂
On another note- to all who are reading this who may access backcountry skiing near Crested Butte – be wary of the snowpack out there. While I do think you can find areas of stability, you're just as likely to find areas of instability. Be aware of the variability of the snowpack out there due to the transport of wind from the snow!
Aside from skiing, biking, and all outdoorsy things,
Brittany Walker Konsella
also loves smiles and chocolate 🙂 Even though she excels at higher level math and chemistry, she still confuses left from right. Find out more about
Brittany
!
Latest posts by Brittany Walker Konsella (see all)