A look back at last weekend (2/2)
(Last Updated On: February 7, 2008)
Previously posted on my Thrillhead Blog
There are just some days where everything falls perfectly into place. I have a lot of good days, but last Sunday was a particularly excellent day. With over 60 inches of snowfall in Crested Butte since the previous weekend, with my friends Sydney and Rob back in town along with Zack, it was bound to be a good day.
Timing is always of the essence. It had snowed feet that week, but snowfall was dwindling toward the end of the week. This allowed patrollers to get on top of their routes, and get the good stuff open. Better yet, Warren Miller was filming at the Butte, so that forced them to have Third Bowl nice and ready.
When Warren Miller was done filming on Sunday afternoon, the resort opened Third Bowl up to the public, and what a treat it was. It hadn't been open for a week!
Because of the nice soft snow, and the fact that I felt particularly "on top" of my skis that day, I was able to tackle many lines which I had been eying for weeks or even years.
#1 was Toilet Bowl, off the Spellbound Bowl. I had my sights on that since before I'd even met Frank, for at least two years. It's a nice tight little chute with a bit of a straightline out the bottom. Well, the snow made it not so tiny anymore (not that that bothered me), and the straightline not so intimidating. Toilet Bowl was conquered.
#2 was Body Bag. Yep, I guess they call it that for a reason. A couple of years ago I found myself rather cliffed-out there. The landing was full of rocks and looked hideous. The whole experience gave me a good rattle, because the area was pretty icy and I could have easily slipped right over the cliff. I found my way out of there though and in the end all was fine. Still, it made me never want to venture that way again. Well, on Sunday I jumped the very cliff that I was cliffed-out on two years ago. The landing couldn't have been softer.
#3 A straightline to the skiers right of Spellbound bowl. I'd had my eyes on it the whole season. Sunday it was done.
#4 Hour Glass. There are at least two areas known as Hour Glass in Crested Butte. One is big, to the skiers left of Third Bowl. But I did the little one, between Cesspool and Sock-it-to-me. The snow was excellent and the normally 10-15 foot cliff at the bottom was nearly non-existent. You could have probably gotten through it without catching any air, but I opted for a bit of air time, with a full on face plant in the landing 🙂 It was fun all the same. I came out of there with a good smile on my face.
It was just one of those good days. I have no pictures or anything to share from that day. It will only be left in my memory. But, sometimes, that's even better…. 🙂
On a different note, I wanted to share updated photos of the Three Seasons parking lot. The snow just keeps coming, and keeps burying the cars.

I think some people have just given up, not wanting to dig their car out on a day-to-day basis.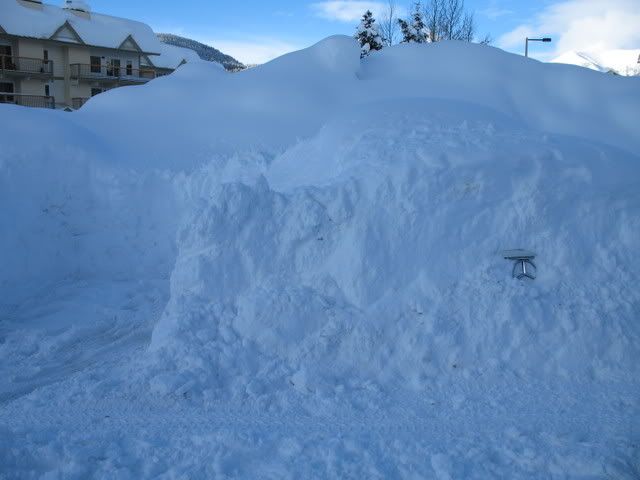 Even the roof is covered in feet of snow. And I'm a bit scared it won't handle the weight for much longer!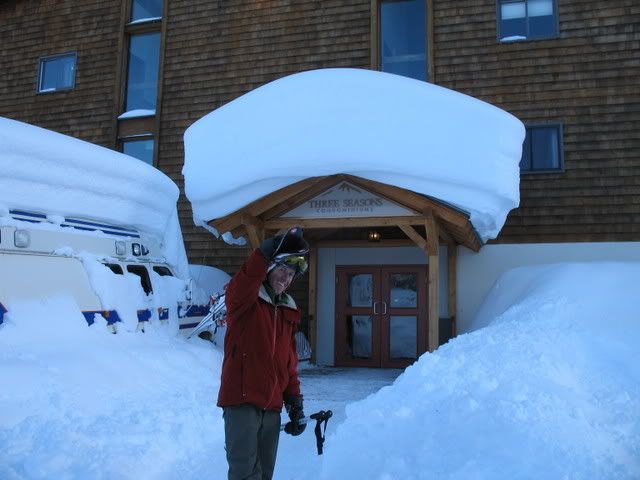 Driving through the town of Crested Butte is crazy right now. The snowbanks are so high, you feel like you're driving through a maze. People are having to dig out their first story windows. It's easy to just climb the snow right on up to the second story on most buildings. The snowbanks are so huge, and they have nowhere to put all the snow. The city keeps having to dig out the speed limit and stop signs, only to have them be buried during the next storm, the very next day. What a wonderful winter it's been!!!!!!
Aside from skiing, biking, and all outdoorsy things,
Brittany Walker Konsella
also loves smiles and chocolate 🙂 Even though she excels at higher level math and chemistry, she still confuses left from right. Find out more about
Brittany
!
Latest posts by Brittany Walker Konsella (see all)