Belated TR: Mt. Wilson (17 April 2011)
(Last Updated On: April 27, 2016)
Let's face it. This early-part of winter has been less than desirable as far as conditions go. The skiing has been largely sub-standard for this time of year. We simply need more snow. Though Frank and I have certainly been skiing, what we've been skiing hasn't been worthy of posting TR's on this blog- especially when I have a few unfinished TR's from last year. So, while we wait for the snowflakes to grace us, here's a bit of stoke from last April.
Views of Wilson Peak (right) and neighboring Sunshine (left) from the road leading to Lizard Head Pass. The Peak of Mt. Wilson is peaking out in the background, between the two closer peaks.

Toward the end of May in 2010, I skied Mt. Wilson, making it my 52nd fourteener. However, I was not able to ski this peak from the summit. Wanting to keep the standards high for my fourteener-skiing project, I knew I would revisit Mount Wilson again. In April of 2011, I was still waiting for my last two fourteeners to come into condition. Matt said he was planning on heading to the San Juans to ski some of the fourteeners there. Plans were made to meet up for Mount Wilson. I asked my friend Kim to join us as well.
As the last glimpses of light were leaving the sky, I met Matt at the Lizard Head Creek trailhead. The trailhead was a seemingly barren wasteland of snow and drifts right next to the highway. Protective trees were far away and we found ourselves talking over the wind. Kim was set to arrive later that night. But, with a 4 am start planned, Matt and I went to sleep in our respective cars, as setting up a tent was not an option. With the sound of constantly passing traffic, sleep, if any, was very light. But, I was thankful when Kim's headlight's shined into my back seat.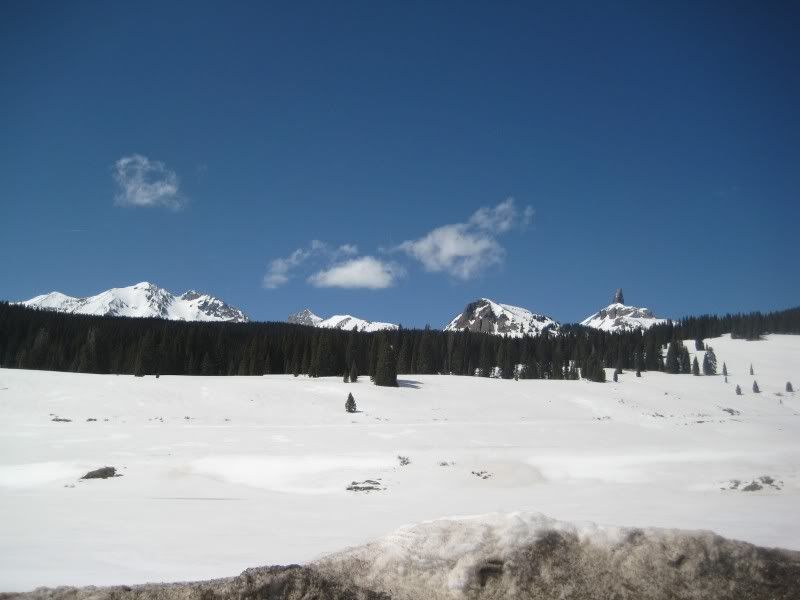 A view from the trailhead, during the day. Photo courtesy of Matt Kamper.
I was awake before my alarm went off, not even really sure if I had slept or not. With freezing fingers, I put my contact lenses in my eyes and tried to down a blueberry muffin and Java Monster. But, the early-morning nausea got to me before I could even finish my breakfast.
I knocked on Kim's Subaru window and she stirred. As she opened her door, she blurted out, "I'm not going." "What? You're crazy. You're going. You came all the way here. You're going." Though the weather undeniably looked less than desirable, I wasn't going to let her bail.
Matt, Kim, and I set out in the dark but it wasn't long before the first light glowed above the horizon.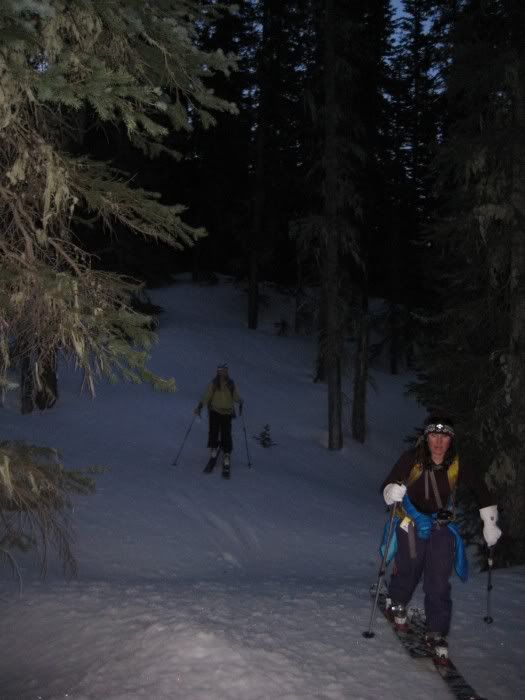 Photo courtesy of Matt Kamper
Still squinty-eyed at dawn's twilight.

Matt, with the Slate Creek valley behind.

As we continued, the clouds began to clear and blue sky prevailed.


Photo courtesy of Matt Kamper
A partial view of the Box Car couloir, our intended descent route.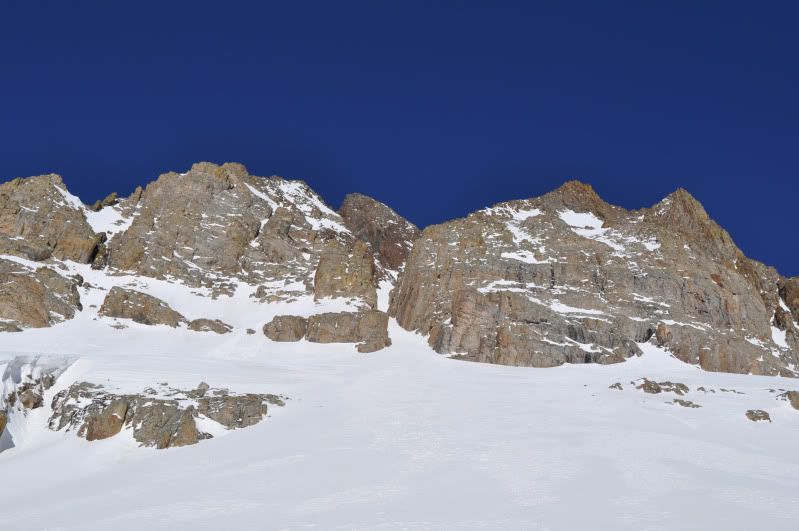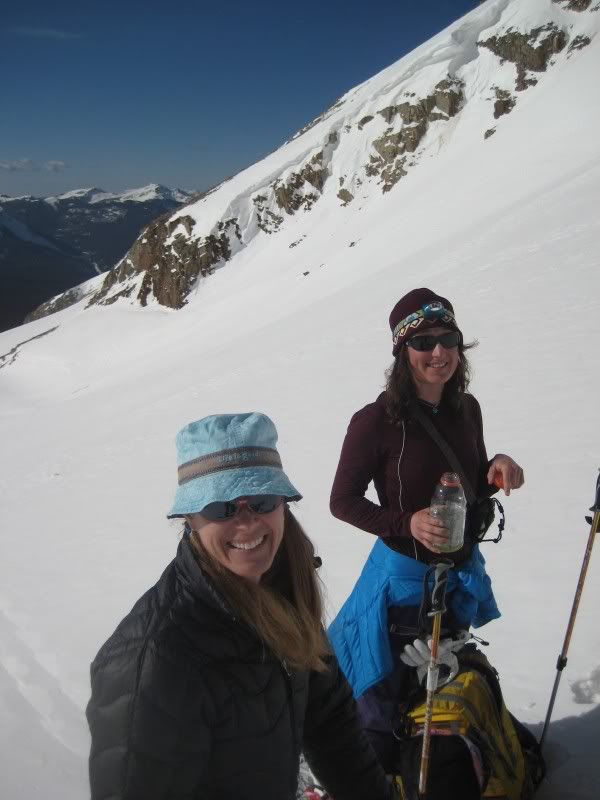 Photo courtesy of Matt Kamper
Lizard Head in the distance.


Photo courtesy of Matt Kamper
Matt, skinning, rounding the corner to approach Mt. Wilson (peak, far left).

Kim, in the valley below. Unfortunately, as we continued our ascent, clouds began to roll in.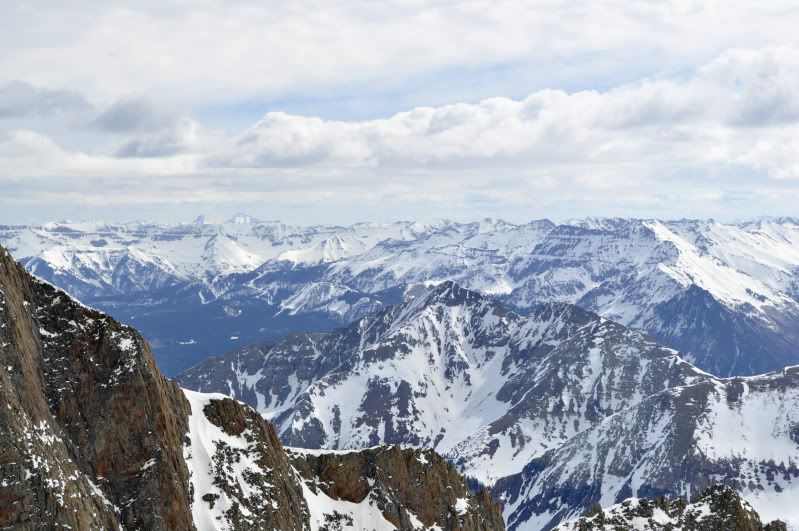 Matt and I reached the summit together.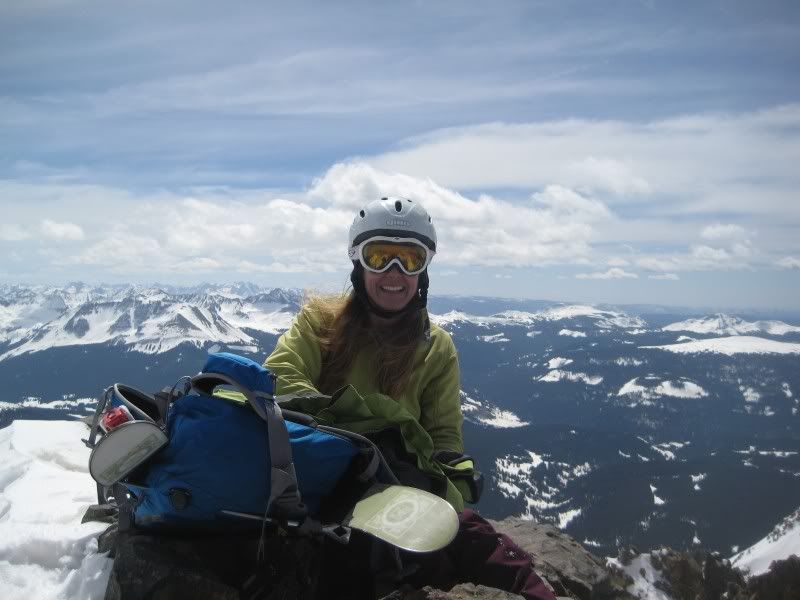 Photo courtesy of Matt Kamper
We enjoyed the views, as always.


Photo courtesy of Matt Kamper
Telluride in the distance.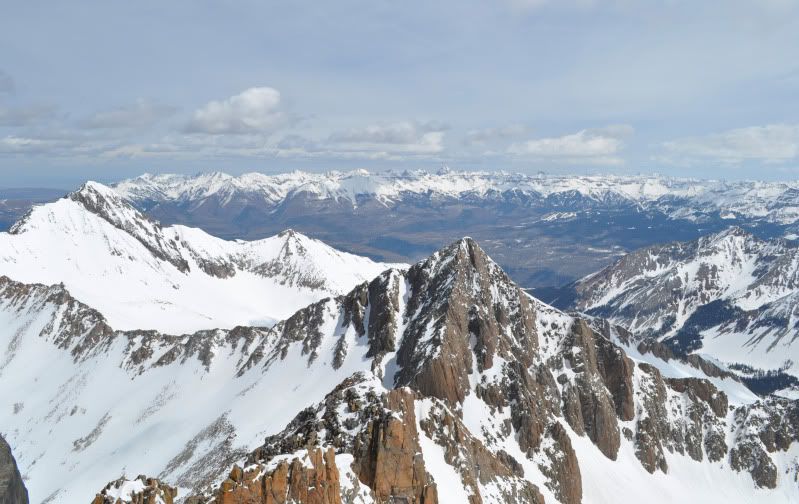 Though the snow on the summit block was thin, Matt and I were able to piece together a ski descent.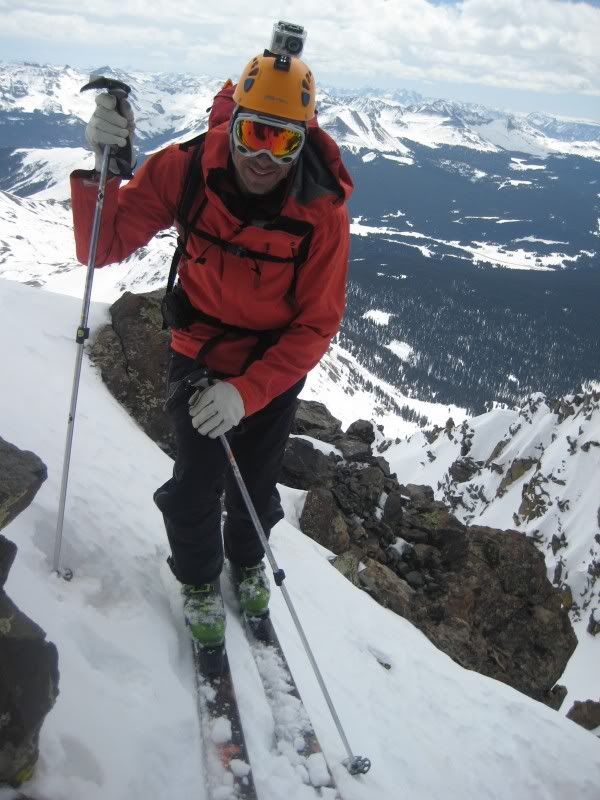 As we reached the bottom of the summit block, I thought I heard Kim. Still out of view, I shouted to her. She responded and said she was going to summit too. Matt and I waited at the small saddle while Kim made her final push.

The upper Slate Creek Cirque had variable snow with some decent turns here and there. Matt.

Kim.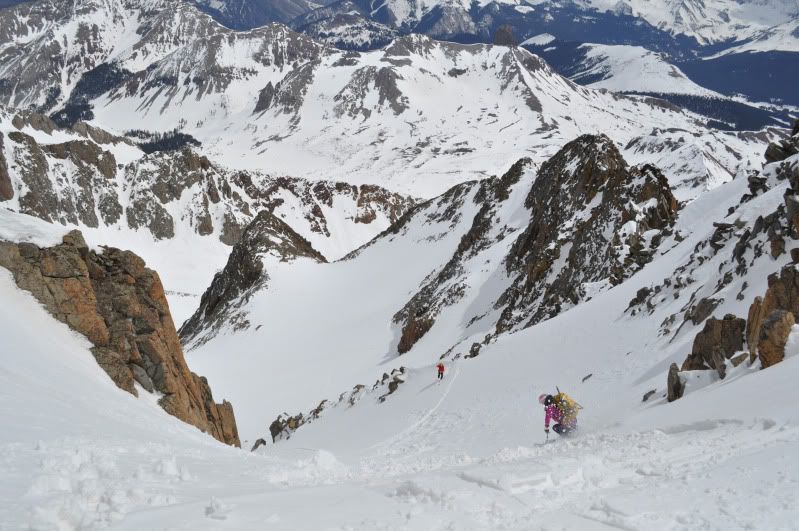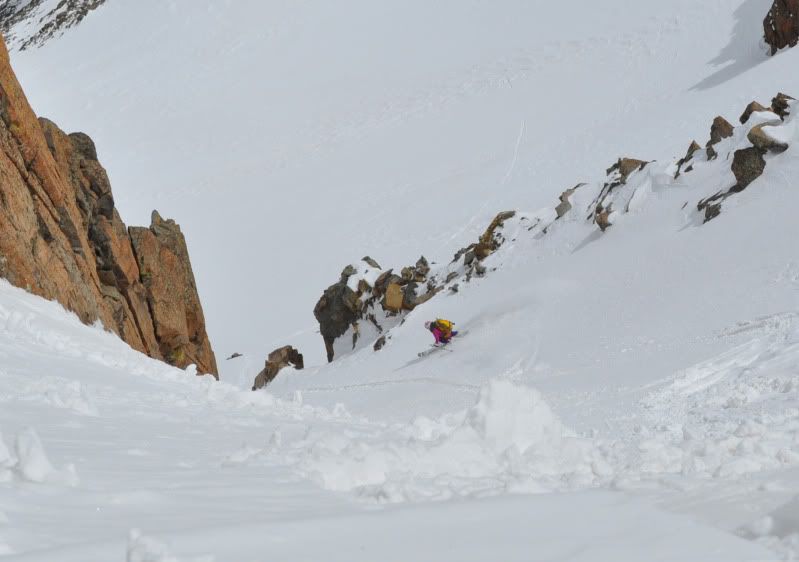 A view of the Slate Creek Cirque from near the top of the Box Car Couloir. Our summit block descent is out of view, but our descent through the cirque began at the saddle to the lookers left of the summit.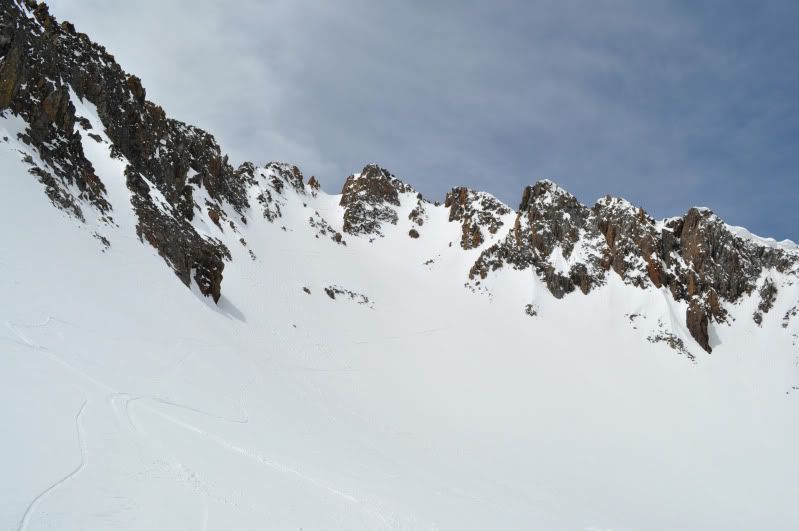 Kim, stoked to ski the Box Car.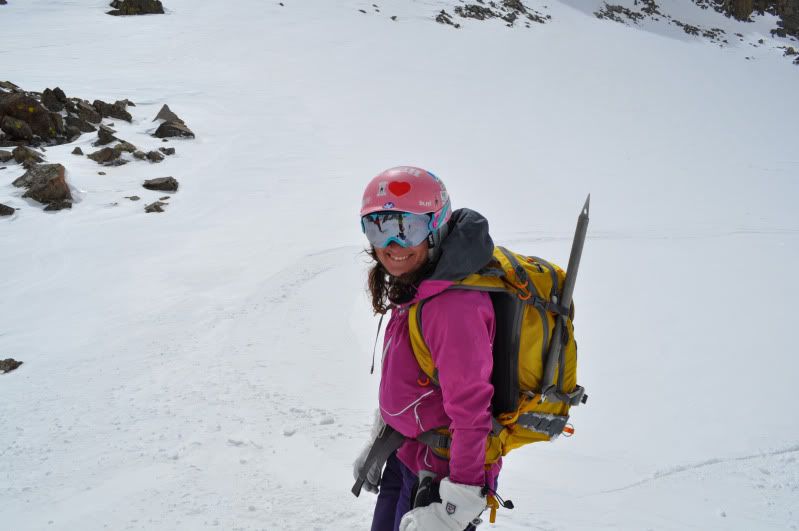 Me, first into the Box Car.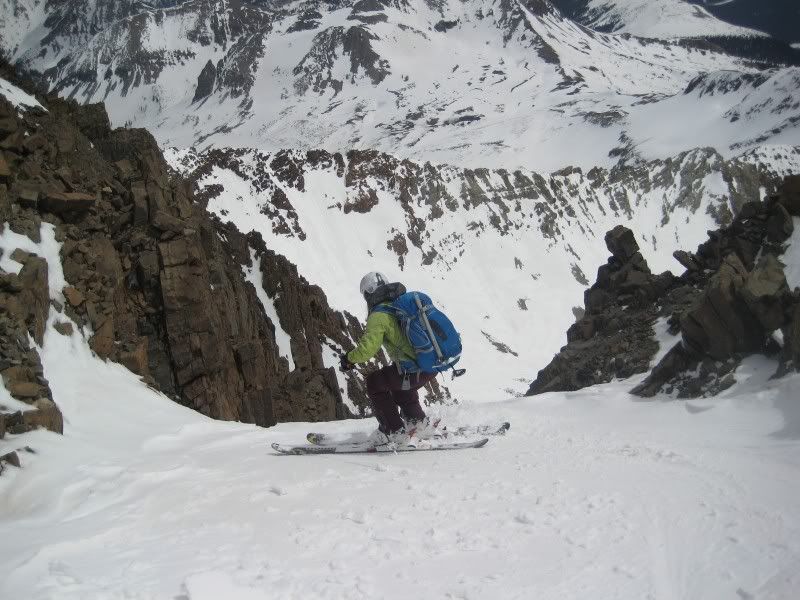 Photo courtesy of Matt Kamper

Photo courtesy of Matt Kamper
Matt.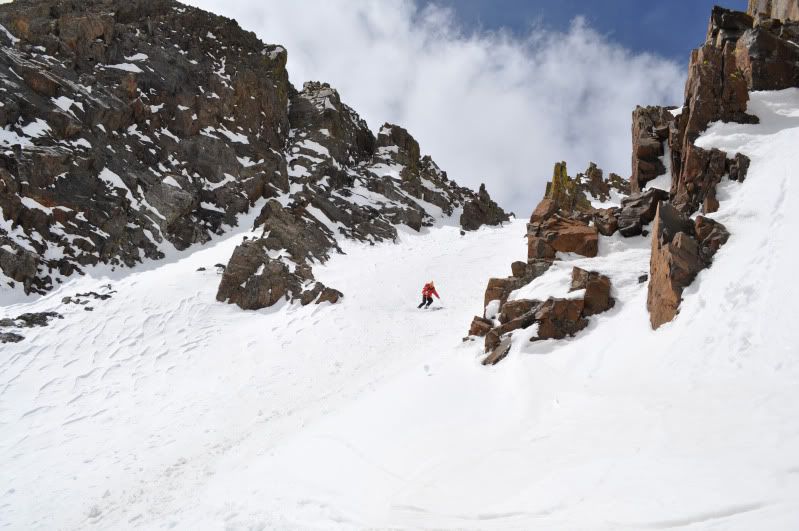 Kim.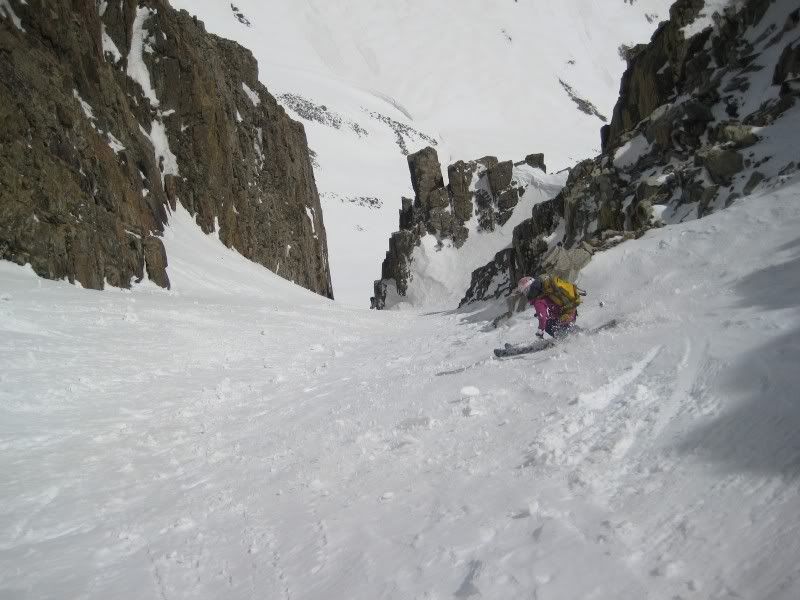 Photo courtesy of Matt Kamper
Group shot, just before we entered the maze in the trees.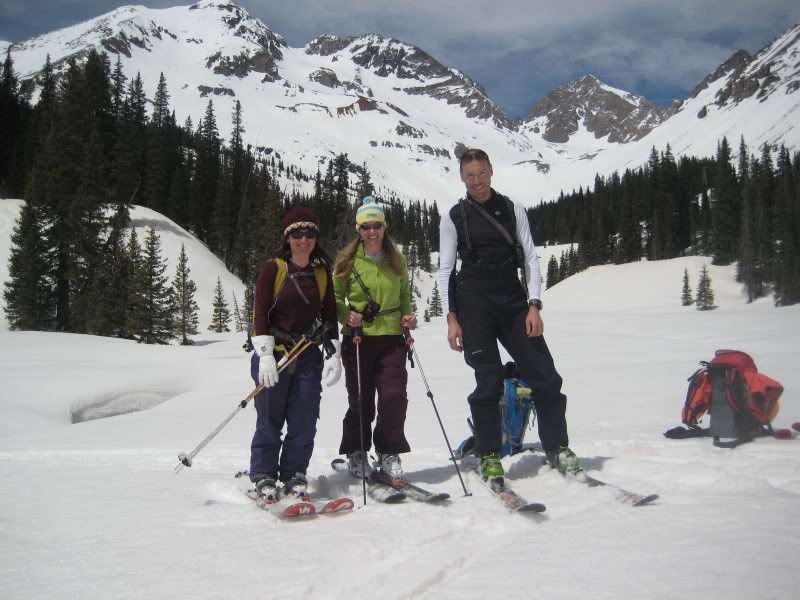 The day was another successful mission with two absolutely fantastic partners. I couldn't have asked for anything better. Wishing I could stay and play, I had to head home. Thanks to Kim and Matt for another wonderful mountain adventure!
Aside from skiing, biking, and all outdoorsy things,
Brittany Walker Konsella
also loves smiles and chocolate 🙂 Even though she excels at higher level math and chemistry, she still confuses left from right. Find out more about
Brittany
!
Latest posts by Brittany Walker Konsella (see all)