TR: Making the most of it (24 Oct 2010)
(Last Updated On: October 24, 2010)
Snow has been falling all over Colorado, including Crested Butte. The flurrying fluffy stuff brought a shine to my eyes that probably hasn't been seen since somewhere back in June. We woke up this morning to another few inches of fresh. Though we had plans to head to Gunnison to ride Hartman's Rock, the weather wasn't motivating us to ride. But, we knew the storm's flow wasn't the kind that favored Crested Butte. We were torn. After some discussion, we decided to make the most of it. If we ended up tromping around in the snow, then at least we got out to enjoy the snow. If we were able to make some turns in the process, even better.
As we headed up Gothic road we ran into our friend Jarrett, sporting a new truck.

Jarrett said he had spent last night camping on Frigid Air pass, with wind and snow attacking his tent all night long. "Yeah, I didn't get much sleep…" He confirmed our suspicions that there wasn't much snow up by Schofield pass, but reported knee-deep near Frigid Air. Alright, to Frigid Air we would go…
Emerald Lake and the north face of Baldy.

The road over Schofield.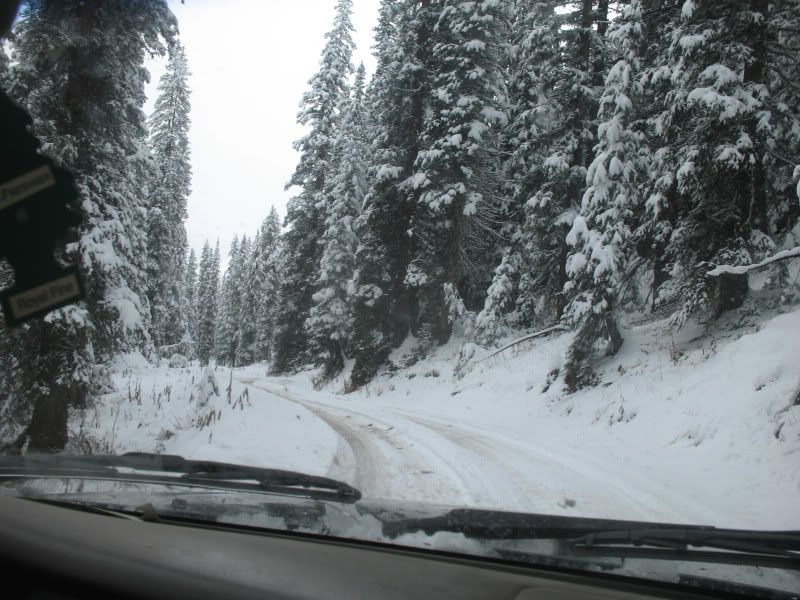 We began at the West Maroon Pass trailhead.

A cabin along the way.

Me skinning up the valley.

Frank.

The Monument plants will be poking out of the snowpack for a couple of months to come, making fun "gates".

Bellview.

We didn't quite make it to Frigid Air. We decided to turn around after just over an hour of skinning. The skiing out was kind of a joke. I'm not totally sure we can even call it skiing….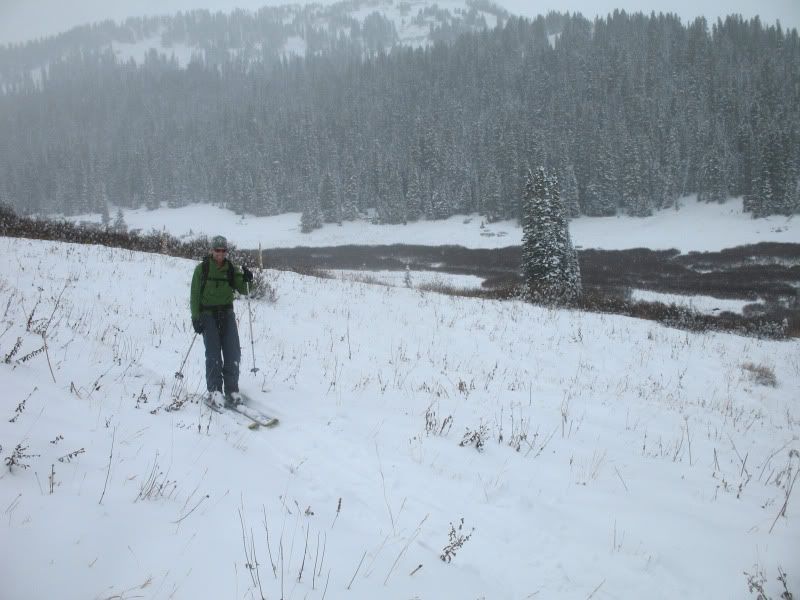 I'll take some pow with some grass and other assorted plants, thank you very much.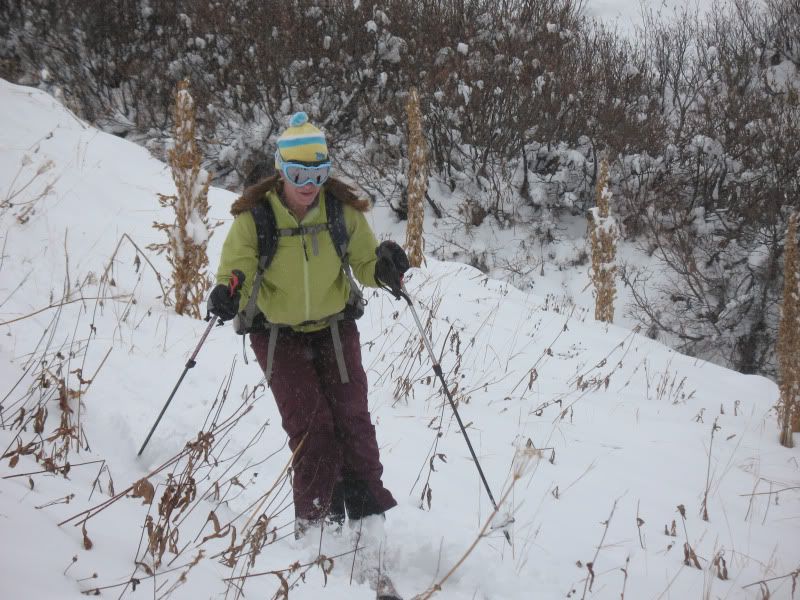 No, the skiing wasn't rad-tacular. Not by any means. But, we had some fun sliding down on our skis. The snowpack, as you can see in the pictures, is still very thin. Now matter where you ski, you'll likely be hitting rocks or ground, even in the best wind-loaded places like Halloween Bowl. On a positive note, though, the snow that did fall is very dense, which is great for setting a good base. We just need more of it. But, storms will continue to pound us for the next couple of days. If the forecast is accurate, some mid-week pow skiing could be pretty fun! Bring on the snow! It's ski season!
Do you need some new winter gear like me? Help support 14erskiers and find your new gear by clicking on the link to our sponsor below.

Aside from skiing, biking, and all outdoorsy things,
Brittany Walker Konsella
also loves smiles and chocolate 🙂 Even though she excels at higher level math and chemistry, she still confuses left from right. Find out more about
Brittany
!
Latest posts by Brittany Walker Konsella (see all)