Thanksgiving Week Adventures
(Last Updated On: December 4, 2009)
Thanksgiving week is supposed be a time of relaxing and vacation. But, we found ourselves incredibly busy. Between socializing, exercising, skiing, climbing, traveling, shopping, eating, and going to hockey games, we had no time to spare. Here's a few random assortment of pictures from the week.
Cross-country skiing at Lily Lake
I always love it when my friend Sonya comes to visit Crested Butte. Energetic and spunky, she's always fun to hang out with. As many of you know, I have rejuvenated my liking for cross-country skiing this year. Combine this with the fact that Sonya loves to come here to cross-country ski and it was obvious what we were supposed to do! We headed up towards and area called Lily Lake, near Kebler and Ohio Passes, which has a groomed path for cross-country and skate skiing.
Sonya and her dog Teocalli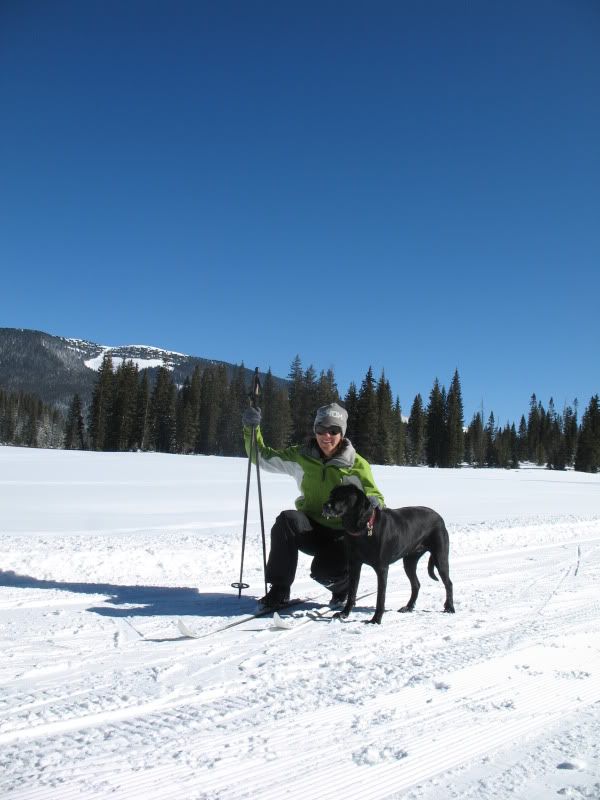 The track was in good shape!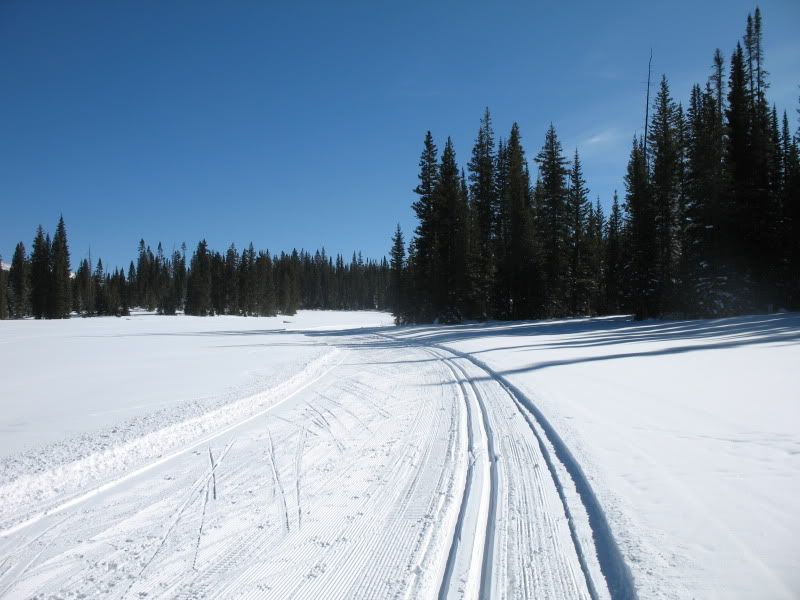 Climbing in Golden
For the remainder of the week we headed down to the Denver area, spending Thanksgiving in Golden with Frank's parents. The weather was wonderful- 70's and sunny- a far cry from the 2 degrees it was when I woke up Tuesday morning to go cross-country skiing in Crested Butte! We decided to take advantage of the warm weather and enjoy the climbing that Golden has to offer. We headed to North Table mountain…. us and about 500 other people decided to enjoy a nice post-Thanksgiving day climb.
View of Denver.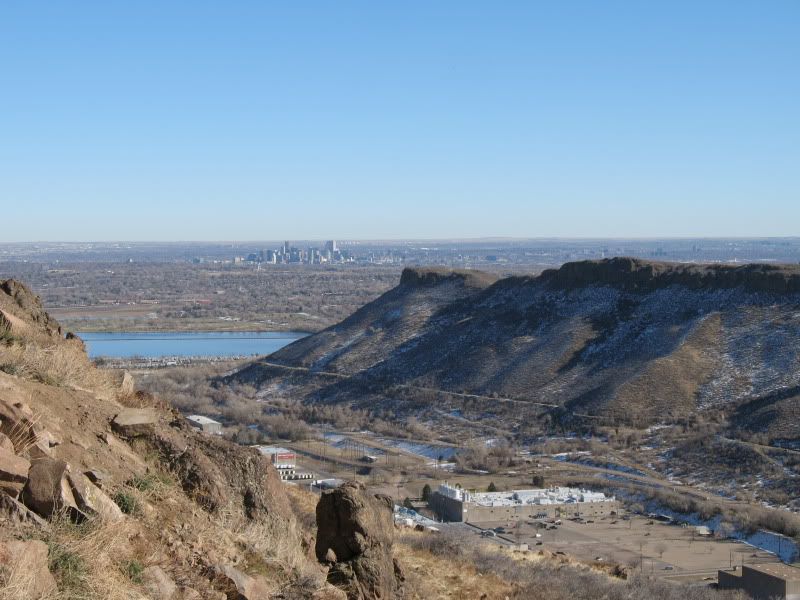 View of Golden, with the Coors Brewery below. We were surrounded by the wonderful aroma of hops the entire day.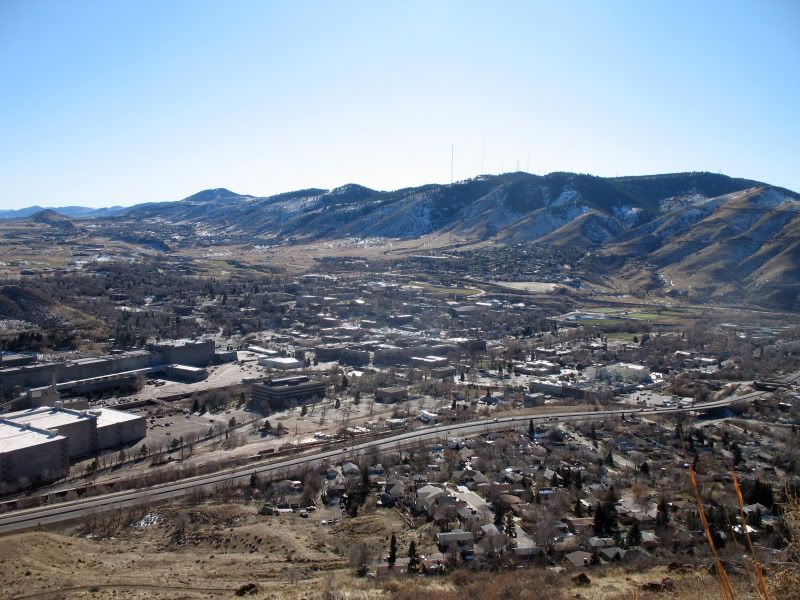 Frank and I were joined by two of our Golden friends, Jamie and Liz, who are both avid climbers. They brought along their friend Arianne. Between 5 people and two top ropes, we had plenty of climbing and belaying to do, and not much time for pictures. I did grab a few nice photos of Liz, though.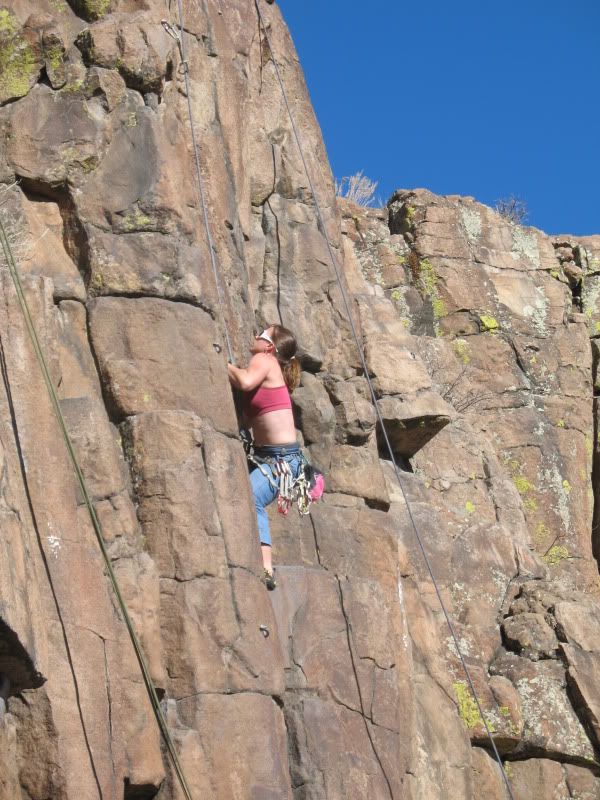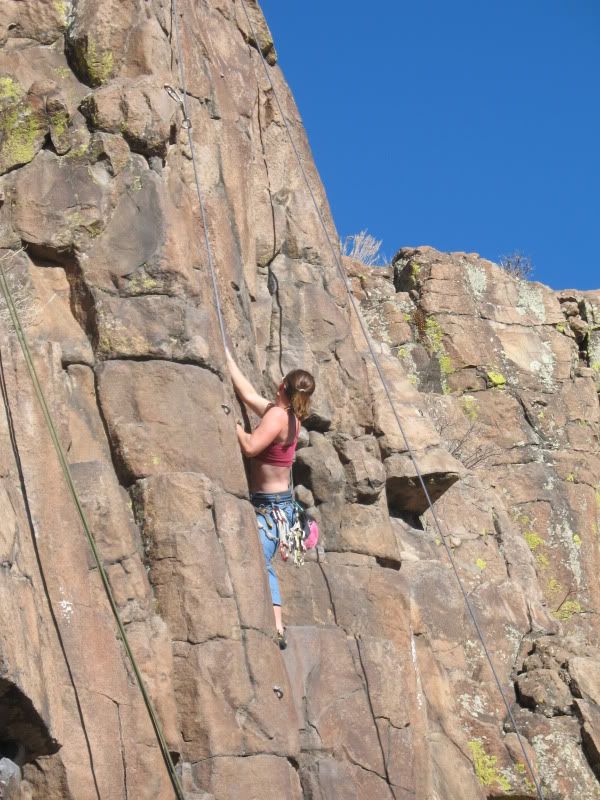 Another one of our routes.

It felt great to be climbing on rock again! It's been over a year since I've climbed and I miss it!
Conversations at the Subaru Dealership
While in the Denver area, I took advantage of the multitude of Subaru dealerships that are located there since the closest dealership to Crested Butte is 3 hours away. I scheduled an appointment to get a part that was recalled fixed- a one-way fuel pump injector or something like that.
So, I went to the dealership where they proceeded to prepare the paperwork to repair the one-way fuel-pump injector, and I suddenly have an epiphany. I ask the serviceman, "Do you know of any way to turn off the alarm on my car?"
He looks at me very inquisitively. I respond, "You see, I live in a tiny town of 2000 people where nothing is ever locked. No one locks their front door- I have friends who don't even have keys to their own houses. Cars aren't usually locked either. So, my alarm is really touchy and it's pretty annoying when it goes off in a town where things are rarely locked in the first place."
The serviceman seemed to understand my predicament, but still said in a laughing tone, "I'm not sure there is any way to turn off the alarm. I'll look into it. But, I do know you can disconnect the horn. Do you want us to do that? But, then, of course, your horn wouldn't work."
I then responded, "No, I kind of need my horn to scare all the deer off the road…. and for when the cowboys drive the cattle through town. Those cows kind of do get in the way…."
By now the serviceman is choking his laughter, wondering if I'm actually telling the truth or some crazy fib. "Yeah, I guess you do need a horn for deer and cows….. We'll see what we can do."
I love living in a 2000 person town where my biggest problem is my alarm going off and my encounters with deer and cows… and the occasional bear. But, I left the bears out of the story. I didn't want to freak out the Subaru serviceman too much 🙂
Aside from skiing, biking, and all outdoorsy things,
Brittany Walker Konsella
also loves smiles and chocolate 🙂 Even though she excels at higher level math and chemistry, she still confuses left from right. Find out more about
Brittany
!
Latest posts by Brittany Walker Konsella (see all)