Here's the nitty gritty about Crested Butte; how to get here, what to do, where to stay or camp, and what to eat!
What is Listed Below
14erskiers Guides
About Crested Butte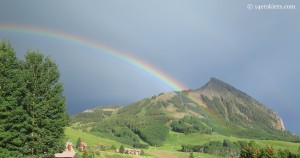 Everyone who visits Crested Butte always raves about how much they love it. When you come here, you'll see why. A mix of old and new, Crested Butte has transformed from an old mining town into a bustling ski town. But, this ski town is different from most in the fact that it hosts a real tight-knit community.

Crested Butte is actually divided into two main regions: Crested Butte and Mount Crested Butte. Crested Butte is an eclectic town which was been resurrected from it's coal-mining origins. The elevation of Crested Butte is 8885 feet and it boasts a population of 1635. While the town of Crested Butte has the most dining and shopping options, Mount Crested Butte has more lodging. Mount Crested Butte lies 3 miles up a curvy road on a hill towering above the town. Dominated by the ski area, most buildings are condos and apartments. There are still great dining and shopping options in Mount Crested Butte, though they are limited. Mount Crested Butte is at an elevation of 9375 ft and has a population of approximately 900. A free bus runs between the two towns on a regular basis- every 20 minutes during busy times and every 40 minutes during off-season.

Crested Butte is known for it's friendly, laid-back atmosphere. Even the fanciest restaurants here have casual attire. And you'll often have people saying hello to you on the street even if you don't know them. There are no stoplights and no fast food. The speed limit in town is 15 mph, which reflects the typical Buttian pace of living. Don't get angry when a car stops in the middle of the road just to talk to someone on the sidewalk. It's just what we do.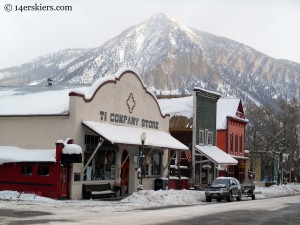 Crested Butte has a plethora of things to do. But, we are most known for our outdoor activities. From fishing, golfing, mountain biking, jeep tours, and hiking, we've got it all. If you want to spend some time on the water, there's the Taylor Reservoir or Blue Mesa Reservoir, both about 30-40 minutes away. On Elk Avenue, the main street in the town of Crested Butte, you'll find numerous interesting shops in which you can easily waste your time away. Even better, Crested Butte is known for it's premier restaurants. From tacos at Teocalli to mid-range (but delicious) food at Ryce, sushi at Lil's, local farmer's menu at Sunflower, and tapas at Django's, we have a range of restaurants that will suit your wallet and your pallet.
General Info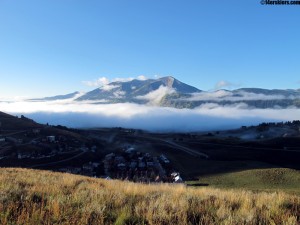 Crested Butte is in the beautiful mountains of Colorado. At an elevation of nearly 10,000 feet, this scenic town is located nearly two miles above sea level. With this altitude our air pressure is significantly lower and visitors coming from sea level can be susceptible to altitude sickness. Make sure you drink lots of water and avoid alcohol while your body adjusts for the first few days. Also, those with respiratory conditions may have additional difficulties, so consult your doctor before you come to visit. The climate is a generally drier and more water is emitted as you respirate, so drink twice the water you usually drink. If you have a headache, you probably need to drink more water!

The high altitude of Crested Butte also means that we have less atmosphere protecting us from the sun's harmful UV-rays. Don't go outside for more than a few seconds without putting on sunscreen. A minimum of 30 is recommended. Even if it is cloudy, put your sunscreen on. Just this past July, Brittany forgot to put sunscreen on one shoulder while going for a bike ride on a cloudy day. It resulted in a severe second degree burn that blistered and irritated her for over a month. Travelers often realize the potency of the sun after it's far too late. Hats are wise, as you'll find that your scalp and ears easily burn in places you've never thought of before.

Being located at this elevation also makes Crested Butte prone to severe weather changes. In June, the weather can quickly change from 70 degrees and sunny to snowing. At night, it is not unusual for temperatures to drop into the 30's and 40's in the middle of summer, and negative temperatures in the middle of winter. Many visitors underestimate the temperatures, especially in the summer. We warn our summer visitors to pack accordingly. Bring a little bit of everything. Bring shorts, capris and t-shirts, but also pack long-sleeve shirts, sweaters, a rain coat, and even a heavy jacket. A down jacket is NOT out of the question. Brittany even had to wear her down jacket during the 4th of July fireworks this year. If you think we are kidding, that isn't the case. Pack for warm, and pack for cold. You'll probably have both.
Getting Here
Flying
Many guests traveling from out-of-state will likely choose to fly. There are a few airports to choose from. The closest airport is Gunnison, which is 30-40 minutes away. The airlines that fly into this airport are frequently changing, but at the time we are writing Delta, American, and United provide service. A benefit of choosing this airport is that you don't need to rent a car. You can take the Alpine Express directly to Crested Butte. Remember that a free bus operates between the town of Crested Butte and Mount Crested Butte, covering most of our guest's needs.
An often cheaper airport to fly into is the Montrose Airport, located about 1 hour and 30 minutes away from Crested Butte. This airport is similar in size to the Gunnison airport, so the hassles of a big airport are avoided. Many airlines fly into Montrose, including United, Delta, Continental, and United. Alpine Express and Dolly's Mountain Shuttle provide shuttle service from this airport to Crested Butte, but you will need to contact them well in advance for reservations (I believe there is a minimum number of people needed to run the shuttle). Guests may find it easier to rent a car.
Usually the cheapest airport to fly into is Denver International. This airport is large and hosts service from every major airline. Although the Alpine Express and Dolly's Mountain Shuttle also provide shuttle service from this airport to Crested Butte (when reserved with a specific minimum number of people), most people coming from Denver prefer to rent a car.
Driving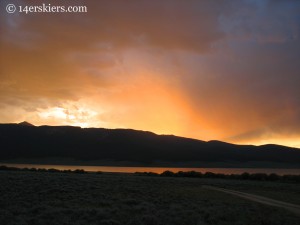 Visitors driving from Denver have two routes to choose from. The first is a more straightforward route, but it takes a bit longer and is more miles. The second is a more scenic route, that takes about 20-30 minutes less time, is less miles, and is much more scenic.
First Route: From Denver, take 285 south toward Buena Vista. You will not go directly into Beuna Vista (you will be just a couple of miles away). Near Buena Vista you will make a left turn, following 285 to Poncha Springs. At Poncha Springs, turn right onto 50 heading west. Follow 50 all the way over Monarch Pass to Gunnison. (Monarch Pass has scenic tram rides you might want to check out). In Gunnison, turn right onto CO-135 heading north. This will bring you right to Crested Butte and Mount Crested Butte.
Second Route: This route is closed in winter, generally from November until the end of May. Before to check CDOT to ensure Cottonwood Pass is open! From Denver, take 285 south toward Buena Vista. Near Buena Vista, just past Johnsons Village, there will be a fork in the road. Turn right onto 24. This will take you to Buena Vista. At the only stoplight in Buena Vista, turn left. Follow this road all the way up and over Cottonwood Pass. At the top of Cottonwood Pass, the road will turn to dirt. This is not a problem for most vehicles, even 2-wheel drive. But a low-clearance sports car will have difficulties. As the road descends you will see a lake. This is the Taylor Reservoir. Just before you reach the reservoir you will come to a fork in the road. Turn left and follow this road along the Taylor Reservoir and through the Taylor Canyon to the town of Almont. At Almont, turn right onto CO 135 heading north. This will bring you right to Crested Butte and Mount Crested Butte.
Alternate Route to Buena Vista: In the summer, 285 from Denver can get bogged with slow-travel traffic. This "highway" is mostly 2 lanes, and passing can sometimes be difficult. As an alternative, we often choose to take I-70 from Denver to Copper Ski Area. We exit at the ski area and follow CO-24 west through Leadville and on to Buena Vista. Leadville is one of Colorado's best old mining towns and is definitely worth the stop if you have time.
Note: Many vehicles are now equipped with fancy GPS devices. In the mountains of Colorado it is best to forego these high-tech devices and resort to a good old map of the state instead. These modern-day devices simply don't have the common sense of a person and have led many astray- sending them over rugged mountain passes that even some 4-wheel drive vehicles can't handle, such as Pearl Pass Road. Please be smart. Stick to paved roads, or well-traveled dirt roads.
Camping in Crested Butte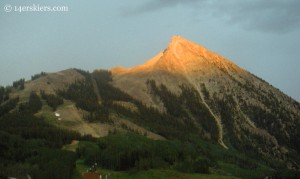 Camping in Crested Butte is easy! We have an established RV park that is a mile outside of town. But, if you like to escape the cluster, we have several dirt roads that lead off from Highway 135 and you can find camping on any of those roads. Some of these roads have established campgrounds. But, free camping can be found many places along these roads as well. A general rule of thumb- the farther up the road, the more isolated you'll be but the road usually becomes more treacherous. A brief description is below:

Kebler Pass Road – There is some camping up Kebler Pass near Lily Lake. But, the best camping is up by Irwin Lake. There is an established campground at Lake Irwin, but it is often full, especially on weekends. If you continue up the road, there are several campsites within the next mile. Most cars with decent clearance can go at least another 1/2 mile past Lake Irwin.

Slate River – The best camping up Slate is at the established campground at Oh-Be-Joyful. If you want to avoid the actual campground, you can turn at the campground, cross the Slate and continue up the Oh-Be-Joyful Road. There are a few campsites within a quarter mile of the campground. The road gets more difficult after that (high clearance 4-wheel drive), but there are campsites for another 3/4 of a mile. Another area to camp on Slate is about a mile past the Oh-Be-Joyful campground. Good camping also exists up Poverty Gulch, although the Slate crossing and road can be treacherous for some cars. Those willing to travel can go further and camp near Paradise Divide.

Washington Gulch – There are several undeveloped campsites between Snodgrass Trailhead and the Elkton cabins. Do not camp near Elkton, as it is private property. This area is nice as it tends to be less traveled than some of the other dirt roads.

Gothic Road – Gothic Road used to be a popular spot for dispersed camping. But, the management plane for the area changed in the summer of 2016. Now, there is limited camping only at the established Gothic Campground, just a couple of miles past the town of Gothic.

Brush Creek – Camping exists past the Canal Trail trailhead. Many people choose to camp just after the road splits to West Brush and Brush, continuing up the Brush branch. There are campsites up either road after the split, but the road becomes fairly treacherous shortly after, and can only be traveled by high clearance 4-wheel drive vehicles.

Cement Creek – This is a very popular area for campers with motorized vehicles (think dirt bikes, ATV's). But, it can also be a fun area to camp in, especially further up the road. There is an established campground. But, there are also many campsites along the way. The camping possibilities on this road are virtually infinite. This road goes for many miles before a true 4-wheel drive or high clearance vehicle is needed.
Lodging
There are many wonderful places to stay in Crested Butte. In summer, many people prefer to stay in the town of Crested Butte. During winter, often visitors prefer to stay "on the mountain" to be closer to the ski area. Either way, remember that there is a regular FREE shuttle that connects Mount Crested Butte with the town of Crested Butte. Below are some suggestions for places to stay both in town and on Mount Crested Butte.
Local Activities
There are SO many things to do here in Crested Butte! The information below is intended to help guide you to selecting some activities that will suit you best!
Outdoor Activities
Crested Butte is surrounded by some of the world's best scenery! Why not get out and enjoy it by hiking or biking in the summer, and skiing in the winter? Below is a list of guides that will help you make the most of our outdoors!
Festivals & Celebrations
Crested Butte has many various festivals and celebrations! Below, we list some of our most popular events!
Music, Movies, and other Performances
Crested Butte has a wide range of ways to enjoy music and films. The list below describes some of the opportunities you may wish to take advantage of!
Local Websites
Crested Butte Real Estate
Frank's website is where you can find free MLS searches, market reports, and more. Whether you're buying or selling, let the Crested Butte Real Estate Agent be your first source for information.
Weather in Crested Butte
From flying cracker
Local Radio Station
KBUT – Listen to our Crested Butte Community Radio Station live! This station is financially supported by community fundraisers and drives, and run by volunteer DJ's from the community. The station not only plays music, but is important in community announcements for transportation, lost-and-found, and events.
Crested Butte Mountain Resort
Check out the ski area. Here you'll find maps, ski report, lift ticket prices, lodging deals, etc. If you're visiting in the summer, hike the peak or enjoy hiking and mountain biking on the many trails that CBMR has to offer.
Avalanche Conditions Report
CBAC – Crested Butte Avalanche Center
CAIC – Colorado Avalanche Information Center
Miscellaneous Community & Tourist Information
Visit Gunnison – Crested Butte
Community Info
Crested Butte Chamber of Commerce
All Trips
Mountain Biking
Crested Butte Mountain Bike Association – Provides information on trails, trail conditions, and volunteer opportunities.
Museums
Crested Butte Mountain Heritage Museum – From the history of mining and skiing in Crested Butte to the Mountain Bike Hall of Fame, they've got a lot packed into a tiny space on Elk Avenue.
Local Restaurants
Crested Butte is known for it's fantastic restaurants. Hop into nearly any one of them for a bite, and you likely won't be disappointed. You can find descriptions of Crested Butte's Restaurants in Travel Crested Butte's Restaurant Guide. Some of our favorite restaurants and bars include: The Secret Stash, The Last Steep, Ryce, Lil's, Donitas, Marchitelli's Gourmet Noodle, Sunflower Deli & Restaurant, Teocalli Tamale, Montanyas, and the Avalanche. Be sure to enjoy the plethora of food experiences when you visit Crested Butte!
Questions?
We love helping people like you! So, feel free to contact us with any of your traveling questions. We'll do our best to help you!
Aside from skiing, biking, and all outdoorsy things,
Brittany Walker Konsella
also loves smiles and chocolate 🙂 Even though she excels at higher level math and chemistry, she still confuses left from right. Find out more about
Brittany
!
Latest posts by Brittany Walker Konsella (see all)