I stumbled onto a new website today that Colorado ski mountaineers may be interested in checking out. The site is straightforward- it's Google Earth with a twist or two. Twist number one is that most peaks and subpeaks are labeled, and that fact alone will bring me back to the site simply because it makes navigating easier. The second twist, an interesting one at that, is that it seeks to quantify how "impressive" a peak is based on a scale called the Omnidirectional Relief and Steepness (ORS) scale. Say that three times fast. If a peak rises high above its' surroundings, it will rate highly on this scale. If the peak is steep and spire-like, it will also rate highly on this scale. On the website, the most "impressive" peaks are red, followed by orange, green, and blue. Here is a local example: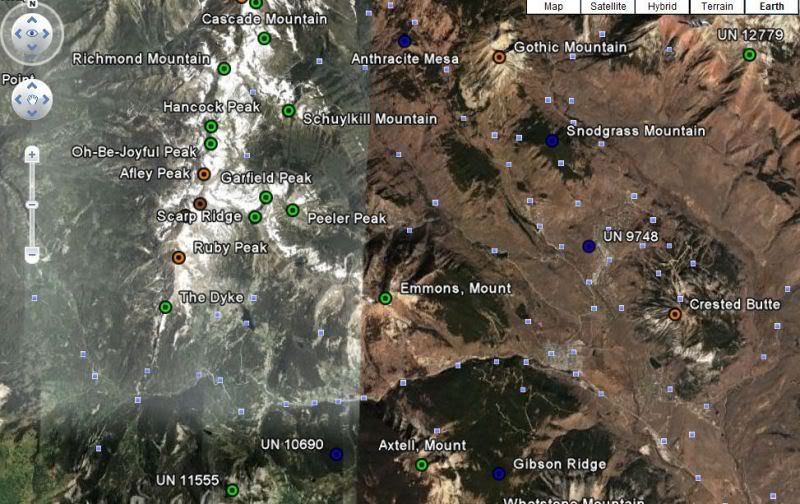 Obviously, the scale is far from perfect for armchair ski mountaineers to use and find new lines. On the example above, for instance, both Cascade and Axtel only rate a "green" label, because both peaks have gentle South Faces, although both peaks have routes on their North Faces which are usually rappelled. Still, when scouting for a new area to explore, these labels may be a useful starting point. It could also lead to some interesting goals, such as skiing all the local orange and red peaks within a season, or climbing all the orange and red peaks within a lifetime. Plus, just like people like to boast that they've skied their first double-black diamond run, backcountry skiers could boast that they've skied their first "red circle". In any case, it's a pretty cool time-killer site to check out.
If you REALLY want to talk some tech trash, map out your routes with a new GPS or Altimeter from Backcountry.com. On Sale Now!